The 12 Best German Learning Apps For Learners Of All Levels
We've compiled a list of the 12 best apps for learning German, taking into account the key features of each app and assessing how conducive these are to effective language learning.
The apps covered in this list are perfect for learners at all levels. We have included:
A description about each app
Its key features and pitfalls/room for improvement
Free trial information for each app
Whether you're in the early stages of learning German or have been studying the language for a while, you'll find a suitable resource in this list.
The 12 Best German Learning Apps
Below we have listed the 12 best German language apps on the market currently. The ratings are based on existing reviews and feedback, as well as our experience trialing the free trials that the apps provide.
We have tried to be as comprehensive as possible with our analysis (without boring you!) 😄
1. Memrise - Memorize vocabulary words with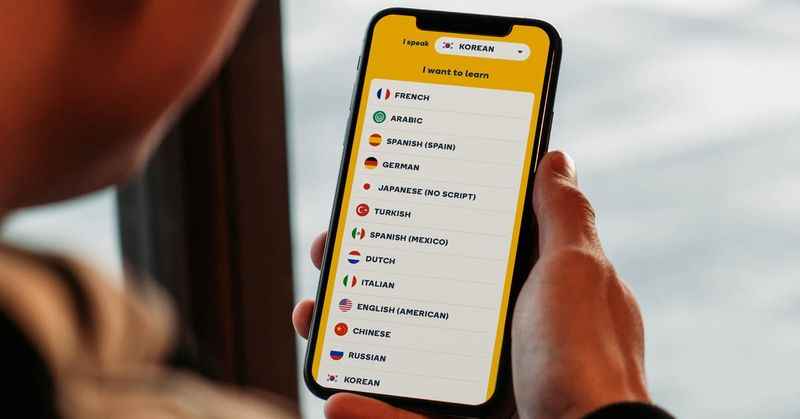 Memrise is a tool which enables you to learn German vocabulary and phrases quickly and effectively. It is different from other apps in the sense that it helps you to learn by building your own German vocabulary lists.
Memrise is a tool which enables you to learn German vocabulary and phrases quickly and effectively. It is different from other apps in the sense that it helps you to learn by building your own German vocabulary lists.
Who is Memrise for?
Memrise is best for anybody looking to learn German vocabulary, words and phrases in a short space of time. Whilst this is one of the best apps on the market for its purpose and the phrases you learn are undoubtedly useful, you will not be able to practice conversation with Memrise.
What we love about this app
What we love about this app, and what sets it apart from others, is:
Its focus on learning through repetition of words or phrases
The clips of native speakers
The way Memrise makes language learning fun
The best part? It's free for a basic account!
Memrise features
This app has a wide range of languages available and a user-friendly interface with features including:
Flashcards
Personalized courses
Offline mode
It features clips of native German speakers, which makes language learning fun.
If you are looking for an all-around solid tool to help you build up confidence in your language skills then Memrise may be just right for you.
Main Cons
Bear in mind that Memrise is a vocabulary builder, and nothing more. Whilst it's a great way to learn new words and phrases in a fun and interactive way, you won't learn to speak German fluently with this tool. It's simply not possible!
2. Pimsleur - Listen to German daily
The Pimsleur app offers a range of German language learning programs that are designed to help beginner language learners build their vocabulary and understanding.
The course contains 5 German Levels consisting of 80 hours of listening exercises. The app places a strong emphasis on developing communication skills right away. The company recently added visual content and game-like quizzes to support different learning styles.
Who is Pimsleur best for?
Pimsleur is best for those with little to no experience in a language.
The type of learner which will benefit most from Pimsleur? Someone who wants the quickest and easiest way to learn German without study materials or homework.
What we like most about Pimsleur
Pimsleur is a truly brilliant tool that immerses you in the German language.
The program includes:
Audio lessons that require you to participate
Exercises and games to reinforce the lesson content
There are two courses available for Beginners and Intermediate learners
Main Cons of Pimsleur
Visual resources are limited as the focus is all on listening to the German language and becoming familiar with it as quickly as possible. If you are a visual learner then you may prefer a tool with a greater variety of visual exercises. Just don't rely on Youtube!
3. italki - Improve Your Pronunciation With a German Tutor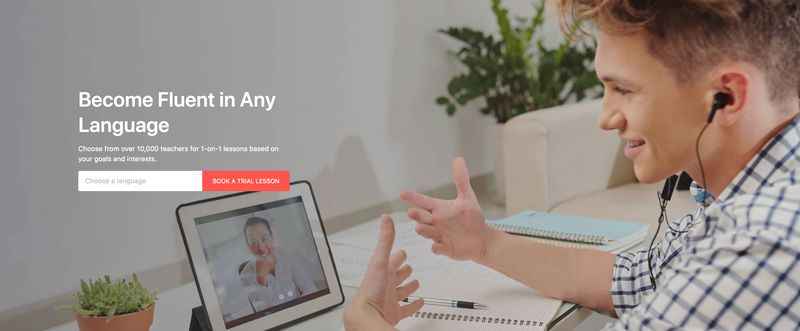 Finding a tutor online can be daunting, given that there are literally thousands of tutors out there all claiming the same thing - to get you speaking a foreign language quickly!
With this in mind, italki is one of the best places to learn German with a tutor.
Who is italki for?
Italki is best for serious learners with a strong desire to immerse themselves in the German language through face to face conversation and individual tutoring sessions.
What we love most about italki
There's a lot to love about learning German this way. With italki, you can:
Filter your tutor based on personal preferences, including your own personal level
Select tutors based on their teaching experience, age, location, price and teaching style
Inform your tutor of overall language goals and whether you want to focus on grammar or conversation.
The app contains its own built in chat system and video tool, so you don't need to leave the platform in order to carry out lessons. You can also communicate with your tutor via chat throughout the lessons and exchange resources.
Main Cons
Most German teachers using the app are based in Germany or Switzerland, which means that this style of learning the German language can be more costly than individual learning.
4. TuneIn Radio - Listen to German podcasts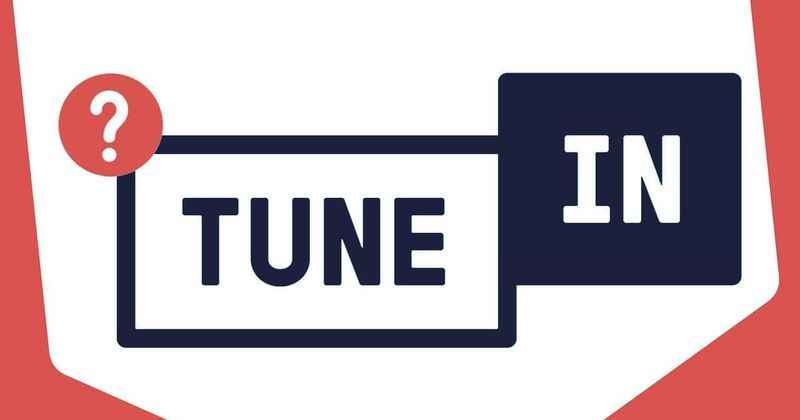 Listening to spoken German is a great way to learn the language. TuneIn Radio has a wide range of radio stations and podcasts for people who speak different languages, including many in German.
Who is TuneIn Radio for?
This resource is best for anybody wanting to learn the German language through listening. Through this method, you will be able to pick up cultural nuances in German too.
This app will suit learners looking for bite sized chunks of material they can fit into their busy lives, as well as those interested in understanding more than just grammar rules like the infamous der die das!
What we love most about TuneIn Radio
This German learning app is free, which instantly makes it more attractive!
TuneIn Radio provides the following key features:
Learn new words from context with these programs: news broadcasts, educational lectures, etc
Listen to music that features lyrics in German (also available on Youtube)
Teach yourself conversational phrases through dynamic conversations about current events going on around the world
Main Cons
This app is purely an audio tool, so offers no speaking practice. Whilst this is a good resource, there are plenty of other free language apps offering the same thing with visual elements too. Just check out Youtube!
5. FluentU - Learn About the Culture of Germany by Watching Videos
FluentU is, without doubt, one the best language apps on the market, particularly for visual learners. It enables you to listen to the German language at a speed that suits you.
It has a huge selection of German videos and movie clips for learners to watch, including some from native speakers. These are supported by interactive features such as pop-up translations and flashcards.
Who is FluentU best for?
Beginners! FluentU is best for beginners who are enrolled in a German course or have already completed one.
It offers many tools and techniques to help learners become more confident speakers, such as interactive transcripts that can be read aloud with text highlighting.
What we love most about FluentU
This German learning app comes with built-in subtitles so users can follow along without any other distractions or worries! Some of the content can be found on Youtube anyway, but FluentU groups it all in one place.
FluentU is effective as it tailors its content to the user's level. This ensures that you are always learning something new, while still being challenged enough.
Main Cons
There is no speech recognition software, which you would expect when paying this much for a language learning tool.
6. Duolingo - Practice reading and writing in German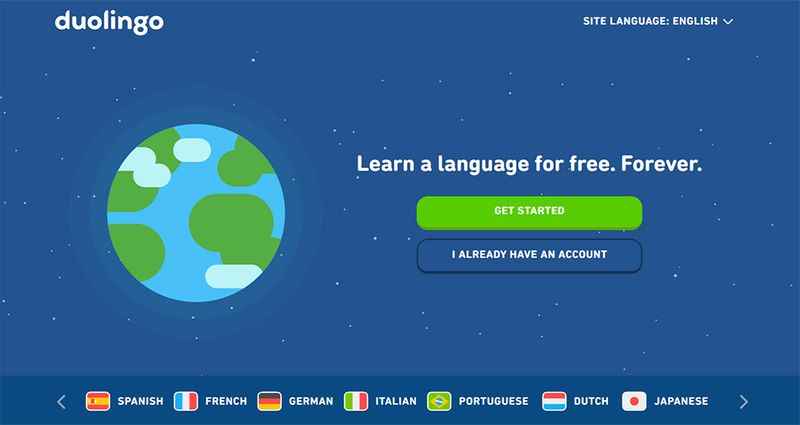 Everybody knows Duolingo. Whilst we admit the app is a great way to take a German language course for free, it's not our favourite app. This is because, like Memrise, it teaches learners fixed vocabulary in the target language, rather than how to converse in it.
Who is Duolingo for?
Duolingo is best suited for beginner learners of German looking to join other members and challenge them.
What we like about Duolingo
The app contains:
Speech recognition software
Flashcard exercises
Other games that you can play anywhere
You can complete a quick lesson on one topic or dive into the Duolingo "Learn" section and practice reading, writing, listening and speaking in real time with native speakers from all over the world.
The app also has sections designed specifically for beginners (the basics) as well as topics that are more advanced like grammar rules or sentence structure.
Is Duolingo a good app to learn German?
Duolingo does not lead to fluency in a language and provides minimal opportunity for face to face interaction.
7. Preply - Improve Your Pronunciation With A German Tutor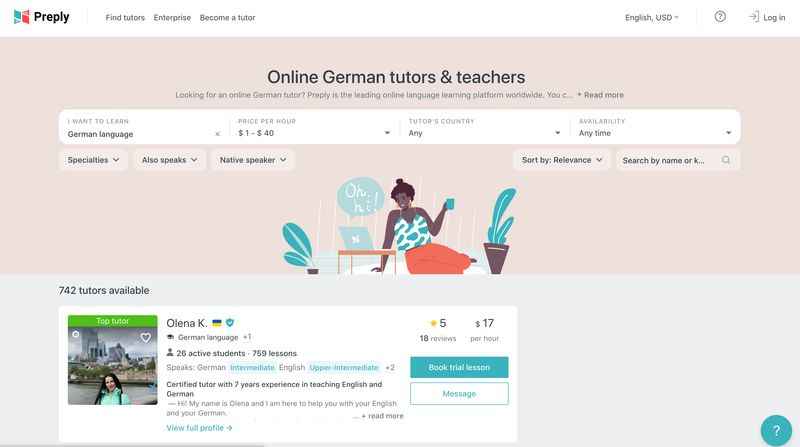 Preply is a unique platform which offers one-to-one tutoring in more than 60 languages, including German. German lessons are available by native or near-native speakers of all levels.
Who is Preply for?
It's best suited to people who want to practice their speaking and listening skills in the target language without having other distractions.
Like italki, this is an app which lets you practice the German language through face to face communication with a native speaker.
What we love most about Preply
This German learning app includes video chat so you can speak with your tutor face to face throughout your lessons.
You have the option to:
Take as many hours with each tutor as you like
Review your progress with each tutor
Assess what you have learned over time and which areas need more work
This app features an in-depth chat box where tutors will hold conversations about different topics relating to the lesson, such as German culture, grammar or vocabulary.
Main Cons
Whilst Preply has plenty of great features, there is no free option. There are also some negative reviews about the learning experience on Preply due to its lack of grammar lessons (although there are plenty available for purchase).
8. Yabla - Watch German videos and learn German vocabulary
Yabla is a language learning app that functions as a video-based dictionary. Language learners can search for words and phrases, and the corresponding subtitle will show on the bottom of their screen in German with audio playback in both English and German.
Who is Yabla for?
Yabla is best suited for Beginners who want to improve reading comprehension skills in German while mastering new vocabulary at an intermediate level without any prior knowledge of grammar rules.
What we love about Yabla
Yabla is similar to the previously discussed FluentU. It contains a large library of video content from a wide range of sources, including Youtube. It is cheaper than FluentU, however.
The app provides
Grammar lessons through unique videos not available on Youtube
Flashcard exercises
An opportunity to practice offline on desktop, tablet or mobile.
You can do all of this whilst learning German from native speakers, listening to their mother tongue.
Its low cost makes it one of, if not the best German learning app on the market for visual language learners, as well as those wanting to learn German at their own pace. We find the best apps to be those that enable language learners to do just that.
Main Cons of Yabla
Its videos are slightly more outdated, as is its interface. Yabla are currently updating this, though.
9. Mondly - Practice Conversation in an interactive way
Mondly is one of the best apps for learning German based on its unique features and user interface.
The Mondly app simulates an immersive experience which makes learning the German language fun and interactive. Its voice recognition software means you can talk to your 'tutor' about anything, from the weather to how your day went.
This makes language learning through conversation fun, which is one of the most important things.
Who is Mondly best for?
Anyone who wants conversation practice with language tutors
Modern learners who want to learn the German language through Artificial Intelligence
Those who want customized learning plans
What we love most about Mondly
Mondly is one of the best language courses around based on its high level of interaction and sophisticated software. The app also has personalized learning plans for each user.
Users can learn multiple language at one time with a premium subscription, so you are not limited to learning German only through this app.
The app contains over 5,000 short stories from around the world, including original content by professional authors.
Through Mondly, you'll have conversations and learn new words while practising grammar skills with four different "language tutors."
The Mondly app also provides detailed explanations of verb conjugations and enables you to switch between learning styles if you require.
Main Cons
There are very few cons to this app. In fact, we can't find any!
10. Tandem - Take part in a Language Exchange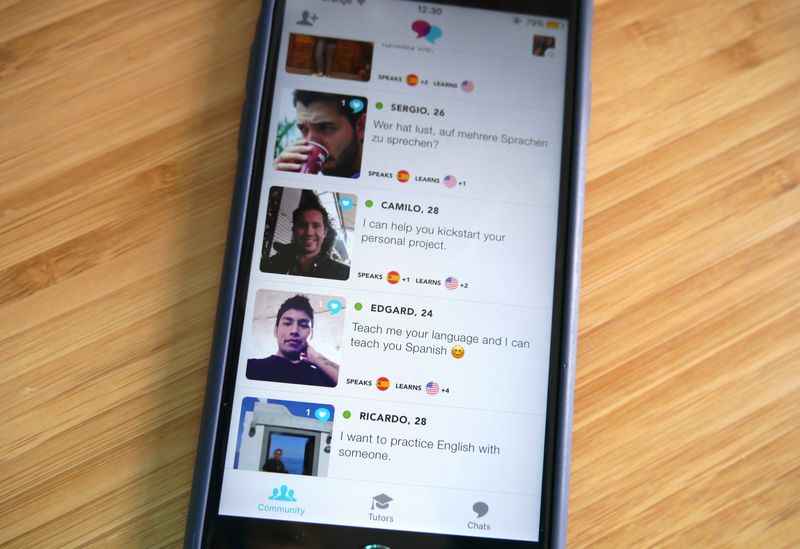 Tandem is a language-learning app that lets you find and chat with people from around the world. You can download Tandem to your device's home screen for quick access, making it even easier to use on the go!
Who is Tandem for?
This app is perfect for learners looking to make friends with language exchange partners completely free of charge. Just bear in mind that you will need to help them with English too!
What we love about Tandem
The best part about this specific app is that its users comprise over four million native speakers of German! So, if you're looking for someone who speaks fluent German as their mother tongue, you're in the right place.
There are also native speakers in many other languages like Spanish, French, or Portuguese. Although there may be some language barriers at first due to different accents and dialects, within less than two months these will become more familiar as well.
Main Cons
Tandem is a great way to meet people from Germany and improve your pronunciation. However, these are not qualified tutors (and do not claim to be).
11. Rosetta Stone - The Veteran of Language Apps
Rosetta Stone is one of the best known and widely used language learning apps on the market.
Its method of learning a language is immersive and interactive. This app focuses on the four skills: speaking, listening, reading and writing in order to help you become proficient in your chosen language. For this reason, it is one of the best apps for learning German vocabulary.
Who is Rosetta Stone is best for?
The app is best for beginners who are looking to learn German through an interactive tool and proven method.
What we like about this app
The German course contains the following key features:
Over 450 hours of audio content
Ability to track progress through a vocabulary builder tool
Opportunity to read long texts and practice your reading skills
This is one of the best apps for learning German vocabulary.
The app includes a variety of different lessons, but focuses primarily on vocabulary, basic grammar structures in written form, verb conjugations, German articles, der die das and pronunciation etc.
The app also includes an audio component for listening comprehension practice with native speakers.
Main Cons
One of the cons is that it doesn't have much speaking opportunity. Whilst the voice recognition tool keeps you speaking all the time, it can feel a little robotic.
This may not be best suited to learners who are interested in getting better at understanding complex texts like news articles or novels.
12. Babbel - Practice speaking, listening, reading and writing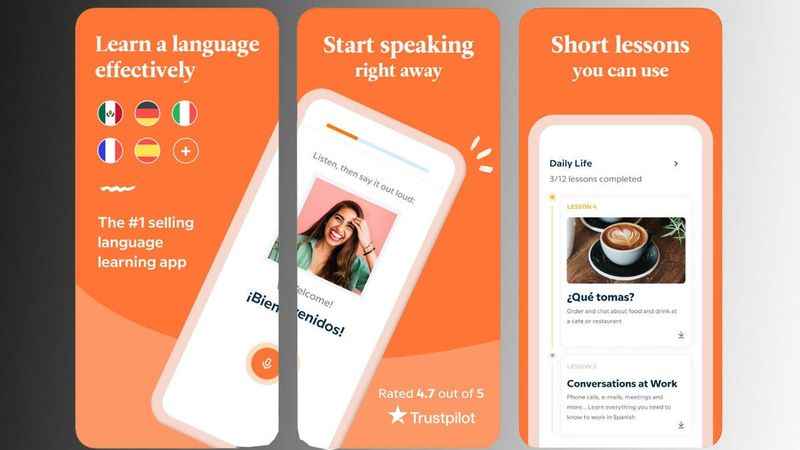 What is Babbel?
Babbel is a language learning app that offers courses for beginners and advanced learners, as well as an option to practice reading comprehension.
Who is Babbel German best for?
This language app best suits those who want to learn German the modern way with a focus on the pronunciation of the German language.
Ideal for Beginners and Intermediate learners, Babbel German is also a great option for those keen to study German throughout the day. Users can study offline to avoid excessive data usage.
What we love most about Babbel
Babbel's method of teaching is adaptive: it changes the difficulty level based on how quickly you're progressing through lessons. It also includes:
Pronunciation coaching
Vocabulary building exercises like word matching
Translation tests with instant feedback
Games designed to reinforce what has been learned in each lesson
New content modules are added every month!
Main Cons of Babbel
The downside to Babbel is that the app may not be easy for non-techy users to manage. The courses are also quite long and can take time. So, patience is required!
What is the best app to learn German?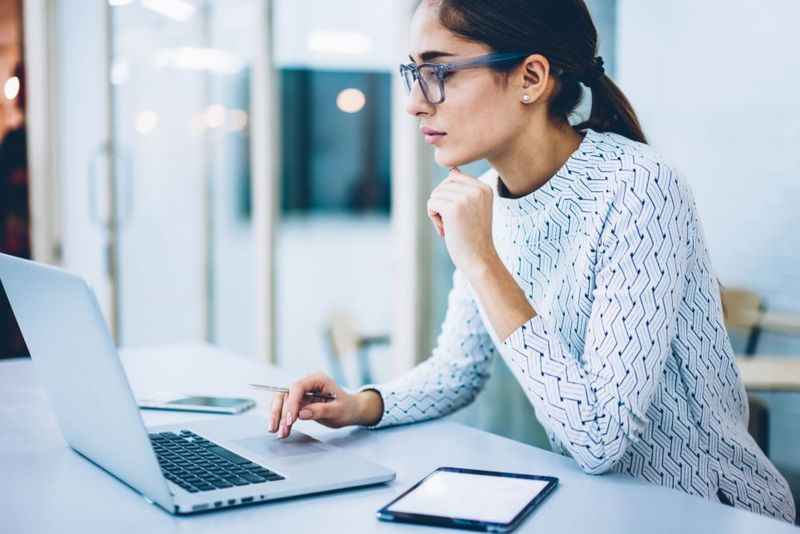 So, we've provided 12 apps proven to help millions of German learners around the globe. But which is best?
This really depends on the type of learner that you are and how you like to learn best. Visual learners will enjoy a combination of AI tools through Mondly, supplemented by face to face interaction with a tutor on italki or Preply.
Online tutors are great for learners who already have some knowledge of the language. If you want to learn from scratch, the best apps for German are Pimsleur (for audio) and Mondly (for the interactive experience).
These apps have some really helpful features, including a personalised learning programme which make sure that your skills are constantly improving.
German vocabulary apps
The following apps are best for improving German vocabulary; they focus purely on words and phrases.
Duolingo:
Best for learners of all levels; fully-immersive lessons that provide a fun and easy way to practice reading, listening, speaking and writing skills.
This app is great for beginners as well as those who are more advanced. It has options to study languages other than German too!
Memrise:
Memrise is best for learners of all levels (mostly beginner and intermediate). Plus, it's easy to use.
It has a system where you're given new words with their meanings so that while you may know the word "fantasie" (imagination), but not its meaning, Memrise will teach both.
Babbel:
Babbel has a wide variety of activities—reading, listening, watching videos and more.
It also includes the "Learning Space" where learners can practice what they have learned in specific lessons on a real-time basis.
The best thing about Babbel is that it offers German courses for every type of learner.
And there you have it! The 12 Best German Learning Apps
The best way to start learning a new language is by finding a resource or specific app that works for you, then sticking with it long-term. This may take some trial and error before you find one that suits your needs.
Every person has different goals when they are trying to learn German—some of us just need help being able to understand what people say, while others have larger ambitions like mastering fluency.
No matter which goal you have, there's an app in this list that will work for you. Try a free trial with any of these German learning apps to find out if it's right for you or search our site for other recommendations that might be more suitable for what YOU want to learn! As they say in Germany, Viel Glück!