17 Best Theme Parks in Singapore (With Pricing) | 2023 (with Photos)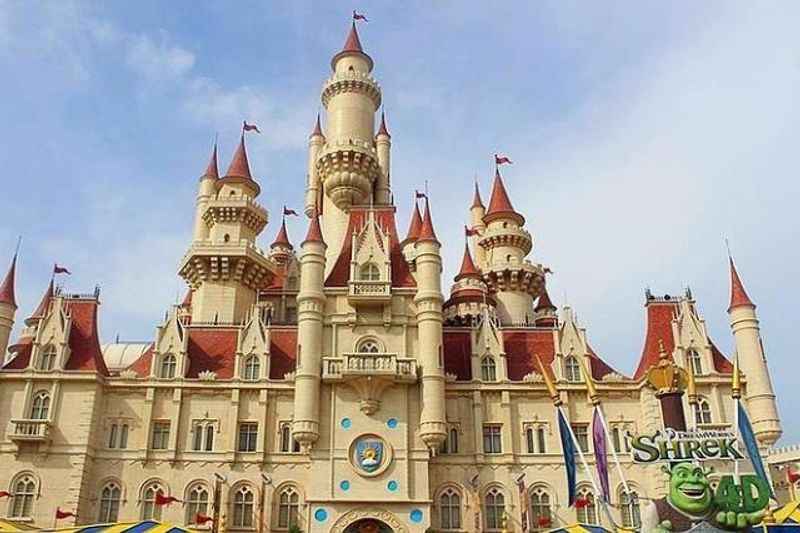 So, you're headed to sunny Singapore for some culture and fun. You will want to know all about the best theme parks in Singapore and their prices.
With plenty of theme parks in Singapore, there is no shortage of options for visitors.
Whether you're looking for water slides, drop towers, or animal encounters, there is something for the whole family in these amazing amusement parks in Singapore.
In this article, we will provide an overview of the 17 best theme parks in Singapore including pricing information for each one. Singapore is one of Southeast Asia's gems and its theme parks are part of the reason why.
Most Recommended Thing to Do
Our Top Choice Restaurant
Our Top Choice Bar for Nightlife
Optimal period for visiting Singapore is during November-March.
Hot and humid throughout the year, around 30 degrees
MRT, buses, taxis, Grab, bikes, e-scooters, walking, car-sharing
Average Cost ($, $$, $$$)
My Top Recommendation
When it comes to spending time in Singapore, immerse yourself in the vibrant city life by exploring the bustling streets of Chinatown, where you can indulge in delicious local cuisine and browse through a variety of souvenir shops—an unforgettable sensory experience.
For a more serene experience, take a leisurely stroll through the iconic Gardens by the Bay, where you can marvel at the stunningly futuristic Supertrees and soak in the tranquility of the beautifully curated flower domes—a perfect escape from the bustling city.
What You'll Need to Bring
Passport
Travel documents
Currency (Singaporean dollars)
Comfortable walking shoes
Lightweight clothing for warm weather
Sunscreen
Umbrella or raincoat (in case of showers)
Adapter for electrical outlets (Type G)
Insect repellent
Travel insurance
What Not to Miss
Marina Bay Sands
Gardens by the Bay
Sentosa Island
Chinatown
Little India
Clarke Quay
Orchard Road
Sri Mariamman Temple
Singapore Flyer
Merlion Park
What to Avoid
Overpacking: Avoid bringing too many items with you as it can be difficult to manage, especially if you'll be moving around frequently during your visit to Singapore.

Chewing gum: Singapore has strict laws regarding the sale and importation of gum, so it's best to avoid bringing it or chewing it while you're in the city.

Jaywalking: Be cautious and avoid jaywalking, as Singapore has strict rules and regulations when it comes to road safety.

Littering: Singapore is known for its cleanliness, and littering is heavily discouraged. Be sure to dispose of your trash in designated bins.

Eating or drinking on public transportation: It is considered rude and inconsiderate to eat or drink on buses, trains, or in other public transportation vehicles in Singapore.

Smoking in public areas: Smoking is strictly regulated in Singapore. Be aware of designated smoking areas and follow the rules accordingly.

Bringing drugs or contraband: Singapore has extremely strict drug laws, so it's important to avoid carrying any illegal substances or contraband items.

Criticizing the government or breaking any public order laws: Singapore has laws that prohibit public gatherings without permits, as well as laws against spreading false information or criticizing the government. It is best to be aware of these regulations and avoid any violations.
1. Universal Studios Singapore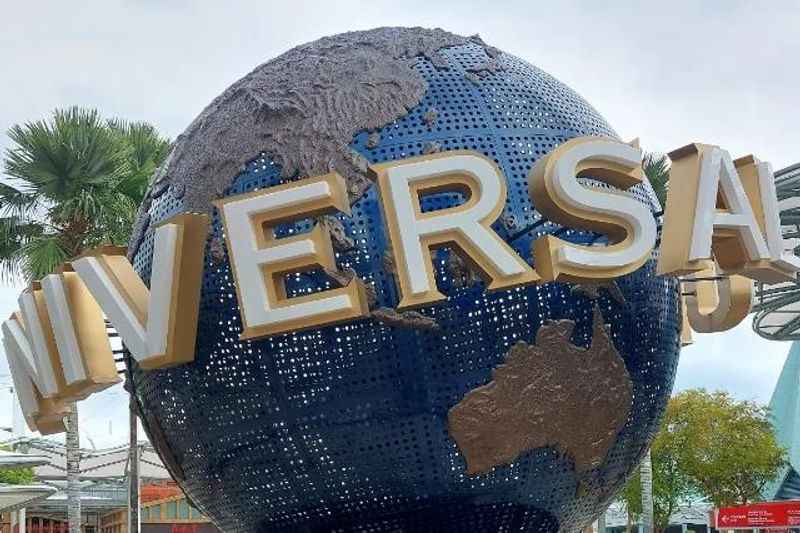 Let's kick off this list of the best theme parks in Singapore with a classic: Universal Studios Singapore.
Universal Studios Singapore stands as the first and only Universal Studios theme park in Southeast Asia and the first Hollywood movie theme park in the region.
This is one of the main reasons why Universal Studios Singapore is so popular. Prepare for heart-pounding rides and an array of attractions inspired by blockbuster movies and popular television series.
Universal Studios Singapore has themed zones, including Ancient Egypt, Sci-Fi City, and Lost World. These zones offer something for everyone.
Some of the top rides are Transformers 3D Battle, Jurassic Park Rapids, and Revenge of The Mummy.
Admission tickets start at $79 for adults and $59 for children.
2. Adventure Cove Waterpark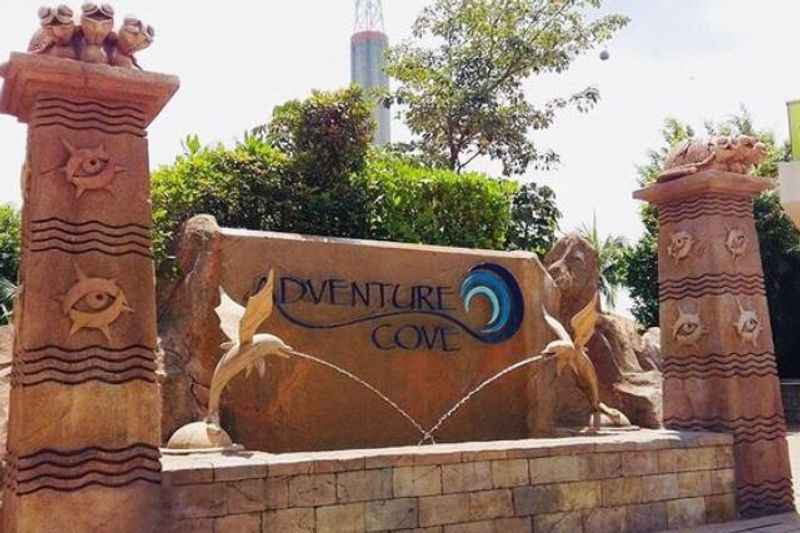 Located at the Resorts World Sentosa, Adventure Cove Waterpark offers a multitude of thrilling water slides filled with exhilarating twists and turns.
This is one of the best water parks in Singapore. Dive into a world of captivating experiences, from fun rides to enchanting encounters with vibrant marine life.
Enjoy some unique attractions such as Ray Bay and Rainbow Reef, and go snorkeling, sea trekking, or even shark diving.
Ticket prices for Adventure Cove Waterpark are $36 for adults (13 to 59 years old) and $26 for children (4 to 12 years old).
3. Snow City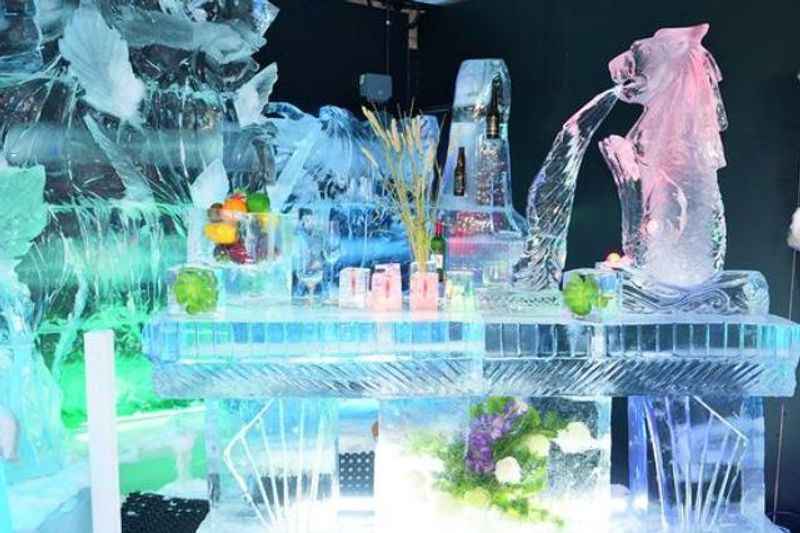 Snow City is Singapore's first indoor snow center, which offers visitors the chance to experience snow and ice amidst Singapore's tropical climate.
At Snow City, you will see a remarkable three-story high and 60-meter-long snow slope and enjoy the thrilling activity of snow tubing.
Engage with the various interactive exhibits at Snow City for an amazing journey through this unique wintry wonderland.
Admission tickets for Snow City start at $12 for children and $18 for adults.
4. Haw Par Villa with the Ten Courts of Hell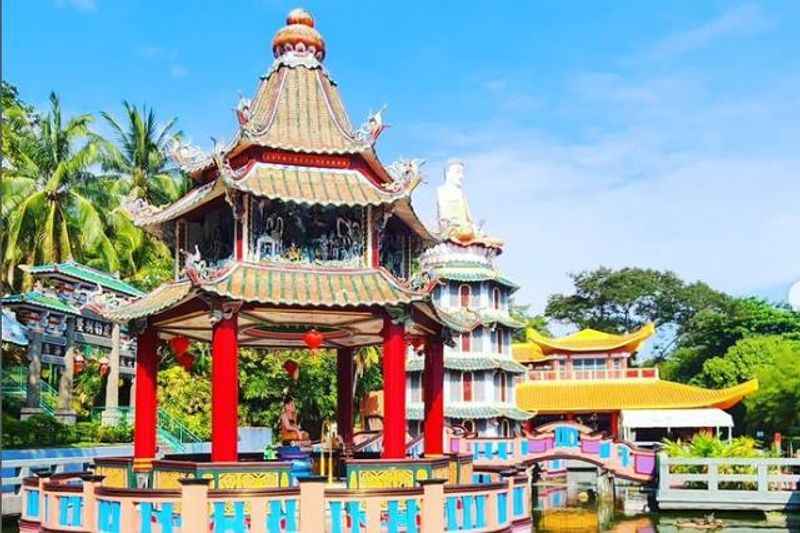 Haw Par Villa, or Tiger Balm Garden is one of the most unique theme parks in Singapore, showcasing Chinese mythology and culture.
You can find over 1000 statues and 150 dioramas depicting Chinese folklore themes and mythological characters. The main attraction is the dioramas depicting the Ten Courts of Hell.
Ongoing efforts are being made to revive Haw Par Villa/ Tiger Balm Gardens and restore its former glory. Now, you can also enjoy a roller coaster boat ride and multimedia performances.
Admission to this cultural park is free, making it an affordable option for those on a budget and one of the more accessible theme parks in Singapore.
5. Wild Wild Wet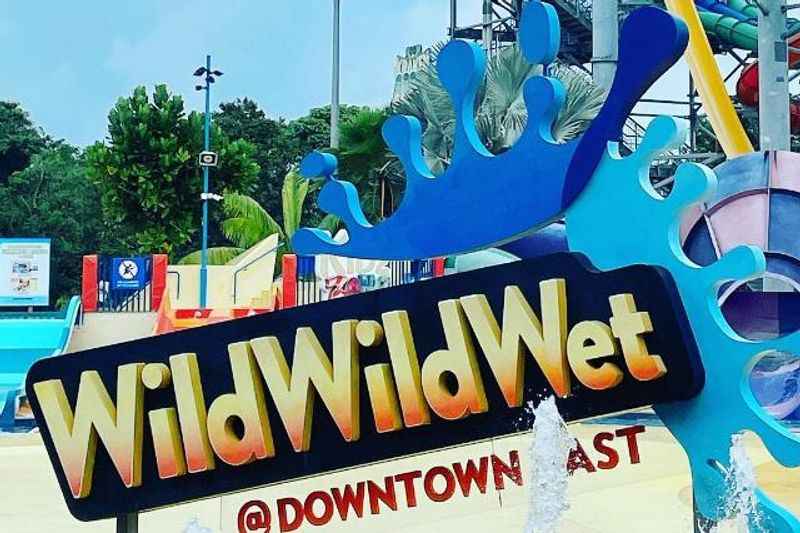 Wild Wild Wet is one of the most famous water parks in Singapore.
Located in Pasir Ris, this waterpark has a good blend of adrenaline-filled slides, as well as lots of relaxing pools and flumes suitable to all family members.
Don't miss out on the iconic Ular-lah, a whitewater rafting-inspired slide, and Royal Flush rides, wave pools, and a mini pool for younger kids.
Spend a refreshing day at Wild Wild Wet to beat the tropical heat and enjoy a memorable time with your loved ones.
Admission ranges from $19 - $26 for children and $26 - $35 for adults.
6. G-Max Reverse Bungy (The Slingshot in 2023)
For the ultimate adrenaline rush, the G-Max Reverse Bungy is not to be missed. It is the first and only bungy in the world that combines bungy jumping and a human slingshot.
Passengers are securely fastened inside an open-air capsule and propelled 60 meters into the sky. You can get a DVD recording of your experience with the onboard camera if you want to pay a few extra dollars.
Starting in 2023, G-Max Reverse Bungy will be replaced by the more exciting Slingshot ride.
Admission tickets start at $45 per person.
7. LEGOLAND Malaysia Theme Park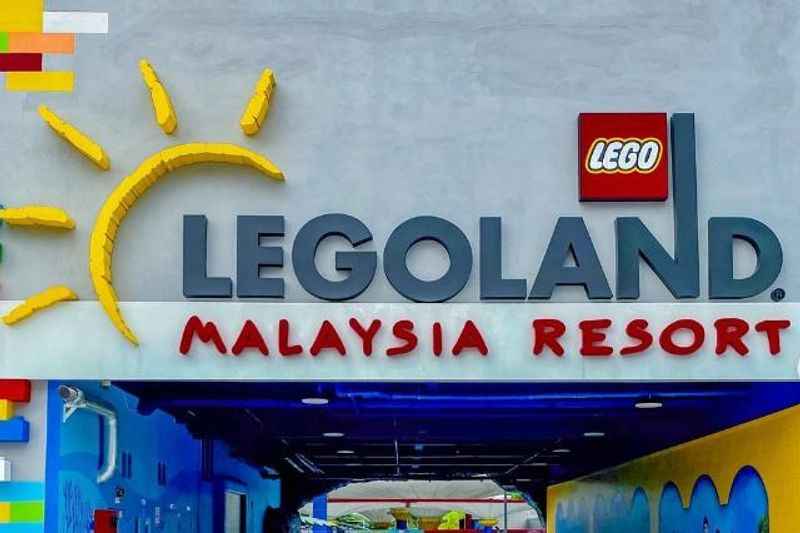 LEGOLAND Malaysia is a theme park located just across the border from Singapore. While this is not technically one of the theme parks in Singapore, it is so easily accessible from Singapore that we still recommend a visit.
It's Malaysia's first international theme park and offers over 40 captivating rides, shows, and interactive attractions.
LEGOLAND Water Park has over 20 thrilling activities, and its SEA LIFE Aquarium is home to an impressive collection of 13,000 fascinating sea creatures.
Legoland Malaysia Theme Park admission ticket — $39 per adult discount price online for the 1-Day Ticket. The regular walk-in price is $ 50 if you buy on-site.
8. Singapore Discovery Centre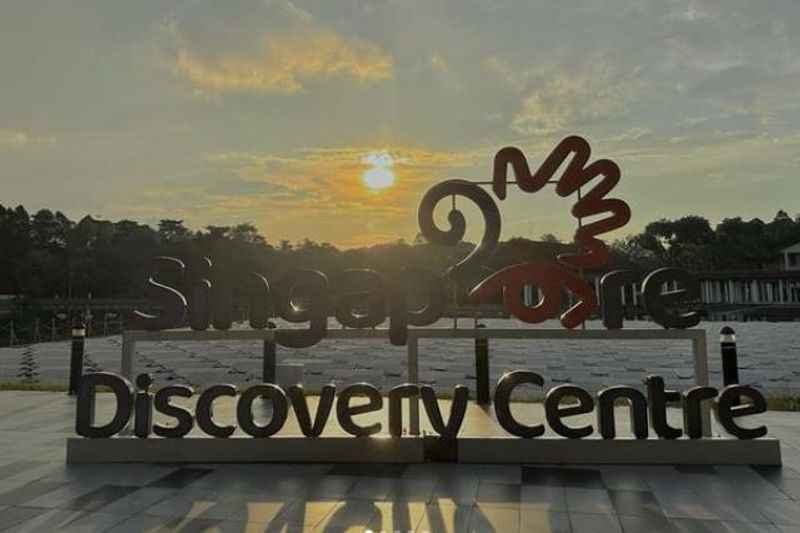 The Singapore Discovery Centre, located in Jurong West, Singapore, is a captivating 'edutainment' experience and tourist attraction under the Ministry of Defence.
It features engaging exhibits that showcase the history of Singapore and offer a glimpse into the future.
Experience your worst fears at the Black Lake Laser Battlefield, where you'll be immersed in the illusion of traversing multiple inter-dimensions. Encounter extraterrestrial beings, creatures, and even zombies in this thrilling adventure.
For an adrenaline-pumping experience, the XD Theatre utilizes cutting-edge patented technology to provide 4D simulation rides that will keep you on the edge of your seat.
Tickets for non-Singaporeans are $10 for adults and $8 for children.
9. Singapore Flyer
Rising to an impressive height of 165 meters, the Singapore Flyer proudly holds the title of Asia's largest observation wheel.
The wheel provides an awe-inspiring 360-degree panoramic view and ranks among the most exciting attractions in Singapore.
At the heart of the Singapore Flyer's appeal are its 28 spacious, air-conditioned capsules, each equivalent in size to a city bus.
Designed to accommodate up to 28 passengers, these capsules offer a 30-minute enthralling expedition through Singapore's skyline.
Tickets cost S$33 for visitors aged 13 or older and S$21 for children aged 3 to 12.
10. The Sentosa Skyline Luge and Skyride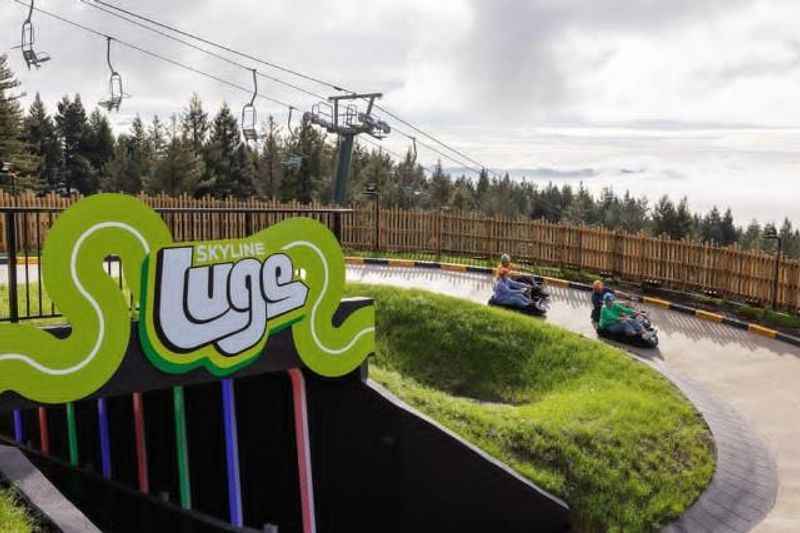 Located on the breathtaking Sentosa Island, Skyline Luge offers the ultimate gravity-fueled thrill ride in Singapore.
The Skyride will transport you to the top of the tracks. Take the driver's seat in one-of-a-kind 3-wheeled Luge carts and embark on an adventure down four specially designed tracks.
Sentosa Skyline Luge starts at Imbiah Lookout and ends at Siloso Beach. Enjoy the tree-top view of the nearby beaches and go as fast or slow as you wish.
Prices start at $21 for the off-peak season.
11. River Wonders/River Safari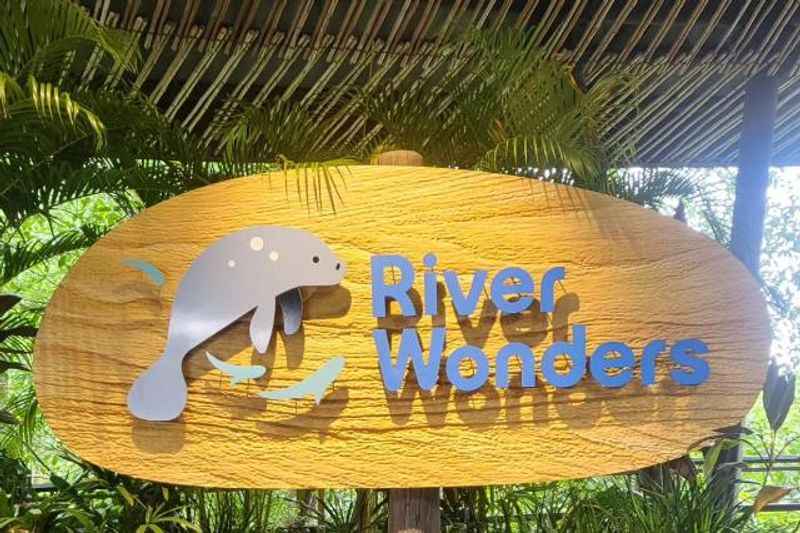 The incredible ****River Wonders, formerly known as River Safari, is Asia's only river-themed wildlife park.
Spanning 12 hectares, it finds its place harmoniously between its neighboring attractions, the Singapore Zoo and the Night Safari.
Embark on an adventure aboard the Amazon River Quest and enjoy the Wildlife Experiences to gain exclusive access behind-the-scenes and engage with the animals up close.
River Safari admission prices are $42 for adults and $30 for children.
12. Mega Adventure Park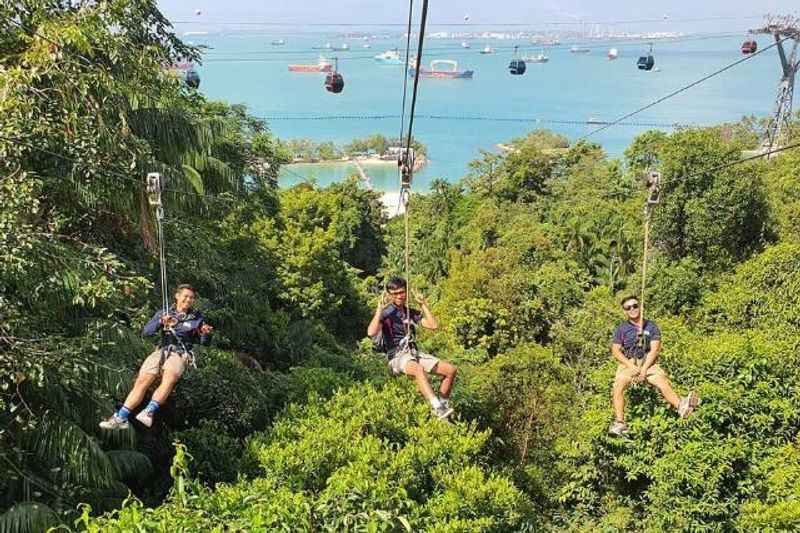 Mega Adventure Park on Sentosa Island is a haven for thrill-seekers and one of the best theme parks in Singapore for those craving an adrenaline rush.
Brace yourself for the heart-pounding adventure of the MegaZip, a high-flying zipline that offers breathtaking views of Sentosa Island.
Test your agility on the aerial rope course, putting your skills and balance to the test. For an extra dose of excitement, take a leap of faith with the MegaJump, free falling from a height of 15 meters.
Tickets are $66 at the counter, and a bit less if you buy online.
13. Jurong Bird Park/ Bird Paradise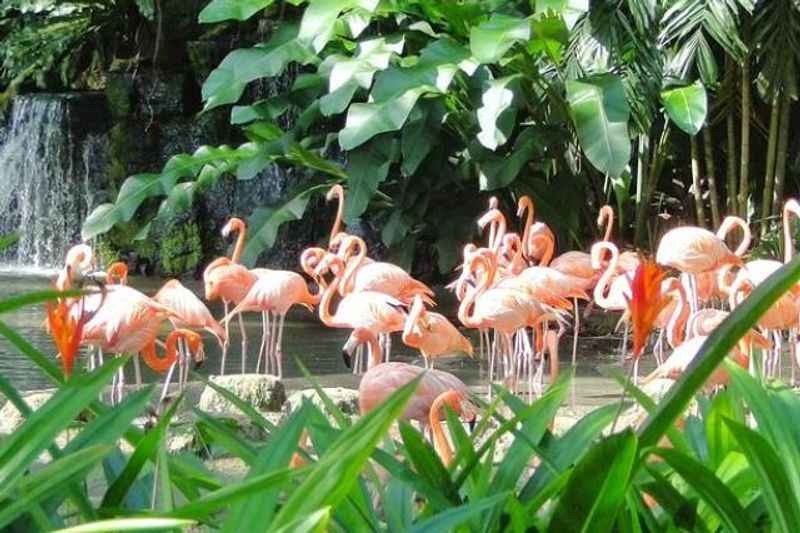 Jurong Bird Park, established in 1971, holds the distinction of being the largest bird sanctuary in Asia.
This renowned park is a haven for animal lovers, boasting a staggering collection of over 3,500 birds from more than 400 species.
Marvel at the colorful feathered creatures at Flamingo Lake, Penguin Coast, and Parrot Peninsula, among many others.
In 2023, the park will join forces with the Singapore Zoo, Night Safari, and a new luxury Banyan Tree resort to create an eco-tourism hub in northern Singapore.
14. Night Safari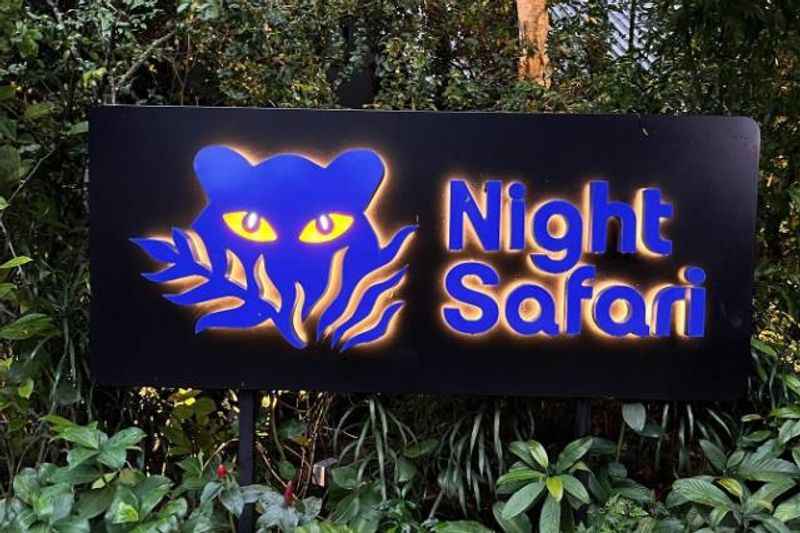 The Night Safari Singapore is the world's first nocturnal zoo located in Mandai, Singapore.
You will be able to see over 130 species of nocturnal animals in their natural habitat, without any barriers.
With the aid of special lighting techniques, you can observe over 900 captivating creatures like striped hyenas, lions, and mountain deer.
Explore the wildlife up close on four walking trails: Fishing Cat, Leopard, East Lodge, and Wallaby. Tickets cost $9.
15. Gardens by the Bay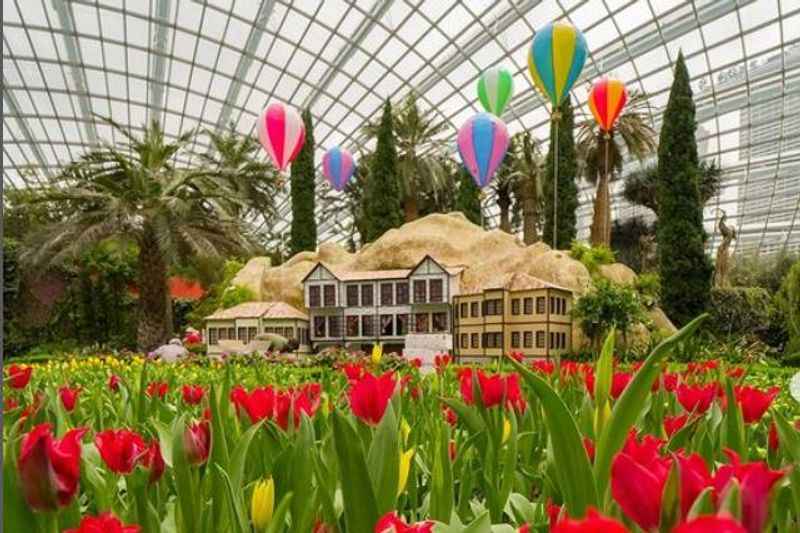 Singapore's stunning Gardens by the Bay is a magnificent 101-hectare garden that leaves visitors in awe.
Situated in the heart of Singapore, it encompasses Bay Central, Bay East, and Bay South, with Bay South being the largest among them.
On the OCBC Skyway bridge, you can marvel at the stunning supertrees that grace the Gardens by the Bay, reaching impressive heights of 25 to 50 meters. There is also a range of activities like archery for kids.
It is free to visit Gardens by the Bay for free-admission attractions and the light show.
16. Singapore Cable Car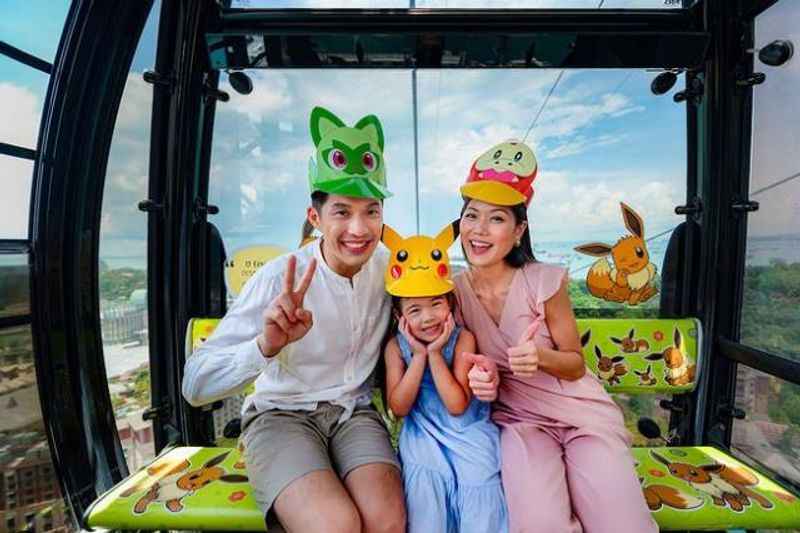 Experience the breathtaking Singapore Cable Car, a gondola lift that offers an aerial link between Mount Faber and the picturesque Sentosa Island.
Soar through the sky across the scenic Keppel Harbour and experience the beauty of Singapore's skyline from a unique perspective.
Immerse yourself in an unforgettable journey as you embark on the Singapore Cable Car ride, enjoying the great vistas of Sentosa and Faber Peak.
A round-trip pass costs $28.
17. iFly Singapore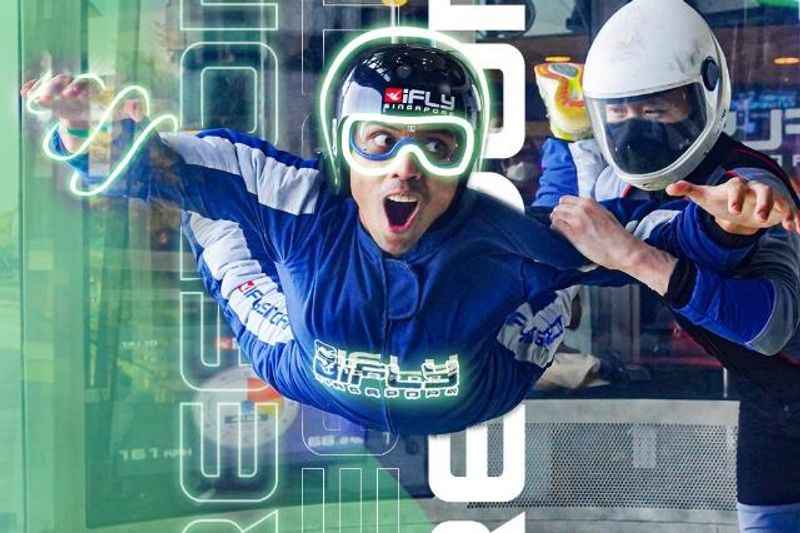 Turn your wildest flying dreams into reality within the expansive confines of the world's largest themed wind tunnel, stretching an impressive 16.5 feet wide and 56.5 feet tall.
This exhilarating adventure offers a guided experience inside a wind tunnel, enclosed by 18 feet tall acrylic glass walls, providing a captivating panorama of the South China Sea and Siloso Beach.
Participants must be at least 7 years old and above.
The pricing for iFLY starts at $59.99 per flier for two flights.
FAQs About the Best Theme Parks in Singapore
Let's also explore some frequently asked questions about the best theme parks in Singapore
Does Singapore have any famous theme parks?
Yes, Singapore is home to several popular and unique theme parks, including Universal Studios Singapore, Adventure Cove Waterpark, and S.E.A. Aquarium.
What are the top 3 biggest theme parks in the world?
The top 3 biggest theme parks in the world, based on size and visitor capacity, are Walt Disney World's Magic Kingdom in Florida, Disneyland Park in California, and Tokyo Disneyland in Japan.
What is the name of a famous theme park in Singapore?
The name of the renowned theme park in Singapore is Universal Studios Singapore. This theme park is located on Sentosa Island and offers a wide range of attractions and thrilling rides.
Are there any roller coasters in Singapore?
Yes, Singapore does have roller coasters.
Universal Studios Singapore features various roller coasters, including Battlestar Galactica, a dueling roller coaster, and the thrilling Revenge of the Mummy indoor roller coaster.
Are Singapore theme parks open post-COVID-19?
Yes, all theme parks in Singapore have reopened following the COVID-19 pandemic and they are following all safety protocols.
Summing Up: Best Theme Parks in Singapore
As you can see, Singapore's best theme parks offer a world of adventure and excitement. They range in price, activities, and themes, so there is something for every family.
You can visit theme parks offering thrilling rides, interactive exhibits, or immersive wildlife encounters, providing a fun-filled experience for everyone.
Embark on a fun-filled day of exploration and enjoy exciting activities in Singapore at one of the city's thrilling and renowned theme parks.