The use of TV shows and movies to learn Spanish is more popular today than it has ever been. Spanish movies are not only accessible, but they're also a great way to pick up new vocabulary and key grammar concepts in Spanish.
In this blog post, we'll take you through our top 10 TV shows and Spanish movies online currently. We'll cover:
👍 A range of the best movies and TV shows to learn the language
👍 Whether or not it is possible to learn Spanish by watching TV
👍 How long it takes to learn Spanish by watching Spanish movies, regardless of your Spanish level
By the way, below you will see a video that shows how to learn Spanish by watching TV with an online app called LingoPie. We've written a review explaining how this works. Check our LingoPie Review.
Can I learn Spanish by watching movies with English subtitles?
Before we start with our list of the best Spanish movies, we'll answer this important question.
The short answer to this question is yes (and no – at the same time).
Spanish learners can certainly benefit from watching movies in Spanish for a number of reasons.
Firstly, the Spanish used in the context of TV shows and movies provides exposure to authentic Spanish which will aid with your learning more than countless verb exercises or vocabulary lists ever could.
Secondly, watching Spanish movies is a great way to learn new language points that are specific only to certain dialects. For example, Mexican Spanish has its own slang which you can't find elsewhere, whereas Argentina uses words you won't find anywhere else either.
And lastly, watching Spanish films is a great way to learn new vocabulary and explore important aspects of Spanish grammar, such as the present, future, and past tenses.
Obviously, watching Spanish films is not a great way to practice your speaking skills. However, TV shows and movies in Spanish provide a foundation from which to familiarize yourself with the language.
1. Diarios de Motocicleta (The MotorCycle Diaries)
Released in: 2004.
Starring: Gael Garcia Bernal, Rodrigo de la Serna, Mía Maestro, Mercedes Moran.
Synopsis: The Motorcycle Diaries is an award-winning film about the young life of Che Guevara before he became a revolutionary icon.
The film tells the true story of his South America motorcycle journey with friend Alberto Granados between 1951 and 1952, which was only the starting point of Guevara's lifelong dedication to ending social injustice in South America.
It successfully portrays Latin America as both beautiful and troubled without falling into stereotypes or taking an overly romantic view of its subjects.
Watching this movie will not only give you an insight into Argentinean history but also teach you colloquial language used by native speakers.
Diarios de Motocicleta provides an excellent way to learn Spanish for students at every level. However, watching without English subtitles will prove quite a challenge for beginners and even intermediate learners.
Listen carefully to the strong but beautiful Argentinian accent!
2. El Laberinto del Fauno (Pan's Labyrinth)
Released in: 2006
Starring: Ivana Baquero, Ariadna Gil
Directed by: Guillermo del Toro
Synopsis: "El Laberinto del Fauno" is a Spanish fantasy and horror film set in post-Spanish Civil War times and focuses on the life of young Ofelia, a child who moves with her pregnant mother to live with Vidal, a Fascist military officer who's determined to quell the Republican resistance.
Ofelia discovers an old labyrinth behind their house where she meets Pan, deciding to complete three tasks for him in order to prove her true identity.
The movie is concerned with challenging subjects such as self-sacrifice and embracing your inner darkness for the sake of better things.
Del Toro's cinematic masterpiece has won various awards and nominations including three Academy Awards and three British Academy Film Awards.
Whilst it is not a war story, Pan's Labyrinth focuses on the brutality of the fascist regime and documents an extremely important part of modern Spanish history.
It is a great film for language learners for being both educational and entertaining.
In addition, it will help you expand upon your vocabulary and verb conjugation skills without you even noticing it.
3. Gabo, la creación de Gabriel García Márquez – Gabo, the Magic of Reality
Released in: 2011
Directed by: Jordi Cruz (2011)
Synopsis: This Spanish documentary is about the life and legacy of Nobel Laureate Gabriel García Márquez, one of the most influential authors in Latin America.
His work has deeply impacted literature worldwide, portraying different aspects of Latin American culture such as "magic realism." 
The documentary features interviews with fellow writers like Mario Vargas Llosa and other notable figures to talk about Gabo's impact on their lives, including writers and politicians like César Gaviria and Bill Clinton.
It will help you to appreciate his work better while learning Spanish at the same time through picturesque images and lively narration.
4. Volver
Released in: 2004
Starring: Penelope Cruz, Carmen Maura, Lola Dueñas
Directed by: Pedro Almodóvar
Synopsis: Raimunda is a hardworking woman who has to take care of her family.
The problem? Her husband beats her while he is drunk, she must keep her troubled teenage daughter under control and take care of the family's grocery store.
When another tragedy strikes the family, Raimunda starts to question what life holds for them in the future.
Volver is a fantastic movie that combines comedy with drama.
It was created by Pedro Almodovar, arguably the most famous Spanish director.
Produced during the peak of his career, it represents an exceptional portrayal of classical Spanish cinema and is one of the best movies through which to improve your Spanish level.
5. Ocho Apellidos Vascos –
Spanish Affair 
Released in: 2014
Starring: Clara Lago, Eduardo Noriega, Michelle Jenner
Directed by: Emilio Martínez Lázaro
Synopsis: Ocho Apellidos Vascos is a superb, contemporary comedy from Spain.
It follows Rafa, a young man from Seville (in the south of Spain) who falls in love with a Basque woman.
Rafa develops an idea that will convince his new love to leave the Basque Country in the north of Spain. However, he does not get the response he is hoping for.
While the storyline may seem typical and unimaginative, the humor is very good and educates viewers about various aspects of Spanish culture, strong family ties, and cultural differences within the country.
English or Spanish subtitles are absolutely needed for this film, particularly in order to understand the strong Andalusian accent from the south of Spain.
Whilst it is entertaining to listen to, this accent could be difficult to understand even for an advanced learner!
5. El Autor –
The Motive
Released in: 2015
Starring: Manuel Camacho, Pilar Castro
Directed by: Manuel Gutiérrez Aragón
Synopsis: This crime drama focuses on Lucas, a young author who lives happily in the south of Spain with his girlfriend Anna.
The story takes place after he has published his latest book and is now promoting it along with its film adaptation.
He meets up with Adrián, an old friend that he hasn't seen in 20 years since they were both involved in a series of tragic events.
While the plot may not sound intriguing enough to attract viewers, The Motive offers suspenseful scenes which will keep you on your toes until the very end.
Listen attentively to Amanda, who has a distinctive Andalusian accent. You'll notice her drop her 's' at the end of words. If you're learning Spanish from a beginner level, this can be pretty difficult to understand!
6. El Bar – The Bar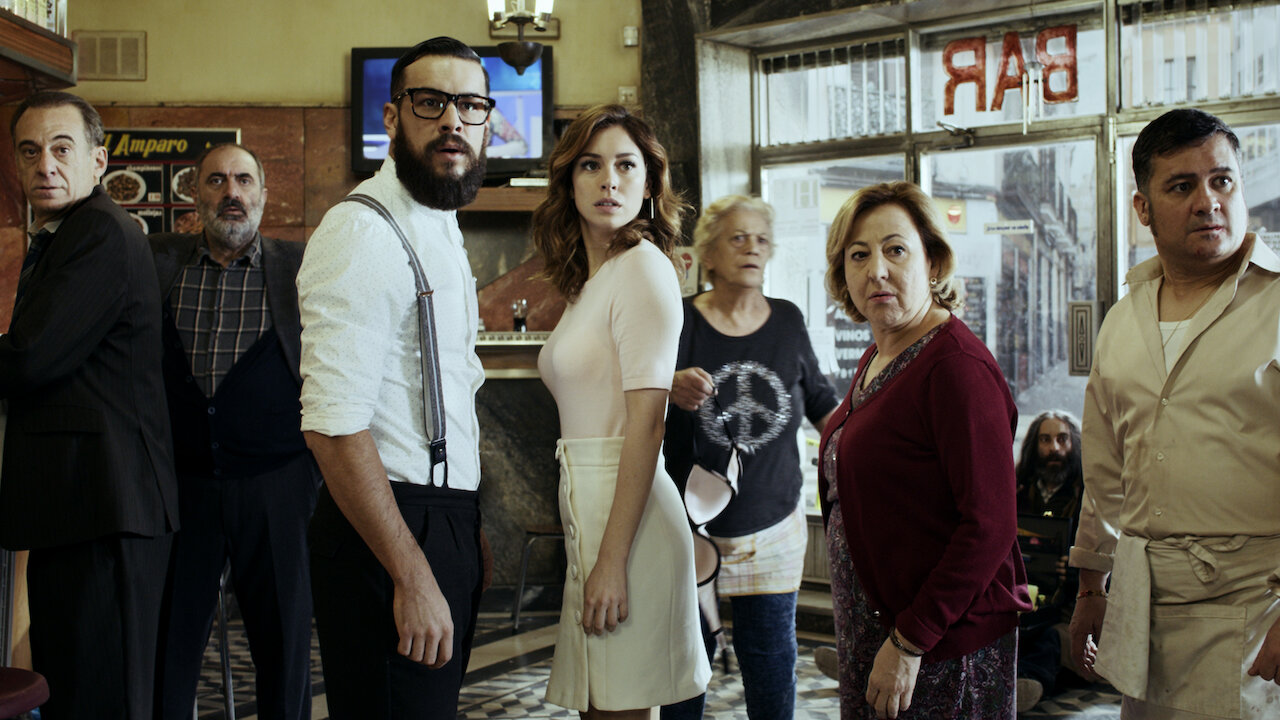 Starring: Belén Rueda, Carlos Areces, Luis Callejo
Directed by: Fernando León de Aranoa
Released in: 2002
Synopsis: This crime drama follows the lives of five bar owners who are accused of smuggling immigrants.
While this is an entertaining film about a serious topic, it also offers heartfelt scenes where the characters reveal their deepest thoughts to viewers.
The Bar has become a classic since its release in 2002 and was included in Spain's official Oscar entry list that year.
This Spanish movie will help you understand how native speakers talk by exposing colloquial expressions which can be difficult to decipher if you're just starting your learning journey with Spanish.
7. Como agua para chocolate –
Like Water for Chocolate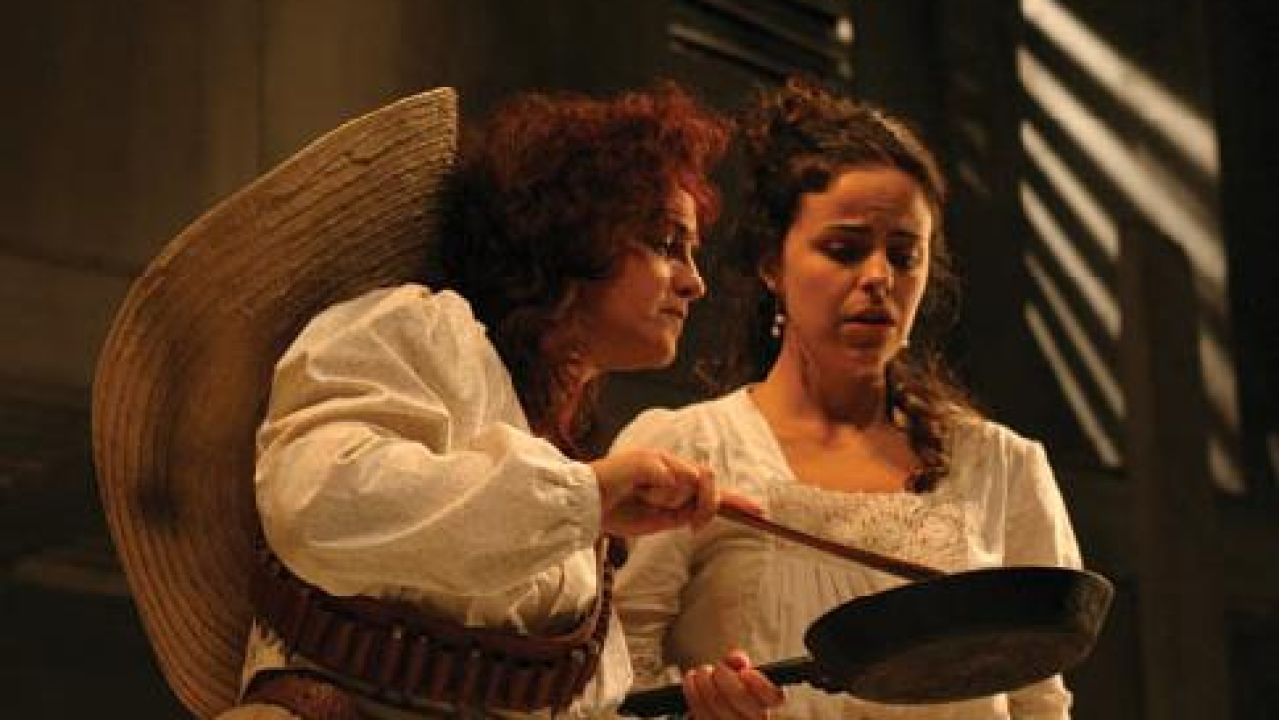 Starring: Marco Leonardi, Regina Torné
Directed by: Alfonso Arau 
Released in: 1992
Synopsis: This drama is based on the bestselling novel of the same name. Tita is a young girl who lives with her mother in early 20th century Mexico.
Her mother cooks incredible dishes made from chocolate that are sought after by many people in their town. However, there is one rule they must follow – no members of the family can ever get married!
This rule does not go down well with Tita, particularly since she cannot stop thinking about Pedro, a boy who has fallen in love with her sister Rosaura.
If you are interested in understanding more about how people speak Spanish in the most populated Spanish-speaking country on earth then this film is for you.
Como Agua para Chocolate reveals many fascinating aspects of Mexican culture and shows how the Spanish language sounds when spoken by Mexicans.
8. Vivir Sin Permiso – (Unauthorized Living)
Starring: José Coronado, Álex González, Claudia Traisac
Directed by: Aitor Gabilondo
Released in: 2018
Synopsis: Vivir Sin Permiso is a Netflix Original series set in Galicia in the Northwest of Spain.
The film focuses on the life and career of Nemo Bandera, a Galician businessman and drug smuggler with a powerful network of allies in the region.
This Spanish TV show on Netflix is great for those learning Spanish from an intermediate level onwards. Nemo's thick Galician accent will definitely test your language skills!
The storyline takes place in modern-day Galicia, providing learners of any Spanish level a glimpse of this stunning part of Spain.
9. Mar Adentro – The Sea Inside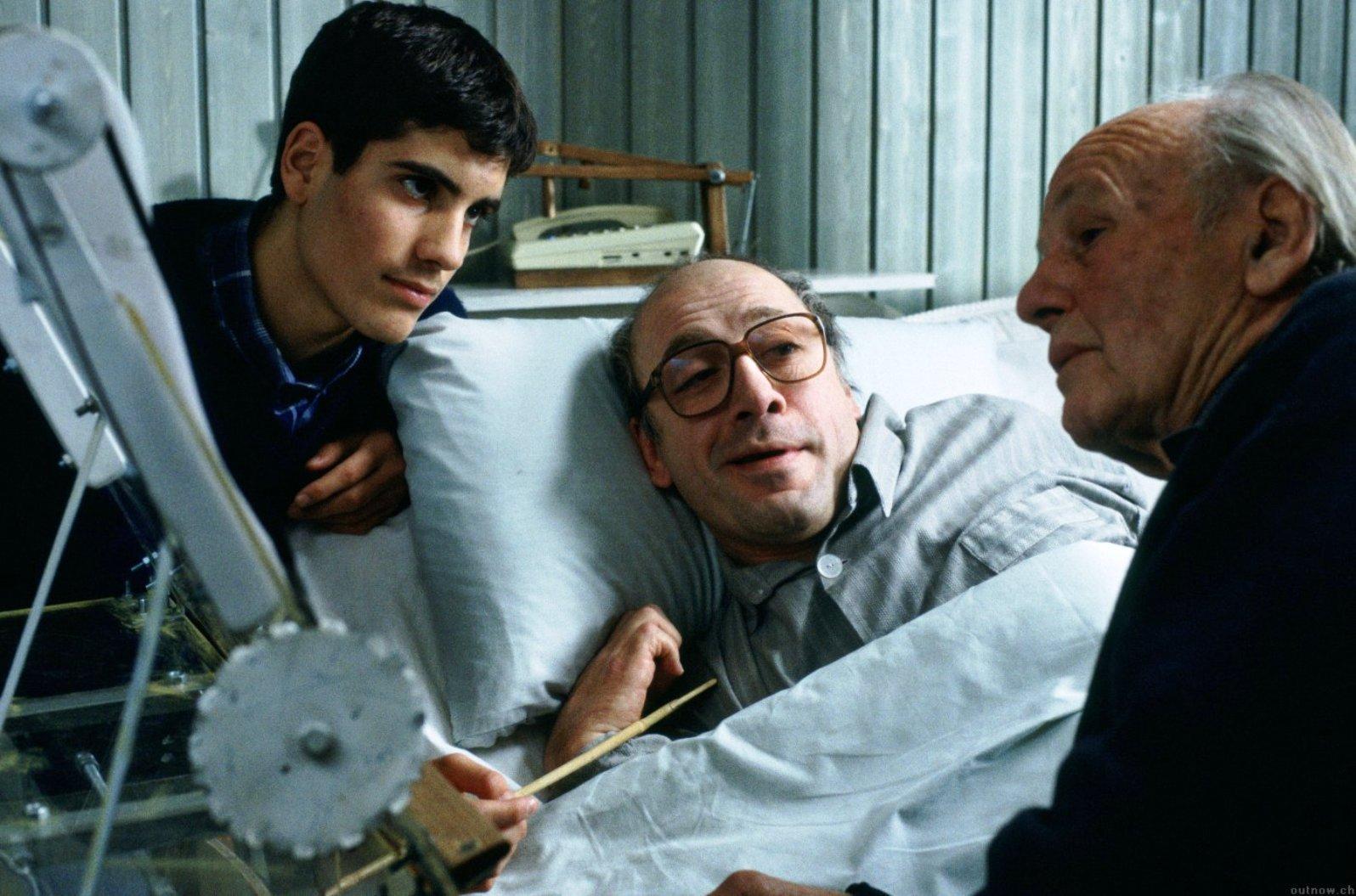 Starring: Javier Bardem.
Directed by: Alejandro Amenábar
Released in: 2004
Synopsis: This Spanish movie narrates the real-life story of Ramón Sampedro, who fought for 30 years to be allowed the right to die.
Mar Adentro takes place in Spain in the 1980s. Ramón Sampedro is a quadriplegic who has been living for over 30 years in a small coastal fishing village near Galicia in northwestern Spain.
Now, he wants to end his life peacefully and with dignity. However, under Spanish law, this can only be approved by a judge at his request and is not automatically granted to terminally ill or severely disabled patients.
Ramón fights for his right through local media coverage, national television shows, and rallies of public support.
However, most legal actions are thwarted by politicians who sympathize with him but cannot afford to alienate the Catholic Church by challenging its position on euthanasia.
This movie in Spanish is considered a work of art by many scholars and academics for its narration of contentious modern-day issues. It was voted one of the best foreign-language films in 2004.
10. Biutiful
Starring: Javier Bardem
Directed by: Alejandro González Iñarritu
Released in: 2011
Synopsis: Biutiful is a cinematic work of art. The storyline takes place in Barcelona, where a factory worker named Uxbal (played by Javier Bardem) smuggles Chinese immigrants into Europe.
The film touches on many important topics and themes, such as immigration, AIDS, and child abandonment.
It was nominated in the category of Best Foreign Language Film at the Academy Awards in 2010.
FAQs Relating to using movies to learn Spanish
In this part of the post, we'll answer some common questions relating to using movies to learn Spanish.
Is it better to watch TV series or movies to learn Spanish?
Whether you use movies to learn the language or focus on TV shows, it makes very little difference. It is more important to consider the accessibility of movies or TV shows when choosing what to use.
Netflix is a great source of Spanish content with a wide library of TV shows and movies in Spanish. However, it's a streaming platform, not a language learning resource.
Lingopie provides a library of content with tailored subtitles which help users to learn Spanish by watching TV. Even if you aren't fans of TV shows or movies, you will still benefit from using them to learn Spanish.
Watching these videos will provide you with exposure to Spanish speakers.
What video should I watch to learn Spanish?
The most important thing is to choose something that you can access on your TV or your laptop.
This way, you'll ensure that it's always available to use as a language learning resource.
We recommend choosing shows and movies which are not too long (less than an hour). If you persevere for longer than this, you're likely to enjoy the content but you risk not actually learning anything new.
Choose something with subtitles if you're at beginner level or above, and avoid watching dubbed movies.
With so many great shows and movies out there, it can be difficult to know where to start.
We recommend starting with one of the TV shows or movies listed in this article to start learning Spanish.
How can I learn Spanish quickly?
There is no right or wrong answer when it comes to how long it takes to learn Spanish.
It depends on many different factors such as the speed at which you learn and how often you use it.
However, we recommend using videos for at least 20 minutes per day, if possible, in order to immerse yourself in Spanish and learn new vocabulary on a daily basis.
Watching Spanish movies with subtitles allows learners to keep up with what is being said without having to understand every word.
If you're a complete beginner, start with English subtitles. Intermediate and advanced learners should watch Spanish movies with Spanish subtitles.
If you're struggling to understand the spoken language at first, don't be afraid to turn the subtitles on and watch again. It's better than not watching anything!
By watching TV shows to learn Spanish, you'll gain exposure to authentic Spanish speakers.
Summing up: Using TV Shows & Movies to Learn Spanish Online
So, there you have it – our choice of the best Spanish movies and TV shows through which to focus on learning Spanish.
These movies provide a platform to boost Spanish knowledge and enhance listening skills, whilst learning about Spanish culture.
In addition, Spanish cinema comprises some of the best movies in history.
The most important thing is to make sure you enjoy what you're watching. Futhermore, make a conscious effort to learn new vocabulary at the same time.
This will allow you to immerse yourself in Spanish learning and pick up new Spanish vocabulary.
If you're looking for great resources with subtitles, be sure to check out Lingopie's library of 1,000+ Spanish-language movies and TV shows with personalized subtitles.
The app lets users watch movies whilst learning new words and grammar to boost their Spanish learning.
_______________________________________________________________________________
Author bio:
James is the founder of travel-lingual.com, this online travel and language blog. He is a tutor of English, Spanish and French. He has visited 35 countries and sometimes writes in the third person! 
He has worked as a language teacher in France, Spain, Argentina, and Costa Rica. His love of languages led him to create this blog, to share best practices in language learning and inspire others to learn!
4.5 out of 5.0 stars