If you are looking for the best online resources to learn Korean, you are in luck! This is a comprehensive guide to 9 of the best courses, websites, and apps for Korean language learning.
This list incorporates a range of resources, teaching methods, and content for anyone who wants to study Korean, from total beginners to advanced learners.
Whether you are looking for a game-centered experience, an opportunity to binge great Korean TV, or private lessons in speaking and writing Hangul, there is something here just for you.
Learn Korean faster and more thoroughly by using a combination of the available online resources.

How's it going?

I'm James, a lover of travel and languages. 

So much so that I blog about them on this site. 

I hope you find this information useful! 😊
The Top 9 Korean Language Resources Online
1. Lingopie Korean
Lingopie is an online streaming service that offers original language TV shows and movies in 8 popular languages: Korean, Japanese, Russian, German, Portuguese, Italian, Spanish, and French.
On Lingopie, you can watch Korean shows and films with dual Korean and English subtitles. Click on any word you do not understand to see the English translation or hear the word spoken aloud in Korean. There is also a full transcript on the screen next to each video.
All of the shows and movies begin with a list of useful words featured. You can create digital flashcards with any new words you want to learn. Then Lingopie will create quizzes based on these new words to reinforce your learning.
Watch videos at full speed or slowed down for level-appropriate listening practice. Finally, each video has a feature that allows you to speak words into your computer microphone to test your pronunciation.
Best For:
Authentic immersion into Korean language content and learning new words and phrases in context.
Pros:
This streaming service offers users a means of language learning while having fun, so it doesn't really feel like learning. Language learners can absorb pronunciation and develop their listening comprehension naturally by listening to native speakers.
Cons:
There is no writing and very limited speaking practice, aside from voice-recognition pronunciation practice.
Price:

$12 monthly subscription/ $71.88 annual subscription ($5.99 per month)/ $99 annual family and friends subscription ($8.25 per month).
Lingopie

Effectiveness

Value for Money

3.0 out of 5.0 stars

4.0 out of 5.0 stars



Excellent listening resource. Provides an opportunity to improve comprehension.
Could include more opportunities to speak.
Excellent value for money with one-time annual payment.

Ease of Use

Languages

4.0 out of 5.0 stars

4.0 out of 5.0 stars

Modern dashboard and beginner-friendly.
Offers the most popular languages for learning, with more to come in the near future.

✅ Pros

❌ Cons

👍 Thousands of shows available
👍 Free seven-day trial
👍 Access to all supported languages
👎 Could have more popular shows

Summary


Lingopie is a great option for anybody looking to improve their understanding of a foreign language. The Premium Subscription includes access to all supported languages, as well as access for multiple people.

Lingopie provides a lot of variety but we'd like to see some more familiar TV shows included for all languages.
2. Korean Uncovered (Level 1 Beginner & Level 2 – Pre-Intermediate)
StoryLearning's Korean Uncovered language courses are based on stories written in Korean. There is a beginner course and a pre-intermediate course. There are also Uncovered courses available in Chinese, Japanese, Russian, Turkish, Latin, Portuguese, Spanish, French, Italian, and German.
Read each chapter of a Korean story for new learning content, and listen to the audiobook to work on your listening skills and comprehension.
By signing up for the beginner Korean Uncovered course, Korean language learners gain access to 20 modules, 60+ video lessons, and interactive quizzes, all of which are fully downloadable, so they can be accessed anywhere at any time.
The Korean Uncovered lessons will teach you the Korean alphabet and writing system, as well as essential vocabulary. Lessons also come with pronunciation and grammar practice exercises, but you need to arrange your own speaking practice.
Best For:
Intensive reading and listening practice through immersion in a Korean-language written story and audiobook.
Pros:
You learn useful vocabulary, starting with the basics, in context as you progress through the story.
Cons:
Korean Uncovered offers very limited writing and speaking practice and video lessons can be quite grammar-heavy.
Price:

One-off payment of $297 for lifetime access to course content. StoryLearning offers a 365-day money-back guarantee if you do not like the course.
Korean Uncovered

Effectiveness

Value for Money

4.0 out of 5.0 stars

4.0 out of 5.0 stars




Excellent resource for Spanish grammar and overall comprehension.
Good value for money with one-time payment.

Ease of Use

Languages

5.0 out of 5.0 stars

4.5 out of 5.0 stars

Modern dashboard with access to learning material.
Not limited to beginner Korean.

✅ Pros

❌ Cons

👍 Proven, Effective Method
👍 Free Trial Available
👍 Long-term Study Choice
👎 Not Cheap
Korean Uncovered is unique in the online language learning market. Its focus on grammar, new vocabulary and structure makes it a well-rounded option which leads to inevitable language progression.
3. Pimsleur Korean
Using the spaced repetition recall method, Pimsleur offers 30 30-minute audio lessons at 3 levels. These Korean language lessons focus on listening to and repeating useful Korean expressions and vocabulary. As you progress, the language becomes more complex.
You will learn basic grammar as well as useful vocab for everyday life, for instance how to introduce yourself and how to get around Korea. This is a good starting-off point in your Korean language education.
Some of the scenarios and practice dialogues are slightly outdated, and this Korean language program is limited to exercises mostly based on listening and speaking skills. There is 1 hour of reading lessons that introduce Korean characters, but no writing lessons.
Pimsleur's online Korean course is based on linguist Paul Pimsleur's research and approach to language learning. The app uses a classic listen-and-repeat methodology to impart new vocabulary to Korean language learners.
Best For: 
Pimsleur Korean offers exposure to useful vocabulary and rapid acquisition of a new language at a basic level.
Pros:
Pimsleur's Korean language course is a great resource for Korean listening practice and pronunciation.
Cons:
However, Pimsleur is not the best resource for learning to read and the app offers no writing lessons.
Price:

$14.95 monthly subscription/ $150 per course one-off payment/ $350 for Korean levels 1-3 one-off payment.
Pimsleur

Effectiveness

Value for Money

4.0 out of 5.0 stars




Effective at improving listening skills and overall language comprehension through repetition.
More expensive than many competitors.
7 Day Free Trial included.

Ease of Use

Languages

5.0 out of 5.0 stars

5.0 out of 5.0 stars

Modern dashboard. Very easy to use and navigate on desktop and app.
40+ languages available, including Spanish, French, Italian, German and Chinese.

✅ Pros

❌ Cons

👍 Huge library of audio lessons
👍 Modern, user-friendly dashboard
👍 Proven, effective method
👍 Encourages speaking practice
👎 More expensive than main competitors
👎 Repetitive with limited reading practice

Summary


Pimsleur is a great option for anybody looking to improve their understanding of a foreign language. Each Premium Plan includes more than 75 hours of audio content, taking you from beginner through to advanced level. Native speakers feature throughout the course to get you used to hearing the language.

Pimsleur's method is effective but repetitive. We'd like to see Pimsleur incorporate better grammar explanations into their lessons.
4. Rocket Korean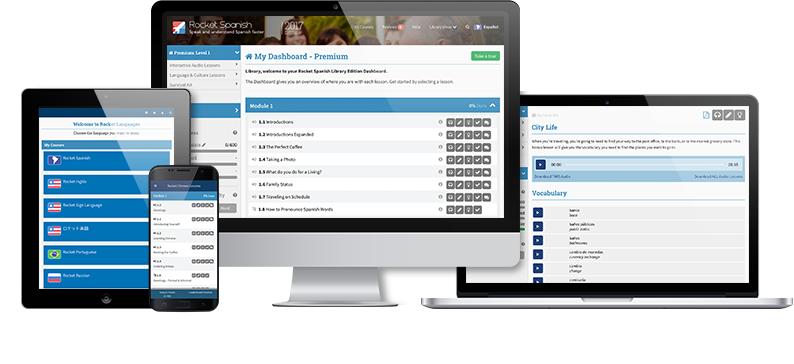 This Korean language program is very comprehensive and structured. With a total of 156 hours of lesson time, Rocket Korean allows you to practice all of your Korean language skills.
With nearly 3000 voice recognition phrases and 28 practice conversations, you can build your pronunciation and conversational skills.
Moreover, with the 28 audio lessons and 26 lessons on the Korean writing system, you will develop your listening and writing skills.
Some of the audio lessons are in a podcast-style format, which is great for language immersion, while others cover essential Korean dialogue vocabulary for practical language acquisition.
The app also boasts 32 Korean culture lessons which explore customs, traditions, holidays, and cuisine in Korea. Overall, this is one of the more well-rounded and thorough online Korean courses.
You can read our full Rocket Korean Review here.
Best For:
Structured learning with linear progression through all major language learning skills: reading, writing, listening, and speaking.
Pros:
Lifelong access to comprehensive language learning resources for beginner and intermediate learners.
Cons:
The course does not offer content for upper-intermediate and advanced learners.
Price:

$99, with an automatic $50 discount, for lifetime access to course content/ $114 over six months, at $19 per month for lifetime access. 60-day money-back guarantee.
Rocket Korean

Effectiveness

Value for Money

4.0 out of 5.0 stars

4.0 out of 5.0 stars

Highly effective at improving listening skills, reading skills and overall comprehension.
Not the cheapest option but justified pricing based on features and benefits available.

Ease of Use

Room for improvement

4.0 out of 5.0 stars

3.0 out of 5.0 stars

Simple, modern dashboard designed to be as easy as possible to use.
Would be great to see live tutor option and better writing lessons.

✅ Pros

❌ Cons

👍 No Subscription Fees
👍 Very Good App & Website
👍 Comprehensive Course
👍 Money Back Guarantee
👎 One-Time Payment Required
👎 You May Require a Language Tutor

Summary


Rocket Korean is one of the more advanced language learning resources we have come across. Its lesson features, comprehensive courses and Korean culture lessons make it better than the majority of its competitors for beginners and intermediate learners.

It is more expensive than many short term because it requires a one-time payment, not a subscription. There is a free trial available for all learners.


One-time Payment For Access to Full Course After Trial
5. Glossika Korean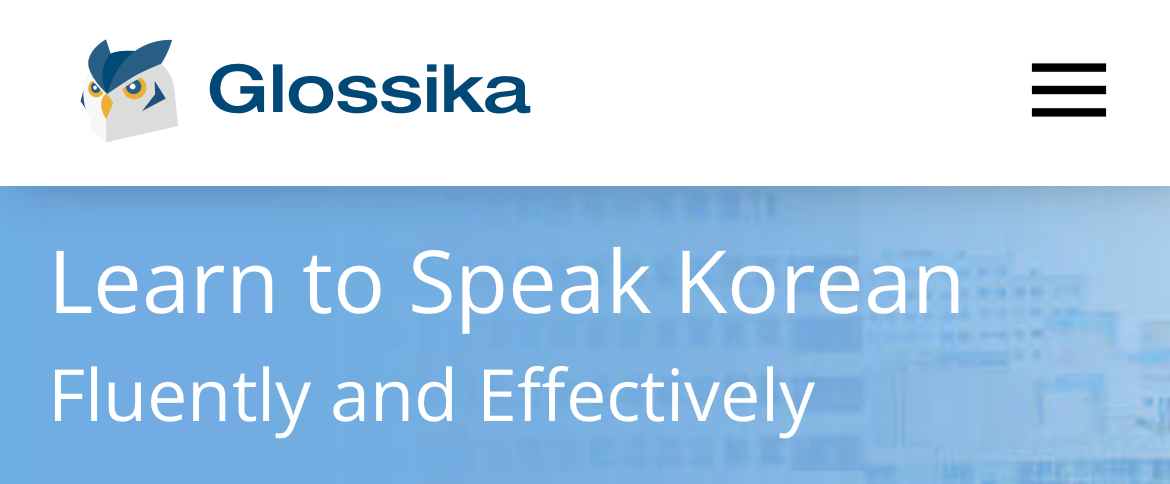 Glossika aims to get you to speak foreign languages in the least amount of time possible, by using smart technology, an adaptive learning algorithm, and structured, practical content.
For every language offered, Glossika provides several audio files of authentic sentences recorded by native speakers. Listening to native speakers of Korean is the best way to build an understanding of tone and pronunciation.
The AI technology predicts when you might forget new vocabulary and creates revision lessons based on this intelligence. So, with Glossika, you never need to worry about forgetting new words and phrases or what to revise.
A technique called spaced repetition is employed to teach you vocabulary and sentence structure. Essentially, you listen to a set of sentences over and over and repeat them until you learn them. This moves the information into your long-term memory.
Glossika is excellent for listening comprehension and speaking fluency, but the exercises are heavily focused on repetition and that can be tedious.
Best For:
Glossika is one of the better online courses for speaking practice. You practice full sentences in context to naturally learn grammar, pronunciation, and vocabulary.
Pros:
Users can choose to study any of the 60+ languages Glossika has to offer and start speaking from day one.
Cons:
Because Glossika focuses on audio lessons, you do not begin with basic alphabet or grammar explanations. Instead, you jump straight into listening and speaking. This can lead to gaps in knowledge of grammar concepts.
Price:

Monthly subscription $30.99/ yearly subscription $24.99 per month but billed annually.
6. Memrise Korean

Memrise is a gamified learning experience focused primarily on listening and speaking. Learn Korean with engaging flashcard exercises created by a community of Korean learners.
Your first lesson will introduce basic words and Korean characters. These are taught with audio and video clips, then you test your knowledge with matching or spelling exercises.
Audio and video clips feature native speakers. They teach Korean words, phrases, and characters while out in the streets of South Korea. This is a great way to familiarize yourself with accents, tones, and Korean culture.
Memrise offers official curated programs created by its staff and also user-created content developed by Memrise community members worldwide.
There is also a community forum where you can share ideas, questions, and tips about learning Korean, or one of the many other languages available.
Memrise offers diverse Korean language content and courses that cover different themes, for instance, the basics, sightseeing, and how to order food.
Best For:
With Memrise, you can learn Korean words and phrases by playing flashcard games and joining an online community of language learners.
Pros:
A lot of the Memrise language learning content is completely free. If you do pay for premium, your subscription gives you access to all languages on the site.
Cons:
As some Memrise courses are created by members of the public, rather than a qualified and dedicated teacher, the quality varies from course to course.
Price:

You can upgrade to premium to unlock all content. This is $6.99 per month/ $24.99 per year (currently 50% off)/ $99.99 one-off payment for lifetime access.
7. FluentU Korean
FluentU takes free Korean content from YouTube and overlays an interactive wrapper on the video. This means you can interact with dual subtitles and create flashcards for later use.
Content is broken down into levels: newbie, elementary, intermediate, upper-intermediate, advanced, and native.
FluentU tracks the words you have marked as "learned" and uses this information to indicate how much of a video you should understand. This is a clever and helpful feature when you are choosing new content to watch.
This site is a good supplement for your Korean language studies but should be used alongside resources that teach the Korean writing system and other aspects of grammar as well.
FluentU also offers courses in Spanish, English, French, Chinese, German, Japanese, Russian, Italian, and Portuguese. You can read our full FluentU Review here.
Best For:
Access to a huge volume of real-life content from South Korea pertaining to Korean culture with interactive subtitles.
Pros:
Learn Korean on the go with downloadable dialogues for offline immersive learning. The mobile app is available on Android and iOS.
Cons:
A lot of the content is Youtube videos that can be accessed for free, simply with interactive elements placed over them. This makes the price seem a little steep.
Price:

You can currently get 40% off if you sign up for the yearly plan, which is $143.99, down from $359.99. This is just $11.99 per month. Or, you can choose the monthly plan, which is $29.99 per month.
8. 90-Day Korean
This site offers several 90-day modules, all focusing on different content. The modules use increasingly complex vocabulary and language.
The 90-Day Korean course uses the 80/20 learning method, which focuses on imparting only the knowledge you need to progress.
The principle is 80% of results come from 20% of input, so this course focuses on teaching Korean language lessons with practical contexts for everyday life.
You will quickly develop a basic understanding of the Korean language and culture with focused lessons on different aspects of Korean society. 90-Day Korean offers lessons on k-dramas and k-pop or life in Korea and interesting phrases.
Moreover, you can test your progress regularly with synthesis check-ups and do language challenges to earn awards. Moreover, you can get a personal language coach to keep you motivated.
Best For:
Learning Korean to hold a basic conversation in just three months.
Pros:
If you are willing and able to spend two and a half hours a day on 90-Day Korean, you will learn to read and speak Korean at a basic level in just three months.
Cons:
Subscribers need to pay a fairly steep VIP subscription fee if they want the online class experience, a personal coach, or personalized feedback.
Price:

$35 a month/ $249 a year for a basic subscription, or $49 a month/ $379 a year for a VIP subscription. 30-day 100% money-back guarantee if you are not satisfied.

Either subscription gives you full access to all Inner Circle courses, but VIP subscribers also get personal coaching, homework grading, personalized pronunciation feedback, and speaking classes.
9. Rosetta Stone Korean

Rosetta Stone offers a unique experience for learning Korean. You are thrown into the language from lesson one.
By listening to audio clips overlayed on images, you decipher meaning straight away, without lessons on Korean grammar or characters.
This method for learning Korean is similar to how children learn languages. They make associations rather than rote learning and studying language rules.
Rosetta stone will also help you to speak Korean with proper pronunciation and use of tones. You can select words and phrases and hear a native speak them aloud.
Finally, Rosetta Stone offers opportunities for active learning. You can take photos of items in your house and the app will provide the vocabulary you need to talk about them.
Best For:
Structured and practical foreign language learning. You work through units that cover everyday topics, such as family, life, and work.
Pros:
You can study Korean and 21 other languages with Rosetta Stone, so if you like the format, you have a lot of other opportunities to learn languages with this app.
Cons:
This is a great resource if you want to learn Korean on a conversational basis, but not for writing practice.
Rosetta Stone

Effectiveness

Value for Money

4.0 out of 5.0 stars

4.5 out of 5.0 stars

Effective at improving listening skills and overall language comprehension through repetition.
This rating is based on a one-time purchase for access to all languages. Still more expensive than many competitors if you purchase a subscription.
3 Day Free Trial included.

Ease of Use

Languages

5.0 out of 5.0 stars

5.0 out of 5.0 stars

Modern dashboard. Very easy to use and navigate on desktop and app. Can be used on two devices at the same time.
40+ languages available, including Spanish, French, Italian, German, Japanese, Korean and Chinese.

✅ Pros

❌ Cons

👍 Variety of exercises
👍 Requires constant engagement
👍 Proven, effective method
👍 Encourages speaking practice
👎 More expensive than main competitors
👎 Repetitive with robotic dialogue

Summary


Rosetta Stone is a better option than Pimsleur for anybody who relies on visual elements to learn. Visual learners will benefit from its library of images and the way it uses them to teach vocabulary.

Whilst the tool is excellent at teaching vocabulary, little context is provided until further into the course. Rosetta Stone's method is effective but repetitive. We'd like to see more natural conversation included in its courses.
FAQs: The Best Online Korean Courses
Which online Korean courses are best for natural language acquisition?
The more immersive sites, such as Lingopie and Korean Uncovered, will allow you to develop your language learning in a natural and authentic way. These sites do not employ rote learning but promote absorbing the Korean language and culture through exposure.
Do the best Korean courses cover all four language skills?
The best Korean language courses will not necessarily cover every language skill equally. It might be that you use one site for listening practice alone and another for grammar and writing. Learners often use more than one app in conjunction for optimized learning.
Should I sign up for online Korean classes?
If you enjoy structured learning, online Korean classes might be beneficial for your learning style. Online classes will follow a curriculum and have set assignments and course content to work through. You could sign up for online Korean classes as a supplement to your learning through apps.
Do any of the online Korean courses offer private lessons?
Yes, some language learning sites offer private tutors. The 90-Day Korean VIP subscription offers personal coaching in Korean, while Lingopie has a platform where students and tutors can connect with one another.
One of the best places to find private classes with a tutor is iTalki. You can read my italki review here.
Summing Up: The Best Korean Language Courses for All Levels
This has been a comprehensive guide to the 9 best Korean language courses and language learning resources.
Whether you prefer self-guided study or structured online Korean classes, there are plenty of online resources to support your language learning. All of these resources have a different focus and method, so you can decide which one(s) suit your needs.
Try 90-Day Korean for fast acquisition of basic Korean, Glossika if your main priority is to start speaking Korean, or Lingopie for the most authentic and natural language immersion.
Many language learners will use several apps and sites in conjunction for the most optimized learning experience.
_______________________________________________________________________________
Author bio:
James is the founder of travel-lingual.com and the author of this post about Korean language courses. He is a tutor of English, Spanish, and Italian. Furthermore, he has visited 35 countries and has tried dozens of language courses to date.
He has worked as a language teacher in France, Spain, Argentina, and Costa Rica. His love of languages led him to create this blog, to share best practices in language learning and inspire others to learn! 4.5 out of 5.0 stars4.5