FluentU Review: A New Way to Learn a Language?
FluentU has become one of the most world's most popular language learning apps for its immersive, non-curricular approach. Recently, we were able to trial the service, focusing specifically on FluentU Spanish and FluentU German. In this FluentU review, we provide our feedback on this experience and take you through the following:
👍 The main pros and cons of the service 👍 The effectiveness of learning a language in this way 👍 All the main features, user experience and pricing
One thing before we get started: Remember that like any language resource, FluentU should be used as a supplement to your learning. In other words, you're not going to reach fluency through this platform alone. That said, FluentU a great way to immerse yourself in a foreign language, dramatically improving your listening skills in the process.
How we did this review
In order to make this review as broad as possible, language learner and teacher, James, tested out FluentU Spanish and FluentU German on his own, before sharing his findings.
The scoring system in the table above is determined based on the comparison between FluentU and other language tools on the market offering the same service. The higher the star rating, the better.
The opinions that you read throughout this review are results of the process that James has undergone with a FluentU free trial, as well as a one month subscription.
James:
"I used FluentU Spanish (a language I already speak) and FluentU German (a language I'm currently learning). The FluentU Spanish and German videos are broken down into difficulty level, which helped me stick to the most appropriate content. There is an option to use subtitles, which is a great way to learn new vocabulary. Given that FluentU is essentially an upgraded version of its main competitor, Yabla, I'd like to have seen a voice recognition tool in order to practice my speaking."
What is FluentU?
FluentU is an online language immersion tool that helps its users to learn a language foreign language through video. These videos feature native speakers, enabling you to explore the context of new words in a way that is as natural as possible.
Through a monthly payment model, users obtain access to premium content on the website and app. There is also the option to create a free profile on the website without the obligation of having to pay.
There are no speaking or writing elements. Instead, the app focuses on immersing you into the language naturally. It's a great way to add some variety into your language learning journey.
Through the service, a variety of the world's most common and popular languages are available to you.
Which Languages are Available?
FluentU provides excellent learning material in 12 languages. Unlike the model of its main competitor, Yabla, a paid subscription provides access to all of these languages.
Currently these are as follows:
🇨🇳 Chinese 🇷🇺 Russian 🇵🇹 Portuguese 🇪🇸 Spanish 🇰🇷 Korean 🇫🇷 French 🇮🇹 Italian 🇬🇧 English 🇩🇪 German 🇯🇵 Japanese
What type of language learner is FluentU for?
FluentU content is not selected based on the needs of any one specific type of language learner. However, it will definitely appeal more to:
✅ Absolute beginners ✅ Intermediate level language learners ✅ Anybody interested in learning through video and speech
FluentU content teaches you the language in an immersive form, before providing you with the opportunity to practice it. For this reason, it is best suited to anybody who learns best through visual, immersive means, rather than an academic form.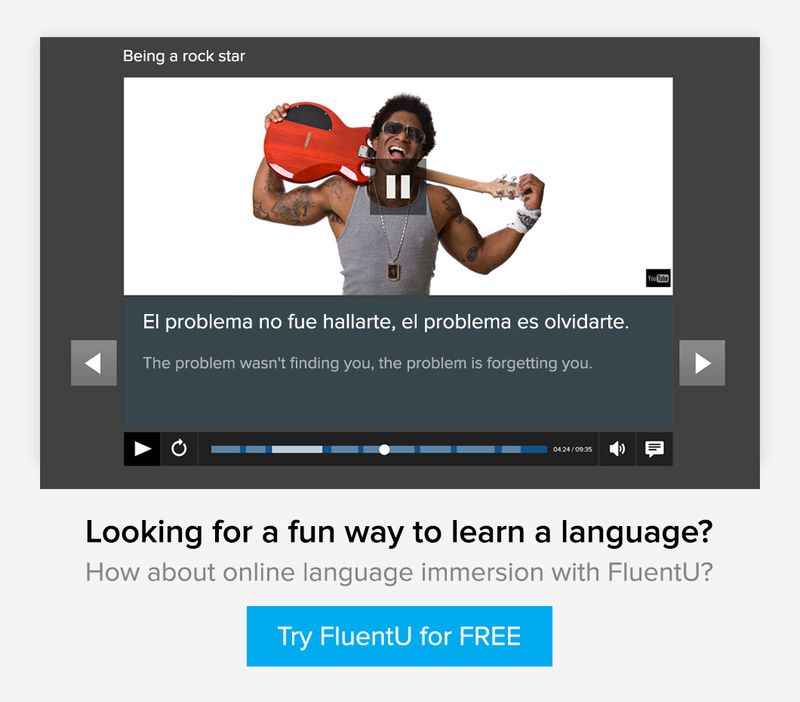 Does FluentU Provide a Unique Approach to Language Learning?
So, what's the logic behind FluentU? Is this a unique approach to language learning? 🤔
In a nutshell, no! ❌
FluentU is an upgraded version of Yabla, its main competitor. The model is exactly the same, but the key difference is that FluentU has a more modern dashboard and a wider range of languages available.
It also contains more content than its main competitor. As an app and website, FluentU is constantly expanding. Regularly, they add new content to existing languages.
This comes at an extra cost, although the price difference between the two language tools is marginal. Whilst the FluentU features are not unique, they do provide an experience that is immersive and effective.
[embed]https://www.youtube.com/watch?v=IEuh17Uik7k
How Much Does FluentU Cost?
✅ FluentU provides new users with a 14-day free trial. This provides access to all of the paid-for features, completely free of charge.
✅ The paid-for model provides an array of features, which we'll cover shortly. These include interactive videos and flashcards.
✅ The monthly price is $30, although there is a cheaper $20 p/month option when paid annually.
As with any language website or app, we recommend taking the free trial before committing financially.
FluentU Features
There are a number of high-quality features on the FluentU platform. Whilst they are not unique to this service, they are effective and function well. These include:
✅ Learn on the go - A subscription to FluentU also provides you with access to their app. This means that you can learn the language and keep practicing it wherever you are in the world. This is great for those who are constantly on the go and cannot dedicate much time to sitting at a desk to learn.
✅ Real-life immersive experiences - The videos provided by FluentU simulate real-life experiences and allow you to see the work you have been learning in context. You can access this in 'Learn' mode. It is an innovative way to teach you the language, as well as hear the correct pronunciation. This enables you to witness and listen to a real conversation.
✅ Free trial option - The free trial option allows you to test FluentU. This way, you can determine whether or not it is right for you before committing to a payment plan. You can obtain a taste of what they offer for a full fortnight, then decide whether or not to renew when the two weeks are up.
Other Great Features
✅ Quiz feature - FluentU offers a quiz section, which enables users to put their knowledge to the test in a fun and interactive way. This is a similar feature to many other language learning apps. It's not unique, but it is effective.
✅ Real-life commercials, media, and more - FluentU also provides you with an option to view real-life media in the language that you are learning. You can watch TV commercials in that language, videos from sports matches, music videos and plenty more. All of these videos contain interactive captions, so you are able to learn new vocabulary whilst watching.
✅ Reinforces learned vocabulary - In all of the activities and features, the main goal of FluentU is to allow you to see all of your newly learned vocabulary in the right context. This reinforces the learning so that it is always fresh in your mind. It is a fun and subtle way of getting you to practice regularly without it feeling like hard work.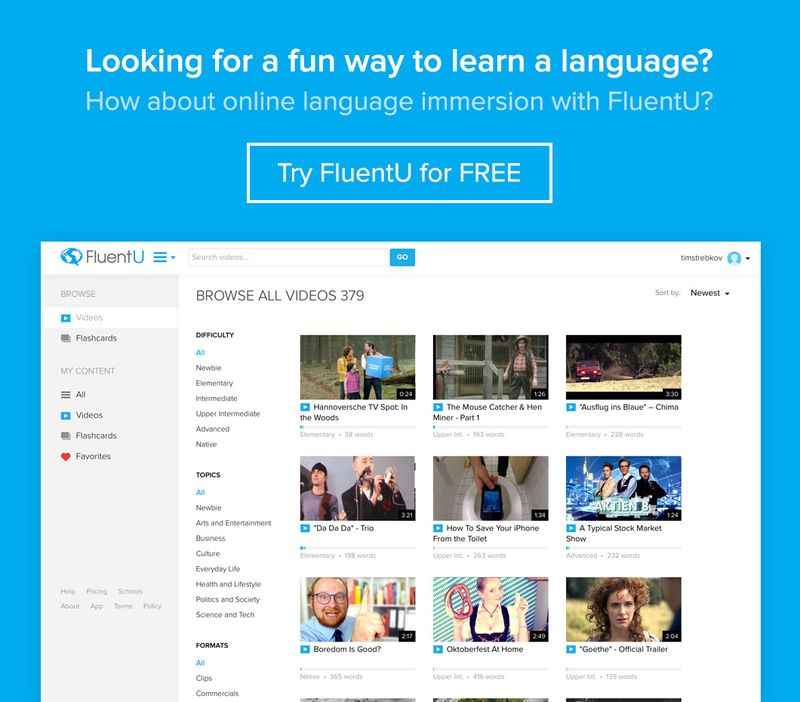 What we liked most about FluentU
There are several FluentU features which are very positive. These are listed below:
👍 Actual commercials and video clips from the countries where the language is spoken. 👍 Many of the videos provide cultural context and immersion. 👍 Vocabulary flashcard and dictionary system are useful features. 👍 These tools are easy to use and prevent users from needing to make the flashcards.
What we also liked
FluentU is very simple to understand and easy to use.
This may not seem like a big deal to the tech-savvy people among us, but having technical hurdles can definitely affect a learner's experience, making them less likely to learn. Even for confessed technophobes, FluentU is easy to get used to.
In addition to this, a paid subscription provides access to all languages. This means that you can learn multiple languages at once. Above all else, language learners want a language app that brings genuine results; there's no doubt that FluentU increases foreign language comprehension.
This modern way to learn allows users to become fully immersed in the language. In the process, this reinforcing the vocabulary you are learning in a natural and subtle way.
What we didn't like about FluentU
Like any service, there are less positive features which could certainly improve. As far as FluentU is concerned, these revolve around the following aspects for all of the languages on the platform:
👎 Speaking practice. 👎 Pronunciation. 👎 Grammar explanations.
An important part of learning a language is learning how to converse with someone in real-life. The extent to which you can do this with FluentU is limited. There is not much available resource in terms of speaking practice.
Furthermore, whilst there are features within the app to help with pronunciation, this is not enough for many learners. Additionally, for some of the language courses, we feel that the grammar resources are lacking slightly. Grammar is a difficult but important concept to grasp for all languages, with regards to both speaking and writing.
We feel that the resources provided are sparse and even a little confusing for some of the courses. This means that learners would likely need to seek other avenues for grammar practice.
Final thoughts on FluentU
So, what did the tester, James, have to say about the service? The content of this FluentU review is based on his feedback, but he has provided a summary of his thoughts below.
"FluentU is a great language resource if you are looking for something that will fully immerse you in the language you are learning. The real-life and simulated videos encourage you to see the language for yourself in a realistic way, emulating real-life experiences. There are positive features, such as quizzes and flashcards, as well as a dictionary to look up unfamiliar vocabulary.
In terms of grammar and speaking practice, FluentU is lacking a little, so I would recommend seeking additional avenues to really strengthen those skills, such as a language tutor or language course.
FluentU's immersive, real-life cultural experiences make the app perfect for learners of lower-intermediate and intermediate level. A criticism is that FluentU does not contain voice recognition software, which helps you to practice your speaking."
[embed]https://www.youtube.com/watch?v=4usyvxIGAnM
[rating stars="4.5"]