This post enables you to discover what I believe to be the best day trip from Alicante. In fact, I consider it one of the best things to do in this part of Spain, along the Costa Blanca.
In this short post, I'll highlight the main points of interest north of Alicante in a town called Villajoyosa. I'll take you through the best places to visit, and what to see and do during your stay.
I'll also show you what you can easily combine with Villajoyosa for the perfect day trip.
Alicante, Spain's Gem on the Costa Blanca
For many English speakers, Alicante is not a city that comes to mind when one thinks of winter city breaks. When people think of Spain's southeast coast, Valencia will likely be the first city that comes to mind.
However, Alicante should not be overlooked and is worth visiting at any time of year. It is a must-visit city situated in the heart of the Costa Blanca, on the Mediterranean Coast.
Alicante is a popular destination for Spaniards and foreigners alike. It is the most visited seaside town by those residing between it and Madrid, particularly in June, July, and August. At this time, temperatures are at their highest, yet cooler and less aggressive than further inland.
Despite this, Alicante has much more to offer than beaches and an impressive coastline. The Old Town, for example, is one of the prettiest and most iconic in Spain. Its narrow streets, brightly colored houses, and excellent nightlife scene make it suitable for individuals, couples, or groups of all ages.
History lovers will also appreciate its cobbled streets and castle, the medieval Castillo de Santa Bárbara. Set on a hilltop, the castle boasts sweeping views of the entire coastline and the idyllic port city of Alicante.
Most people who venture to Alicante on holiday stay for around two weeks. They are generally beach lovers, craving sunshine and some of Costa Blanca's best shellfish. But what they might not know is there are some great day trips from Alicante to enjoy as well.
You can take the family to a sea lion show in Benidorm, or visit the Canelobre caves. Another option is to tour the old quarter of Valencia. But I would say one of the best day trips from Alicante is to the charming town of Villajoyosa.
Visit Villajoyosa: One of the Best Alicante Day Trips
Villajoyosa, known in Valencian (similar to Catalan) as La Vila Joiosa, and referred to by locals simply as La Vila, is a stunning, quaint, and uniquely special coastal town in the Province of Alicante.
Located north of Alicante, Villajoyosa boasts over 3 miles of beach. These include the main Platja Centre, which is lined with bars and restaurants. There are also dozens of smaller, private coves ideal for snorkeling.
This town is, without doubt, my favorite of its kind in Spain and an ideal day trip from Alicante, particularly to escape the city rush.
I love that this little fishing village has so much to offer, catering to anybody drawn to its beaches, gastronomy, or hiking trails.
Explore the many highlights of this beautiful town on a day trip from Alicante. They are some of the many reasons that the Alicante region has become so popular with many tourists year-round.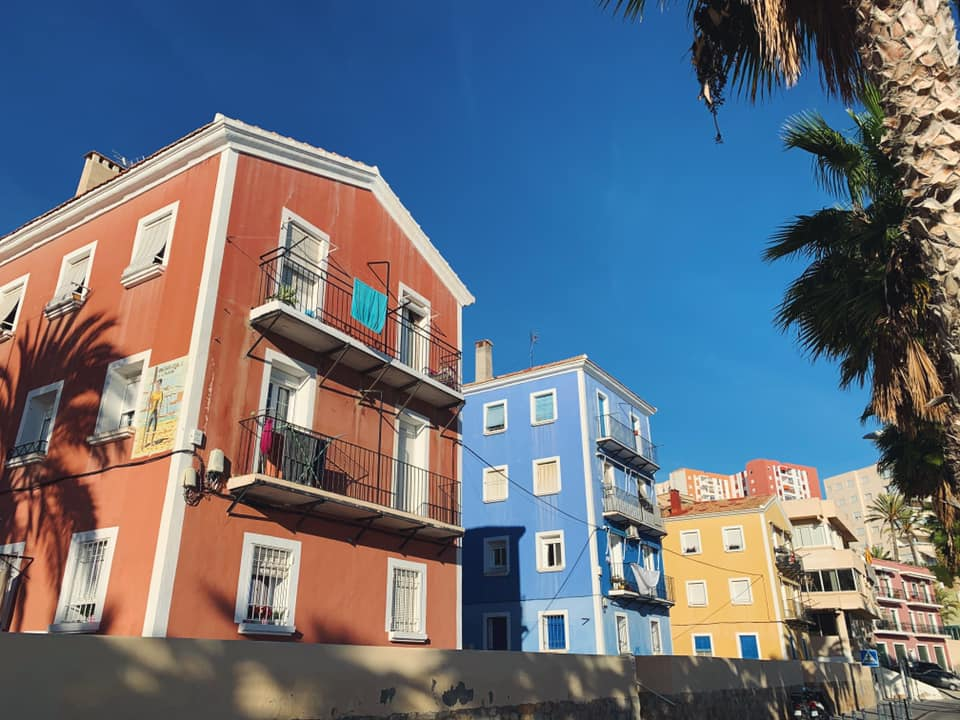 What to Visit in Villajoyosa
1. Visit the Central Market
The main beach in Villajoyosa, the Platja Centre, is the perfect place to start your visit. That said, if you have taken the tram then you will be dropped off in town.
Wander down, via the main market, to the Mercado Central. The market is full of meats, pastries, fish, and fresh fruit and vegetables. Spend time wandering the stalls and taking it all in.
Here, you can enjoy a traditional breakfast of 'tostada de tomate, aceite, queso y lomo.' This flatbread of tomato paste, manchego cheese, and beef is the perfect way to start your day, washed down with a 'cafe cortado' for coffee lovers.
This corner spot is the best way to get a feel for the town, as locals shop and go about their daily lives. Villajoyosa is a truly Spanish town and epitomizes Spanish culture in this particular region.
It is worth noting that tourist numbers, particularly in the center, remain at a minimum so brush up on your breakfast vocabulary before you travel!
2. Walk Through the Old Town
Explore one of the best-preserved and historic old towns in Valencia. Known for its breathtaking painted houses, old town walls, and hanging houses that overlook the river, it is worth taking your time as you meander through the streets.
Once located on this spot was the ancient Roman city of Allon, and to this day, there exist ruins of ancient Roman baths.
What's more, you can spend some time in the Church, located in the Plaça de L'Església. Climb its tower for stunning views of the town. During the Spanish Civil War, this church was apparently used as a garage for military vehicles.
Stroll down to Carrer Santa Marta to check out some amazing murals of the casas pintadas. These are the iconic painted houses of Vila Joiosa, juxtaposed just in front of the real things.
Don't forget to check out the 18th-century fountain in Plaza San Pedro before you head to the beach!
3. Visit the Beaches & the Main Port
Head down to the Platja Centre, via the old town, and choose between a walk along the promenade through to the main harbor, or continuing to the Playa Estudiantes (if you are feeling adventurous).
Day trips from Alicante do not have to comprise visits to beaches, given the plethora of coastline around the city, but Villajoyosa does boast some of the region's most stunning coves.
From Playa Estudiantes, climb the steps and follow the walkthrough to Playa del Torres. The views from the clifftops are phenomenal, proving a 180-degree panoramic view (on a clear day) of Alicante, l'illa de Benidorm (Benidorm Island), and the Benidorm skyline.
Playa Estudiantes and Playa del Torres both have their own chiringuito (beach bar) where you can order tapas and drinks.
If you are visiting in the summer, why not take a boat trip to some of the other popular destinations along the coast, or book a private tour on jet skis to see Benidorm's Levante beach from a whole new angle?
4. Visit the Chocolate Museum
When ranking day trips from Alicante, Villajoyosa often gets the edge due to its famous and delicious chocolate. The Valor chocolate factory and brand was founded as far back as 1881.
Valor chocolate is now distributed to 50 countries worldwide, and a tasting session as part of the guided tour at the Valor Chocolate Factory will demonstrate why. The factory lies just minutes from the market.
Guided tours take place throughout the summer every hour in Spanish and English. If you do not fancy a guided tour but would like to sample the chocolate, visit the Chocolateria Valor on the main Avenida del País Valencià.
Not only can you taste the Villajoyosa chocolate, but you will be blessed with an amazing view of the coastline.
5. Go on a little further to Altea
Altea is one of my favorite towns in the Valencia region, located 60 kilometers from Alicante and about 20 kilometers from Villajoyosa.
It is ideal for day trips and can be tied in with a trip to the Canelobre caves, Villajoyosa or Benidorm, located only a little further up the coast.
Altea is famous for its beautiful blue tiles, and whitewashed houses. It also has a pretty, iconic square at the top of a steep climb. Once you have made it up to the Plaza de la Iglesia, you can relax with a drink and sample some local tapas and take in the beauty of Altea.
Moreover, from Altea, you can visit and climb the Calpe rock, known locally as the Peñon de Ifach. This hike takes around two and a half hours and is not recommended for children under 12.
You can even book a private tour that incorporates hiking the rock, visiting the town of Altea, and sampling the local gastronomy.
6. Visit Las Fuentes del Algar (Car Needed)
Swimmers and lovers of the great outdoors will love the Algar waterfalls. They provide an ideal day trip from Alicante and are a perfect place to visit for anybody staying between Alicante and Benidorm.
The Algar waterfalls are part of a picturesque nature reserve, which comprises waterfalls, a hiking track, swimming holes, and numerous picnic areas. The town of Algar is also worth visiting for a couple of hours if you're taking a trip to the waterfalls.
Bear in mind that the only possible route is by car as these waterfalls are situated (as one might expect) high in the mountains.
7. Try the Shellfish on the Main Promenade
Finally, when it comes to favorite things to do in Villajoyosa, day trips aside, taking a stroll along the promenade is a popular choice. Some might say that this part of the coastline is Spain's answer to the Cinque Terre in Italy.
The promenade is a great place to take in the gorgeous azure waters, watch the flow of tourists and natives pass you by, and, of course, sample the local seafood from one of many well-reputed restaurants.
When in Spain, fried fish is a must. You can pair it with a refreshing cool beer or, in summer, a tinto de verano, which is red wine mixed with soda water or lemonade.
If you find a good spot overlooking the sea, you could spend hours picking at seafood tapas in this gorgeous spot.
How to get to Villajoyosa from Alicante
Villajoyosa is approximately 40 miles north of Alicante. The cheapest and easiest way to get from Alicante to Villajoyosa is by tram. You can take the tram from Alicante's Central Tram station in the city center, or from a stop near its main beach.
If you are heading north towards Villajoyosa, the tram is easily the best option. Alternatively, if you are heading further south and inland (from Alicante to Murcia, for example) you will need to take a train or bus.
The tram in this part of Spain is incredibly cheap, running right along the coast. Just five euros will take you from Alicante to Benidorm, but Villajoyosa is not quite as far. In fact, it takes just an hour or so by tram, and is even less expensive.
Alternatively, rent a car at Alicante airport and drive to Villajoyosa directly. A car enables you to visit numerous places near Alicante and take advantage of the various points of interest between Alicante and Valencia.
You can hit all of the best day trips from Alicante with a rented car and do it at your own pace. Moreover, with a car, you have the freedom to be spontaneous and divert from your route whenever you please.
Research bus trips from Alicante if you do not have a car and like the idea of an organized tour.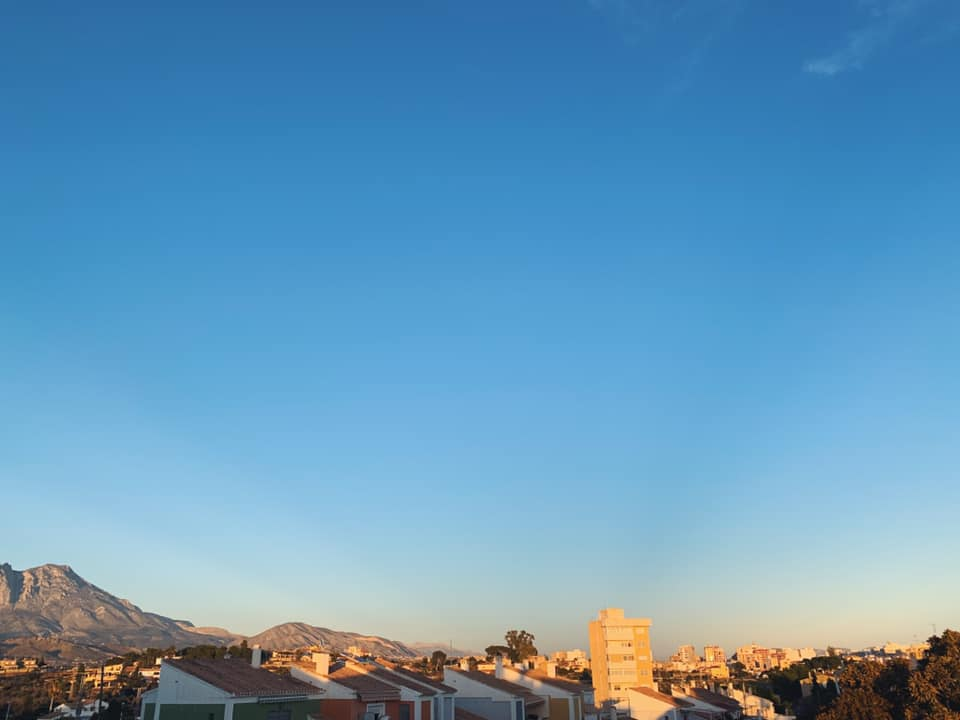 Summing up: The Best Alicante Day Trips: Villajoyosa
When it comes to the best day trips from Alicante, you cannot do much better than visiting Villajoyosa. Explore the historic old town, eat the local food, and marvel at the colors of the iconic painted houses.
Tourists can explore this incredible place for hours and never get over its beauty and tranquility.
That being said, if you have the time and means, it is well worth looking into some of the other Alicante day trips, such as Altea, Benidorm, or the Canelobre caves.
While Villajoyosa has my heart, these other destinations are also breathtaking and worth visiting. See Spain at its most authentic and beautiful through these Alicante day trips.
_______________________________________________________________________________
Author bio:
James is the founder of travel-lingual.com, and the author of this article about Villajoyosa. He is a tutor of English, Spanish, and French. Furthermore, he has visited 35 countries and has tried dozens of language courses to date.
He has worked as a language teacher in France, Spain, Argentina, and Costa Rica. His love of languages led him to create this blog, to share best practices in language learning and inspire others to learn!