24 Best Things to Do Near Cancun | 2023 (with Photos)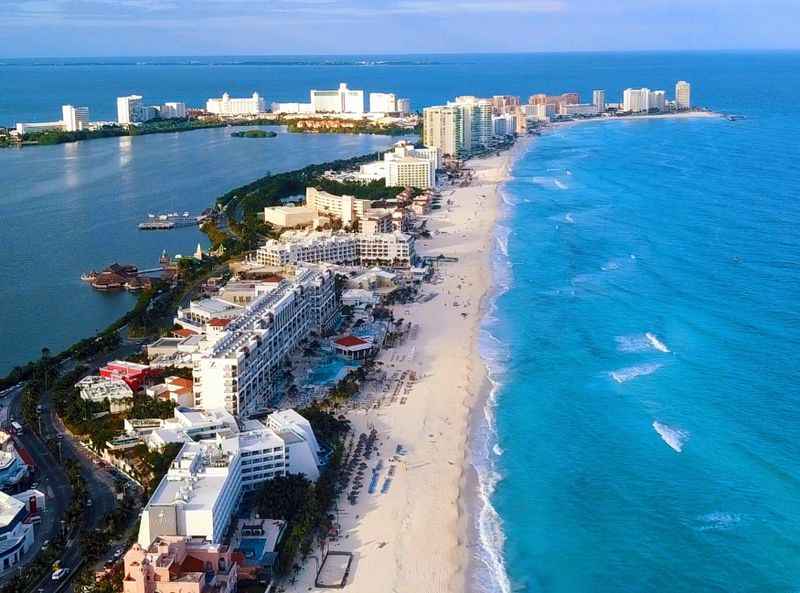 Cancun, Mexico, is a popular destination known for its gorgeous beaches, Mayan history, and vibrant nightlife. However, there is much more to this beautiful region than just sunbathing and partying.
Whether you're looking for scuba diving adventures, boat tours, delicious food, or fun day trips, there are plenty of exciting things to do when you visit Cancun.
We'll highlight 25 of the most exciting things to do near Cancun, so you can make the most of your next Cancun vacation.
Most Recommended Thing to Do
Our Top Choice Restaurant
Our Top Choice Bar for Nightlife
December to April for ideal weather and activities.
Warm and sunny weather year-round in Cancun, Mexico.
Taxi, bus, rental car, bicycle, scooter, walking, Uber.
Average Cost ($, $$, $$$)
My Top Recommendation
Cancun, Mexico: A tropical paradise awaits you in Cancun, where turquoise waters and pristine sandy beaches beckon. Spend your days basking in the glorious sunshine, indulging in the freshest seafood, and exploring ancient Mayan ruins that tell captivating stories of the past.
Cancun is a vibrant destination offering endless opportunities for adventure and relaxation alike – immerse yourself in the rich marine life with snorkeling or scuba diving, embark on a thrilling zip-lining expedition through lush jungles, or simply sip on a refreshing margarita as you take in breathtaking sunsets over the Caribbean Sea. With its warm hospitality, vibrant atmosphere, and unparalleled natural beauty, Cancun is sure to create memories that will last a lifetime.
What You'll Need to Bring
Passport, sunscreen, swimsuit, comfortable shoes, hat, sunglasses, camera.
What Not to Miss
Chichen Itza - Ancient Mayan ruins.
Tulum - Picturesque coastal archaeological site.
Playa del Carmen - Vibrant beach town with shopping and dining.
Xcaret Park - Ecological theme park with natural wonders.
Isla Mujeres - Quaint island with great snorkeling opportunities.
Coco Bongo - Famous nightclub for a lively night out.
Cenotes - Underground freshwater sinkholes for swimming and diving.
El Rey Ruins - Lesser-known ruins with iguanas.
Xel-Ha Park - Natural aquarium and water park.
Xplor Park - Adventure park with zip lining and underground rivers.
1. Take a Day Trip to Chichen Itza, a UNESCO World Heritage Site
Chichen Itza on the Yucatan Peninsula, approximately a 2-hour drive from Cancun, is an incredible opportunity to experience one of the most iconic and well-preserved Maya ruins in the world.
Chichen Itza was named a UNESCO World Heritage Site in 1988 and, in 2007, it was voted in one of the New Seven Wonders of the World.
The ancient city features several impressive structures, including the iconic Pyramid of Kukulcan (El Castillo), the Temple of Warriors, and the Great Ball Court.
Visitors can explore the ancient Maya ruins and some acoustic marvels, such as the Whispering Wall and the Clapping Hands Sound Effect.
2. Visit Cancun's Best Beaches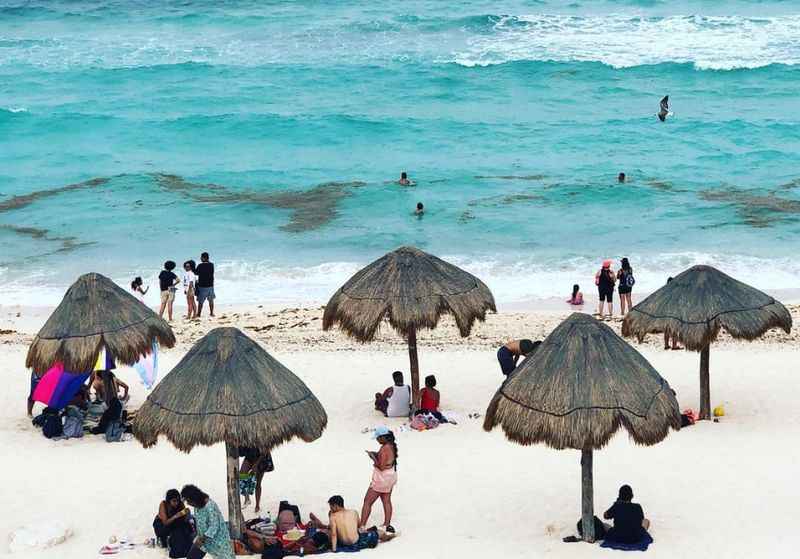 Cancun is known for its beautiful white sand beaches and turquoise waters, and there are many great beaches to choose from.
One of the most popular Cancun beaches is Playa Delfines, which is great for surfing and kiteboarding
Playa Chac Mool is a great spot for families and offers plenty of water activities like jet skiing and parasailing.
Playa Norte on the island of Isla Mujeres is also a must-visit, with its clear waters and palm-tree-lined beach.
3. Go on a Snorkeling Tour with Whale Sharks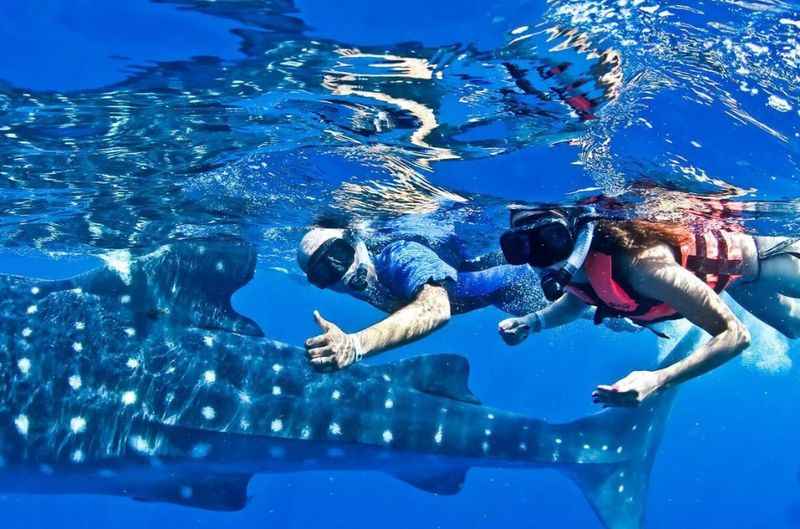 A snorkeling tour with whale sharks near Cancun is a once-in-a-lifetime experience for nature lovers and adventure seekers.
Whale sharks, which can grow up to 40 feet in length, migrate to the waters near Cancun between May and September each year.
Visitors can join a guided tour to swim alongside whale sharks, manta rays, dolphins, and sea turtles.
It is a truly unforgettable experience that allows visitors to connect with nature and witness the beauty of these magnificent creatures in their natural habitat.
4. Explore the Cancun Underwater Museum of Art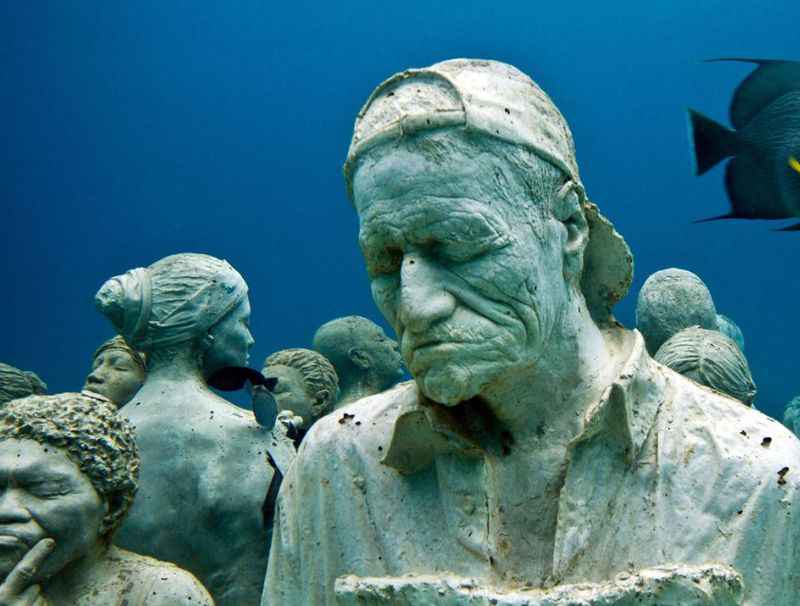 The Cancun Underwater Museum of Art is a one-of-a-kind attraction located off the coast of Cancun, Mexico.
The museum has over 500 large sculptures submerged in crystal-clear waters among fish and sea turtles. The sculptures were created by several artists and serve as a habitat for marine life, including coral, sponges, and fish.
Visitors can explore the underwater museum by snorkeling or scuba diving, which is one of the most fun things to do on your trip to Cancun.
5. Visit the Maya Museum
Located in the heart of Cancun's Hotel Zone**, the Maya Museum** features more than 500 artifacts, including pottery, jewelry, sculptures, and tools, which provide insight into the daily lives and artistic achievements of the Maya people.
One of the museum's highlights is the recreation of a tomb from the archaeological site of Palenque, which gives visitors a glimpse into the elaborate funeral rites of the Maya.
The museum's interactive displays are engaging and bring the past to life.
6. Go Kayaking at the Nichupte Lagoon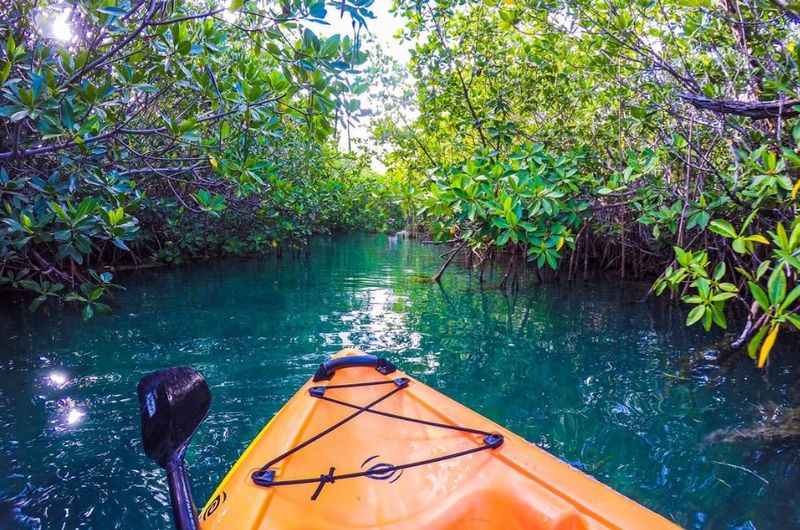 The Nichupte Lagoon is a large body of water that runs parallel to the hotel zone and is surrounded by mangroves, which provide a habitat for many different species of birds and marine life.
Kayaking through the Nichupte Lagoon is a relaxing experience, allowing visitors to connect with nature. Guided tours are available and provide visitors with the opportunity to learn about the history and ecology of the area.
7. Go Scuba Diving and Explore the Cozumel Reefs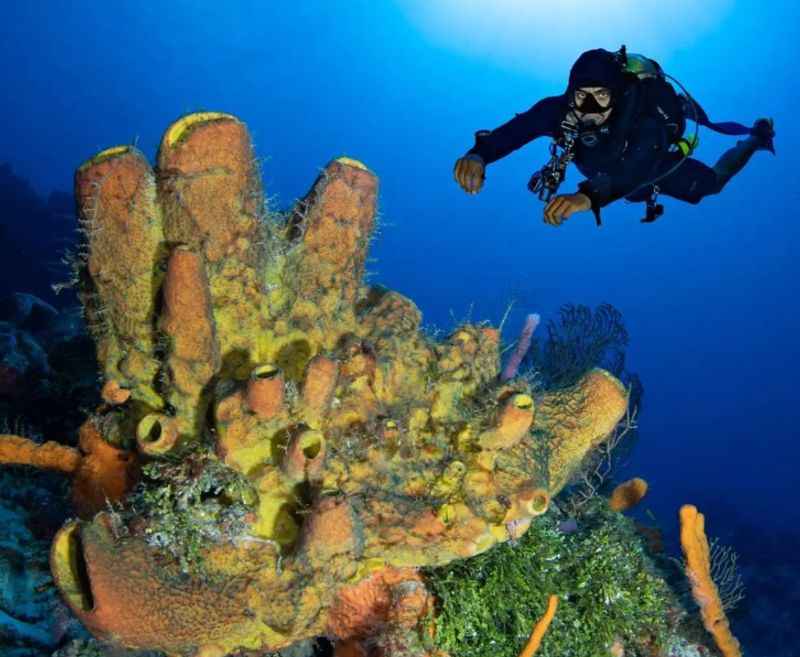 Cozumel is a beautiful island located just off the coast of Cancun. It is considered one of the top scuba diving destinations in the world, offering an incredible variety of dive sites suitable for all levels of experience.
Cozumel is located near the Mesoamerican Barrier Reef, which is the second-largest barrier reef system in the world after the Great Barrier Reef in Australia.
Divers can encounter an abundance of marine life, including colorful tropical fish, sea turtles, and even nurse sharks.
8. Explore the El Rey and El Meco Archaeological Sites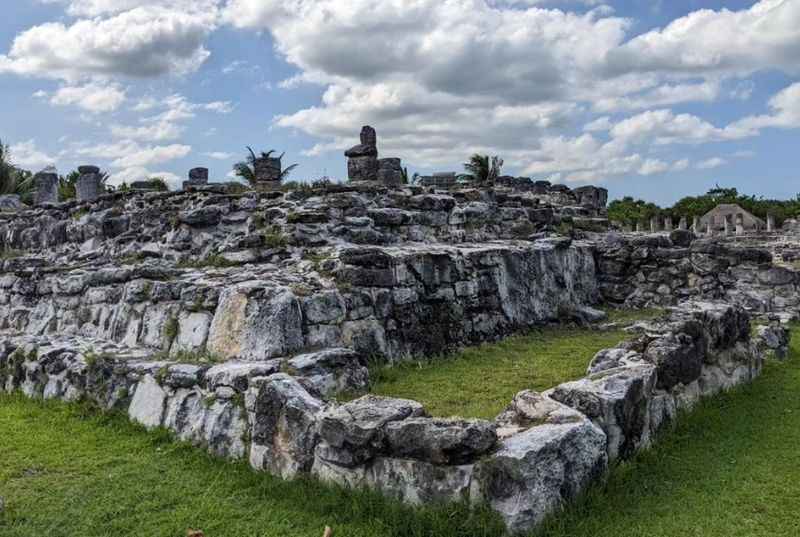 El Rey and El Meco are two fascinating archaeological sites within walking distance from most major Cancun hotels, making them a perfect day trip from Cancun.
El Rey, also known as 'The King', is an ancient Mayan city with a palace, a temple, and several smaller buildings, all surrounded by a beautiful natural landscape.
El Meco is a smaller site, located a few miles north of Cancun. It features a large pyramid-like structure, several smaller structures, and a well-preserved ball court.
9. See the Tulum Ruins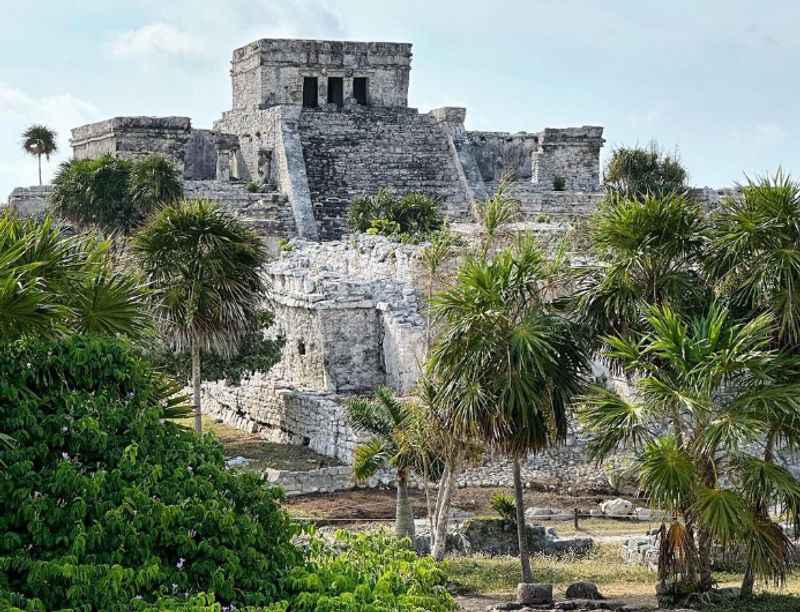 The Tulum ruins, located about two hours south of Cancun, are the remains of a walled city that was occupied from the 13th to the 15th century.
The port city is situated on a cliff overlooking the Caribbean Sea, offering some stunning views.
The Tulum ruins include the Temple of the Frescoes, which features beautiful murals depicting Mayan gods and scenes from daily life in the ancient Maya city.
The Tulum ruins are also unique in that they are some of the only Mayan ruins located near the coast.
10. Taste Local Culture at Xoximilco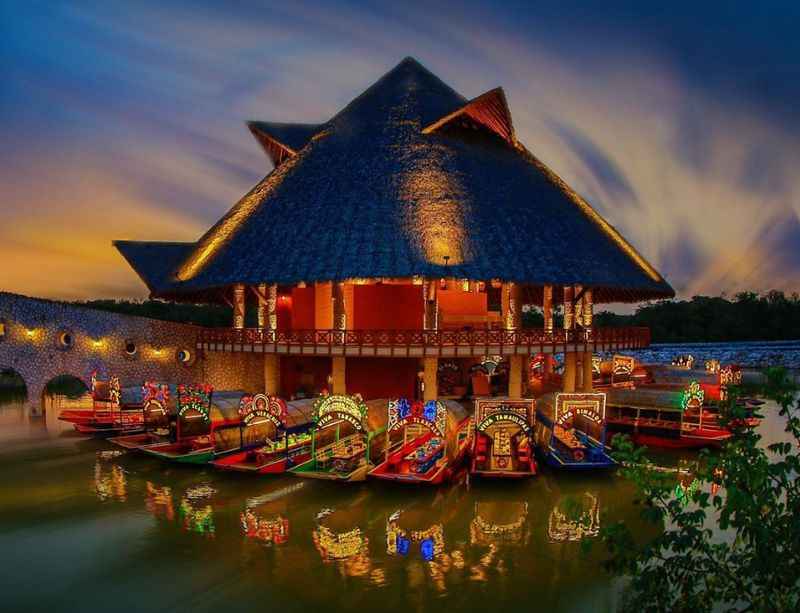 Xoximilco is an entertainment and cultural park designed to resemble the historic Xochimilco canals of Mexico City, which have been a gathering place for locals for centuries to celebrate with food, music, and dancing.
Visitors to Xoximilco can board colorful boats called trajineras and cruise along the canals, enjoying traditional Mexican street food and drinks, live music, and dancing.
It's a fun way to experience the local culture and traditions of Mexico, making it a popular destination for tourists visiting Cancun.
11. Enjoy Selvatica Adventure Theme Park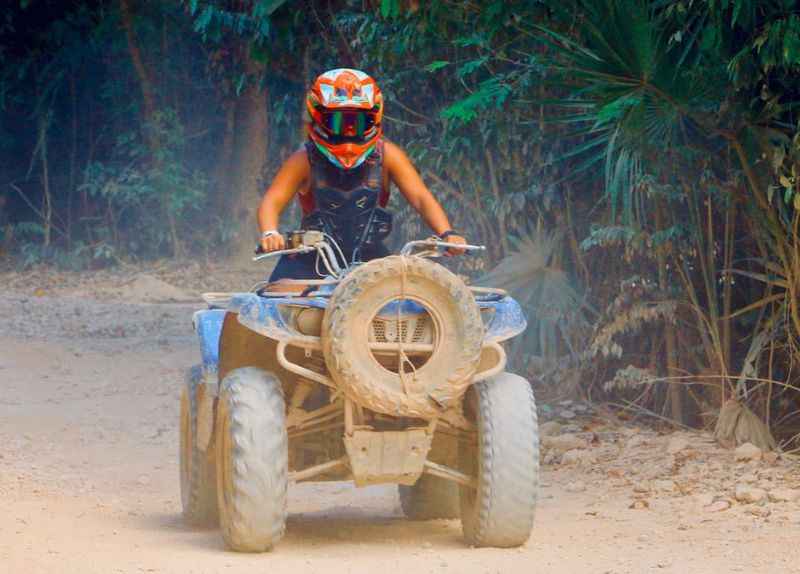 Selvatica is an adventure theme park located near Cancun that offers a variety of activities, including zip-lining, ATV rides, bungee jumping, and more, all in the heart of the Mexican jungle.
There are several adventure parks in Cancun and surrounding area, including Xcaret, Xel-Ha, and Xplor, all of which offer a range of experiences, including snorkeling, zip-lining, and cave exploration, set against the backdrop of the lush jungle and sparkling Caribbean Sea.
12. Explore Cancun's Hotel Zone and Downtown Cancun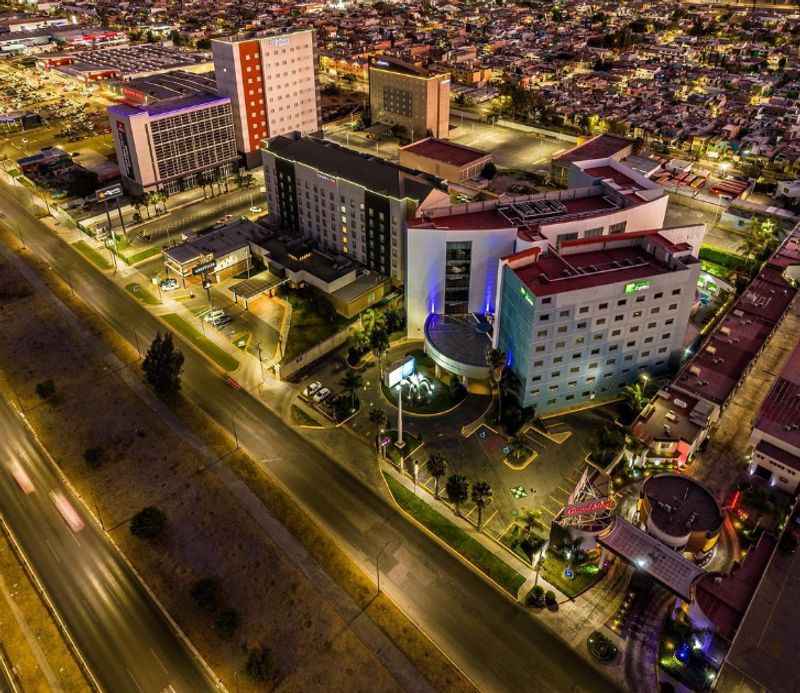 Cancun is divided into two areas and they both come alive at night. Cancun has a downtown area, also known as Ciudad Cancun, and then there is Cancun Island, also known as Cancun Hotel Zone or "Zona Hotelera".
The Hotel Zone is the main tourist area, known for its vibrant nightlife and beaches. The Hotel Zone also offers an array of dining options, ranging from casual beachside eateries to upscale restaurants, as well as shopping centers and entertainment venues.
Meanwhile, Downtown Cancun boasts a huge shopping center, called Mercado 28. This giant flea market in Downtown Cancun is also worth a visit while you're in town.
13. See the Views from the Cancun Scenic Tower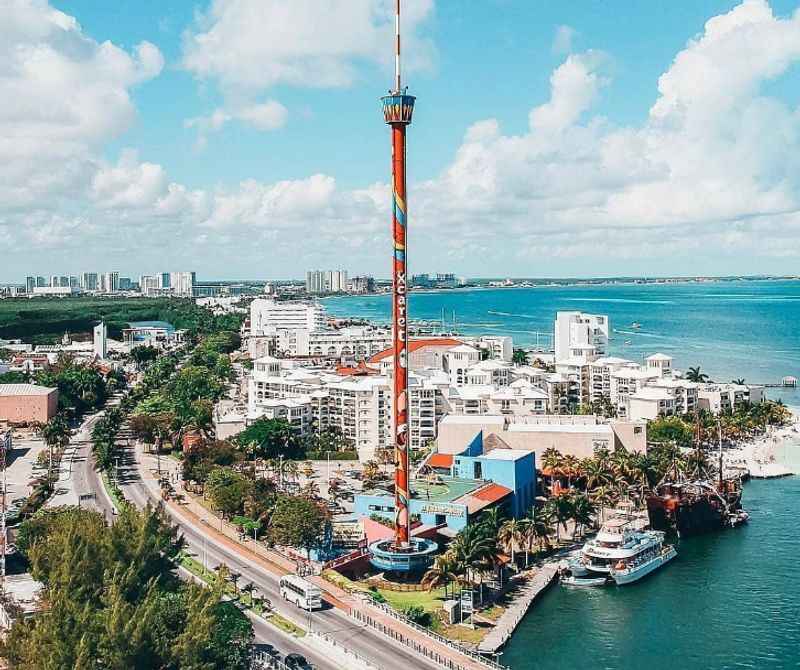 The Cancun Scenic Tower is an 80-meter-high tower that offers breathtaking panoramic views of the surrounding area, including the Caribbean Sea, Nichupté Lagoon, and the Hotel Zone.
Visitors can ride to the top of the tower in a glass elevator and enjoy 360-degree views from the observation deck. The tower is particularly beautiful at sunset.
The Cancun Scenic Tower also offers a range of entertainment options, including a 4D movie theater, a Skywalk attraction, and a souvenir shop.
14. Take a Picture with the Cancun Sign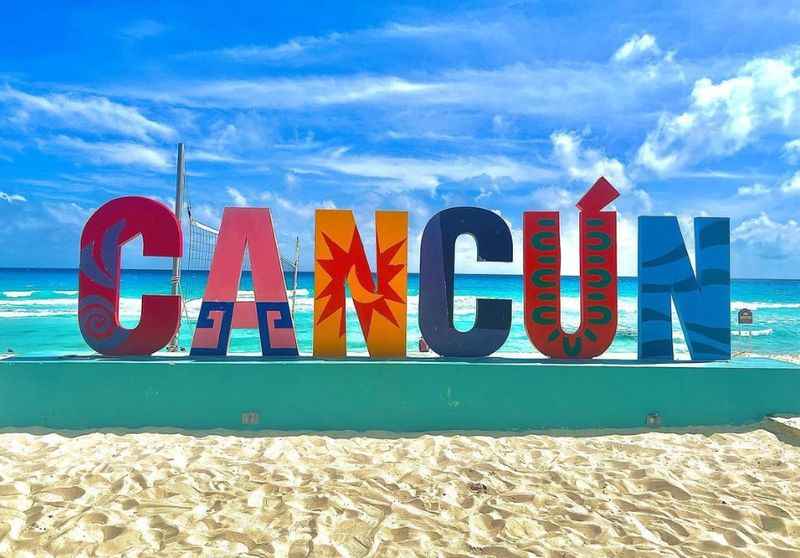 Taking a picture with the colorful Cancun sign is a must-do activity for anyone visiting Cancun. The sign is located at Playa Delfines, which is one of the most popular and beautiful beaches in the area.
The sign is an iconic symbol of Cancun, featuring large letters spelling out the city's name with a vibrant design. Visitors can take photos with the Cancun sign and the stunning beach in the background, creating a memorable and Instagram-worthy shot.
15. Discover Cancun by Night and Coco Bongo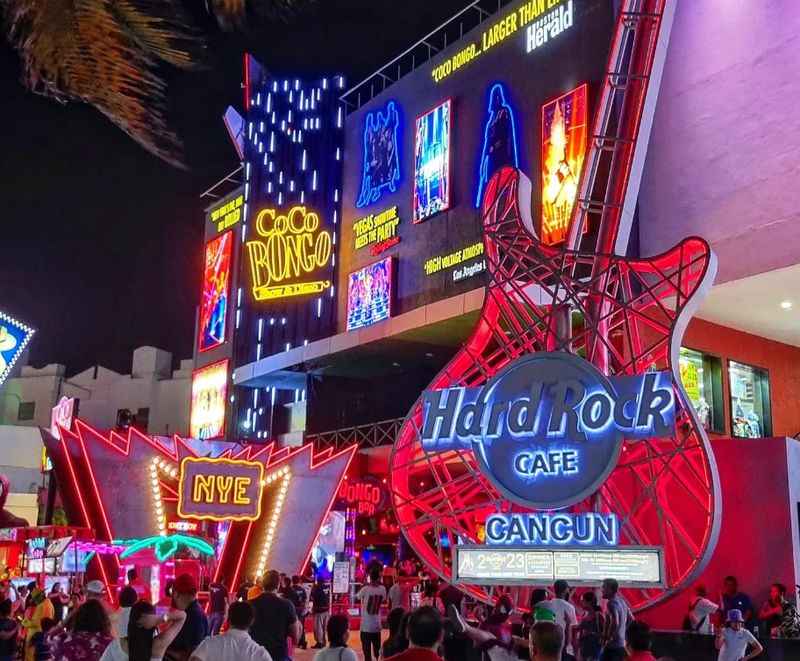 Cancun boasts a wide range of bars, clubs, and entertainment venues, so it's no wonder why most tourists flock to the city's clubs and bars to enjoy some Cancun nightlife.
Some popular venues are Coco Bongo, a massive nightclub that features impressive live shows, and the Mandala Beach Club, which offers late-night partying, with some techno and house music.
Those who enjoy live music can check out venues like Carlos and Charlie's or The City, which feature talented musicians and performers.
16. Sail on the Jolly Roger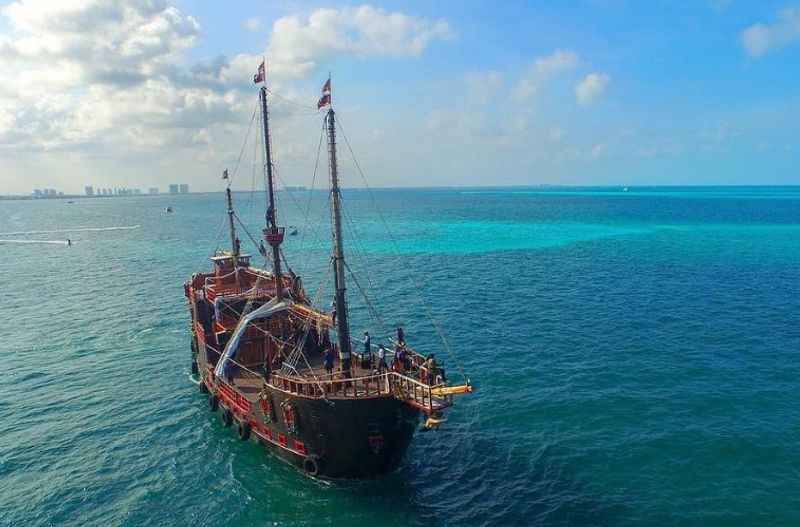 The Jolly Roger attraction features a replica of an 18th-century pirate ship and offers a range of activities and entertainment options for visitors of all ages.
One of the main draws of the Jolly Roger is its famous pirate show. Visitors can enjoy an open bar and a thrilling performance featuring swashbuckling pirates, acrobatics, stunts, and plenty of action.
17. Swim in Cenotes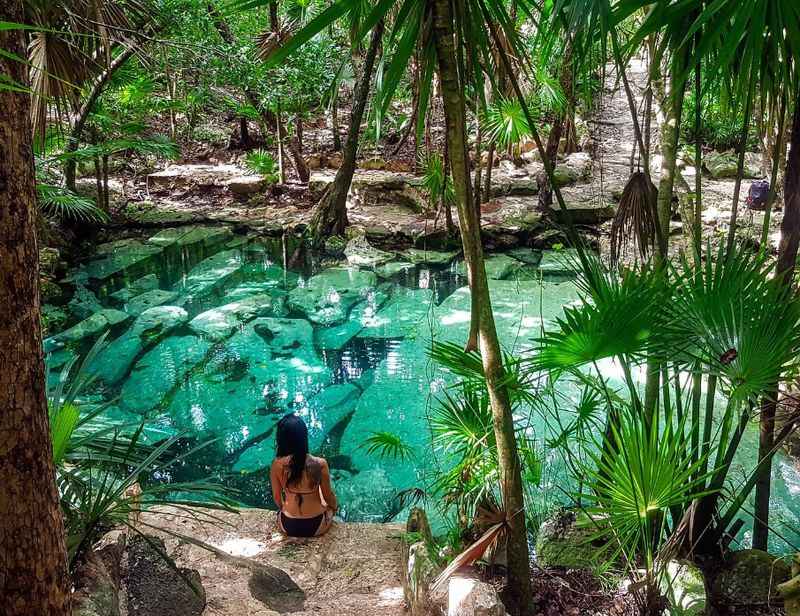 The Riviera Maya near Cancun is home to many natural wonders, including the cenotes, which are unique freshwater natural pools formed by the collapse of limestone bedrock, revealing crystal-clear pools of water.
Visitors can swim, snorkel, or scuba dive in the Riviera Maya cenotes, which also have historical significance as they were considered sacred by the ancient Mayan civilization and were used for both religious ceremonies and as a source of fresh water.
18. Rent a Car and Explore the Region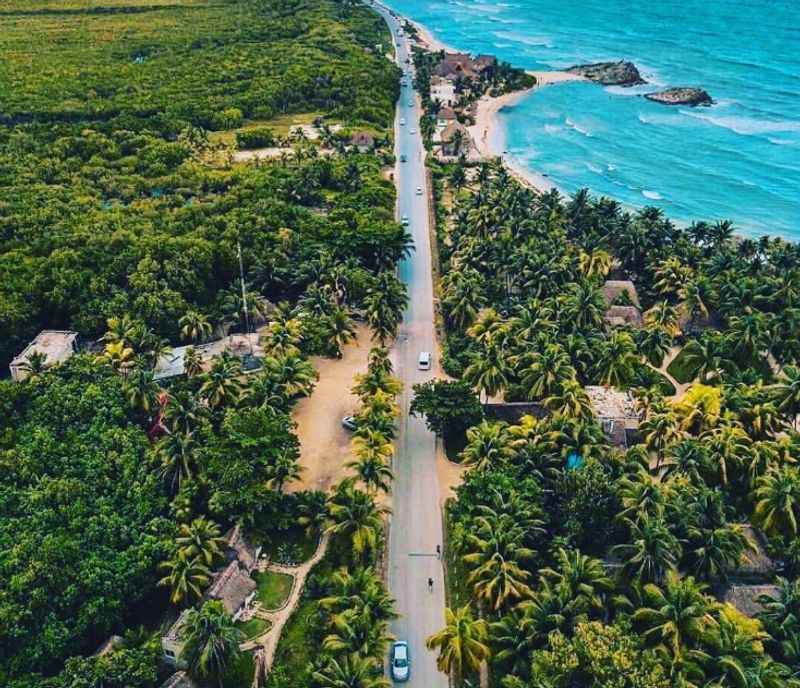 Exploring places near Cancun in a rental car is an excellent way to see all that the region has to offer, from the stunning beaches and crystal-clear waters to the lush jungle and ancient Mayan ruins.
With a rental car, you can create your own itinerary when you visit Cancun, and explore each site at your own pace, whether that means spending a day at a secluded beach or visiting the historic ruins of Chichen Itza.
A rental car also means you can get off the beaten path and discover hidden gems.
19. Stop by La Isla Shopping Village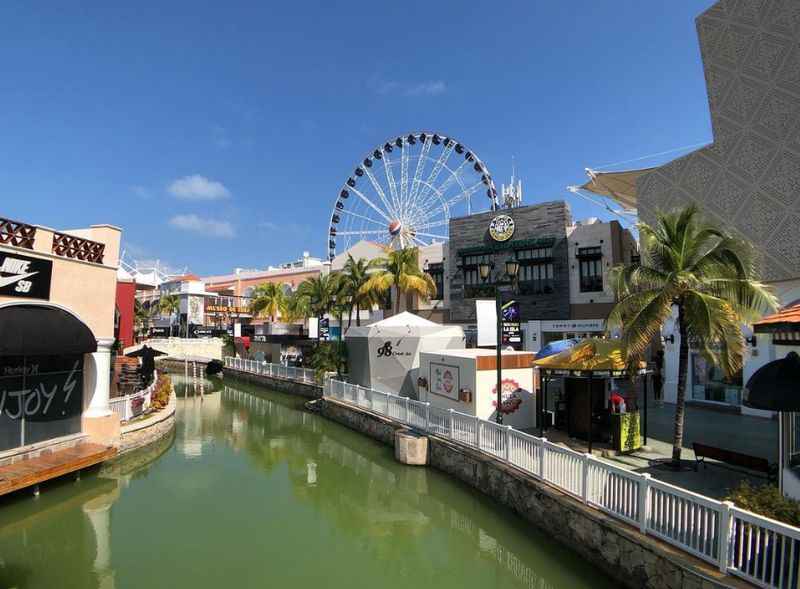 La Isla Shopping Village is a popular outdoor shopping mall in the heart of Cancun's hotel zone, with a wide variety of stores, including high-end fashion boutiques, souvenir shops, and specialty stores.
The mall is situated on the Nichupte Lagoon, providing beautiful views and a relaxing atmosphere. La Isla Shopping Village also has a movie theater, a wax museum, and an interactive aquarium, so there's no shortage of fun things to do while shopping.
20. Take a Boat Cruise to the Isla Mujeres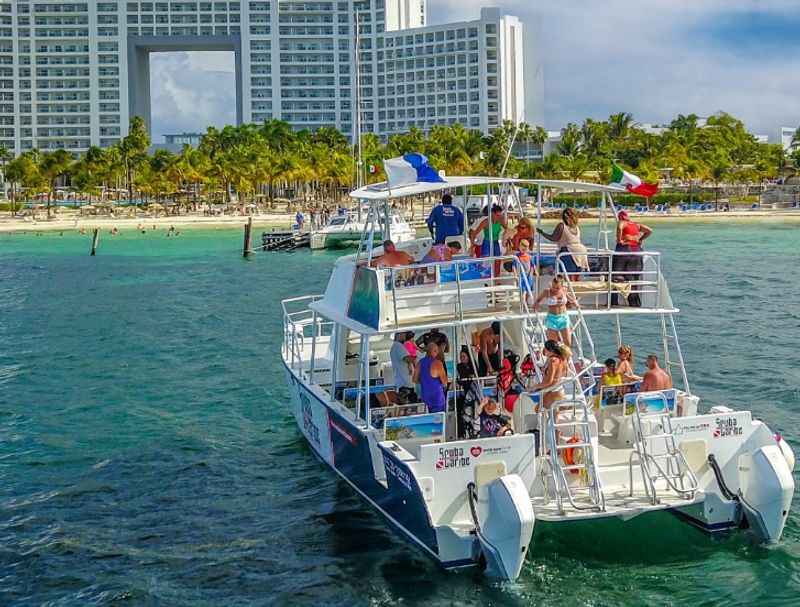 Isla Mujeres is a beautiful island, only 20 minutes by ferry from Cancun Hotel Zone. Isla Mujeres is known for its stunning beaches, crystal-clear waters, and colorful coral reefs.
Isla Mujeres is also home to several attractions, including the Punta Sur Eco Beach Park, which features a lighthouse, a Mayan temple, and a sculpture garden.
You can also explore the Garrafon National Reef Park and Tortugranja, a place to witness local sea turtle conservation efforts.
21. Go on a Sunset Cruise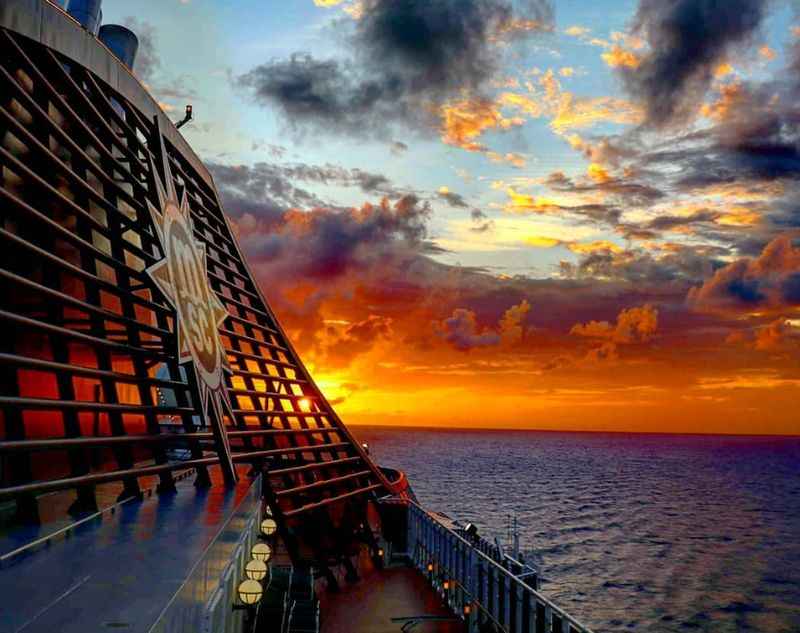 Sunset sailing trips near Cancun are a popular activity among visitors who want to experience the beauty of the Mexican Caribbean from a different perspective.
These trips typically depart from Cancun's Hotel Zone and take guests on a leisurely sail along the coast, offering stunning views of the sunset over the waters of the Caribbean Sea.
Guests can enjoy a romantic atmosphere, an open bar, and snorkeling or swimming stops.
22. Experience a Temazcal Ceremony in Xcaret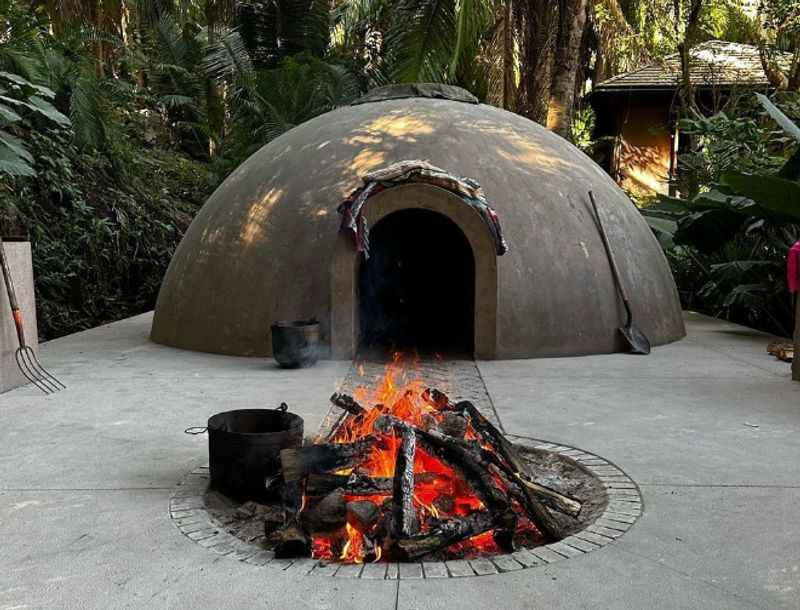 The Temazcal ceremony is a traditional ritual of the ancient Maya that involves entering a sweat lodge and involves the use of hot rocks, steam, and herbs to induce a meditative state and promote spiritual healing.
Xcaret is an eco-archaeological park that offers Temazcal ceremonies led by a shaman. The ceremony ends with a refreshing dip in a nearby cenote or other natural body of water.
23. Watch a Lucha Libre show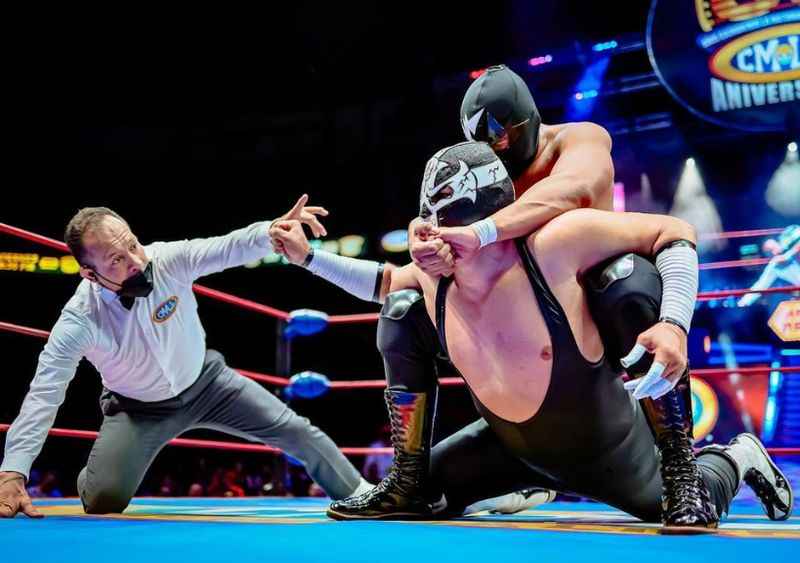 Lucha Libre is a popular form of Mexican wrestling that has been entertaining audiences for generations, and you can enjoy many shows held throughout the region.
The shows are known for their high-flying acrobatics, colorful masks, and dramatic storylines, and they offer a unique opportunity to taste Mexican culture, making these shows one of the fun things to try on your trip.
24. Explore the Sian Ka'an Biosphere Reserve
The Sian Ka'an Biosphere Reserve is a beautiful natural area on the east coast of the Yucatan peninsula, just south of Cancun.
This is a UNESCO World Heritage site that encompasses over 1.3 million acres of pristine wetlands, lagoons, beaches, and coral reefs.
Visitors can see over 350 species of birds, 100 species of mammals, and 45 species of reptiles.
The reserve is also home to several ancient Mayan ruins and offers visitors the opportunity to learn about the region's rich cultural heritage.
FAQs About Things to Do Near Cancun
Let's explore some frequently asked questions related to some of the best things to do near Cancun in 2023.
What is close to Cancun Mexico?
Cancun is located on the northeastern coast of the Yucatan Peninsula, and there are several nearby destinations that are worth visiting. One of the most popular destinations close to Cancun is Playa del Carmen, which is about an hour's drive south of Cancun.
The island of Cozumel is also a popular destination for a day trip, accessible by ferry from Playa del Carmen. Tulum, known for its ancient ruins and beautiful beaches, is located about two hours south of Cancun.
How many days are enough for Cancun?
The number of days you should spend in Cancun depends on your interests and travel goals. If you're interested in relaxing on the beach and enjoying the resort amenities, a week-long trip would be ideal.
A four to five-day trip would allow you to visit the most popular attractions, including the Chichen Itza Mayan ruins and Tulum.
Additionally, if you're interested in exploring nearby destinations like Playa del Carmen and Cozumel or enjoying the open bar at Coco Bongo, you should add at least one or two days to your itinerary.
What tourist cities are near Cancun?
There are several tourist cities near Cancun that are perfect for day trips.
Playa del Carmen, located about an hour's drive south of Cancun, Tulum, located about two hours south of Cancun, Isla Mujeres, a small island located about a 20-minute ferry ride from Cancun, and Cozumel, an island located about an hour ferry ride from Playa del Carmen.
How far is it from Cancun to Chichen Itza?
Chichen Itza Mayan ruins are located on the Yucatan Peninsula, about 120 miles west of Cancun. The distance from Cancun to Chichen Itza is approximately 120 miles, and it takes about 2.5 hours to drive there. There are several ways to visit Chichen Itza from Cancun, including renting a car or taking one of the many tour buses.
Summing Up: Best Things to Do near Cancun
From exploring ancient Mayan ruins at Chichen Itza to taking an Isla Mujeres day trip and enjoying some of the world's best beaches, the Yucatan Peninsula offers a wealth of cultural and natural wonders that you don't want to miss.
Visitors can soak up the local life and culture of Cancun, take a dip at Playa Delfines or Playa Norte, and go scuba diving to explore the vibrant coral reefs and spot sea turtles. With so much to see and do, a trip to Cancun and the surrounding area is sure to be an unforgettable experience.
So plan your visit to Cancun and experience all that the region has to offer.