22 Things to Do in Wisconsin Dells for Adults at Night | 2023 (with Photos)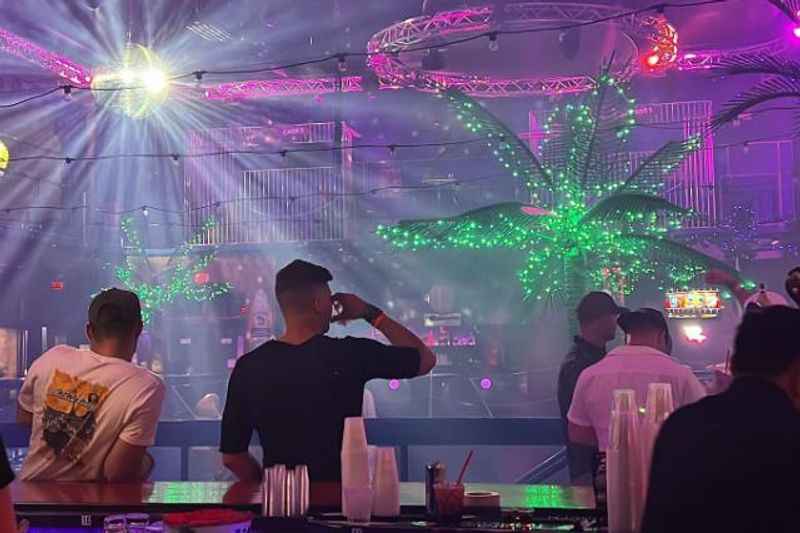 Wisconsin Dells is a popular tourist destination known for its stunning natural beauty, outdoor activities, and family-friendly attractions. However, the fun doesn't stop when the sun sets, especially for adults looking for a night out.
Whether you're looking for a romantic evening or a night filled with adventure and adrenaline, Wisconsin Dells has something for everyone.
From bar hopping to live entertainment, and haunted tours to thrilling zip lines, you'll find plenty of fun things to do in Wisconsin Dells at night. So, let's explore the 22 best Wisconsin Dells activities and plan your perfect night out in this vibrant city.
Most Recommended Thing to Do
Wisconsin Dells Water Parks
Great Wolf Lodge Wisconsin Dells
Our Top Choice Restaurant
Our Top Choice Bar for Nightlife
Summer vacation for thrilling water parks and attractions
Car, bus, taxi, bike, boat, walking
Average Cost ($, $$, $$$)
My Top Recommendation
For a fun-filled adventure, head to the thrilling water parks that Wisconsin Dells is renowned for, and make unforgettable memories as you zoom down exhilarating water slides or relax in lazy rivers, creating an experience that will leave you with a day of laughter and joy.
What You'll Need to Bring
Comfortable walking shoes
Swimming essentials
Camera
What Not to Miss
Wisconsin Dells RiverWalk
H.H. Bennett Studio & Museum
Tommy Bartlett Show
Wisconsin Deer Park
Wisconsin River Tours
What to Avoid
Large crowds
Overprice shops
Rush hours
1. Catch a Movie at Big Sky Twin Drive-In Theatres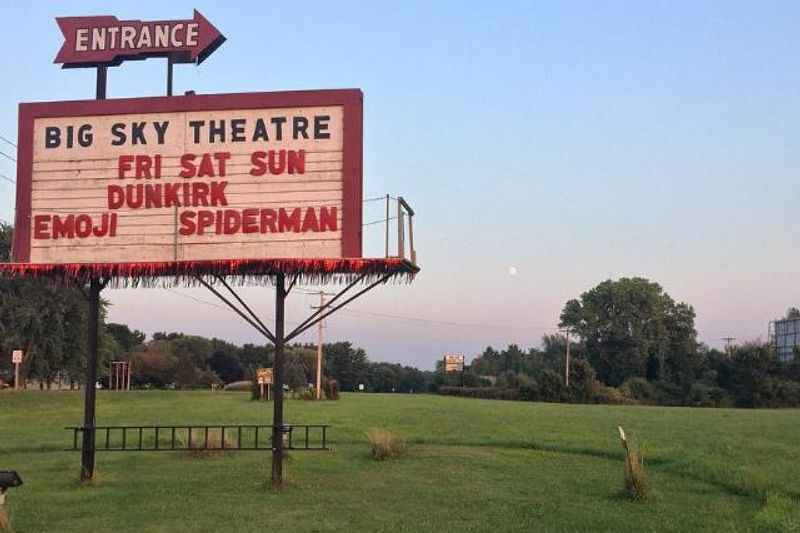 For those who love a classic movie-going experience, watching a film at Big Sky Twin Drive-In Theatres is a must-do activity in Wisconsin Dells for adults.
Located just a few minutes away from the downtown area, the drive-in theater offers a unique and nostalgic atmosphere that is perfect for a romantic evening or a fun night out with friends.
You can grab some popcorn, soda, and your favorite snacks and settle into your car for a double feature. With two screens playing different movies each night, you can choose from a variety of genres and enjoy the latest blockbusters or classic films under the stars.
The theater also has FM radio sound, ensuring you get the perfect audio experience without disturbing your fellow movie-goers.
2. Indulge in Spa Time at Sundara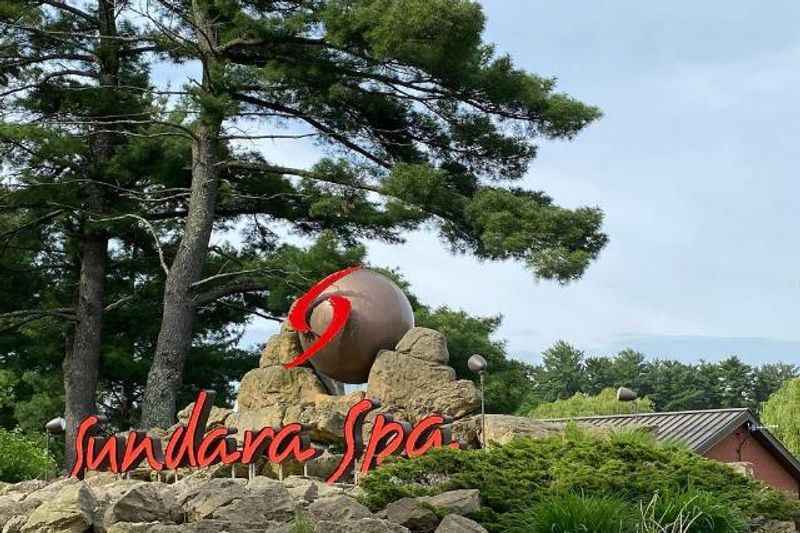 No plans on a Saturday night? Sundara's got you covered. It is a world-class spa located in Wisconsin Dells, offering an unparalleled wellness experience that can be enjoyed by adults at night.
Sundara's tranquil and serene environment is the perfect place to escape the chaos of daily life and relax in luxury. The spa features a variety of treatments on-site, including massages, facials, body wraps, and more, all designed to promote relaxation and rejuvenation.
Whether you're looking to unwind after a long day of activities or simply looking for a peaceful night out, Sundara's spa time is an excellent way to treat yourself and experience pure bliss.
The spa's unique setting, with its outdoor meditation spaces, heated outdoor infinity pool, and calming waterfalls, creates an unforgettable and truly magical experience.
3. Tour a Cottage Designed by Frank Lloyd Wright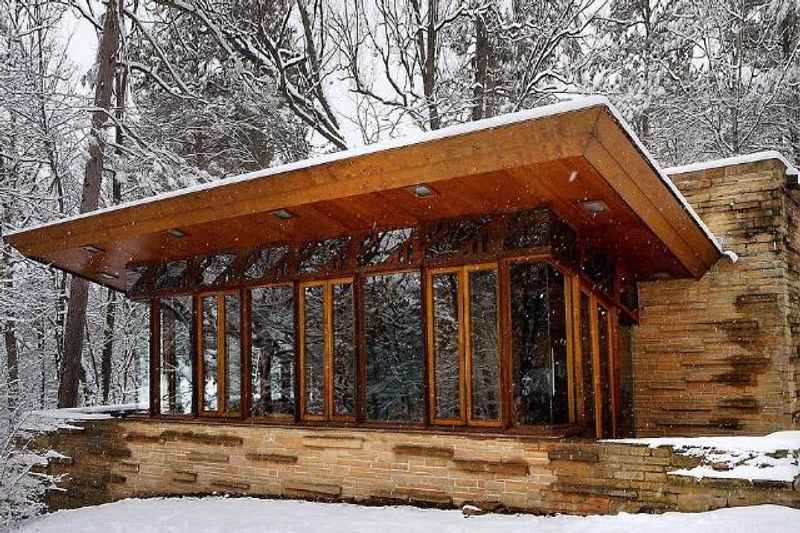 For architecture enthusiasts and history lovers, Frank Lloyd Wright's designs found in his cottage are a must-see in Wisconsin Dells for adults. The Seth Peterson Cottage, located on the shores of Mirror Lake, is one of Wright's most notable works in the area.
Built in 1958, the cottage's innovative design integrates seamlessly with the natural surrounding area and offers breathtaking views of the lake.
The cottage is now open for guided tours, which offer an opportunity to learn about Wright's design philosophy and see firsthand the meticulous craftsmanship that went into the creation of this stunning structure.
Touring the cottage at night adds an extra element of mystery and wonder to the experience, as the warm lighting and serene atmosphere create an intimate and enchanting setting.
4. Visit New Life Lavender & Cherry Farm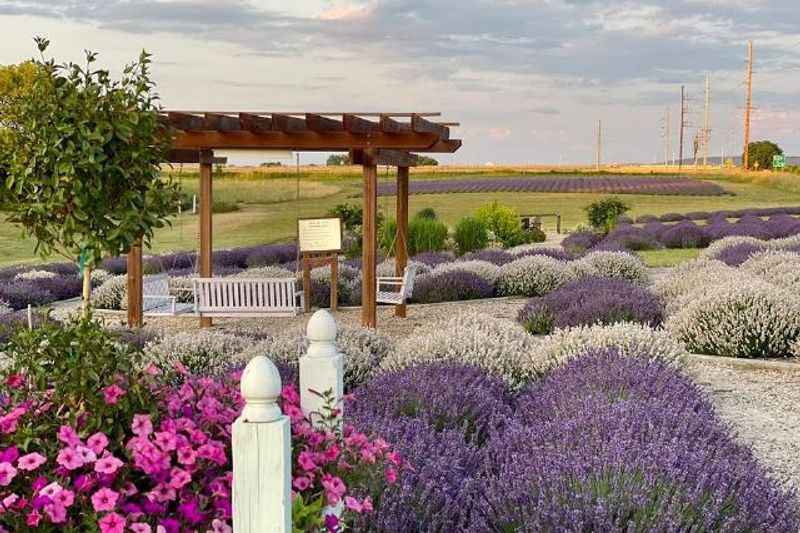 If you are seeking a calming and relaxing activity in Wisconsin Dells at night, a visit to New Life Lavender and Cherry Farm is highly recommended.
This idyllic farm is located just a short drive from downtown Wisconsin Dells and offers a unique experience that is perfect for unwinding after a long day.
As you walk through the fields of blooming lavender under the stars, you'll be surrounded by the soothing aroma of the lavender plants, creating a truly peaceful and serene environment.
5. Ho-Chunk Gaming Wisconsin Dells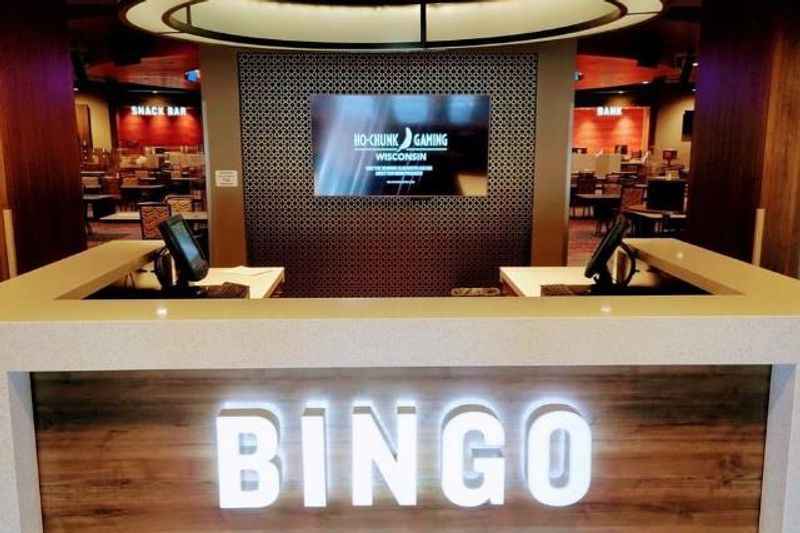 The perfect destination to win big is Ho-Chunk Gaming Wisconsin Dells, WI. This casino offers a wide range of gaming options, including slot machines, video poker, and table games like blackjack and roulette.
In addition to gaming, the casino also features live music, dining options, and a full-service bar where you can grab a drink. It's a great place to spend a fun-filled evening with friends.
The casino is open 24/7, so you can enjoy the thrill of gaming even on a Sunday night.
6. Enjoy Happy Hour at The Del-Bar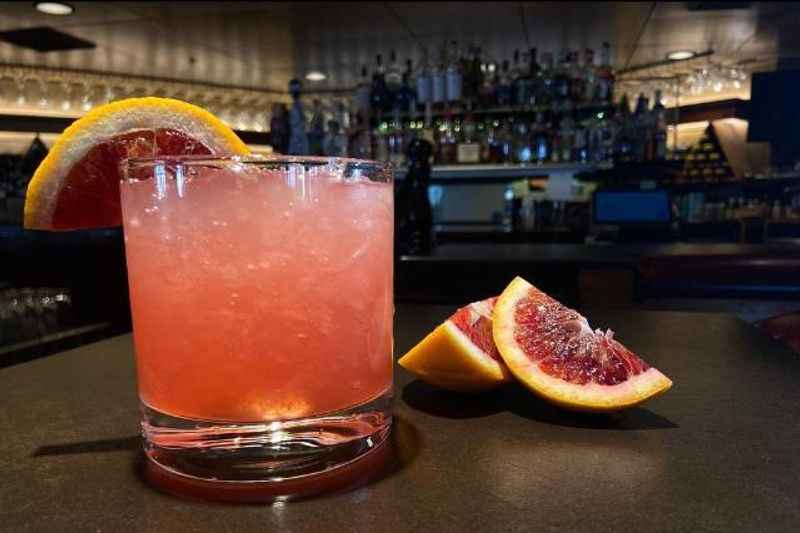 For a sophisticated and classy night out in the town of Wisconsin Dells, The Del-Bar offers an upscale dining experience with an exceptional happy hour.
Located just minutes from downtown, this historic restaurant has been a beloved dining destination since 1943.
During happy hour, which runs from 4-6 pm and 9-11 pm, you can enjoy a variety of specialty cocktails, wine, and beer at discounted prices.
The happy hour menu also features delicious appetizers and small plates, perfect for sharing with friends or sampling a variety of flavors.
7. Ghost Tour in Downtown Wisconsin Dells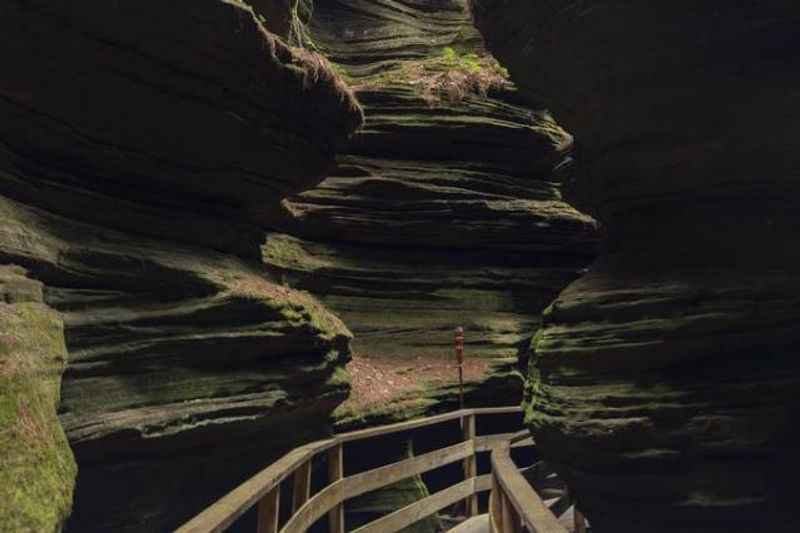 All supernatural lovers must go on the Ghost Tour in Wisconsin Dells, which offers a thrilling and eerie nighttime experience.
Led by experienced guides, the tour takes you on a journey through the historic streets of downtown Wisconsin Dells and to a narrow canyon called Witches Gulch, where you'll learn about the city's haunted past and the ghosts that still haunt its buildings and alleys.
As you explore the city under the moonlight, you'll hear stories of mysterious deaths, unexplained sightings, and paranormal activity.
Whether you're a believer in the supernatural or just looking for a fun and spooky night out, the Ghost Tour is sure to send shivers down your spine and leave you with unforgettable memories.
8. Dance the Night Away at The Reef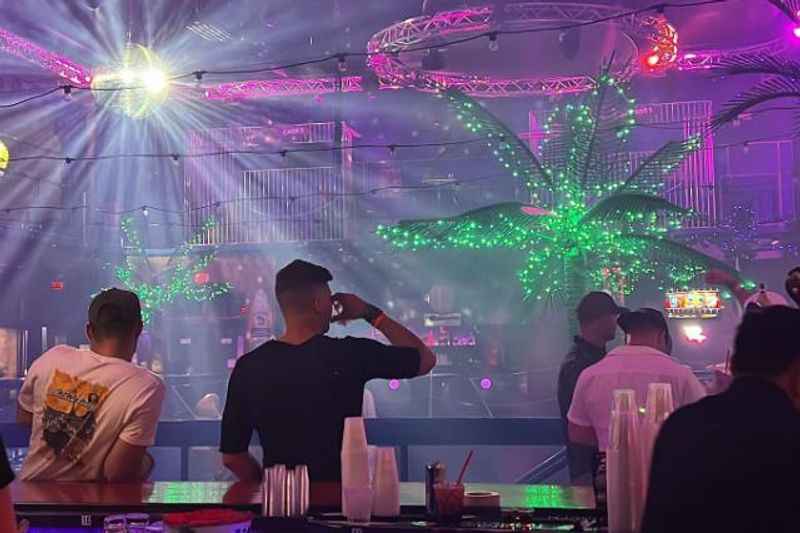 If you're looking for nightlife scenes with lots of dancing and entertainment in Wisconsin Dells, The Reef is the place to be. This popular nightclub features a spacious dance floor, an incredible sound system, and a variety of music genres to keep you moving all night long.
The Reef hosts talented local and national DJs, as well as live performances and special events. With a wide selection of drinks and cocktails, The Reef provides the perfect atmosphere for a fun and lively experience.
Whether you're a seasoned dancer or just looking to let loose and have some fun, The Reef is a must-visit destination in Wisconsin Dells for adults.
9. Become a Kid Again at a Water or Theme Park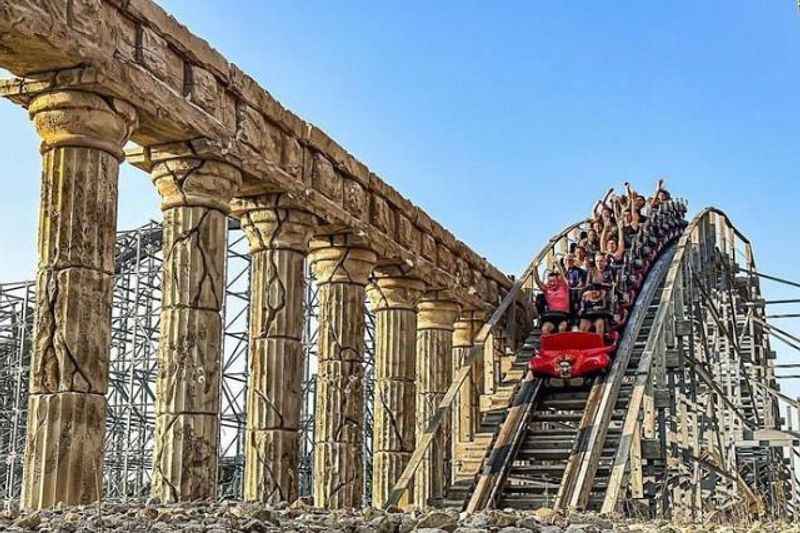 Wisconsin Dells, WI., also known as the "Water Park Capital of the World," is home to a variety of water and amusement parks that offer endless entertainment for adults and kids.
These parks are not just for kids, as adults can also tap into their inner child and enjoy the thrill of the rides and attractions.
Among the top destinations are Noah's Ark, which is the largest water park in the country, and Mt. Olympus Water and Theme Park, which offers a variety of rides and attractions for all ages.
At each location, you can find a snack bar filled with great food and beverages. If you prefer grabbing a drink elsewhere, Fisher's Bar is nearby and has great options.
10. Play Pool or Darts at Nig's Bar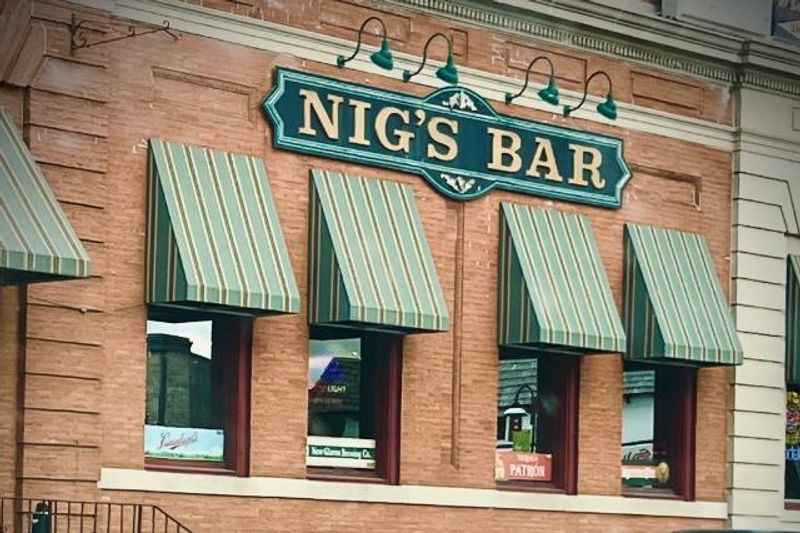 If you're looking for something calm to do on a Sunday in the Wisconsin Dells town, Nig's Bar offers a cozy and inviting atmosphere to enjoy a game of pool or darts with friends.
This local bar has been a favorite among visitors and locals alike for over 60 years.
With its retro decor and friendly staff, this bar provides the perfect setting for a relaxing evening with drinks and games. If you love music, it also features a jukebox with a variety of classic tunes.
11. Try Out an Escape Room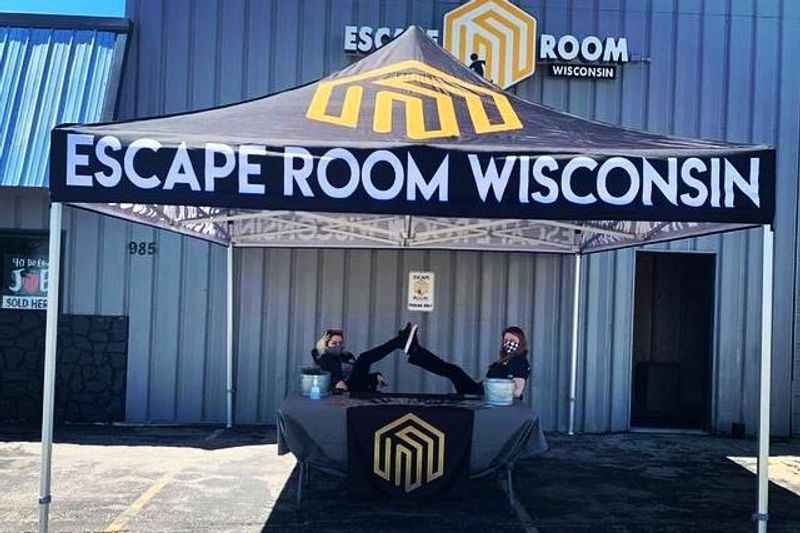 For challenge seekers and puzzle lovers, try out an escape room in Wisconsin Dells.
One of the most popular escape rooms in the area is located at Wizard Quest, an interactive attraction that combines elements of a scavenger hunt, a maze, and an escape room.
Wizard Quest offers two escape room experiences, each with its own unique theme and storyline. You and your group will have to work together to solve puzzles, decipher clues, and unlock secrets in order to escape the room before time runs out.
Afterward, you can celebrate your success by grabbing a drink at one of the two bars located at Wizard Quest.
12. Sip Wisconsin Wine at the Local Wineries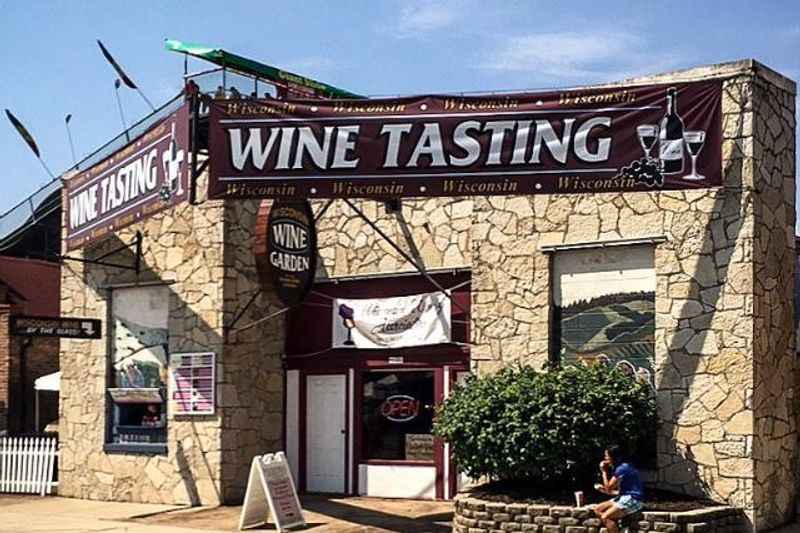 Wisconsin Dells is not only home to Broken Bottle Winery but also a number of other local wineries, including Baraboo Bluff Winery.
These wineries offer visitors a chance to experience the unique flavors of Wisconsin-grown wines while taking in the beautiful scenery of the region.
At Baraboo Bluff Winery, you can sample a variety of wines made with grapes from their own vineyards, and enjoy them in their cozy tasting room or outdoor patio.
Like Broken Bottle Winery, the staff at Baraboo Bluff Winery are passionate about wine-making and happy to share their knowledge with visitors.
13. Get Competitive With Mini Golf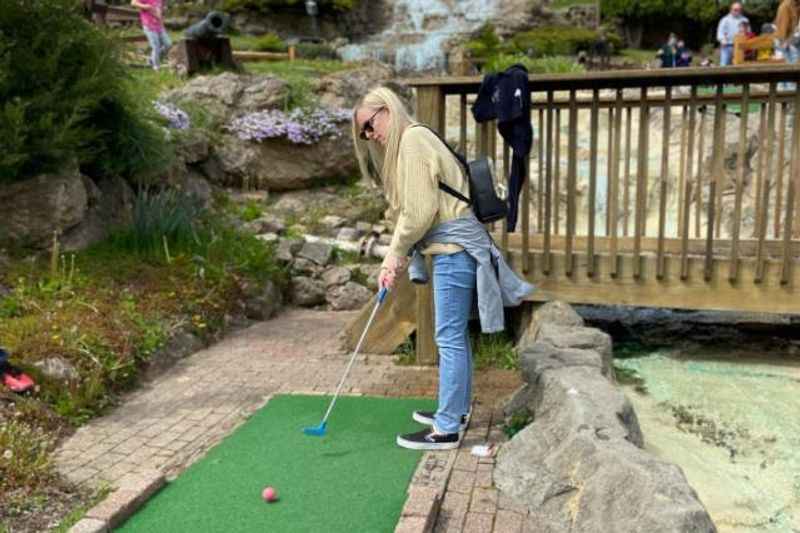 Mini golf is a fun and competitive activity that can be enjoyed by adults and kids. Wisconsin Dells, WI is home to numerous mini golf courses, each with its own unique themes and challenges.
Kalahari Resort and Wilderness Resort both have indoor mini-golf courses where you can play against your competitors. From pirate-themed courses to glow-in-the-dark options, there's something for everyone.
14. Bowling at Knuckleheads Trampoline Park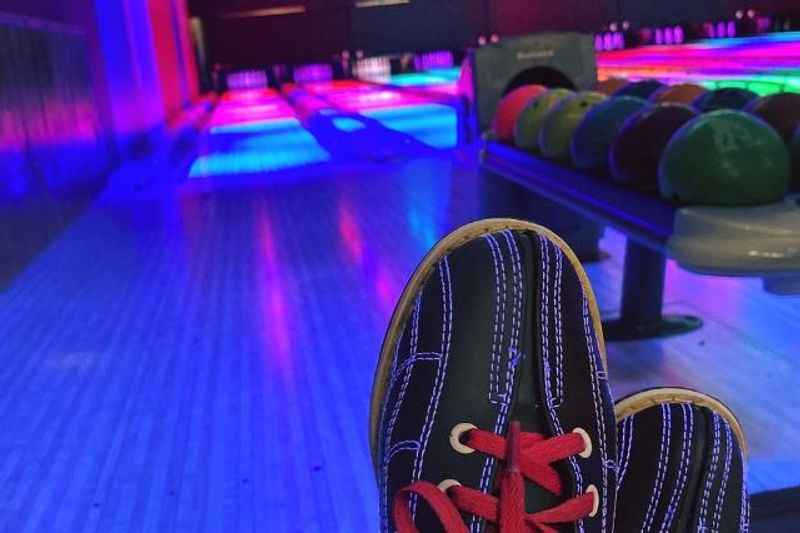 If you're looking for a fun indoor activity in Wisconsin Dells, head to Knuckleheads Trampoline Park for some bowling action. The park features an exciting bowling alley with 11 lanes and automatic scoring, making it a great place to bowl.
In addition to bowling, the park offers a range of other attractions, including trampolines, arcade games, laser tag, and an indoor roller coaster.
15. Have a Bonfire by the Wisconsin River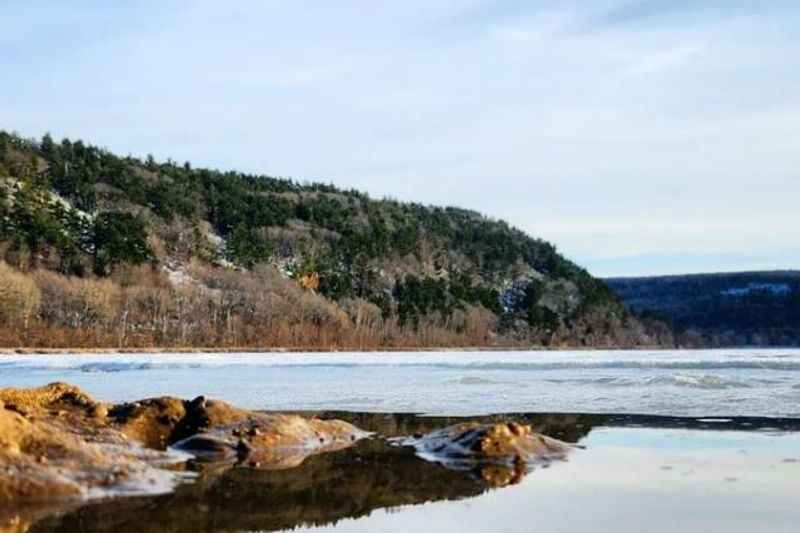 Having a bonfire by the Wisconsin River is a classic activity that is perfect for a relaxing evening. To get to the river, make sure to take the Chapel Gorge Trail.
Many campsites and parks along the river offer fire pits or designated areas for bonfires, providing a safe and enjoyable atmosphere for all.
As you sit by the fire, you can take in the beautiful views from the deck overlooking the river that was created hundreds of millions of years ago and listen to the calming sound of the water flowing by.
Roasting marshmallows, making s'mores, and telling stories are all part of the fun. Whether you're looking for a peaceful time under the stars or a lively gathering with loved ones, a bonfire by the Wisconsin River is sure to provide a memorable experience.
16. Tanger Outlet Mall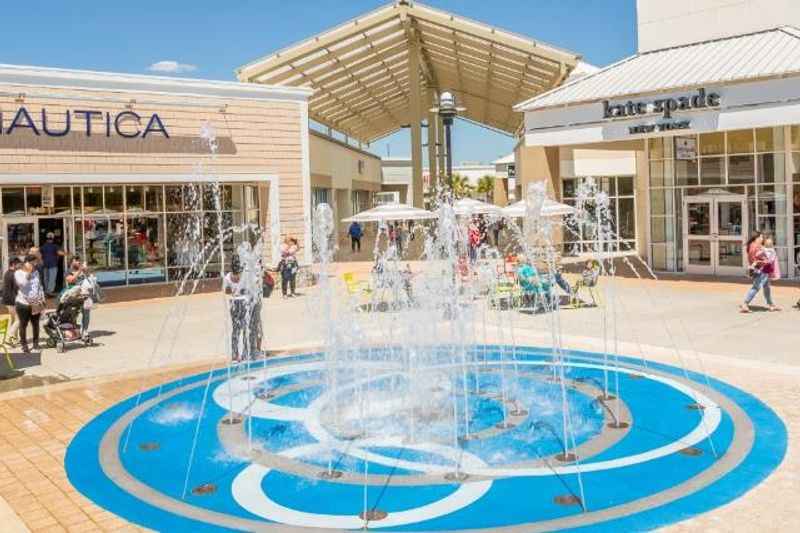 If you're looking to update your wardrobe, Wisconsin Dells offers a premium shopping experience with a variety of high-end stores.
The Tanger Outlet Mall is home to a number of well-known brands, including Michael Kors, White House Black Market, Banana Republic, and Polo Ralph Lauren.
You can browse the latest collections and find great deals on premium clothing and accessories in Wisconsin Dells. With its modern and stylish design, the Tanger Outlet Mall provides a comfortable and enjoyable shopping experience.
17. Enjoy the Music at Showboat Saloon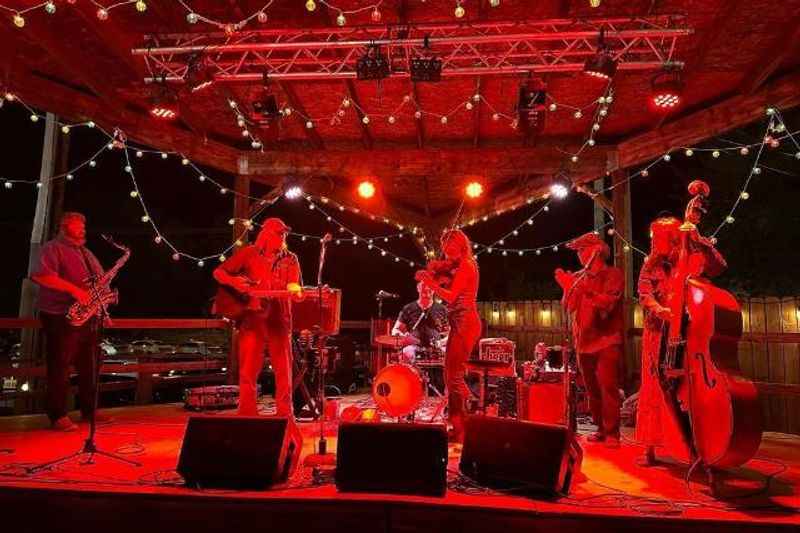 This Saloon in Wisconsin Dells is the perfect place to enjoy live music and entertainment. As one of the local pubs, it offers a cozy and welcoming atmosphere where you can enjoy a cold drink and some delicious dinner while listening to the sounds of country music played by local bands.
The venue is known for hosting some of the best live music performances in the area, making it a popular spot. Whether you're a fan of classic country or modern hits, you're sure to find something that will get your toes tapping at the Showboat Saloon.
18. Mirror Lake State Park in the Evening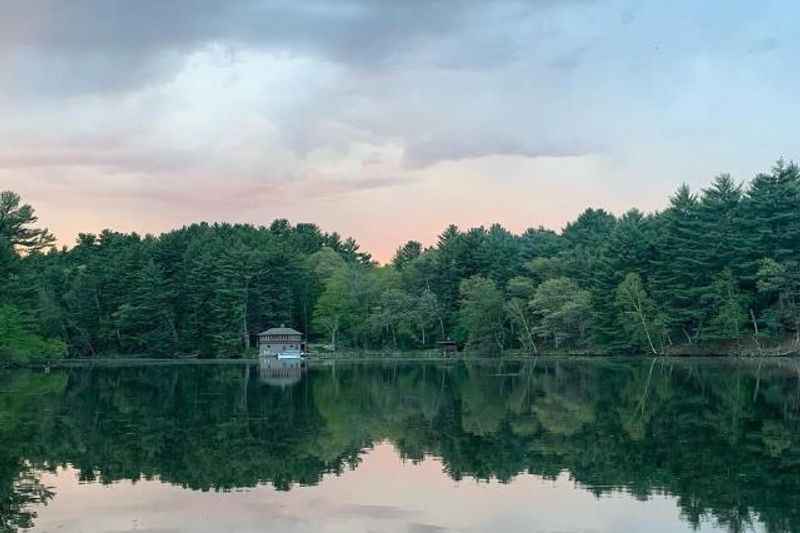 The serene and peaceful Mirror Lake State Park is a beautiful natural area in Wisconsin that offers visitors the chance to explore a stunning landscape filled with forests, lakes, and streams.
With over 2,200 acres of land to explore, there is no shortage of opportunities for outdoor recreation, including evening hikes and swims. The lake is a "no wake zone," meaning there are no speed boats allowed that cause a wake in the water.
The park is also home to a variety of wildlife, from deer and foxes to beavers and otters. Visitors can take advantage of the many scenic trails and picnic areas, or rent a canoe or kayak to paddle around the calm waters of Mirror Lake.
19. Crystal Grand Music Theatre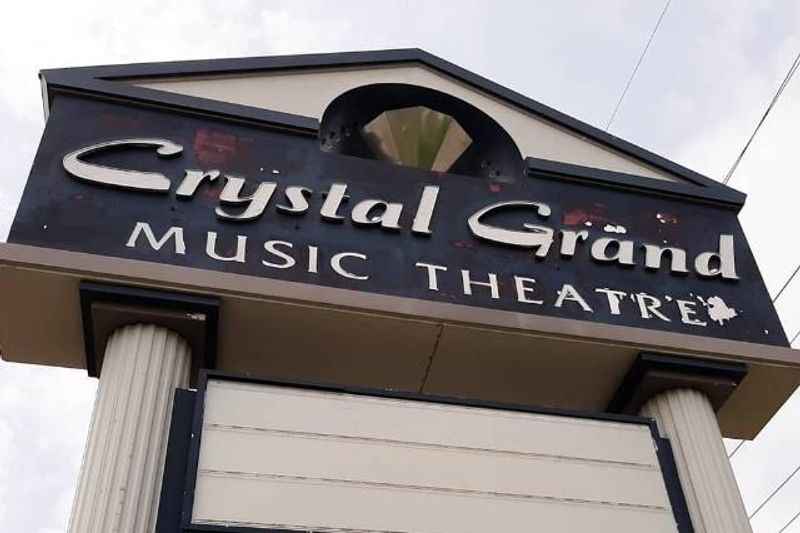 The Crystal Grand Music Theatre located off of Munroe Ave in Wisconsin Dells is a top destination for entertainment and live performances.
With a packed schedule of musicals and comedy shows, visitors can enjoy an evening filled with laughter and music in a comfortable and welcoming atmosphere.
The theater is known for attracting some of the biggest names in show business, as well as showcasing the talents of local performers. With its astonishing sound system and impressive stage design, every show at the Crystal Grand Music Theatre is a true spectacle.
Whether you're a fan of Broadway musicals or stand-up comedy, you're sure to find something that will delight and entertain you at this world-class venue.
20. Bella Goose Coffee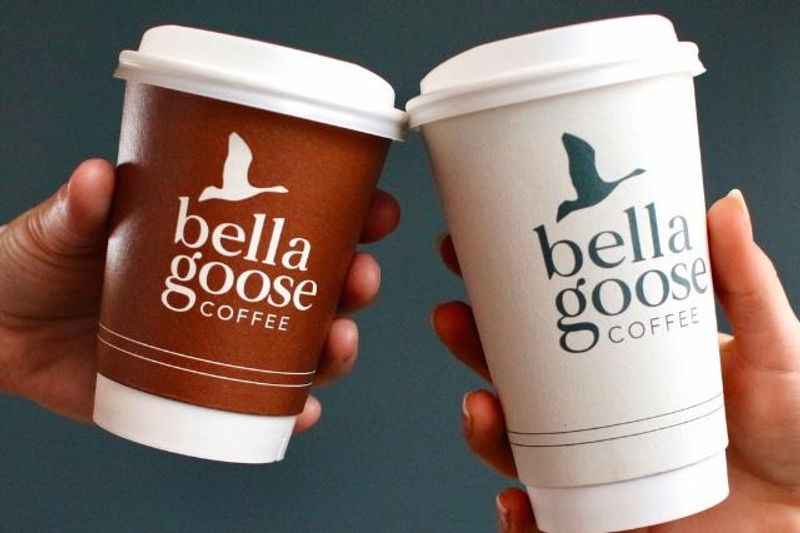 Bella Goose Coffee in Wisconsin Dells is a cozy and welcoming coffee shop that offers visitors the perfect spot to enjoy a late-night cup of coffee.
Open until 11 pm most nights, the shop is a popular spot for people to unwind after a long day of exploring the area.
With a variety of hot and cold beverages to choose from, as well as some delicious baked goods and light dinner bites, there is something for everyone to enjoy.
The atmosphere is laid-back and friendly, with comfortable seating and free Wi-Fi, making it a great place to catch up on work or chat with others.
21. Evening Trip to Lake Delton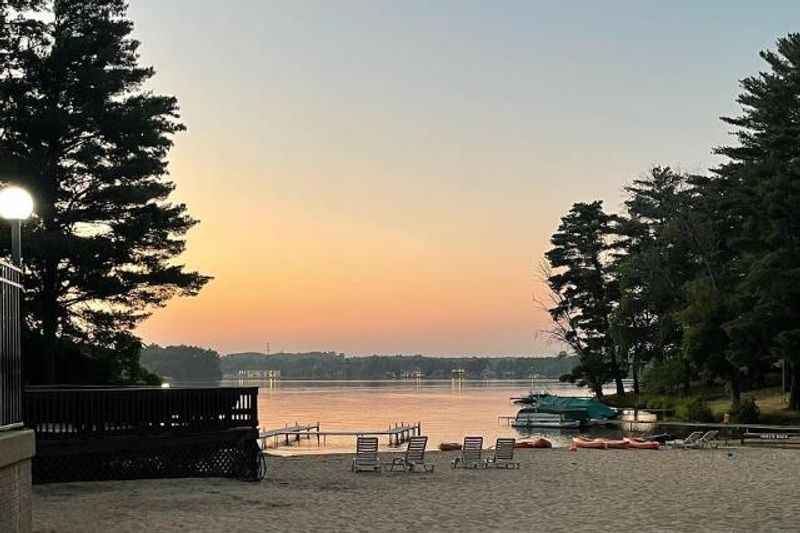 This lake is a popular destination for visitors looking to unwind and enjoy the natural beauty of the area. An evening trip to Lake Delton is the perfect way to relax and take in the stunning views of surrounding forests as you go on Wisconsin Dells Parkway.
Wisconsin Dells Pkwy provides easy access to the lake. Wisconsin Dells Pkwy connects Wisconsin Dells and the lake, making it a convenient destination for those staying in the area.
Visitors can take a leisurely stroll along the shoreline or rent a boat to explore the calm waters of the lake. With its tranquil atmosphere and picturesque scenery, this is a perfect adventure in Wisconsin Dells for adults.
22. Grateful Shed Truck Yard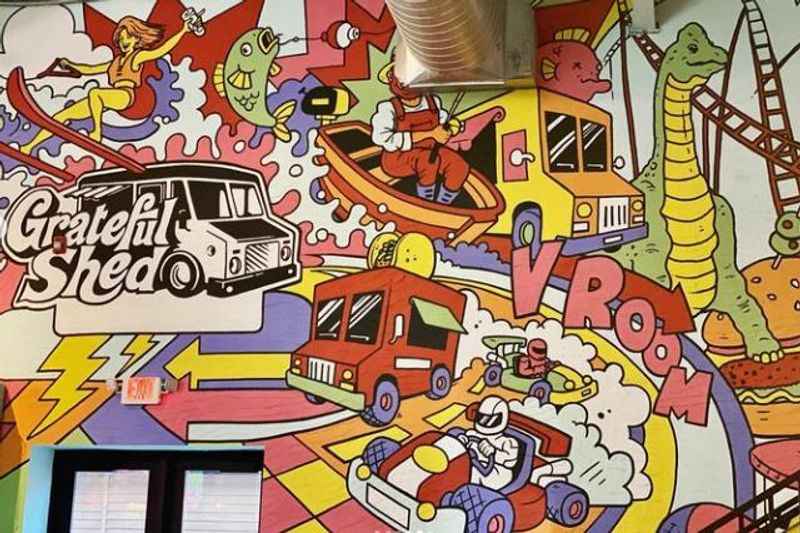 The Grateful Shed Truck Yard is a unique and exciting food and drink destination that's perfect for visitors looking for a laid-back atmosphere and great-tasting food.
The Truck Yard features a rotating selection of food trucks offering everything from gourmet burgers and cheese curds to wood-fired pizza and artisanal ice cream. The outdoor seating area is decorated with colorful murals and string lights, creating a fun and festive ambiance.
FAQs About Things to Do in Wisconsin Dells, WI
Now let's take a look at the most frequently asked questions about Wisconsin Dells.
When is the best time to visit Wisconsin Dells?
The best time to visit Wisconsin Dells depends on what you're looking for. The summer months are the busiest and most popular, with warm temperatures and plenty of outdoor activities.
However, if you're looking for a quieter experience, you may want to visit in the spring or fall. Winter can also be a good time to visit for skiing and other winter sports.
What is the weather like in Wisconsin Dells?
Wisconsin Dells experiences a continental climate, with cold winters and warm summers. Average temperatures range from the low 20s in January to the mid-70s in July. The city also receives significant precipitation throughout the year, with snowfall common in the winter months.
Is Wisconsin Dells a good destination for outdoor enthusiasts?
Yes, Wisconsin Dells is a great destination for outdoor enthusiasts. The city is surrounded by beautiful natural areas, including the Wisconsin River, which offers opportunities for fishing, kayaking, and canoeing.
There are also several hiking trails, such as the Devil's Lake State Park trails and the Mirror Lake State Park trails. Golfers can enjoy the many courses in the area, including Trappers Turn Golf Club and Wild Rock Golf Club.
Summing Up: Fun Things to Do in Wisconsin Dells for Adults at Night
Wisconsin Dells offers a wide variety of unique and fun activities for visitors to enjoy in the evening. From exciting water shows and thrilling roller coasters to relaxing spa treatments and wine tastings, there is something for everyone.
The city's many bars, restaurants, and nightlife options also provide plenty of opportunities for adults to unwind and have fun. Be sure to check out all of the exciting nighttime activities that Wisconsin Dells has to offer.
Get ready to have some fun on your adults-only trip.