28 Best Things to Do in Riverside at Night | 2023 (with Photos)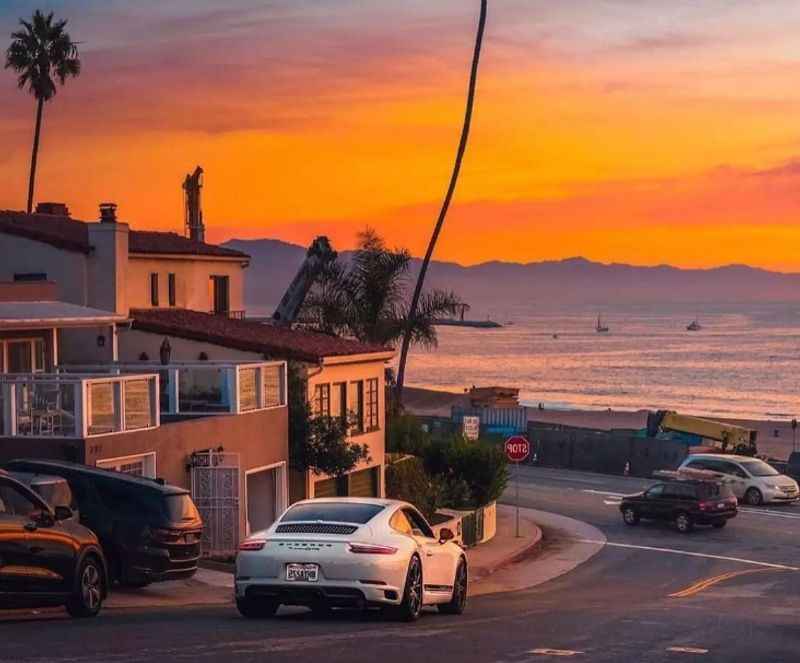 Unearth the diverse and captivating experiences Riverside, California, has to offer as the sun goes down.
As one of Southern California's most vibrant cities, Riverside provides a plethora of nighttime activities that captivate both locals and tourists alike.
From the alluring performances at the Fox Performing Arts Center to the immersive displays at the Riverside Metropolitan Museum, to the lively venues dotted along Main Street, this article uncovers the best ways to explore Riverside at night.
Dive into a universe of art, history, gastronomy, and entertainment that perfectly captures Riverside's pulsating spirit with our list of 28 things to do in Riverside at night.
1. Enjoy a Live Show at the Fox Performing Arts Center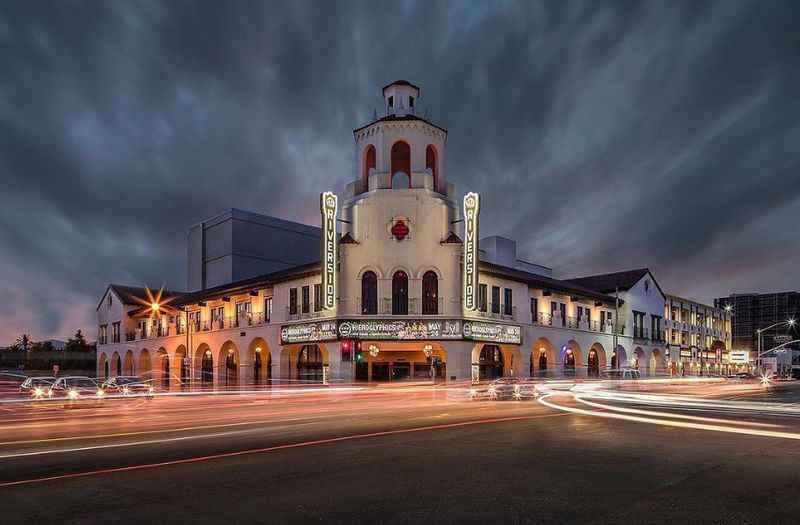 Nestled in the heart of Riverside, Southern California, the Fox Performing Arts Center stands as an iconic venue for diverse live performances. This beautifully renovated theater, originally opened in 1929, comes alive at night with a vibrant mix of music, dance, and drama.
From rock bands to symphonies, Broadway shows to ballet, the Fox Performing Arts Center offers a variety of experiences under one ornate roof. Whether you're a local or a visitor, catching a show here is a must for an enjoyable Riverside evening.
A lively atmosphere, coupled with excellent acoustics and intimate seating, creates a fantastic experience.
2. Visit the Riverside Art Museum for an Exhibition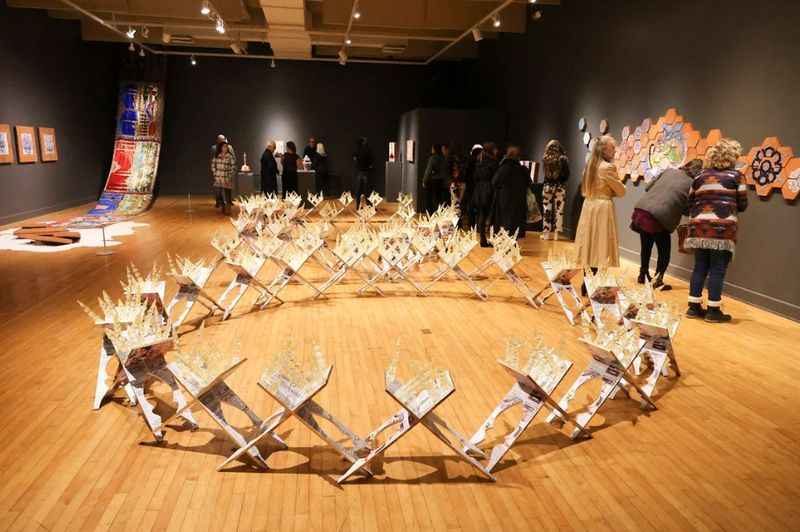 Riverside Art Museum, located in the historic Mission Inn district, is a cultural gem of Riverside, offering a wide range of visual art experiences.
Often open late for special events and temporary exhibitions, the museum is the perfect night-time destination for art lovers.
Inside, you'll find an impressive collection ranging from contemporary works to historic pieces that reflect Riverside's rich cultural heritage.
After you've finished exploring the exhibits, take a moment to relax and reflect in the indoor tree atrium or step out onto the rooftop patio to enjoy the night skyline of downtown Riverside.
3. Take a Night Stroll in Downtown Riverside, Soaking in the Vibrant Culture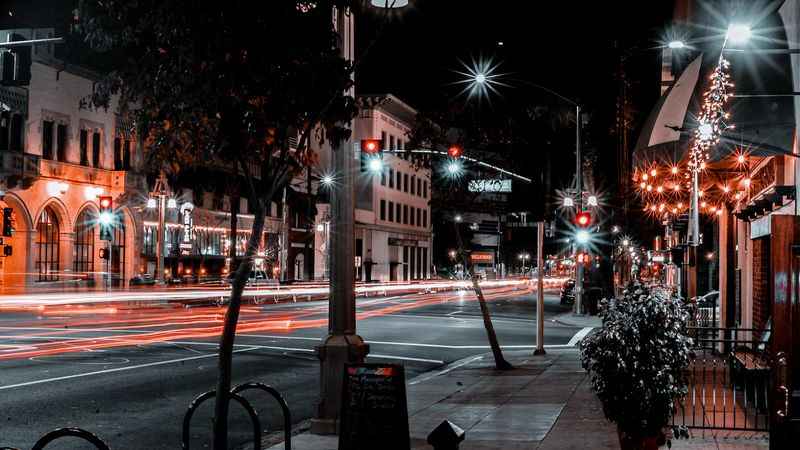 Downtown Riverside is the cultural, entertainment, and dining hub of the Inland Empire. As the sun sets, the cityscape transforms into a lively nightlife scene, making it perfect for a night stroll.
Stroll along Main Street, buzzing with people enjoying happy hour at various bars, playing carnival games, or simply soaking up the vibe of the night.
Stop at the Riverside Food Lab, a food lover's paradise, offering a plethora of delicious cuisines, craft beers, and even live music on occasion.
Don't forget to check out the Mission Inn, an iconic landmark, beautifully lit up at night.
4. Discover Local History at the Riverside Metropolitan Museum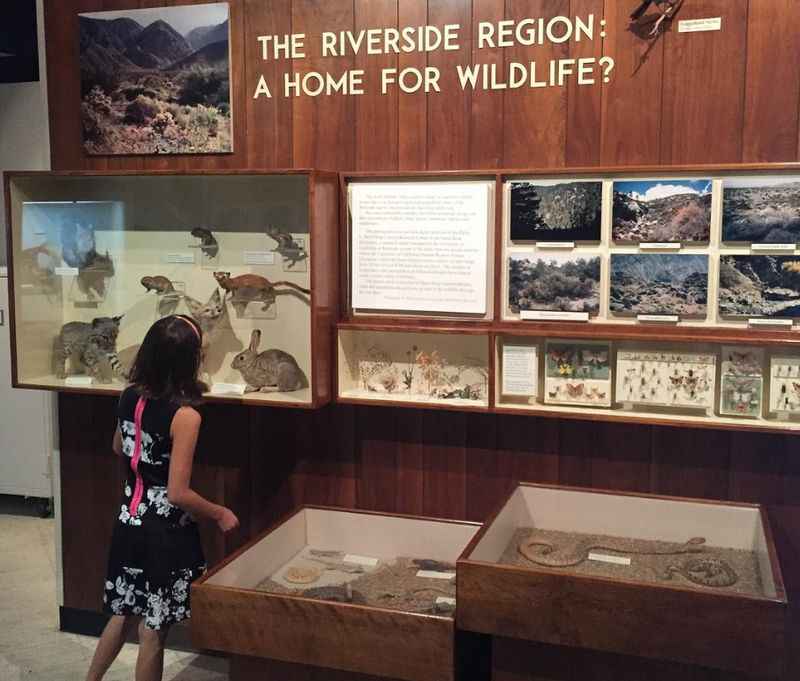 Immerse yourself in local history with a night visit to the Riverside Metropolitan Museum.
This museum is home to more than 100,000 artifacts, including natural history specimens, Native American artifacts, and a comprehensive collection of objects from World War II.
Evenings here are often filled with special events like lectures, workshops, and temporary exhibitions, making it an educational yet entertaining way to spend a night.
5. Pay Your Respects at the Riverside National Cemetery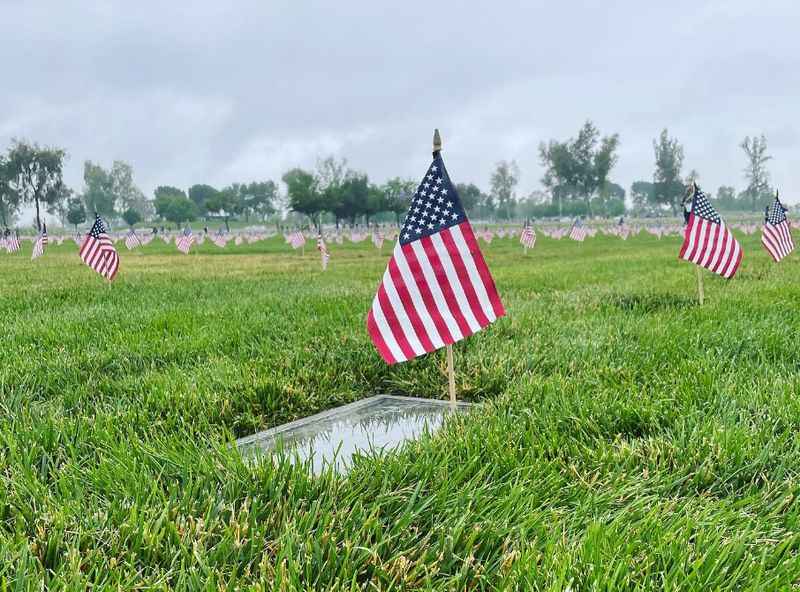 Riverside National Cemetery, covering 1,250 acres in Southern California, is the third-largest cemetery managed by the National Cemetery Administration. It's more than just a place of rest; it's a place of respect and reflection.
As the day turns into evening, the peaceful setting offers a poignant atmosphere for visitors to pay their respects to the fallen heroes of our nation. Walking amidst the precisely aligned headstones under the setting sun, one can't help but feel humbled by the sacrifices made by those buried here.
The cemetery's illuminated Medal of Honor Memorial and the poignant POW/MIA Memorial offer opportunities for reflection. A visit here serves as a reminder of the cost of freedom and is a sobering but necessary part of understanding Riverside's ties to the military.
6. Tee Off at the Nine Hole Golf Course Under the Stars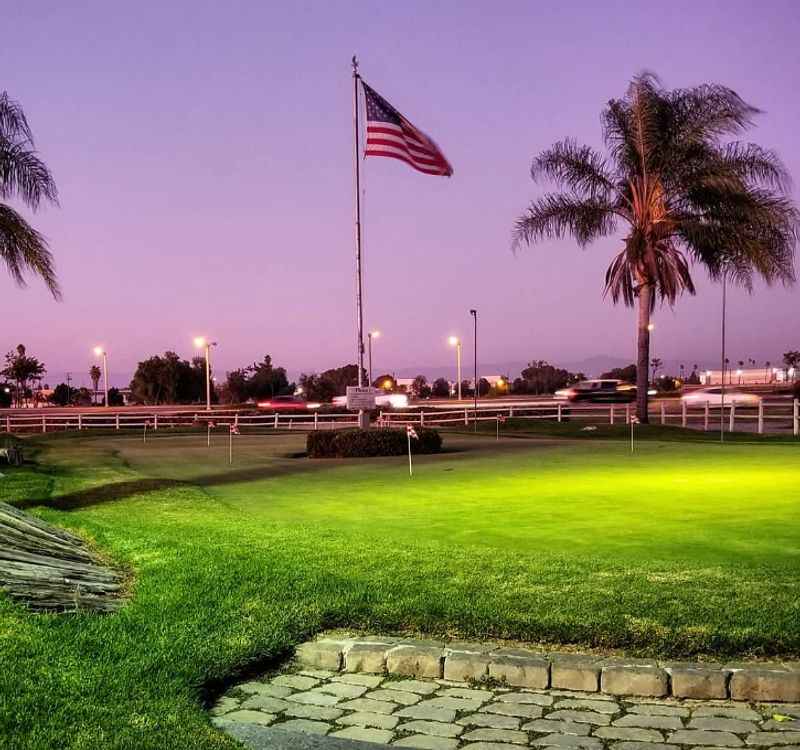 Night golfing offers a whole new way to enjoy the game, and Riverside's nine-hole golf course is the perfect place to tee off under the stars.
Floodlit fairways and greens create a surreal ambiance, contrasting the cool Southern California night.
Whether you're a seasoned golfer or a beginner, the challenge of playing with moonlight and artificial lights brings a new dimension to the game. The quiet of the night allows for calm and focused play.
After the game, enjoy a cold craft beer at the clubhouse, reminiscing about your best shots and the unique experience of nighttime golf in Riverside.
7. Dance the Night Away at Aurea Vista Night Club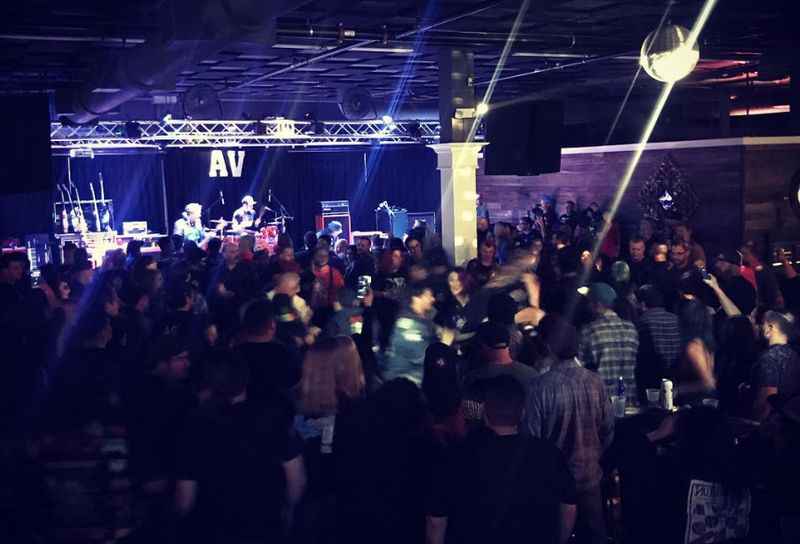 When the sun sets in Riverside, the nightlife begins to sparkle, and there's no better place to experience it than at the Aurea Vista Night Club.
This premier downtown Riverside CA spot is known for its lively atmosphere and fun theme nights. Whether you're a fan of hip-hop, electronic dance music, or Latin beats, Aurea Vista has a night for you.
The club offers VIP experiences complete with bottle service, guaranteeing an unforgettable night of fun. Dance under the spinning lights, mix with the friendly Riverside locals, and let the music carry you away.
8. Explore Aviation History at the March Field Air Museum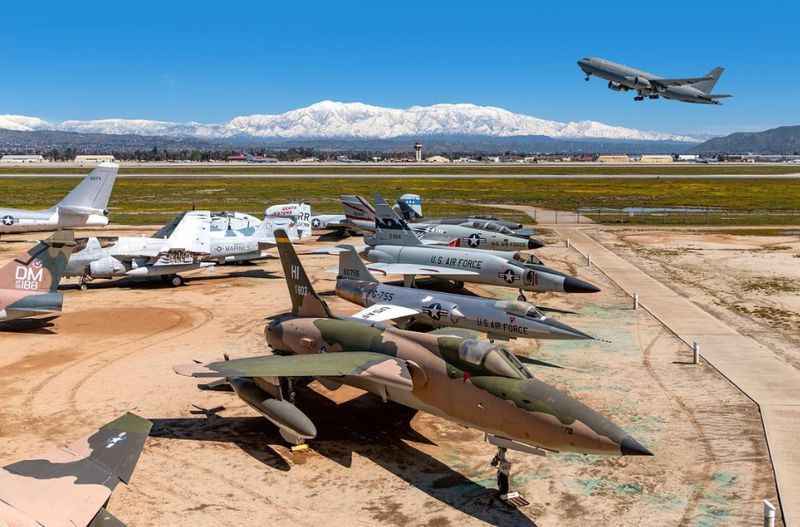 March Field Air Museum is a testament to Riverside's rich aviation history. Although traditionally a daytime activity, the museum occasionally holds nighttime events that provide a unique perspective on the vast collection of historic aircraft.
Under the stars, the gleaming metal bodies of the planes take on a different aura, seeming to harken back to their days in active service. The museum houses over 80 historic aircraft, from World War II bombers to modern fighter jets.
Special exhibitions and talks often accompany these nighttime events, offering a deep dive into aviation history. This trip down memory lane is a must-visit for history enthusiasts and aviation aficionados alike.
It's an opportunity to step back in time and appreciate the evolution of air travel and the role Riverside played in it.
9. Play a Round of Miniature Golf at Castle Park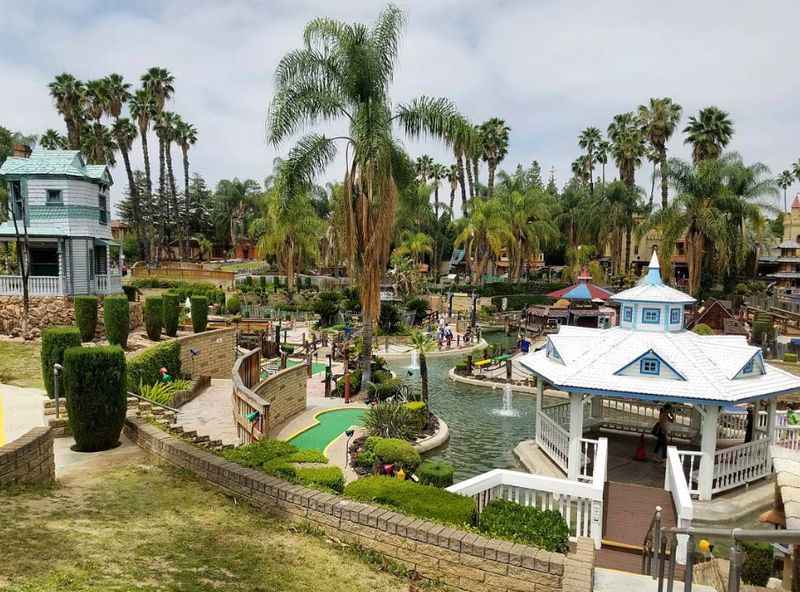 When the Southern California sunsets and Riverside CA nights cool down, Castle Park, with its atmospheric lighting, becomes a hub of activity.
Castle Park isn't just known for its thrilling rides and amusement games, but also for its challenging and beautifully landscaped miniature golf course.
Offering a night full of laughs and friendly competition, the course takes players around waterfalls, bridges, and past castle walls.
After a round or two, visitors can refuel with some delicious snack options available in the park. For those looking for more excitement, try the park's thrilling rides and carnival games.
10. Sample an Array of Global Cuisines at the Riverside Food Lab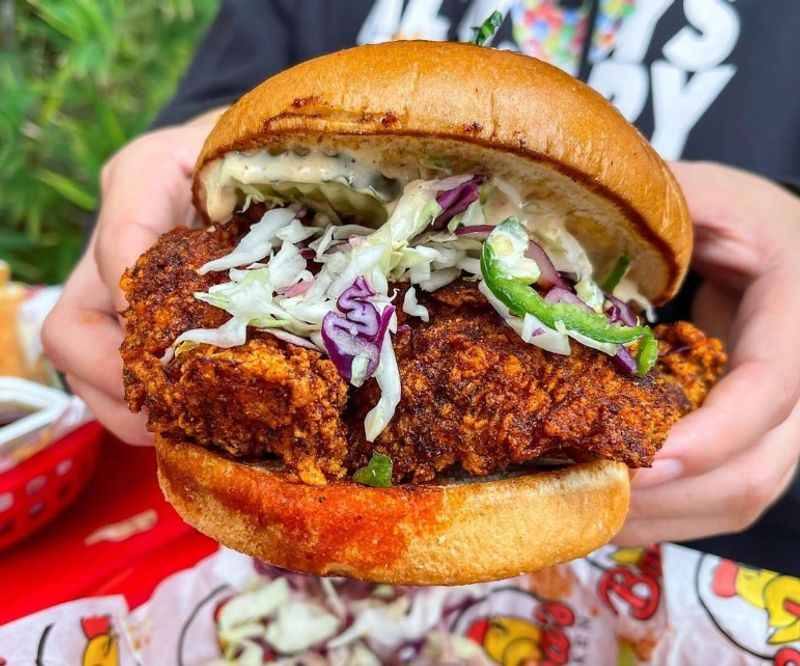 Situated in Downtown Riverside, the Riverside Food Lab is a culinary paradise offering a great experience for food lovers.
Open late into the night, it's an inviting atmosphere where food vendors showcase global cuisines, from savory Mexican fare to innovative vegan delights.
The Food Lab has become a local hotspot, creating a community-focused, food-centric experience where locals and visitors can enjoy music while sipping beers or creative cocktails.
No matter what you're craving, the Riverside CA Food Lab's diversity is sure to have something to please your palate.
11. Watch a Movie at the Fox Entertainment Plaza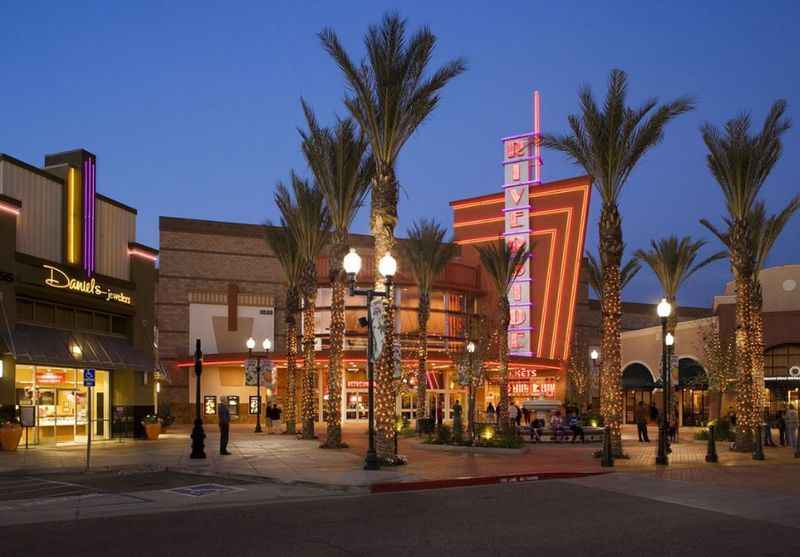 The historic Fox Performing Arts Theatre, part of the Fox Entertainment Plaza in Riverside isn't just a venue for live shows. It also boasts an AMC Theater, perfect for moviegoers. Enjoy the latest Hollywood blockbusters or indie films here in comfortable seating.
This is a state-of-the-art sound and visual technology, which makes it a beloved spot among movie enthusiasts.
Complete your movie night with some tasty snacks from their concession stand. It's also a place where you can host birthday parties and corporate events where people can play air hockey games, use its pool table
It's an ideal destination for a date night or a relaxed outing with friends in the Inland Empire.
12. Attend a Private Party at the Prestigious Mission Inn Hotel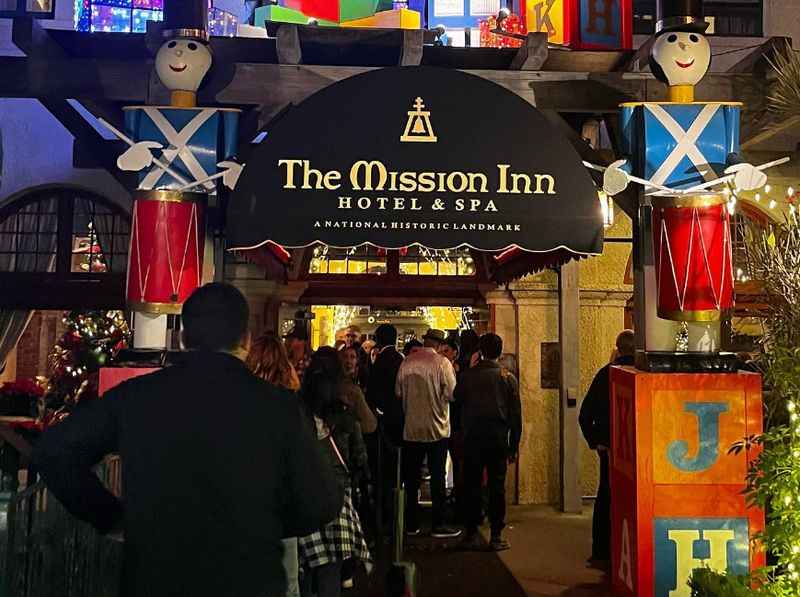 Imagine attending a private party at the renowned Mission Inn Hotel, one of Riverside's most iconic landmarks.
This historic hotel lights up like a fairy-tale castle at night, with its awe-inspiring Spanish Mission-style architecture creating an enchanting backdrop for any event. Whether it's a corporate event, a birthday party, or a sophisticated soiree, the hotel's grand ballrooms and beautiful courtyards offer a perfect setting.
Enjoy a beer or an exquisite wine at the hotel's bar, indulge in their delicious cuisine, and dance the night away. The Mission Inn Hotel combines old-world charm with modern amenities to make your night unforgettable.
13. Play Tennis at One of the City's Public Courts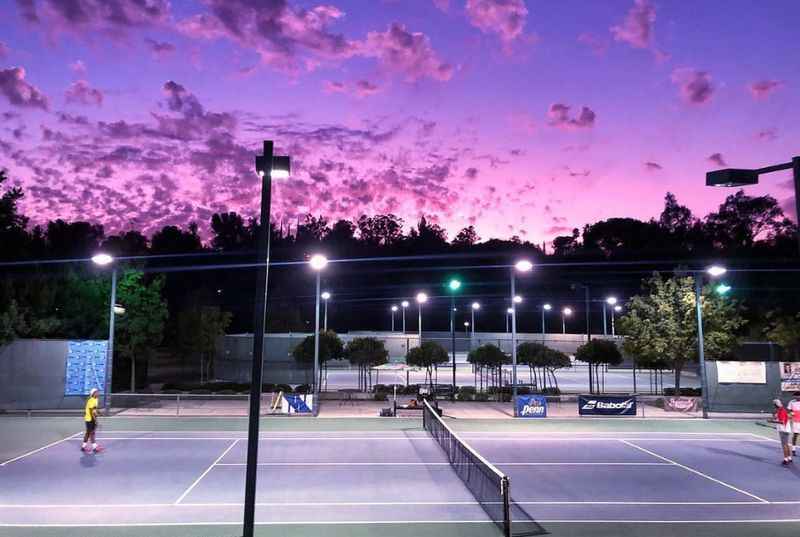 Enjoy a friendly game of tennis at one of the well-maintained public courts in Riverside CA. Whether you're a seasoned player or a beginner, these courts provide a great space to showcase your skills or improve your game.
With the beautiful surroundings and excellent facilities, you'll have an enjoyable time playing your favorite sport.
Gather your friends or challenge yourself with a singles match. The well-maintained tennis courts offer a welcoming atmosphere for players of all ages and skill levels.
So grab your racket, hit some powerful serves, and indulge in the thrill of a tennis match in this city.
14. Enjoy the Nightlife at Lake Alice, a Popular Bar with Live Music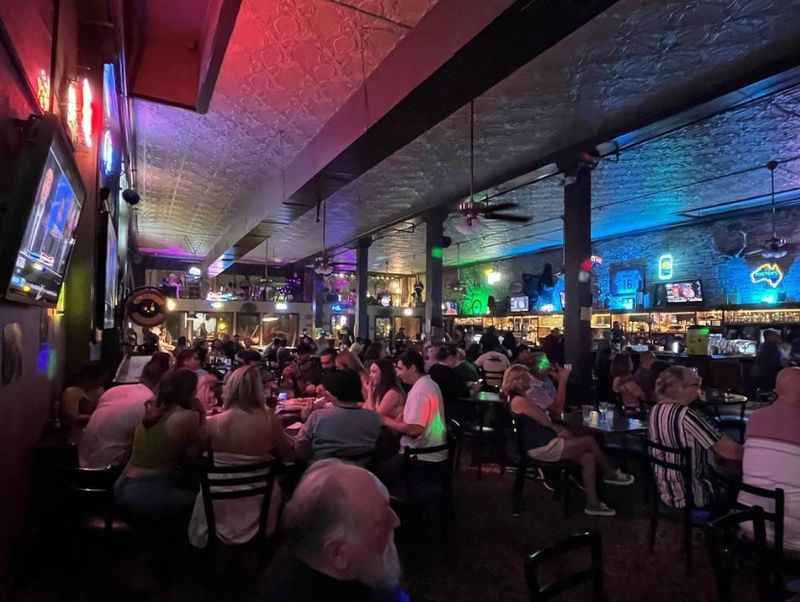 A staple of the city's nightlife, Lake Alice is a must-visit spot for music lovers and social butterflies.
This lively bar transforms into a vibrant music venue at night, offering a diverse array of performances, from rock and hip-hop to country and jazz.
Located in downtown Riverside, Lake Alice also boasts a wide selection of cold beers, delicious food, and a friendly atmosphere.
Unwind by playing a game of pool or just enjoy the energy of the crowd while listening to live music, making your night in Riverside CA truly memorable.
15. Discover the World of Bugs at the Entomology Research Museum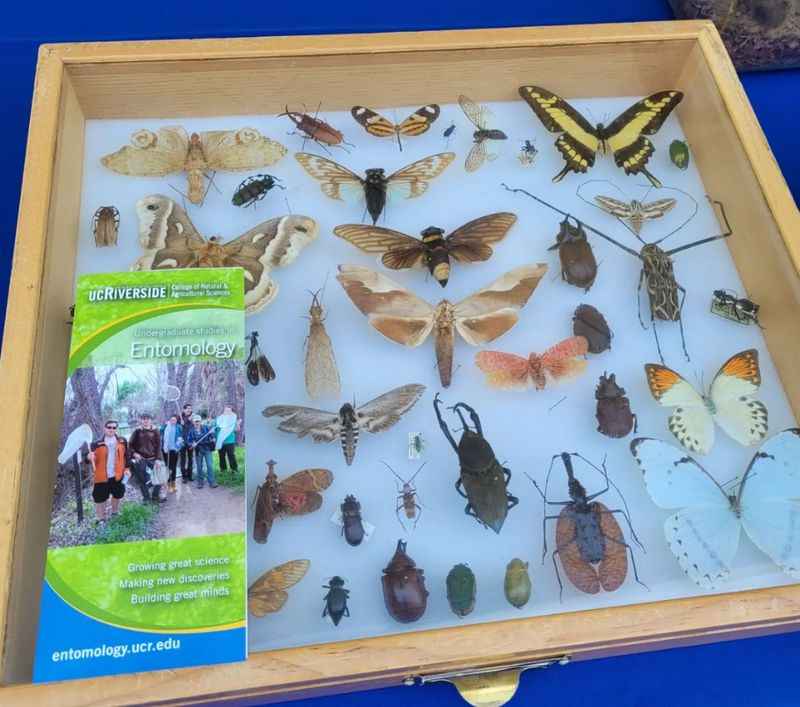 For those intrigued by the world of insects, a visit to the Entomology Research Museum is an ideal choice.
Though not typically open to the public, the museum often holds special tours and private events. It is one of the largest collections of insect specimens in North America and provides a fascinating if somewhat creepy, experience.
The museum displays feature various insects from around the world, offering a unique and educational insight into entomology that is sure to stick with you long after your visit.
16. Play Vintage and Modern Games at the Riverside Game Lab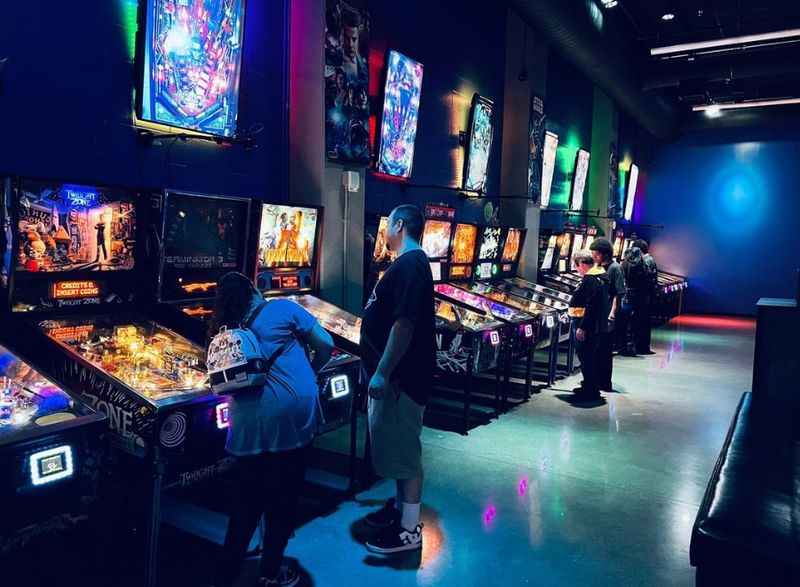 Step into the Riverside Game Lab and dive into a world of nostalgic fun and new-age gaming.
Open until late, this downtown entertainment hotspot features a fantastic selection of arcade games, pinball machines, and virtual reality stations. Challenge your friends to a game of air hockey or immerse yourself in an exciting VR experience.
There's also a selection of beers and soft drinks to keep you refreshed. With its fun atmosphere and endless gaming options, the Riverside Game Lab offers fun activities for everyone in California.
17. Relish Delicious Mexican Cuisine at a Local Restaurant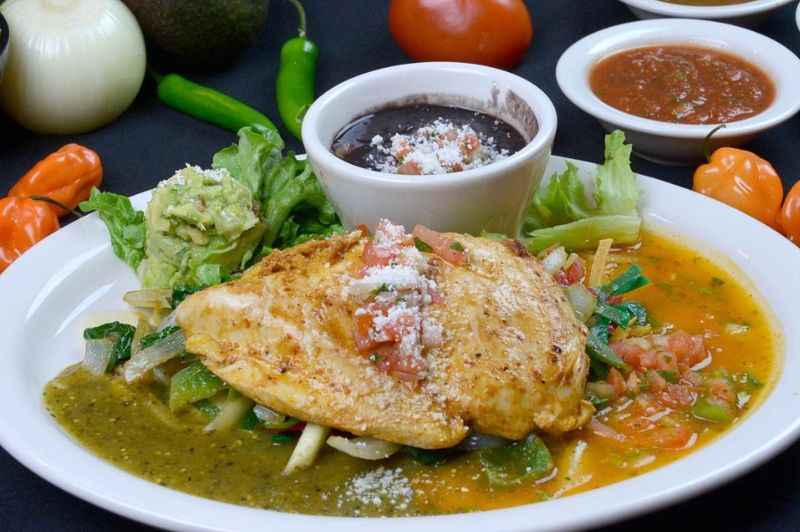 Riverside's rich cultural tapestry is reflected in its culinary scene, particularly in its delicious Mexican cuisine. Local restaurants, many open until late, offer everything from traditional tacos and enchiladas to inventive fusion dishes.
Try a great lakes sampler platter at one of the local favorites or enjoy some tacos at a lively taqueria.
Pair your meal with a local craft beer or a refreshing margarita. The city's Mexican restaurants combine warm, welcoming atmospheres with mouth-watering food for a dining experience that is a treat for all your senses.
18. Visit the Famous California Museum of Photography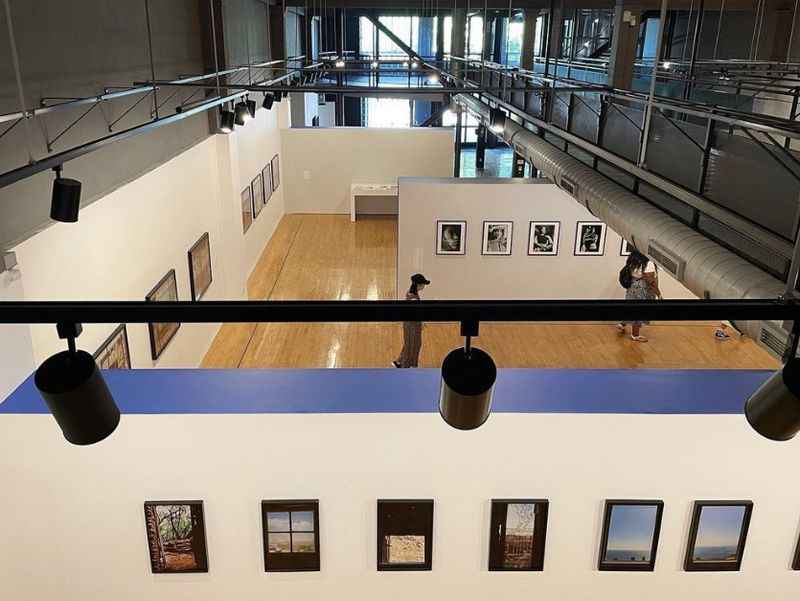 Immerse yourself in the world of visual art at the renowned California Museum of Photography. This prestigious institution showcases captivating exhibits featuring a diverse range of photographic works, from classic to contemporary.
Explore the impressive galleries filled with thought-provoking images captured by talented photographers.
Discover the power of visual storytelling through the lens of skilled artists. From mesmerizing landscapes to compelling portraits, the museum offers a captivating journey through the art of photography.
Whether you're a photography enthusiast or simply appreciate the beauty of visual art, a visit to the California Museum of Photography is a must.
19. Visit a Local Sports Bar and Catch a Game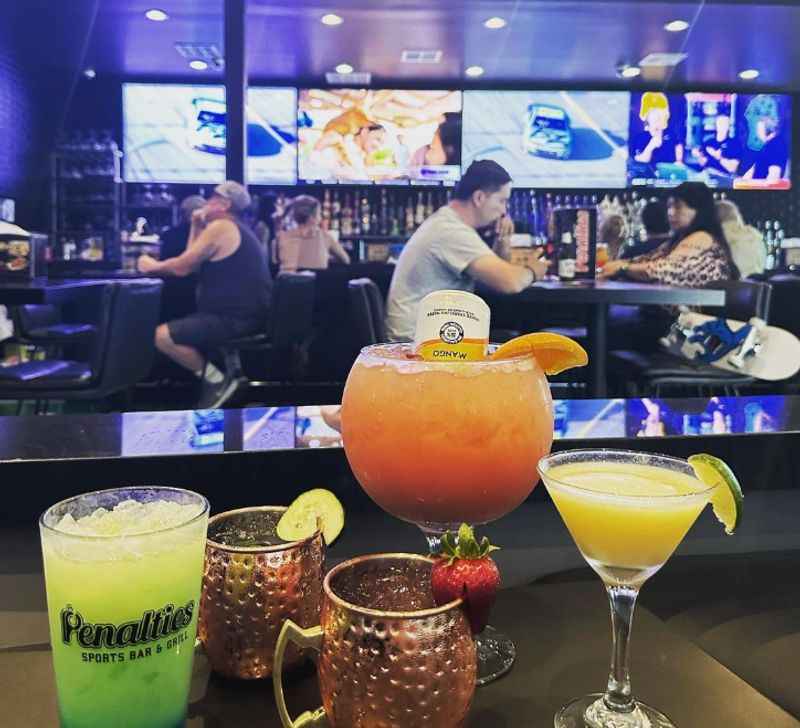 Experience the excitement of a live game while enjoying the vibrant atmosphere of a local sports bar in Riverside CA.
Cheer on your favorite team and immerse yourself in the energy of fellow sports enthusiasts. With multiple screens showcasing various sporting events, you won't miss a moment of the action.
Savor delicious food and refreshing beverages as you engage in friendly banter and spirited debates about your favorite teams.
Whether it's football, basketball, or any other sport, the lively ambiance of a bar adds an extra layer of excitement to the game-watching experience. Join in the camaraderie and celebrate victory with fellow fans.
20. Have a Picnic Under the Stars at a Local Park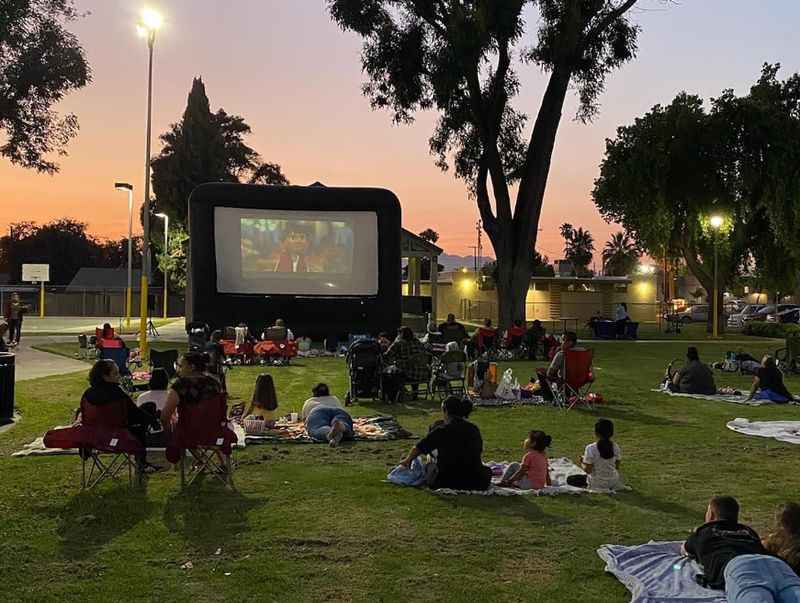 Escape the hustle and bustle of the city and reconnect with nature by having a delightful picnic under the starlit sky at a local park. Find a cozy spot surrounded by lush greenery and spread out a comfortable blanket.
As the sun sets and the stars twinkle above, indulge in a delectable spread of your favorite snacks and treats. Feel the cool breeze, listen to the soothing sounds of nature, and enjoy the company of loved ones.
Whether it's a romantic evening or a fun gathering with friends and family, a picnic under the stars creates lasting memories and a sense of tranquility.
21. Sing Your Heart Out During Karaoke Nights at the Menagerie Bar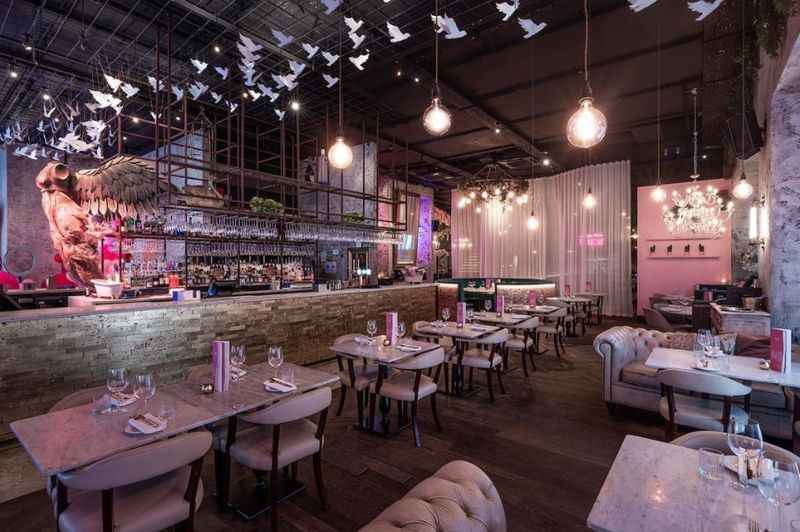 Let your inner diva shine during a karaoke night at the Menagerie Bar in downtown Riverside CA.
This popular hotspot in the Inland Empire is a haven for the LGBT community and offers a warm and welcoming atmosphere for everyone.
Known for its lively karaoke nights, this bar is the perfect place to unwind, grab a cold beer, and belt out your favorite tunes.
Whether you're a seasoned performer or just want to enjoy the fun, an evening at the Menagerie Bar promises to be a memorable one.
22. Dress Up for a Theme Night at the VIP Nightclub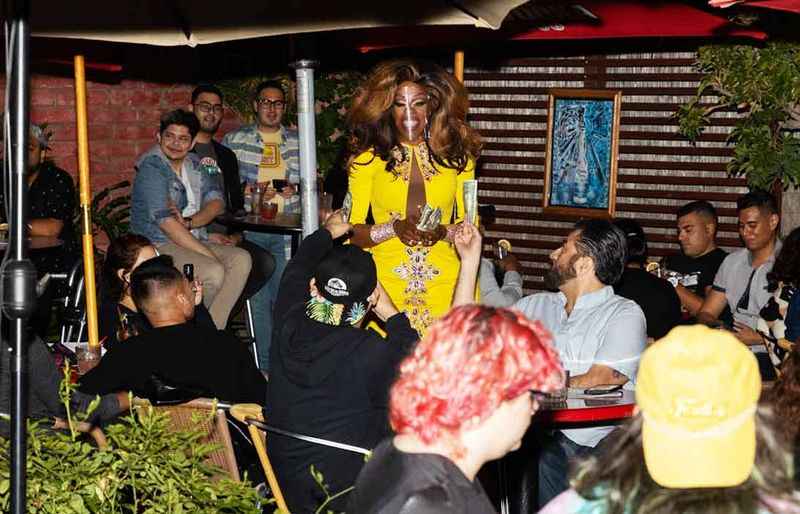 Unleash your creativity and have an unforgettable night out at the VIP Nightclub in Riverside CA. Known for its colorful theme nights and vibrant dance floor, the VIP Nightclub is a beloved venue among locals.
Whether it's an 80s retro night or a superhero party, there's always something exciting happening at this lively spot.
With its excellent music, inclusive atmosphere, and fantastic bottle service, the VIP Nightclub offers a unique and exhilarating nightlife experience on the streets of Riverside.
23. Play Virtual Reality Games at One of Riverside's Gaming Centers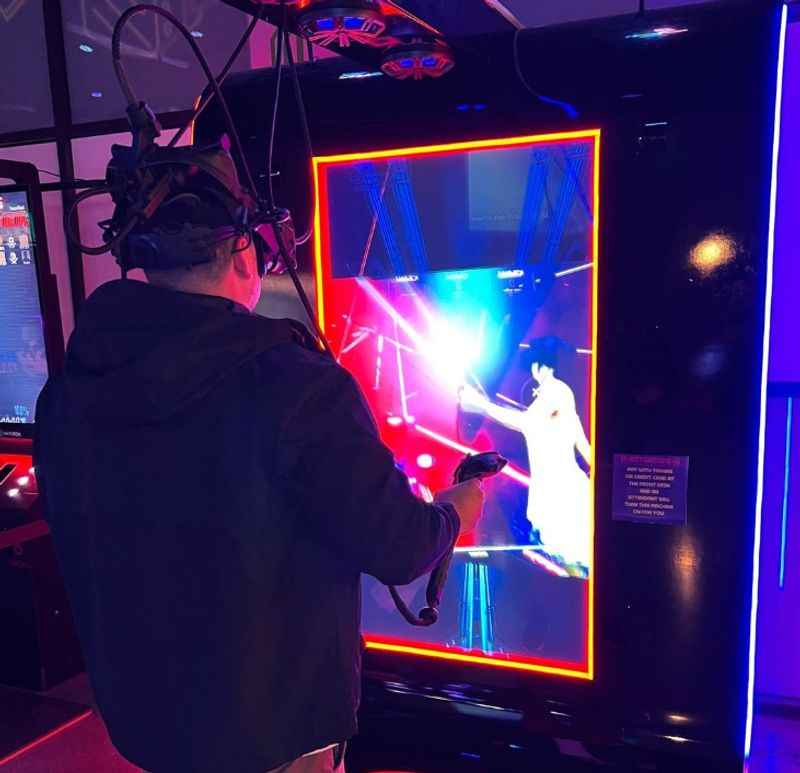 Step into a different world with a night of virtual reality gaming in Riverside CA.
Gaming centers like the Riverside Game Lab offer immersive virtual reality stations where you can explore alien landscapes, step into the shoes of a superhero, or even walk a plank suspended high above a cityscape - all from the safety of a VR headset.
An evening of virtual reality gaming is a fun and futuristic way to spend your time in Riverside and provides a unique experience that's not to be missed.
24. Attend a Special Event at the Mission Inn Ave Riverside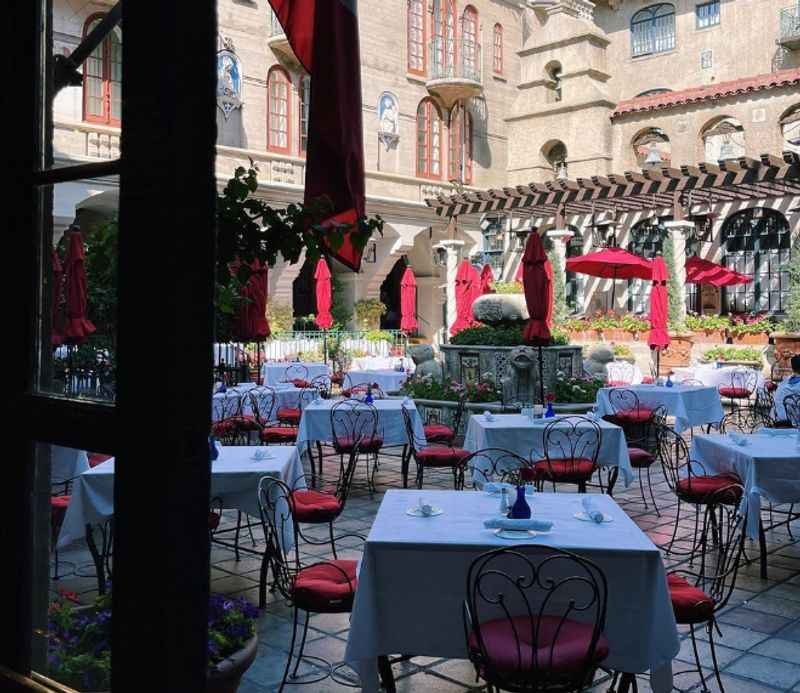 Riverside's Mission Inn Ave Riverside is more than just a street - it's a hub of activity, history, and culture.
Home to the iconic Mission Inn Hotel, the avenue also hosts various special events throughout the year, from art exhibits and wine tastings to concerts and private parties.
Attending one of these events offers an opportunity to mingle with Riverside locals, soak up the atmosphere of the city, and create lasting memories.
Whether it's the festive lights during the holiday season or a unique art installation, there's always something special to experience on this avenue.
25. Try the Fantastic Craft Beers at Heroes Restaurant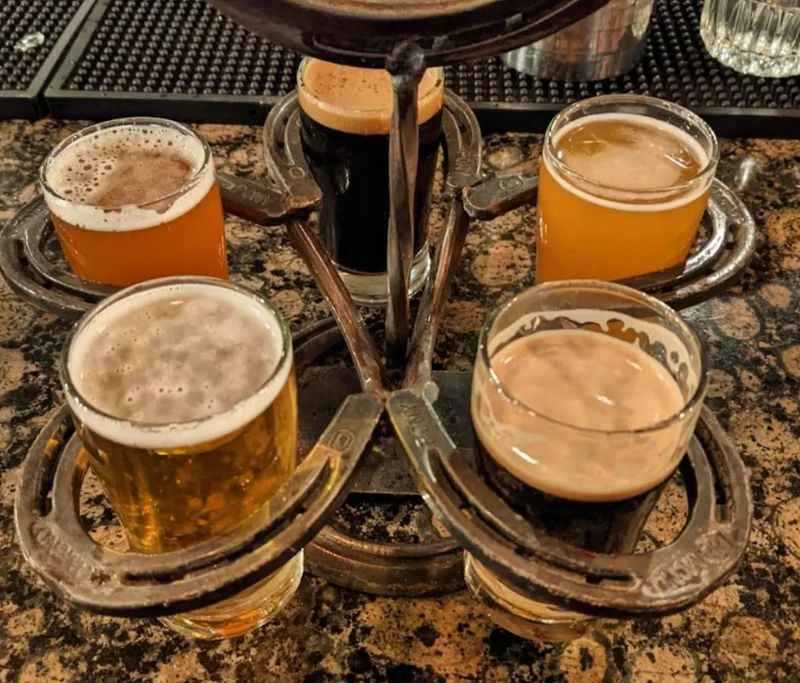 Embark on a flavorful journey at Heroes Restaurant in Riverside and indulge in their fantastic selection of beers. Sip on carefully brewed creations, each offering a unique and distinctive taste.
From hoppy IPAs to rich stouts and refreshing ales, Heroes Restaurant prides itself on curating a diverse lineup of beers that cater to every beer enthusiast's palate.
Immerse yourself in the vibrant ambiance of the restaurant as you savor each sip and appreciate the artistry behind these handcrafted brews.
Whether you're a seasoned beer connoisseur or a curious novice, Heroes Restaurant promises a delightful experience for all beer lovers.
26. Enjoy a Movie at the AMC Theaters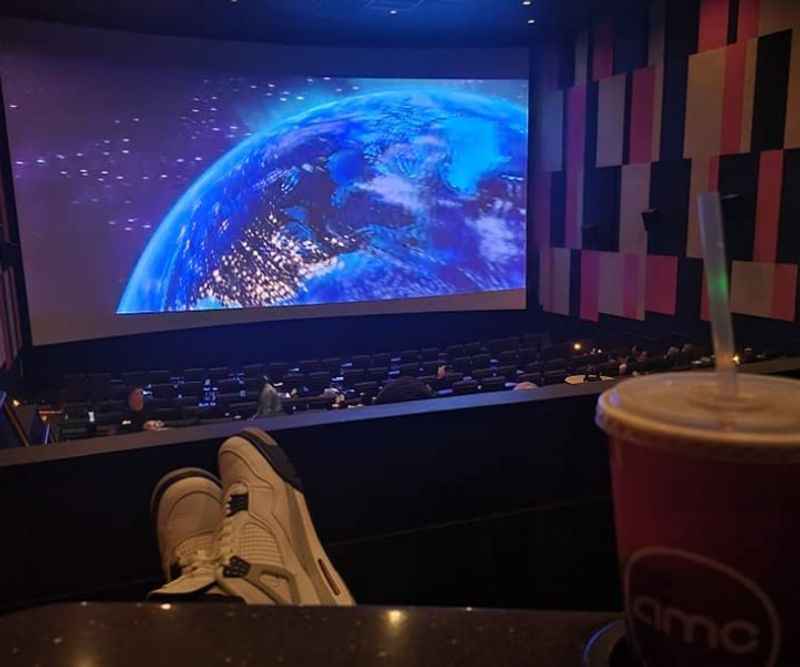 Escape into the world of cinema at the AMC Theaters and immerse yourself in a movie experience like no other.
Step into the state-of-the-art theater and settle into plush seats as the anticipation builds. As the lights dim and the screen comes to life, allow yourself to be captivated by the compelling storytelling, stunning visuals, and immersive sound.
Whether it's a thrilling action flick, a heartwarming romance, or a gripping suspenseful film, the AMC Theaters offers a wide range of movie genres to suit every taste. Let the magic of cinema transport you to new worlds and create unforgettable memories.
27. Treat Yourself to a Nice Dinner at The Hyatt Place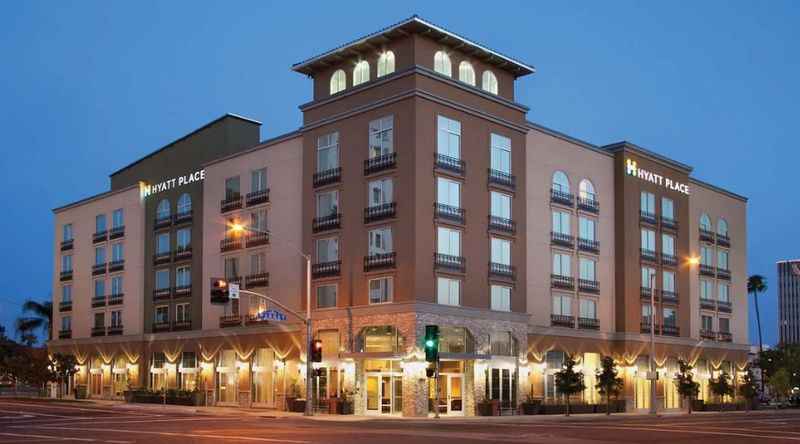 Indulge in a delightful dining experience at the Hyatt Place in Riverside, where you can savor a delectable dinner that will tantalize your taste buds. Step into the elegant and inviting restaurant, where a warm and welcoming ambiance sets the stage for an unforgettable meal.
Immerse yourself in the culinary delights crafted by skilled chefs who showcase their expertise through a diverse menu of mouthwatering dishes.
From savory appetizers to succulent main courses and decadent desserts, the Hyatt offers a culinary journey that combines flavors, textures, and presentations to create a truly memorable dining experience.
Whether you're seeking a romantic dinner for two or a gathering with friends and family, the Hyatt provides the perfect setting for a delightful evening of gastronomic pleasure.
28. Celebrate a Birthday Party at Duke's Bar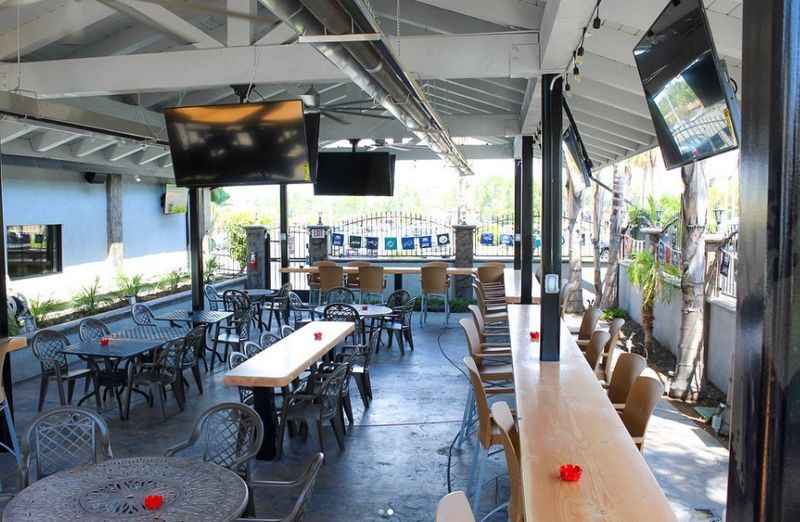 Make your birthday celebration an unforgettable experience by hosting it at Duke's Bar in Riverside, where you can enjoy some exclusive bottle service. Gather your friends and loved ones and toast to another year of cherished memories.
Duke's Bar offers a stylish and upscale setting, perfect for a glamorous birthday party. Choose from a curated selection of premium spirits and champagne, served with flair and personalized attention.
Raise a glass, dance the night away, and revel in the joyous atmosphere as you create lifelong memories on your special day. Let this bar be the backdrop for an unforgettable birthday celebration.
FAQs Regarding Things To Do in Riverside at Night
Let's take a look at, and answer, some of the most common questions people have when thinking about things to do in Riverside at night.
Does Riverside have nightlife?
Absolutely! Riverside's nightlife is vibrant and diverse, offering everything from theatrical performances at the Fox Performing Arts Center to drag shows at local venues. Its bustling Main Street is lined with a variety of venues, while the city's heroes restaurant and the Tyler Galleria are popular spots for late-night dining and drinks.
What is Riverside best known for?
Riverside, CA is renowned for its rich history and cultural attractions, like the Riverside Art Museum and the Riverside Metropolitan Museum. The city is also famous for its historic Mission Inn, located downtown, and its natural beauty, including its parks and picnic facilities.
Does Riverside have a downtown?
Yes, Riverside boasts a lively downtown that's a hub of activity. With attractions such as the AMC theaters, Riverside Art Museum, City Hall, and numerous dining and entertainment venues, downtown Riverside offers a wealth of experiences.
Is Riverside a walkable city?
Riverside is indeed a walkable city, particularly in its downtown area. Attractions like the Riverside Metropolitan Museum, Main Street, and the Mission Galleria are all conveniently located close to each other. Plus, its park features, such as picnic areas and tennis courts, provide pleasant routes for strolls.
Summing Up: The Best Things to Do in Riverside at Night
As you can see, Riverside is a city filled with an array of nighttime activities that cater to every interest and passion.
We've explored the enchanting theatrical performances, late-night art exhibitions, the historic and bustling downtown area, and the enticing world of global cuisine on offer.
This guide has offered a taste of the city's dynamic nightlife, with everything from riverside restaurants to the echoes of laughter from the city's nightclubs.
So, whether you're a culture vulture, a foodie, a sports enthusiast, or just someone looking for a fantastic experience, Riverside awaits you with a night you won't forget.
So, what are you waiting for? Let the city of Riverside charm you tonight.