30 Best Things to Do in Portland at Night & Late Afternoon | 2023 (with Photos)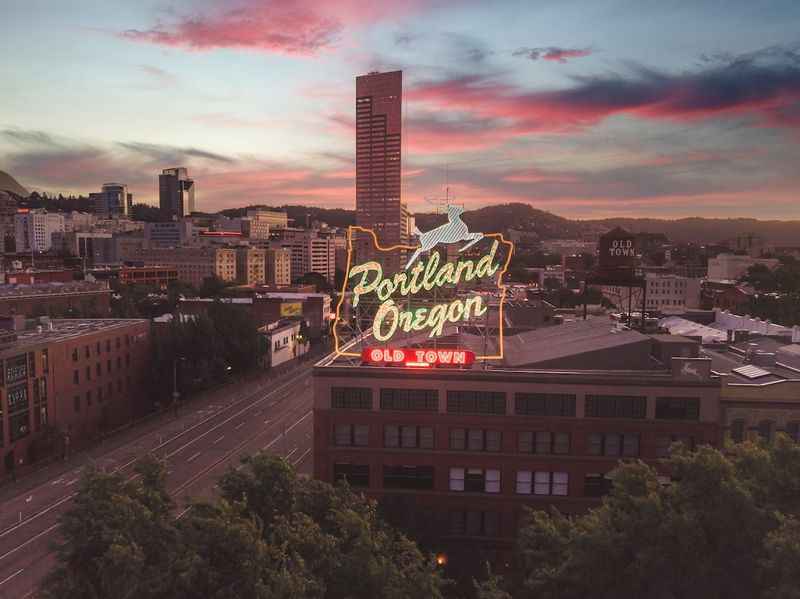 Portland, Oregon, is a vibrant and exciting city that truly comes alive at night.
From craft beer and cocktails to live music and a Willamette River cruise, Portland has something for everyone.
In this article, we've compiled a list of 30 of the most exciting things to do in Portland at night, so you can make the most of your after-hours adventures in this amazing city.
So, grab a friend or two, and get ready to explore the best of Portland's nightlife.
Most Recommended Thing to Do
Our Top Choice Restaurant
Our Top Choice Bar for Nightlife
Summer: vibrant festivals, outdoor activities, and beautiful landscapes.
Portland's average temperature is mild and variable.
Buses, trains, bikes, scooters - diverse transportation in Portland.
Average Cost ($, $$, $$$)
My Top Recommendation
When exploring Portland, don't miss out on the delightful food scene and eccentric charm that make this city truly unique. Indulge your taste buds by exploring the delicious food carts scattered throughout the streets, where you can savor everything from gourmet donuts to mouthwatering Asian fusion dishes - there's something to satisfy every craving. Take a stroll through the vibrant neighborhoods and you'll be enchanted by the city's local businesses, hipster cafes, and quaint boutiques, all of which capture the essence of Portland's alternative culture.
To fully immerse yourself in the beauty of Portland, spend some time exploring its stunning natural landscapes. Head to Forest Park, one of the largest urban forests in the country, where you can hike amongst towering trees and experience breathtaking views of the city skyline. For a taste of Portland's famous outdoor lifestyle, bike along the Willamette River or visit nearby Mount Hood for a day of skiing and snowboarding. With its abundance of green spaces and outdoor activities, Portland offers a unique blend of city life and natural wonders that is truly captivating.
What You'll Need to Bring
Clothing suitable for the weather Comfortable walking shoes
Things To Do in CITY Visit local markets and food carts Explore the museums and art galleries Hike in the nearby parks and nature reserves Take a food or brewery tour Visit iconic landmarks and attractions Attend live music performances or local festivals
Places to Eat in CITY Local cafes and coffee shops Farm-to-table restaurants Food trucks and street food vendors Seafood restaurants Bakeries for fresh pastries and bread Ethnic cuisines for diverse food options
Places to Stay in CITY Boutique hotels Bed and breakfasts Vacation rentals Hostels Campgrounds Luxury resorts
Local Tips for CITY Explore the city by bike or public transport Try the local specialty dishes and craft beers Engage with the vibrant arts and music scene Visit during the summer for outdoor activities and festivals Check out the nearby natural wonders and scenic drives Take advantage of the city's bike-friendly infrastructure
What Not to Miss
Powell's City of Books - One of the world's largest independent bookstores.
Portland Japanese Garden - A serene and beautiful space featuring traditional Japanese landscaping.
International Rose Test Garden - A stunning display of roses with over 10,000 plants.
Washington Park - A spacious urban park offering various attractions including hiking trails and the Portland Children's Museum.
Portland Art Museum - The oldest art museum in the Pacific Northwest, featuring a diverse collection of artwork.
Voodoo Doughnut - A quirky and popular doughnut shop known for its unique flavors and elaborate decorations.
Portland Saturday Market - An outdoor market showcasing local art, crafts, and food.
Oregon Museum of Science and Industry - An interactive museum with exhibits focused on science, technology, and natural history.
Strolling around the eclectic neighborhoods of Alberta Arts District, Mississippi Avenue, and Hawthorne Boulevard.
Exploring the vibrant food scene and sampling local delicacies like food trucks, farm-to-table cuisine, and craft beer.
What to Avoid
Crowded tourist spots
Rush hour traffic
Overpriced restaurants
Tourist traps and scams
Relying solely on public transportation
Unsafe neighborhoods, especially at night
Ignoring local customs and etiquette
Overpacking and carrying too much luggage
Not planning for unpredictable weather conditions
Missing out on local hidden gems and off-the-beaten-path attractions.
1. Go Bar Hopping in Downtown Portland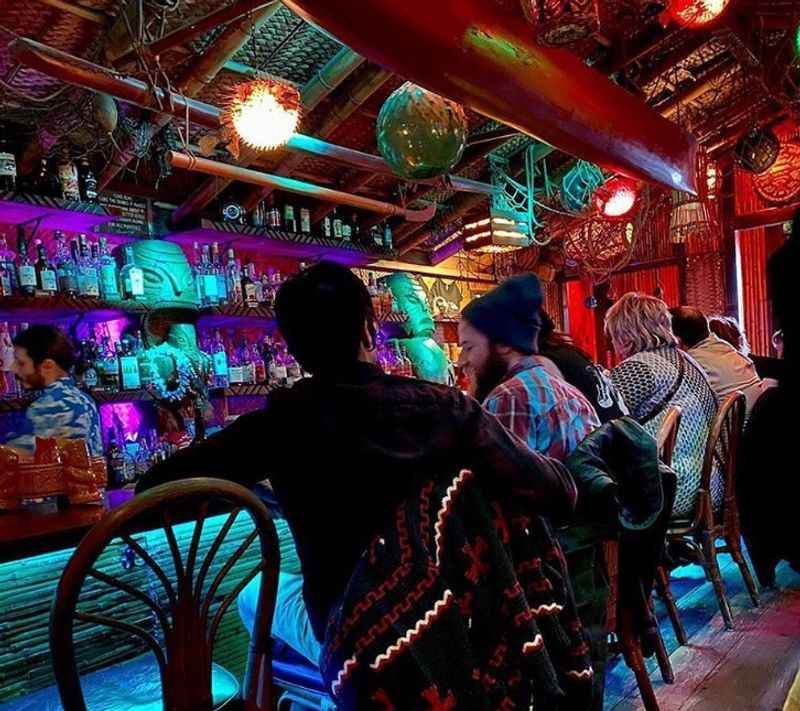 With a wide variety of bars, pubs, and breweries to choose from, there's something for everyone in the vibrant downtown area.
From upscale cocktail lounges to dive bars and everything in between, downtown Portland has it all.
The lively bars in downtown Portland are a great place to meet new people and soak up the city's lively atmosphere.
2. Explore Portland's Entertainment District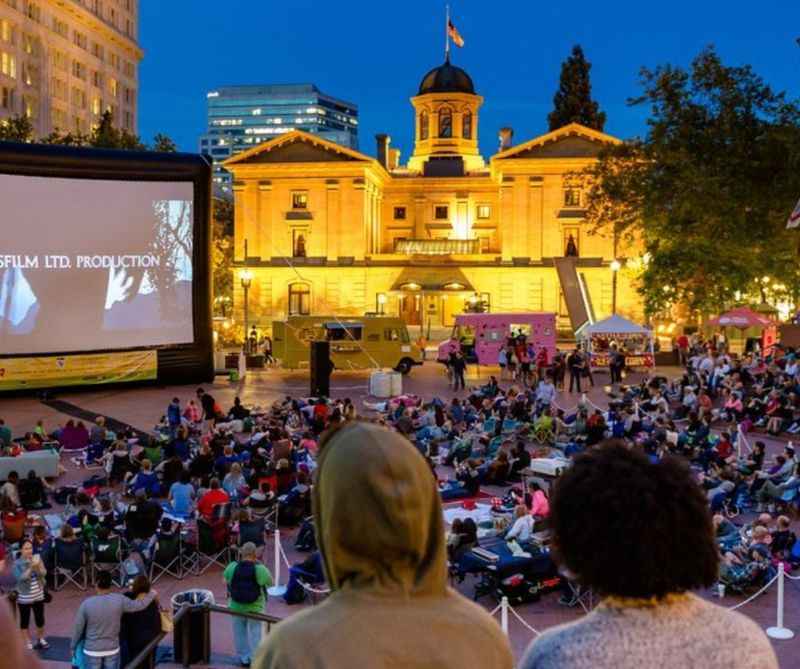 Portland's Entertainment District in the vibrant Old Town Chinatown neighborhood is a must-visit destination for anyone looking to experience the city's vibrant nightlife scene.
Located between W. Burnside St., N.W. Everett St., N.W. Second Ave., and N.W. Fourth Ave., this area is home to a range of bars, clubs, and restaurants, each with its own unique atmosphere and vibe.
You should try to visit on Friday and Saturday nights after 10PM when the blocks are closed to cars, creating a pedestrian-friendly party zone.
3. Laugh Out Loud at the Funhouse Lounge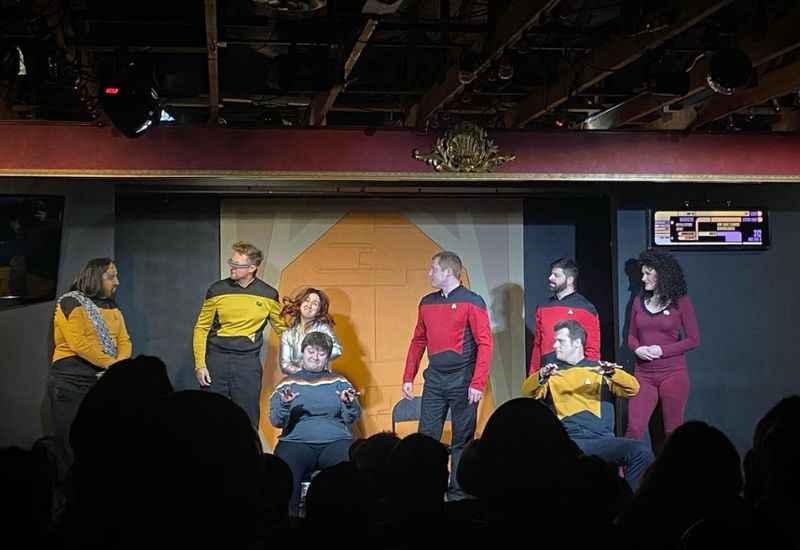 The Funhouse Lounge is a must-visit spot for anyone seeking a fun night out filled with laughter and entertainment.
This lively venue located in Portland, Oregon, is known for hosting a wide range of comedy events, including open mic nights and performances by up-and-coming comedians.
Visitors can expect to be entertained by a variety of comedy styles, including stand-up, improv, and sketch comedy.
4. Take Your Friends to a Karaoke Room at Capitol Bar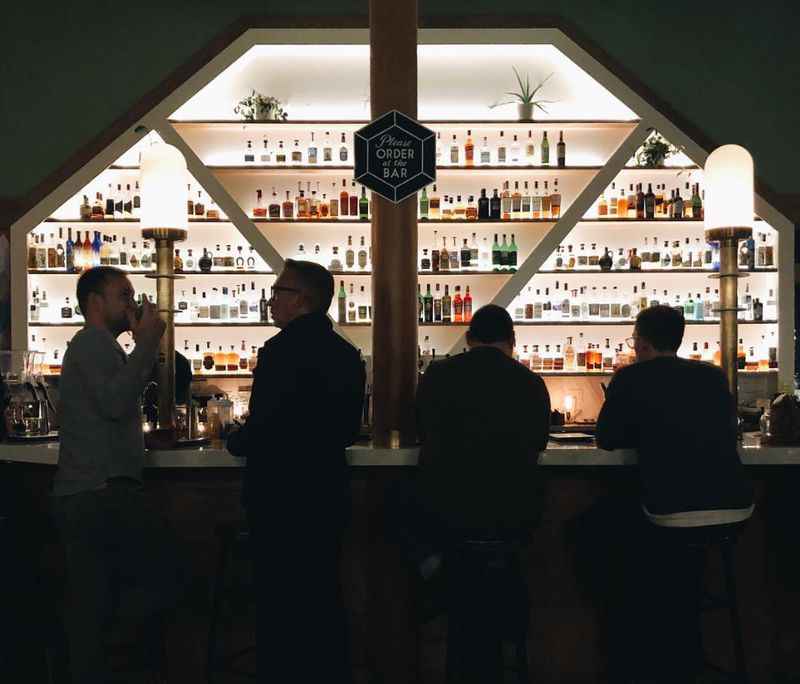 Capitol Bar & Lounge is a great spot to add to your list of fun things to do in Portland at night. The bar offers fun karaoke nights that are sure to make your night a blast.
Located on Broadway in Northeast Portland, Capitol Bar is a vibrant cocktail spot that offers a massive selection of craft beers, wines, and pub appetizers with vegan options.
With its welcoming atmosphere and excellent drink selection, Capitol Bar is perfect for a night out with friends or a unique date idea.
5. Immerse Yourself in the World of Powell's City of Books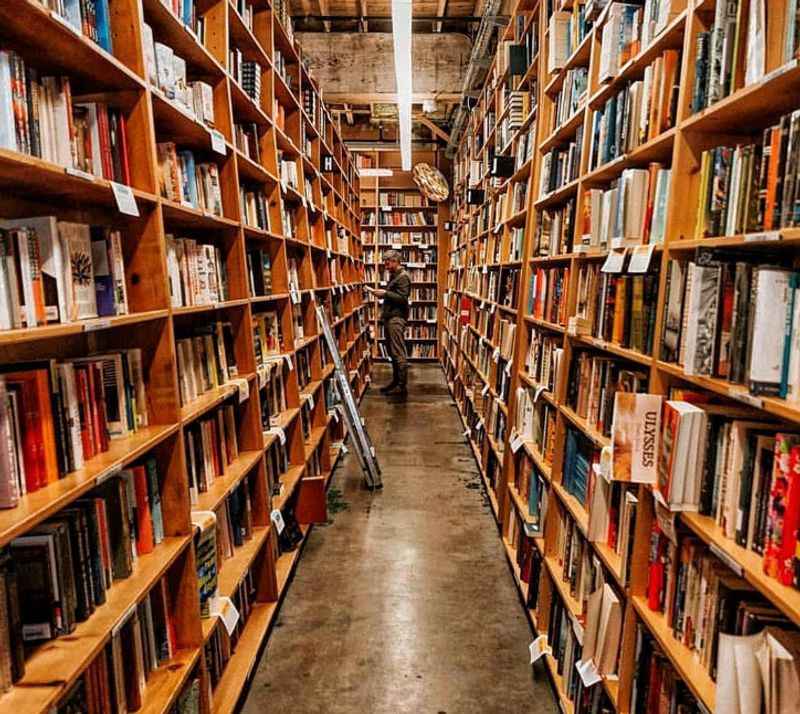 Located on Burnside Street in West Portland, Oregon, Powell's City of Books is the largest independent bookstore in the world.
The store is a paradise for book lovers, with a huge selection of both new and used books covering every topic imaginable. From bestsellers to obscure literary works, Powell's has it all.
Whether you're looking for the latest bestseller, a rare first edition, or just a quiet place to curl up with a good book, Powell's City of Books is the perfect place to spend an evening in Portland.
6. Enjoy Comedy and Drinks at Helium Comedy Club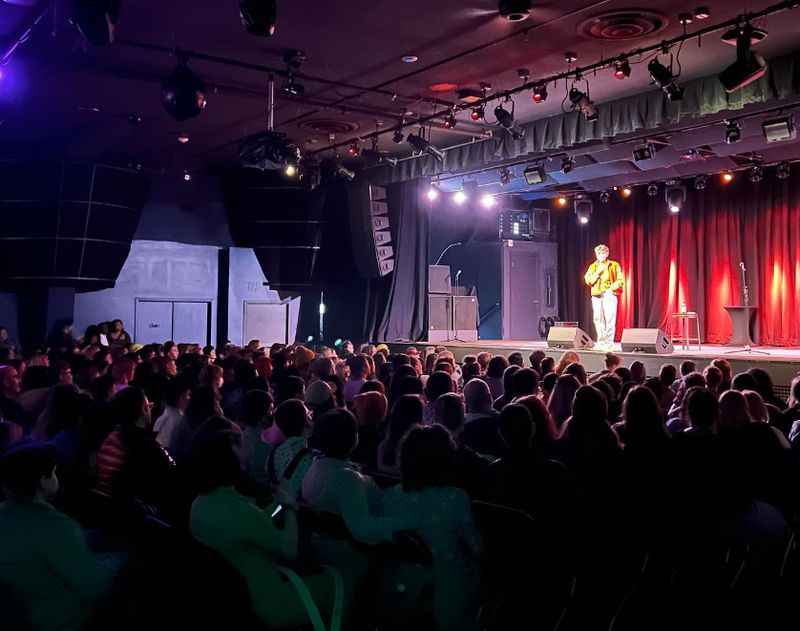 Helium Comedy Club is a must-visit venue for anyone seeking an unforgettable night filled with laughter and entertainment.
This premier entertainment spot is located in Southeast Portland and draws everyone from touring A-list professionals to emerging local talent to its stage.
You will be entertained by some of the best stand-up comedians from around the country, all while enjoying a classy bar serving American pub fare and a great selection of craft cocktails.
7. See a Concert at McMenamins Crystal Ballroom
McMenamins Crystal Ballroom is housed in a historic building with a giant ballroom decorated with vaulted ceilings, and exquisite chandeliers, creating a truly impressive atmosphere.
McMenamins Crystal Ballroom hosts a large variety of music concerts, from local bands to national acts, and it has a relaxed ambiance, making it one of the best places to enjoy live music in West Portland.
8. Stroll through Portland Night Market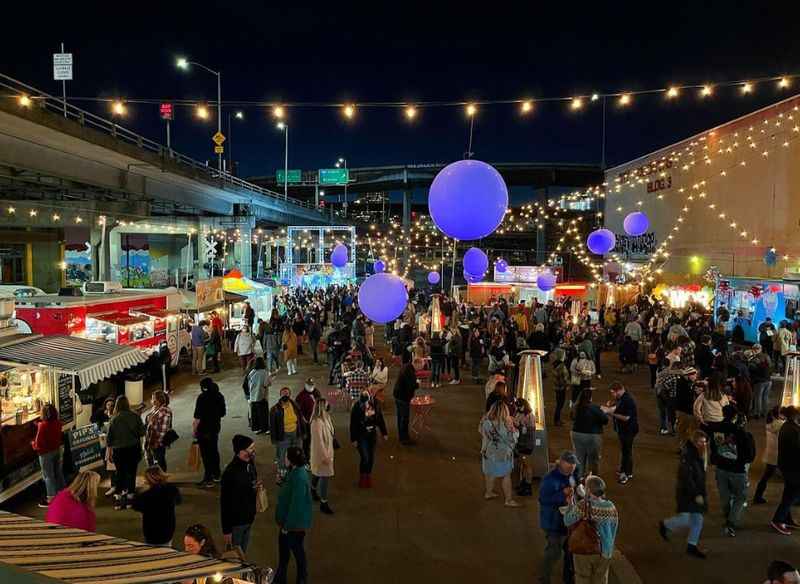 The Portland Night Market is a vibrant and bustling event that takes place in the Central Eastside district of Portland.
With over 175 vendors to choose from, this market is a haven for anyone looking for local art, jewelry, vintage items, and hidden gems.
Best of all, the Portland Night Market is a free event, making it accessible to all. However, it only takes place four times a year, so make sure to plan your visit accordingly.
9. Go on a Dinner Cruise along the Willamette River
A dinner cruise is a great way to see iconic landmarks, such as Burnside Bridge, the large neon sign atop the White Stag Building, and Tom McCall waterfront park.
You can enjoy delicious Northwest cuisine, while listening to live piano music, creating a relaxing and romantic atmosphere.
Embarking is accessible for strollers and wheelchairs, conveniently located near public transportation, and service animals also are allowed.
10. Check out the Derby Shows at Rose City Rollers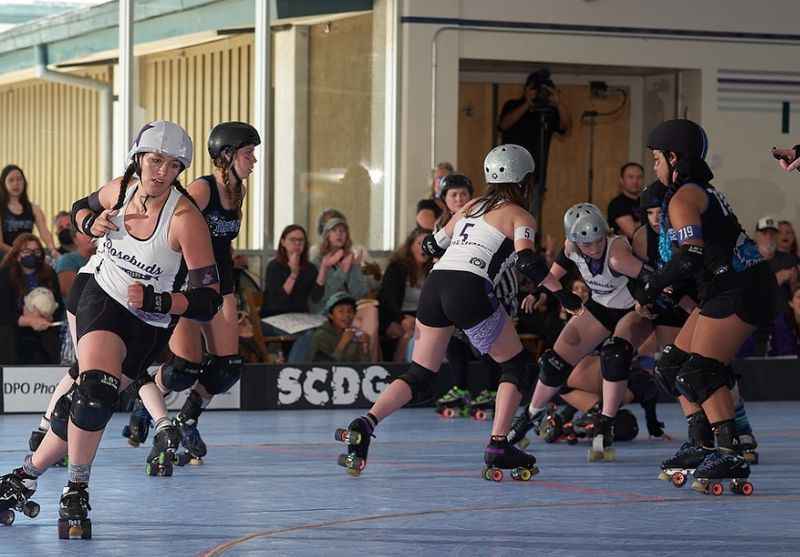 Located in Oaks Amusement Park in Southeast Portland, Rose City Rollers is a sports complex that hosts the city's most grand sports events.
At a Rose City Rollers roller derby show where the entire family can witness an intense game of players on roller skates while kicking back in your seat on a night out.
Opening hours vary depending on the game schedule, but you can typically catch a game on weekends.
11. Find Mill Ends, the World's Tiniest Park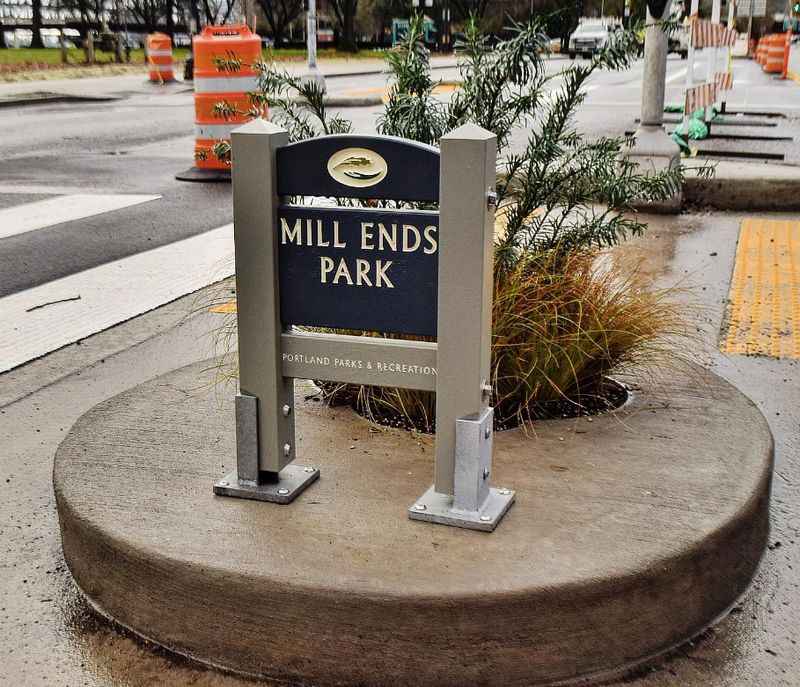 This tiny park, recognized by the Guinness Book of World Records as the smallest park in the world, was originally intended to be a light pole base.
When that plan fell through, the park was created on this small patch of land, creating a turned into this tiny piece of prime real estate and unexpected urban attraction.
The park's landscape sporadically changes but there is always a teeny tree surrounded by some miniature green bushes.
12. Enjoy the Saltwater Pool at McMenamins Kennedy School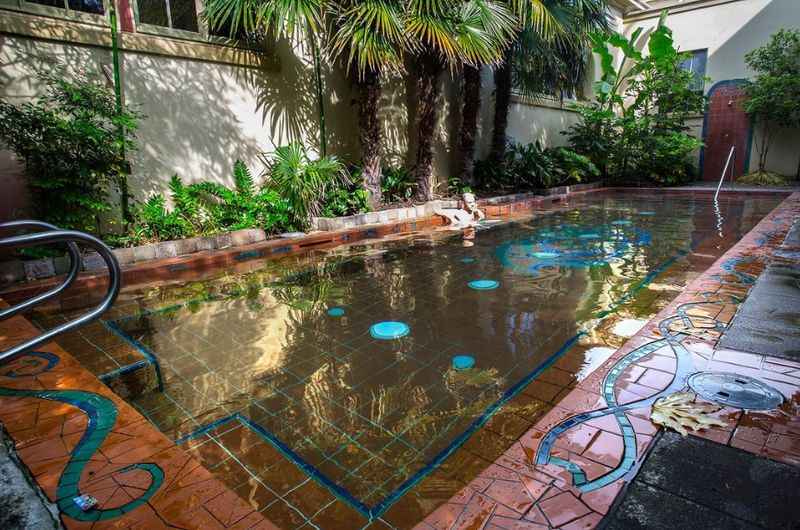 McMenamins Kennedy School in Portland used to be an elementary school but has been converted into a hotel, movie theater, and dining venue.
One of the main attractions at the Kennedy School is the saltwater pool, which is said to have numerous health benefits and is known for its soothing effects on the skin and body.
It's important to note that the pool is closed on the first and third Tuesday of every month, so plan accordingly if you want to go swimming indoors on a night out in Portland.
13. Listen to Indie Music at Doug Fir Lounge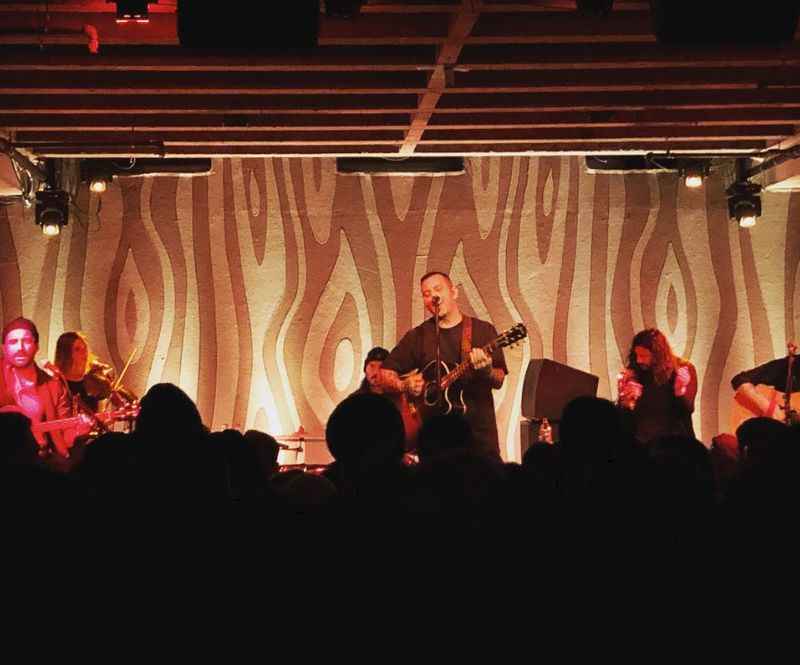 Doug Fir Lounge is an iconic music venue in Portland, based in a wooden cabin with futuristic décor.
The venue has a balmy ambiance that makes it particularly appealing on a cold winter night, but some of the best music shows happen during the summer as well.
With a state-of-the-art sound system and a diverse range of live performances, Doug Fir Lounge is a must-visit spot for music lovers visiting Portland.
Address: 830 E Burnside St, Portland, OR
14. Have a Fun Night at McMenamins Bagdad Theater and Pub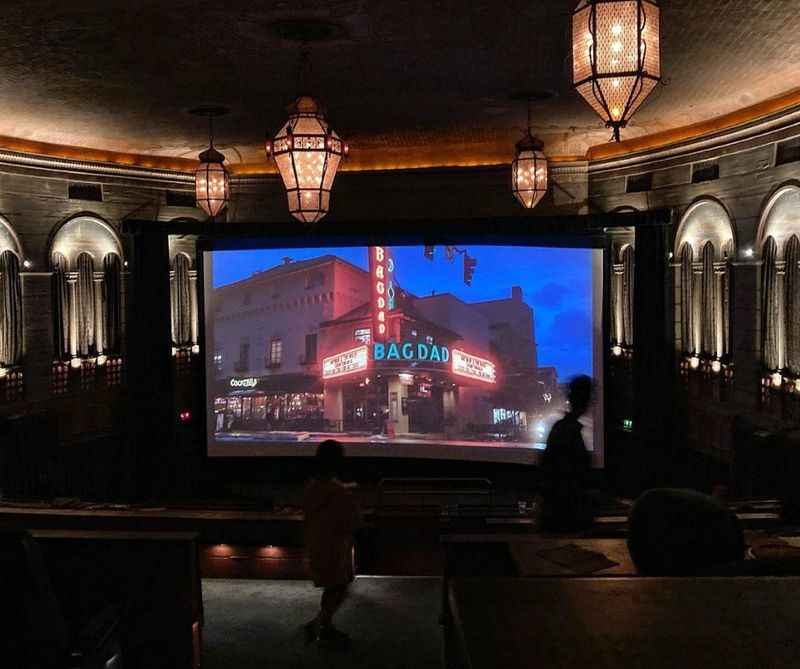 The McMenamins Bagdad Theater and Pub is a brewpub movie theater where guests can enjoy a pint of freshly brewed beer and popcorn while watching a movie from the comfort of a balcony seat.
The Bagdad Theater has been a popular destination for locals and tourists alike since it first opened in 1927, and it has retained its original charm and character.
With its distinctive architecture and unique interior design, which includes colorful murals and stained-glass windows, the Bagdad Theater is a true Portland gem.
15. Catch a Movie in the Vintage Hollywood Theatre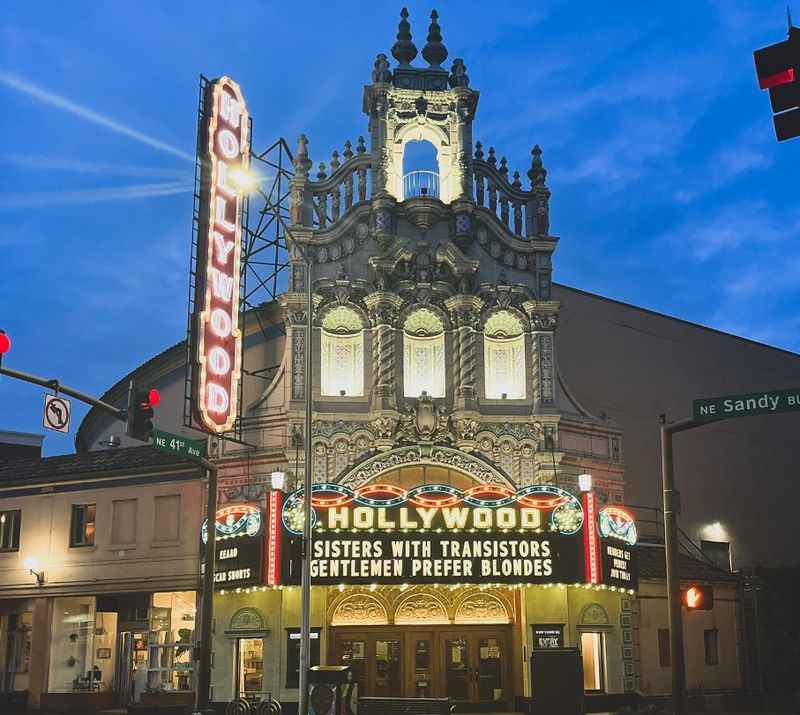 The Hollywood Theatre is a historic movie theater that originally opened its doors in 1926 and has since become a beloved destination for film enthusiasts.
The theater is known for showing indie films, and cult classics, and hosting live shows, making it a great place to catch unique and offbeat entertainment.
The venue also features a classy bar with a great selection of craft wines, beers, and eclectic pub fare. Address: 4122 NE Sandy Blvd, Portland, OR
16. Float at Float On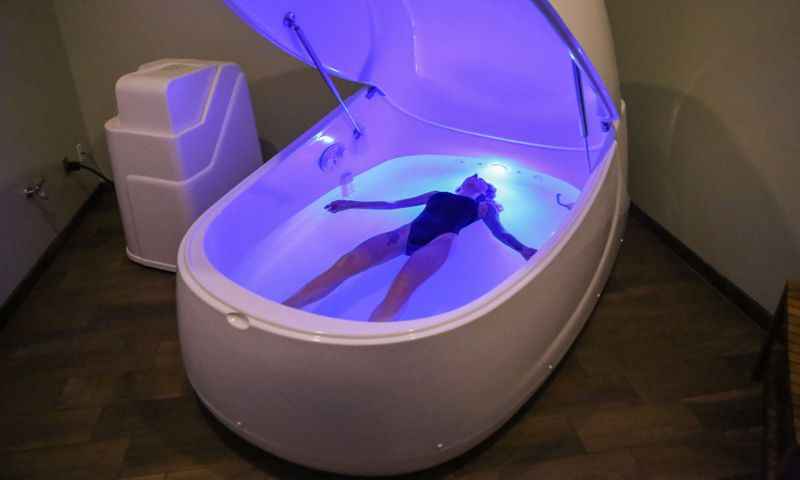 If you're looking for a unique and relaxing experience to enjoy in Portland, you should definitely consider visiting Float On. This place is a locals' favorite pastime and it's open until midnight.
Floating at Float On involves entering a dark, half-water-filled chamber, where you can sit and allow your brain to relax.
Many people swear by the benefits of floating, which include stress reduction, increased creativity, and improved sleep quality, making it one of the best things to do in Portland at night to help you unwind.
17. Check out the Oldest Strip Club in Portland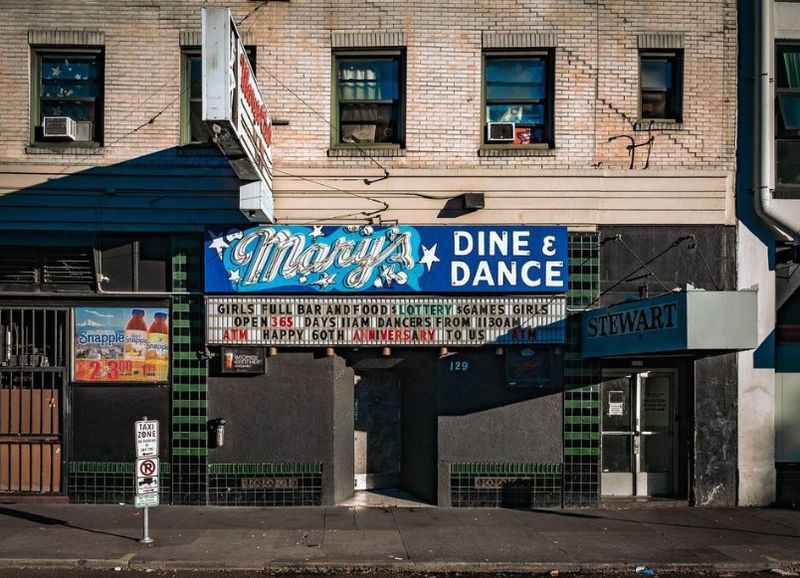 Located in the Rose City neighborhood of Northeast Portland, Mary's Club has been a local institution for over 60 years.
With its neon sign and retro décor, it's a classic strip club that's been featured in movies, TV shows, and documentaries. Mary's Club is open until midnight, and it's one of the most popular performing clubs in Portland.
The club features only female bartenders and over 35 dancers, making the place one of the most unique and fun things to do in Portland at night.
18. See a Show at Arlene Schnitzer Concert Hall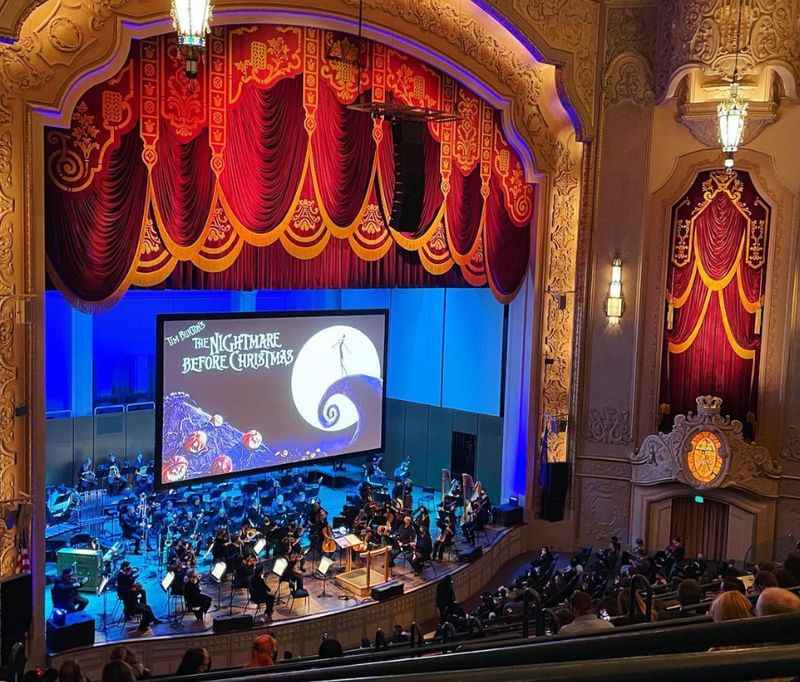 If you're looking for a world-class performance venue in Portland, you should definitely visit the Arlene Schnitzer Concert Hall.
Located on Broadway in Southwest Portland and within walking distance of the Portland Art Museum, this performing arts center is a must-visit for anyone who loves music, theater, or dance.
The hall boasts perfect acoustics and a beautiful rococo interior that will take your breath away.
19. Visit the Portland Art Museum on a Thursday Evening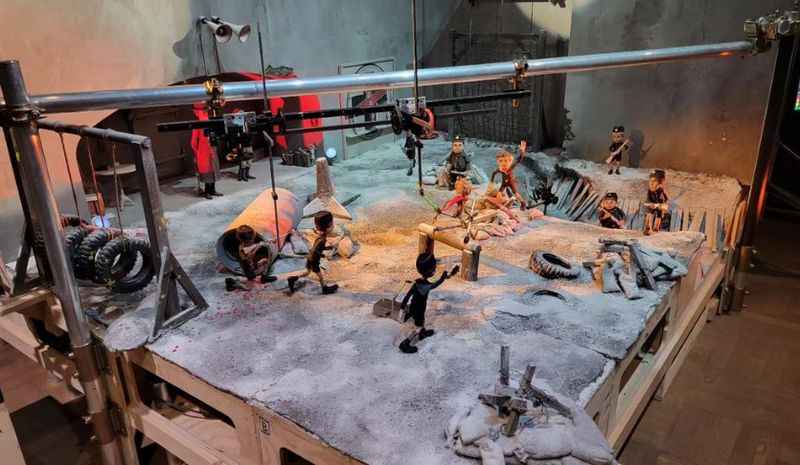 The Portland Art Museum is one of the oldest art museums on the West Coast, and it's a must-visit for anyone who loves art and history.
It has a collection of over 42,000 works of art, ranging from ancient artifacts to contemporary masterpieces and featuring everything from European paintings to Native American art.
Be sure to visit on the first Thursday evening of the month when the museum is completely free to the public, to coordinate with the First Thursday Art Walk in the Pearl District.
20. Have a Treat at the Famous Voodoo Doughnut
If you're looking for an indulgent treat in Portland, you should definitely visit the famous Voodoo Doughnut. With various locations, including Old Town Chinatown, this doughnut shop has become an iconic destination in Portland.
Voodoo Doughnut offers unique and creative flavors. From the Bacon Maple Bar to the Grape Ape, The Homer, and Chuckles, there's no shortage of exciting and unexpected options to try.
Voodoo Doughnut Davis is open 24/7, so you can head down any time of the day or night to satisfy your craving.
21. Go to Teardrop for Happy Hour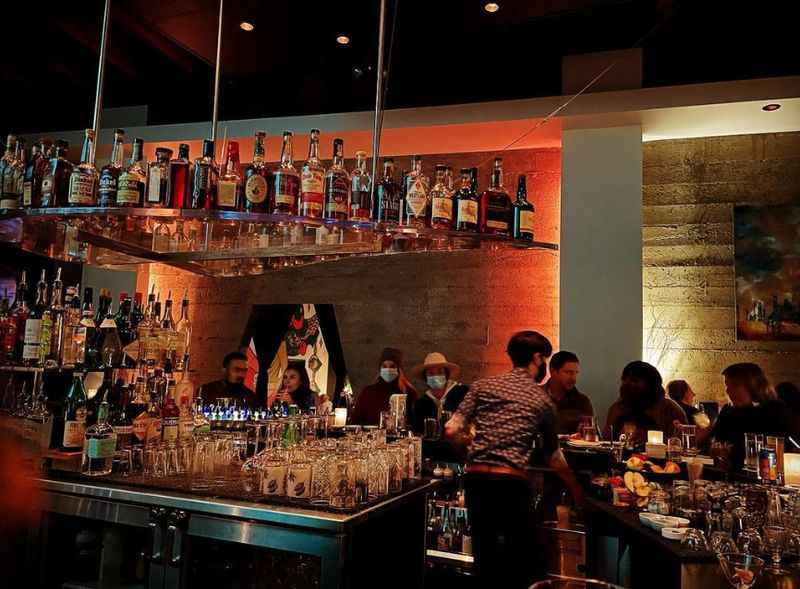 A local favorite for its ambiance, outdoor seating, and exquisite cocktail menu, Teardrop has won the local hipster bar award.
The bar is known for its creative and tasty cocktails, featuring everything from a classic Manhattan or more adventurous options like a lavender gin fizz.
And during happy hour, drinks start at just $7 USD and snacks at $5 USD, making it an affordable option for those on a budget.
22. Grab a Cocktail at the White Owl Social Club
White Owl Social Club is a must-visit destination in Portland for anyone looking for a great bar, restaurant, music venue, and event space all in one place.
Located in Portland's Central Eastside, this unique establishment offers an extensive vegan menu that caters to all tastes and preferences.
In addition to their delicious food, they also offer an impressive selection of wine, craft beer, and unique cocktails that showcase products from local and regional distilleries.
23. Enjoy Tropical Vibes of The Alibi Tiki Lounge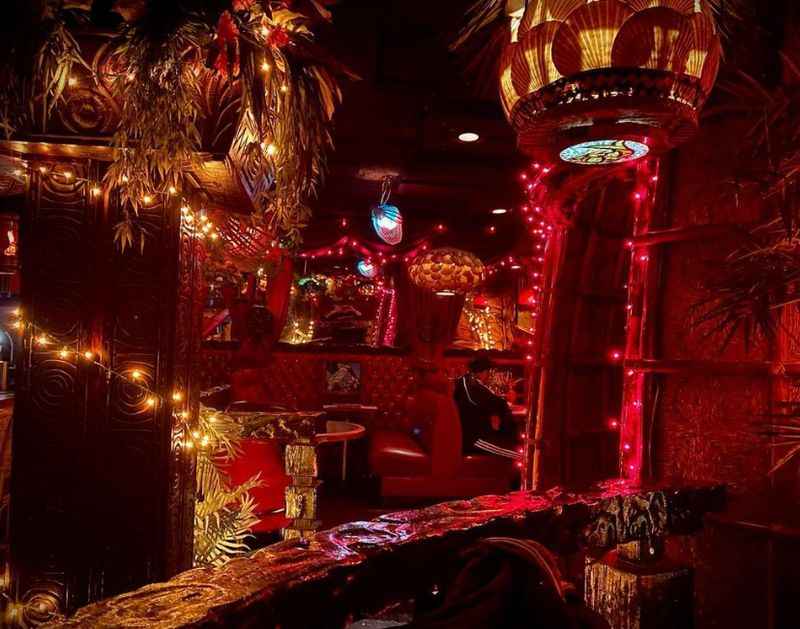 With its tropical drinks and Hawaiian food, this establishment will transport you to an island paradise, no matter the weather outside.
The Alibi Tiki Lounge features an impressive menu of exotic cocktails that are sure to please any palate.
The lounge's laid-back atmosphere and Polynesian decor also add to the island vibe, making it the perfect spot to unwind and enjoy some tasty food and drinks.
24. Play Mini Golf in the Dark at Glowing Greens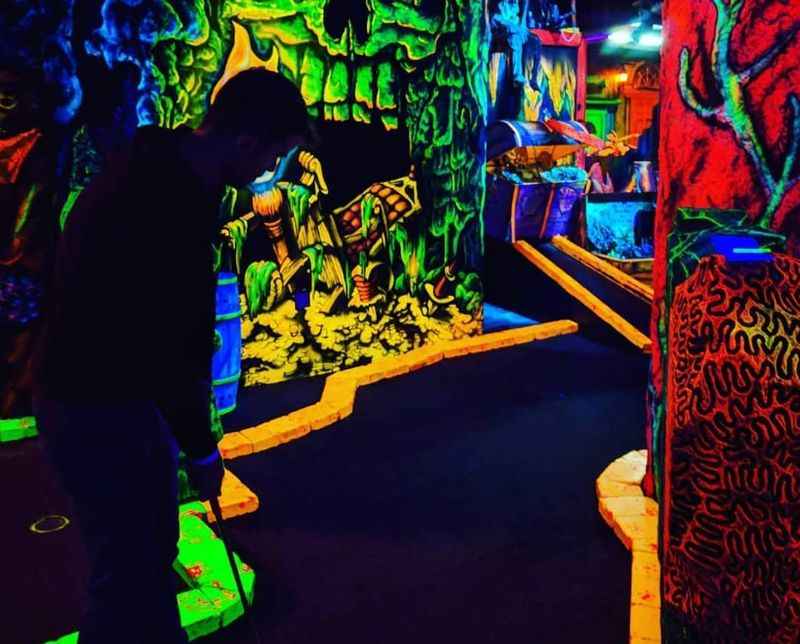 Glowing Greens in Portland is the ultimate destination for mini golf enthusiasts. Their premier 13-hole, blacklight indoor 3-D Adventure miniature golf course is an experience like no other.
The course is designed with fluorescent colors and intricate designs that come to life under the black light, creating a mesmerizing glow-in-the-dark effect.
Glow Greens offer the perfect option for a fun night out with friends or a family-friendly activity that everyone can enjoy.
25. Visit the New Deal Distillery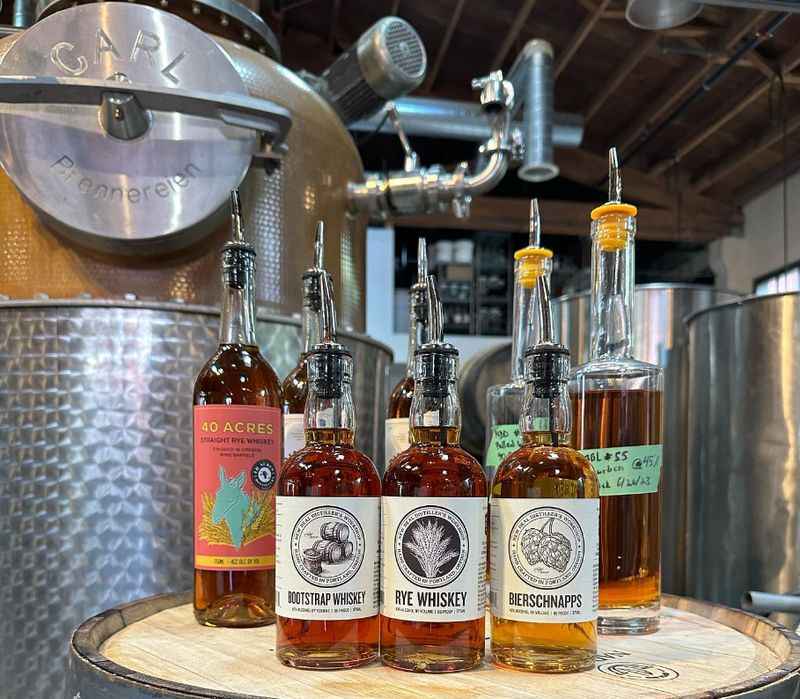 New Deal Distillery in Portland is a top destination for those who appreciate handcrafted spirits.
They are committed to using fresh, locally-sourced ingredients, fair prices for their products, and high-quality standards. The distillery offers tours that provide an in-depth look at their distilling process.
With a focus on sustainability and innovation, the New Deal Distillery is a leader in the craft spirits industry.
26. Dine at Departure Restaurant and Lounge
Departure offers an alluring upscale atmosphere along with delicious pan-Asian cuisine, with a wide range of delicious dishes, from sushi and sashimi to noodles and rice bowls.
The views from the restaurant's rooftop location are absolutely stunning, providing a perfect backdrop for a romantic dinner or a night out with friends.
And if you don't have a reservation, don't worry – Departure welcomes late-night walk-ins, so you can have an unforgettable dining experience in Portland at night.
27. Discover the Must-Try Mocktails of Portland
For those looking for a night out in Portland without the alcohol, you can still enjoy a delicious and creative drink at bars that specialize in zero-proof cocktails, also known as mocktails.
Fools and Horses, located in the Pearl District, is known for their inventive zero-proof cocktails that feature ingredients like fresh herbs, house-made syrups, and fruit juices.
Holy Ghost in Creston-Kenilworth serves up a range of zero-proof options made with locally-sourced ingredients. Inspired by flavors from South Korea to South America, mocktails are truly a local art to enjoy in Portland at night.
28. Enjoy an Evening Walk in the International Rose Test Garden
This 4.5-acre rose garden in Washington Park is home to over 10,000 rose bushes and more than 600 rose varieties, making it one of the largest and most diverse rose gardens in the world.
The rose garden is free and open to the public year-round, offering visitors a chance to stroll through the fragrant blooms and take in the stunning views of the city.
In the evening, the garden takes on a particularly magical quality, as the fading light casts a warm glow over the flowers.
29. Take a Trip to an Airplane Home in the Woods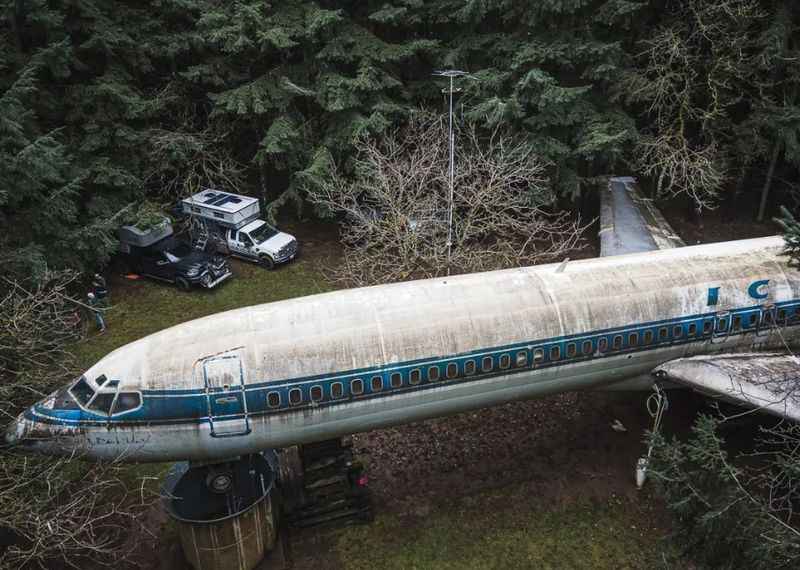 Located in the woods of Oregon's wine country, just 40 minutes outside of Portland, this one-of-a-kind home is situated inside a retired 727 jetliner.
Bruce Campbell, the owner, began transforming the aircraft into his dream home in 1999, and for the past 20 years, the Airplane Home has been open to the public for tours.
If you plan on visiting this cool offbeat attraction near Portland, be sure to notify Bruce via email. His visiting hours are usually flexible.
30. Take the Kids to Family Science Nights at OMSI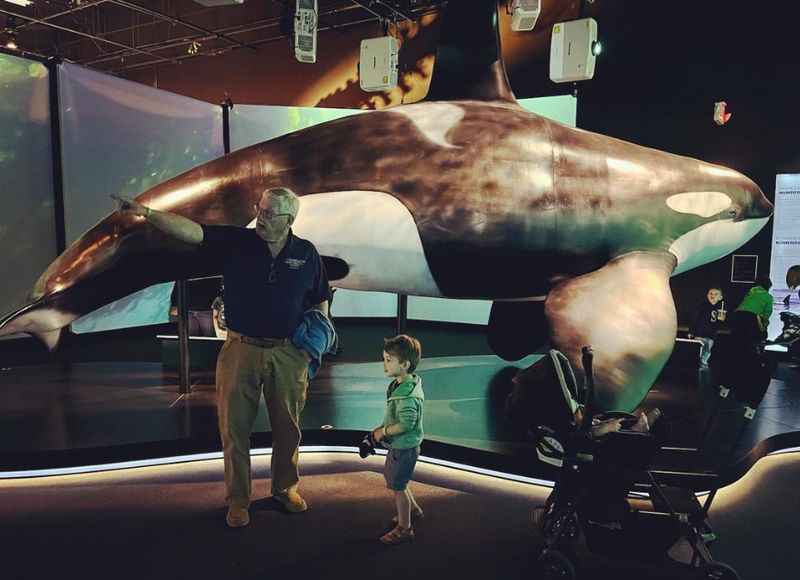 Sitting on the Willamette River in the Central Eastside, the Oregon Museum of Science and Industry (OMSI) features a wide range of interactive exhibits, covering everything from space exploration to marine biology.
OMSI offers Family Science Nights on Monday and Tuesday evenings from 6:00 PM to 8:00 PM, providing a fun and educational experience for the whole family.
Don't miss the Natural Sciences Hall and the Science Playground, where you can learn about the world around us through hands-on exhibits and activities.
FAQs relating to Fun Things to Do in Portland at Night
Let's also answer some frequently asked questions relating to the best night and late afternoon activities to enjoy in Portland.
Does Portland have a good nightlife?
Yes, Portland has a lively nightlife scene, with plenty of bars, clubs, and music venues to explore.
The city is known for its craft beer culture and has a thriving food scene that offers everything from food carts to fine dining options.
What to do in Portland after midnight?
There are plenty of things to do in Portland after midnight, depending on your interests.
Some popular options include visiting dive bars, karaoke bars, or comedy clubs, attending late-night shows or events, exploring the city's food scene, or taking a moonlit stroll through one of Portland's many parks.
What parts of Portland have the best nightlife?
Portland's nightlife is spread throughout the city, but some areas are known for having a particularly vibrant scene.
The neighborhoods of Old Town/Chinatown, the Pearl District, and Southeast Portland are popular destinations for nightlife, with a variety of bars, clubs, and restaurants to choose from.
What is nightlife like in Portland?
The nightlife in Portland is known for being laid-back and diverse, with something to offer for everyone.
The city has a reputation for its craft beer and microbreweries, and there are plenty of opportunities to experience live music, comedy, and other performances.
Summing Up: Best Things to Do in Portland at Night & Late Afternoon
Portland is a fun city to explore during the day, it's double the fun when the sun sets.
From exploring the world-famous Powell's City of Books to enjoying a scenic cruise on the Willamette River, there are plenty of Portland night activities to inspire and delight visitors.
Portland's vibrant nightlife offers amazing live performances, craft beer tastings, and great dining experiences.
So add these activities to your itinerary and enjoy some of the best things to do in Portland. Grab your passport and visit Portland today for some unforgettable adventures after dark.