27 Best Things to Do in Oahu at Night | 2023 (with Photos)
Oahu, the vibrant Hawaiian island, offers a plethora of activities and attractions to enjoy during the day.
But what about after the sun sets? Fear not, because Oahu's nightlife is equally captivating and full of exciting experiences.
From Friday and Saturday nights filled with live music at Blue Note Hawaii to enjoying tropical cocktails at a Mai Tai Bar, there is something for everyone to enjoy after dark on this beautiful island.
Read on to explore the best things to do in Oahu at night, encompassing the best of nightlife, entertainment, cultural experiences, and delicious cuisine.
1. Explore the Charms of Honolulu at Night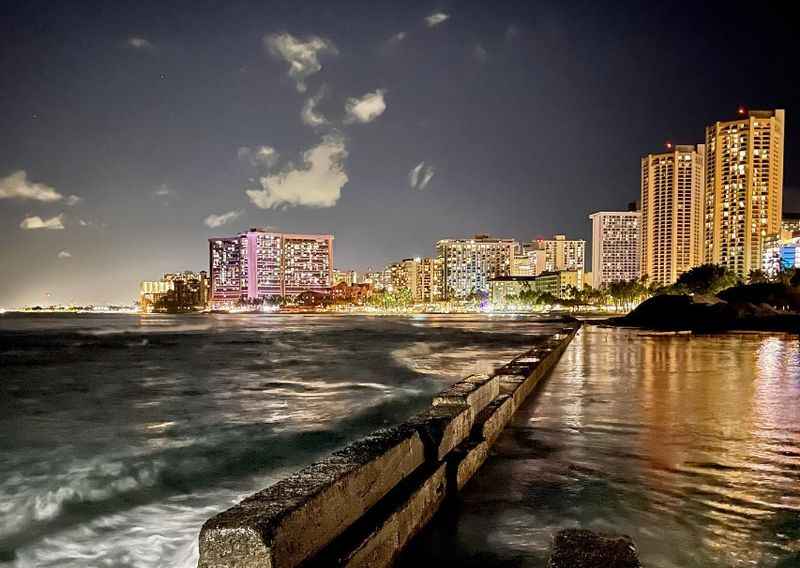 Discover the captivating allure of Honolulu, the capital city of Oahu, as it unveils a myriad of activities and sights to explore under the cover of darkness.
Embark on a leisurely nighttime stroll through the bustling streets of downtown Honolulu, where the city lights create a mesmerizing backdrop to the vibrant energy that permeates the air.
Immerse yourself in the urban charm as you stumble upon hidden gems, and boutique shops, and savor the electric atmosphere that transforms the city after dark.
Honolulu at night offers an unforgettable experience that showcases the city's dynamic spirit and captivating allure.
2. Mai Tai Bar at Famous Waikiki Beach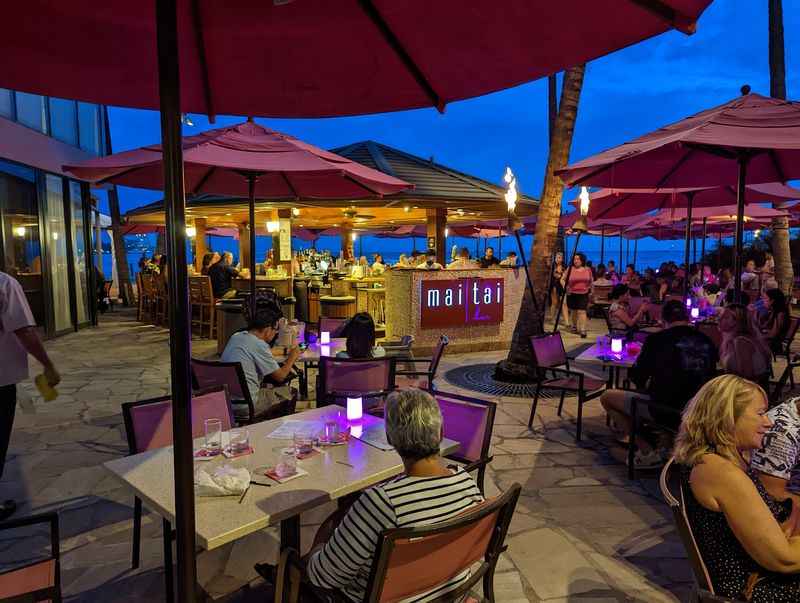 Indulge in a fun-filled evening at the Mai Tai Bar, located on the iconic Waikiki Beach. Savor delectable craft cocktails while basking in the breathtaking ocean views.
During happy hour, immerse yourself in the vibrant atmosphere of Oahu and enjoy tropical drinks that transport you to paradise.
With occasional live music adding to the ambiance, the Mai Tai Bar is the perfect spot to unwind and create lasting memories against the backdrop of one of Hawaii's most renowned beaches.
3. Friday Night Fireworks at Hilton Hawaiian Village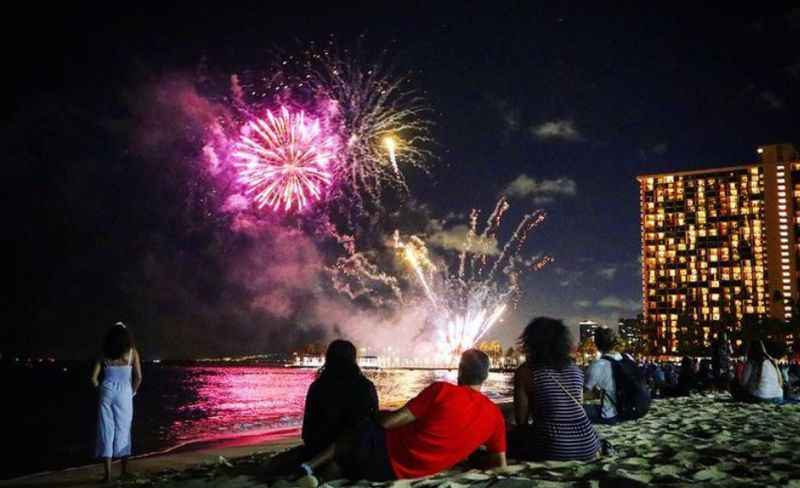 On Friday nights, the Hilton Hawaiian Village puts on a spectacular free fireworks show that lights up the sky over Waikiki Beach.
Grab a cozy blanket, settle into a prime spot on the beach, and prepare to be dazzled by the captivating explosions that illuminate the ocean backdrop.
This free and enchanting experience is a must-see, as the shimmering lights and booming sounds create a magical atmosphere that leaves a lasting impression.
Join the crowds and let the Hilton Hawaiian Village fireworks show ignite your sense of wonder and delight.
4. Friday and Saturday Nights at Blue Note Hawaii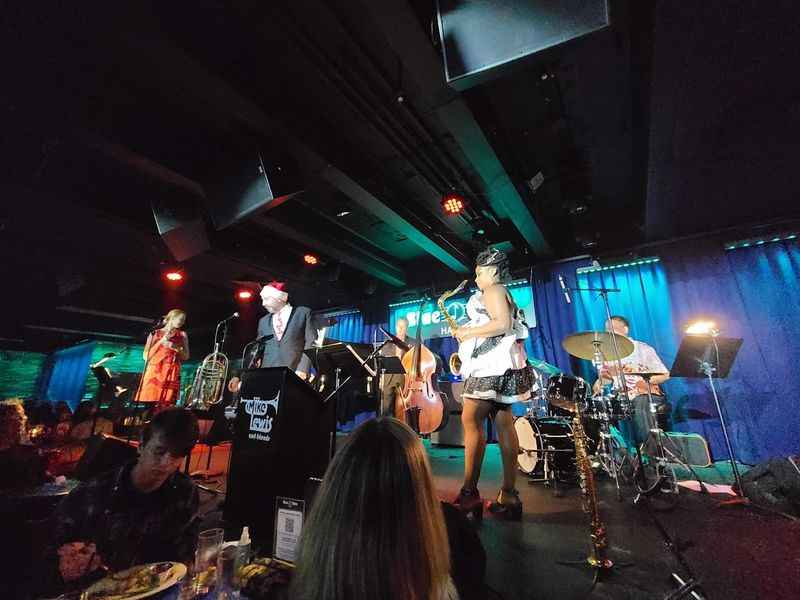 Immerse yourself in the vibrant jazz scene of Oahu at Blue Note Hawaii. This world-renowned venue sets the stage for incredible live performances, particularly on Friday and Saturday nights.
Talented musicians fill the air with soulful melodies, captivating audiences with the timeless allure of jazz music.
Blue Note Hawaii promises an experience that will leave you spellbound, surrounded by the magic and talent that define the island's jazz scene.
5. Experience the Thrills of Night Diving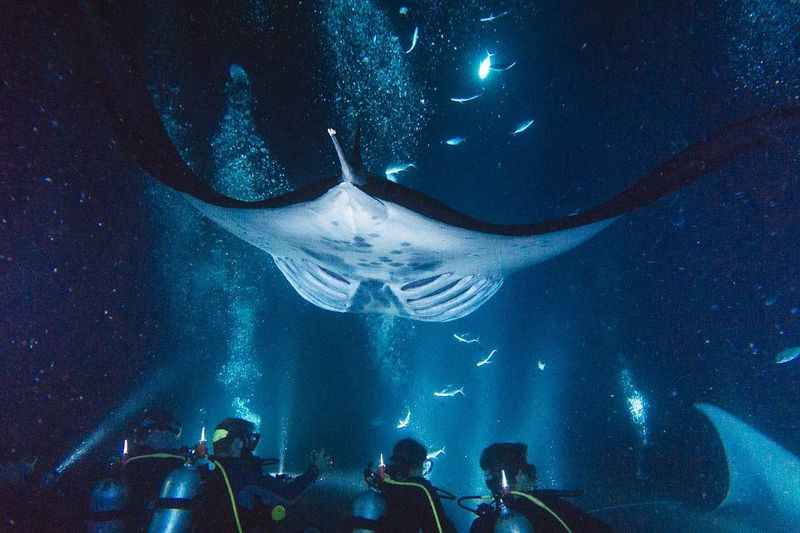 Embark on an exhilarating night diving tour in Oahu and immerse yourself in the thrills of exploring the underwater world after dark.
Dive into the depths of the ocean at a captivating dive site and witness the magic that unfolds beneath the moonlit surface.
Experience the unique sensation of a night dive as you explore the enchanting ocean floor and vibrant coral reefs.
With your dive light illuminating the way, navigate through the mysterious underwater landscape, uncovering hidden treasures and encountering fascinating marine life.
Create an unforgettable adventure with a night dive.
6. Immerse Yourself in Hawaiian Music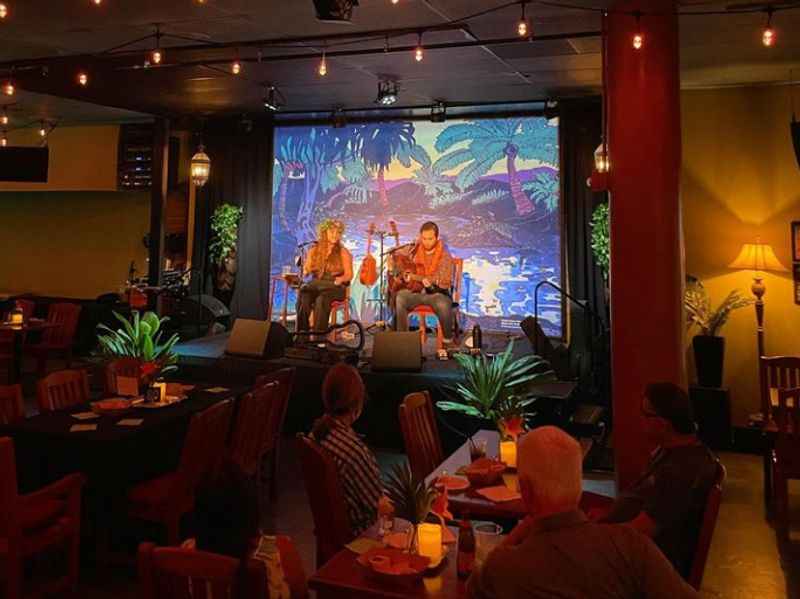 Immerse yourself in the enchanting melodies of Hawaiian music as the sun sets over Oahu.
Experience the soul-stirring rhythms and melodic tunes that echo through the night air, transporting you to a place of cultural richness and serenity.
Whether it's the captivating strumming of a ukulele or the melodic voices singing traditional songs, this music creates a magical ambiance that embraces the spirit of the islands.
Prepare to be captivated by traditional Hawaiian dancing that often accompanies these captivating performances.
7. Enjoy Live Music at Waikiki Beach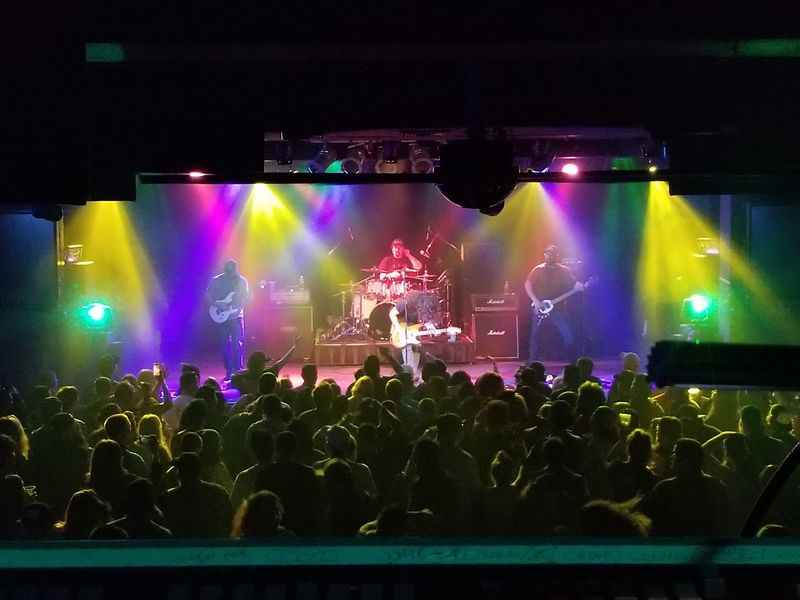 As the sun sets on Waikiki Beach, the enchantment continues into the night with the soothing melodies of live music.
Grab a beach towel, settle into a cozy spot on the soft sand, and let the captivating tunes serenade you under the twinkling stars.
Whether it's local bands playing their melodic tunes or the soulful sounds of Hawaiian music, the combination of music and the beach's natural beauty creates an unforgettable experience that truly brings Waikiki Beach to life after dark.
8. Diamond Head Night Hike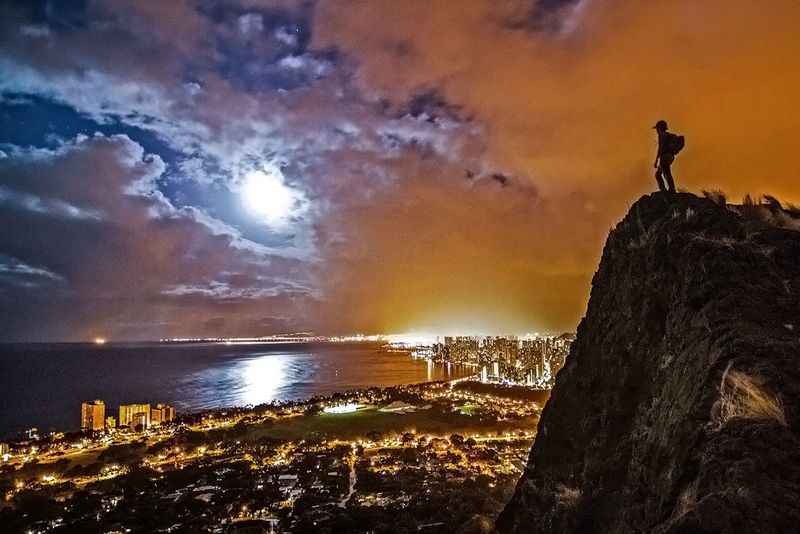 Embark on a thrilling adventure under the starry sky with a Diamond Head night hike in Oahu.
Ascend the iconic volcanic crater as the darkness sets in, guided by the soft glow of your flashlight.
With each step, the anticipation builds as you make your way to the summit. Once there, witness the breathtaking panoramic views of Honolulu sparkling below.
The peacefulness of the night adds an extra touch of magic to this already mesmerizing experience.
The Diamond Head night hike offers a unique perspective and a sense of accomplishment that is truly unforgettable.
9. Sunset Beach Yoga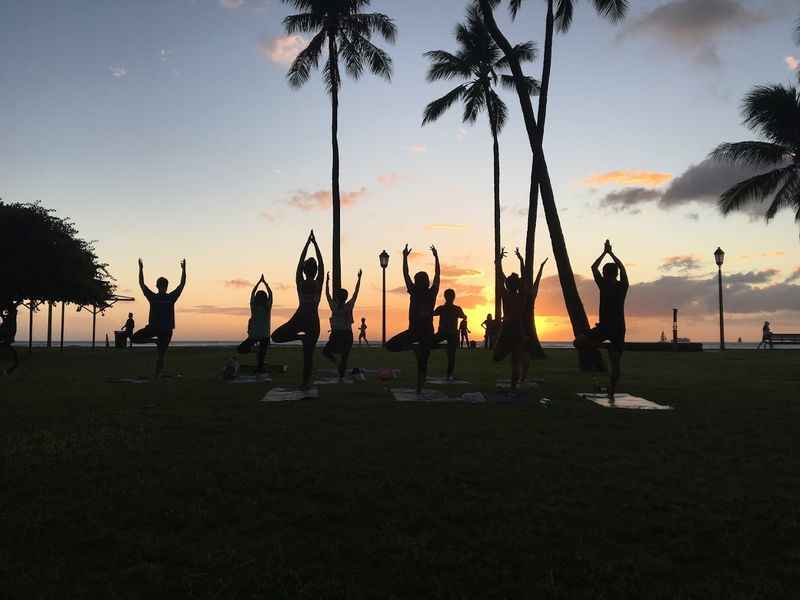 Experience the serenity and beauty of Sunset Beach Yoga in Oahu, where you can find inner peace while surrounded by the stunning colors of the setting sun.
Settle your mind and body on the soft sand as you engage in a yoga practice that harmonizes with nature's rhythm.
Stretch, breathe, and find your center as you flow through poses, guided by an experienced instructor.
The breathtaking hues of a beautiful sunset provide a captivating backdrop, enhancing the meditative experience.
Sunset Beach Yoga offers a rejuvenating and uplifting practice that connects you with the natural beauty of Oahu's coastline.
10. Enjoy a Fun Night at Local Karaoke Bars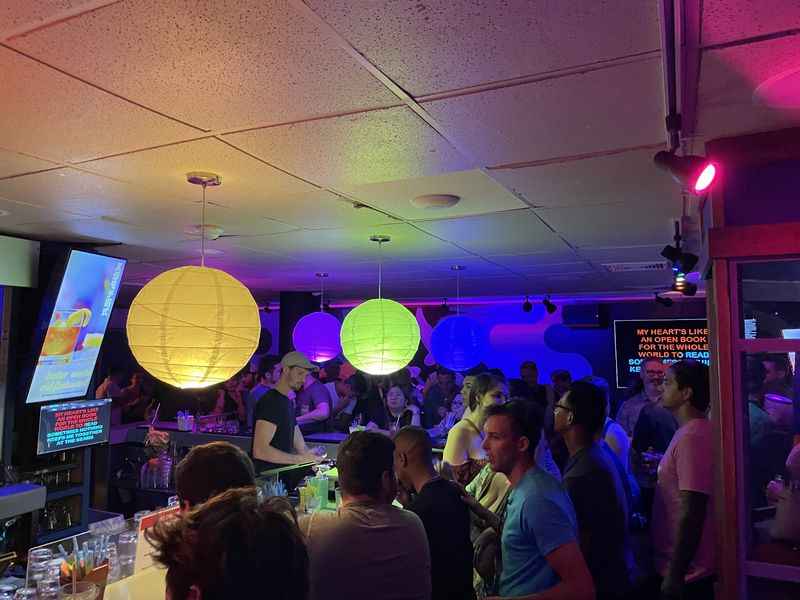 Indulge in a fun-filled night of singing and laughter at a local karaoke bar in Oahu.
Grab the microphone and unleash your inner superstar as you belt out your favorite tunes alongside friends or fellow patrons.
Karaoke bars provide a lively and energetic atmosphere, where everyone can let loose and showcase their vocal talents.
Whether you're a seasoned performer or a first-time karaoke enthusiast, the supportive and festive ambiance of these venues ensures a memorable and entertaining night out.
Get ready to hit the stage, embrace the spotlight, and create unforgettable memories at Oahu's vibrant karaoke bars.
11. Indulge in a Buffet Dinner at a Luau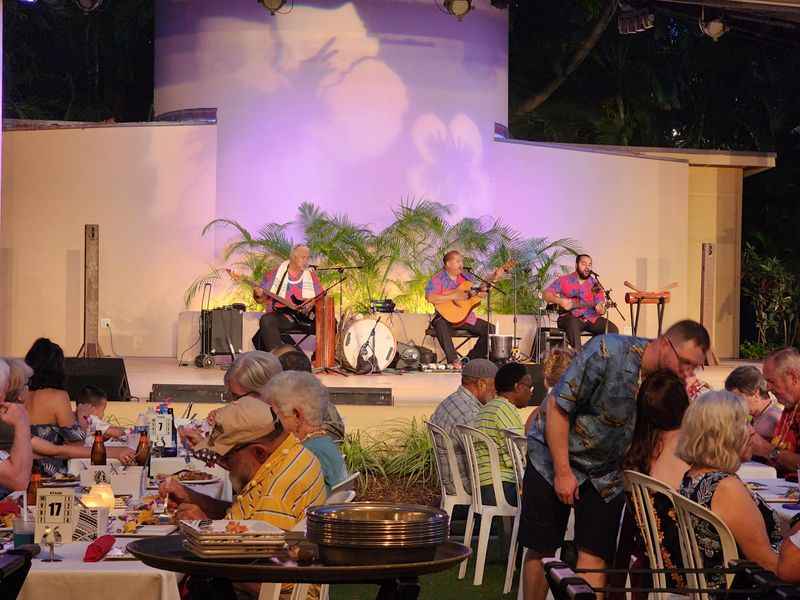 Savor the flavors of Hawaii and immerse yourself in the rich cultural heritage at a traditional luau, where you can indulge in a mouthwatering buffet dinner.
Feast on an array of delectable dishes, ranging from succulent kalua pork to fresh seafood and tropical fruits.
As you enjoy the feast, be captivated by mesmerizing fire dancers and the warm aloha spirit that fills the air.
A luau is not just a culinary experience, but a celebration of the island's traditions and a chance to embrace the true essence of Hawaiian hospitality.
12. Indulge in Sweet Treats and Tropical Cocktails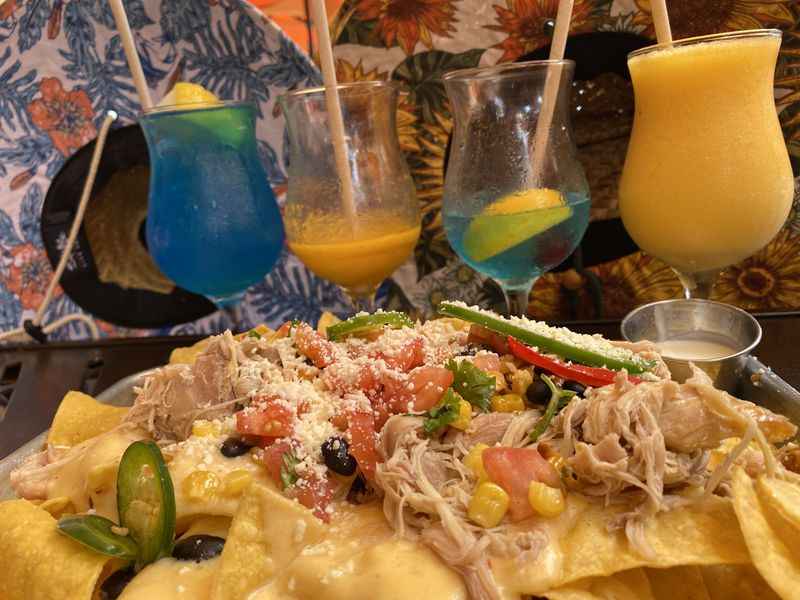 Indulge your taste buds in a delightful array of sweet treats and tropical cocktails, and let your senses be transported to a paradise of flavors.
Explore the vibrant culinary scene of Oahu, where you can find an abundance of dessert shops, ice cream parlors, and cocktail bars offering an enticing array of tropical concoctions.
Savor mouthwatering shaved ice topped with fresh fruit, indulge in decadent macadamia nut desserts, or sip on refreshing mai tais and pina coladas crafted with local ingredients.
Treat yourself to the island's sweet and tropical delights.
13. Experience the Best of Jazz Performances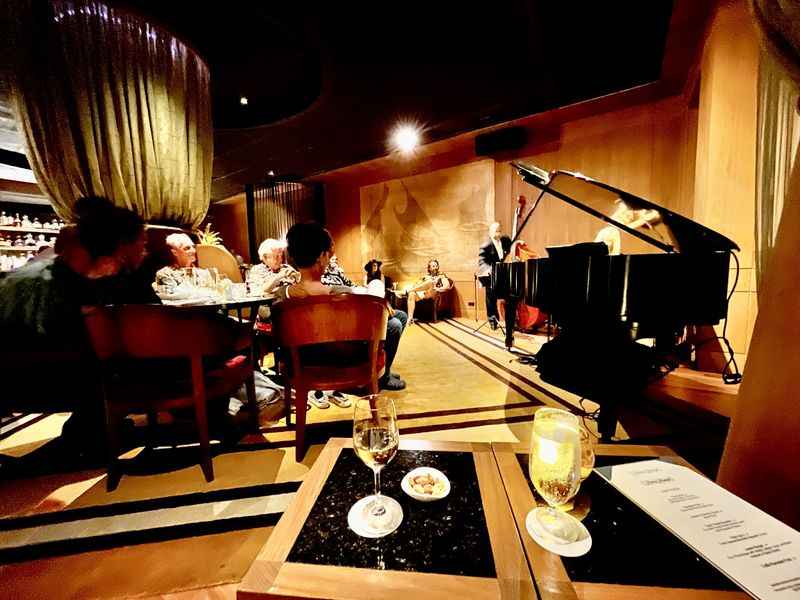 Immerse yourself in the mesmerizing world of jazz as you experience the best of live performances in Oahu.
From intimate jazz clubs to grand concert venues, the island offers a vibrant jazz scene that will captivate your senses.
Lose yourself in the smooth melodies, intricate improvisations, and soulful rhythms that define this beloved genre.
Whether you're a seasoned jazz enthusiast or a newcomer to the art form, the talented musicians and electrifying atmosphere of Oahu's jazz performances promise an unforgettable night of musical magic that will leave you longing for an encore.
14. Visit Bar Leather Apron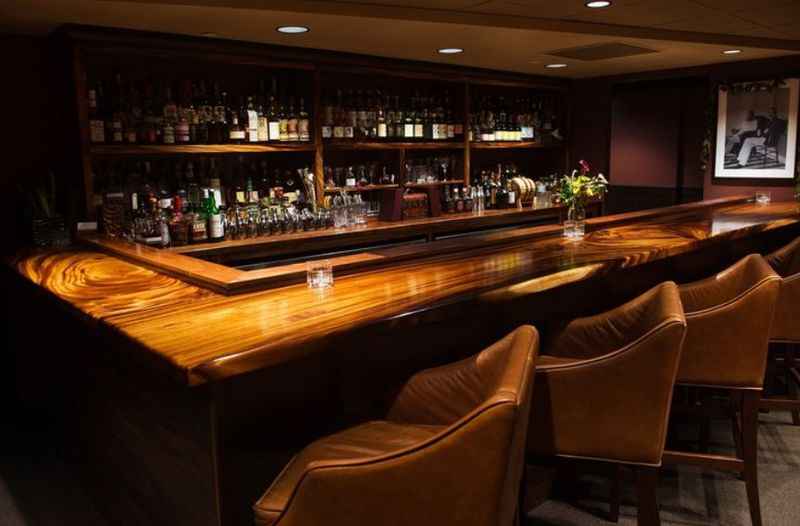 Step into a world of sophistication and exquisite craftsmanship at Bar Leather Apron in Oahu.
This hidden gem is a haven for cocktail enthusiasts, where expert mixologists craft artisanal drinks with precision and flair.
The intimate and stylish ambiance creates the perfect backdrop for an unforgettable night of indulgence.
During happy hour, delight in meticulously crafted concoctions that showcase unique flavors and top-quality spirits.
Whether you're seeking classic favorites or daring creations, the bar offers a refined drinking experience that showcases the artistry and passion behind the cocktail craft.
15. Rock a Hula Dinner Show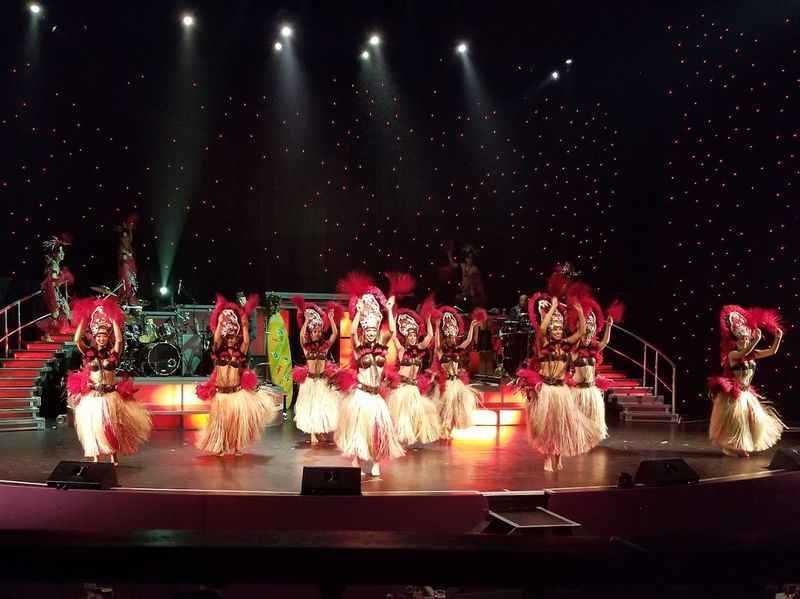 Immerse yourself in the dazzling world of the Rock a Hula Dinner Show in Oahu, a spectacular fusion of live music, hula dancing, and theatrical performances.
This electrifying production takes you on a journey through the vibrant history of Hawaii's iconic music and culture.
Enjoy a delicious dinner while being entertained by talented singers, dancers, and musicians who bring the stage to life.
With stunning costumes, impressive choreography, and captivating storytelling, the Rock a Hula Dinner Show is a must-see experience that will leave you in awe and create memories to last a lifetime.
16. Join the ArtAfterDark Art Party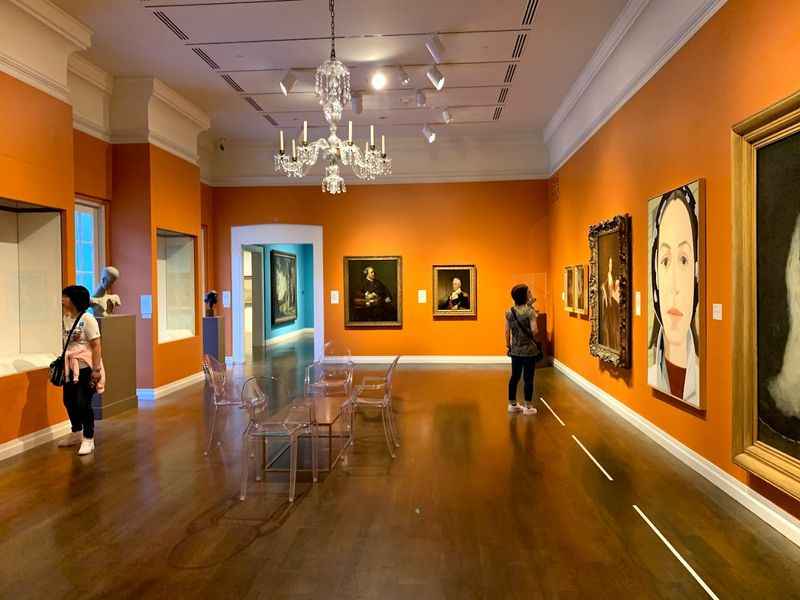 Immerse yourself in the vibrant art scene of Oahu at the ArtAfterDark Art Party.
Held at the Honolulu Museum of Art, this lively and engaging event combines art, music, and entertainment for a night of creative exploration.
Discover thought-provoking exhibitions, participate in interactive art activities, and mingle with fellow art enthusiasts.
Live music performances, DJ sets, and dance floors add a dynamic and energetic atmosphere to the party.
With a fusion of visual arts, live entertainment, and a buzzing social ambiance, the ArtAfterDark Art Party is the perfect event for those seeking a fun and culturally enriching night out.
17. Attend a Twilight Tour at the Honolulu Zoo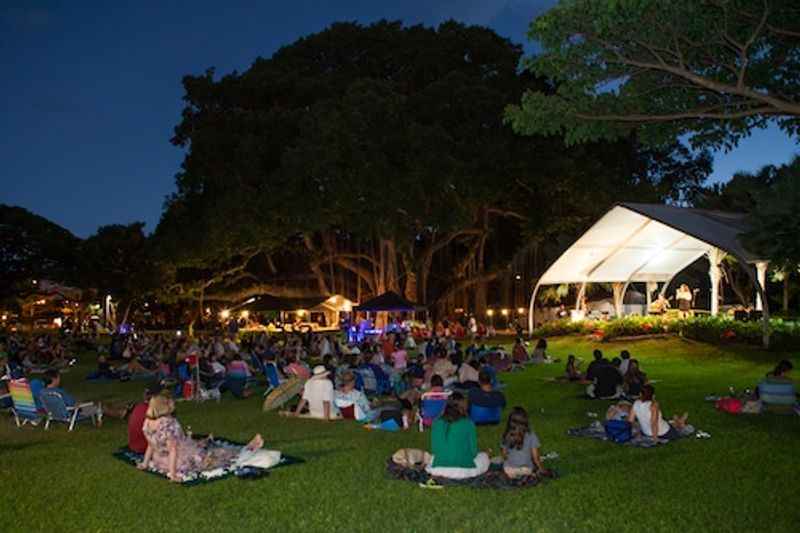 Embark on a captivating Twilight Tour at the Honolulu Zoo and discover a whole new side of the animal kingdom.
As the sun sets, Honolulu Zoo transforms into a magical realm filled with nocturnal creatures and mysterious encounters.
Guided by knowledgeable zookeepers, you'll have the opportunity to observe and learn about fascinating animals that come alive after dark.
From majestic big cats to elusive owls and lemurs, the Twilight Tour offers an enchanting glimpse into the nocturnal world.
Deepen your appreciation for wildlife under the moonlit sky.
18. Saturday Night at the Maui Brewing Company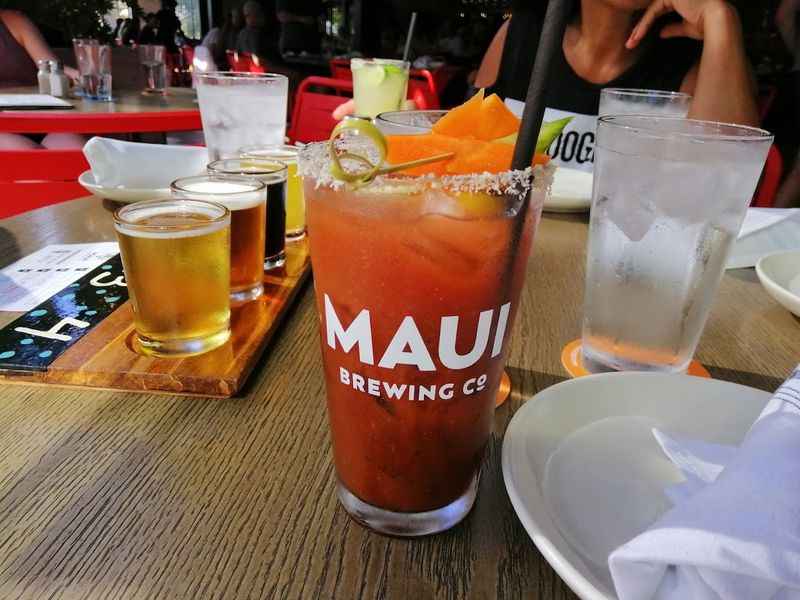 Experience the lively atmosphere of Maui Brewing Company at night, a hotspot for craft beer lovers in Oahu.
After dark, the brewery comes alive with vibrant energy and a bustling crowd. Sip on a cold pint of their handcrafted brews, ranging from refreshing ales to bold and flavorful IPAs.
The spacious and welcoming taproom provides the perfect setting to relax and enjoy the company of fellow beer enthusiasts.
Whether you're a beer connoisseur or simply seeking a fun night out, Maui Brewing Company offers an unforgettable and flavorful experience in the heart of Oahu.
19. Take a Ghost Tour in Downtown Honolulu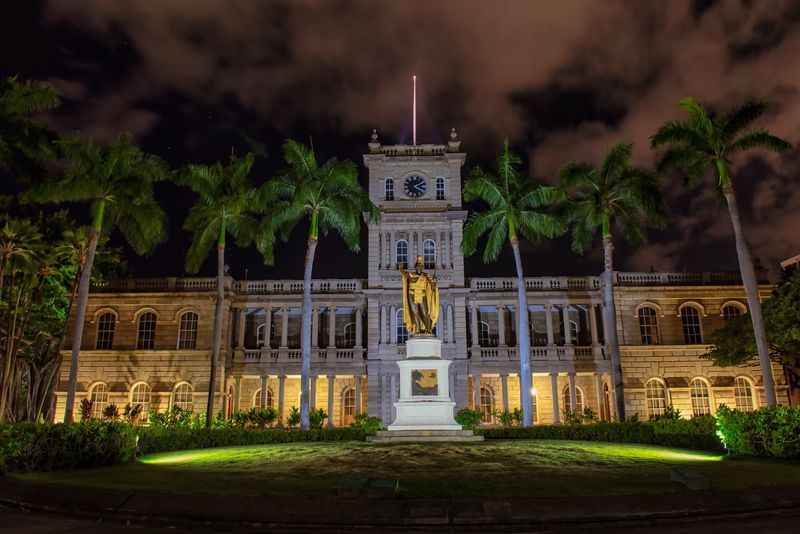 Embark on a spine-tingling Ghost Tour in Downtown Honolulu at night, where history and the supernatural converge.
Follow your expert guide through the dimly lit streets as they regale you with chilling tales of haunted buildings, eerie occurrences, and restless spirits.
Explore the darker side of the city's past and discover hidden secrets as you visit landmarks with a haunted reputation.
Feel the hair on the back of your neck stand on end as you delve into the mysterious and ghostly history of Downtown Honolulu.
This ghost tour is an intriguing and thrilling way to experience the supernatural side of the city after dark.
20. Dive into Night Activities at the Outrigger Waikiki Beach Resort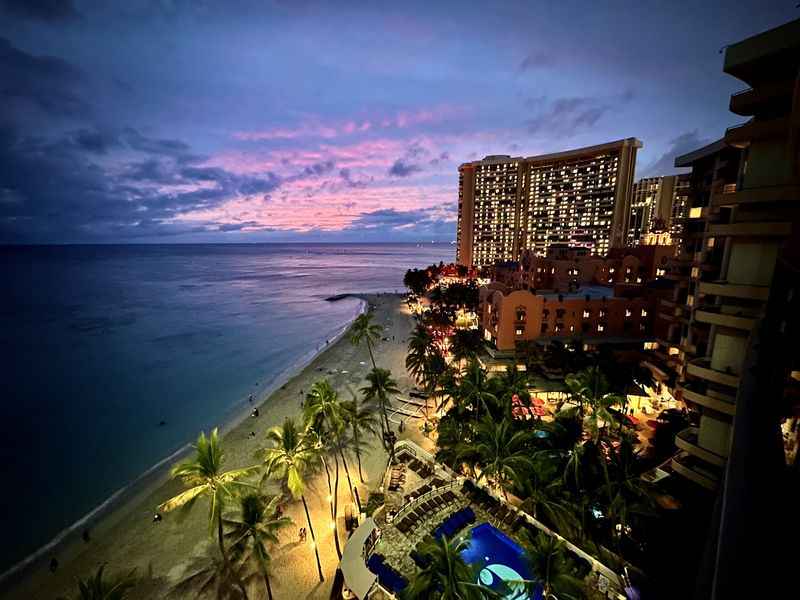 Experience the allure of Outrigger Waikiki Beach Resort at night, where luxury meets the captivating beauty of Waikiki Beach.
After dark, the resort comes alive with a vibrant energy and a myriad of activities to indulge in.
Unwind with a tropical cocktail at the beachfront bar or take a moonlit stroll along the famous shoreline.
With its prime location, stunning ocean views, and an array of nightlife options, Outrigger Waikiki Beach Resort offers the perfect setting for a memorable evening in Oahu.
21. Unwind with a Cocktail Cruise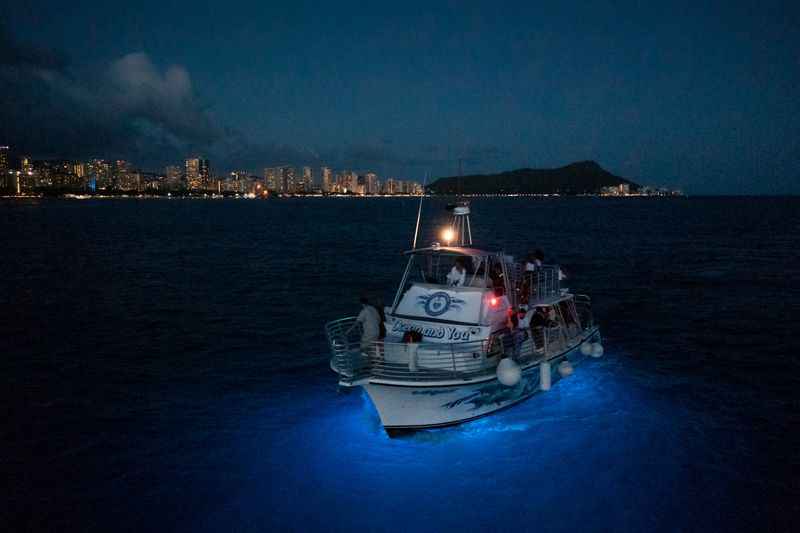 Embark on a magical Cocktail Cruise in Oahu as the sun sets and the city lights twinkle on the horizon.
Step aboard a luxurious cruise ship and sip on handcrafted cocktails expertly mixed by skilled bartenders.
Whether you're celebrating a special occasion or simply seeking a memorable night out, the Cocktail Cruise offers a perfect blend of relaxation, entertainment, and stunning views of the Oahu skyline.
22. Explore the Eat the Street Festival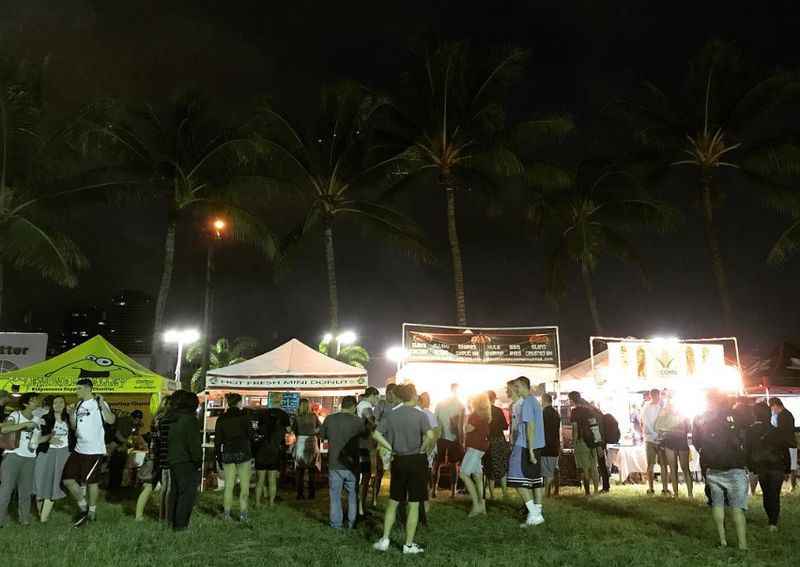 Embark on a fun-filled experience as you sample an array of Hawaiian food at the Eat the Street Festival at night. This is a paradise for food enthusiasts in search of delicious Hawaiian cuisine.
Explore a wide array of Hawaiian food trucks serving up delicious dishes, showcasing the rich flavors of the islands.
The festival attracts large crowds, creating a vibrant and energetic atmosphere that adds to the excitement.
Held every last Friday of the month, this is a true celebration of Hawaiian street food culture and a great way to experience Hawaii's gastronomy.
23. Unleash the Nightlife at The District Nightclub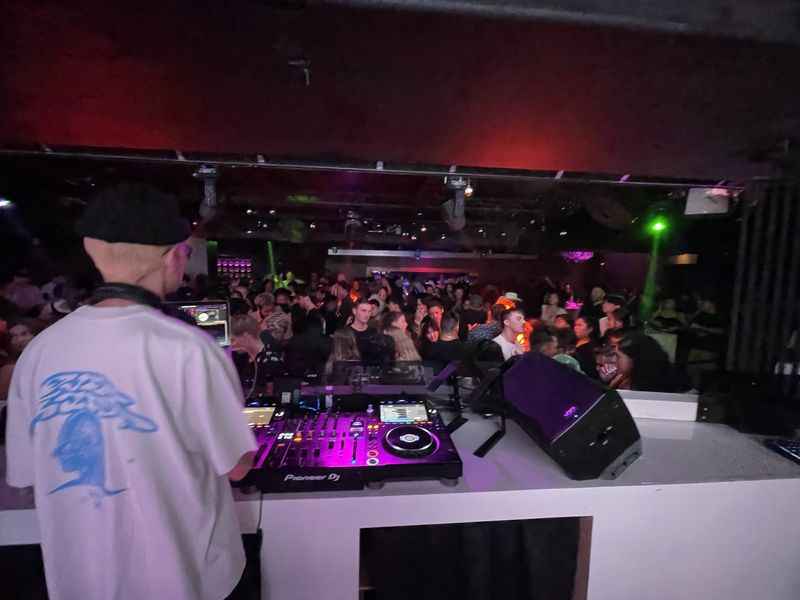 Experience the epitome of Oahu's nightlife at The District Nightclub in Honolulu.
This vibrant venue boasts a dynamic dance floor where you can groove to the latest beats spun by top DJs.
Renowned for its electric atmosphere, it's the ultimate destination for those seeking the best nightlife in town.
With a variety of fun activities and a bustling crowd, The District Nightclub guarantees an unforgettable night out.
Immerse yourself in the pulsating energy of Honolulu at night and make memories to last a lifetime at this premier night activity hotspot.
24. Explore Waimea Valley on a Nighttime Moon Walk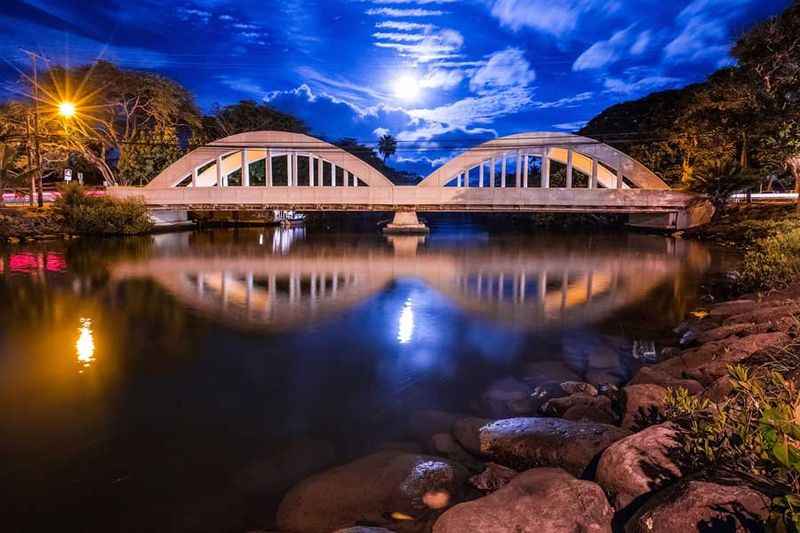 Embark on a mesmerizing moon walk through Waimea Valley in Oahu, where nature comes alive under the ethereal glow of the moon.
As you traverse the scenic trails, you'll be immersed in the enchanting ambiance of the valley at night.
The moon casts a soft, silver light over the lush vegetation and tranquil waters, creating a magical atmosphere.
Guided by the moon's gentle guidance, you'll discover the hidden beauty of Waimea Valley in a whole new light.
This unique experience allows you to connect with nature and witness the captivating transformation of the valley after dark.
25. Embark on an Epic Night Surfing Adventure
Experience the exhilarating thrill of night surfing on Oahu's North Shore.
The North Shore's legendary breaks, such as Pipeline and Sunset Beach, provide the perfect playground for this exciting night activity.
Whether you're a seasoned pro or a beginner, night surfing offers a unique and fun experience that captures the magic of the ocean after dark.
26. Explore the Exotic Fish at Sea Life Park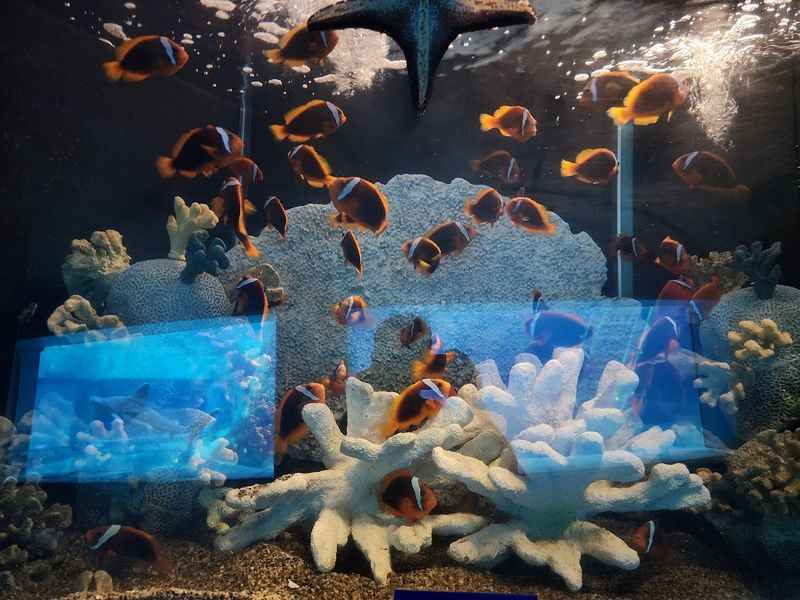 Sea Life Park in Oahu is not only a fascinating marine attraction but also a great place to start your evening.
Begin your night by immersing yourself in the wonders of the ocean and getting up close with a variety of marine creatures.
From playful dolphins to majestic sea turtles, Sea Life Park offers interactive encounters and captivating shows.
Explore the exhibits, learn about marine conservation, and witness incredible animal performances.
With its beautiful coastal setting and educational experiences, Sea Life Park sets the stage for an unforgettable evening of entertainment and appreciation for the marine world.
27. Explore the Honolulu Museum of Art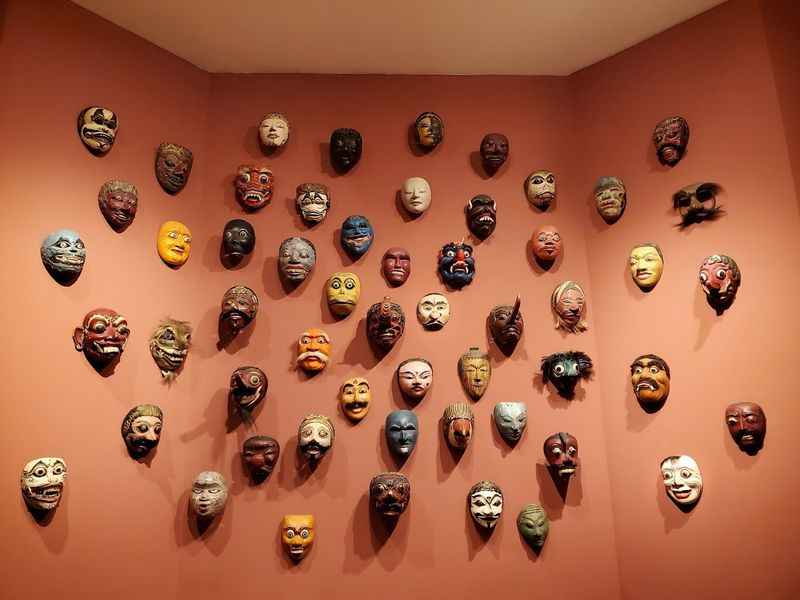 Start your night in Honolulu by exploring the captivating Honolulu Museum of Art.
This cultural gem offers a unique experience after dark, allowing you to appreciate the art in a whole new light.
Wander through the galleries, admiring a diverse collection that spans centuries and continents. Engage with thought-provoking exhibitions and immerse yourself in the world of creativity.
The museum often hosts special events, such as art parties and jazz performances, adding an extra layer of excitement to your visit.
Delve into the rich tapestry of artistic expression at the Honolulu Museum of Art and let it be the centerpiece of your nocturnal adventure.
FAQs about Fun Things to Do in Oahu at Night
In this section, we answer some frequently asked questions about the best things to do in Oahu at night.
Are beaches open at night in Oahu?
While beach parks in Oahu typically close at night, there are a few exceptions. Magic Island, for instance, offers a picturesque setting for a romantic date as you stroll along its shores. Additionally, a guided walking tour allows you to explore the coastline at night, providing a unique perspective and a chance to soak in the island after dark.
Does Oahu have good nightlife?
Oahu boasts a vibrant and thriving nightlife scene, offering a plethora of night activities to suit various tastes. From trendy clubs and bars to entertainment venues, there's something for everyone. Luxury hotels, such as the renowned resorts in Waikiki, also contribute to the island's nightlife.
What can we do at night in Hawaii?
Hawaii offers a range of exciting night activities. Embark on a thrilling nocturnal adventure with a guided tour that allows you to observe the fascinating behaviors of nocturnal animals in their natural habitats. From mesmerizing stargazing experiences to thrilling night dives and hikes, Hawaii's diverse landscapes and unique wildlife provide endless opportunities for unforgettable nighttime adventures.
What should one do for a good night out in Hawaii?
For an unforgettable night out in Hawaii, indulge in the plethora of activities available. From sipping cocktails at beachside bars to exploring the nightlife scene in Honolulu, there is something for everyone. Enjoy music performances or dance the night away. Hawaii offers endless opportunities for a memorable night activity.
Summing Up: The Best Things to do in Oahu at Night
In conclusion, there is a night activity that caters to every interest and preference.
From vibrant nightlife at clubs and bars to immersive cultural experiences like traditional luaus and dancing, there is no shortage of entertainment after dark.
The island's natural beauty adds an enchanting touch to activities such as night diving, moon walks, and beachside stargazing.
Whether you're seeking music performances, delicious dining experiences, or adventurous night tours, there are plenty of activities in Oahu.
So, immerse yourself in the captivating activities of Oahu and create unforgettable memories in this tropical paradise.