Goa, located in the west of India, is an unsurprisingly popular tourist destination. With so many things to do in Goa, it's hard to pick just a few of the must-sees.
Those who visit Goa can expect sprawling sandy beaches, riveting Portuguese history, and delicious cuisine. From Old Goa to the beach towns, there is something for everyone.
If you're ready to visit Goa, prepare for thrilling water sports, yoga retreats, meditation, and jungle excursions.
Undoubtedly abundant in natural beauty, Goa is also famous for its Portuguese-inspired architecture, its aromatic spice plantations, and delicious food.
Get ready for great food, plush palms, and vibrant nightlife. From Old Goa to the Mandovi river – get ready, get set, Goa.
1. Make Morjim Beach a must-see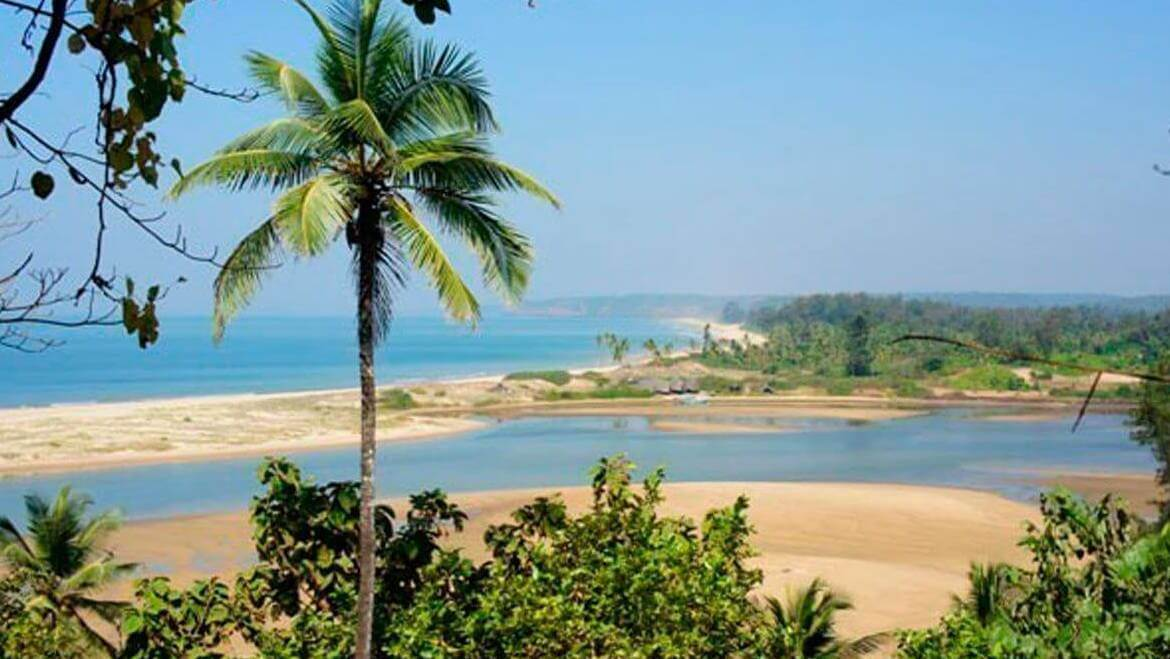 Morjim Beach is the first of the furthest North Goa beaches and is a stunning expanse of golden sand and sapphire sea.
Known for its beauty and ambiance, this beach is perfect if you enjoy beach hopping. Relax in one of the beach shacks or, for you nature-lovers, marvel at the Olive Ridley sea turtles that reside there.
Morjim Beach is an important conservation site, as well as a great spot to surf!
Avoid the typically crowded beaches and add Morjim beach to your list of things to do in Goa. The vibrant nightlight and delectable local cuisine await.
2. Deep dive at Grand Island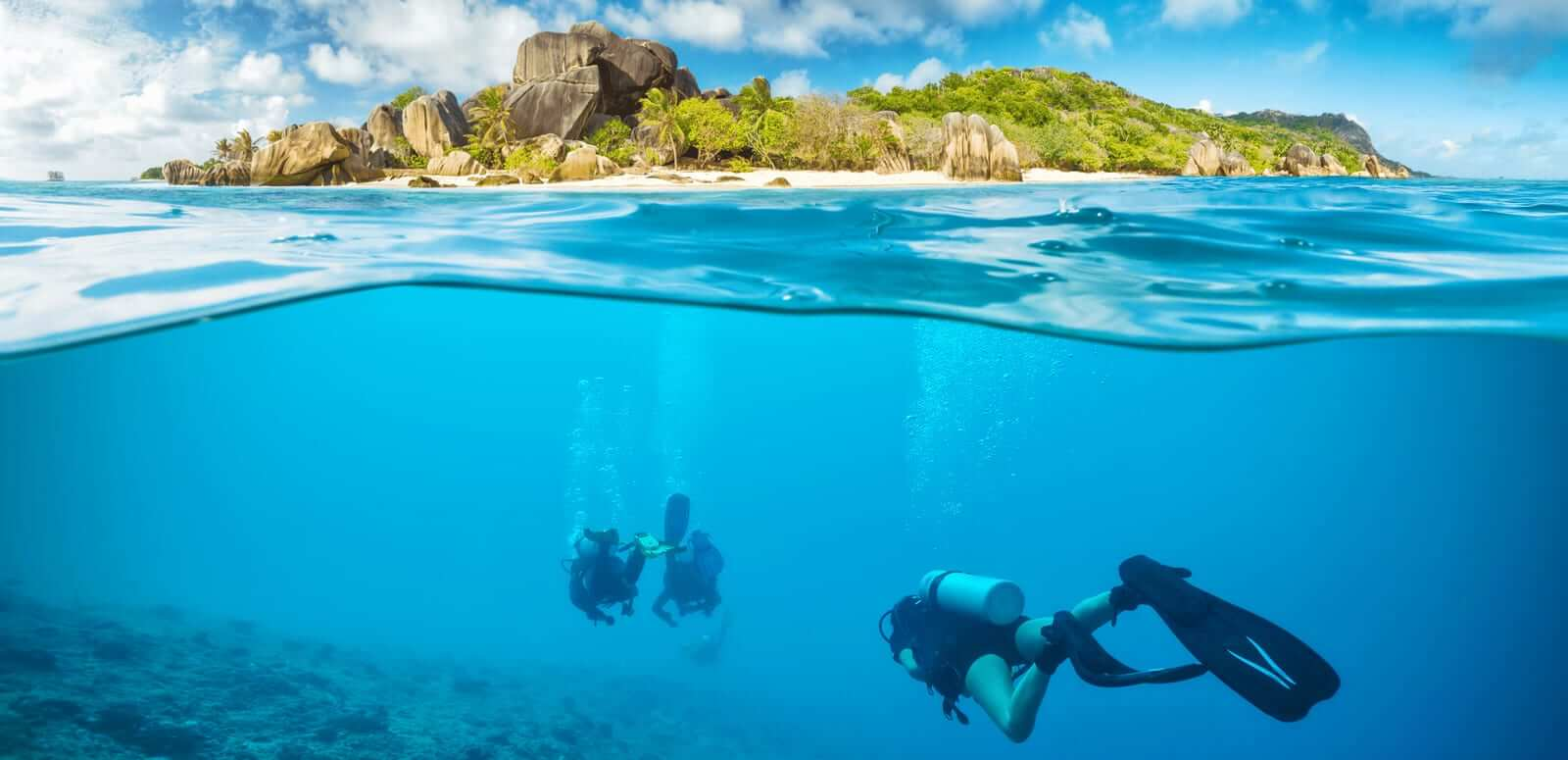 There are so many things to do in Goa and if you're a water baby, scuba diving at Grand Island should be on your list.
Grand Island is a beautiful spot teeming with diverse marine life, vibrant coral reefs, and turquoise waters.
Set sail and scuba dive, getting up close and personal with tropical fish, and create memories that will last a lifetime.
If you're new to scuba diving or would rather have a guide, there are plenty of diving schools and excursions with instructors for your safety.
Don't want to get wet? Take a boat trip and ride the waves in style. With so many things to do in Goa, there is an activity for everyone!
3. Fall for the Goa Dudhsagar Falls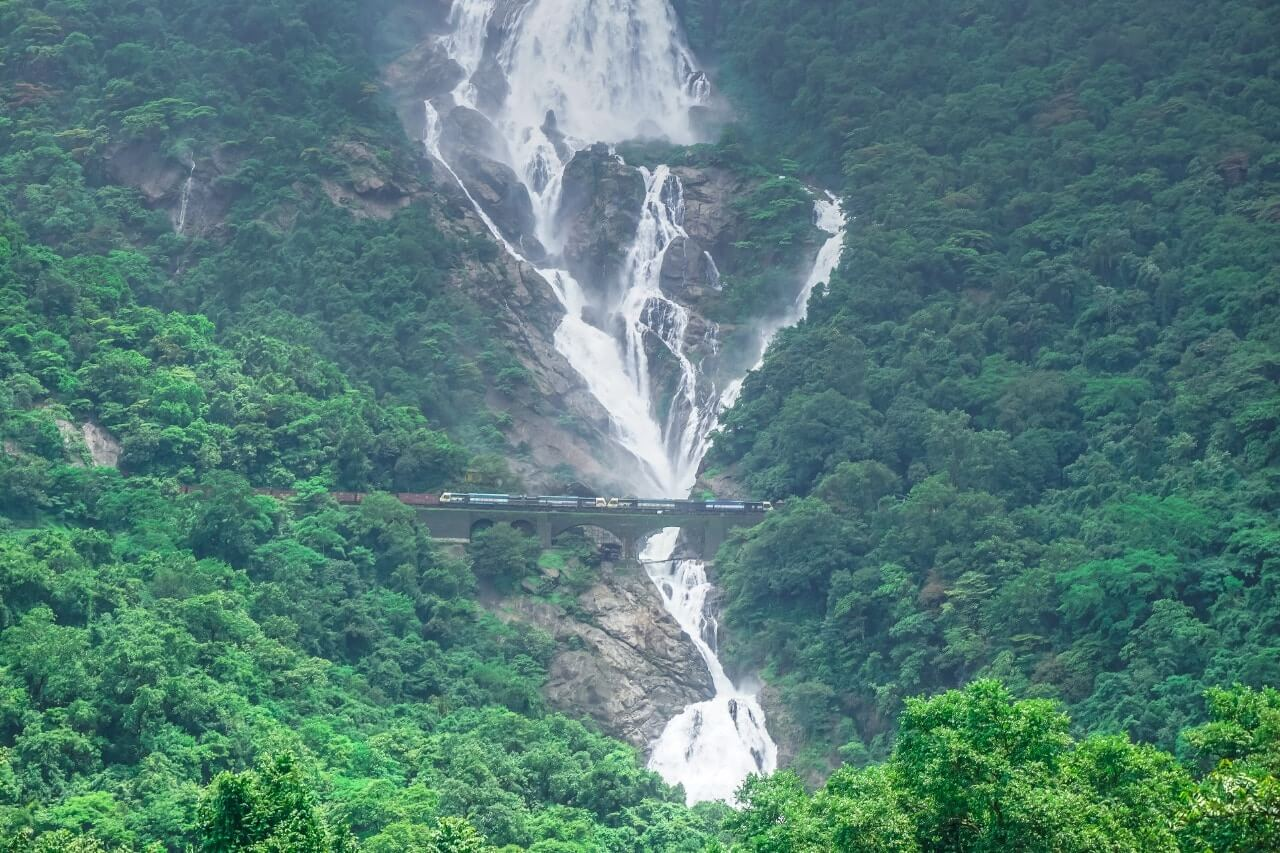 Visiting Goa, no one should miss out on the tremendous four-tier Dudhsagar Falls. This major attraction is located in the Bhagwan Mahaveer Sanctuary and Mollem National Park.
The falls are central in the voyage of the Mandovi River from the Western Ghats down to the capital city Panaji where it meets the Arabian Sea.
As one of the tallest and most magnificent waterfalls in India, the falls attract nature lovers, explorers, and adventure seekers alike. This is one of the things to do in Goa that also requires thought around when in the year you visit!
If you choose to visit, whether you trek, train or drive, during monsoon season take necessary precautions and always listen to guides to remain safe.
4. Fall in love with Dona Paula Beach
Head to the western coast of north Goa for this next gem –  a must-visit on your list of things to do in Goa.
Dona Paula Beach boasts spectacular views of the Arabian Sea whilst being nestled in rolling, lush vegetation. Named after the historical figure, Dona Paula Amaral Antónia de Souto Maior, the beach is known as a lover's paradise, based on her own tragic love story.
The beautiful Dona Paula fell in love with a local fisherman, but her father disapproved of their relationship. Heartbroken, Dona Paula is rumored to have thrown herself from the nearby cliffs.
For history buffs and couples alike, Dona Paula Beach is one of many popular tourist destinations in north Goa, and one of the things to do in Goa that is both historical and mythical!
5. Press Pause or Party at Palolem Beach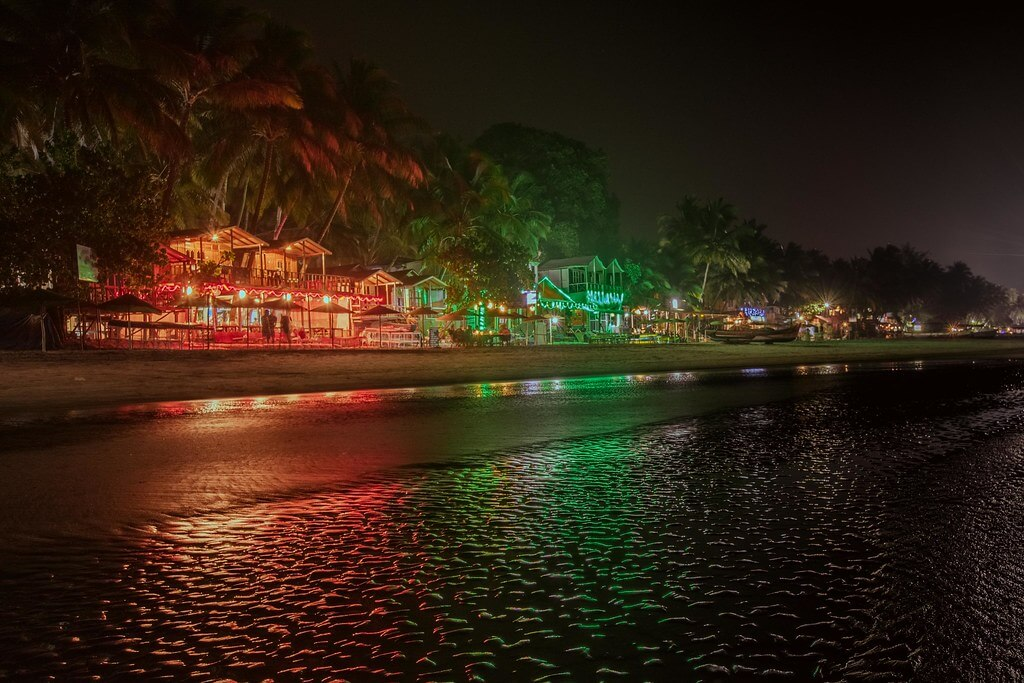 Goa offers a plethora of gorgeous sandy beaches so don't miss out on the popular Palolem Beach. Laze on the loungers, get zen with some yoga, or sip on a cocktail.
Busier than the more remote spots, there is vibrant nightlife on this astounding beach. The beach faces Canacona, home of the Silent Noise Club.
If you're a night owl and looking for a great night, head to this silent disco and you can tick partying all night off your list of things to do in Goa!
6. Boat Trip to Butterfly Beach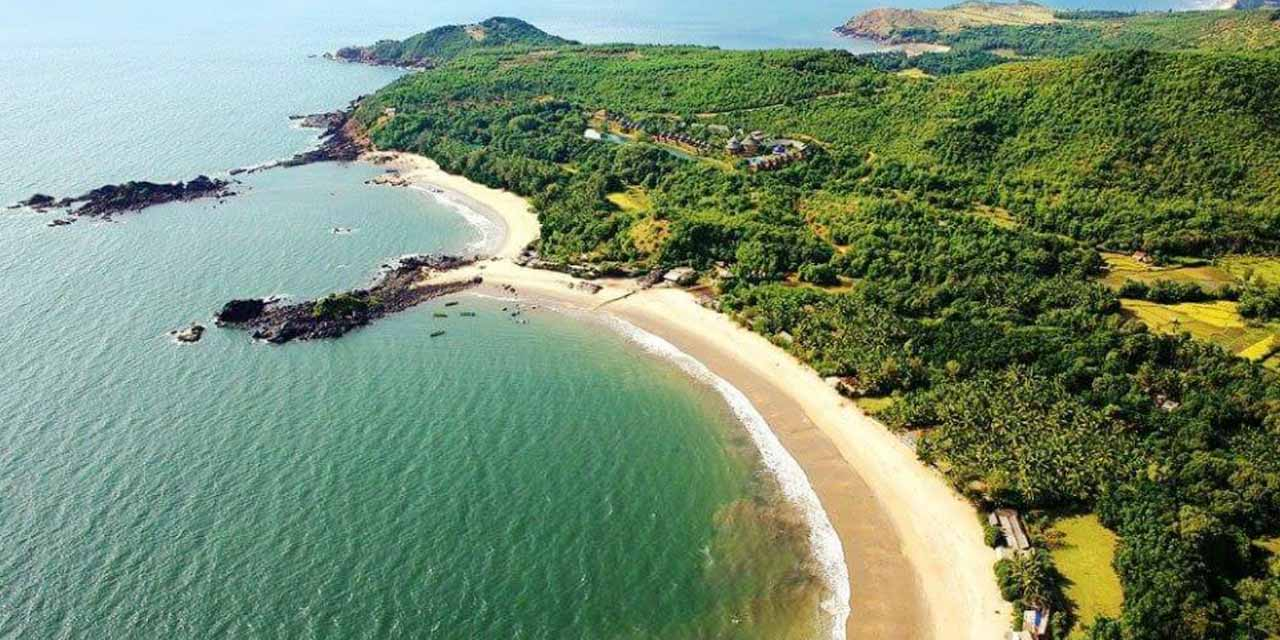 If partying at Palolem Beach isn't your speed, head to Butterfly Beach by boat ride. The secluded beach is perfect for a stolen moment of serenity.
Soak up a sunset or watch the dolphins dive out of the waves, the beach is a secluded haven with limited accessibility so you can reset and recharge.
For food lovers, there are a few restaurants nearby to indulge in delicious local cuisine. If one of your things to do in Goa includes a more private experience, this is the one for you.
7. Take a Moment For a Massage
With all the things to do in Goa, sometimes you need to take a break. What better way than to seek out the many beach shacks or massage centers along the coast and have a relaxing foot massage?
Typically performed on the golden sand beaches, take a moment's respite from all the exploring and allow the trained massage therapists to massage your feet, calves, and lower legs with authentic herbal oils.
Treat that tension so you can continue your travels and take on more things to do in Goa!
8. Go wild at The Mhadei Wildlife Sanctuary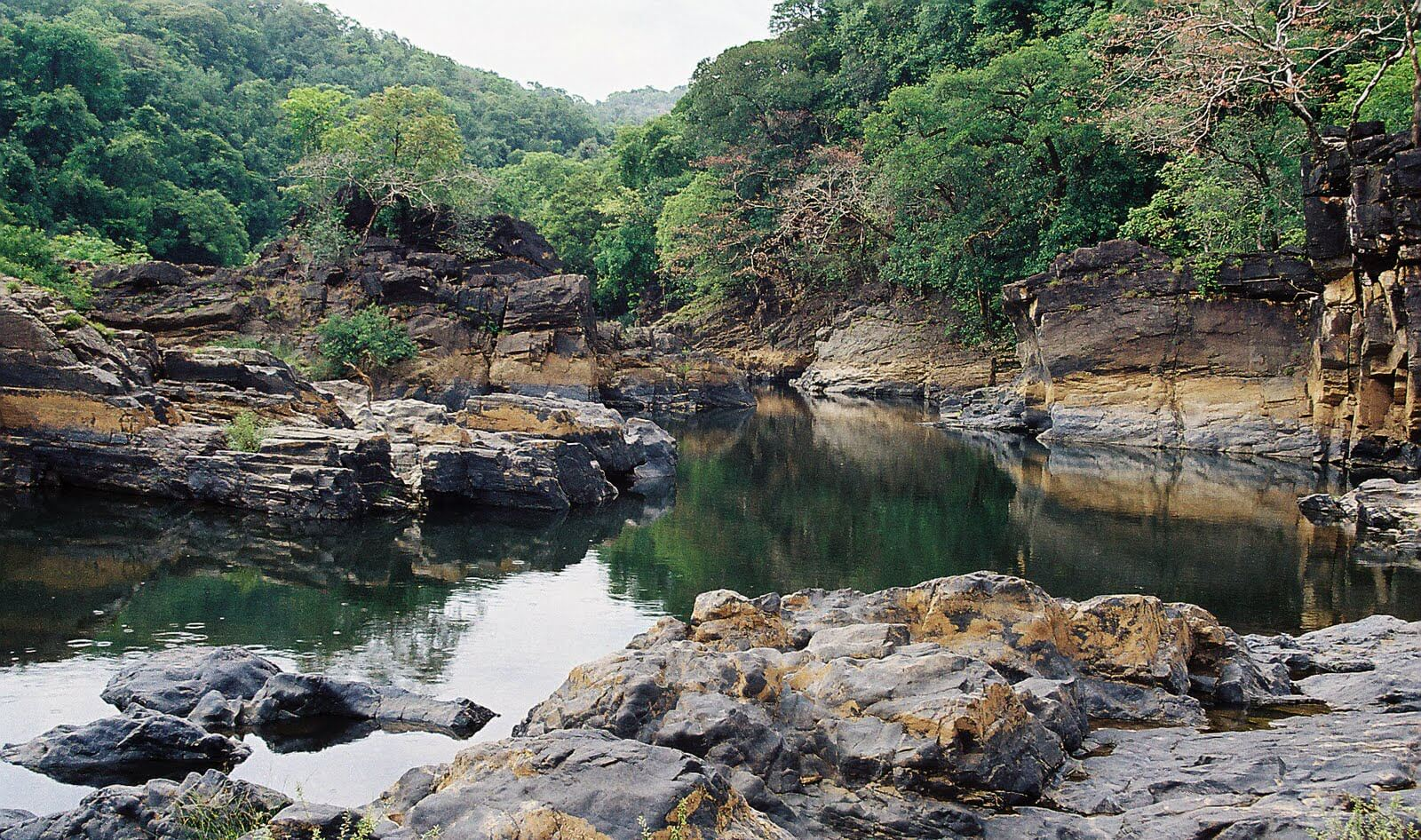 The Mhadei Wildlife Sanctuary is a protected area in north Goa that attracts animal lovers and adventurers alike!
At the Mhadei Wildlife Sanctuary, can enjoy a range of activities, including trekking, bird-watching, and hiking. Keep an eye out for sloths, mongooses, wild dogs, slender loris, deer, and panthers.
If you love to explore, add this wildlife sanctuary to your list of things to do in Goa.
9. Flock to The Salim Ali Bird Sanctuary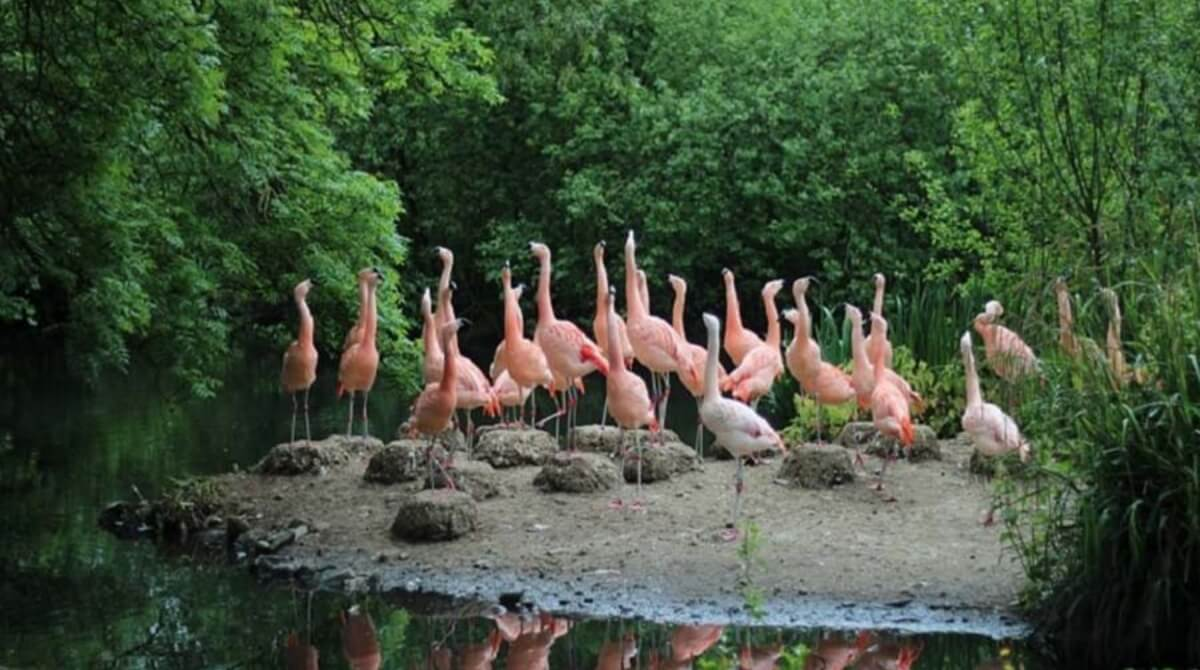 Located on the western tip of Chorão, the Salim Ali Bird Sanctuary is a haven for both common and rare birds. Meander through the thicket of magnificent mangrove trees and explore the smallest wildlife sanctuary in Goa.
Named after the eminent Indian ornithologist Dr. Salim Ali, the Salim Ali Bird Sanctuary is home to purple herons, white egrets, eagles, kingfishers, kites, mynahs, drongos, and curlews.
Bask in beautiful birdsong and head up the watchtower for an enchanting view of the entire sanctuary.
10. Bungee Jumping at Mayem Lake
There are many things to do in Goa that aren't just centered around relaxation. For all those thrill-seekers, take a leap of faith and bungee jump at Mayem Lake.
Mayem Lake is nestled on the woodland shores of north Goa, teeming with beautiful birdlife. Owned and run by ex-army officers and licensed professionals, your safety will be of the utmost importance.
Of the many fun things to do in Goa, add an adrenaline rush to your trip today!
11. Let's get local at the Anjuna Flea Market
Pick up some perfect souvenirs and get immersed in the local culture of the Anjuna Flea Market, right by Anjuna Beach.
The weekly market boasts an eclectic mix of handmade treasures, authentic clothing, street vendors, and souvenirs. Explore the beach village and indulge in the Goan delicacies at one of Goa's hippie markets.
Head there every Wednesday to witness the local splendor. When you're finished, head to Anjuna Beach for a relaxing evening in one of the beautiful beach shacks.
12. Bring on the Bazaar in North Goa
If you're looking for some Friday night lights paired with brilliant boutiques and spectacular stalls, the Goa Collective Bazaar is a hotspot for both locals and tourists.
Held every Friday from 4 pm until 1 am from the end of November until the end of April. It can be found in north Goa near Vagator Beach at the famous Goan Trance venue of Hilltop.
Stock up on incense or collect crystals as you roam between the vibrant stalls at this bazaar, one of the most popular things to do in Goa.
13. Saturday Night Market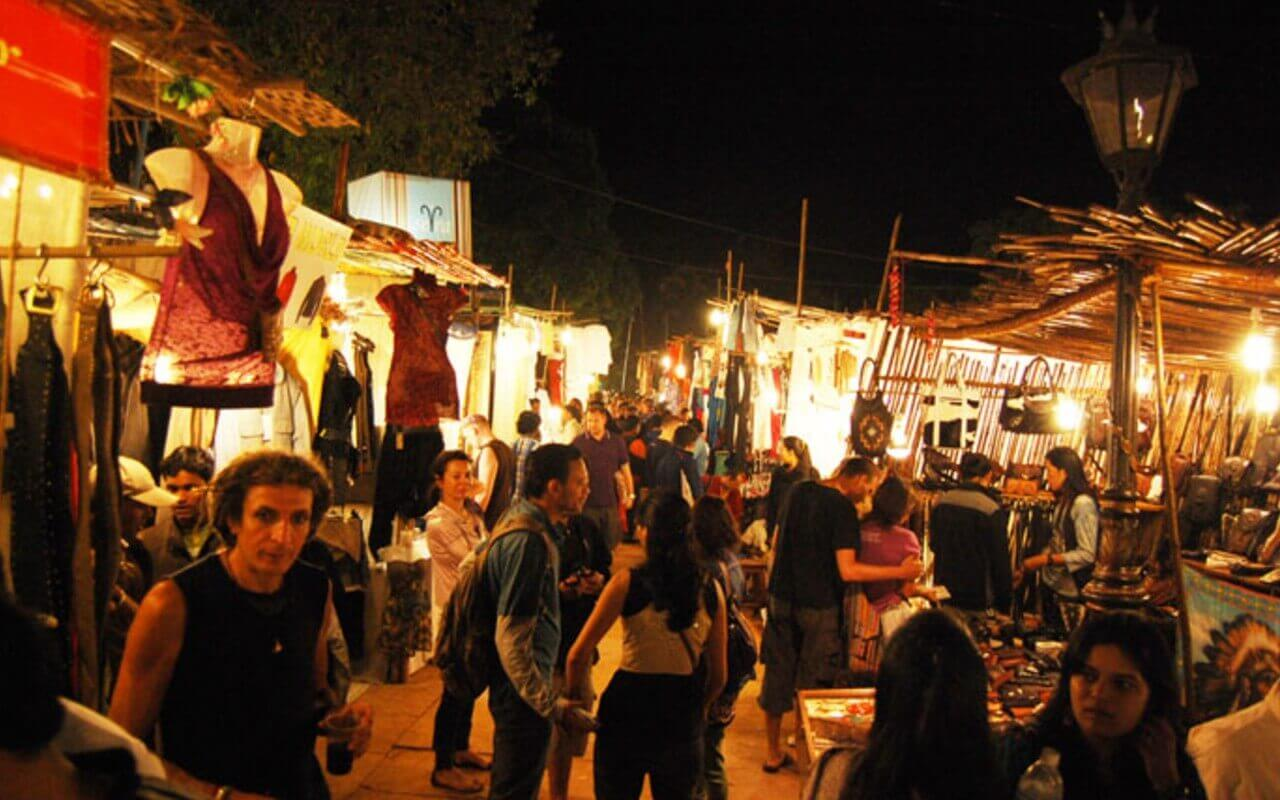 Busy on a Friday? The Saturday Night Bazaar, set against a mango orchard in Arpora has hundreds of stalls and authentic local cuisine guaranteed to excite your taste buds.
Beginning at 4 pm and continuing until the early hours, marvel at the music at one of Goa's most famous hippie markets.
If shopping and partying are a must on your list of things to do in Goa, spend your Saturday at the market!
14. Some like it hot at the Tropical Spice Plantation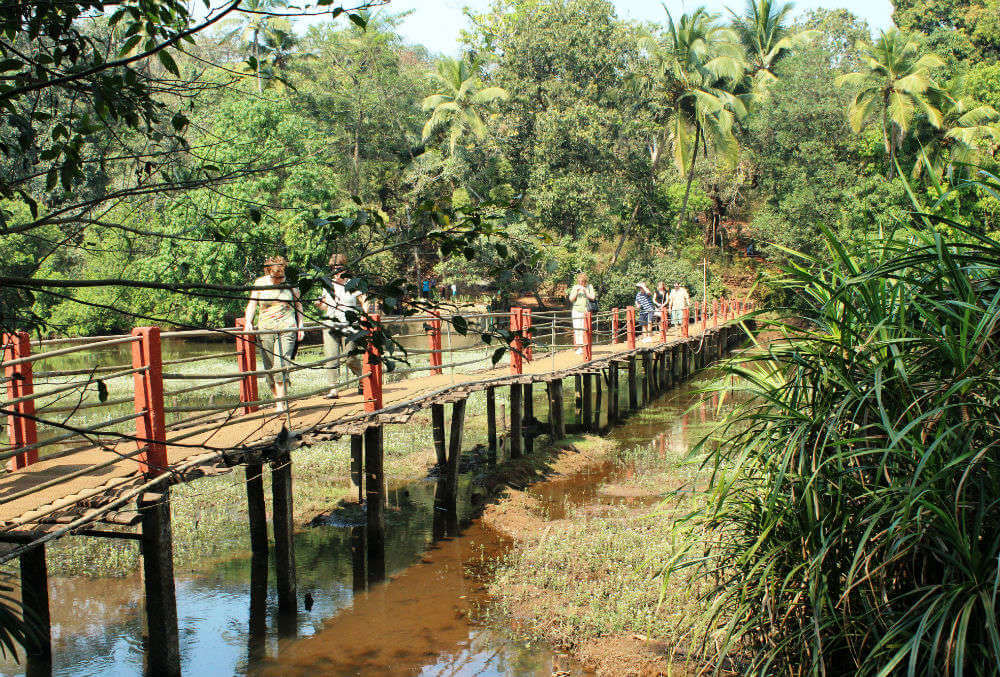 One of many things to do in Goa, especially if you're a food lover, is to visit one of the spectacularly popular spice plantations.
One that can't be missed is The Tropical Spice Plantation located in north Goa, six kilometers from Ponda, in Keri Village.
Cashews, betel nut, palm trees, papayas, exotic fruits, and sweet spices such as black pepper cardamom, nutmeg, cinnamon, cloves, and chilies. You can see it all in this spectacular spice plantation.
Finish your tour of the aromatic spice plantation with a stop at the bird sanctuary, then enjoy an al fresco lunch in the open-air restaurant.
You can also cool off with a boat tour in the lake surrounded by lush green fields.
15. Collect some culture at the Goa State Museum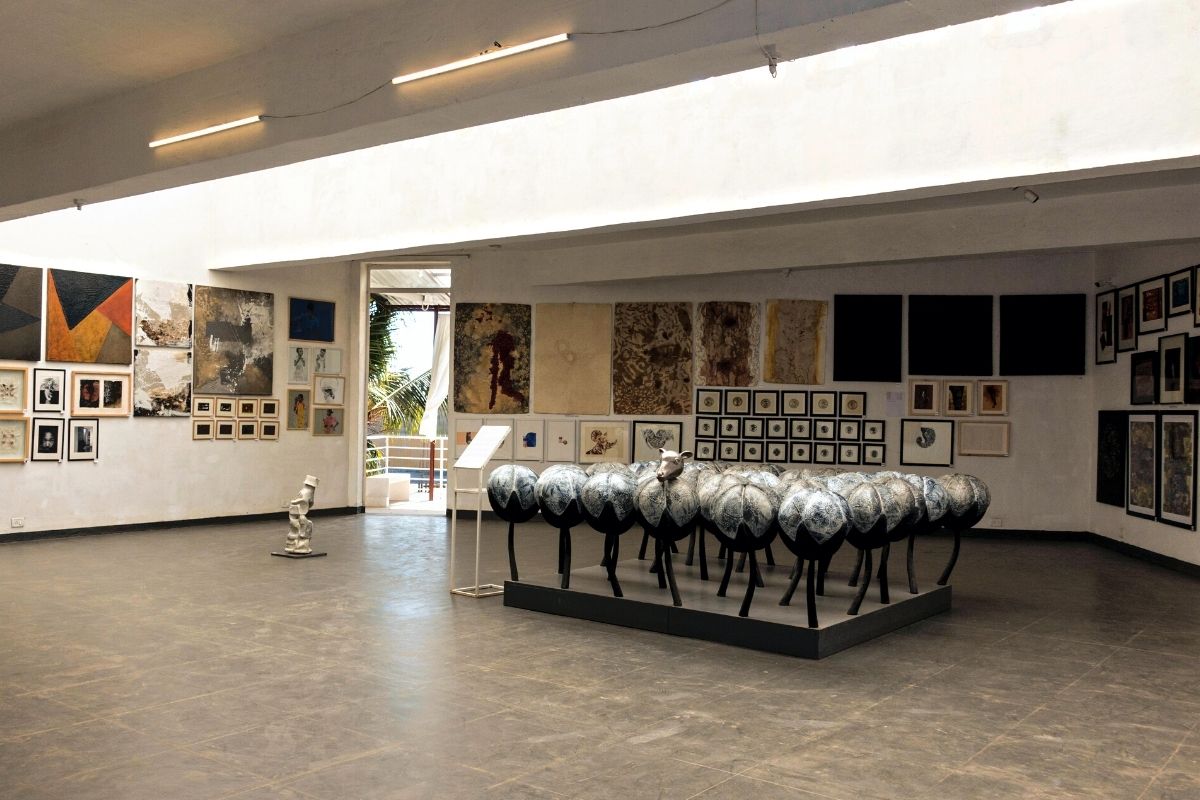 Do you want to add an educational experience to your list of things to do in Goa? Admire the rich cultural heritage of the region with a visit to the Goa State Museum.
Take a peep into the past and appraise the countless sculptures, exhibitions, and paintings. This magnificent museum contains departments including Ancient History and Archaeology, Art and Craft, and Geology.
With over 8,000 artifacts on display, it's the perfect way to spend a slow, relaxing afternoon.
16. Visit Goa's UNESCO World Heritage Site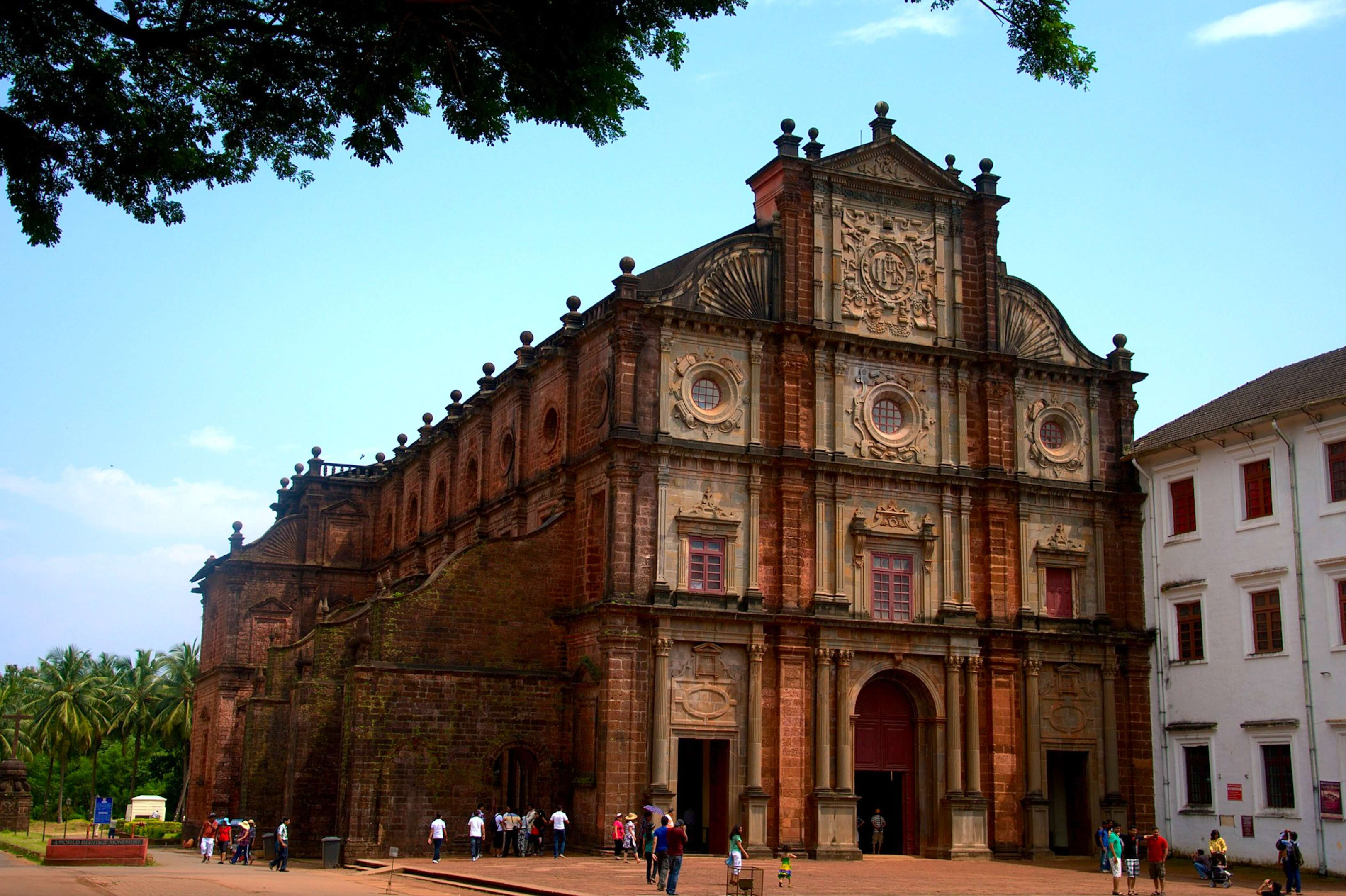 Located in Old Goa, also called Goa Velha, the former capital of the Portuguese Indies, you can see the Portuguese influence in the ornate architecture of its renowned churches.
The Basilica of Bom Jesus is a historic Roman Catholic basilica in Old Goa and is one of the most famous churches in India.
This stunning church invites tourists from all over the world to the resting place of St Francis Xavier
This dazzling basilica is a UNESCO World Heritage Site and the Baroque architectural style with its spectacular interior makes for an unmissable experience.
The Basilica of Bom Jesus is an important pilgrimage site for Catholics and a popular tourist destination for history buffs, architects, design fanatics, and those on a spiritual journey – there are plenty of things to do in Goa, no matter what your preference!
17. Church of Our Lady of Immaculate Conception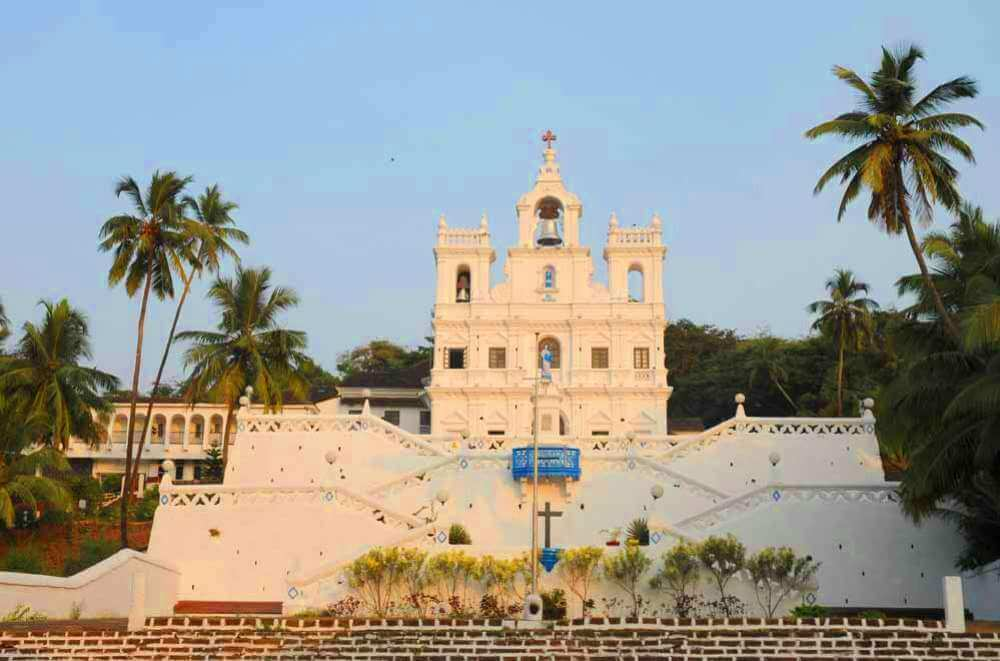 The Immaculate Conception Church is another beautiful example of the Portuguese and Catholic influence. Built in 1541, this imposing alabaster-white beauty sits atop a hillside, overlooking Panjim.
If you want to experience the profound peace of the Church of Our Lady of Immaculate Conception, mass runs every day in English, Konkani, and Portuguese.
Visitors to the church can expect to gape at its beautiful interiors, adorned with spectacular sculptures, intricate carvings, and a well-preserved nod to Catholic culture.
18. Old Churches of Goa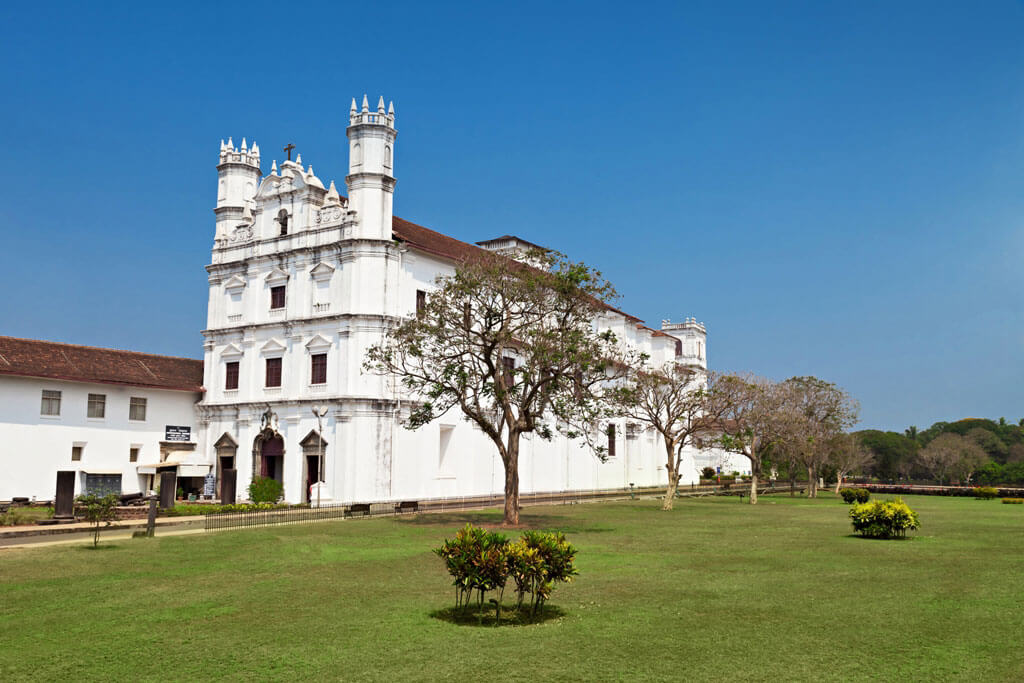 You can see the influences of Portuguese and Catholic culture throughout Goa and if you love history, architecture, or are on a spiritual or religious retreat, one of the many things to do in Goa is to tour the old churches.
In South Goa, you will be awestruck by the immense beauty of churches, so add a tour of Goa's old churches to your list of things to do in Goa. See the Three Kings Chapel, Our Lady of Merces and St John The Baptist.
Tour the Chapel of St Catherine, The Church of St Francis of Assisi, The Church of Our Lady of Rosary, Sé Catedral and the Church of St Augustine for a well-rounded experience!
19. Peep into the past with The Forts of Goa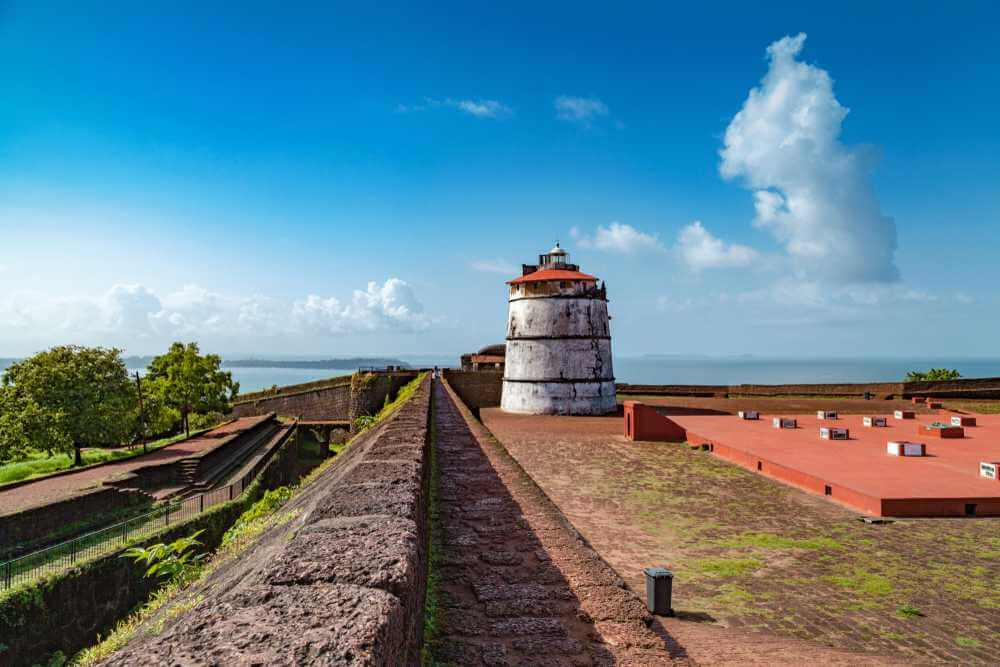 Goa, with its rich military and religious history, has several forts that have been built over the centuries. One of the most prized forts in north Goa is Fort Aguada, an immense structure overlooking the lapping waves of the Arabian sea.
In south Goa, you can find Mormugao Fort, adorning the mouth of River Zuari.
Peer into the past with one of the most popular things to do in Goa and explore multiple Portuguese forts, enjoying sweeping views of the lush landscape and the winding bends of the rivers.
These forts offer a glimpse into Goa's rich history and provide a unique look at the architectural styles and military strategies.
Visitors to the forts can explore ramparts, learn about their history and enjoy stunning views of the surrounding landscape.
20. Be on cloud nine with a Hot Air Balloon Ride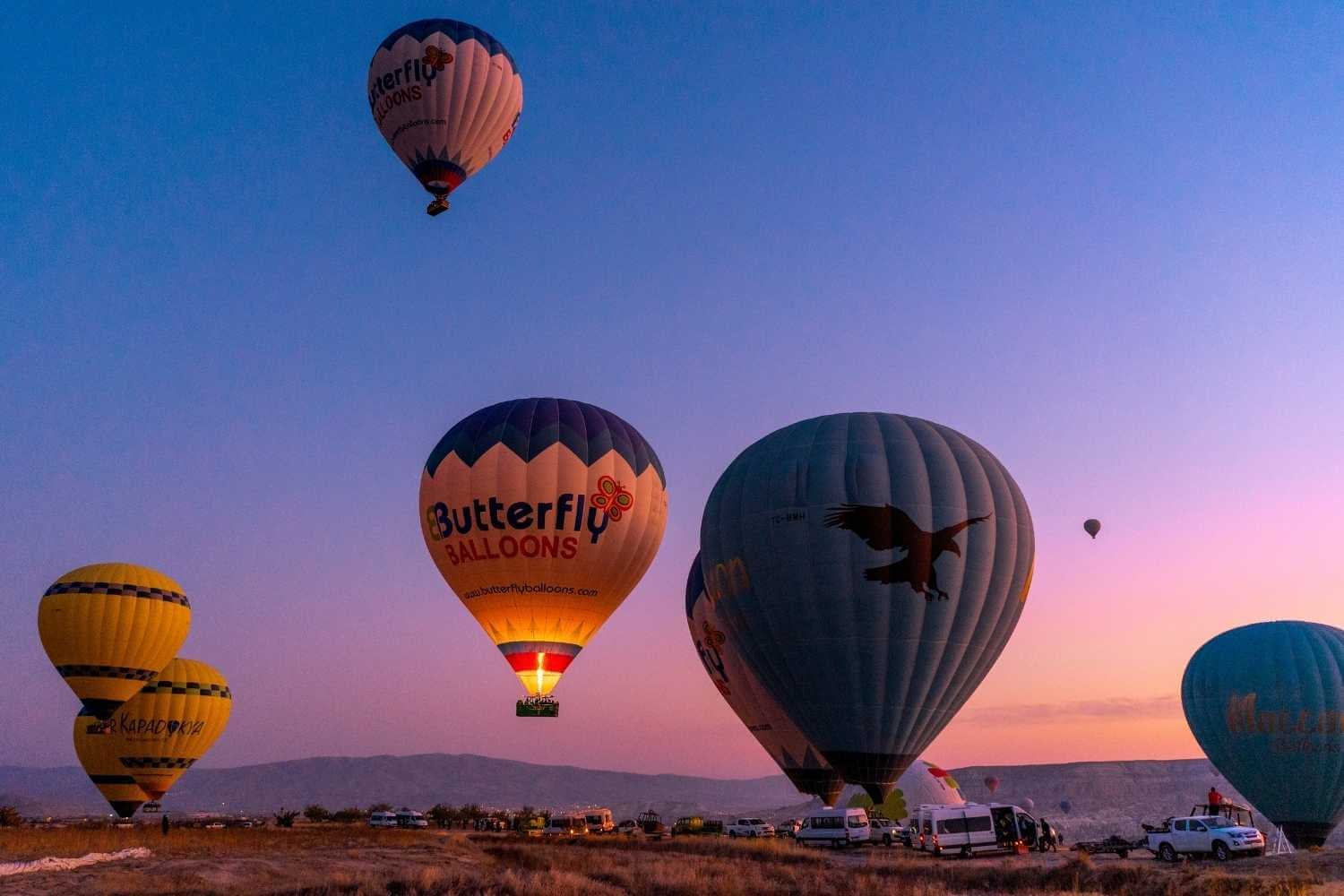 Sail across the sky and see Goa from the clouds in a dreamy hot air balloon. Head to Assolda Football Grounds in Chandor, south Goa, first thing in the morning and begin your hot air balloon ride as the sun rises.
If you want to visit Goa and leave the world behind whilst taking in the breathtaking views of Goa town and the countryside, start your soaring hot air balloon flight.
21. Boat to Bat Island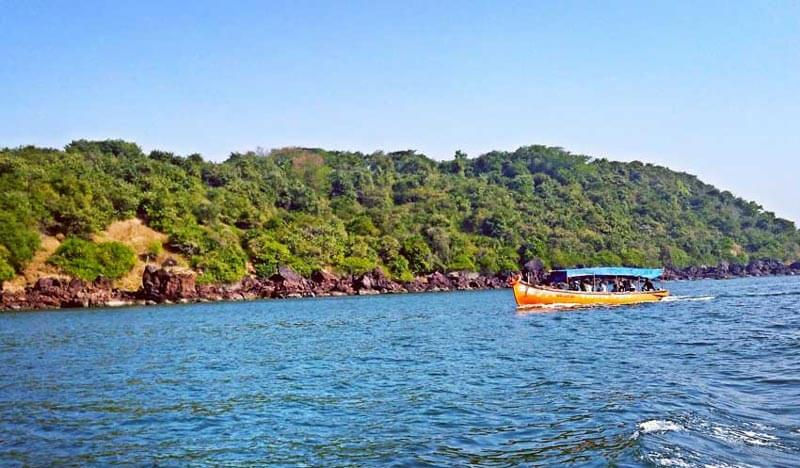 Pequeno Island, also known as Bat Island is a small island off the coast, not far from Grand Island. Despite the name, the island is famous for its snorkeling!
If you're not big into bats more are more into boats, head to Bat Island and take a boat tour around the island!
If you want a break from the things to do in Goa centered around the mainland, the island boasts a number of water sports and activities such as kite surfing, snorkeling, scuba diving, dolphin spotting, and more!
22. Stay up late with Goa's Best Beach Parties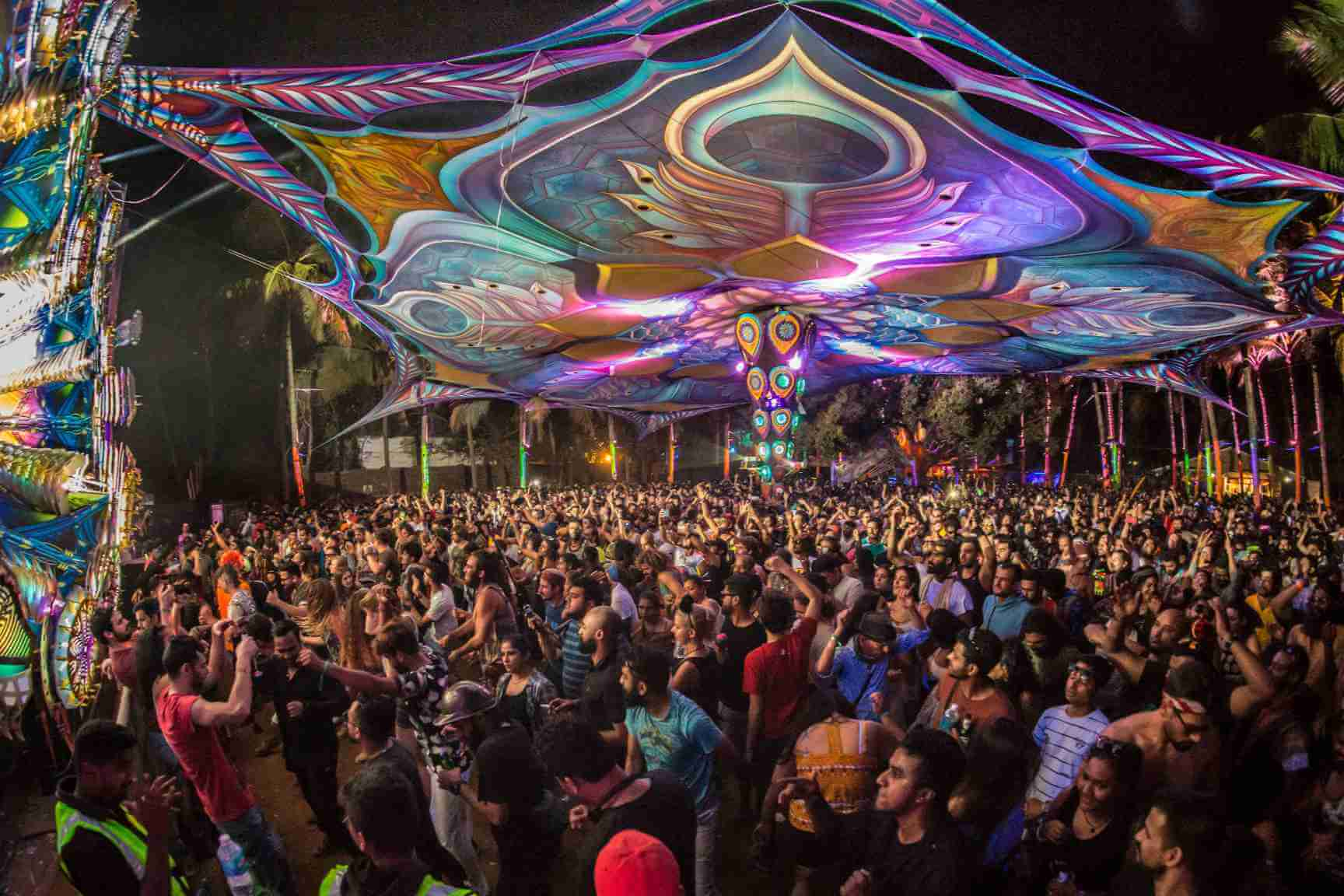 What Goa trip would be complete without an all-night beach party? One of the many fun things to do in Goa, if you're looking for a weekend activity and have already done the Saturday night market, is a party at a gorgeous beach.
Goa has so many options when it comes to beach hopping for parties. If you want a large dance floor and a night of cocktails, here are some of the most popular nightlife beaches: Anjuna Beach, Baga Beach, Calangute Beach, and Palolem Beach.
Candolim Beach, also known for shopping, hosts India's biggest electronic music dance festival, the Sunburn Festival. Vagator beach has some crowd-pleasing clubs too.
Get going, the night is young!
23. Kayak at Sal Backwaters, South Goa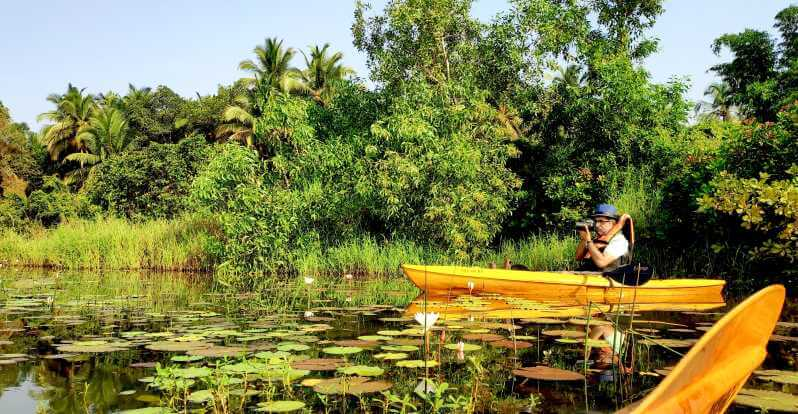 With all the water sports available, one of the many things to do in Goa is to grab a kayak and set sail!
Get carried off in a kayak at Sal Backwaters in south Goa. Coast past the lagoons and marshes, surrounded by delicate lily pads and lotus flowers for an afternoon of serenity.
As part of a tour group, professionals will guide you through the tranquil waters at this south goa hotspot.
24. Explore the Latin Quarter of Fontainhas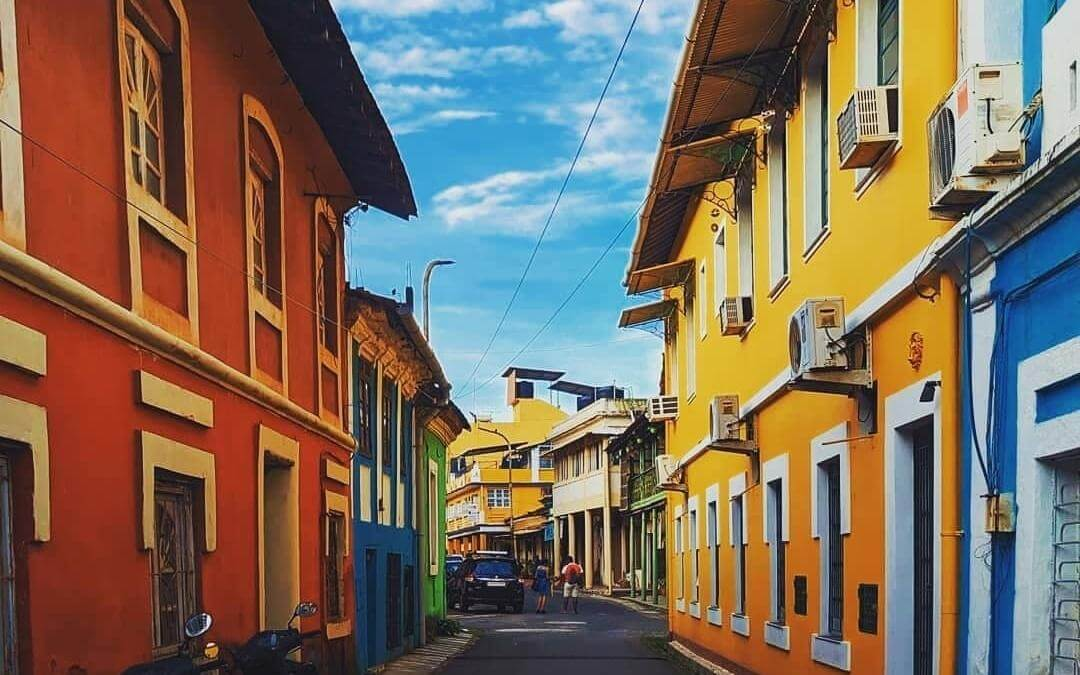 Feeling like you've been transported to Lisbon, the Latin Quarter of Fontainhas in north Goa is a colorful explosion of architecture and culture.
If one of your favorite things to do in Goa includes exploring quaint, charming little neighborhoods, then make this a stop on your list!
Stop for great food, stroll the cobblestoned streets, and marvel at the brightly colored houses for a relaxing afternoon of adventure. Have your cameras (or iPhones) ready for that picture-perfect moment.
25. Laze around the Arambol Beach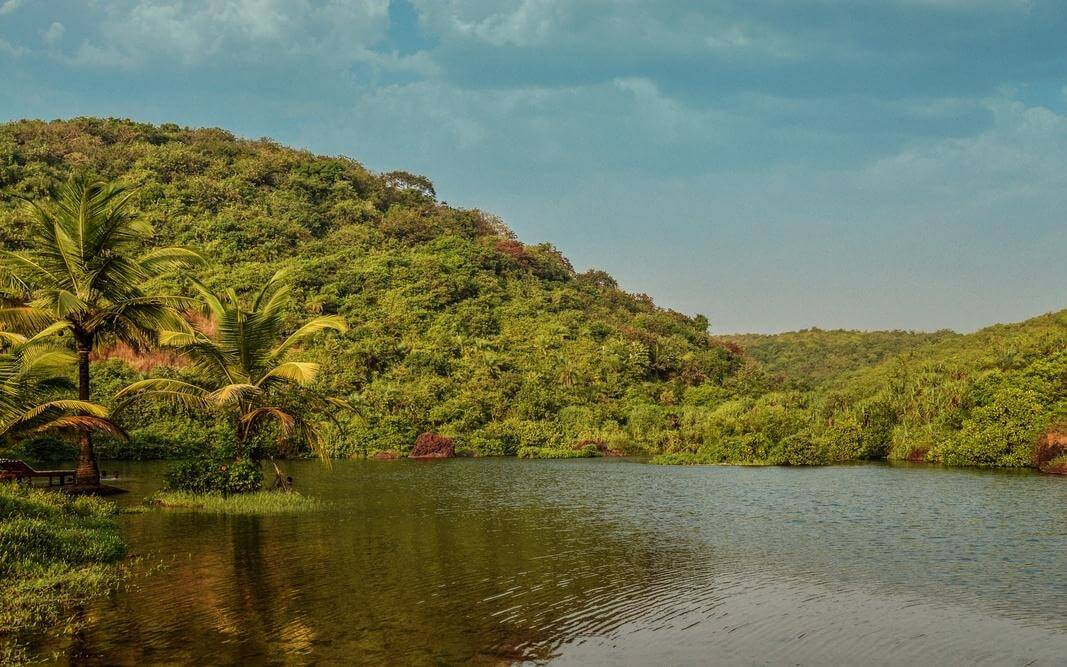 Exploring the renowned sandy beaches is one of the many things to do in Goa.
Abandon the beach parties of Baga Beach and Vagator Beach for a completely unique experience. Laze around the Sweet Water Lake in the beach village of Arambol.
On one side of Sweet Water Lake, you'll find the long, powdery white beach and on the other end, you'll find the tranquil blue lagoon, enveloped by a tropical forest.
Add this north Goa gem to your to-see list!
26. The majestic Mystic Woods by The Butterfly Conservatory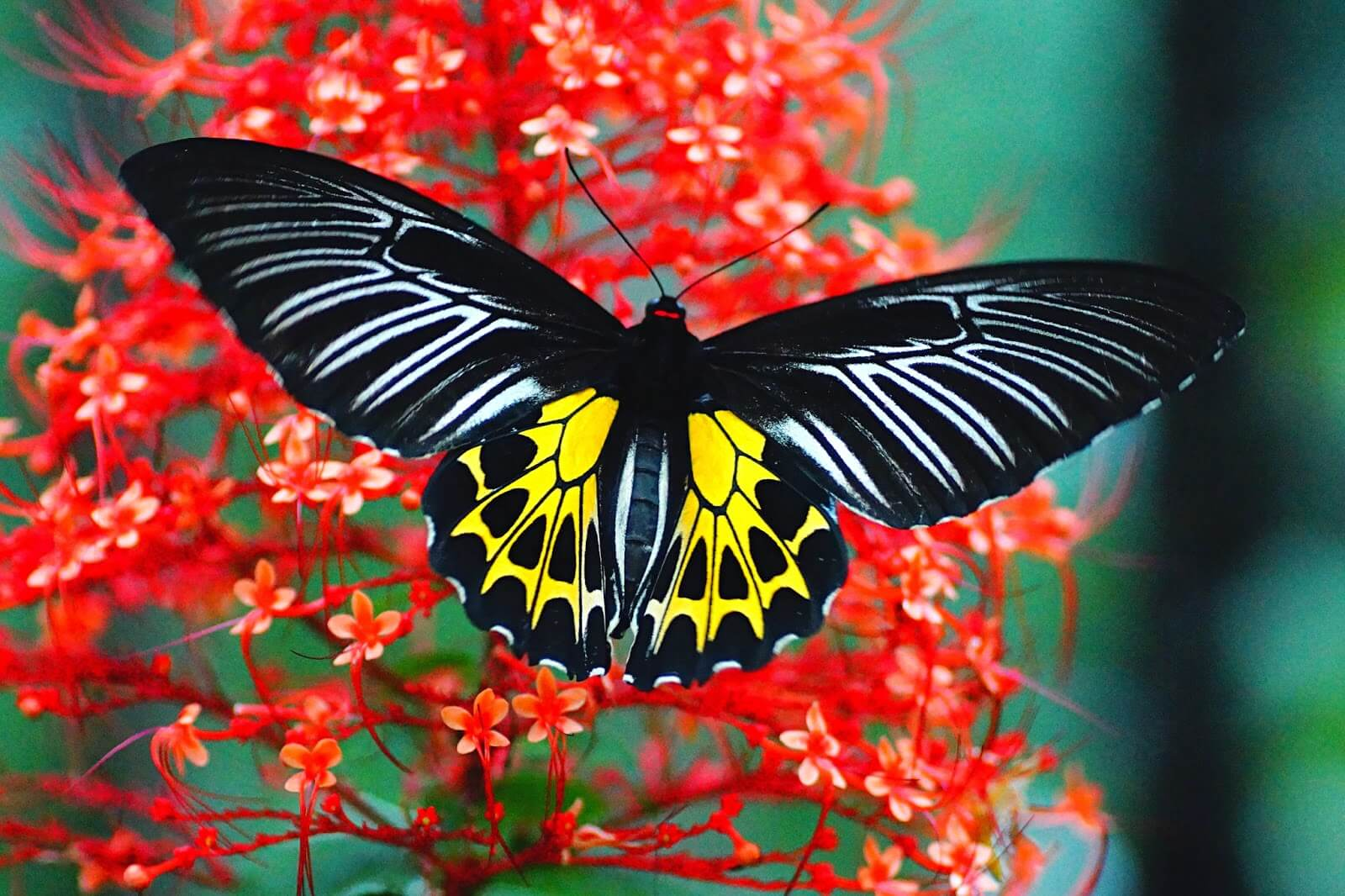 Spread your wings and experience this wildly stunning spot in north Goa. Float through the Mystic Woods as over 100 different butterfly species flutter around you.
Get back to nature as bees bumble past and take in sweet birdsong, as The Butterly Conservatory is home to all manner of things that fly!
A perfect reset found in the district of Ponda!
Visit Goa FAQs
What should we not miss in Goa?
There are so many things to do in Goa that you will never be stuck for a choice. If you're a water baby, scuba diving in the tranquil waters of the Arabian Sea is a must!
For those who are beach-dwellers, head to Candolim Beach or Arambol Beach for spectacular views and cool swims. Agonda Beach is also a tourist hotspot for its turtle population.
If you're a shopaholic, flee the malls for a flea market and head to the Goa Collective Bazaar. There is something for everyone and there are so many things to do in Goa!
If you're a nature lover, Goa offers so much. Head to a sanctuary or national park, grab a cute jungle hut, or take a dinner cruise down the Mandovi river. What better way to finish a day of exploration than a Mandovi River Cruise? Are you ready to set sail?
What is very famous in Goa?
Apart from being famous for its beaches and beach parties, Goa is well known for its plentiful spice plantations, endless water sports, and rich Portuguese/Indian history.
North Goa
In Goa Town, north Goa, the Basilica of Bom Jesus, the resting place of Francis Xavier is one of the most famous hotspots.
Located in Old Goa, it is visited often by both natives and tourists. The Goa Collective Bazaar, also located in north Goa, is a famous shopping district, and expect to excite your taste buds with the delicious food stalls open and ready for business!
No trip to North Goa would be complete without a trip to the aromatic Tropical Spice Plantation, of which the region is well known.
How many days are enough to spend in Goa?
With so many things to do in Goa, it's hard to say that any time is enough, but you can definitely make the most of your trip in a long weekend or 2-day block.
Planning is key – you don't want to be overwhelmed by all the adventurous things to do in Goa!
Carve out half a day to visit a spice plantation or jump on a boat down the Mandovi river for a couple of hours. Spend a morning doing water sports or take a quick dip in your hotel swimming pool.
Head to Baga Beach in the evening after a day of exploration to party all night, or if the Baga Beach nightlife isn't what you signed up for, take a dinner cruise.
Pick a few favorites from our list of things to do in Goa and plan, plan, plan!
Are three days sufficient in Goa?
Yes. Whilst there are endless things to do in Goa and as long as you plan, three days is definitely enough to see some spectacular sights.
Whether you're into water sports, visiting a spice plantation, or fleeing the beaches for the flea markets, you can get so much done if you prioritize!
If you're a beach bum, there are countless golden beaches to enjoy. If water sports aren't your favorite, bask in the sun and head back to your hotel to cool off in a swimming pool.
Summing up: Things to do in Goa, India
Goa is undoubtedly a jewel of India. Like their national animal, the Bengal tiger, it is vibrant, graceful, and strong. Stunning beaches, lush jungles, and rich culture are just some of the things that make Goa such a gem.
You will not be disappointed by the wealth of experiences, astonishing landscapes, delectable cuisine, and rich culture that Goa has to offer. Ride the waves with countless water sports, and get up close and personal with exotic creatures and flora.
So, if you're at the beginning of your Goa road, buckle in and prepare to create memories that will last a lifetime in one of India's most alluring states.
There are so many things to do in Goa, so get going!