24 Best Things to Do in Daytona, FL | 2023 (with Photos)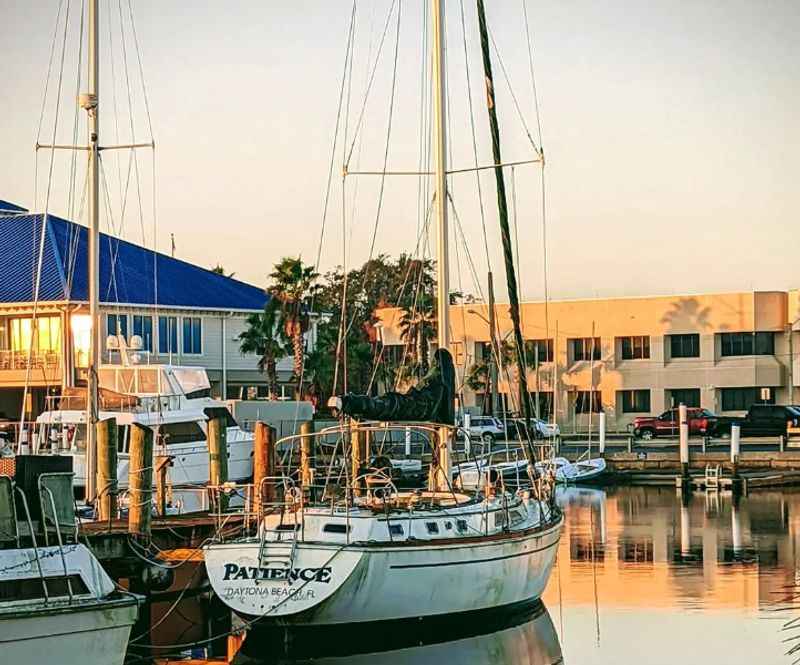 Daytona Beach, FL, or simply Daytona, is a resort in the heart of Florida's East Coast.
From its world-renowned beaches and motorsport race tracks to historic landmarks like the Ponce Inlet Lighthouse and paddle boarding adventures, there is no shortage of things to do in Daytona Beach, FL.
In this article, we will explore 23 fun things to do in Daytona. So put on your walking shoes, and get ready to discover all the exciting experiences Daytona Beach, FL has to offer.
Most Recommended Thing to Do
Daytona International Speedway
Hilton Daytona Beach Oceanfront Resort.
Our Top Choice Restaurant
Our Top Choice Bar for Nightlife
Chill out, surf, and party in Daytona Beach.
Sunny and warm, with temperatures around 80 degrees.
Car rentals, taxis, ride-sharing, buses, bicycles, walking, motorcycles, scooters.
Average Cost ($, $$, $$$)
My Top Recommendation
When it comes to Daytona Beach, let me share my personal favorite spots and activities that I guarantee will make your visit unforgettable. First and foremost, start your day with a breathtaking sunrise stroll along the iconic Daytona Beach Pier. The warm golden rays reflecting off the sparkling waves create a magical atmosphere that will sweep you off your feet. After soaking in the tranquil beauty of the shoreline, head over to Daytona International Speedway, a haven for motorsport enthusiasts. Satisfy your need for speed as you explore the history of racing, take a thrilling ride around the track, and even try your hand at professional racing simulations. The adrenaline rush and the lively atmosphere of the speedway will create memories that will last a lifetime.
In the afternoon, immerse yourself in the vibrant beach culture by indulging in a variety of watersports available. Whether you choose to ride the waves while surfing, paddleboarding along the tranquil intercoastal waterways, or embarking on a thrilling jet ski adventure, Daytona Beach has something to offer everyone. As the day progresses, don't miss out on exploring the bustling Daytona Beach Boardwalk and Pier. Treat yourself to delicious local cuisine, wander through souvenir shops, and be sure to try your hand at the classic arcade games that bring back a sense of nostalgia. Ending the day with a mesmerizing sunset view from the pier is a must, as the warm hues of orange and pink paint the sky, creating the perfect backdrop for a romantic evening stroll. Daytona Beach truly offers a perfect blend of relaxation and excitement, making it an ideal destination for any traveler seeking an unforgettable experience.
What You'll Need to Bring
Sunscreen
Swimsuit
Beach towel
Hat
Sunglasses
Comfortable walking shoes
Camera
Snacks and water
Money for parking and food
A sense of adventure
What Not to Miss
Daytona Beach:
Beachfront Boardwalk and Pier
Daytona International Speedway
Daytona Lagoon Waterpark
Ponce de Leon Inlet Lighthouse and Museum
Marine Science Center
What to Avoid
Crowded beach areas
Rush hour traffic
Overpriced tourist traps
Unsafe neighborhoods
Littered or poorly-maintained areas
Getting sunburned without sunscreen
Swimming in areas with strong currents or no lifeguards
Engaging with aggressive street vendors
Excessive drinking and partying
Leaving valuables unattended
1. Take a Stroll on the Daytona Beach Boardwalk and Main Street Pier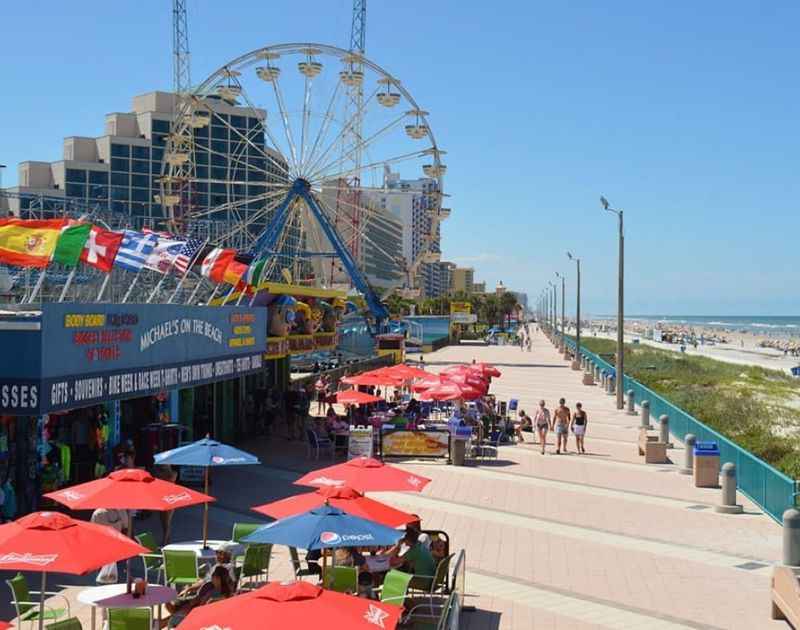 The Daytona Boardwalk stretches over a mile along the beach with a range of shops, restaurants, and attractions.
Visitors can enjoy classic boardwalk treats, and some family-friendly attractions and find a great spot for a sunrise selfie at the Main Street Pier.
The Daytona Beach Boardwalk also offers stunning views of the ocean and is a great spot to catch a beautiful sunrise or sunset and enjoy amusement park rides and a Ferris wheel.
A stroll along the Daytona Beach Boardwalk is one of the best things to do in Daytona Beach if you want to get an authentic feel for the town.
2. Sunbathe on Daytona Beach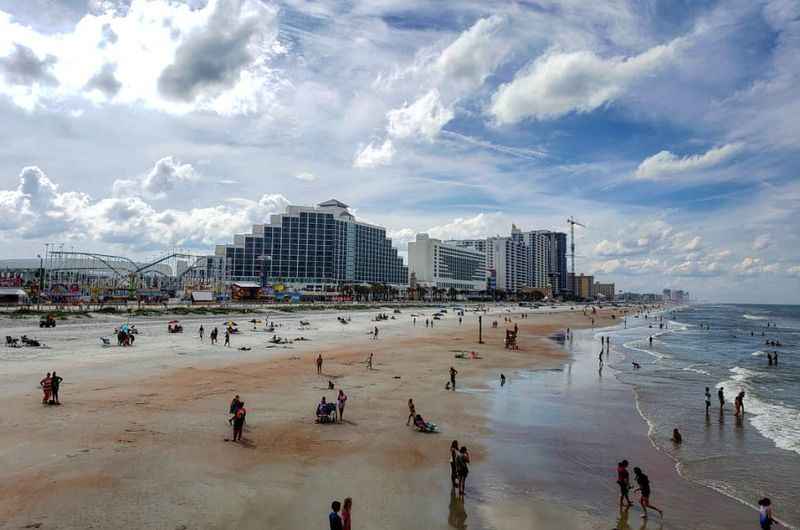 There is no doubt that it is the famous beach that has made Daytona Beach, Florida such a popular destination for tourists.
Daytona Beach is perfect for sunbathing, swimming, and water sports such as surfing and paddleboarding.
Daytona Beach is one of the few beaches in the world where driving is allowed, allowing visitors to experience the thrill of cruising along the shoreline in a car, truck, or motorcycle.
The Daytona International Speedway, home to the Daytona 500, is another major attraction on the famous beach, offering visitors the chance to take a tour of the track or attend a race.
3. Visit the Daytona International Speedway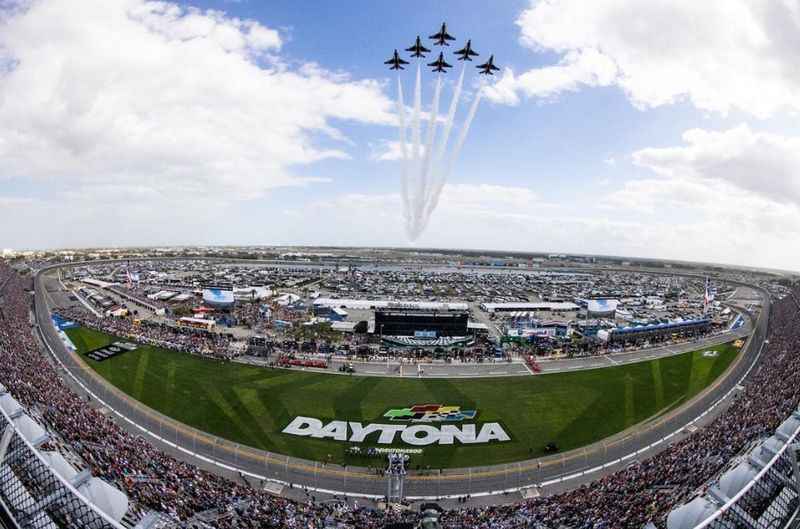 The Daytona International Speedway is considered one of the world's most iconic and historic racetracks.
The Speedway hosts a variety of high-profile racing events throughout the year, including the Daytona 500, one of the most prestigious NASCAR races.
Visitors can take a guided tour of the facilities, visit the Motorsports Hall of Fame of America, or drive a NASCAR-style stock car with the Richard Petty Driving Experience.
Add a trip to Daytona International Speedway to your list of fun things to do in Florida. There is also a variety of interactive displays, as well as a gift shop and a restaurant to enhance your Daytona Beach, Florida trip.
4. Visit the Ponce de Leon Inlet Lighthouse and Lighthouse Point Park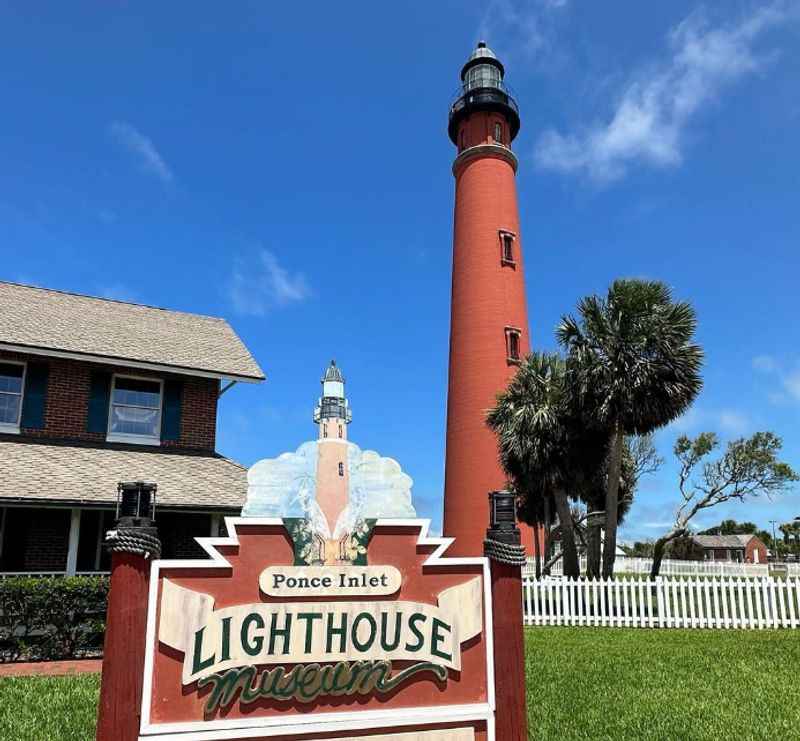 The Ponce de Leon Lighthouse and Lighthouse Point Park are popular attractions in Daytona Beach, Florida. The lighthouse is a National Historic Landmark and one of the tallest in the country.
Visitors can climb the 203 steps to the top of the Ponce de Leon Lighthouse to take in the views of the ocean and the Intracoastal Waterway.
The museum on the historic lighthouse grounds offers insight into the area's maritime heritage, while Lighthouse Point Park is a great place to relax and spot wildlife.
This is one of the best things to do in Daytona if you love the outdoors and US history.
5. Bike down a Nature Trail in Tomoka State Park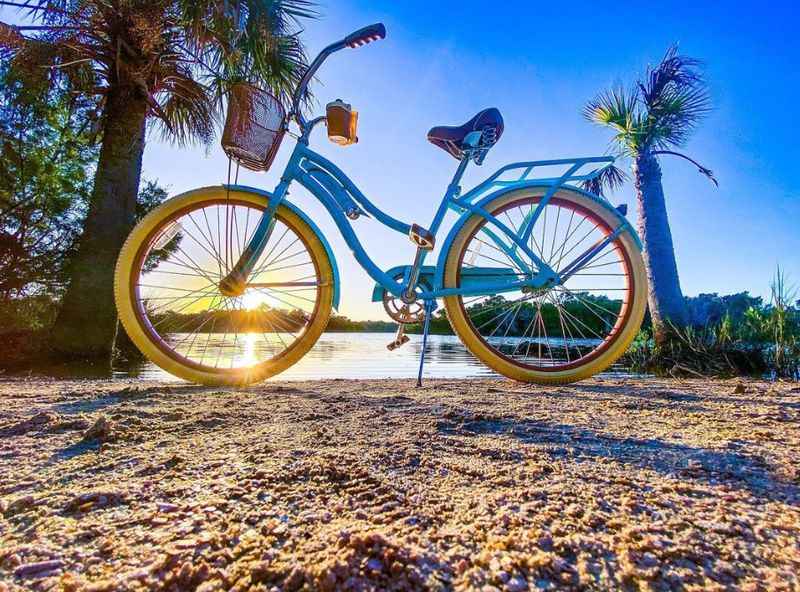 Tomoka State Park spans over 2,000 acres with a wide range of natural habitats, including wetlands, forests, and marshes.
Visitors can explore the park's nature trails, as well as enjoy fishing, kayaking, and canoeing on the Tomoka River.
The park is home to a diverse range of wildlife, including bald eagles, manatees, and alligators, making it a popular destination for nature lovers and photographers.
Tomoka State Park also has archaeological sites and exhibits that showcase the area's native and colonial past. This is one of the most popular things to do in Daytona Beach for nature lovers and history buffs alike.
6. See a Concert at the Daytona Beach Bandshell
The Daytona Beach Bandshell is an iconic outdoor music venue, which has been a fixture of the Daytona Beach community since the 1930s.
The venue hosts a variety of musical performances, including rock, country, blues, jazz, and classical music.
The outdoor setting provides a unique experience of Daytona Beach, Florida, with the ocean as the backdrop and the ocean breeze as a natural air conditioner.
The bandshell is also home to a weekly summer concert series, which features free concerts every Friday and Saturday night during the summer months. This is a great evening activity for couples visiting Daytona Beach.
7. Tour the Angell & Phelps Chocolate Factory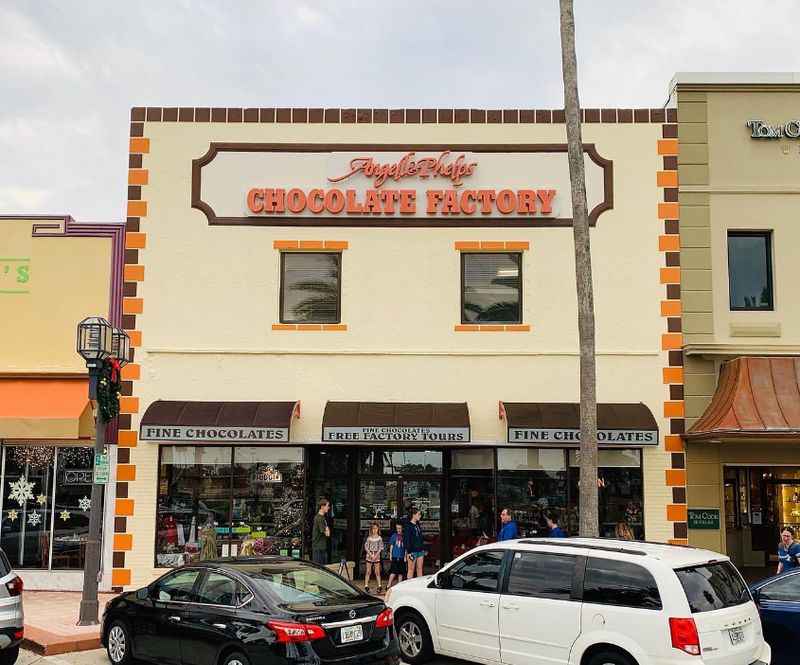 The Angell & Phelps Chocolate Factory on South Beach Street has been creating delicious chocolates for over 90 years.
Visitors can see how the chocolates are made, from the roasting of the cocoa beans to the packaging of the finished product.
The factory on Beach St ****also offers chocolates and sweets for purchase, including truffles, fudge, and chocolate-covered strawberries.
The Angell & Phelps Chocolate Factory also hosts chocolate-making classes and tasting events. This is one of the most unmissable things to do in Daytona Beach for chocolate lovers.
8. See Florida Art at Cici and Hyatt Brown Museum of Art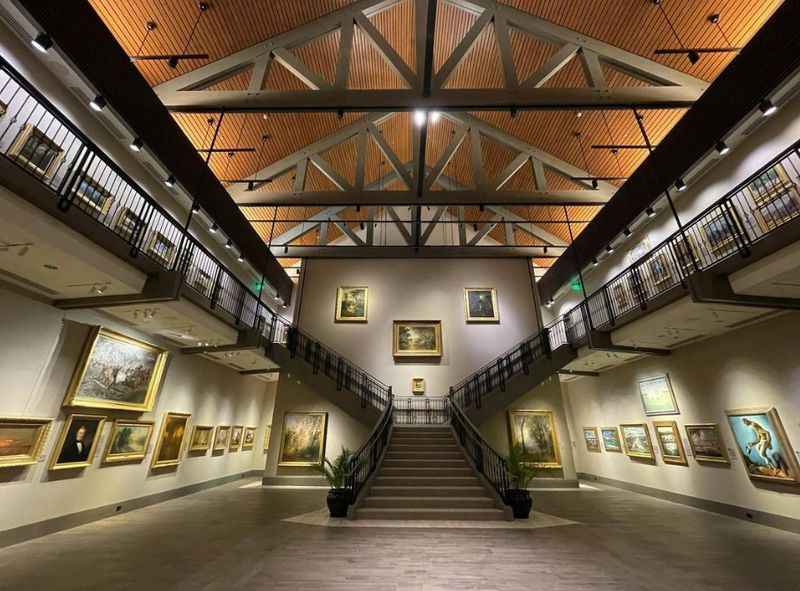 The Cici and Hyatt Brown Museum of Art is dedicated to the collection and preservation of Florida art. It has a collection of over 2,600 works of art, all created by Florida artists.
Visitors can explore the diverse range of styles and genres represented in the collection, from traditional landscapes to contemporary art.
One of the highlights of this Daytona Beach museum is the stunning three-story glass atrium, which provides a serene space to appreciate the art and architecture of the museum
9. Visit the Marine Science Center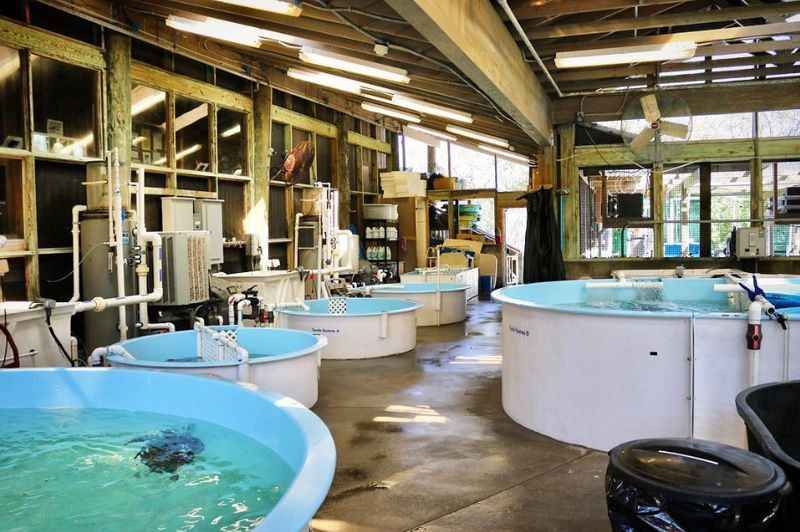 The Ponce Inlet Marine Science Center offers a variety of exhibits, including a touch tank, a 5,000-gallon artificial reef aquarium, a nature trail, and a bird observation tower.
The Marine Science Center has provided medical care to over 200 species and thousands of animals, many of which have been released back into their natural habitats.
The Marine Science Center offers visitors a unique opportunity to witness firsthand the vital work being done to protect sea turtles and preserve marine life in Daytona Beach, Florida.
10. Check out the Halifax Harbor Marina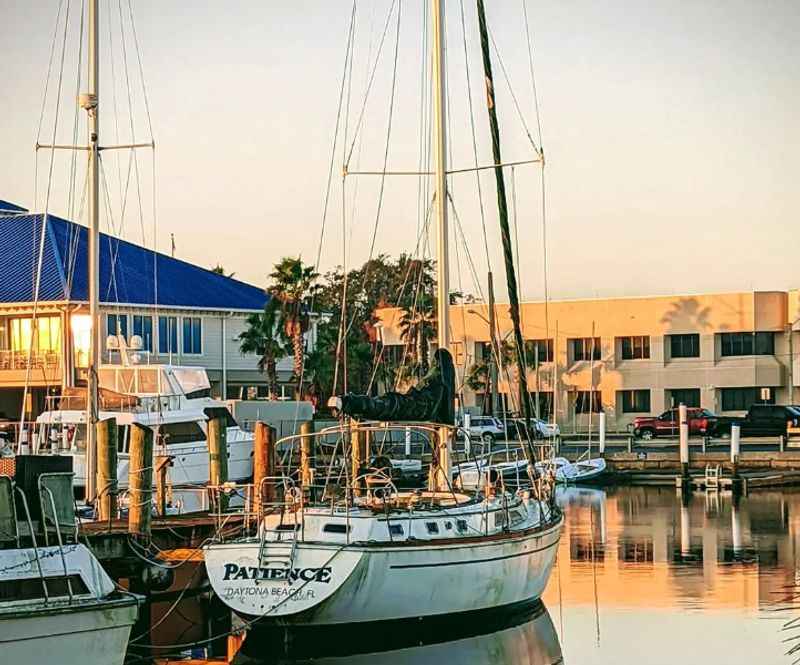 Halifax Harbor Marina, situated on the Halifax River, offers boaters easy access to the Intracoastal Waterway and the Atlantic Ocean.
With its prime location, state-of-the-art facilities, and exceptional services, it is a popular destination in Daytona Beach, FL for boaters and visitors alike.
Halifax Harbor Marina hosts a variety of events throughout the year, such as fishing tournaments, live music performances, and food festivals.
11. Visit the Halifax Historical Museum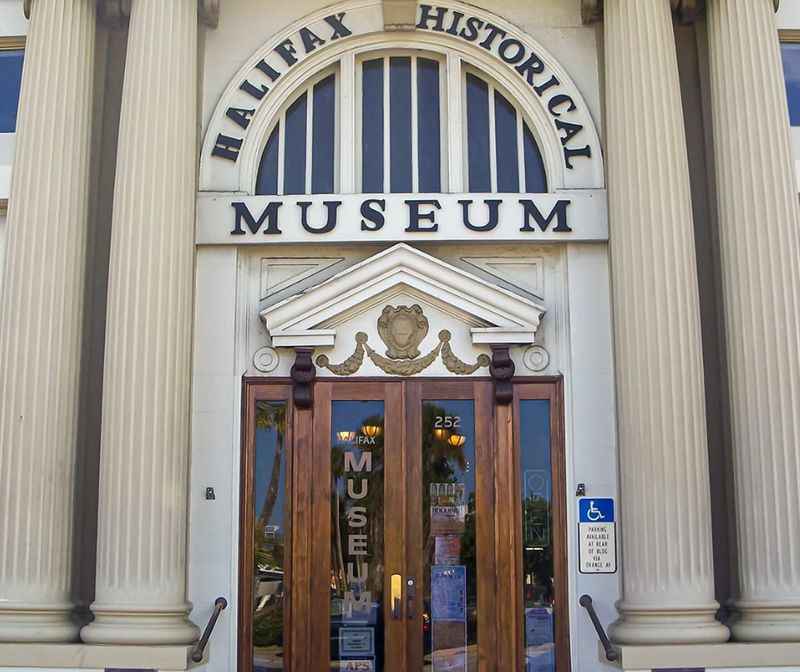 The Halifax Historical Museum is housed in a beautifully restored 1910 Merchants Bank building, which itself is a historical landmark.
The history museum features artifacts associated with vintage Americana, World War I and World War II, pioneer families, and the British and Spanish colonial periods.
Visitors to this Daytona Beach attraction can see artifacts telling the stories of the people and events that shaped the region into what it is today.
12. Take a Scenic Drive from Daytona Beach, Florida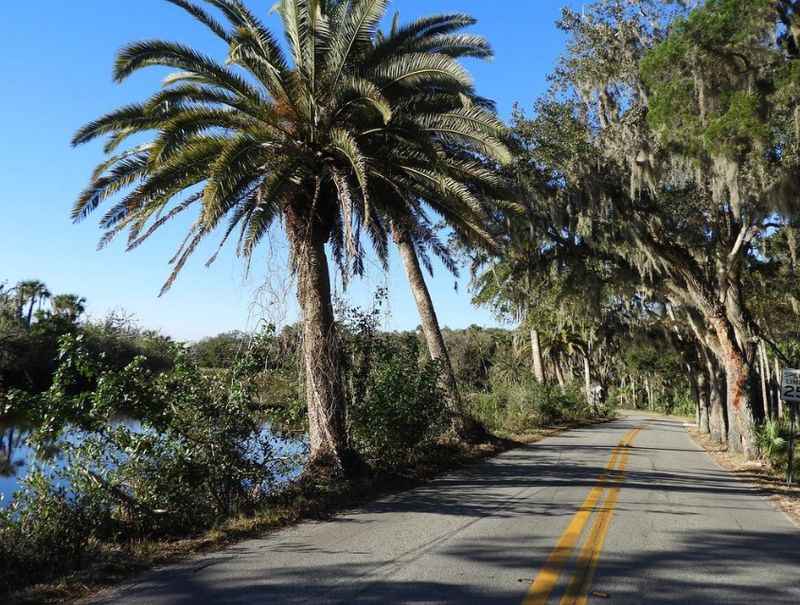 The Ormond Beach Scenic Loop is a breathtaking 30-mile drive that winds through some of Florida's most beautiful natural landscapes.
Located just north of Daytona Beach, the loop offers visitors a chance to immerse themselves in the area's unique wildlife, history, and culture.
Visitors can go on a scenic journey through a diverse range of ecosystems and spot manatees, dolphins, alligators, and countless species of birds.
13. Visit Mary McLeod Bethune House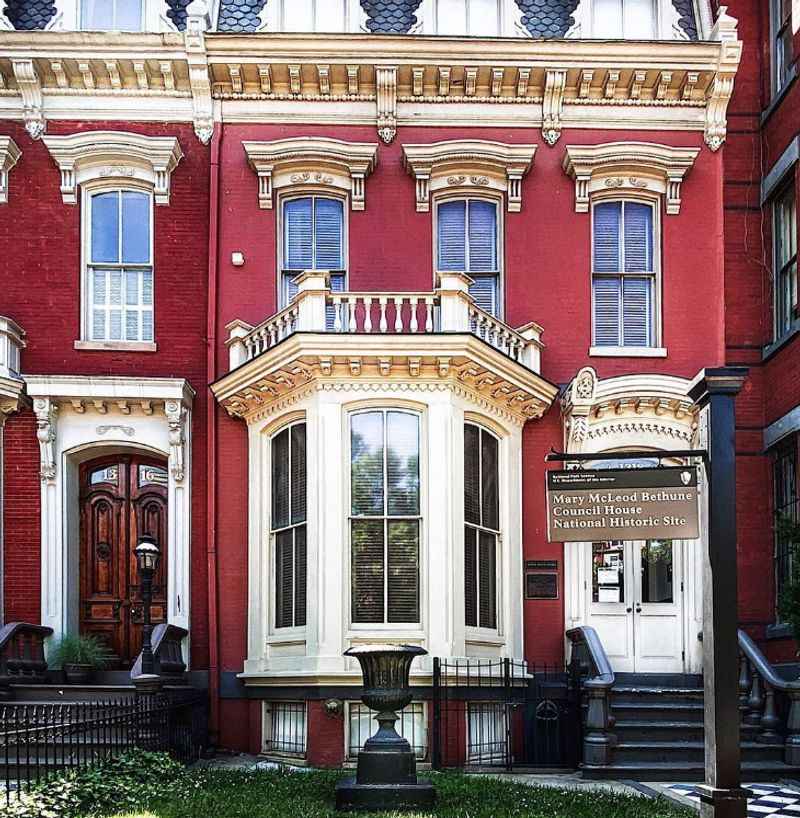 The Mary McLeod Bethune House is a National Historic Landmark located in Daytona Beach, Florida.
It was the home of Mary McLeod Bethune, a prominent African American educator and civil rights leader, from 1913 until her death in 1955.
Visitors can explore the restored interiors and learn about the impact of Bethune's work on education and social justice, including her founding of Bethune-Cookman University and her role as a close adviser to President Franklin D. Roosevelt.
14. Visit Lilian Place Heritage Center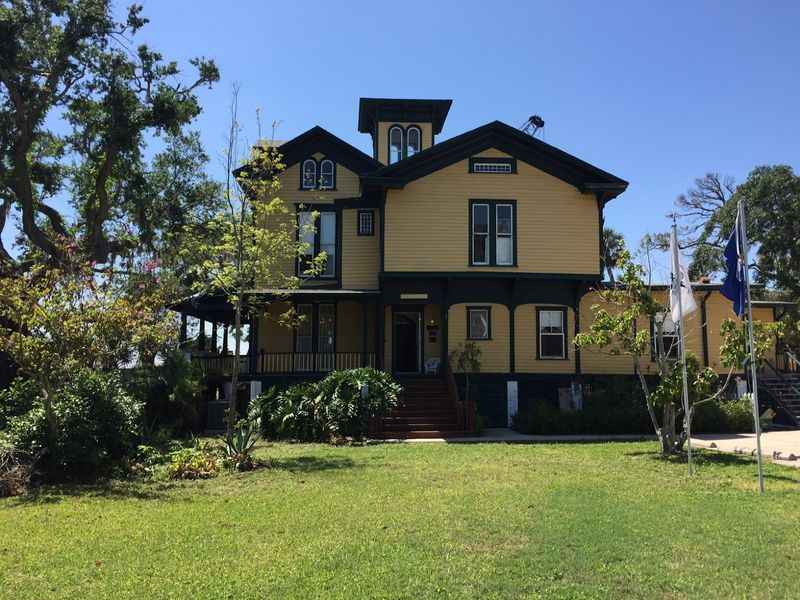 Lilian Place Heritage Center is a historic house built in 1884. It is a beautiful example of Florida architecture and is listed on the National Register of Historic Places.
The museum is named after Lillian Clasen, a local pioneer, and philanthropist who was instrumental in preserving the house and the surrounding neighborhood.
Visitors can explore Lilian Place Heritage Center and its grounds, which feature exhibits on local history, as well as artifacts and photographs from the Victorian era.
If you are looking for history and beauty in Daytona Beach, a visit to Lilian Place Heritage Center will tick both boxes. This is one of the best things to do in Daytona Beach with curious kids.
15. Visit Bulow Creek State Park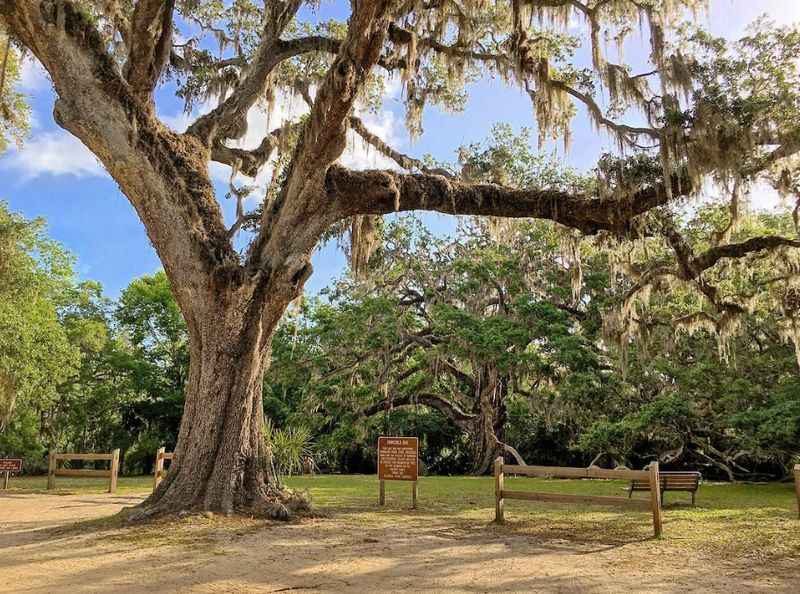 Bulow Creek State Park is a natural oasis located just a short drive from Daytona Beach, Florida.
The park spans over 5,600 acres and offers visitors a wide range of attractions to explore. Visitors can hike along the scenic trails and along the banks of Bulow Creek.
The park also features historic sugar mill ruins, which offer a fascinating glimpse into Florida's past.
Visitors can explore the ruins and learn about the history of the area, including the early Florida sugar industry. This is a must-see location while you are in Daytona Beach.
16. Visit the Jackie Robinson Ballpark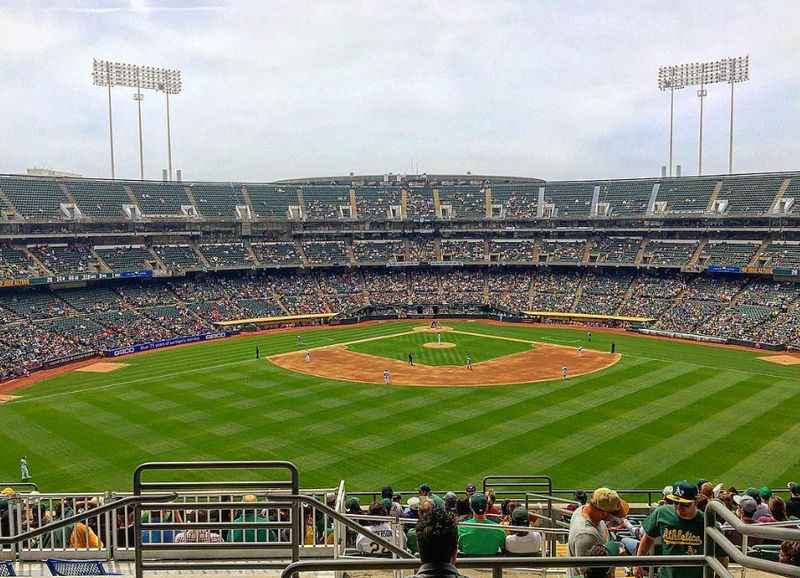 Jackie Robinson Ball Park is a historic baseball stadium in Daytona Beach, FL, named after Jackie Robinson, the first African-American to play in a professional baseball game in the US.
Originally known as the City Island Ballpark, it was renamed the Jackie Robinson Ballpark to commemorate the historic game that took place on March 17, 1946. This is a crucial piece of Florida history.
The park has been in operation since 1914 and has hosted numerous professional, college, and amateur baseball games.
Today, the historic site is home to the Daytona Tortugas minor league baseball team. Visitors can take a tour of the ballpark and learn about its rich history, including Robinson's groundbreaking debut and other notable events that have taken place at the park.
Sports lovers will also love catching a ball game at the Jackie Robinson Ballpark in Daytona Beach, Florida.
17. See the Sunset at Sunglow Fishing Pier
The Sunglow Fishing Pier extends 1,200 feet into the ocean and offers breathtaking views of the beach and surrounding area.
While Daytona Beach Pier is situated in the heart of Daytona Beach, the Sunglow Fishing Pier is located a few miles south and is primarily known as a fishing spot.
The Sunglow Fishing Pier is also worth a visit for the stunning views, its great seafood restaurant, and the chance to spot dolphins, sea turtles, and other marine life at Daytona Beach, FL.
18. Cool off at Sun Splash Park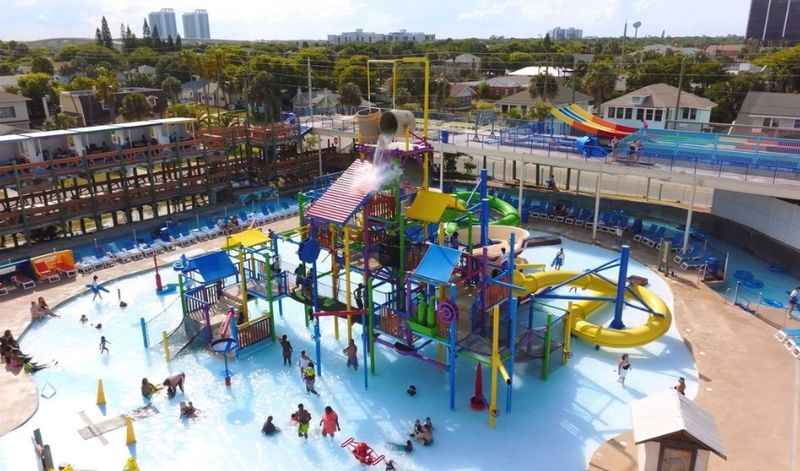 Sitting at the intersection of South Atlantic Avenue and Revilo Boulevard, within walking distance from Daytona Beach, Sun Splash Park offers visitors a wide range of activities and attractions.
The Daytona Beach water park has a large splash pad area, which is perfect for kids to cool off on hot days.
Sun Splash Park is also conveniently located near a variety of restaurants and shops, making it a great place to spend the day while exploring Daytona Beach.
Hot tip: Fans of water park fun can check out the famous Daytona Lagoon too.
The Daytona Lagoon is a massive (and more crowded) waterpark with a lazy river and a giant wave pool.
19. Stay at Bahama House (Daytona Beach Shores)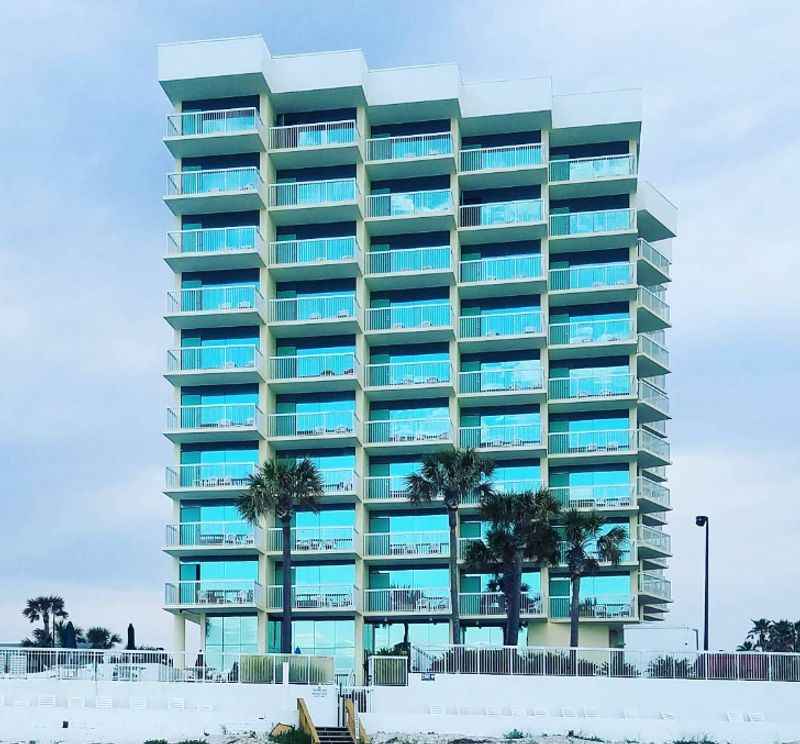 Bahama House is a beautiful beachfront hotel with stunning views of the Atlantic Ocean and is just steps away from the beach, making it a perfect destination for beach lovers.
Daytona Beach Shores is a charming oceanfront community south of Daytona Beach and north of Ponce Inlet. The Bahama House Hotel features an oceanfront pool and sundeck.
Bahama House also offers a variety of packages and specials throughout the year, making it a great Daytona Beach option for any type of traveler.
20. Take Your Family to Congo River Golf
Congo River Golf is an exciting destination for families, couples, and groups of friends in Daytona Beach, Florida.
This whimsical miniature golf course is full of intricate decorations, featuring rocky summits, mysterious caves, and tropical rainforests that create a fun and adventurous atmosphere.
The course has been a beloved Daytona Beach attraction for decades, bringing joy and excitement to families and friends from near and far.
Congo River Golf also offers other attractions such as gemstone mining, live alligator feedings, and a challenging ropes course.
21. Explore the Museum of Arts Sciences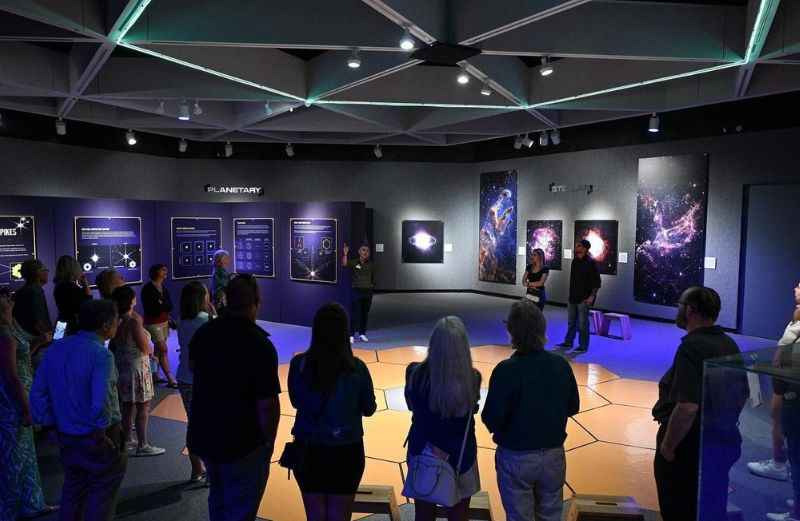 The Museum of Arts Sciences is a must when visiting Daytona Beach, Florida.
The Daytona Beach museum is home to an impressive collection of over 2,600 oil and watercolor paintings and the largest display of Cuban art outside of Cuba.
The artworks displayed at the Museum of Arts Sciences are themed around various topics such as Florida Weather, Volusia County, and the local fishing scene, providing a unique insight into Florida's history and cultural heritage.
If you are looking for a new experience, the Museum of Arts and Sciences is sure to impress with its stunning collection and engaging exhibits.
22. Buy Souvenirs at the Riverfront Shops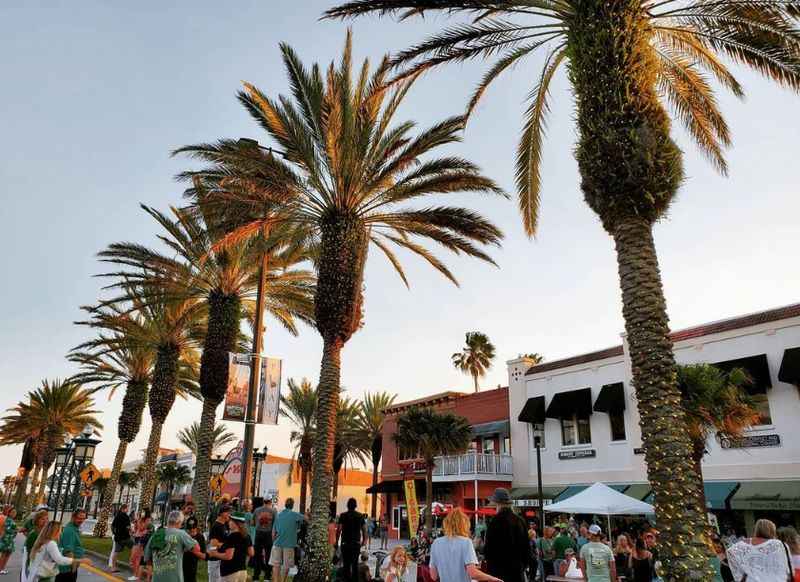 Located on Bay Street, Riverfront Shops Daytona offers a variety of shopping and dining options. Situated right on the waterfront, it also offers stunning views of the Halifax River.
Some of the most popular stores include Angell & Phelps Chocolate Factory, The Pink Pineapple Boutique, and Zeno's Boardwalk Sweet Shop.
Hot tip: If you want to shop till you drop, consider visiting the area around Beach Street and the Tanger Outlets Daytona Beach as well.
The Tanger Outlets Daytona Beach features countless designer and affordable options.
23. Visit the Daytona Flea & Farmers Market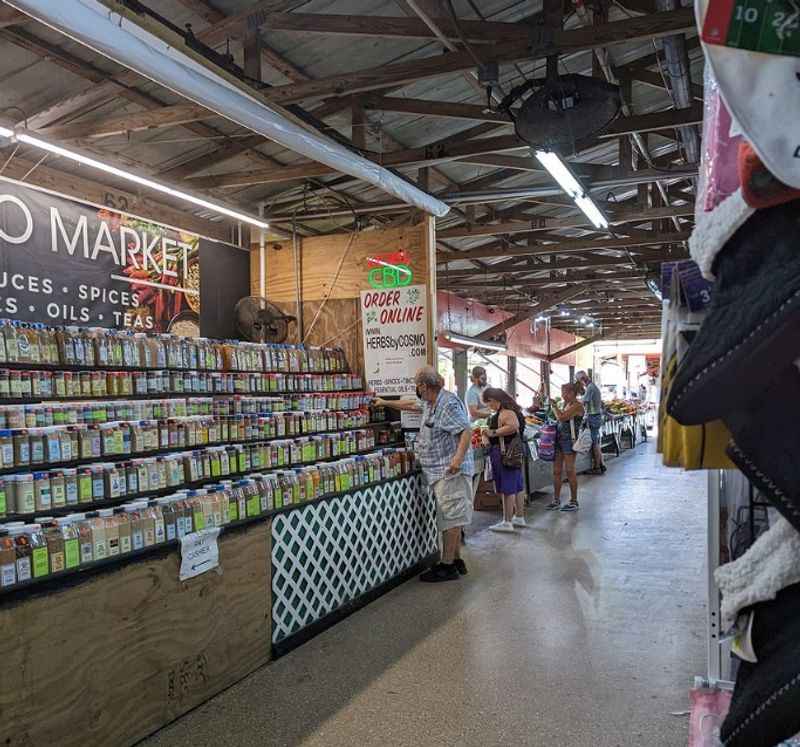 Spanning an impressive expanse three times the size of a football field, Daytona Flea & Farmers Market offers a diverse and vibrant shopping experience.
With over 600 stalls, visitors can explore a wide range of treasures, from vintage clothing and antiques to artwork, jewelry, and delectable snacks.
Whether you're a collector searching for unique finds or simply enjoy browsing through a variety of goods, this market has something for everyone.
Don't miss out on a bargain while you are in Daytona Beach, Florida.
24. Tour the Dunlawton Sugar Mill Gardens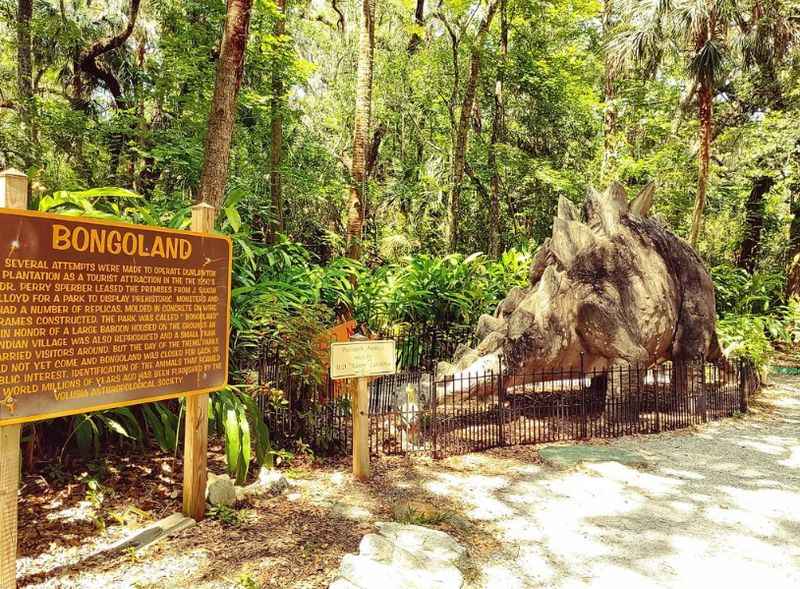 The Dunlawton Sugar Mill Gardens is a historic park located in Port Orange, just a short drive from Daytona Beach, Florida.
The park features the ruins of an old sugar mill, which dates back to the 1800s, as well as beautiful gardens and walking paths.
Around every corner of the gardens, you can see dinosaur statues, which are remnants of an amusement park from the 1950s. This is a hidden gem of the Daytona Beach area.
FAQs Related to the Best Things to Do in Daytona Beach, FL
Let's also look at some frequently asked questions related to Daytona Beach things to see and do.
Is Daytona Beach, FL worth visiting?
Yes, Daytona Beach, Florida is worth visiting. The city has a famous beach and a wide range of attractions.
Visitors can enjoy Daytona Beach, Blue Spring State Park, Ormond Beach, the Daytona Beach Boardwalk, Ponce Inlet Lighthouse**,** Smyrna Dunes Park, Daytona Lagoon Waterpark, Ormond Memorial Art Museum, and the Angell & Phelps Chocolate Factory.
You can also explore the Riverfront Shops in the city's historic Beach Street district and visit Lilian Place Heritage Center or ****Cici and Hyatt Brown Museum of Art.
The city also hosts popular events such as the Daytona 500 and Bike Week.
Why is Daytona Beach, FL so cheap?
Daytona Beach is considered an affordable destination because of its low cost of living and lower housing costs compared to other Florida cities.
Daytona Beach's tourism industry is a significant contributor to its economy, which helps to keep prices competitive.
The city is less developed than other Florida destinations like Miami or Orlando, which may contribute to its lower overall cost of living.
Does Daytona Beach, FL have a zoo?
No, Daytona Beach does not have a zoo within its city limits. However, there are a few nearby options.
The Central Florida Zoo and Botanical Gardens is located in Sanford, which is about a 45-minute drive from Daytona Beach.
The Jacksonville Zoo and Gardens is also located within driving distance, about 1.5 hours away from Daytona Beach.
Does Daytona Beach, FL have nightlife?
Yes, Daytona Beach, Florida does have a nightlife scene, especially in the downtown area.
The Daytona Beach Bandshell, Main Street Station, and The Roof are just a few of the top spots for live music in the area.
Try some karaoke at Ocean Deck Restaurant and Bar, catch a live concert at Main Street Station, or enjoy Razzle's Nightclub, 509 Lounge, Ocean Deck Restaurant, and The Bank & Blues Club.
Summing Up: 24 Best Things to Do in Daytona, FL
Whether you're a local or a visitor, Daytona is sure to impress you with an array of fun things to see and do.
From fun adventures at the Daytona Lagoon to stunning views from the Ferris wheel and the Ponce Inlet Lighthouse, Daytona Beach, FL, is the perfect destination for your next vacation.
So start planning your trip and experience all the awesome Daytona Beach attractions on our list. You haven't experienced the Sunny State until you've spent a couple of days in Daytona Beach, Florida.