36 Best Things to Do in Dallas at Night & Early Evening | 2023 (with Photos)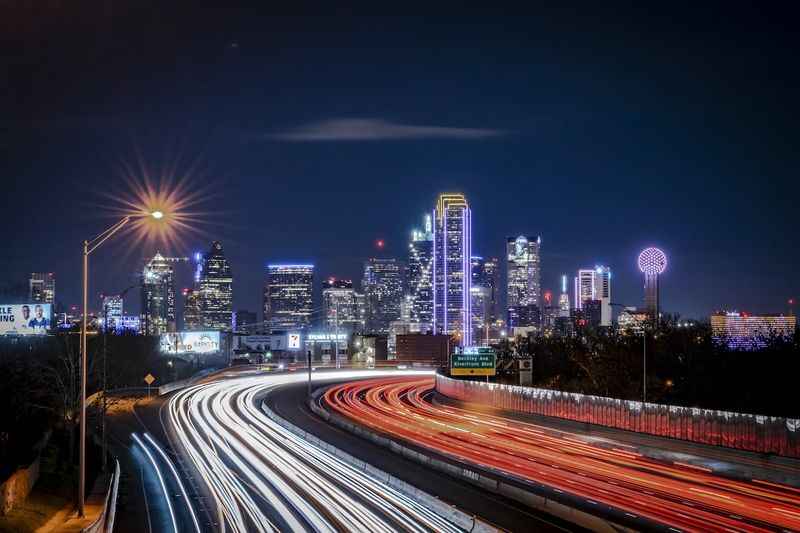 Dallas is a vibrant city that comes to life after sunset, and with so many things to do in Dallas at night, it can be overwhelming to decide how to spend your evening.
Whether you are looking to explore the Dallas Downtown Historic District or enjoy a night out at one of the city's lively bars, Dallas has something for everyone.
From escape room experiences to live entertainment and ghost tours, this city has a plethora of options to keep you entertained.
Read on to find our list of things to do in Dallas at night.
Most Recommended Thing to Do
Visit the Dallas Museum of Art.
Our Top Choice Restaurant
Our Top Choice Bar for Nightlife
- The Gallery Rooftop Lounge
Sunny weather and festivals make Dallas a must-visit.
Hot summers and mild winters in Dallas, USA.
Buses, trains, taxis, ride-sharing, bicycles, electric scooters.
Average Cost ($, $$, $$$)
My Top Recommendation
Dallas, United States of America:
Explore the vibrant district of Deep Ellum, known for its lively music scene and colorful street art - lose yourself in the rhythmic beats of live jazz and blues performances, or simply stroll down the streets adorned with captivating murals, immersing yourself in the eclectic culture that makes this neighborhood come alive.

Unwind and indulge in the iconic Texan flavors by treating yourself to a mouthwatering barbecue feast at Pecan Lodge - sink your teeth into perfectly smoked and tender brisket or devour the delectable handmade sausage, all while savoring the warm hospitality and down-to-earth ambiance that embodies the true Texan spirit.
What You'll Need to Bring
Comfortable walking shoes, as there are many attractions within walking distance in Dallas.
Sunscreen and a hat, as the city can get quite hot and sunny.
Lightweight clothing, as the weather in Dallas is mostly warm and humid.
A water bottle, to stay hydrated throughout your explorations.
A camera, to capture the beautiful sights and landmarks of the city.
Travel adapters, as the United States uses different power outlets than some other countries.
An umbrella or raincoat, as Dallas occasionally experiences rainfall.
A city map or a reliable navigation app, to help you get around efficiently.
Some cash and credit cards, for any purchases or activities you may want to enjoy.
A positive and adventurous attitude, to fully immerse yourself in the city's vibrant culture and attractions.
What Not to Miss
The Dallas Holocaust and Human Rights Museum
The Sixth Floor Museum at Dealey Plaza
The Dallas Arboretum and Botanical Garden
Deep Ellum Arts District
The Dallas Museum of Art
The Perot Museum of Nature and Science
The George W. Bush Presidential Library and Museum
Reunion Tower Observation Deck
The Dallas World Aquarium
White Rock Lake Park
What to Avoid
Dallas, United States of America:
Avoid visiting during the peak summer months (June to August) when the temperatures can soar above 100 degrees Fahrenheit (38 degrees Celsius).
Avoid relying solely on public transportation, as the city is known for its sprawling layout and limited public transit options.
Avoid driving during rush hour (typically between 7 am and 9 am, and 4 pm and 6 pm) to minimize traffic congestion.
Avoid the tourist traps in downtown Dallas and explore the lesser-known neighborhoods for a more authentic experience.
Avoid wearing excessively casual attire when dining at upscale restaurants or attending formal events.
Avoid wandering alone or in unfamiliar areas, especially at night, and stay aware of your surroundings to ensure personal safety.
Avoid leaving your valuables unattended or visible in your car to avoid potential break-ins.
Avoid expecting a comprehensive public transportation system outside of the downtown area; Uber or renting a car may be necessary for getting around.
Avoid visiting during major sports events or conventions if crowds are not your preference.
Avoid assuming that everything in Dallas is cowboy-themed or related to ranching; the city has a diverse cultural scene to explore.
Remember to check official travel advisories and local guidelines before your trip to ensure a safe and enjoyable experience.
1. See The Dallas Skyline At Night From Reunion Tower
The Reunion Tower is one of the most iconic landmarks in Dallas, offering a breathtaking view of the Dallas skyline at night.
Located in Downtown Dallas, visitors can enjoy Dallas from a unique perspective atop this iconic tower.
The GeO-Deck is one of the top attractions of the Reunion Tower, providing breathtaking 360-degree stunning views from 470 feet in the air.
This is an experience you can enjoy with friends, family, or even with your kids. Don't forget to book your general admission ticket, or consider the date night package, which includes a framed photo and two souvenir glasses of bubbly.
2. Catch A Performance At The House Of Blues Dallas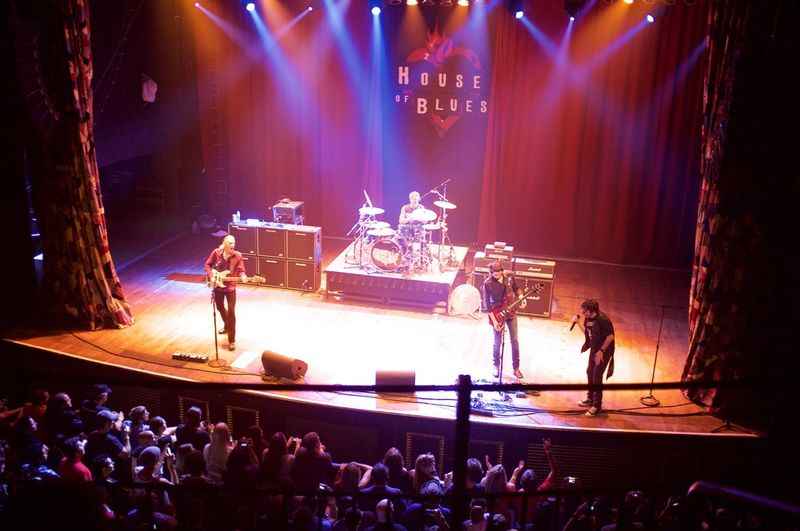 The House of Blues Dallas is a must-visit destination for music lovers in the city. This live music venue is among the top places to catch a performance in the city at night.
With a state-of-the-art sound system and an intimate atmosphere, this place offers a unique and unforgettable experience for concert-goers.
This facility offers something for everyone, whether you want to catch a performance by your favorite artist or discover new talent.
So, if you want to have a fantastic night out, go to the House of Blues Dallas and experience the city's thriving music culture.
3. Go Back in Time Through The Medieval Times Dinner and Tournament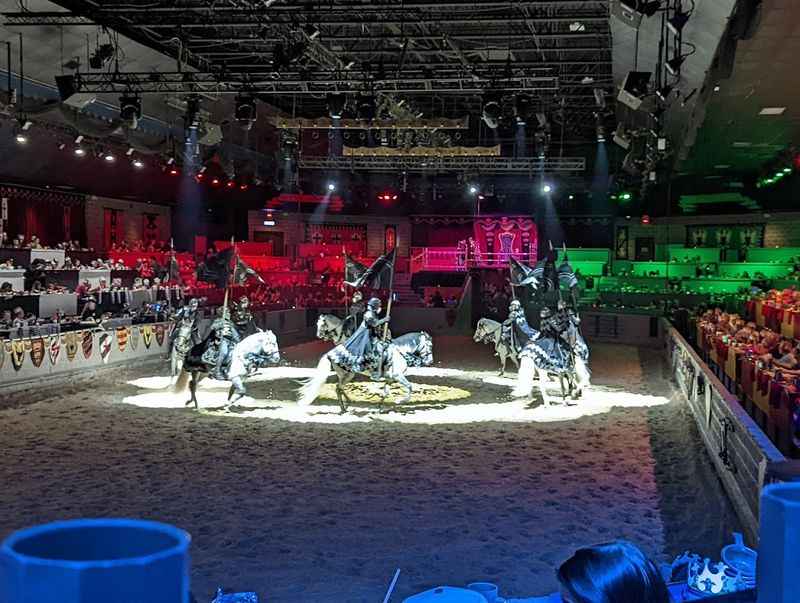 Transport yourself back in time to the Middle Ages at the Medieval Times Dinner and Tournament in Dallas, TX.
Exciting live-action entertainment is available alongside a delectable four-course meal at this special dining establishment.
Throughout the evening, guests are treated to sword fights and jousting knights. The Medieval Times production also features a real castle setting with attire and accents from the time period.
So, in order to feel the excitement of the medieval era, make sure to check out Medieval Times if you're searching for a fun and interesting way to spend an evening.
4. Test Your Wits At The Escape Game Dallas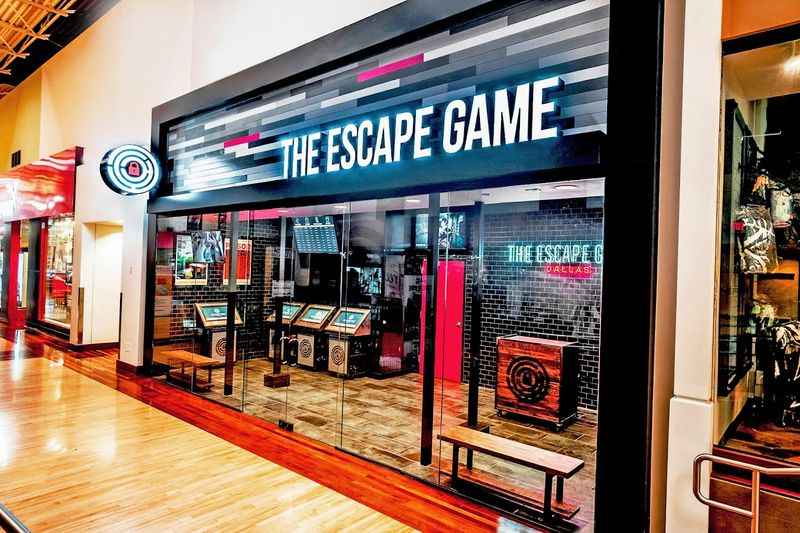 Put your critical thinking skills to the test at the Escape Game Dallas, one of the best escape room experiences around town.
You can have fun while completing riddles and puzzles in themed escape rooms at this exhilarating entertainment.
One of the best locations to go to at night is The Escape Game, which offers a distinctive and difficult experience to anyone who dares to attempt.
To test your problem-solving abilities, check out Escape Game if you're seeking a fun activity to do at night.
This is a great option if you are visiting Dallas with friends or family.
5. Take A Wild Ride At Six Flags Over Texas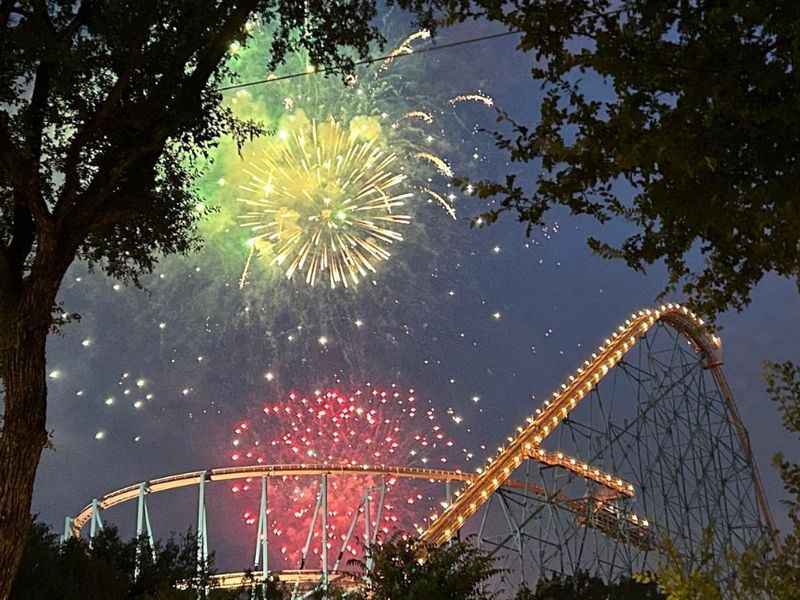 Are you seeking an adrenaline rush or a fun day out with the family? If so, then Six Flags Over Texas is the right place for you.
This ****amusement park offers a wide range of entertainment options for thrill-seekers, families, and kids.
Located between Dallas and Fort Worth, Six Flags Over Texas has a variety of rides, attractions, and shows to enjoy. So, check out the roller coasters and water rides at this exciting park, and be sure to add this amusement park to your list of things to do in Dallas.
6. Haunted Walking Tour and Pub Walk in The Dallas Downtown Historic District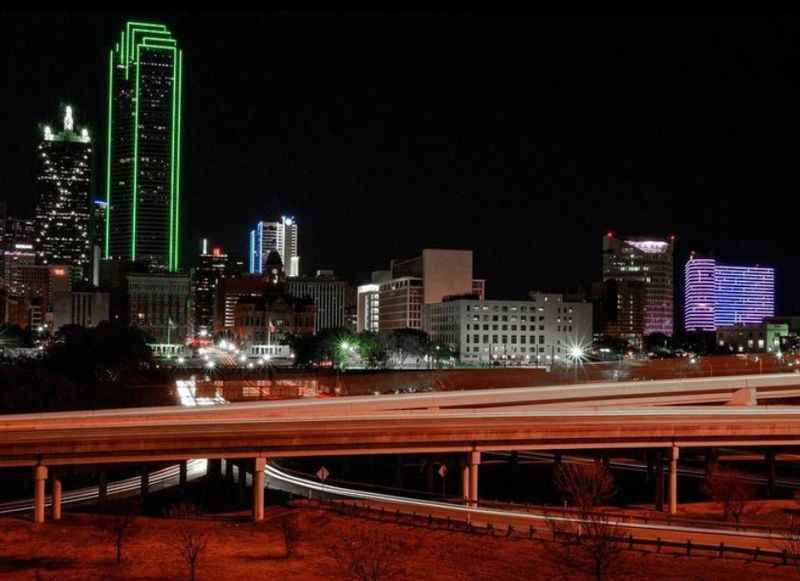 Experience the spooky side of the city on a haunted walking tour and pub walk in the Dallas Downtown Historic District.
During this tour, you'll travel past historic buildings in Downtown Dallas while hearing spooky ghost stories and urban folklore.
Along the way, you'll also make stops at lively bars to enjoy drinks and meet new people.
The Haunted Dallas Ghost tour is an unforgettable experience. Whether you're a history buff or a thrill seeker, this tour is one of the most exciting things to do in Dallas at night.
7. Experience Stunning Works Of Art At Lighthouse Dallas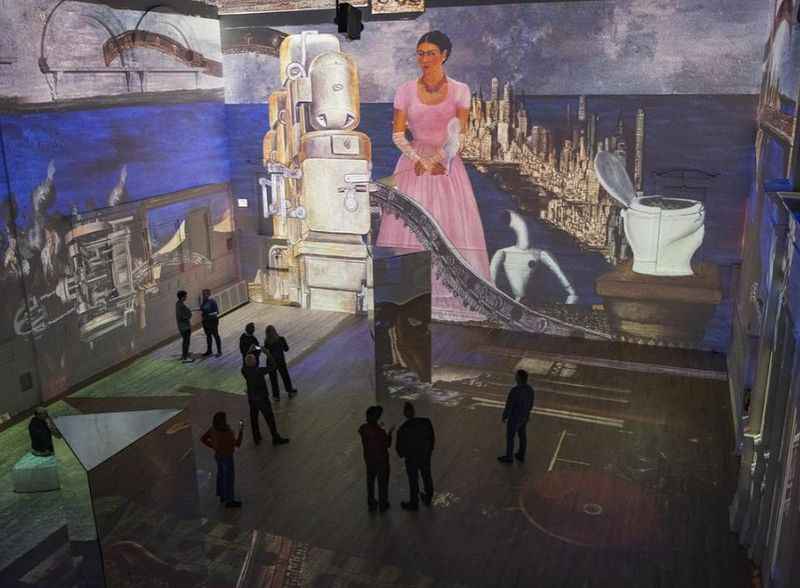 Experience the beauty and wonder of art at Lighthouse Dallas.
This unique art center is the perfect place to spend an evening, as you explore stunning exhibits dedicated to some of the world's most celebrated artists.
Lighthouse Dallas is known for its impressive exhibits dedicated to the works of Van Gogh, where you can explore his vibrant and emotive paintings up close.
So, if you're looking for a fun and inspiring activity to do at night, it is definitely worth visiting this art center.
8. Watch A Basketball Or Ice Hockey Game At The American Airlines Center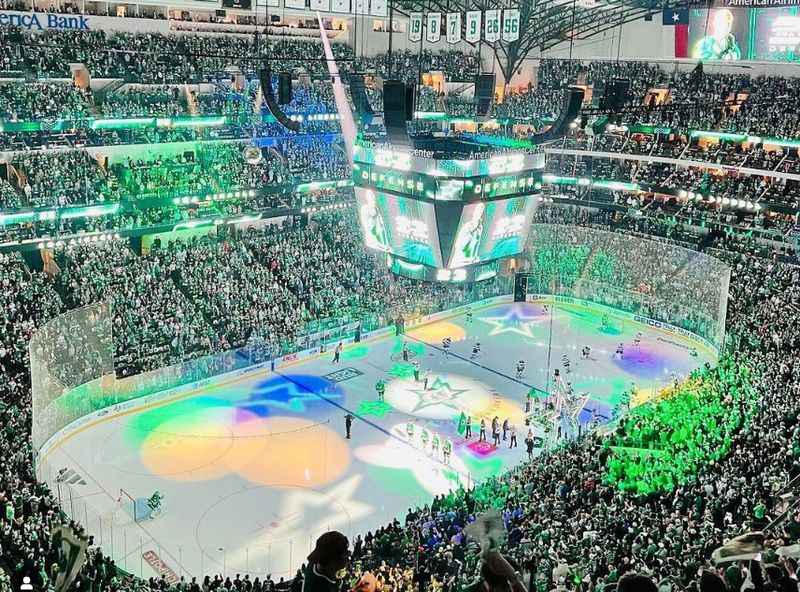 The American Airlines Center is a must-visit landmark stadium in Dallas, Texas. The Dallas Mavericks and the Dallas Stars, two of the city's most adored sports teams, call it their home.
The American Airlines Center is the place to be for exhilarating sports and a thrilling atmosphere, whether you're a fan of basketball or ice hockey.
This venue not only hosts sporting events but also concerts by some of the biggest performers in the world, making it a great place to watch a variety of entertainment types.
9. Enjoy The View From The Margaret Hunt Hill Bridge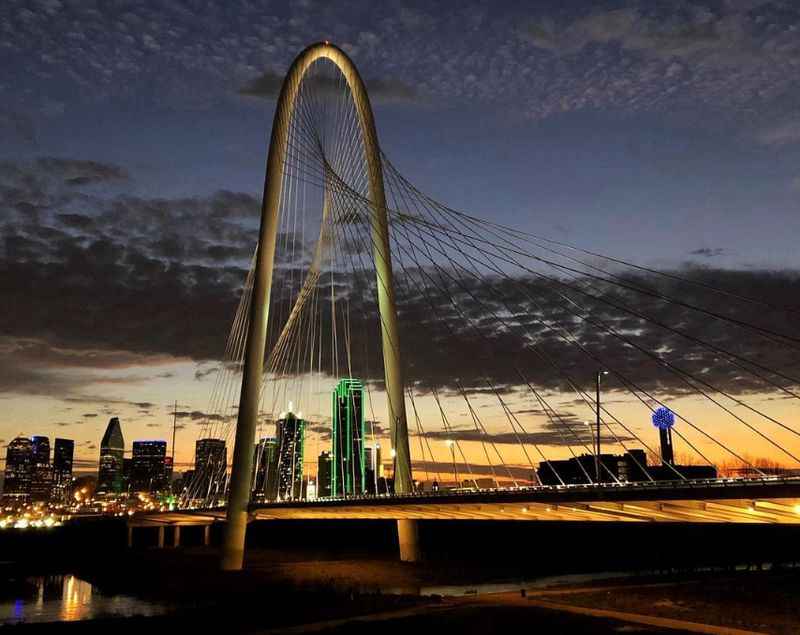 The Margaret Hunt Hill Bridge, which crosses Dallas' Trinity River, is a spectacular example of engineering.
The bridge offers a breathtaking view of the city's skyline, making it one of the must-see places to drive by in Dallas at night. Visitors can park close by and stroll or take pictures of the breathtaking scenery.
The bridge also features pedestrian and bicycle lanes so that people may ride their bikes or take leisurely strolls while taking in the splendor of the metropolis.
The Margaret Hunt Hill Bridge is undoubtedly worth visiting.
10. Catch a Show at Dallas Black Dance Theatre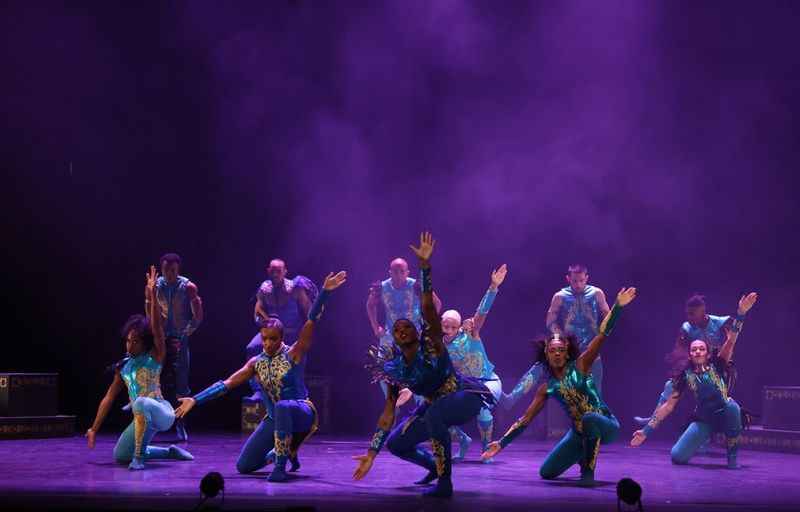 For dance fans, Dallas Black Dance Theatre is a destination that should not be missed during your trip to Dallas. The theater features some of the top dance performers in Texas, giving guests a special and enjoyable experience.
Take in a performance at this dance theater if you want to enjoy live entertainment in Dallas at night. They offer a wide variety of performances that captivate viewers, from classical to modern.
The theater is open all year round, but be sure to book your tickets for any show in advance.
11. Visit The Dallas Museum of Art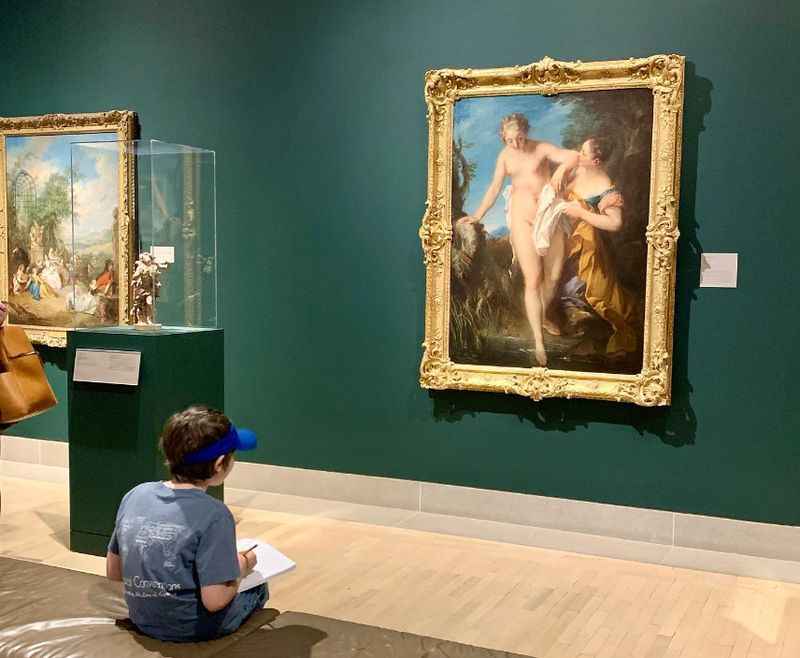 For visiting art lovers, the Dallas Museum of Art (DMA) is an essential stop. It is an outstanding museum with a large selection of art collections from diverse cultures and historical periods, including modern and contemporary art.
Every visit to the museum is a distinctive experience thanks to the year-round temporary exhibitions and events that the museum hosts.
The museum provides educational activities, talks, and tours for visitors of all ages (in addition to the art displays). It is the ideal setting for a late afternoon or evening spent surrounded by art.
12. Visit The Fair Park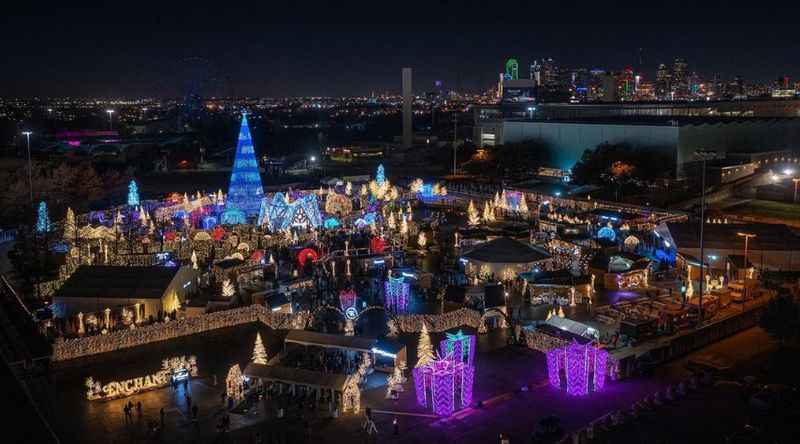 Fair Park is a historic 277-acre recreational and educational complex in Dallas. It has a long history and is the location of numerous museums, exhibitions of fine art, and the Texas State Fair.
The Cotton Bowl Stadium, African American Museum, Texas Discovery Gardens, Children's Aquarium, and many other places are all open for exploration during late afternoons.
The park also features stunning art deco architecture, fountains, and planted gardens that are ideal for picnics and photo opportunities.
It's an ideal place to spend the day with friends or family, especially during the State Fair of Texas, which happens every fall.
13. The Dinner Detective Murder Mystery Dinner Show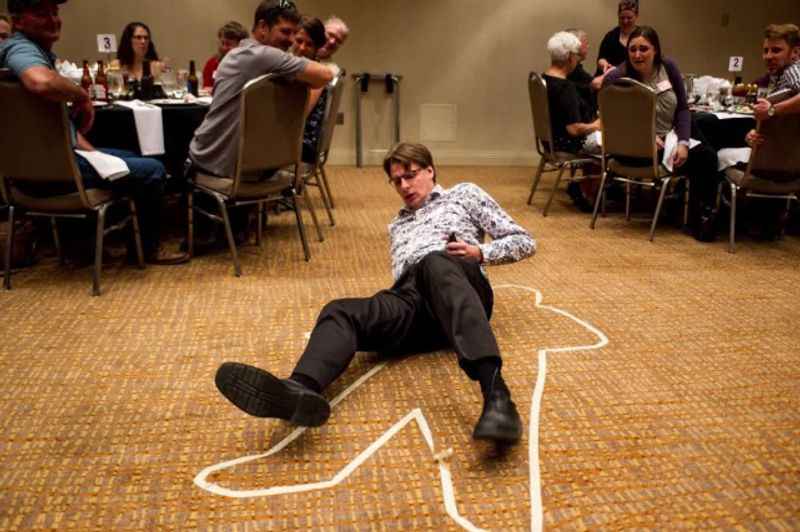 The Dinner Detective Murder Mystery Dinner Show, located in Dallas, TX, is a distinctive and thrilling experience that mixes a murder mystery and theatrics.
Guests can participate in this interactive event and solve a mystery while savoring a wonderful four-course meal. An interesting evening like The Dinner Detective is ideal for a date or a night out with friends.
Along with expert actors portraying suspects, the program also includes hints that viewers can use to solve the mystery. Don't pass on this amazing, exhilarating event that will keep you on the edge of your seat.
14. Go on a Dallas Evening Tour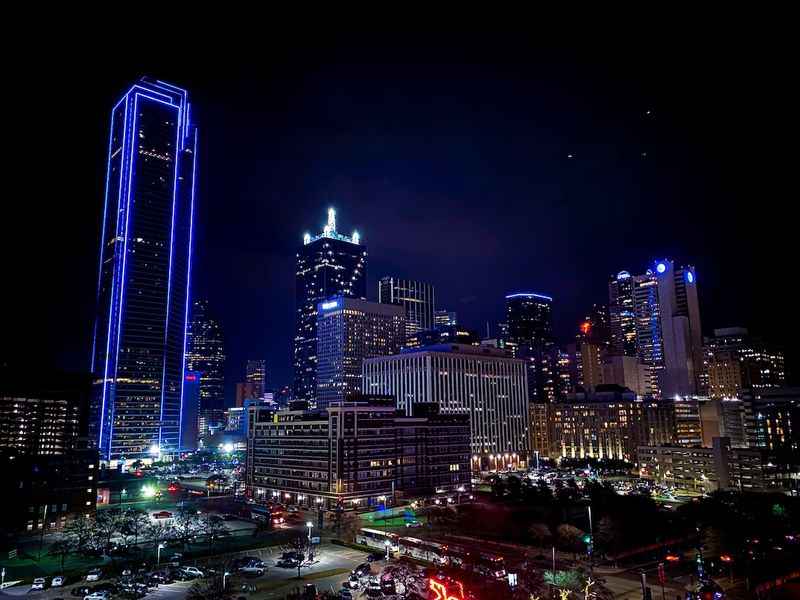 Going on a Dallas evening tour is a fantastic way to explore the city's skyline under the moonlight.
From the iconic Reunion Tower to the impressive Margaret Hunt Hill Bridge, you'll see Dallas, TX, from a new perspective.
There are numerous tour companies you can choose from and a variety of tour options that cater to different interests and budgets.
Whether you're interested in haunted ghost tours, pub crawls, or exploring historic landmarks, there is a tour out there that is perfect for you.
Make sure to book in advance to ensure you don't miss out on a memorable evening.
15. Sunset Tour on a Scooter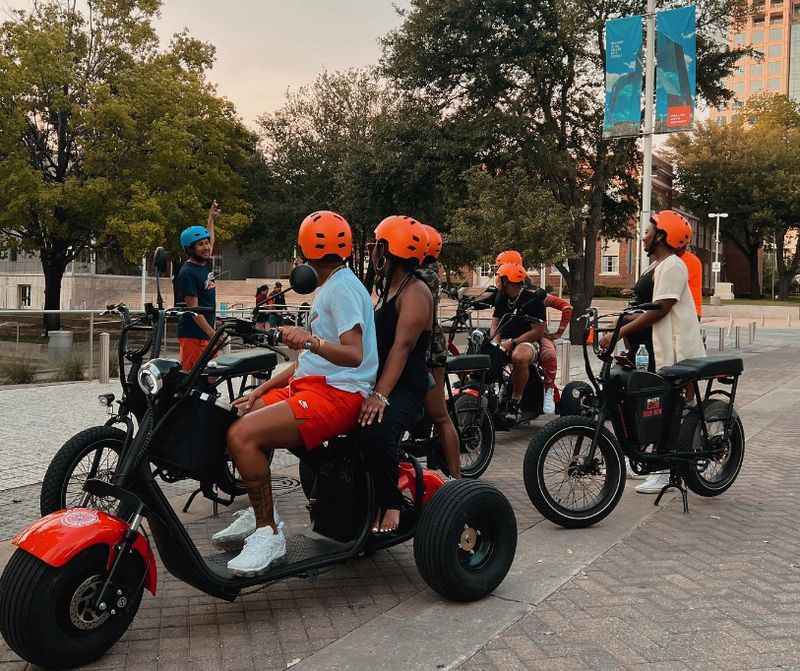 A sunset scooter tour offers an exciting trip and a distinctive way to view Dallas at night.
Take a ride along the Arts District and enjoy the stunning sunset. Additionally, the JFK assassination site, Elm Street, is a stop on the trip where you can find out about the background of this tragic occurrence.
The tour is a fantastic way to experience the city's serenity, making it a terrific option for anyone looking to take a break from the city's bustle and appreciate its beauty.
16. Listen To Texas Country Music At Cowboys Red River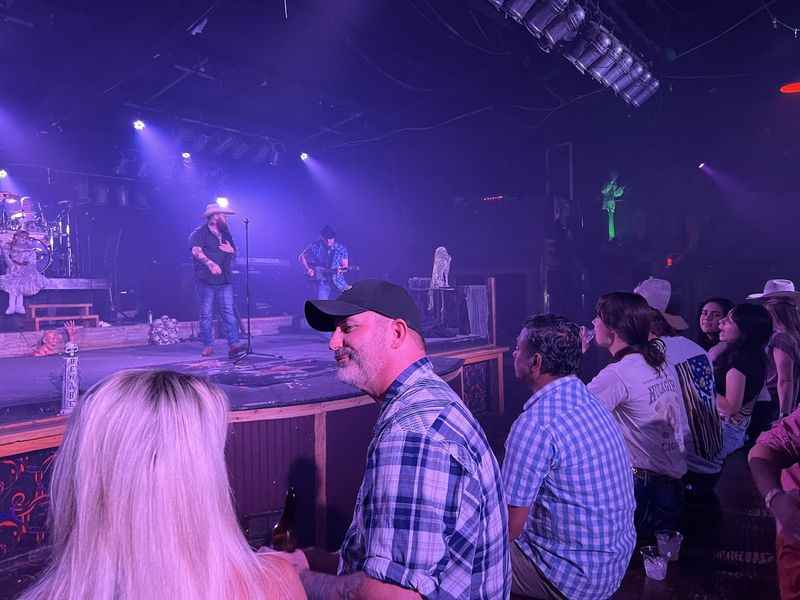 Popular dancing venue Cowboys Red River is renowned for its energetic ambiance and live music.
This is the ideal location to don your boots and enjoy some real Texas-style line dancing while enjoying some of the best local country music.
Don't worry if you're not a fantastic dancer; the kind staff at Cowboys Red River are always happy to help.
This is a terrific place to gather some pals and enjoy a night of dancing, music, and fun, with a variety of activities taking place throughout the week.
17. Dance, Dine, and Drink At The Toyota Music Factory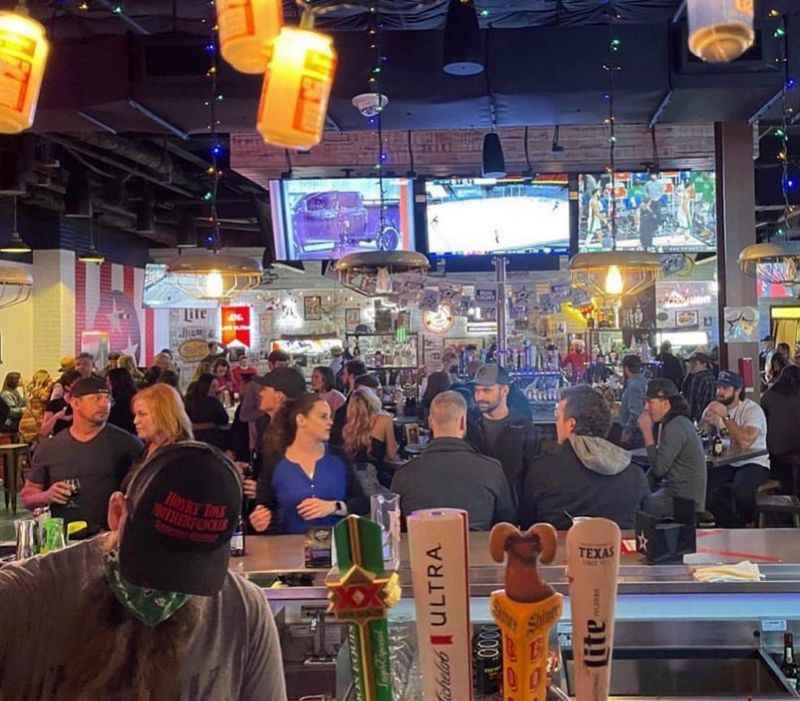 Dallas' Toyota Music Factory is the perfect location for a night out. This venue is a large open-air pavilion with 8,000 seats for live music and events.
Furthermore, it offers a plethora of restaurants and bars, and a cutting-edge cinema, which are just a few of the entertainment options available at this enormous entertainment complex.
Before going to the performance or movie, grab dinner at one of the numerous nearby eateries. Then, dance the night away in one of the late-night bars after the performance.
The Toyota Music Factory is a terrific place to go for a fun-filled evening of entertainment because it has something for everyone.
18. Enjoy Prime-Time Football At AT&T Stadium
Dallas' AT&T Stadium is the perfect venue to watch a football game at prime time.
This stadium, which serves as the home of the Dallas Cowboys, has one of the biggest video screens in the world and a retractable roof, guaranteeing a comfortable experience regardless of the weather.
AT&T Stadium offers something for everyone, regardless of whether you're an ardent Cowboys supporter or you just like the ambiance of a football game.
The stadium, which has 80,000 to 100,000 seats, is constantly buzzing with enthusiasm and vigor on game days. It's an unmissable place to be and a key part of our list of things to do in Dallas at night.
19. Release Your Inner Viking At Lone Star Axe Throwing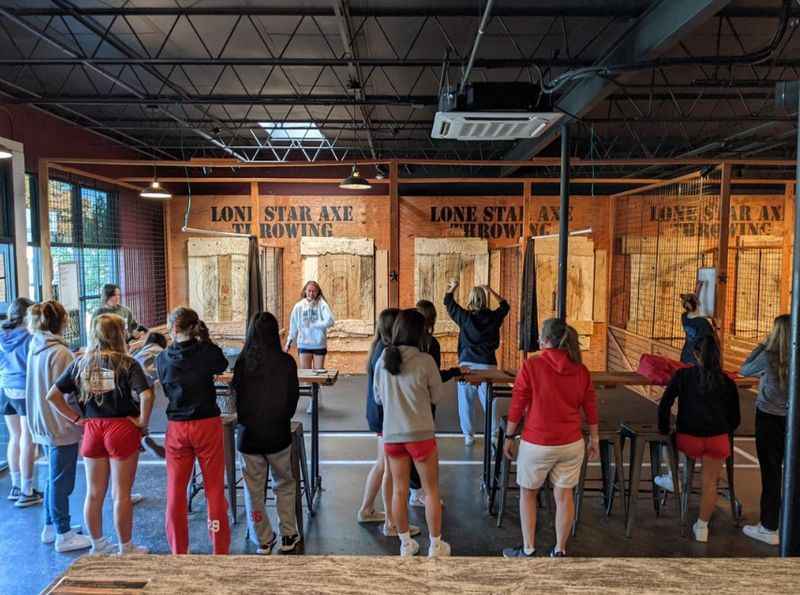 To unleash your inner Viking and have a good time with friends in Dallas at night, try Lone Star Axe Throwing.
To test your precision and coordination, Lone Star Axe Throwing offers a range of activities to play, including both individual and team games.
The center's knowledgeable team is available at all times to ensure your safety and offer useful advice. So, don't pass up the opportunity to engage in this exhilarating pastime and channel your inner warrior!
20. Explore The Ocean At Sea Life Grapevine Aquarium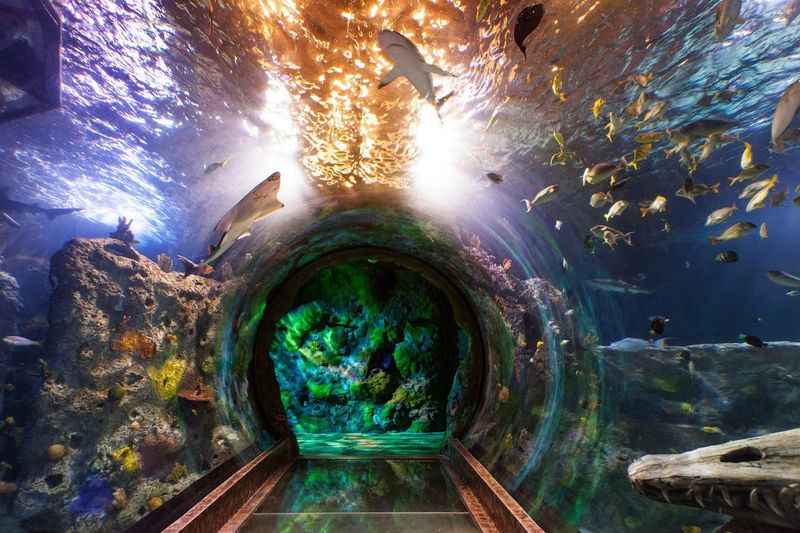 Both adults and children will find the Sea Life Grapevine Aquarium to be a fascinating place to visit in the late afternoon.
The aquarium offers guests a fun and instructive approach to discovering marine life through interactive exhibits.
Visitors can learn about animals from all over the world by viewing more than 30 displays featuring various species. At its touch pools, visitors can even touch and engage with some marine creatures.
The aquarium also provides informative seminars, tours, and feeding demonstrations. The Sea Life Grapevine Aquarium is a fantastic location to spend a day learning about the ocean and all of its delights.
21. Embark on a Dallas Arts District and City Lights Segway Tour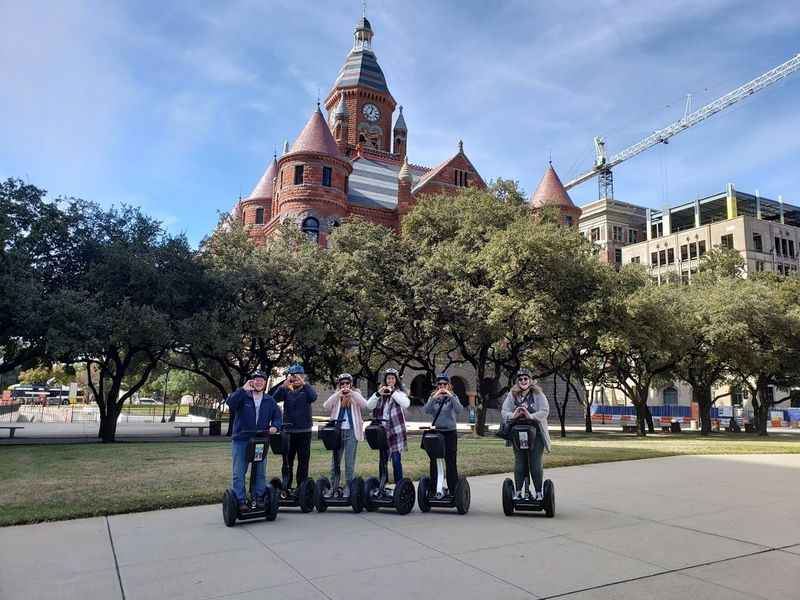 Join a memorable Segway tour around Dallas City Lights and the Arts District to experience the city's skyline at night like never before.
The Museum of Art, Klyde Warren Park, and the Winspear Opera House are just a few of the city's most well-known monuments that will be highlighted during this tour around the city's center, which takes only a few hours.
Your guide will tell intriguing tales about the city's rich history and culture as you travel. You'll move around the streets in a small group with ease while seeing the spectacular nighttime views of the city's skyline.
22. Combine iFLY Indoor Skydiving with a Medieval Times Dinner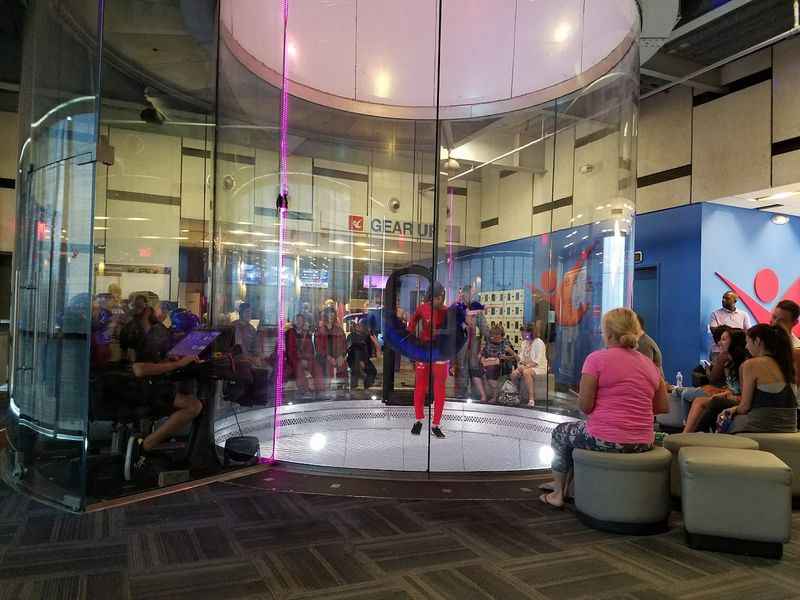 iFLY Indoor Skydiving is a unique and thrilling experience in Dallas, where you can fly and float in an indoor wind tunnel.
Later, head to Medieval Times for a four-course dinner with a live jousting tournament, creating an exciting night out.
Feel the thrill of flying indoors and, then, experience the medieval world of knights and chivalry. The combination of these two activities will make for an unforgettable evening.
It's a perfect activity to do with pals or folks, and it's suitable for all ages.
23. Experience The Museum of Illusions
The Museum of Illusions is a fun attraction for those looking for a unique and entertaining experience.
This interactive museum has exhibits that test your perspective of reality, including holograms, optical illusions, and mind-bending experiences.
Visitors can capture breathtaking images and films that give the impression that they are shrinking, defying gravity, or being in several places at once.
You can spend hours browsing the many exhibitions, and it's a terrific location to go with your loved ones.
24. Go Late Night Shopping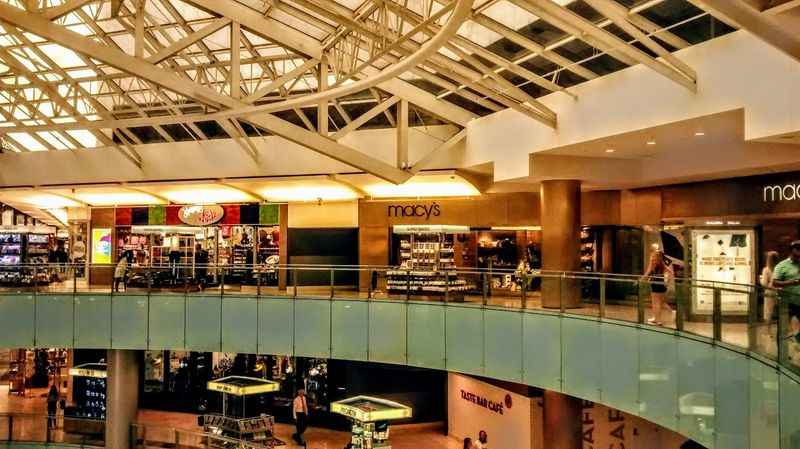 Late-night shopping in Dallas is a great way to explore some of the city's excellent malls. Many shopping malls remain open at night, such as the NorthPark Center and Shops at Legacy.
Take pleasure in shopping and trying on clothing without the commotion of daytime crowds.
The shopping malls have something for everyone, whether you're looking for high-end designer goods or affordable alternatives.
25. Have Fun At Cidercade Dallas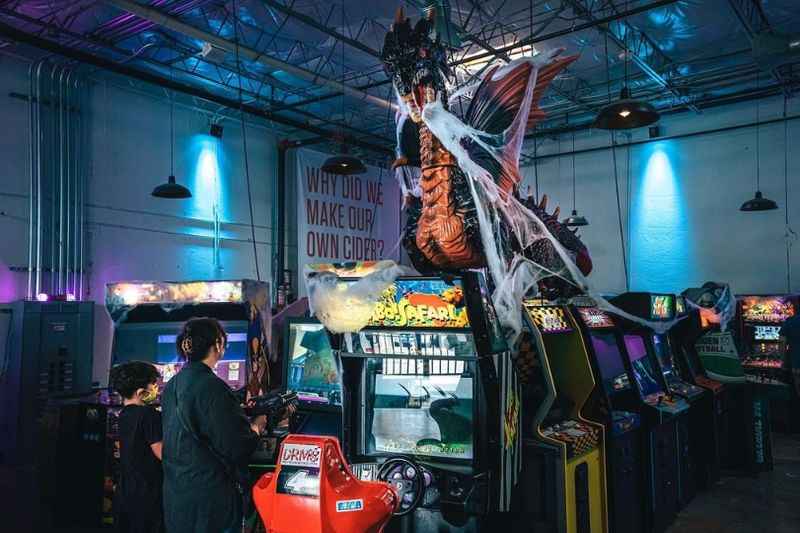 Cidercade Dallas is the perfect place for a fun night out. With an extensive range of pinball machines and arcade games, you can have a blast here for hours with others.
A wide variety of ciders and beers are also available at Cidercade Dallas for you to enjoy while you play. It's a great spot to unwind after a long day or to start your weekend because of the lively and enjoyable atmosphere.
Everyone can have fun at Cidercade Dallas, regardless of whether they prefer playing vintage arcade games or are searching for something new.
26. Attend The State Fair of Texas If You Can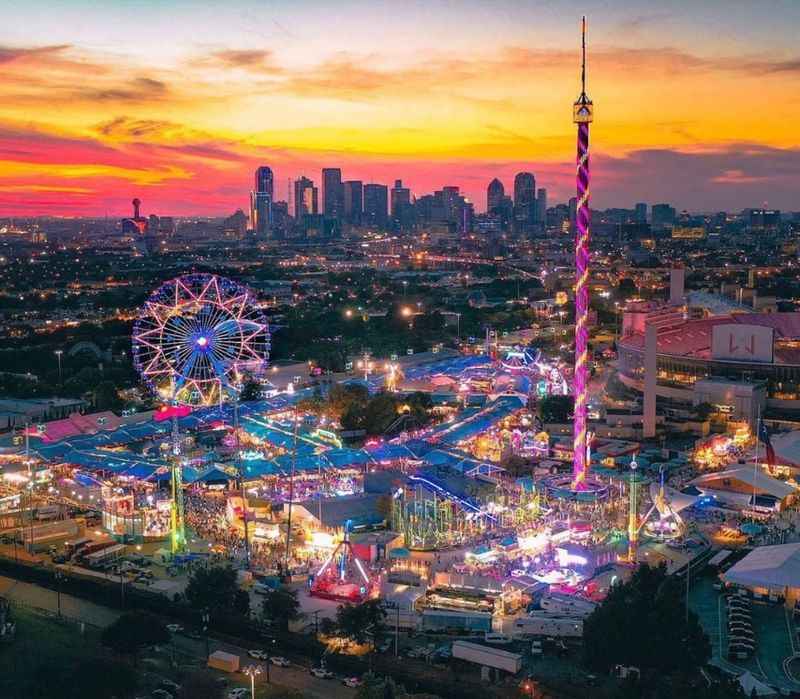 Annually, the State Fair of Texas is hosted in Dallas' historic Fair Park. This well-liked fair features a wide choice of entertainment options, including live musical acts and carnival attractions, as well as a varied menu, including funnel cakes, corn dogs, and fried Oreos.
A number of exhibits also highlight Texas' agriculture and cattle. If you happen to be in Dallas, don't miss the State Fair, which is a treasured tradition for many Texans.
27. Join The Party Bike Pub Crawl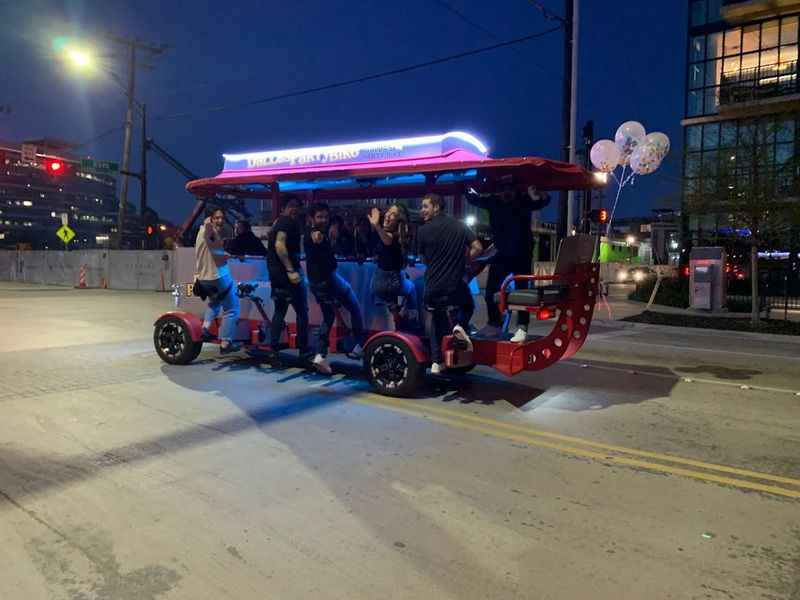 The best way to see Dallas at night is on the Party Bike Pub Crawl. Join your pals for an exciting pub crawl excursion by jumping on a bike.
This journey is a fantastic way to explore and take in the nightlife. You will travel through several routes on the party bike, stopping at well-known establishments along the way.
Bring your own party ambiance, beverages, and music. This trip is a unique experience that you won't forget.
28. Visit The Dallas Zoo
The Dallas Zoo is one of the city's most popular attractions, offering visitors the chance to see a variety of animals in a beautiful setting.
The zoo features several exhibits showcasing animals from around the world, such as the Giants of the Savanna, which houses African elephants, giraffes, zebras, and other animals. The Wilds of Africa exhibit features predators such as lions, cheetahs, and hyenas.
Additionally, the zoo offers a range of interactive experiences, such as feeding giraffes and penguins. Families with children will love the Children's Zoo, which features a petting zoo and other activities for kids.
29. Check out The Deep Ellum Texas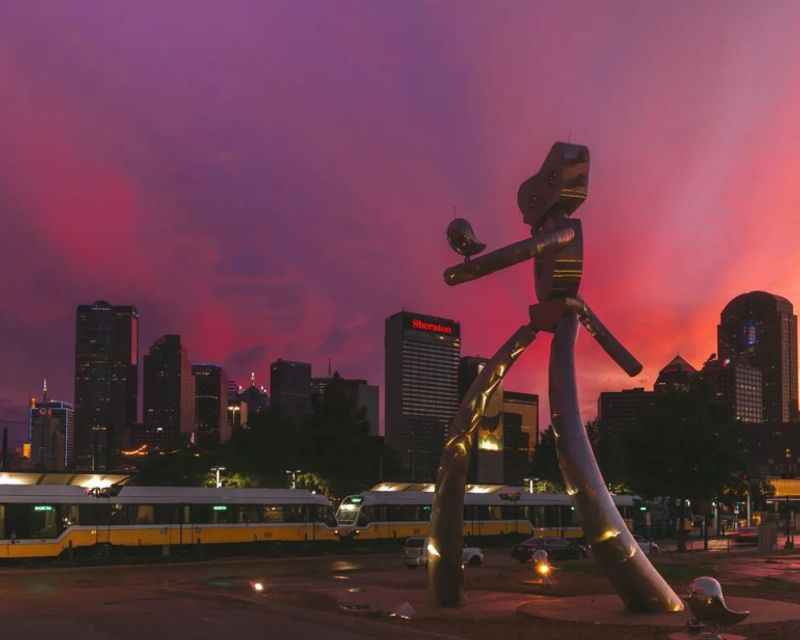 Deep Ellum is a neighborhood known for its vibrant and quirky art galleries. There are numerous art galleries there that feature the work of regional artists, along with street art projects and murals.
Deep Ellum is a hotbed for live music in addition to its artistic offerings, with performances by well-known and emerging musicians taking place at places like the renowned Trees and The Bomb Factory.
Whether you enjoy music or art or just want to see a different side of the region, Deep Ellum is definitely worth a visit.
30. Go Bowling at PINSTACK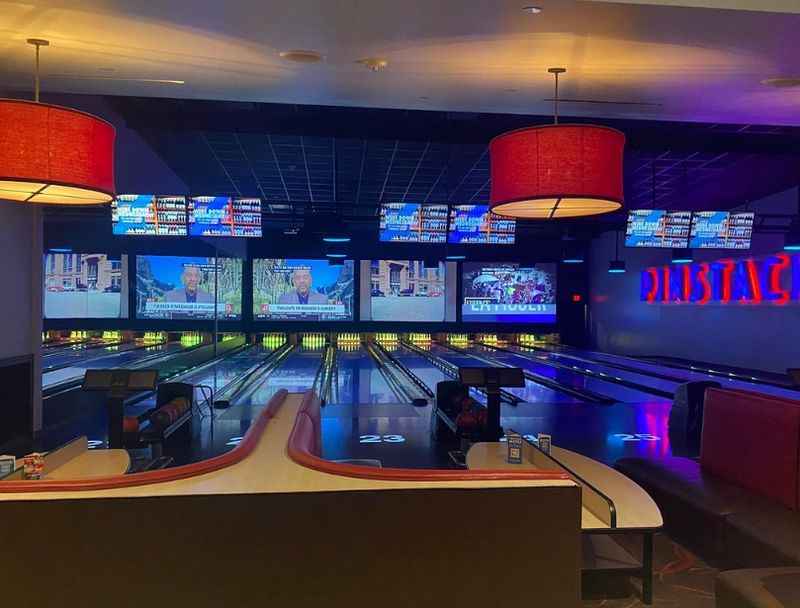 Looking for a good nighttime activity to do with your inner circle? Visit PINSTACK, a world-class entertainment complex with bowling lanes, a laser tag arena, and more.
Additionally, you will find a high ropes course, rock climbing walls, video games, bumper cars, and a restaurant with delicious food and drinks.
PINSTACK features activities for all ages, whether you're wanting to spend a night out with pals or organizing a family outing.
PINSTACK is one of the most well-liked locations for a good night out, which comes as no surprise given its cutting-edge amenities. It was an easy decision to include this in our list of top things to do in Dallas at night.
31. Take a Stroll Through Oak Lawn Park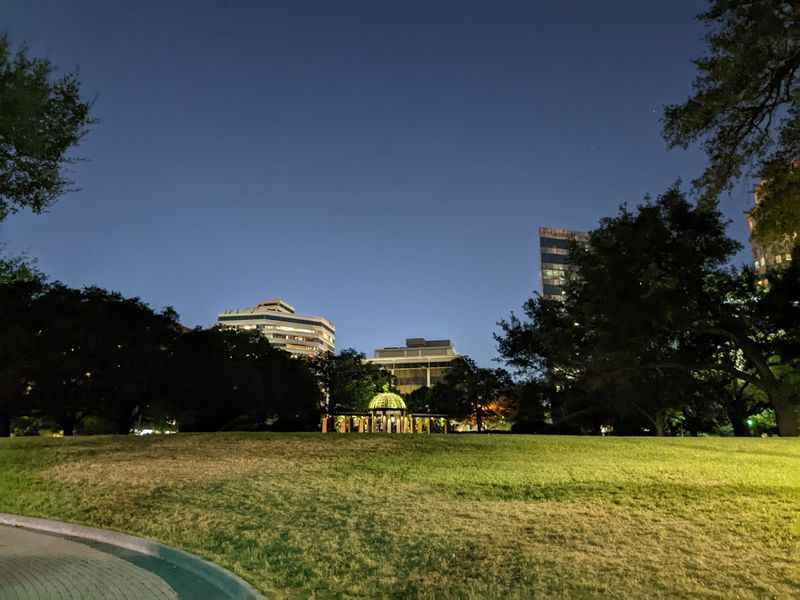 Oak Lawn Park is an excellent place to take a leisurely stroll at night. This place offers a beautiful setting for an evening walk, surrounded by trees and a stunning skyline view.
The park's well-lit walkways are perfect for an evening stroll, and you can enjoy the calming atmosphere away from the hustle and bustle of the downtown area.
You can also take a picnic basket and enjoy a late-night snack under the stars or catch up with your folks on one of the park's benches.
32. Listen to Symphonies at the Meyerson Symphony Center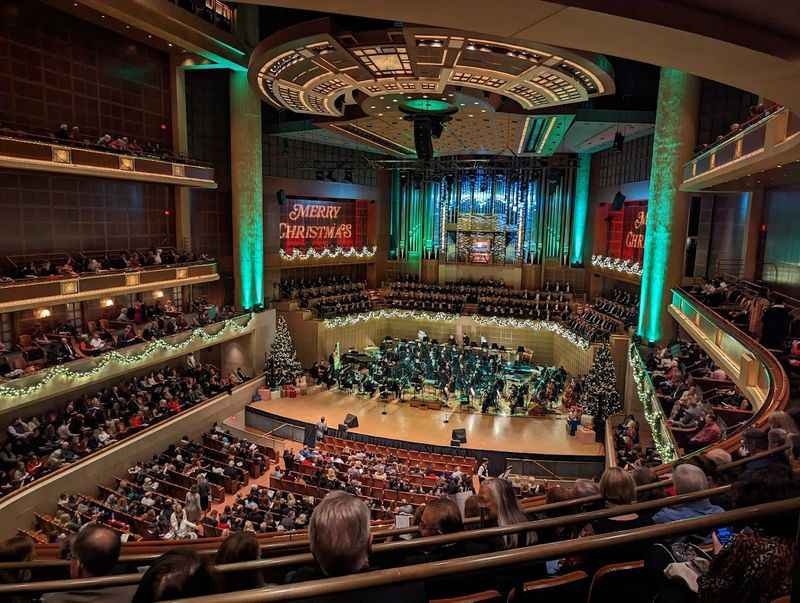 For fans of classical music, the Meyerson Symphony Center is a popular place to visit. The Dallas Symphony Orchestra presents a variety of classical and modern music at the venue.
For music enthusiasts, the concert hall offers a distinctive experience thanks to its famous acoustics and architecture.
The venue presents a range of acts throughout the year, from pop concerts to classical music recitals.
33. Take a Moonlight Paddle Boat Ride on White Rock Lake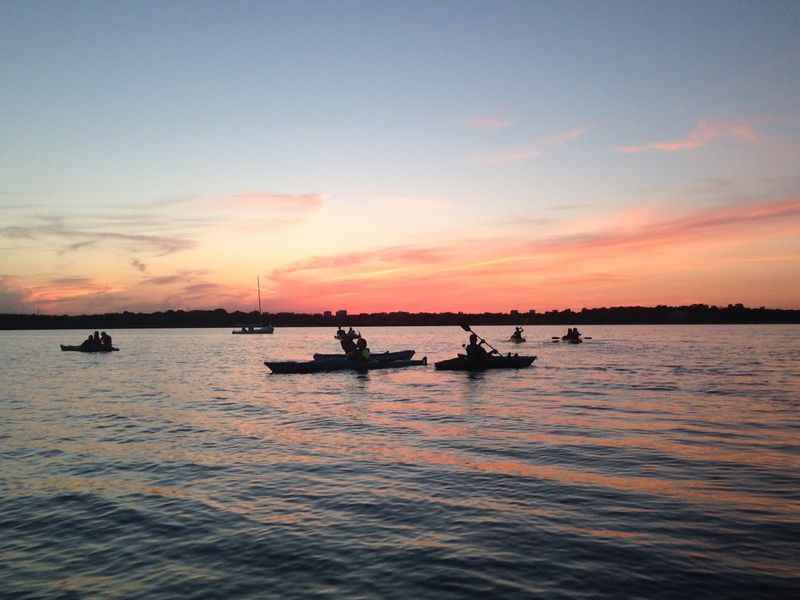 Experience the beauty of White Rock Lake in a different way by taking a moonlight paddleboat ride. The lake becomes a calm and tranquil refuge as the sun sets and the moon rises.
It's a great way to explore the lake, and a great activity for families or couples. So, don't pass up this chance to unwind and take in the tranquil surroundings while kayaking along White Rock Lake's placid waters.
34. Explore The Dallas Farmers Market After Dark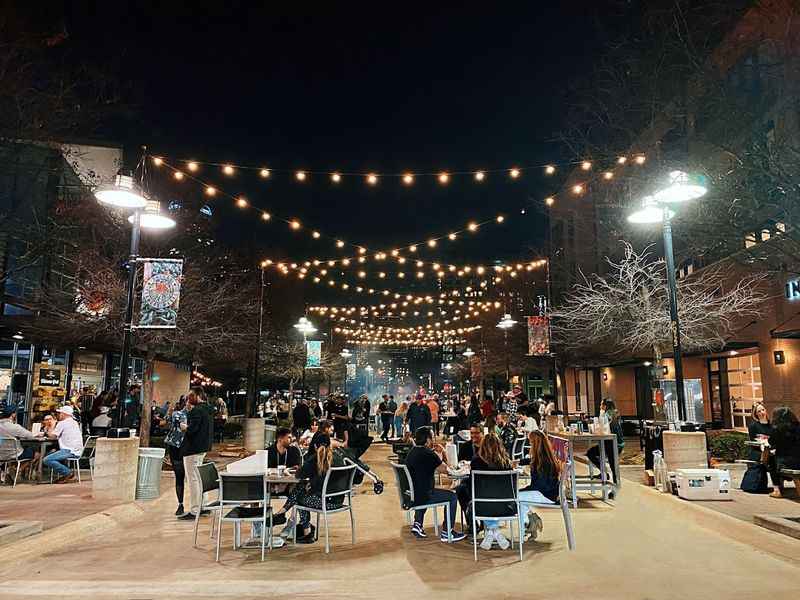 This Farmers Market is a must-visit destination for those who like fresh farm produce. However, for a unique experience, visit the market after dark.
The market stays open until 8PM on Fridays, allowing visitors to browse the vendors' fresh produce, artisanal cheeses, and handmade crafts under the twinkling lights.
If you're looking to pick up ingredients for a meal or just enjoy the atmosphere, this Farmers Market is worth a visit after dark.
35. Tour The Bishop Arts District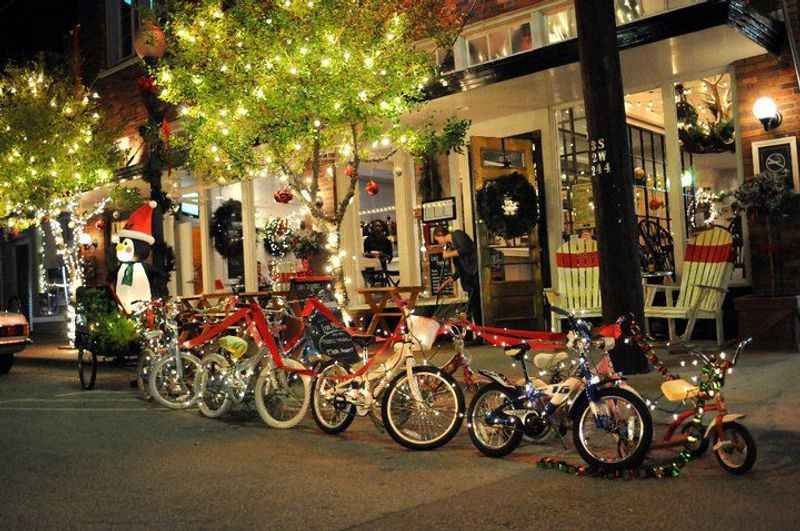 The Bishop Arts District is a historic neighborhood in Dallas known for its unique character and artsy vibe.
Spend a few hours exploring the streets and admiring the vibrant murals, independent stores, and hip eateries.
You can buy a variety of unique items to bring home, such as handcrafted jewelry and vintage apparel.
Enjoy the environment and take some snaps in front of the magnificent street art. For anyone seeking a unique and memorable experience, this area is a must-visit.
36. Go Stargazing at Cedar Hill State Park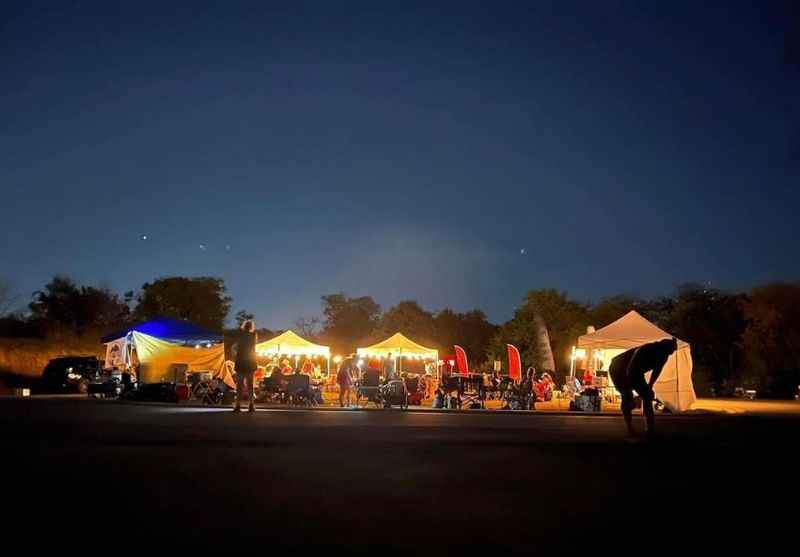 Cedar Hill State Park is an excellent location for stargazing. In fact, astronomy aficionados frequently visit this location to view the stars and planets.
Visitors can explore the wonders of the cosmos and learn about the night sky at the park's many stargazing sessions.
FAQs About Things to Do in Dallas at Night
Below, you'll find the answers to frequently asked questions about things to do in Dallas at night.
Does Dallas have nightlife?
Yes, Dallas has a lively nightlife scene with plenty of fun activities to experience. You can enjoy live music, visit the Dallas Black Dance Theatre, explore downtown Dallas with friends, and participate in some of the most fun things to do in Dallas at night.
Where does Dallas nightlife rank?
Dallas is a well-known party town in Texas and the US, with a vibrant nightlife scene on Saturday nights. It ranks pretty highly. This city offers a variety of bars and places to grab drinks throughout the city on Thursday nights. Additionally, you can experience a fun activity like the Party Bike Pub Crawl while enjoying the lively atmosphere of Dallas City.
Is there a street with bars in Dallas?
Yes, there are several streets with bars in Dallas, making it a popular destination for nightlife in Texas. The most popular is Knox Street to the West, and Henderson Avenue to the East. It's no wonder that exploring these streets is one of the top things to do in Dallas at night.
Can you walk around Downtown Dallas?
Yes, you can walk around Downtown Dallas, also called Dallas Downtown Historic District. This area of the city is home to several historic buildings and popular attractions such as the Reunion Tower GeO-Deck, making it an ideal place to explore on foot. Afterward, treat yourself to good food and drinks from nearby food trucks.
Summing up: Best Things to Do in Dallas at Night
Dallas truly comes alive after dark with its diverse range of late-night things to do. The bustling scenes of Downtown Dallas and the beautiful Dallas skyline will astonish you.
You can explore the city's cityscape from the observation deck of Reunion Tower GeO-Deck, enjoy live entertainment, play games, or indulge in great food and drinks. There really are plenty of things to do in Dallas at night.
With so many fun activities in Dallas to choose from, you are sure to have so much fun. So, get ready to experience the best of Dallas at night and create unforgettable memories.