22 Unique & Fun Things to Do in Charleston at Night | 2023 (with Photos)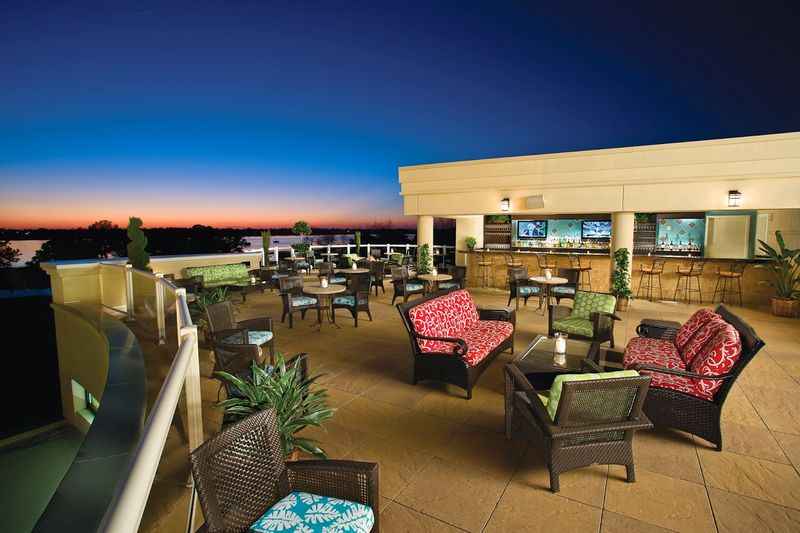 Welcome to Charleston, South Carolina, a city with a rich history and endless opportunities for a memorable night trip.
Charleston offers interesting and enjoyable experiences after sunset, regardless of whether you've been coming here for years or are just here for the first time.
Discover the quaint streets of West Ashley, engage yourself in the thriving music scene that has endured for more than seven years, or take in a film at one of the greatest movie theaters in the area.
There are a ton of fascinating activities and things to do in Charleston at night, thanks to its abundance of the best bars and venues, making for an unforgettable trip.
Most Recommended Thing to Do
Visit the Magnolia Plantation and Gardens.
Our Top Choice Restaurant
Our Top Choice Bar for Nightlife
Stars Rooftop & Grill Room
Ideal time for visiting Charleston, United States of America.
Warm summers and mild winters in Charleston, USA.
Buses, taxis, ride-sharing, biking, walking, scooters, car rentals.
Average Cost ($, $$, $$$)
My Top Recommendation
Charleston, United States of America, is a city that instantly captivates with its rich history, charming architecture, and vibrant southern charm. To truly immerse yourself in the city's unique atmosphere, start your day with a peaceful stroll along the cobblestone streets of the historic district. Admire the elegant antebellum mansions with their colorful facades, blooming flower gardens, and intricate wrought-iron gates. Don't miss a visit to the iconic Rainbow Row, a row of brightly colored Georgian houses that is a true feast for the eyes.
As lunchtime approaches, indulge in some mouthwatering Lowcountry cuisine. Head to one of Charleston's renowned seafood restaurants to savor a plate of fresh oysters, shrimp and grits, or she-crab soup. Pair your meal with a refreshing glass of sweet tea, a quintessential southern beverage. After lunch, take a leisurely boat tour along the Ashley River to admire the breathtaking views of the city's skyline and the picturesque waterfront. With its blend of historical charm and picturesque landscapes, Charleston offers a truly enchanting experience that will leave you with unforgettable memories.
What You'll Need to Bring
Comfortable walking shoes
Lightweight clothing for warmer weather
Sunscreen and a hat for protection from the sun
A reusable water bottle to stay hydrated
Camera or smartphone for capturing memories
A map or guidebook to navigate the city
Cash or credit cards for purchasing souvenirs and meals
A raincoat or umbrella in case of inclement weather
A swimsuit and beach towel for enjoying the nearby beaches
Any necessary medications or toiletries.
What Not to Miss
The Historic District: Explore the charming streets lined with colorful Antebellum houses.
The Battery: Visit this historic landmark with beautiful views of the harbor and the iconic white gazebo.
Rainbow Row: Take a stroll along this row of pastel-colored townhouses, a photographer's dream.
Magnolia Plantation and Gardens: Discover the serene gardens and learn about the area's plantation history.
Fort Sumter: Take a boat tour and visit the famous fort where the first shots of the Civil War were fired.
The Charleston City Market: Shop for local crafts, artwork, and souvenirs in this bustling market.
Waterfront Park: Relax by the waterfront, enjoy the fountains, and walk along the pier.
Middleton Place: Explore the stunning gardens and visit the oldest landscaped gardens in the country.
King Street: Wander along this popular shopping street with boutiques, restaurants, and art galleries.
Boone Hall Plantation: Experience the grandeur of this historic plantation with picturesque oak-lined entry and beautiful gardens.
What to Avoid
Tourist traps
Late-night walks in certain neighborhoods
Engaging in public displays of affection
Wearing revealing clothing in religious or conservative areas
Ignoring parking regulations
Feeding wildlife in prohibited areas
Littering or vandalizing public spaces
Disrespecting local customs or traditions
Overindulging in alcohol or drugs
Leaving valuables unattended or visible in vehicles.
1. Discover the Secrets of the Night: Unforgettable Evening Walking Tour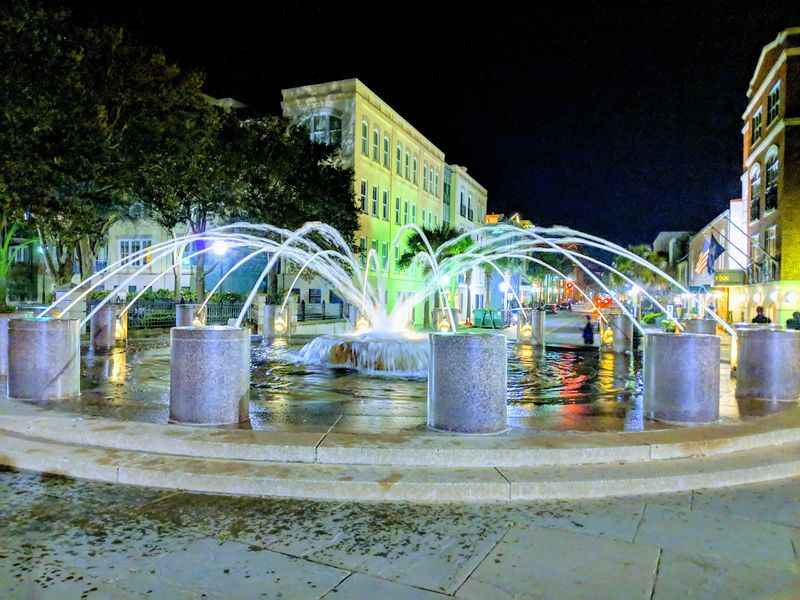 Experience the vibrant nightlife of Charleston on our Evening Walking Tour. Our professional guide will take you to the trendiest bars in town as you stroll through the quaint streets of the French Quarter and downtown Charleston.
While enjoying the evening activities, learn about the fascinating history and culture of this historic city.
You're sure to have a fun time, from Marion Square to the busy nightlife. Join us for an exciting journey as we submerge you in Charleston's alluring environment after dark.
The Alley is a bustling bar that whisks guests away to a world of never-ending entertainment. It is situated in the center of Charleston's historic district.
It is tucked away in this small city and offers a unique atmosphere with its fusion of different styles, including live music, craft cocktails, and vintage arcade games.
As the sun sets, The Alley comes alive, luring both locals and visitors to enjoy an unforgettable night filled with laughter and Charleston's irresistible charm.
3. Ashley Lanes Tavern Strikes a Perfect Score with New Bowling Alley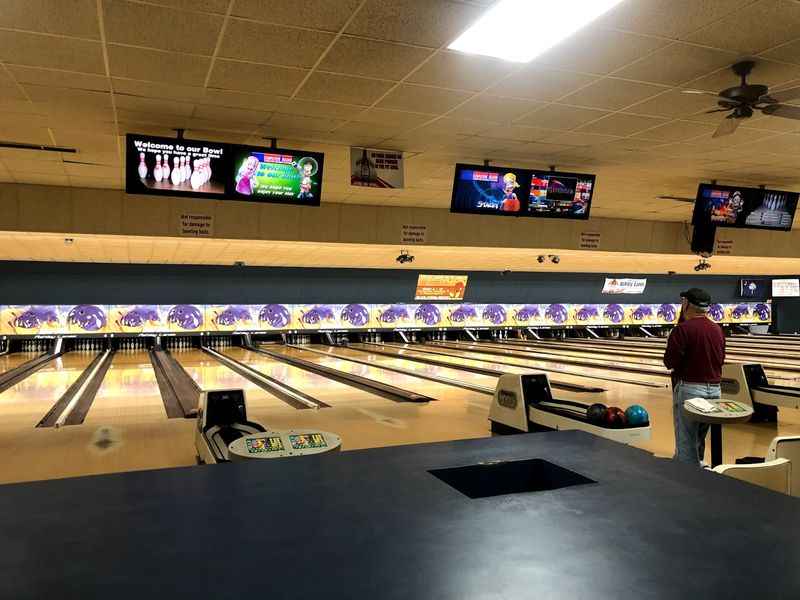 Ashley Lanes Tavern in Charleston is not just your average bowling alley. It's a hive of evening activities that offers a lot more than simply a night of bowling.
You may indulge in tasty meals and drinks at Ashley Lanes Tavern while also experiencing the thrill of hitting pins.
This bar has been a favorite among both locals and visitors because of its lively environment and welcoming personnel. Ashley Lanes Tavern is the place to go if you're looking for a fun night out or some competitive bowling.
4. The Music Farm: Where Rhythm and Energy Converge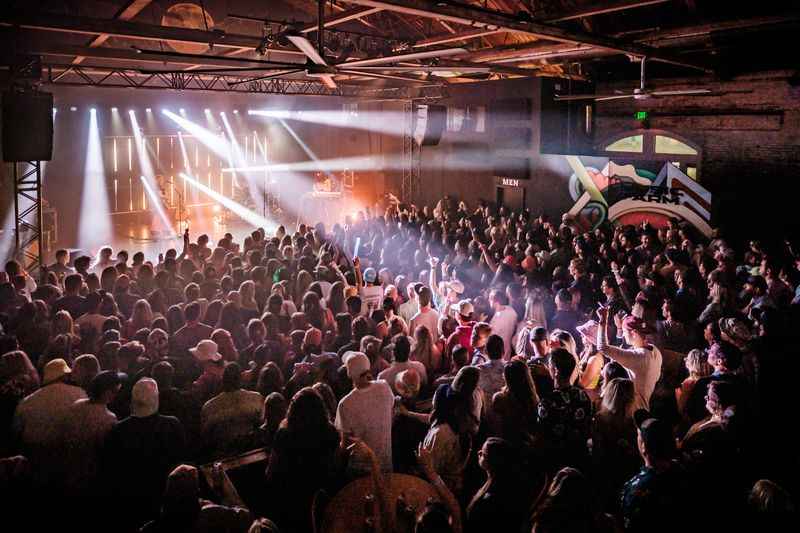 The Music Farm in Charleston, SC, is the perfect place to spend an exciting night in the city. This buzzing pub in the heart of town shows the city's thriving music scene.
The Farm ensures an amazing evening with its electric atmosphere and live music performances.
Delight yourself in the soulful melody that fills the space, whether you're a native or a guest. Enjoy The Music Farm's enchantment to make your evening in Charleston extra special.
5. The Terrace Theatre: A Cinematic Gem for Discerning Film Lovers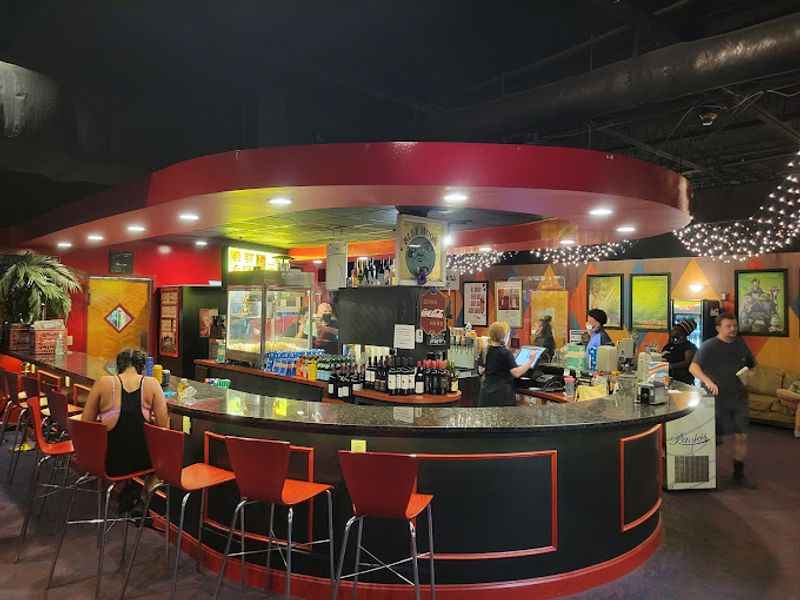 The Terrace Theatre in Charleston, SC, is an absolute must for culture vultures from all over the world.
This famous setting, which is in the center of the city, provides a lively atmosphere for a memorable night. The Terrace Theatre has something for everyone, whether you're looking for a comedy show or any other type of live performance.
Visit the Terrace Theatre to witness the enchantment of a night in Charleston SC where lifelong memories are created.
6. Explore Charleston City Market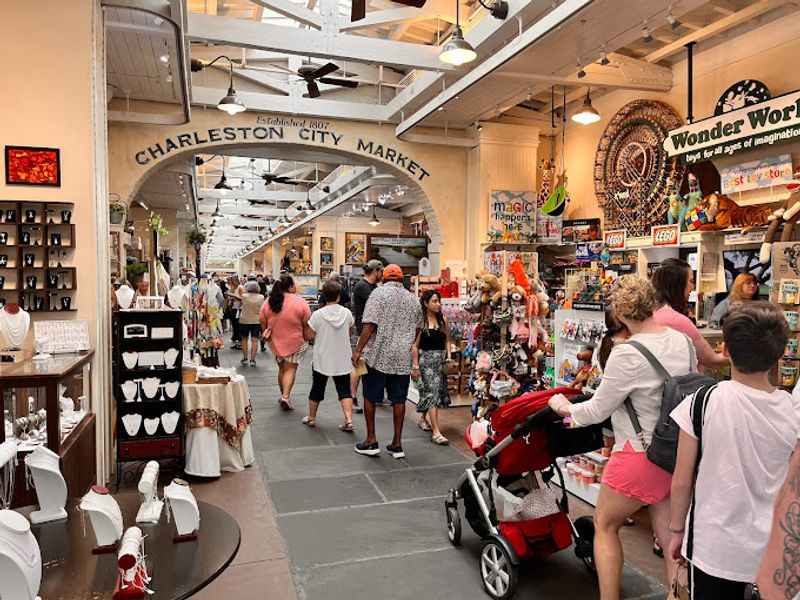 Charleston City Market in Charleston, South Carolina, is the perfect place to experience the vivacious nightlife of this historic city.
Visitors can find a range of bars offering an upbeat environment and delicious libations among crowded vendors and attractive boutiques. The city market has everything for everyone looking for an unforgettable night out in Charleston, from craft cocktails to local breweries.
Discovering the Charleston City Market after hours is crucial to capturing the essence of this beautiful city, whether you're a local or a traveler.
7. Downtown Charleston Bars and Nightlife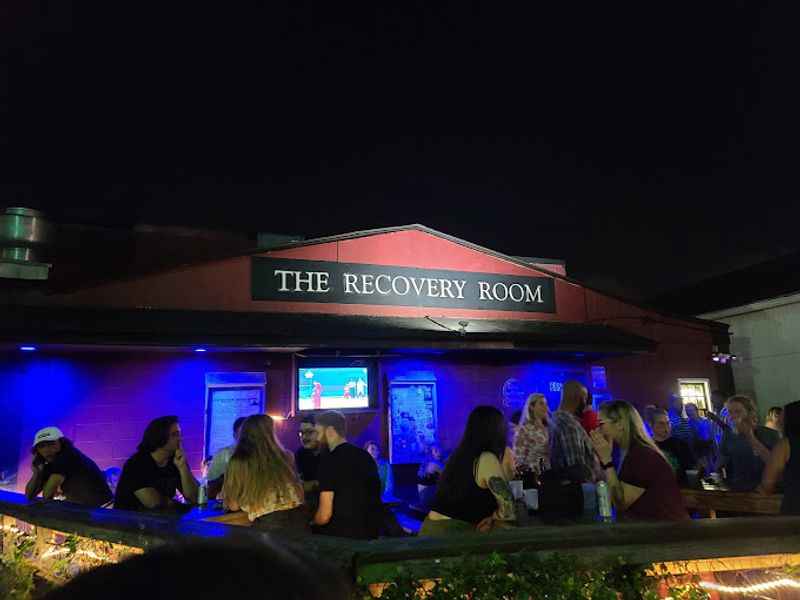 With a wide selection of establishments that appeal to all tastes, downtown Charleston has a thriving nightlife tradition. The French Quarter offers a variety of exciting bars where you can have a fantastic time.
The French Quarter is noted for its gorgeous architecture and rich past. Visit a rooftop bar for a remarkable experience to take in the stunning views of the city skyline while sipping on delicious drinks.
Charleston's nightlife offers it all, guaranteeing unlimited enjoyment all night long, whether you're looking for a quaint tavern with a DJ or a high-energy dance club.
8. Watch a baseball game at Charleston RiverDogs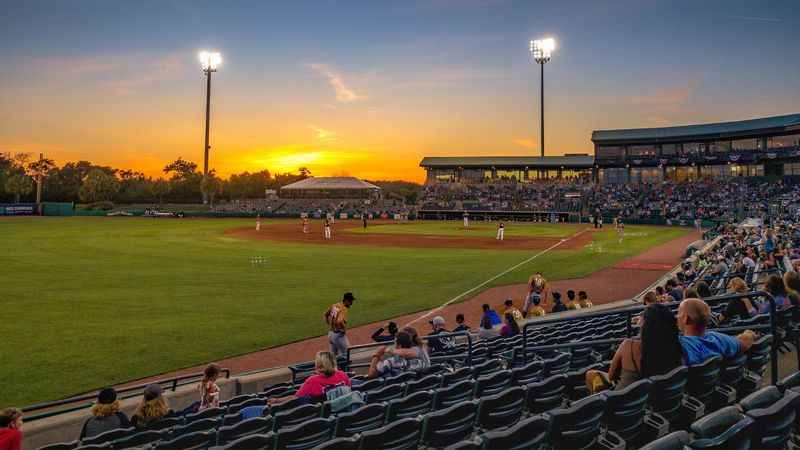 Come to Charleston on a Friday night and experience baseball at its most passionate at a Charleston RiverDogs baseball game.
Feel the excitement as you support the players under the lights of the city. Take your friends to the game and enjoy a delicious hot dog from the concession stand.
When the game is over, go to a fun Charleston bar to toast the winning team. This special occasion mixes the thrill of baseball with exquisite food and Charleston's exciting nightlife.
9. Charleston's Evening Graveyard Tour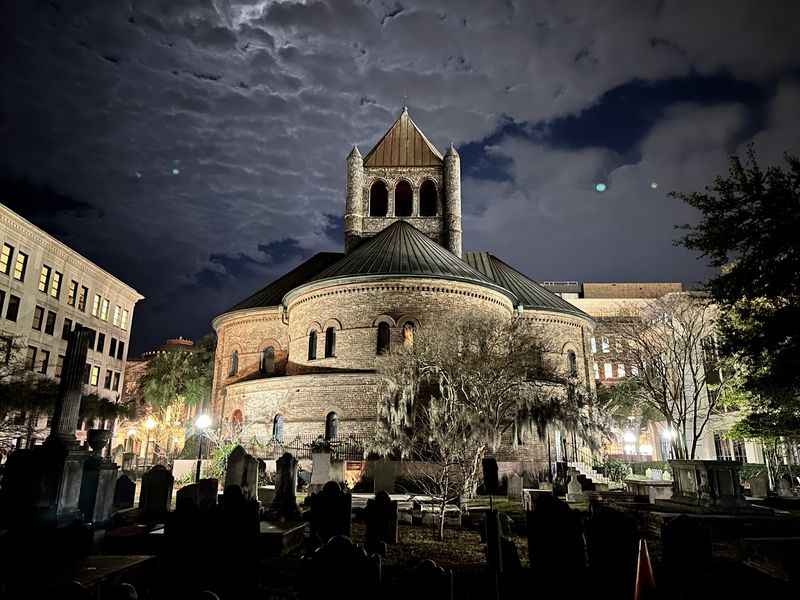 Every Friday night, take the spine-tingling charm of Charleston's Evening Graveyard Tour. Tour the city's haunted graveyards as an expert guide reveals ghostly lore.
Discover Charleston's creepy atmosphere at night, when the past and the paranormal converge. Look into creepy pathways while witnessing ghostly apparitions and hearing whispers of the past.
A visit to a haunted bar at the end of the adventure will give it a terrifying conclusion and make it an unforgettable ghost tour. In the heart of Charleston, get ready for a night filled with magic and terror.
10. Escape to Natural Serenity: Hampton Park Beckons with Tranquil Beauty and Recreational Delights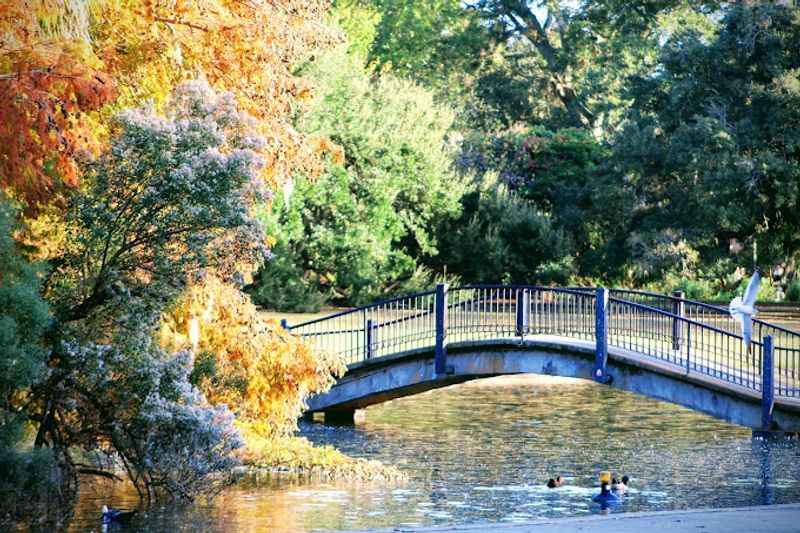 In Charleston, South Carolina, Hampton Park is a must-see venue for a romantic evening in this old city.
The park becomes a gorgeous sanctuary as dusk falls, providing a calm atmosphere ideal for relaxing walks. The ideal backdrop is created by abundant foliage, colorful flowers, and peaceful ponds.
Visitors are under a mystical spell as the park comes alive at night with the brilliance of the city lights. Discover Hampton Park's splendor and take in the soul of Charleston in all its splendor.
11. Charleston Waterfront Park: Where Natural Beauty and Coastal Charm Converge in Harmonious Splendo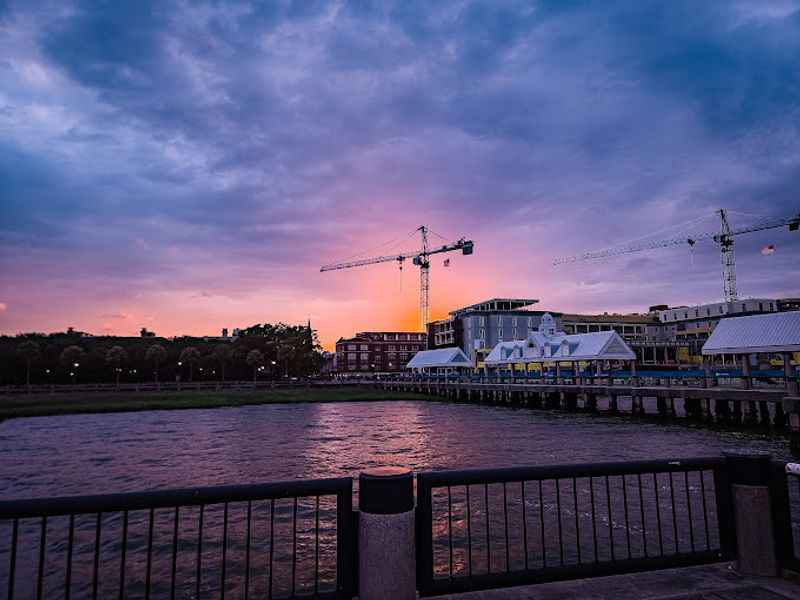 A hidden gem in the middle of the Holy City is Charleston Waterfront Park. This park, which is a tranquil retreat from the busy city, is situated along the lovely shoreline.
Enjoy a relaxing walk down the charming promenade while admiring the breathtaking views of Charleston Harbor and The Battery. As the sun sets and a golden glow covers the city, unwind on a swinging bench.
As guests enjoy the lively ambiance and participate in the many exciting activities offered, the park comes alive at night with laughter and enjoyment.
12. Enjoy A Sunset Boat Tour Of Charleston At Night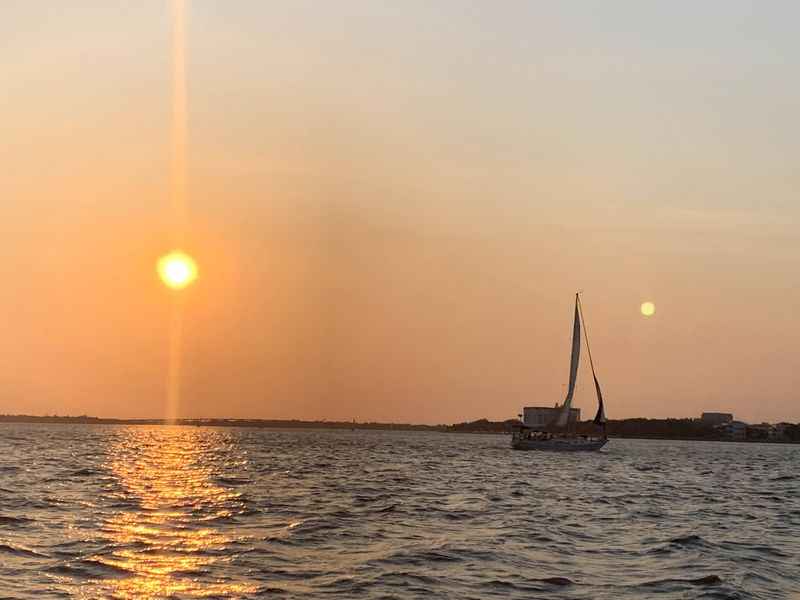 With a spectacular Sunset Boat Tour, discover the enchantment of Charleston at night. Set off on a relaxing cruise while taking in the beautiful waterfront scenery and the mellow twilight light.
Enjoy waterfront dining while soaking in the spectacular sights on an enthralling Friday night experience. Enjoy the relaxed atmosphere of the city as you float through the glistening waters while being amazed by the magnificent night sky.
On this fascinating boat excursion, see Charleston's beauty from a different angle and make lifelong memories.
13. Watch the Holiday Festival of Lights at James Island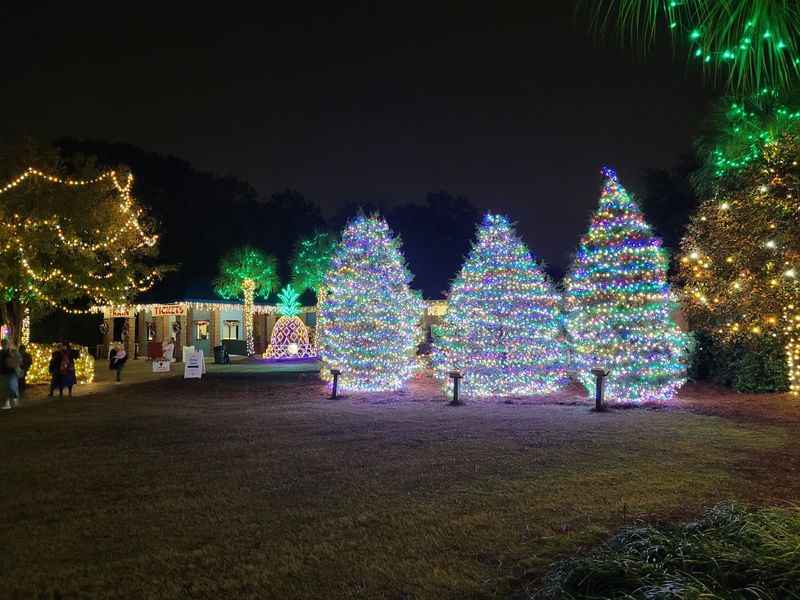 A beloved Charleston event that blends history, the beauty of the city, and a mystical atmosphere is the Holiday Festival of Lights.
This yearly spectacle enchants spectators of all ages by illuminating the night with beautiful displays. Visit the lovely streets on a leisurely walking tour to see how the holiday decorations bring the city's rich background to life.
The Holiday Festival of Lights in Charleston is the ideal opportunity to get into the holiday mood while experiencing all that this magnificent city has to offer in terms of culture and beauty.
14. Spoleto Festival: A Cultural Extravaganza Showcasing the Finest in Music, Dance, and Art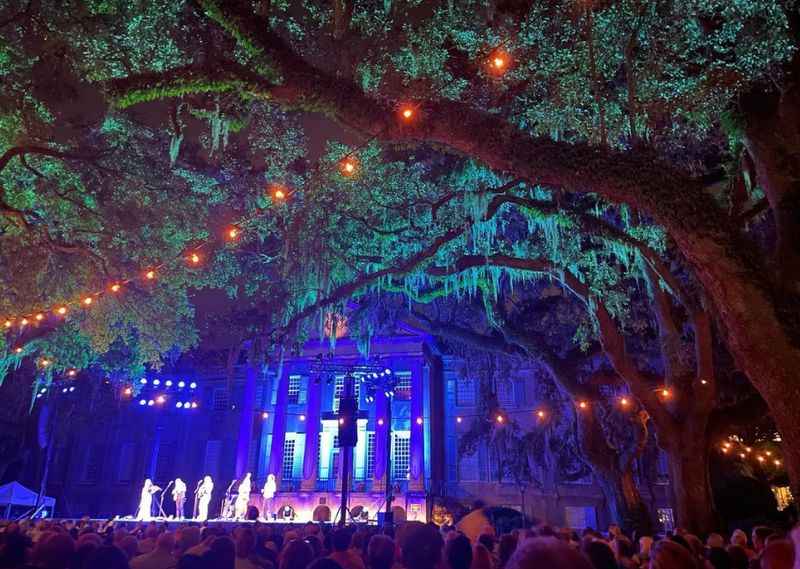 One of the best things about a vacation to Charleston is the Spoleto Festival. It's a must-see event with its mesmerizing fusion of arts and culture.
As you take in the vivid acts, the evenings are brimming with joy and excitement. Don't pass up the chance to enjoy a nighttime walking tour around Charleston's lovely streets and experience the city's distinct atmosphere.
A wonderful experience and lasting memories are promised by the Spoleto Festival.
15. Explore the Art galleries at the Art Walk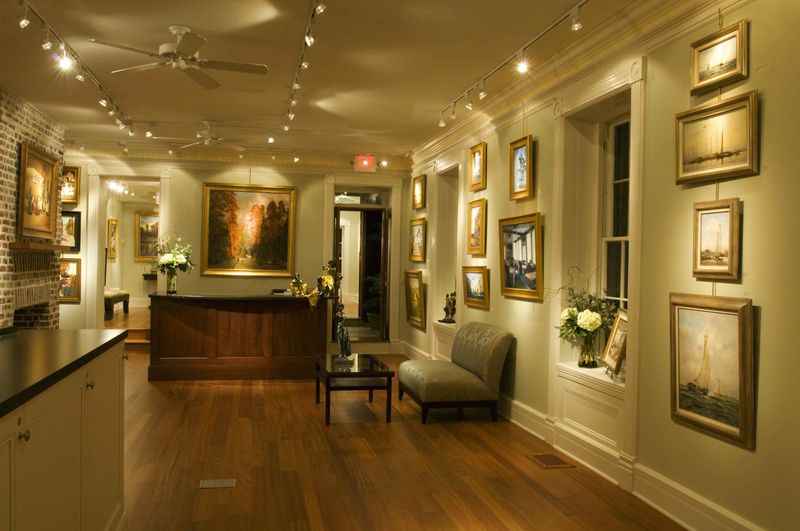 Visit Charleston Art Walk, and take in the city's vibrant art culture and rich legacy. As dusk falls, a kaleidoscope of hues and inventiveness erupts throughout the city.
Take a look at the different works of art on display in the many galleries that line the streets, both local and foreign.
Without taking in the enchanting ambiance of the Art Walk, a trip to Charleston would be incomplete. Whether it's a sunny day or a starry night, let the art lead you through this magical city's heart and soul.
16. Dock Street Theatre: Where Timeless Stories Come Alive on Historic Stage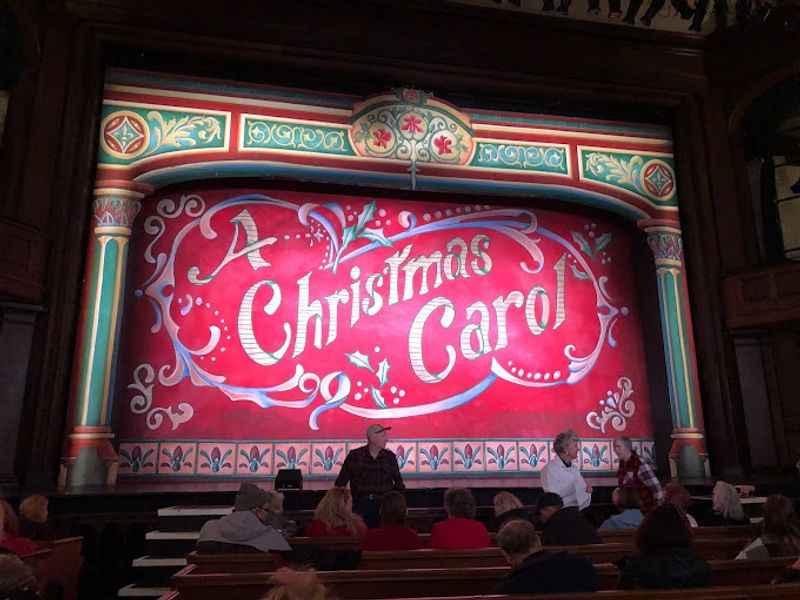 The historic Dock Street Theatre, situated in the center of Charleston, has a classic appeal. This venue, which is recognized for its impressive tradition and enthralling performances, is a mecca for fans of live entertainment.
The night comes alive as the sun sets with the songs resonating through its sacred spaces.
All who gather to enjoy the beauty of Charleston's thriving cultural scene will have an amazing experience thanks to the Dock Street Theatre's atmosphere and enchanted past.
17. Indulge in Exquisite Waterfront Dining: A Scenic Culinary Journey by the Water's Edge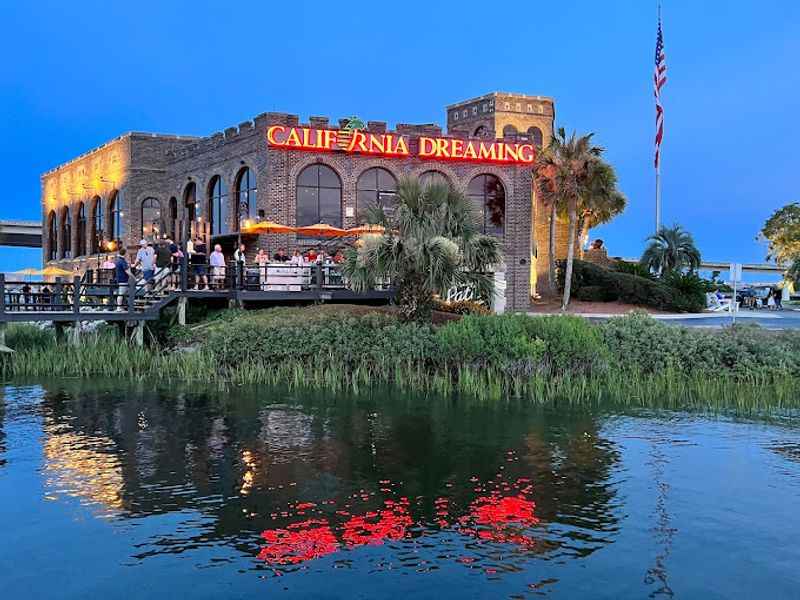 Discover Charleston's waterfront eating scene at its best and feel its appeal. Enjoy delicious meals and incredible panoramas of the city's lovely waterfront.
Charleston has a variety of outdoor seating options, whether you're enjoying fresh seafood on the half-shell or a romantic evening beneath the stars.
Whether it's a special occasion or simply a desire to enjoy the night in Charleston, it's the perfect place for couples looking for romantic things and activities to do at night.
18. Enjoy an Unforgettable Cinema and Gourmet Dining Experience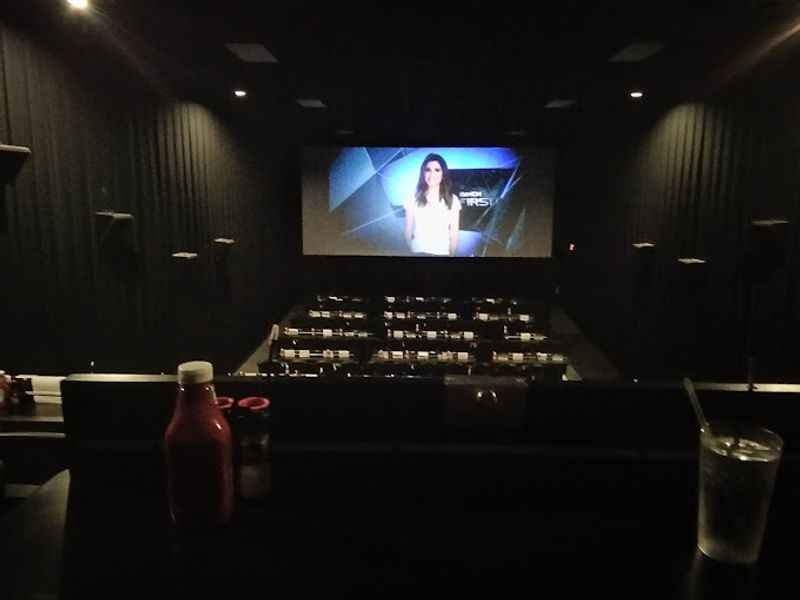 The best movie theater in the city for a fun night out is Cinebarre in Charleston. It combines the best things about a traditional movie theater with the added excitement of a bar and restaurant.
Film buffs can enjoy tasty meals and beverages while watching the newest films thanks to the theater's convenient position in downtown Charleston.
The best movie night in Charleston is at Cinebarre because it provides a unique and satisfying experience.
19. Charleston's Dynamic Duo: King Street and Marion Square
Take a tranquil walk through Marion Square and along King Street to discover Charleston's beauty at night. The city comes to life with a magical vitality as the sun sets.
Absorb yourself in the lively atmosphere, which combines modern allure with historical charm. Charleston offers the ideal environment for a wonderful evening, whether you're looking for a great time of dining, shopping, or simply soaking up the atmosphere.
Make the most of your one night in this captivating city and let its timeless allure leave a lasting impression.
20. Embark on a haunted pub crawl to discover the city's supernatural side
A haunted pub crawl will take you on a thrilling tour of Charleston's paranormal past. Enjoy a short walk through haunted pubs while learning about the city's spooky legends.
Take a ghost tour to find out about the ethereal world and experience the magic of Charleston at night. As skilled interpreters bring the history of the city to life, learn about the terrifying legends that are housed within the old walls.
Allow the night tours to reveal Charleston's enigmatic charm and envelop you in the spine-tingling atmosphere that only emerges at night in Charleston, South Carolina.
21. Enjoy a relaxing stroll along the Battery and admire the city skyline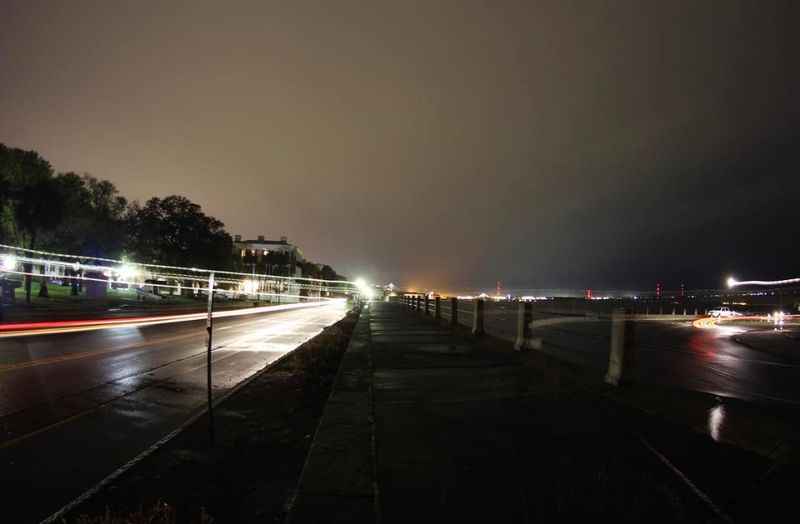 Walking around the Battery is one of the best things to do in Charleston, South Carolina. You'll get an astonishing view of the downtown skyline while you wander.
Consider boarding the Carolina Belle, an adorable riverboat that provides fun things like sightseeing tours, to increase the experience.
Additionally, the city's illuminated skyline adds to the charm if you visit Charleston at night. Don't pass up the chance to enjoy Charleston, South Carolina's splendor, day or night.
22. Watch a captivating sunset from the rooftop bar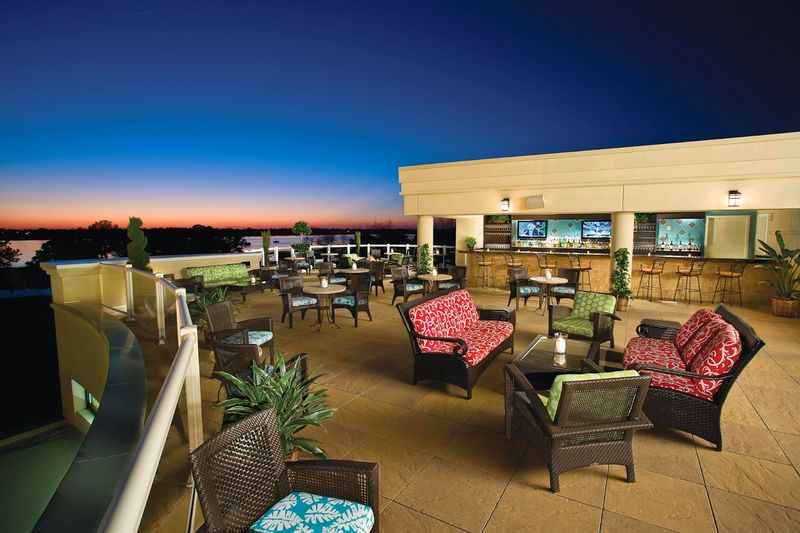 As you take in a stunning sunset from one of Charleston, South Carolina's lively rooftop bars, you can truly understand the enchantment of the city.
During happy hour, indulge in the allure of a charming evening while sipping on exquisite cocktails. To fully enjoy the energetic environment and take in the amazing views, don't forget to bring your valid ID.
Rooftop bars in Charleston provide the ideal atmosphere for unwinding, socializing with friends, and making priceless memories in the charming town. Don't pass up this chance to improve your nightlife experience in Charleston, SC.
FAQs: Unique and Fun Things to Do in Charleston at Night
Let's have a look at some common questions about things to do in Charleston at night
Where do people hang out in Charleston SC?
People frequently gather at popular spots like King Street in Charleston, SC, which is famous for its lively stores, eateries, and pubs. While Marion Square serves as a venue for events and gatherings, The Battery offers a beautiful waterfront environment. Travelers and residents alike take pleasure in discovering the Charleston City Market's historic beauty.
What is Charleston's most popular street?
Charleston's King Street is the busiest, especially at night. In Charleston, SC, it is well known for its exciting nightlife and lively atmosphere. King Street offers a fascinating experience that reflects the spirit of Charleston's rich history and Southern friendliness. It is lined with historic buildings, lovely stores, acclaimed restaurants, and bustling bars.
What streets to avoid in Charleston SC?
It is advisable to use caution and stay away from particular areas when exploring Charleston at night. It may be more likely to run across possible threats on busy, packed streets like Meeting Street and East Bay Street. For a safe night out in Charleston, SC it's usually advised to stick to busy, well-lit areas and pay attention to your surroundings.
Summing Up: Unique & Fun Things to Do in Charleston at Night
As you can see, there is no shortage of fun things to do in Charleston at night.
Discover the world of creativity and charm in the Charleston area, South Carolina, with an array of unique and fun things to do in Charleston at night.
Discover Charleston's colorful art galleries, where the city's rich cultural legacy comes to life. Enjoy a stroll through Hampton Park as you take in the serene atmosphere and starry skies.
Learn about the fascinating fusion of modernity and history that Charleston SC offers, making it an ideal spot for nighttime adventures.
Charleston truly creates the perfect environment for a great evening of exploration and entertainment with its charming atmosphere and variety of activities.