18 Best Things to Do in Bodrum, Turkey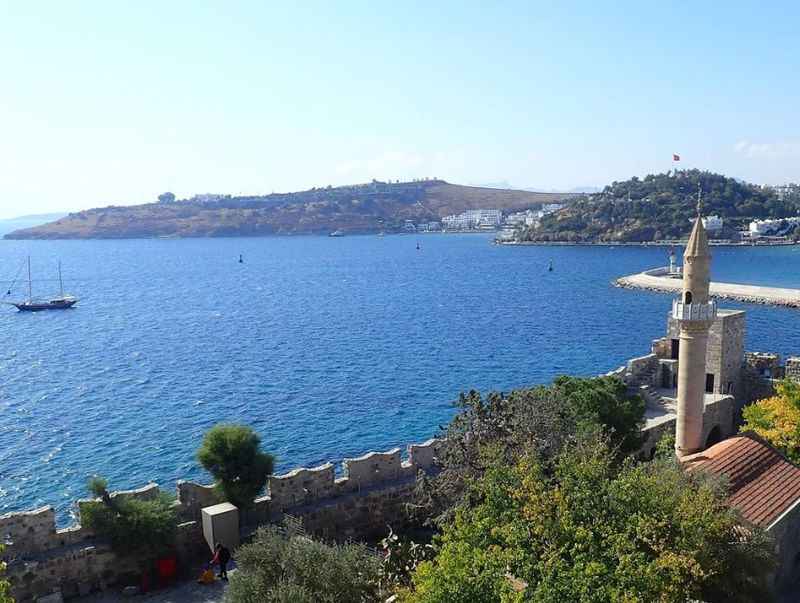 Bodrum, a resort town, located in the heart of the Turkish Riviera, is a charming coastal town that boasts a rich history and stunning natural beauty.
Nestled along the Aegean Sea and neighboring the picturesque Greek island of Kos, Bodrum offers a plethora of activities and attractions for visitors to enjoy.
Whether you're interested in exploring the ancient wonders of the local area or simply relaxing on one of its beautiful beaches, there's something for everyone in Bodrum.
So why not plan a visit to this delightful town and discover the magic of its local culture, hospitality, and breathtaking scenery?
Most Recommended Thing to Do
Our Top Choice Restaurant
Our Top Choice Bar for Nightlife
Sunny summers, mild winters, best time: April-October.
Warm and Mediterranean climate in Bodrum, Turkey.
Buses, taxis, minibuses, rental cars, bicycles, scooters, walking.
Average Cost ($, $$, $$$)
My Top Recommendation
When it comes to experiencing a truly personal and unforgettable getaway, there's no place quite like Bodrum, Turkey. Nestled along the enchanting Aegean Sea, this city offers a perfect blend of history, culture, and breathtaking landscapes. One must-do activity that I highly recommend is exploring the iconic Bodrum Castle. As you wander through its ancient stone walls, you'll feel the weight of history beneath your feet and be transported back in time. Don't forget to visit the Castle of St. Peter Museum inside, where you can admire fascinating exhibits and breathtaking views of the sparkling marina. After a day of exploration, indulge in the local cuisine at one of the charming seaside restaurants, where you can savor traditional Turkish delights while watching the sun set over the azure waters – truly a moment you won't want to miss.
Another must-visit spot in Bodrum is the vibrant market known as the Bodrum Bazaar. Lose yourself in its bustling atmosphere as you navigate through a maze of stalls selling everything from colorful textiles and handmade ceramics to aromatic spices and exotic fruits. Take your time to barter with friendly vendors, who are always eager to share stories and local insights. For a more serene experience, escape the hustle and bustle and head to one of Bodrum's many stunning beaches. Sink your toes into the soft golden sand as you bask in the warm Mediterranean sunshine. Whether you're seeking relaxation or excitement, Bodrum has something for everyone, and every step you take will be an opportunity to create remarkable memories that are sure to last a lifetime.
What You'll Need to Bring
Passport, comfortable walking shoes, sunscreen, swimsuit, hat, sunglasses, camera, cash or credit cards, travel adapter, local currency, lightweight clothing for hot weather, a light jacket or sweater for cooler evenings.
What Not to Miss
Bodrum Castle
Ancient Theater of Bodrum
Bodrum Museum of Underwater Archaeology
Mausoleum at Halicarnassus
Myndos Gate
Bodrum Marina
Windmills of Bodrum
Bodrum Amphitheater
Zeki Muren Art Museum
Bodrum Farmers Market
Torba Beach
Yalikavak Marina
Gumusluk Bay
Pedasa Antique City
Bardakci Bay
What to Avoid
Overpriced restaurants and tourist traps
Unlicensed taxis and scams targeting tourists
Public displays of affection in conservative areas
Drinking tap water
Wearing revealing clothing in religious sites
Flashing expensive belongings or large amounts of cash
Ignoring local customs and traditions
Going out alone late at night in unfamiliar areas
Engaging in illegal activities, such as drug use
Disrespecting historical monuments and sites.
1. Bodrum Castle - Castle of St. Peter and Bodrum Harbour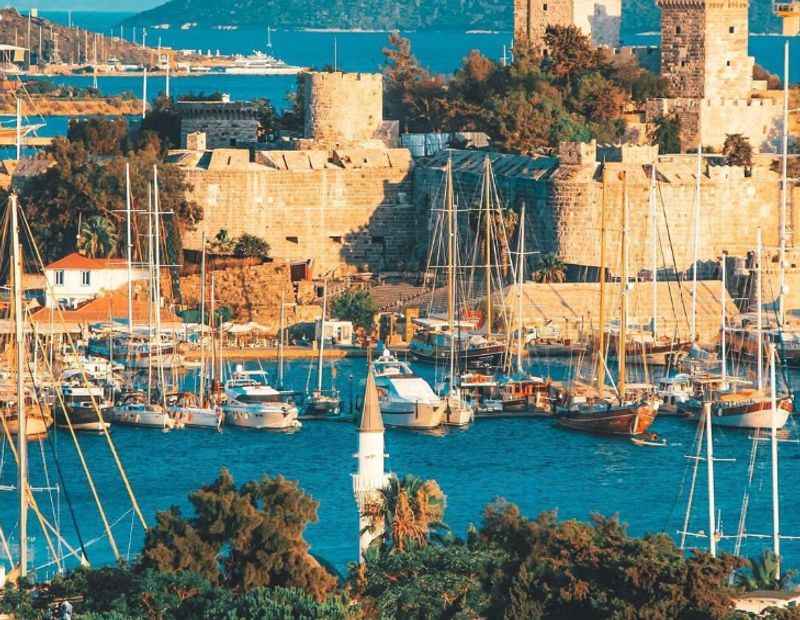 Bodrum Castle, also known as the Castle of St. Peter, is a fascinating historical landmark located in the heart of Bodrum, Turkey.
This stunning fortress was built by the Knights Hospitaller in the 15th century, and it remains one of the most impressive examples of medieval architecture in the region.
The Bodrum castle consists of several towers, including the English Tower, which was named after the English knights who were stationed there during the time of the Knights of St. John.
The tower is one of the largest and most imposing structures of Bodrum Castle, with thick walls and narrow windows that once served as lookouts and defensive positions.
In addition to the towers, the castle is also home to several vast halls that were once used as living quarters, storerooms, and ceremonial spaces. The halls are adorned with intricate carvings, arches, and decorative motifs that reflect the castle's rich history and cultural significance.
The nearby Bodrum Harbour is home to a wide range of amenities and attractions, including restaurants, cafes, bars, and shops selling everything from souvenirs to designer clothing. Visitors can stroll along the waterfront, take in the stunning views of the sea and surrounding hills, or simply relax and people-watch as the boats come and go.
2. Bodrum Museum Of Underwater Archaeology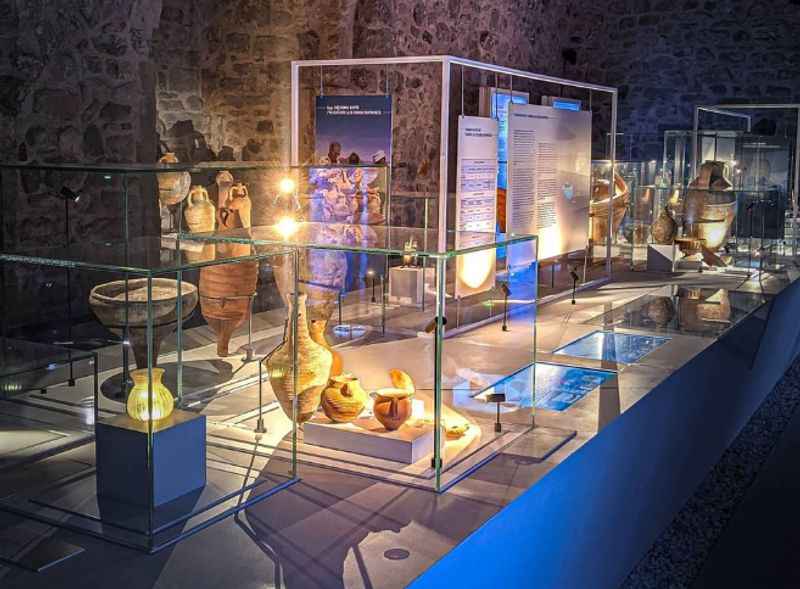 Located within the walls of Bodrum Castle, the Museum of Underwater Archaeology is a fascinating tribute to the maritime history of the Aegean Sea.
With a vast collection of artifacts recovered from underwater excavations, the museum offers a unique glimpse into the ancient civilizations that once thrived in the region.
Bodrum Museum of Underwater Archaeology is dedicated to preserving and showcasing these treasures. From ancient amphorae to intricate jewelry, the museum's collection spans thousands of years of history.
This is the largest museum in the world dedicated to underwater archaeology. One of the highlights of the museum is the Hall of Bronze Age Shipwrecks, which features artifacts recovered from a 3,500-year-old shipwreck.
The ship, which sank off the coast of Kas, Turkey, is one of the oldest known examples of a seafaring vessel.
3. See How a Legend Lived at the Zeki Muren Arts Museum
The Zeki Muren Museum is a charming museum located in Bodrum, Turkey, dedicated to the life and work of the renowned artist, the iconic Turkish singer and actor, Zeki Muren.
The museum features a collection of personal belongings, costumes, photographs, and recordings of Muren's performances, providing visitors with a fascinating insight into his life and career.
4. One of the Seven Wonders of the Ancient World - the Mausoleum of Halicarnassus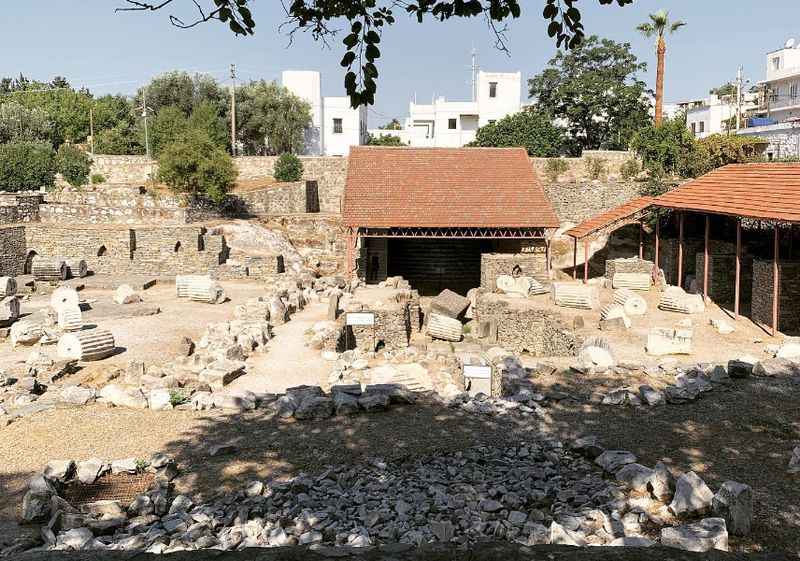 Bodrum is home to one of the seven Wonders of the Ancient World, the Mausoleum of Halicarnassus.
This magnificent tomb was built in the ancient city of Halicarnassus, which is now modern-day Bodrum, to honor the memory of King Mausolus, who ruled the city in the 4th century BC.
The mausoleum collapsed after a series of earthquakes between the 12th and 15th centuries. It was the last standing of the 6 destroyed Ancient Wonders of the World.
Some of its sculptures were taken by crusaders to their castle at Bodrum, from where they were taken in 1846 by the British ambassador at Constantinople and presented to the British Museum. Others were retrieved in the 1850s during site excavations by the museum.
Today, visitors can explore the site of the ancient city of Halicarnassus and marvel at the remains of the Mausoleum.
5. Discover the Wonders of the Sea at the Bodrum Maritime Museum - Bodrum Deniz Müzesi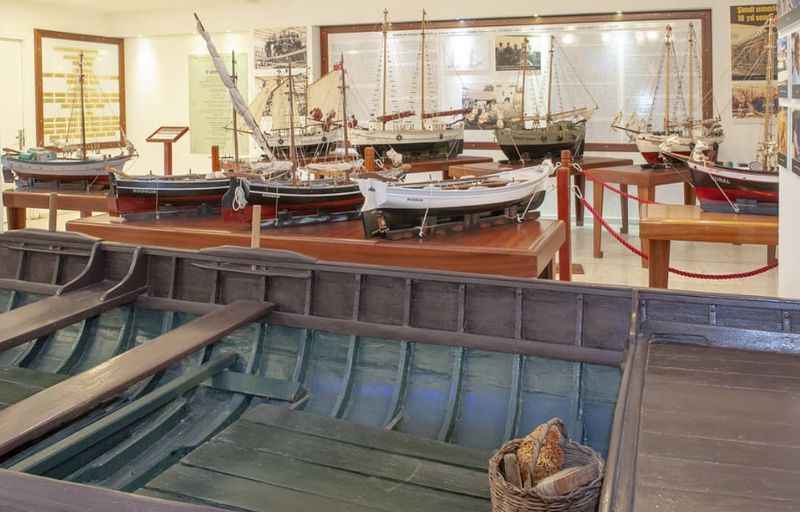 The Bodrum Maritime Museum ****is a fascinating museum located in the heart of Bodrum. The museum's collection includes a vast array of artifacts and exhibits, including ship models, antique navigation instruments, photographs, and paintings.
Here, you will find fascinating sailboats and other maritime artifacts that offer a glimpse into the traditional sailing culture of the region. The museum is a must-see for anyone interested in maritime history.
6. Visit the Amazing Architecture of the Bodrum Amphitheater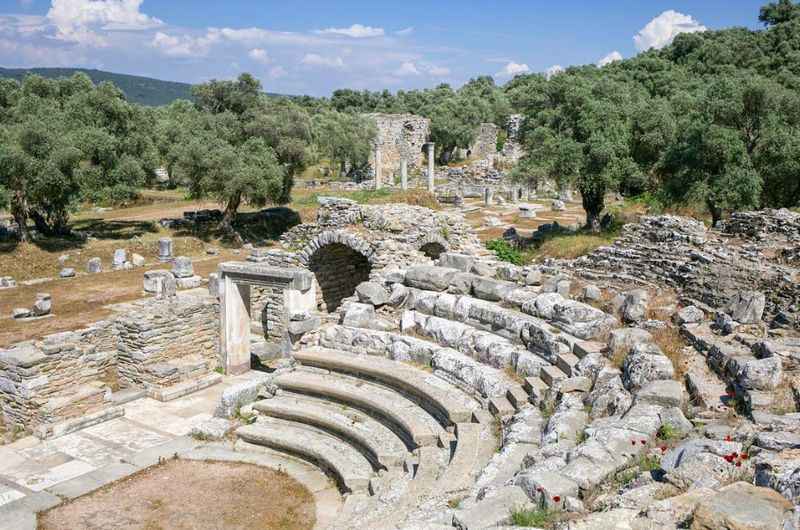 The Bodrum Amphitheater is a stunning ancient Roman amphitheater located in the heart of Bodrum. Constructed in the 4th century BC, the amphitheater was designed to hold up to 13,000 spectators for gladiatorial contests and other public events.
Today, visitors can explore the amphitheater and marvel at its impressive size and architectural features, including the original stage, seating, and decorative stonework.
7. Cruise and Swim on the Beautiful Aegean Sea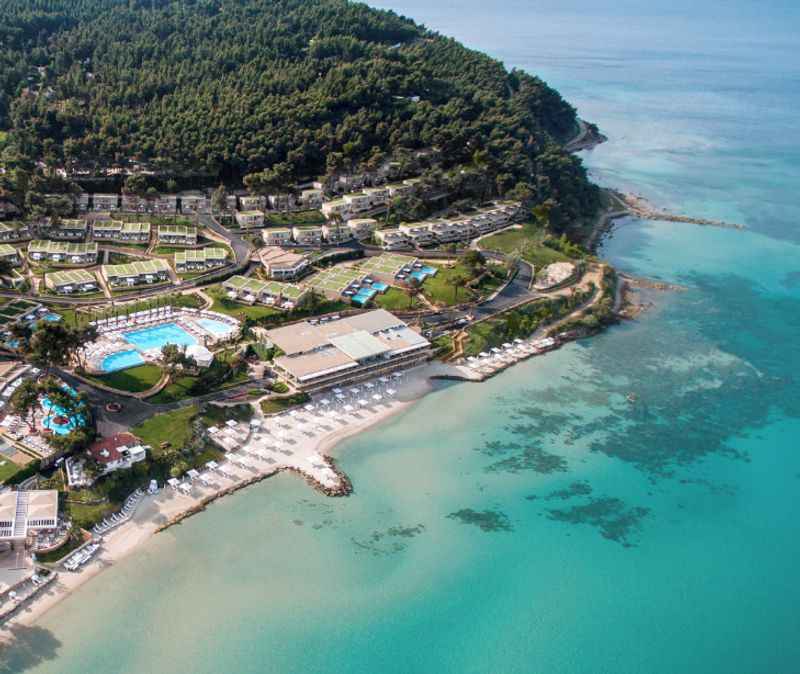 Bodrum is a popular destination for cruising and boat trips, offering visitors the chance to explore the stunning coastline and crystal-clear waters of the sea.
Located on the junction of the Mediterranean Sea and the Aegean, this is a great spot to scuba dive, with many boats offering diving trips to explore the underwater world of Bodrum. There are other water sports available too, like snorkeling and windsurfing.
From colorful reefs to ancient shipwrecks, there's plenty to see and discover beneath the waves and swimming stops. You can organize a guided boat tour or a private boat trip to explore the sea in your own style.
Many boats also offer day trips to nearby islands, where you can explore charming villages, enjoy delicious local cuisine, and soak up the natural beauty of the region.
8. Visit Bodrum Marina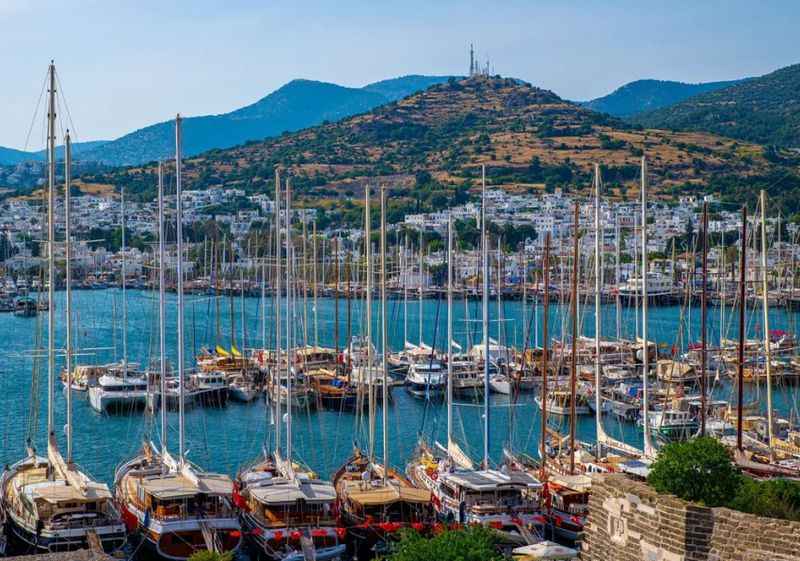 The Bodrum Marina, also known as the Milta Bodrum Marina, is one of the most prestigious marinas in Turkey and the Mediterranean.
Situated in the heart of Bodrum, the Milta Bodrum Marina boasts a stunning location with easy access to the town's many attractions, restaurants, and shops.
With over 450 berths, the Marina is one of the largest and most modern marinas in the region, offering a wide range of services and amenities to its guests.
In addition to its state-of-the-art facilities, the Bodrum Marina is also renowned for its stunning views and lively atmosphere, and loud music.
9. Take a Day Trip on the Bodrum Peninsula
The Bodrum Peninsula boasts more than just Bodrum town. This stunning location in southwestern Turkey boasts a beautiful coastline, crystal-clear waters, and rich history and culture.
The entire peninsula is a must-visit destination for travelers looking to explore this beautiful region. Visitors can explore Bodrum Peninsula by visiting the Bodrum Windmills, or the nearby towns of Yalikavak and Kadikalesi.
Visitors can stroll through the winding streets, sample local cuisine, and soak up the atmosphere of these traditionazl Turkish communities.
10. Swim at Yahsi Beach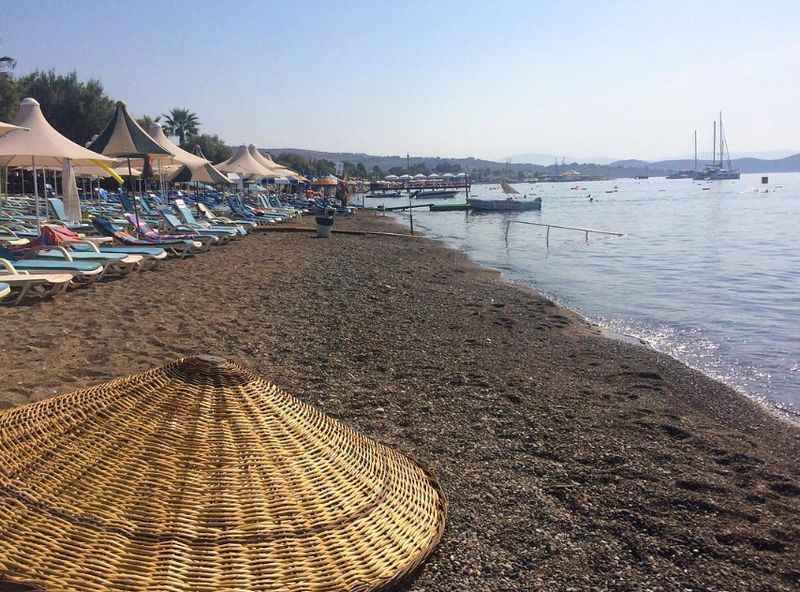 The Bodrum Peninsula is home to some of the most beautiful pristine beaches in Turkey, including Yahsi Beach, Camel Beach, and Bitez Beach.
Each of these sandy beaches offers visitors a unique and unforgettable experience, with crystal-clear waters, stunning scenery, and plenty of opportunities for relaxation and adventure.
Yahsi Beach is a long and sandy beach located on the western side of the Peninsula. With its calm and shallow waters, it's the perfect destination for families with young children.
11. Visit Camel Beach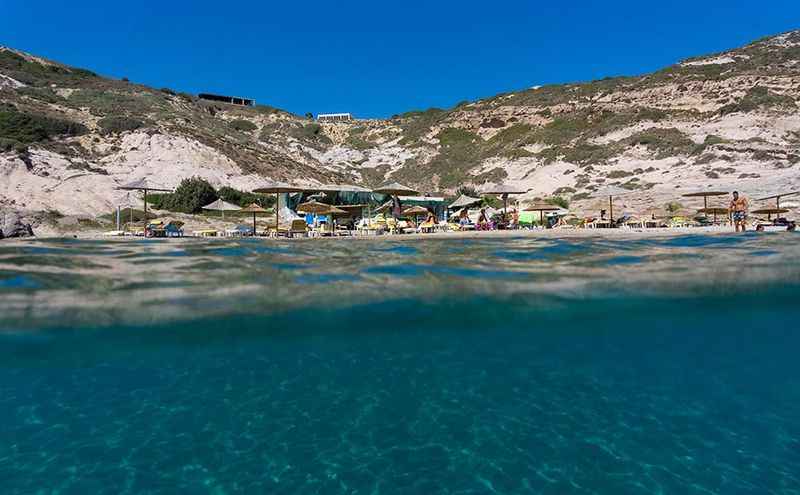 Named for the camel rides that used to be offered there, is a more secluded and quiet beach located on the southern side of the Peninsula.
With its crystal-clear waters and stunning scenery, it's the perfect destination for those looking to escape the crowds and enjoy a peaceful day at the beach.
12. Visit Bitez Beach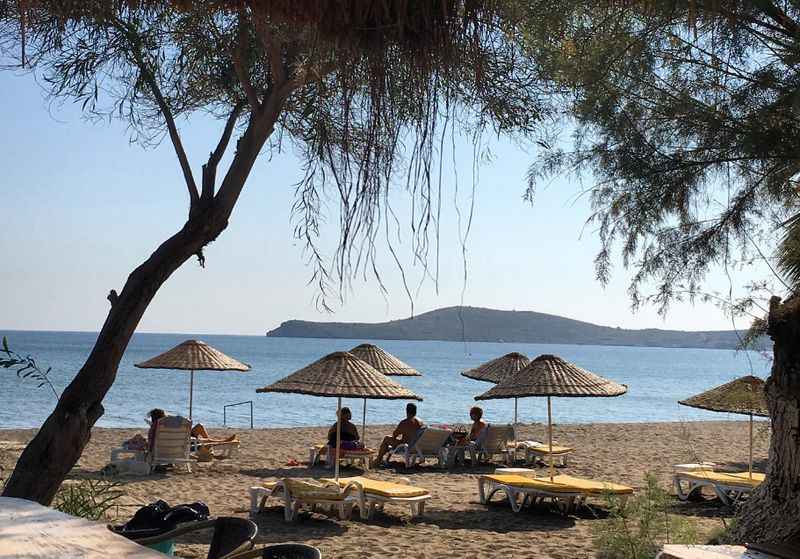 Bitez Beach is another popular destination for visitors to the Bodrum Peninsula. With its long stretch of sandy beach and calm waters, it's the perfect place to relax under palm trees and soak up the sun.
Venture a little out of town and you can dive among sandbar sharks and the endangered Mediterranean monk seal at Gokova Bay.
13. Explore Black Island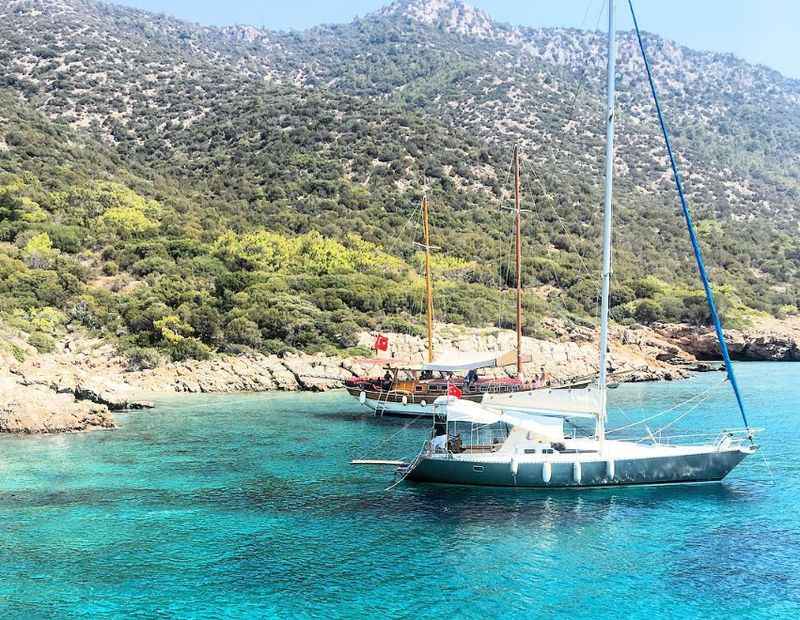 Black Island, or Karaada in Turkish, is a small island located off the coast of Bodrum in Turkey.
One of the island's most popular attractions is the hot springs, which are said to have therapeutic properties.
The warm waters of the hot springs are rich in minerals, making them a popular destination for those seeking relaxation and rejuvenation.
14. Discover Bodrum Town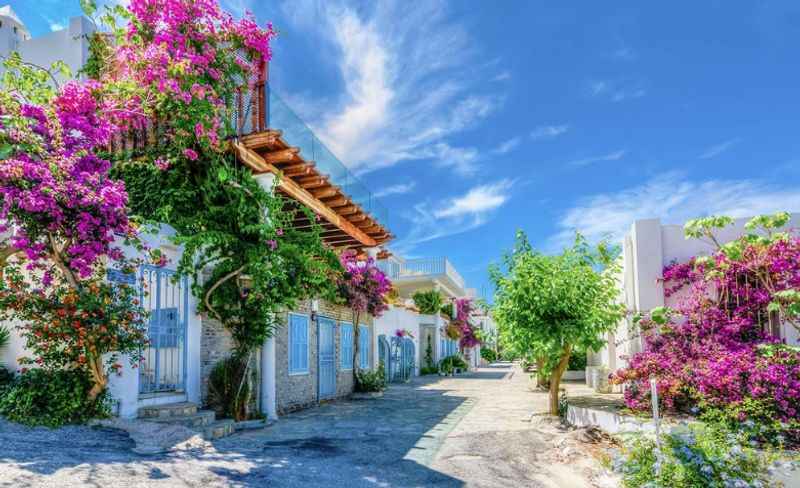 Bodrum City, located on Bodrum Bay in Turkey, is a vibrant and historic city center that offers visitors a unique and huge range of culture, ancient ruins, history, and modern amenities.
Bodrum Town is also home to the Bodrum Yalıkavak Yolu, a scenic coastal road that winds along the bay and offers stunning views of the sea and surrounding landscape.
The road is a popular destination for visitors looking to take a scenic drive or walk along the coast.
15. Experience a Turkish Bath Ritual at a Bodrum Hammam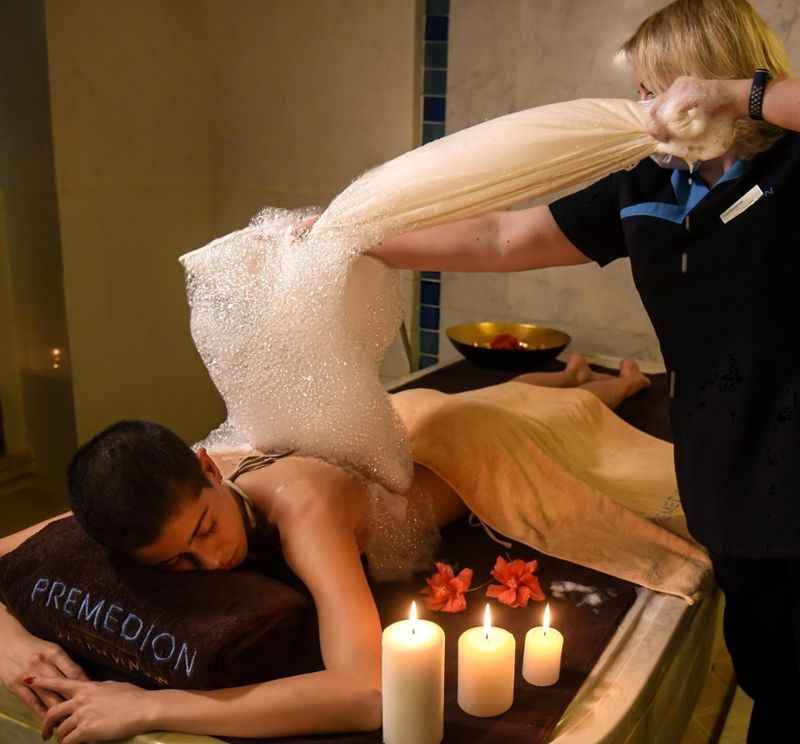 Bodrum Hamam, also known as a Turkish bath, is a traditional bathing experience that dates back centuries. At a typical Bodrum Hammam, visitors will first relax in a warm room to open their pores, then move on to a steam room to sweat out toxins.
After this, they will receive a scrub-down with a special mitt to exfoliate their skin and leave it feeling smooth and refreshed. Finally, visitors can enjoy a relaxing massage to help soothe their muscles and leave them feeling renewed.
There are several highly rated hammams in Bodrum, each offering a unique and luxurious experience, such as the Bitez Hamam and the Historic Bardakci Hamam.
16. Take a Good Picture with Bodrum's Windmills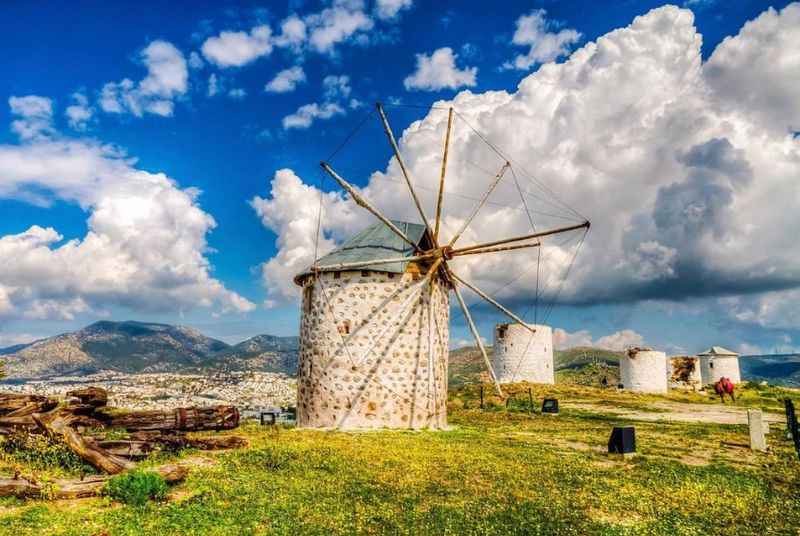 Bodrum is home to several historic windmills that are scattered throughout the region, particularly in the areas of Bardakci and Gumbet.
These windmills were once an important part of the region's agricultural economy, as they were used to grind grain and produce flour.
Today, many of these windmills have been restored and are considered to be cultural landmarks, offering visitors a glimpse into the region's past.
Some of the windmills have been converted into cafes or restaurants, where visitors can enjoy a meal or a cup of coffee while taking in the stunning views of the surrounding landscape.
17. Taste a Cup of Delicious Turkish Coffee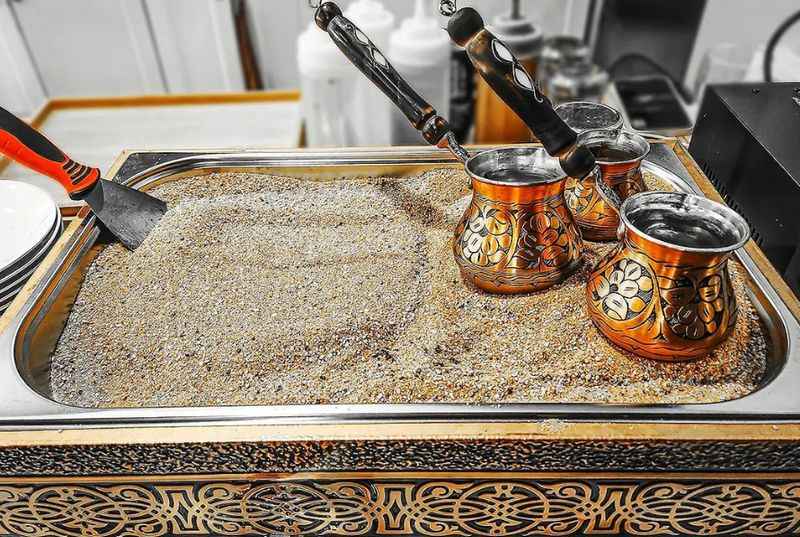 Bodrum has many great places to enjoy a cup of the best coffee, but here are a few that are particularly popular among locals and visitors:
Osmanlı Kahvecisi: Located in the heart of Bodrum town. The coffee is made using a traditional cezve and is served with a small glass of water on the side.
Kıyı Cafe: This charming cafe is situated on the waterfront in Yalikavak and is a great spot to relax and enjoy a cup of coffee while taking in the views of the Sea.
Dibek Kahve: This cafe is located in the historic village of Gumusluk and is known for its traditional preparation of coffee using a mortar and pestle called a dibek.
18. Try Turkish Delight or Baklava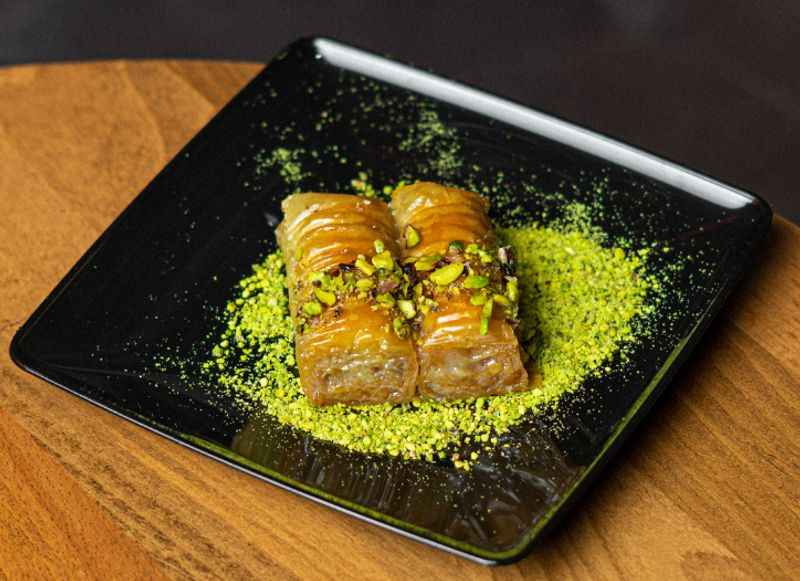 Turkish delight and baklava are two popular sweets in Bodrum that are worth trying during your visit. These delicacies are part of Bodrum's charm.
Turkish delight, also known as lokum, is a chewy, sugary confection that comes in a variety of flavors, such as rose, lemon, and pistachio. Meanwhile, baklava is a nut-filled pastry.
In Bodrum, you can find lokum and baklava in many local bakeries and pastry shops.
FAQs Regarding Things to Do in Bodrum
Let's take a look at some frequently asked questions about things to do in Bodrum, Turkey.
Is Bodrum Turkey worth visiting?
Yes, Bodrum is worth visiting. This town is a great destination for anyone looking to experience the unique blend of history, culture, and natural beauty that Turkey has to offer. Don't forget to take a day trip to some nearby towns, or find more activities in Greek Island of Kos, and soak up some sun and culture.
How do you spend a day in Bodrum?
There are many things to do in Bodrum that can easily fill up a day. You can start your day with a visit to the Castle of St. Peter. After exploring the castle and museum, head to the nearby marina and take a stroll along the promenade for some lunch. In the evening, head to Bodrum's famous Bar Street for some nightlife.
What is special about Bodrum?
Bodrum is a unique and special destination for several reasons. Its ancient history and vibrant culture make this Turkish spot perfect for people who want to get in touch with the ancient world. Moreover, the natural beauty, nightlife, and famous local cuisine in Bodrum are exceptional.
Which is better Bodrum or Antalya?
Both Bodrum and Antalya are popular tourist destinations in Turkey, each with its own unique attractions and features. Ultimately, which destination is better depends on your personal preferences and travel style.
Summing Up: 18 Best Things to Do in Bodrum, Turkey
Bodrum is a destination that has it all: history, culture, great food, natural beauty, and warm beaches. Its unique combination of the ancient and the modern makes Bodrum an unforgettable experience for anyone lucky enough to visit.
From the Bodrum Deniz Müzesi to the Zeki Muren Arts Museum, there is something on mainland Bodrum for everyone. And you can take a boat ride to the nearby islands when you want to get a taste of the sea air.
Bodrum promises to be an unforgettable experience that you will cherish for years to come.