36 Best Things to Do in Bangkok, Thailand | 2023 (with Photos)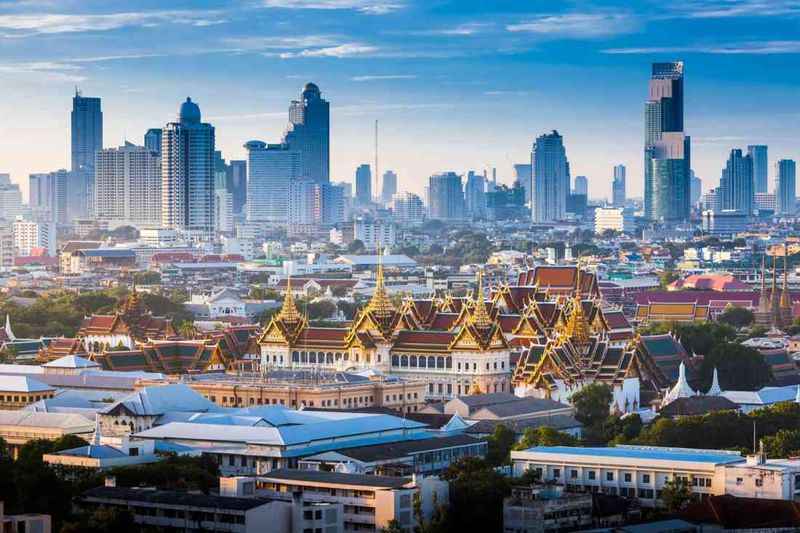 Bangkok is a city that truly never sleeps, with a dazzling array of things to see and do. 
From glittering temples and fascinating markets to amazing food and lively nightlife, this vibrant metropolis has something for everyone.
In this article, we've compiled a list of 36 of the best things to do in Bangkok, based on the author's recommendations, as well as tips from locals and seasoned travelers.
So, let's dive in and discover the city attractions and day trips to enjoy when visiting Bangkok, Thailand.
Most Recommended Thing to Do
Mandarin Oriental Bangkok
Our Top Choice Restaurant
Our Top Choice Bar for Nightlife
Peak tourist season: November to February, cooler temperatures.
Hot and humid with occasional rainfall in Bangkok
Taxis, tuk-tuks, motorbikes, buses, trains - transportation options.
Average Cost ($, $$, $$$)
My Top Recommendation
One of my top recommendations for spending time in Bangkok, Thailand is exploring the vibrant street food scene - indulge in delectable local delicacies from sizzling pad thai to mouthwatering mango sticky rice, while immersing yourself in the bustling atmosphere of the city's bustling night markets and food stalls.
To add a touch of relaxation to your Bangkok experience, I highly recommend visiting the peaceful and serene Wat Arun temple - with its stunning spires and intricate details, it offers a truly breathtaking sight that will leave you in awe of its architectural beauty.
What You'll Need to Bring
Passport, comfortable walking shoes, lightweight and breathable clothing, reusable water bottle, sunscreen, insect repellent, adapter for electronics, local currency (Thai Baht), umbrella or rain jacket, local SIM card or international data plan for your phone, basic first aid kit.
What Not to Miss
The Grand Palace and Wat Phra Kaew
Wat Arun (Temple of Dawn)
Chatuchak Weekend Market
Khao San Road
Jim Thompson House
Wat Pho (Temple of the Reclining Buddha)
Chinatown (Yaowarat)
Damnoen Saduak Floating Market
Asiatique The Riverfront
Bangkok Art and Cultural Centre (BACC)
What to Avoid
Overpaying for Tuk Tuks

Accepting unsolicited help or advice from locals

Falling for scams or fake products

Wearing revealing clothing in temples or sacred places

Partaking in illegal activities or drugs

Drinking tap water

Disrespecting the Buddhist culture

Eating street food from unhygienic vendors

Ignoring your personal belongings in crowded areas

Using unlicensed tour operators
1. Visit the Grand Palace and Wat Phra Kaew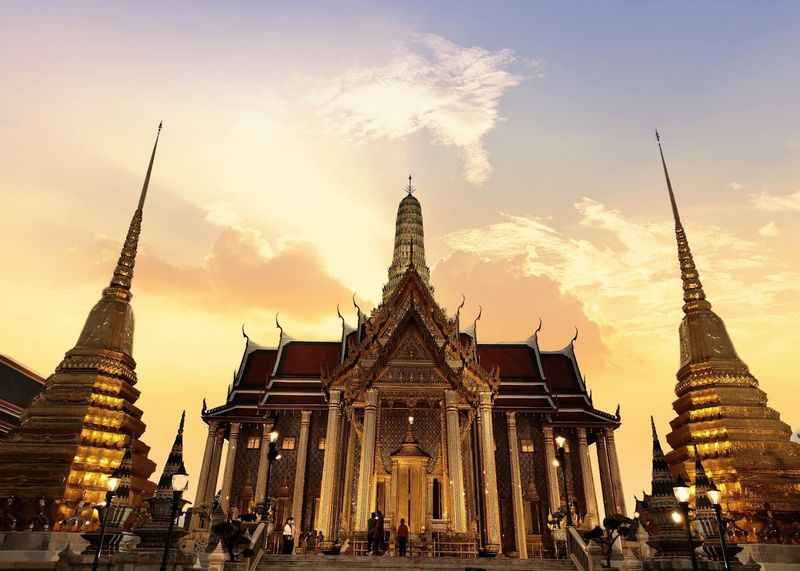 The Grand Palace with the famous Wat Phra Kaew (the Temple of the Emerald Buddha) is among the most iconic and important landmarks in Bangkok. 
The Grand Palace served as the official residence of the Kings of Siam since the late 18th century and is a magnificent complex of traditional Thai architecture.
The Temple of the Emerald Buddha houses the famous Emerald Buddha, a highly revered and sacred icon of the Thai people. 
Visitors can explore the elaborate temple complex, admire the intricate details of the architecture, and learn about the deep spiritual significance of the Emerald Buddha.
2. See the giant reclining Buddha at Wat Pho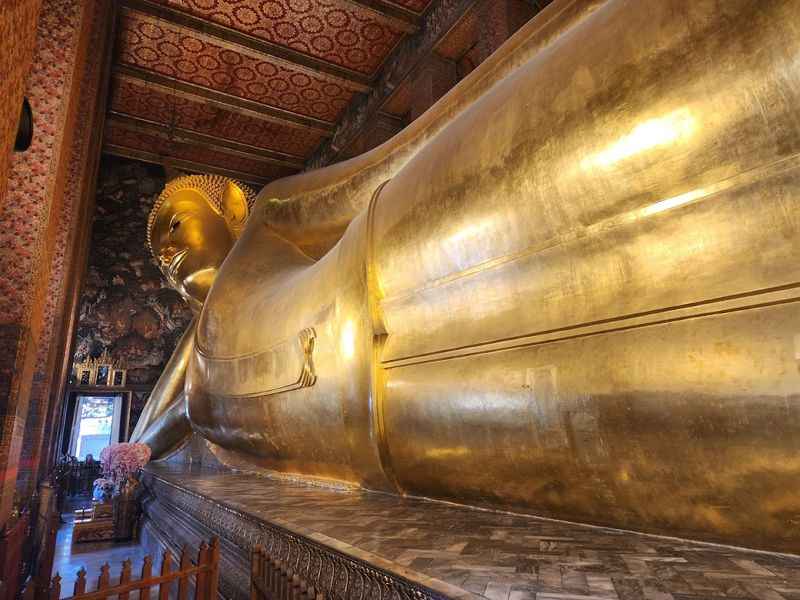 Wat Pho is another must-see temple in Bangkok, famous for its giant reclining Buddha statue, which measures 46 meters long and 15 meters high. 
The temple is also known as the birthplace of traditional Thai massage, with a massage school located within its grounds.
You can visit Wat Pho and explore the intricate details of the temple's architecture, including numerous smaller Buddha statues, pagodas, and stupas. 
Wat Pho is also located close to the Grand Palace, making it a convenient addition to a sightseeing itinerary.
3. Visit Wat Arun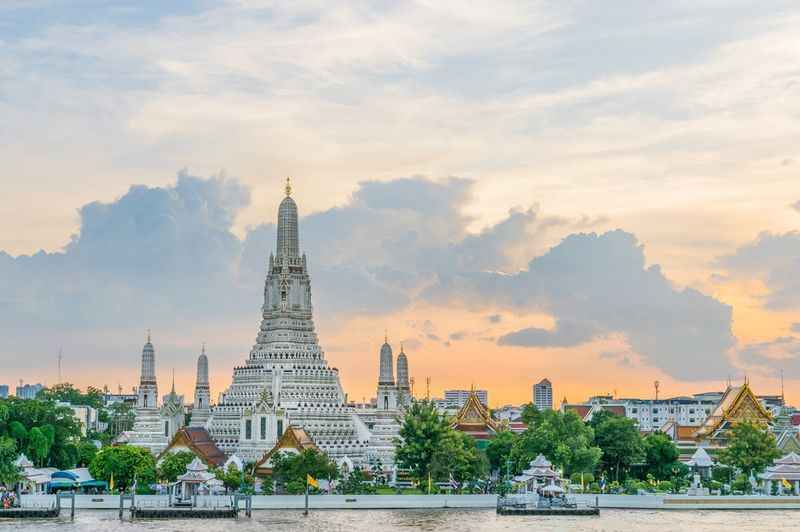 Wat Arun, also known as the Temple of Dawn, is a stunning Buddhist temple located on the banks of the Chao Phraya River in Bangkok. 
The temple's distinctive feature is its towering spires, which are adorned with intricate designs and colorful glass and Chinese porcelain pieces.
Visitors can climb up the steep steps of the temple to get a panoramic view of the river and the city skyline. The temple's architecture and artistry reflect the Khmer style of architecture, which is unique to Thailand and Cambodia. 
Wat Arun is also an important religious site where locals and visitors come to pay their respects and participate in Buddhist rituals.
4. See the world's largest teak wood building
Vimanmek Mansion in Bangkok is a beautifully restored palace and a former royal residence. The mansion was built in the early 20th century and was once the residence of King Chulalongkorn, one of Thailand's most revered monarchs.
The Vimanmek Mansion boasts many rooms and halls of the palace, with intricate wood carvings, stunning artwork, and luxurious furnishings. The mansion is one of the best things to do in Bangkok but is currently closed for renovation.
5. Eat Scorpions on Khao San Road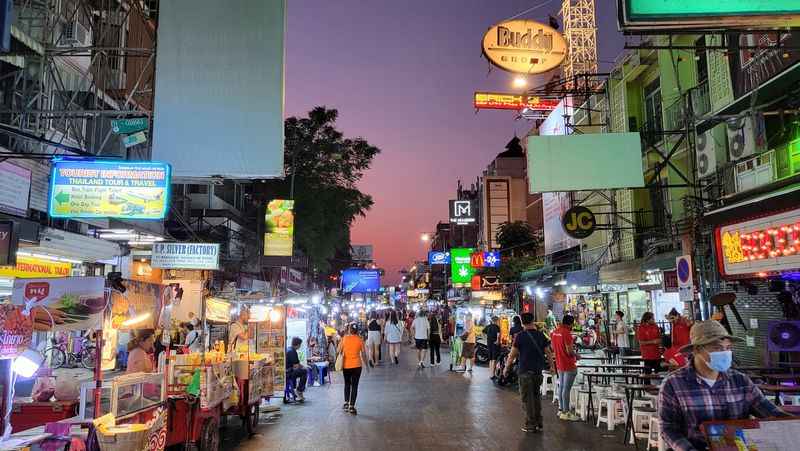 Khao San Road is a bustling and vibrant street in the heart of Bangkok, known as the backpacker's hub of the city. 
The street is lined with cheap guesthouses, street vendors selling souvenirs and local food, and bars and clubs that come alive at night.
Here, adventurous foodies can find vendors selling a variety of fried insects, including scorpions. 
While it may seem intimidating at first, trying scorpions or other insects is considered a unique experience for many travelers.
6. Shop for souvenirs at the Chatuchak Weekend Market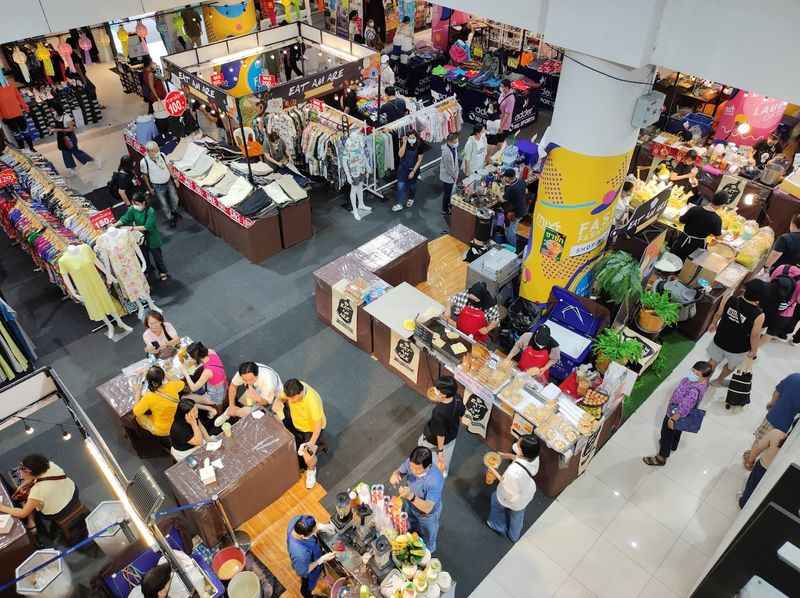 The Chatuchak Weekend Market is one of the largest and most famous markets in Bangkok, attracting both locals and tourists alike. 
It's a sprawling maze of stalls selling everything from clothing and accessories to handicrafts, antiques, and souvenirs.
The market is also a great place to sample local street food, with countless food vendors offering a wide variety of delicious and affordable snacks and meals. 
The atmosphere at Chatuchak market is lively and colorful, with music and entertainment adding to the festive vibe.
7. Boat Ride along the Chao Phraya River
A boat ride along the Chao Phraya River is a great way to see Bangkok from a different perspective and escape the hustle and bustle of the city streets. 
The river is a major transportation hub in Bangkok, and a variety of boat tours and ferry services are available for visitors.
Some of the most popular destinations along the Chao Phraya River include the Grand Palace, Wat Arun (the Temple of Dawn), and Chinatown. 
The river also offers a glimpse into everyday life in Bangkok, with glimpses of local neighborhoods and riverside markets.
8. Take a day trip to the ancient city of Ayutthaya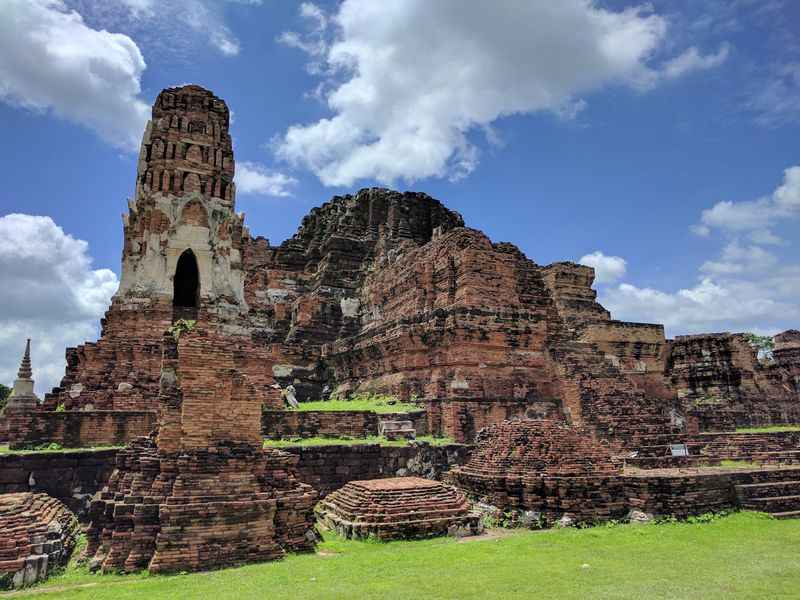 A day trip to the ancient city of Ayutthaya from Bangkok is a must-do for anyone interested in the rich cultural heritage of Thailand. 
Ayutthaya was once the capital of the Kingdom of Siam and is now a UNESCO World Heritage Site, known for its stunning ruins and ancient temples.
Visitors can explore the many historic sites within the city, including the iconic Wat Mahathat temple with its famous Buddha head entwined in tree roots, and the impressive Chai Wattanaram temple. 
The city is also home to numerous museums and cultural centers, offering insights into the fascinating history and art of Ayutthaya.
9. Visit the Bangkok National Museum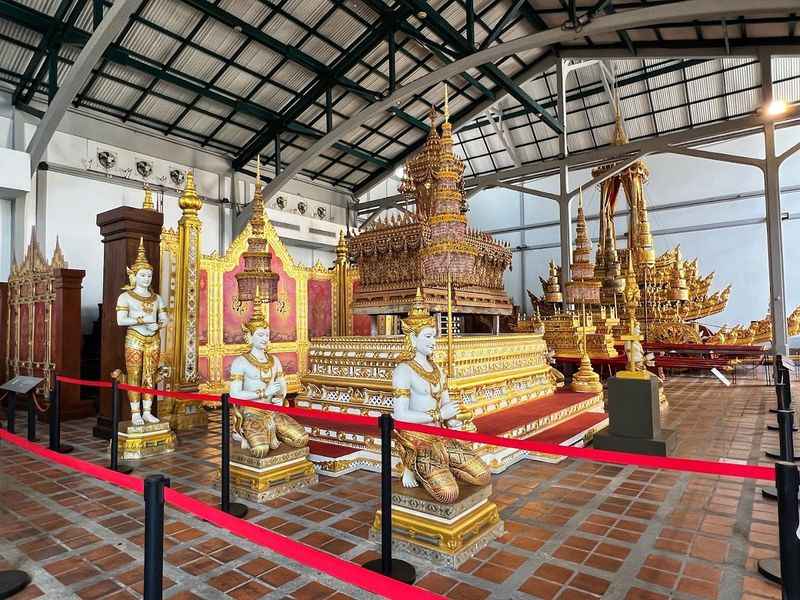 The Bangkok National Museum is home to the largest and most comprehensive collection of artifacts and Thai art in the entire country. 
The museum was originally opened by King Rama V as a showcase for the gifts that his father had bestowed upon him.
Visitors can learn about the different periods of Thai history, as well as the evolution of Thai art from ancient times to the present day. 
With its impressive collection of royal regalia, the Bangkok National Museum is a fascinating destination that offers a glimpse into the rich cultural heritage of Thailand.
10. Stop by the King Rama I Monument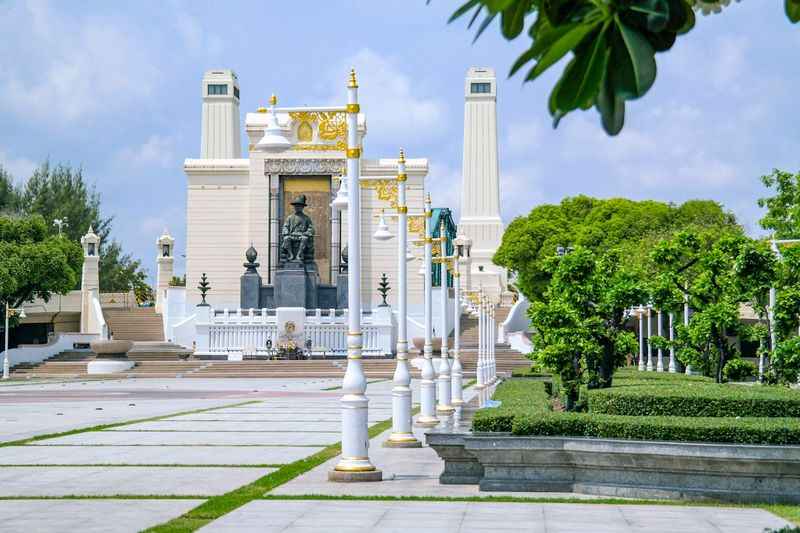 The King Rama I Monument in Bangkok is a significant landmark that honors the founder of the Chakri dynasty and the first king of modern Thailand. 
The monument, located in the center of a bustling roundabout, depicts King Rama I on a horseback, dressed in his royal attire.
Visitors can admire the intricate details of the statue and learn about the king's contributions to the country's history and culture. 
The monument also serves as a symbol of the country's independence and sovereignty, as King Rama I played a pivotal role in consolidating the different regions of Thailand into a united kingdom.
11. Walk, jog, or do Tai chi at Lumpini Park
Lumpini Park is a peaceful oasis in downtown Bangkok, offering a welcome escape from the noise and chaos of the city. 
The park covers an area of over 142 acres and features a large lake, jogging paths, and numerous trees and gardens.
Visitors can stroll around the park, rent a paddle boat or bike, or watch local people practicing their Tai Chi. 
Lumpini Park is also home to a variety of wildlife, including monitor lizards, birds, and fish, making it a popular spot for nature lovers and photographers.
12. Watch a Muay Thai Fight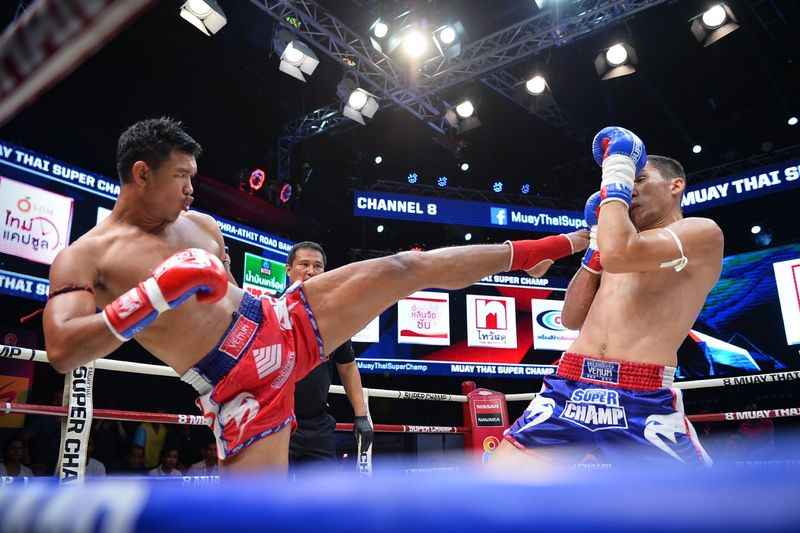 Thai boxing, also known as Muay Thai, is a combat sport that is deeply rooted in Thai culture. 
Bangkok is home to many world-renowned Muay Thai gyms and training centers, making it a great destination for anyone interested in learning about or experiencing the sport firsthand.
Visitors can attend a live Thai boxing match at one of the city's many stadiums, such as the famous Lumpinee Boxing Stadium or Rajadamnern Stadium, and witness the skill, athleticism, and raw power of the fighters. 
Alternatively, visitors can participate in a Muay Thai training session, learning the basics of the sport and getting a great workout in the process.
13. Ride the BTS Skytrain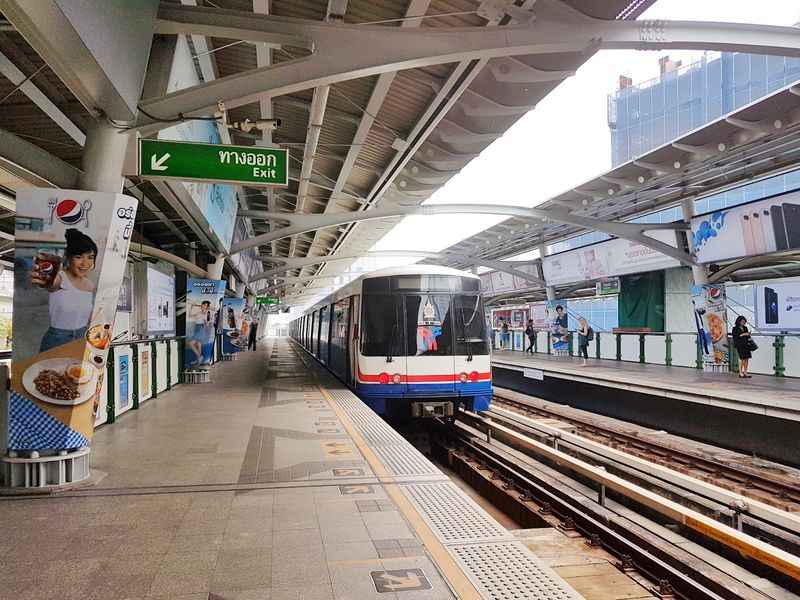 The Sky train, or BTS, in Bangkok, is a convenient and efficient way to travel around the city when you visit Bangkok. 
It is a fast and affordable mode of transportation that connects various tourist attractions, shopping districts, and business areas.
Riding the BTS Skytrain also offers a unique and elevated view of the bustling cityscape. 
Visitors can easily hop on and off the train to explore different parts of Bangkok, such as the famous Chatuchak Weekend Market or the luxurious shopping district of Siam.
14. Visit the Jim Thompson House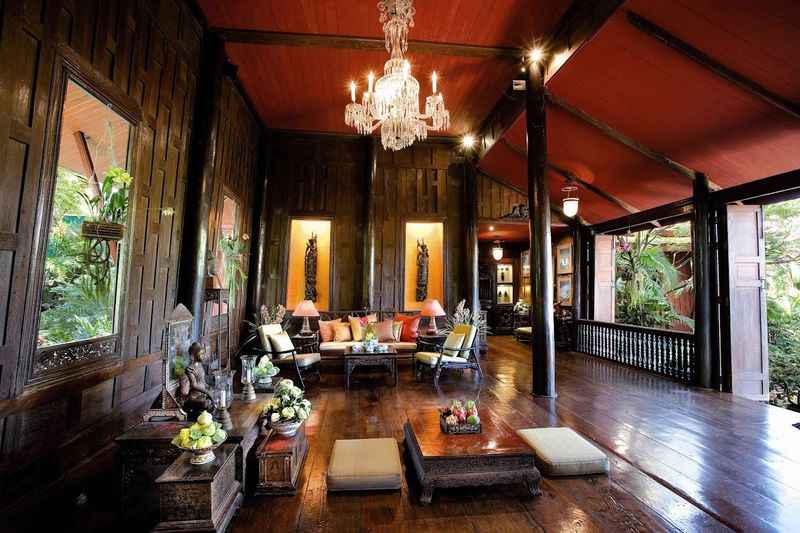 Jim Thompson's House is a fascinating attraction in Bangkok, offering a glimpse into the life of one of the city's most mysterious and legendary figures. 
Jim Thompson was an American entrepreneur who settled in Bangkok in the 1950s and played a key role in reviving Thailand's silk industry.
His beautifully restored teak house, located in the heart of the city, is now a museum showcasing his impressive collection of art, antiques, and artifacts from across Southeast Asia. 
Visitors can explore the intricately decorated rooms, lush gardens, and tranquil ponds, and learn about Jim Thompson and his legacy.
15. Explore the Damnoen Saduak floating market near Bangkok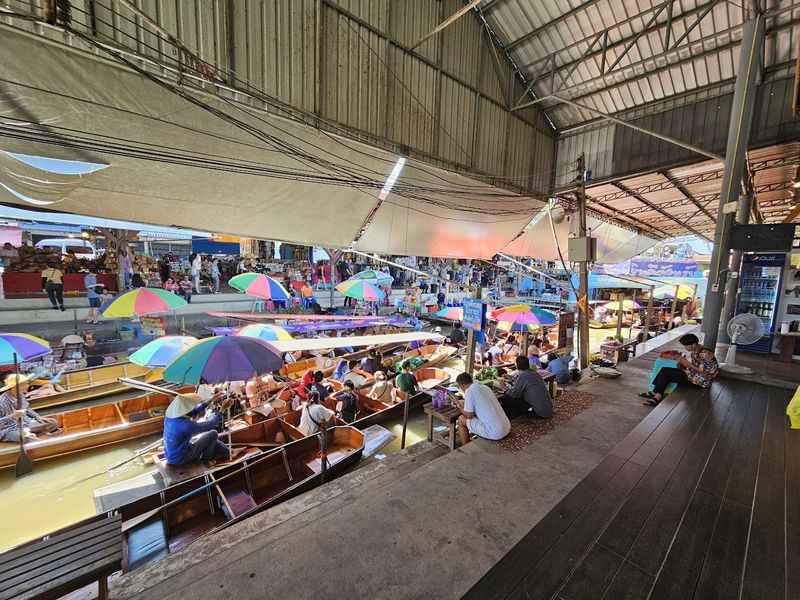 The floating markets near Bangkok are a unique attraction, offering a glimpse into traditional Thai life and culture. 
Floating markets, where vendors sell their wares from boats on the water, are a staple of Thai commerce and have been a part of daily life for centuries.
One of the most famous floating markets near Bangkok is Damnoen Saduak floating market, which is located about 100 km from the city center. 
Visitors can explore the floating market by boat, sampling local food and drinks, and purchasing souvenirs and handicrafts from local artisans.
16. Visit the Wat Saket temple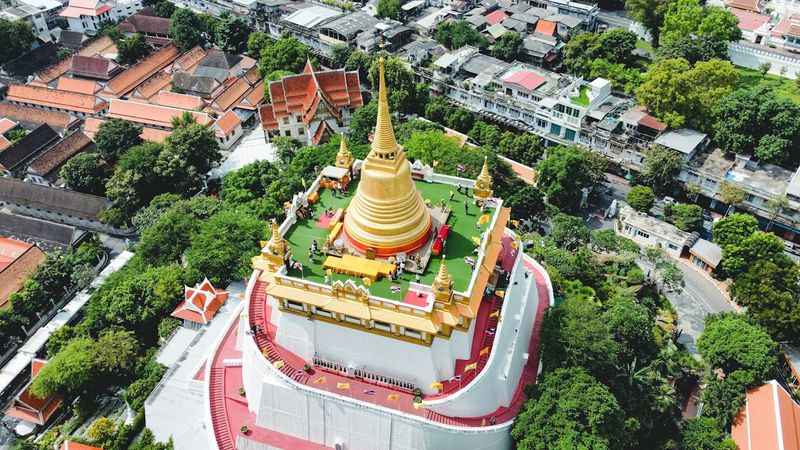 Wat Saket, also known as the Golden Mount, is a beautiful and historic Buddhist temple located in Bangkok, Thailand. 
This temple is famous for its stunning golden chedi, which offers breathtaking views of the surrounding city from the top.
Visitors can climb the 318 steps to the top of Golden Mount and enjoy the panoramic view of Bangkok, making it a popular tourist attraction. 
Golden Mount also features beautiful murals, ornate architecture, and peaceful gardens, making it a serene and peaceful escape from the hustle and bustle of the city.
17. See the views from a rooftop bar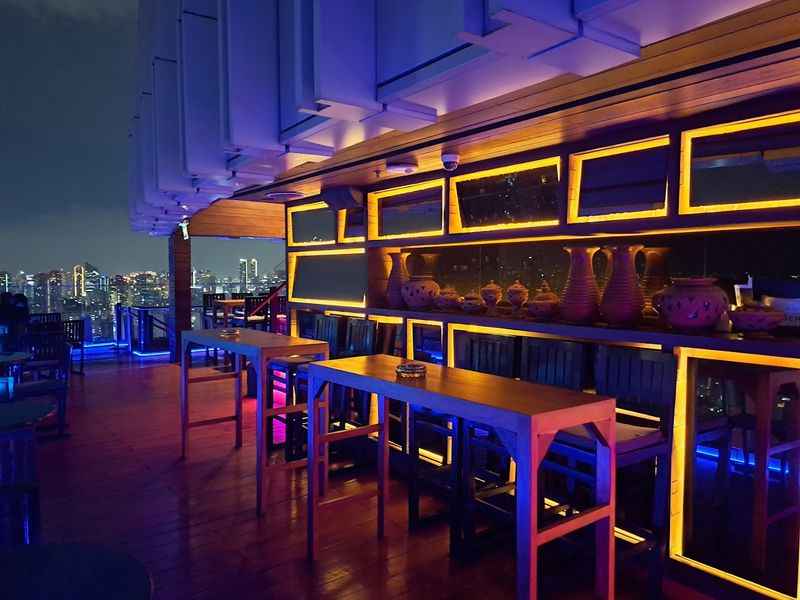 Rooftop bars are one of the most popular attractions in Bangkok, offering stunning views of the city's skyline and a vibrant atmosphere that is perfect for socializing and relaxation. 
Some of the best rooftop bars in Bangkok include Vertigo and Moon Bar at the Banyan Tree Hotel, which offers breathtaking 360-degree views of the city.
Visitors can also go to the Sky Bar at Lebua State Tower, which was featured in the movie "The Hangover Part II." 
These rooftop bars are also known for their delicious cocktails, gourmet cuisine, and live music performances, making them the ideal destination for a night out with friends or a romantic evening with your partner.
18. Treat yourself to a Manohra Dinner River Cruise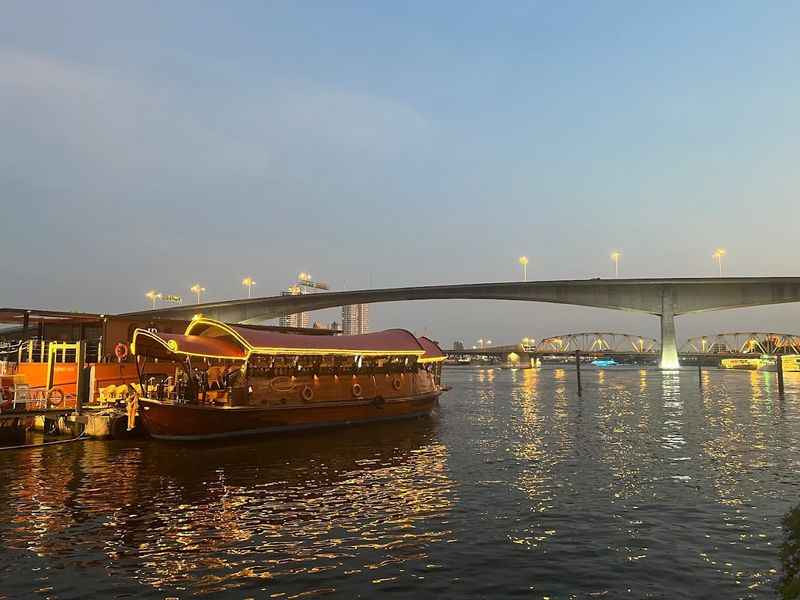 The Manohra River Cruise is a unique way to experience the beauty of Bangkok's Chao Phraya River while indulging in delicious Thai cuisine. 
The cruise takes passengers along the Chao Phraya River, passing by some of Bangkok's most famous landmarks, such as the Grand Palace and Wat Arun.
Guests can indulge in a delectable Thai dinner served on board, accompanied by traditional music and dance performances. 
The elegant and traditional wooden boat, Manohra, adds to the charm of the experience, transporting you back in time to the romantic era of Thai river life.
19. Enjoy views of the Bangkok Skyline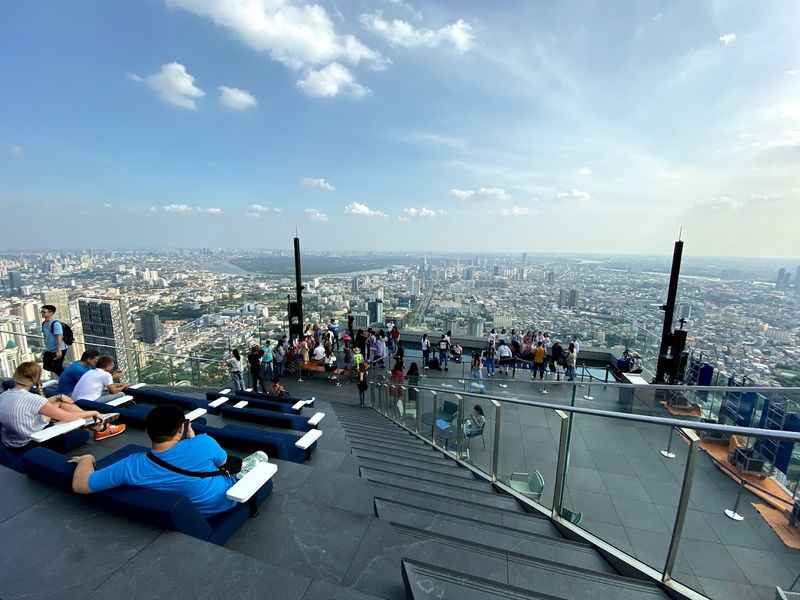 The Mahanakhon SkyWalk is a thrilling attraction located in Bangkok, Thailand, offering panoramic views of the Bangkok skyline. 
Visitors can ride the elevator to the top of the building and step out onto the glass-floor observation deck, 314 meters above the ground, providing a breathtaking view of the city.
From the SkyWalk, visitors can take in the impressive views of Bangkok's skyline, with its towering skyscrapers, bustling streets, and sparkling lights. 
The Mahanakhon SkyWalk also offers visitors the chance to enjoy a range of activities, including VR experiences, a glass slide, and a rooftop bar serving delicious cocktails.
20. Shop and dine at Siam Paragon Mall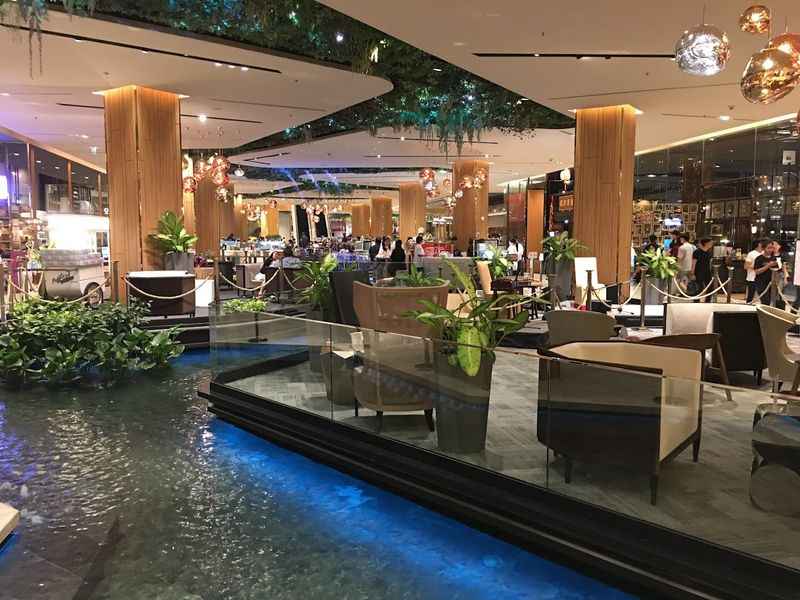 Siam Paragon Mall is a world-class shopping destination in the heart of Bangkok, Thailand. 
It is one of the largest malls in Asia and features an impressive range of international luxury brands, high-end fashion boutiques, food courts, and entertainment options.
Visitors to Siam Paragon Mall can shop for designer fashion, dine at a range of restaurants serving Thai and international cuisine, and catch a movie at the state-of-the-art cinema. 
Shopping malls in Bangkok are a great place to escape the heat and crowds of the Bangkok city streets.
21. Visit the Flower Market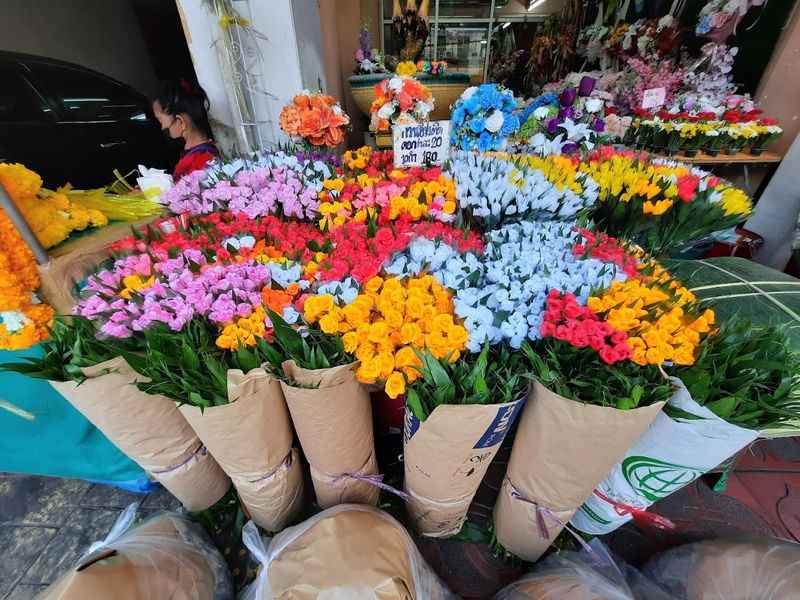 The flower market, also known as Pak Khlong Talat, is a bustling and colorful market located in Bangkok, Thailand. 
It is the largest wholesale flower market in the city and is open 24 hours a day. Visitors can experience a feast for the senses, with the sights and smells of thousands of fresh flowers, fruits, and vegetables on display.
The flower market is particularly lively at night when trucks from all over the country arrive with fresh flowers to sell. 
Visitors can shop for flowers and plants, enjoy delicious street food, and soak up the vibrant atmosphere of one of Bangkok's most iconic markets.
22. Try Bangkok's best Thai food on a food tour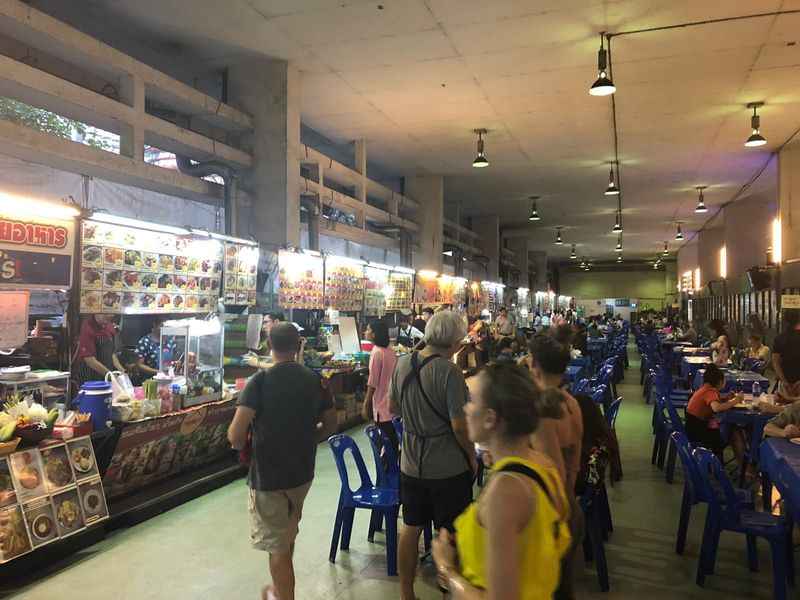 Bangkok is known for its flavorful and diverse cuisine, which ranges from spicy Thai street food to fine dining delicacies. 
A typical food tour will take you to some of the city's most famous food stalls and markets, where you can sample pad thai, tom yum soup, and mango sticky rice.
You'll also have the chance to try lesser-known regional specialties and visit hidden gems that only locals know about. 
Not only is a food tour a great way to taste authentic Thai food, but it also provides a unique opportunity to learn about local culture and connect with locals.
23. Treat yourself to a traditional Thai massage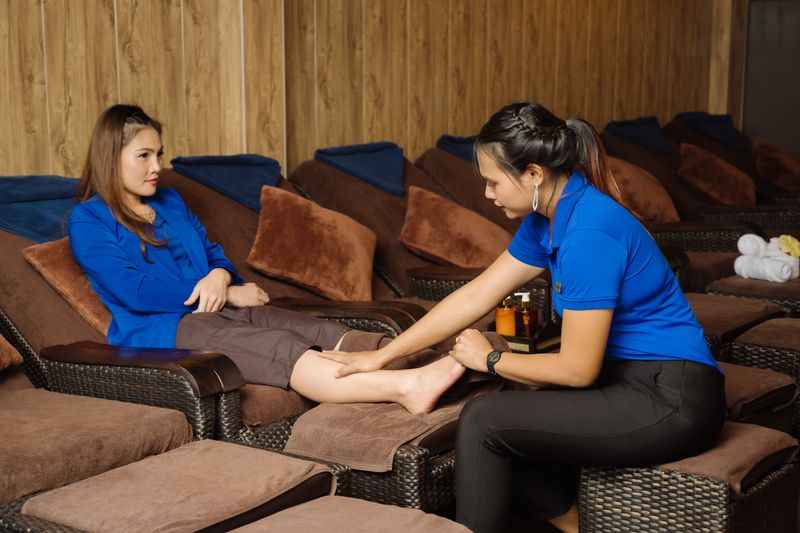 Traditional Thai massage is an ancient healing practice that has been passed down through generations in Thailand. 
Bangkok is one of the best places to experience this unique form of massage therapy, with many Thai massage centers located throughout the city.
Wat Pho, one of Bangkok's oldest and most famous temples, is renowned for its traditional massage school, which offers courses in the art of Thai massage. 
Many of the city's luxury hotels and spas also offer traditional massage treatments, which are an ideal way to unwind after a long day of sightseeing or shopping.
24. Take a Tour of Bangkok's Chinatown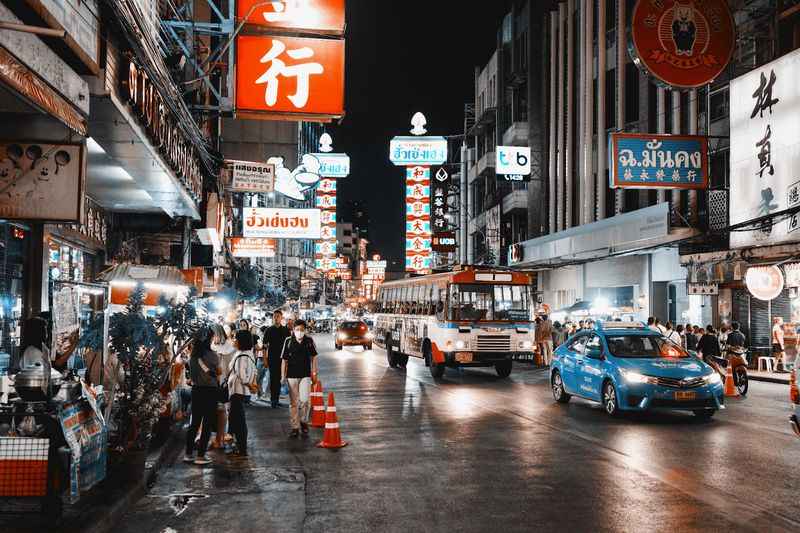 Bangkok's Chinatown, also known as Yaowarat, is a vibrant district that offers a fascinating blend of Thai and Chinese cultures. 
Located in the heart of Bangkok, China town is renowned for its street food, markets, and traditional shops selling everything from gold to herbal medicines.
Visitors can explore the maze-like streets and alleys, soak up the atmosphere, and sample an array of delicious Chinese and Thai food. 
The area is also home to many historical landmarks, including Chinese temples and shrines, which provide insight into the history and religious practices of the Chinese community in Bangkok.
25. Spend an afternoon at the Bangkok Zoo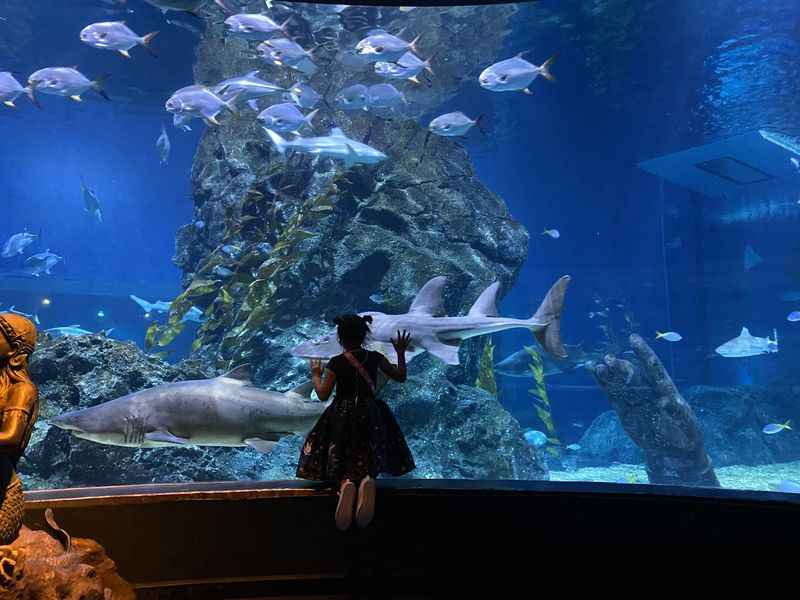 The Bangkok Zoo and Aquarium are one of the oldest and most popular attractions in Bangkok. 
The zoo covers an area of more than 188,000 square meters and is home to over 1,600 animals from around the world.
Visitors can see a variety of animals, including elephants, tigers, lions, giraffes, and zebras. The zoo also has a petting zoo, bird aviary, and reptile house. 
The adjacent aquarium showcases a range of marine life, including sharks, rays, and colorful tropical fish.
26. Head to Sukhumvit Soi 11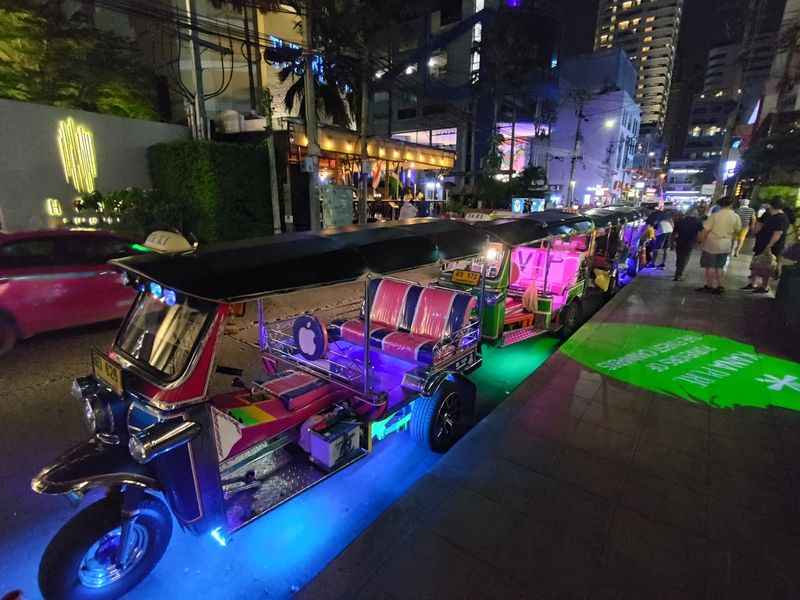 Sukhumvit Soi 11 is a popular street located in the heart of Bangkok's Sukhumvit district, known for its bustling nightlife and diverse dining options. 
The street is lined with bars, nightclubs, street food stalls, and restaurants serving up a variety of cuisines.
From grilled skewers to savory noodles and sweet treats, the street food in Sukhumvit Soi 11 is a must-try experience for food lovers. 
Whether you're looking for a quick snack or a full meal, you'll find something delicious and affordable from the many street food vendors lining the street.
27. Check out the Bangkok Art and Culture Centre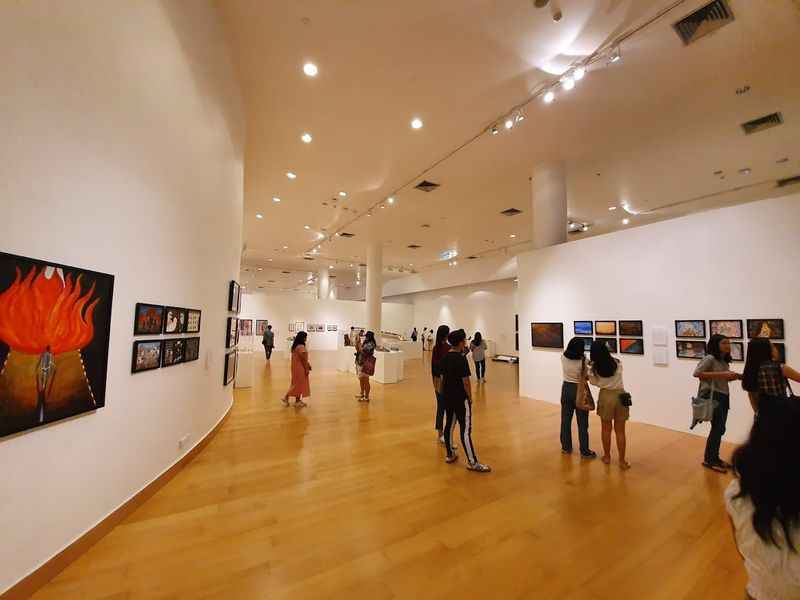 The Bangkok Art and Culture Centre is a contemporary art museum located in the heart of Bangkok's Pathum Wan district. 
It is home to a diverse collection of contemporary art pieces from local and international artists
The Bangkok Art and Culture Centre is a must-visit destination for art enthusiasts and those interested in learning more about Thai contemporary art and culture. 
The museum also offers workshops, talks, and events throughout the year, making it a great educational and cultural experience for visitors of all ages.
28. Stop by the Erawan Shrine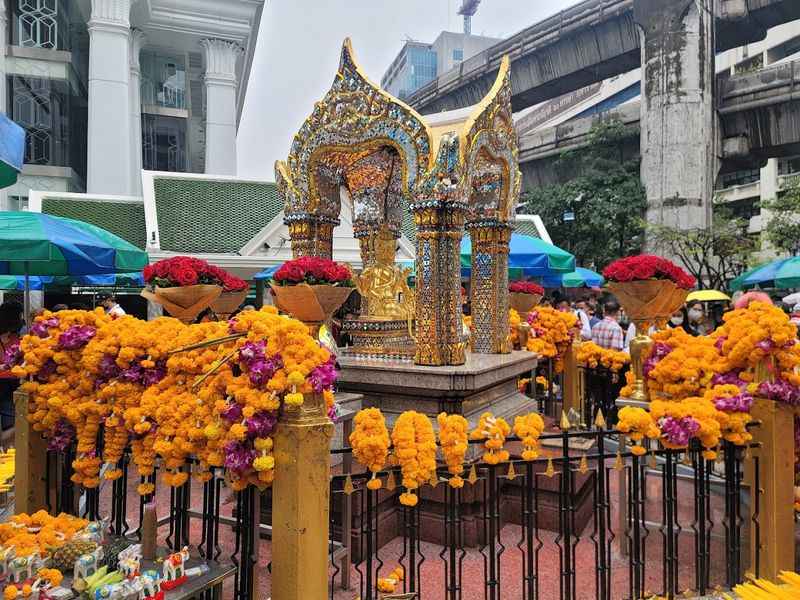 Erawan Shrine is a Hindu shrine located in the heart of Bangkok's shopping district. The shrine is dedicated to the Hindu god Brahma and is believed to be a place of good luck and fortune.
The Erawan Shrine is a peaceful oasis in the midst of the bustling city and is a must-visit destination for those looking to experience Thailand's rich culture and religious traditions. 
Whether you're a spiritual person seeking blessings and good luck, or simply looking to admire the beauty of the shrine, the Erawan Shrine is a must-see attraction in Bangkok.
29. Explore the Queen Sirikit Museum of Textiles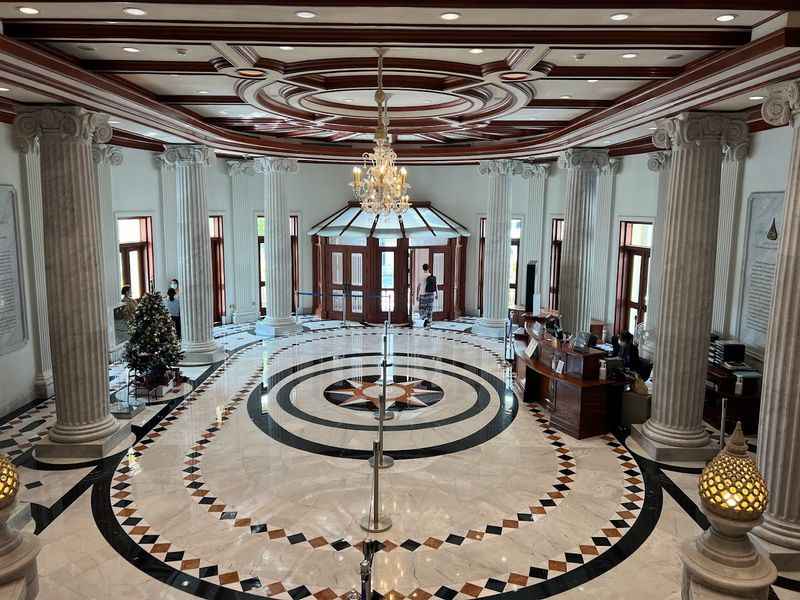 The Queen Sirikit Museum of Textiles is located in Bangkok and is a must-visit destination for those interested in the Thai silk industry and fashion. 
The museum is dedicated to preserving and promoting Thailand's rich textile heritage.
The museum has a vast collection of traditional Thai textiles, including Thai silk, cotton, and embroidery, as well as displays of the history and techniques of Thai weaving. 
Visitors can learn about the production process and even see demonstrations of traditional weaving techniques.
30. Visit Chiang Rai and the White Temple
Chiang Rai is a beautiful city located in northern Thailand, about 800 kilometers from Bangkok. It is famous for its mountains, waterfalls, and lush green forests. 
It is also a gateway to the Golden Triangle, an area known for its opium production and the convergence of the borders of Thailand, Myanmar, and Laos.
Visitors can explore the city's rich history and culture by visiting the Wat Rong Khun (White Temple), which is a stunning piece of modern architecture that combines traditional Thai elements with contemporary design.
The city also features an array of art galleries, night markets, and cultural festivals that offer a glimpse into the local way of life.
31. Take a day trip to Doi Inthanon National Park
A day trip to Doi Inthanon National Park from Bangkok requires a very early start and a full day of exploring, as the park is located in the mountains of northern Thailand, approximately 200 km from Bangkok.
Once in the park, visitors can hike through the lush forest, see stunning waterfalls, and visit hill tribe villages. 
The highlight of the park is Doi Inthanon, the highest peak in Thailand, where visitors can take in breathtaking views from the summit.
32. Take a day trip to the Bridge of Kanchanaburi
A trip to the Bridge of Kanchanaburi is a perfect way to learn about the history of the Thai-Burma Railway and the events that took place during World War II. 
The bridge, also known as the Death Railway Bridge, was built by Allied prisoners of war under the direction of Japanese forces during the war.
The bridge is located in the beautiful town of Kanchanaburi, about 128 kilometers from Bangkok. Visitors can take a train ride across the bridge and explore the nearby JEATH War Museum.
33. Take a class at the Muay Thai Institute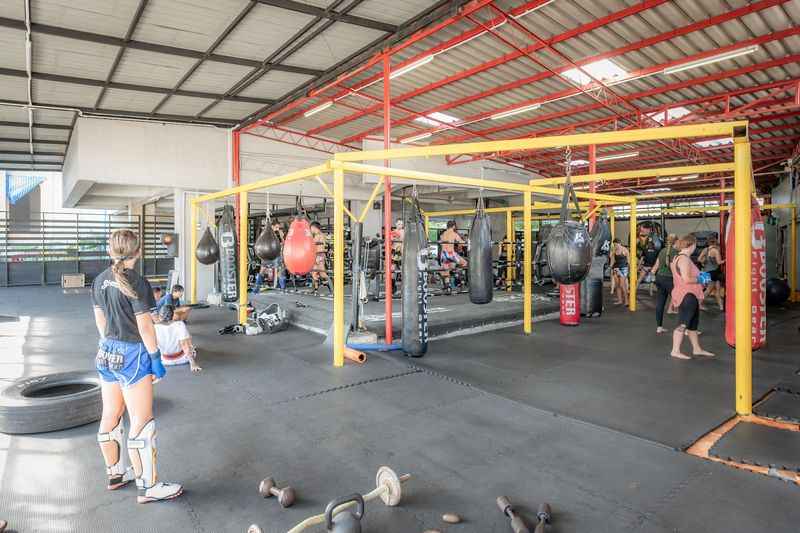 The Muay Thai Institute is located in central Bangkok and is a popular destination for those interested in the traditional martial art of Muay Thai. 
The institute offers training programs for all levels, from beginners to professional fighters.
Visitors can watch live Muay Thai fights, take part in training sessions, or simply observe the training and sparring sessions. 
Whether you're an avid martial arts enthusiast or just looking for a unique cultural experience, the Muay Thai Institute is a great place to visit during your stay in Bangkok.
34. Choose the best place to stay in Bangkok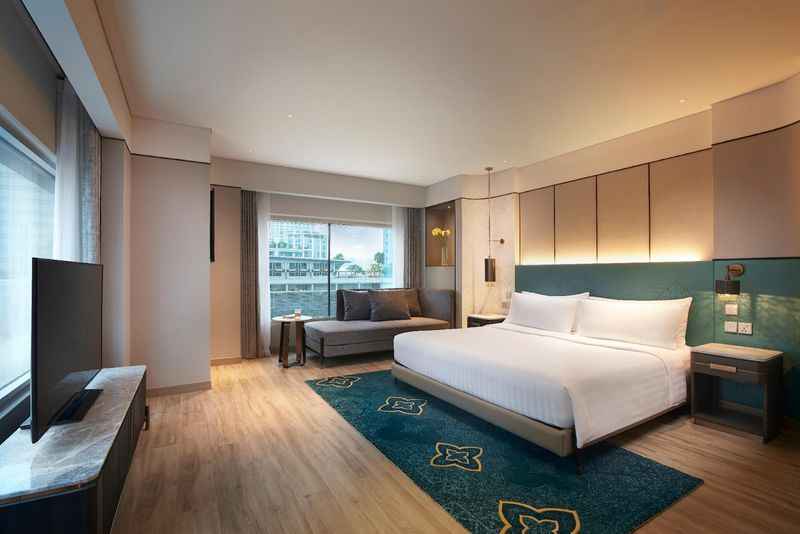 If you're planning to stay in Bangkok, you'll find an abundance of accommodation options that cater to all types of travelers. 
From luxurious five-star hotels to budget-friendly hostels, there is something for every taste and budget.
If you're looking to stay in the heart of the city, then the Sukhumvit area is a popular choice. Staying along the riverside provides stunning views of the Chao Phraya River and is a great location for exploring the city's top attractions. 
With so many places to stay in Bangkok, you're sure to find the perfect spot for your next visit to this exciting city.
35. Enjoy Bangkok's nightlife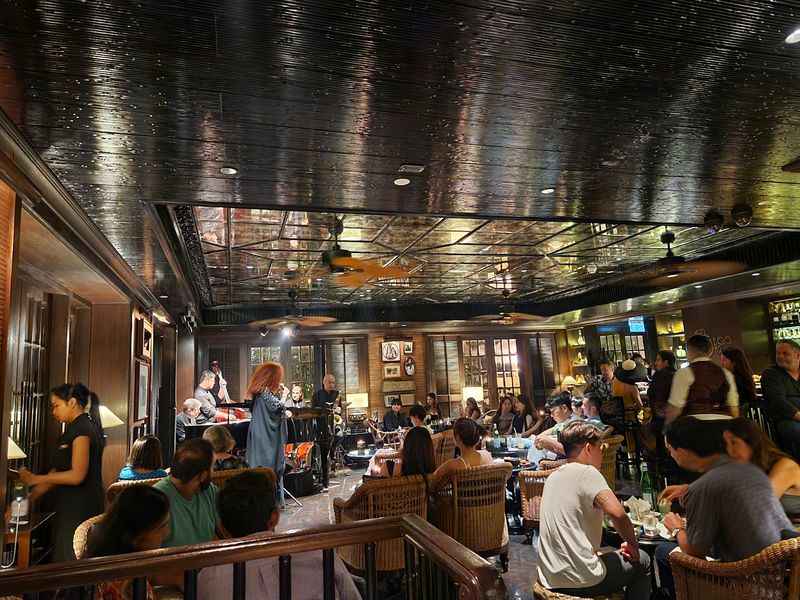 Bangkok is renowned for its vibrant nightlife scene, offering a wide variety of bars, nightclubs, and entertainment venues. 
Some of the popular nightlife areas include Sukhumvit, Thonglor, and Silom, which are home to some of the city's best nightclubs and bars.
Khao San Road is another famous area that attracts many party-goers with its lively atmosphere and affordable drinks. 
This street is known for its backpacker vibe and is popular among younger travelers looking for a night out.
36. Take a tuk-tuk ride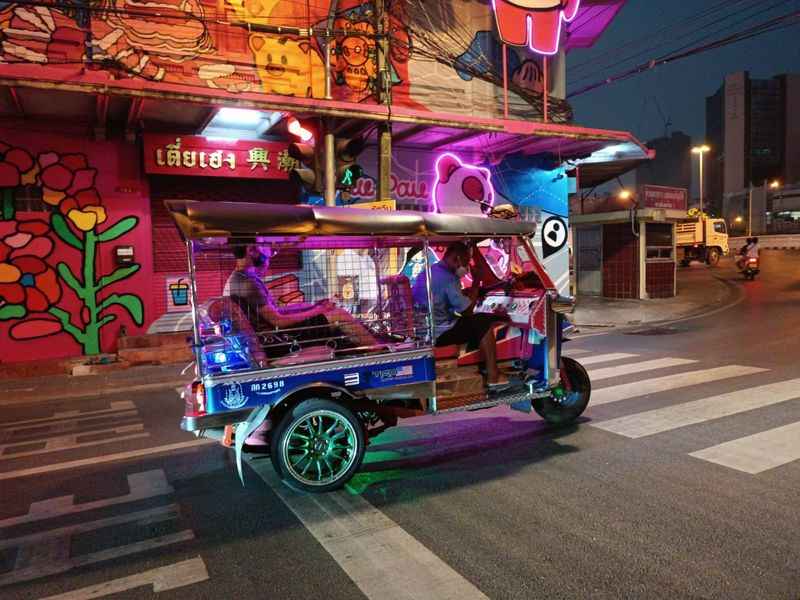 Tuk-tuks are three-wheeled motorized vehicles that weave in and out of traffic, providing a unique and exciting mode of transportation. 
Visitors can hop aboard a tuk-tuk and explore the city's vibrant streets and neighborhoods, feeling the wind in their hair as they speed along.
Tuk-tuk drivers are often happy to act as informal guides, providing recommendations for the best local restaurants, shops, and attractions. 
A tuk-tuk ride is a fun and memorable way to experience the sights, sounds, and smells of Bangkok, and to immerse oneself in the city's lively and dynamic culture.
FAQs: The Best Things to Do in Bangkok
In this section, we answer common questions relating to the best things to do in Bangkok
Is 3 days enough for Bangkok?
While it's possible to see some of the major attractions in Bangkok in three days, the city is large and there's plenty to do, so you might feel a bit rushed.
Most temples (including the Grand Palace with Wat Phra Kaew, Wat Pho, and Wat Arun) are within walking distance so you can make the most of your time by visiting them all at once. If you're short on time, prioritize the must-see sites and plan your itinerary accordingly.
What to absolutely do in Bangkok?
There are several things to absolutely do in Bangkok, such as visiting the Grand Palace, seeing Wat Phra Kaew, taking a boat tour on the Chao Phraya River, and exploring the markets like Chatuchak and Damnoen Saduak.
Visitors also enjoy exploring the eclectic Khao San Road area, trying local street food and Thai massages, and visiting famous temples like Wat Arun and Wat Pho, with its reclining Buddha. These are just a few of the many incredible places to visit in Bangkok.
What is very famous in Bangkok?
Bangkok is known for its vibrant street life, delicious food, fascinating culture, and many beautiful temples. Some of the most famous places to visit in Bangkok include the Grand Palace, Temple of the Emerald Buddha, Wat Arun, Chatuchak Market, the Damnoen Saduak Floating Market, Jim Thompson's House, Khao San Road, and the Chao Phraya River.
Is 4 days in Bangkok too much?
Four days in Bangkok would give you more time to explore the city and surrounding areas without feeling too rushed.
You could visit additional attractions in downtown Bangkok, take day trips to Ayutthaya or Kanchanaburi, visit the Siam Paragon Shopping Mall, or simply slow down and soak in the atmosphere of the city.
Even if you have visited Bangkok before, there is always something new and exciting to explore in this bustling city.
What are the two airports in Bangkok?
The two main airports in Bangkok are Suvarnabhumi Airport (BKK) and Don Mueang International Airport (DMK).
Suvarnabhumi Airport is larger and newer, located around 30 kilometers east of central Bangkok, while Don Mueang International Airport is located around 24 kilometers north of the city center. Both airports serve domestic and international flights, but Suvarnabhumi is the main international gateway to Bangkok.
Summing Up: The Best Things to Do in Bangkok
As you can see, there is no shortage of amazing things to do in Bangkok. 
It's a city that has so much to offer, and from its bustling floating markets to the vibrant Khao San Road, there is never a dull moment in this city. There are plenty of exciting day trips to take starting from Bangkok, too.
No visit to Bangkok is complete without a stop at Grand Palace and Wat Pho, home to the iconic reclining Buddha, a tour of The Jim Thompson House and traditional teak houses, or indulging in some of the best street food in Southeast Asia.
With so much to offer, there's no better time to visit Bangkok and discover for yourself why it's one of the most fascinating places in the world. 
So book your trip today and start exploring all that this incredible city has to offer!