15 Best Snorkeling Spots in Maui, Hawaii | 2023 (with Photos)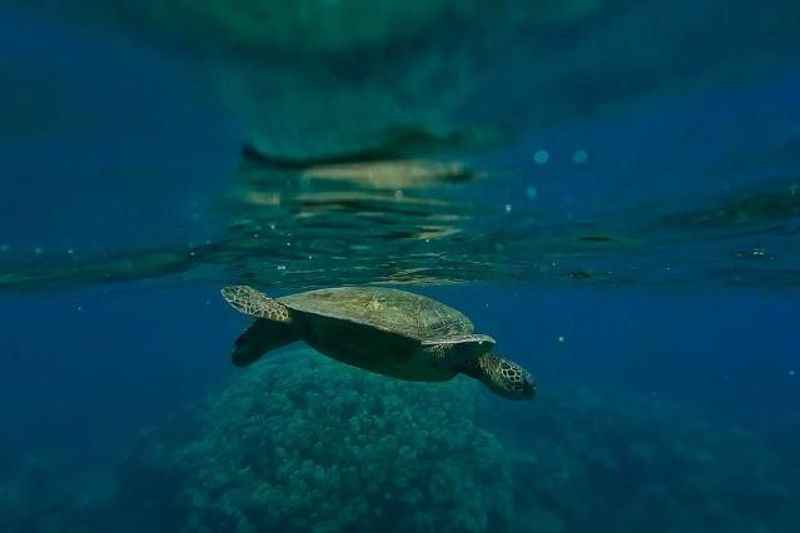 Maui is a paradise for snorkeling enthusiasts, offering a wide variety of snorkeling spots suitable for all levels of experience.
Snorkeling in Maui allows visitors to explore its underwater world, which includes colorful marine life, coral reefs, and the opportunity to observe Hawaiian green sea turtles.
Maui snorkeling spots are spread across the island, from West Maui to South Maui, providing ample opportunities to discover the beauty of the Hawaiian Islands.
Some of the best snorkeling spots in Maui include Honolua Bay, Molokini Crater, Napili Bay, Black Rock Beach, Ahihi-Kinau Natural Area Reserve, Olowalu Beach, La Perouse Bay, Kapalua Bay, Ulua Beach, Makena Landing, Coral Gardens, and Maluaka Beach.
In this article, we'll take you through our full list of snorkeling spots in this beautiful place.
Most Recommended Thing to Do
Our Top Choice Restaurant
Our Top Choice Bar for Nightlife
Perfect weather, fewer crowds, and breathtaking natural beauty.
The average temperature in Maui is warm and tropical.
Car rentals, taxis, buses, biking, walking, rideshare services.
Average Cost ($, $$, $$$)
My Top Recommendation
Maui, United States of America is a tropical paradise that offers endless opportunities for relaxation and adventure. One recommendation for spending time in this stunning city is to explore its breathtaking beaches, such as Kaanapali Beach, where you can soak up the sun, swim in crystal-clear turquoise waters, and take long walks along the golden sands.
Another must-do experience in Maui is embarking on a memorable hike through the lush rainforests of the Iao Valley State Park, where you can immerse yourself in the beauty of nature, discover picturesque waterfalls, and enjoy the tranquility of the surroundings.
What You'll Need to Bring
Sunscreen
Swimsuit
Beach towel
Snorkeling gear
Walking shoes
Light and comfortable clothing
Hat or cap
Sunglasses
Waterproof phone case
Camera
Maui, located in the United States of America, is a popular destination known for its stunning beaches, clear waters, and outdoor activities. To fully enjoy your trip, make sure to pack essential items such as sunscreen, swimsuit, beach towel, snorkeling gear, and walking shoes. The island's beautiful coastline and warm weather make beach activities a must, so be prepared with light and comfortable clothing, a hat or cap, sunglasses, and a waterproof phone case for capturing memorable moments. Don't forget to bring a camera to document your adventures and soak in the natural beauty of Maui.
What Not to Miss
Haleakala National Park
Sunrise or sunset at the summit
Hiking trails through the volcanic landscapes
Spectacular views of the crater and surrounding scenery
Road to Hana
Scenic drive along the coast
Waterfalls, lush rainforests, and breathtaking vistas
Stops at famous landmarks like the Twin Falls and Seven Sacred Pools
Lahaina
Historic whaling town with a vibrant waterfront
Stroll along Front Street for shopping and dining
Visit Lahaina Harbor for boat tours and whale watching
Maui Ocean Center
Explore an impressive underwater world
Walk-through tunnels showcasing marine life
Educational exhibits about Hawaii's unique ecosystems
Snorkeling at Molokini
Take a boat tour to this crescent-shaped volcanic crater
Crystal clear waters, vibrant coral reefs, and diverse marine species
Perfect spot for snorkeling to see tropical fish and sea turtles
Iao Valley State Park
Lush valley with dramatic green peaks
Short hikes to the Iao Needle lookout point
Learn about the history and significance of the area
Maui Brewing Company
Craft brewery offering guided tours and tastings
Try a variety of locally brewed beers
Relax in the brewery's beer garden with stunning views of the West Maui Mountains
Wailea Beach
One of Maui's most beautiful and popular beaches
White sand, clear blue waters, and gentle waves
Perfect for swimming, sunbathing, or enjoying a beachfront picnic
What to Avoid
Crowded tourist spots
Overpriced restaurants and shops
Ignoring local customs and etiquette
Leaving valuables unattended
Swimming or snorkeling in dangerous areas without proper guidance
Hiking without proper gear and precautions
Feeding or approaching wild animals
Disrespecting sacred sites and cultural landmarks
Driving under the influence of alcohol or drugs
Neglecting to wear sunscreen and protect yourself from the sun's intense rays.
1. Honolua Bay: Marine Life Conservation District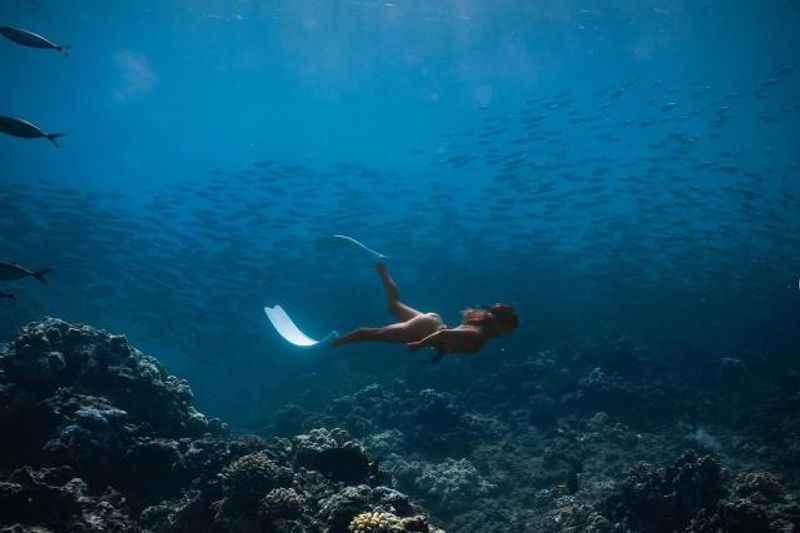 Honolua Bay, one of the premier snorkeling spots in Maui, is situated on the island's northwest coast and is designated as a Marine Life Conservation District.
This important status ensures the protection and preservation of the abundant and diverse marine life that inhabits the area. This includes Hawaiian green sea turtles, colorful tropical fish, and vibrant coral reefs.
As a top Maui snorkeling destination, Honolua Bay allows snorkelers to rent snorkeling gear or bring their own to enjoy the unique opportunity of exploring the underwater world of the Hawaiian Islands. 
By doing so, you will encounter a variety of fish and wildlife, including the Hawaiian green sea turtle, and admire the stunning coral formations teeming with sea life.
2. Molokini Crater: One of the Best Maui Snorkeling Spots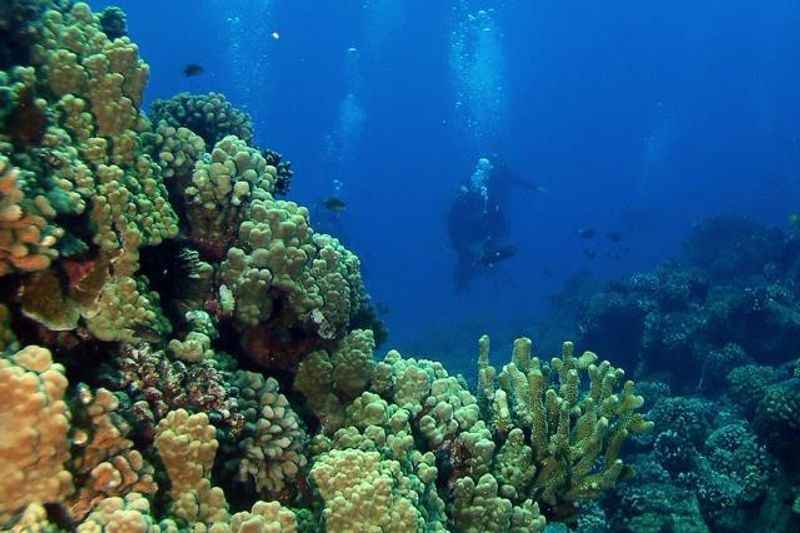 Molokini Crater is a volcanic caldera situated off Maui's southwestern coast, renowned as one of the best snorkeling spots in Maui.
This unique crescent-shaped snorkeling location provides a sheltered environment for a wide variety of marine life, including Hawaii state fish, the Humuhumunukunukuapua'a, colorful fish, Hawaiian green sea turtles, and manta rays.
Snorkeling in Molokini Crater offers an incredible underwater experience in crystal-clear waters, with visibility often exceeding 100 feet, making it a popular destination for Maui snorkeling tours.
Boat trips, with scuba divers, diving excursions, and snorkeling tours are available to explore this amazing snorkeling spot, teeming with vibrant marine life and breathtaking coral reefs.
3. Napili Bay: A Picturesque Location You Cannot Miss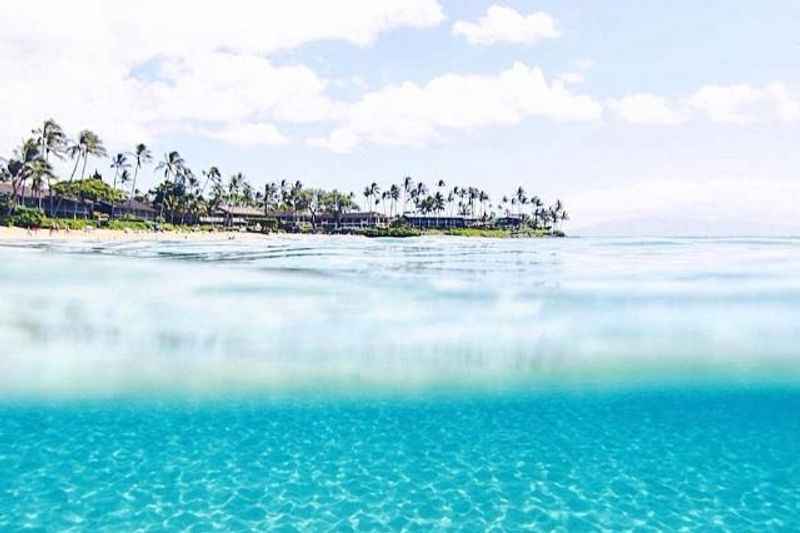 Napili Bay is a picturesque white sand beach on Maui's northwest coast that offers great snorkeling opportunities.
The waters are calm and clear, and the marine life is plentiful, including colorful fish and sea turtles. Additionally, here you will find the famous sea house restaurant
Napili Bay's sandy beach is similar to Honolua Bay, a vibrant coral reef that makes it an ideal location for snorkeling, especially for beginners.
The nearby Napili Kai Beach Resort offers comfortable accommodations and easy access to the bay.
4. Black Rock Beach: The Hawaiian Green Sea Turtle Heaven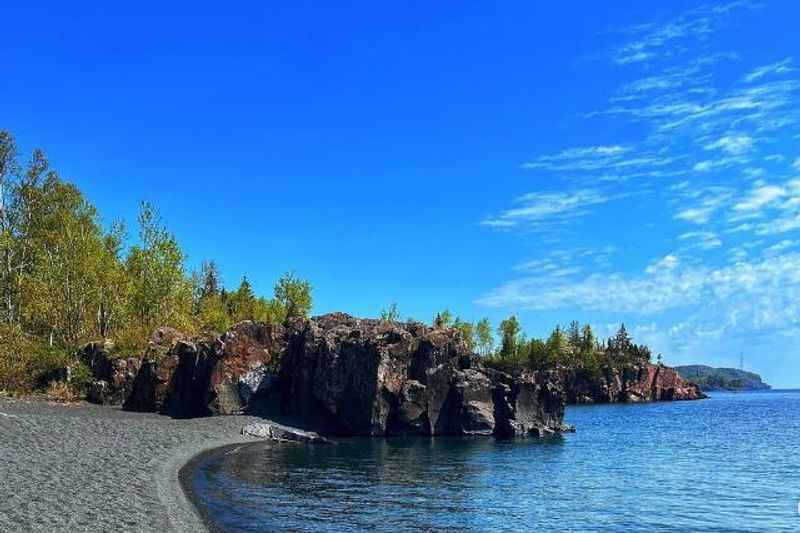 Located in Kaanapali, Black Rock Beach is a popular snorkeling spot known for its clear waters and diverse marine life. The beach is named after the black lava rock that juts out of the water and is a popular spot for cliff jumping as well.
In Black Rock, Snorkelers can enjoy the sight of Hawaiian green turtles, tropical fish, and even the occasional reef shark.
The nearby Kaanapali Beach Hotel offers oceanfront accommodations and amenities.
5. Ahihi-Kinau: A Landscape Perfect for Scuba Divers
Ahihi-Kinau, one of the best Maui snorkeling spots, is located on the sandy beach coast of this region.
Ahihi-Kinau is a protected marine reserve with a unique underwater landscape that those who love scuba diving or have snorkeling gear are sure to enjoy.
The area features a series of lava rock formations that create natural pools and channels, making it one of the best Maui snorkeling spots out there.
Marine life conservation efforts in the area have led to a thriving ecosystem, with an abundance of fish, eels, and Hawaiian green sea turtles.
Access to the reserve requires a permit, and visitors are encouraged to respect the fragile environment.
6. Olowalu Beach: Beautiful Coral Reef Haven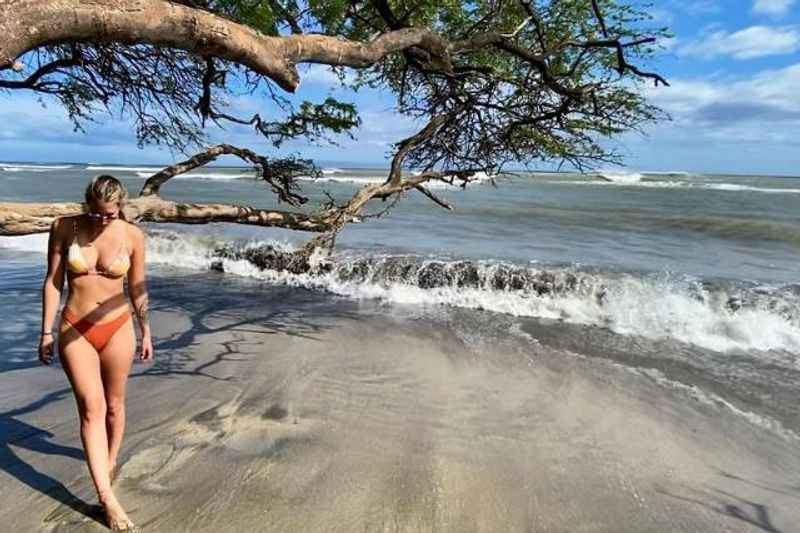 Olowalu Beach has a beautiful sandy beach, as well as a nice coral reef located on Maui's west coast. The reef is only a short boat trip away and is home to over 350 species of marine life, including sea turtles, manta rays, and colorful fish.
The water is typically calm, making it a great spot for beginners. Snorkeling gear can be rented nearby, and the sandy beach offers a comfortable place to relax between snorkeling sessions.
7. La Perouse Bay: For the Lovers of Rugged Lava Rock Formations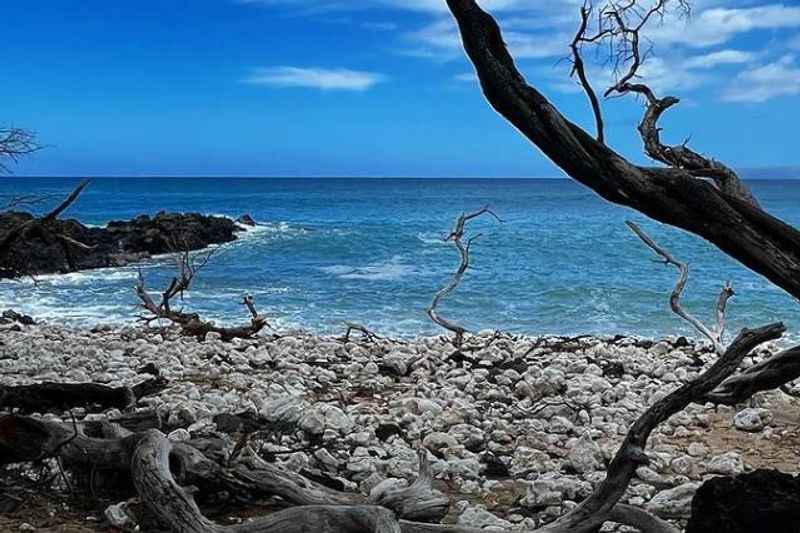 La Perouse Bay is located on Maui's southern coast and is known for its rugged lava rock formations, rocky beach, and crystal-clear waters.
The bay is home to a variety of marine life, including sea turtles, and sometimes even dolphins.
Advanced snorkelers will appreciate the underwater lava rock ledge, which provides a unique snorkeling experience.
The nearby Makena Landing Park offers parking and facilities for visitors.
8. Kapalua Bay: A Small Sandy Beach With Calm Waters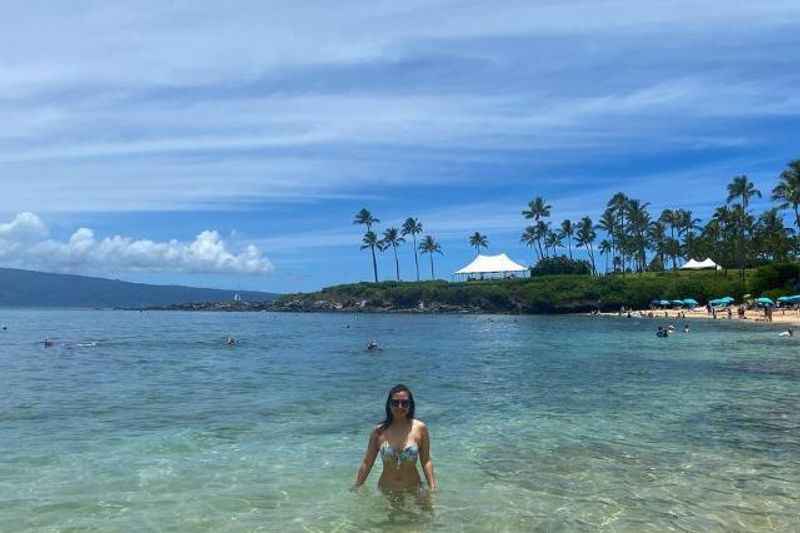 Kapalua Bay is a sheltered beach on Maui's northwest coast that offers calm waters which is what makes it a great Maui snorkeling spot and great snorkeling opportunities.
The area where Kapalua Bay is home to a variety of marine life, including tropical fish and Hawaiian sea turtles.
The beach is also known for its soft sand on the land and sharp rocks in the water. The nearby Montage Kapalua Bay resort provides luxury accommodations and easy access to the bay.
9. Ulua Beach: Clear Waters, Abundant Marine Life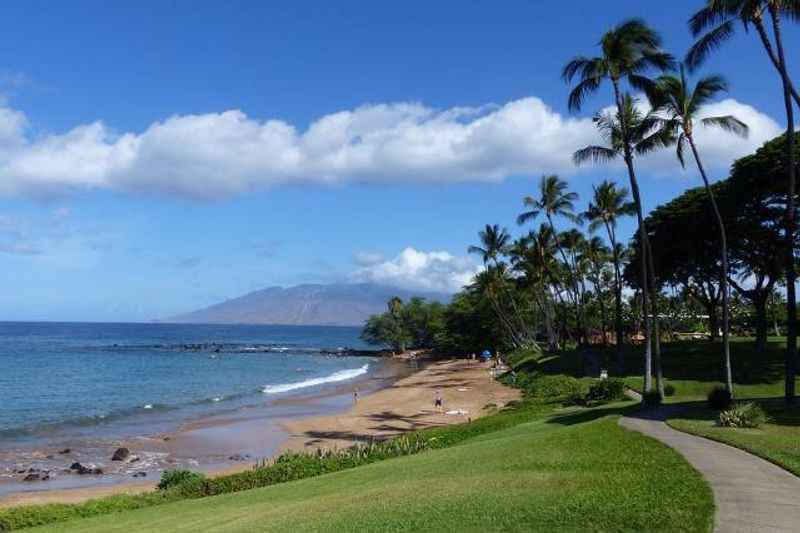 Located in Wailea on Maui's southern coast, Ulua Beach is a popular snorkeling spot with clear waters and abundant marine life. 
Ulua Beach is easily accessible and has great facilities, including restrooms and showers.
Like at many other beaches here, snorkelers can expect to encounter Hawaiian fish, sea turtles, vibrant snorkeling sites, and a rocky reef formation.
Near Ulua Beach, you will find the Wailea Beach Resort which offers upscale accommodations and amenities, making it a convenient base for exploring the area.
10. Kahekili Beach: One of the Best Snorkeling Spots To Observe Hawaiian Green Sea Turtles
Kahekili Beach Park is a popular snorkeling spot located in Kaanapali on Maui's west coast. It is very similar to Kamaole beach park, with a black sand beach. The park features a wide variety of marine life, including sea turtles, and even octopuses.
In addition to having some of the best Maui snorkeling spots, the beach also has great facilities, including a golf resort, picnic tables, and restaurants, making it an ideal location for a day of snorkeling and relaxation.
11. Makena Landing Park: The "Turtle Town"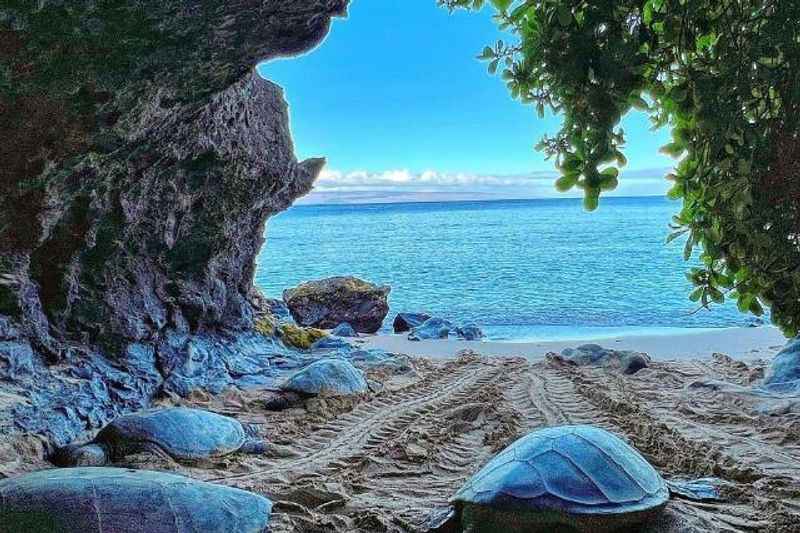 There are many things to do in Maui, but visiting Makena Landing is something you shouldn't miss.
This small beach is located on Maui's southern coast that offers great snorkeling opportunities.
The water polo beach is typically calm, and the area is home to a variety of marine life, including Hawaiian green sea turtles and tropical fish.
Makena Landing is also known as "Turtle Town" due to the high number of Hawaiian green sea turtles that frequent the area. The nearby Makena Beach State Park offers additional recreational opportunities and facilities.
In fact, Makena Beach Park is one of the most visited places for snorkeling in Maui all of Napili Bay because it is one of the only snorkeling spots in Hawaii that allows you to capture fish.
12. La Perouse Bay: For People Who Love Adventure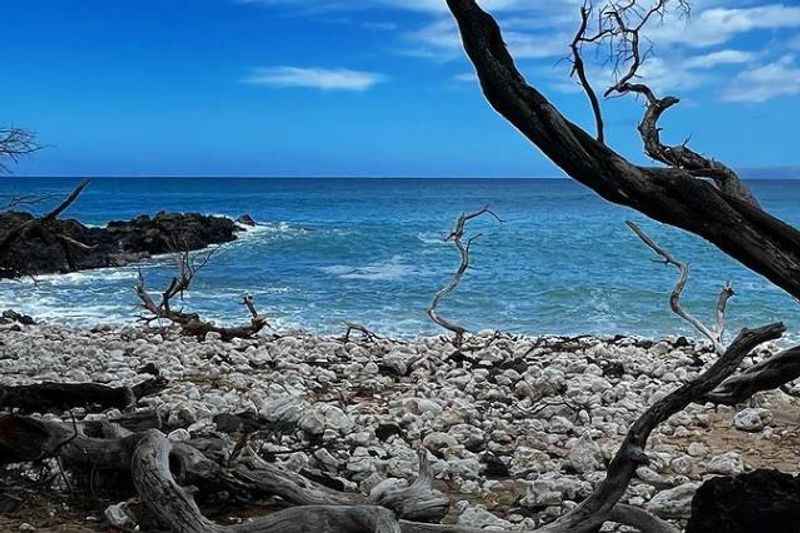 La Perouse Bay, a captivating snorkeling destination in Maui, offers more than just underwater exploration. Along with snorkeling, visitors can enjoy a variety of outdoor activities such as hiking, swimming, and kayaking in the nearby area.
However, it's important to note that fishing is not allowed in the bay. Unfortunately, on La Perouse Bay it's not possible to rent snorkeling gear.
This means that if you want to go scuba diving, rent snorkeling gear, or explore the nearby reefs, you may have to bring your own snorkeling gear or rent snorkeling gear beforehand.
For a more tranquil experience, consider visiting Charley Young Beach, a local favorite and quiet haven away from the hustle and bustle. Located near the northern part of Kamaole I Beach Park, Charley Young Beach provides the perfect setting for a range of activities.
13. Coral Gardens: Home To Impressive Coral Formations
The Coral Gardens, an exceptional snorkeling spot in Maui, and their beauty rivals even the best of sights that Makena Beach can offer.
It is situated off the coast of Olowalu Beach. This underwater paradise features a breathtaking coral reef teeming with a variety of marine life, including tropical fish, eels, and occasionally even spinner dolphins.
As one of the top Maui snorkeling spots, Coral Gardens is a popular tourist destination. Here you will find boat tours and snorkeling tours, providing visitors with a unique and unforgettable experience.
While snorkeling amid the impressive coral formations, you'll have the opportunity to observe the abundant marine life up close, marvel at the vibrant coral reefs, and create lasting memories of your time in Maui.
Maluaka Beach, often referred to as a hidden gem, offers an incredible snorkeling experience for both novice and seasoned snorkelers. Located on the southern coast of Maui, Hawaii, this pristine beach is known for its crystal-clear waters, diverse marine life, and stunning coral reef formations.
As you immerse yourself in the warm turquoise waters, you'll be greeted by a vibrant world teeming with butterflyfish, parrotfish, and triggerfish, as well as graceful turtles and even the occasional reef shark.
The protected cove at Maluaka Beach ensures calm waters and excellent visibility, making it a perfect destination for those seeking to explore the underwater wonders of the Pacific Ocean.
15. Kaanapali Beach: A Location for the Whole Family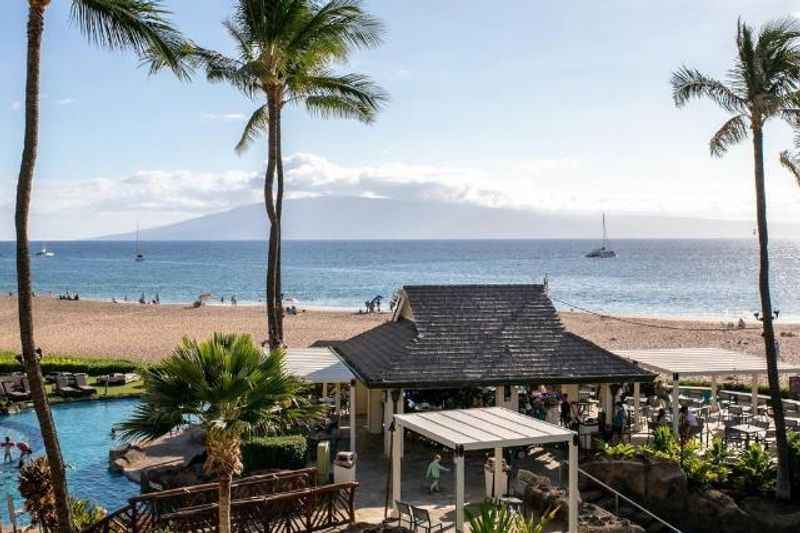 Kaanapali Beach, situated on the sun-drenched western shores of Maui, Hawaii, is renowned for its superb snorkeling opportunities, attracting underwater enthusiasts from around the world.
This expansive stretch of white sand and azure waters boasts exceptional visibility, allowing snorkelers to marvel at the thriving marine life and vibrant coral gardens that lie beneath the surface.
While Polo Beach, another popular spot, provides snorkelers with tranquil bays and opportunities to encounter turtles, Kaanapali Beach stands out for its accessibility and abundance of marine species.
In contrast to West Maui's Honolua Bay, a marine reserve known for its world-class snorkeling and stunning array of coral reefs, Kaanapali Beach offers a more family-friendly and easily accessible experience.
The inviting waters of Kaanapali Beach are ideal for snorkelers of all skill levels, providing an unforgettable adventure for everyone who visits.
FAQs Regarding the Best Snorkeling Spots in Maui
Let's look at the most frequently asked questions about snorkeling spots in Maui.
What Part of Maui Has the Best Snorkeling?
One of the best snorkeling spots in Maui is Kapalua Bay, Black Rock, Wailea Beach, Ka'anapali Beach, and Slaughterhouse Beach. That said, Slaughterhouse, Wailea Beach, and Ka'anapali Beach have not yet gained the popularity of the others we have mentioned but are gaining favor quickly.
Where Is the Easiest Place to Snorkel in Maui?
The easiest place to snorkel in Maui is West Maui. Here, the spots are geared more toward advanced snorkelers, while south Maui is more appropriate for beginners and intermediate snorkelers.
That being said, some of the best snorkeling spots in Maui for beginners are Baby Beach, Polo Beach, and Canoe Beach.
What Bay in Maui Is Best for Snorkeling?
Many people find the best snorkeling in Maui is in Kapalua Bay. That said, Canoe Beach is also gaining popularity and is slowly but surely becoming one of the best snorkeling locations in Maui.
Where Is the Clearest Water to Snorkel in Maui?
You will find that the clearest water in all of Maui is Baby Beach, Turtle Beach, and Black Rock, as well as in Kapalua Bay.
Summing Up: The Best Snorkeling Spots in Maui
In conclusion, Maui offers a diverse range of snorkeling destinations suitable for all levels of experience. 
From the protected marine reserves of Honolua Bay and Black Rock to the vibrant coral reefs of Molokini Crater and Coral Gardens, there is no shortage of underwater wonders to explore.
Additionally, locations like La Perouse Bay and Charley Young Beach provide not only fantastic snorkeling but also other recreational activities and amenities for visitors to enjoy.
So, what are you waiting for? Start planning your unforgettable snorkeling adventure in Maui today.