11 Amazing Places to Visit in Cape Town
Arguably one of the most incredible countries to visit, South Africa is rich in history, boasts stunning views, and is a paradise for nature lovers.
If you're going to be spending time in Cape Town, consider yourself lucky. The city is beloved by travelers for a number of reasons.
Before you visit Cape Town, located in the Southwest of the country, do some research and make sure to plan an action-packed schedule.
From the history of the Dutch East India Company to Cape Town's all-natural sites, you'll be hard-pressed to see it all!
Now, let's explore some of the best places to visit in Cape Town city.
1. Table Mountain National Park
If you've looked at photos of Cape Town, you probably already know about this world-famous landmark. The green mountain towers over the city and can be explored via its many hiking trails as well as a suspended cable car system that allows for 360-degree views of the natural wonder.
From Table Mountain National Park, you get a great view of Cape Town city and Lion's Head mountain. Lion's Head is perhaps the most dramatic of all of the peaks in the Cape Town skyline.
If you want to use the cable car to reach Cape Town Table Mountain, book your ticket ahead of time. Given the popularity of this site, the lines for tickets can get quite long. People have been known to spend upwards of an hour waiting in queue for their tickets.
It's also a good idea to look up the expected weather before you embark on a hiking trek. Wet weather can make Table Mountain incredibly muddy, making it a lot harder.
Be sure to bring water and weather-appropriate clothing, and never go on a hike without first telling someone where you're going. Follow all local recommendations for safety and wear sturdy footwear. You can expect this to take anywhere between two hours and half a day.
2. Boulders Beach, Simon's Town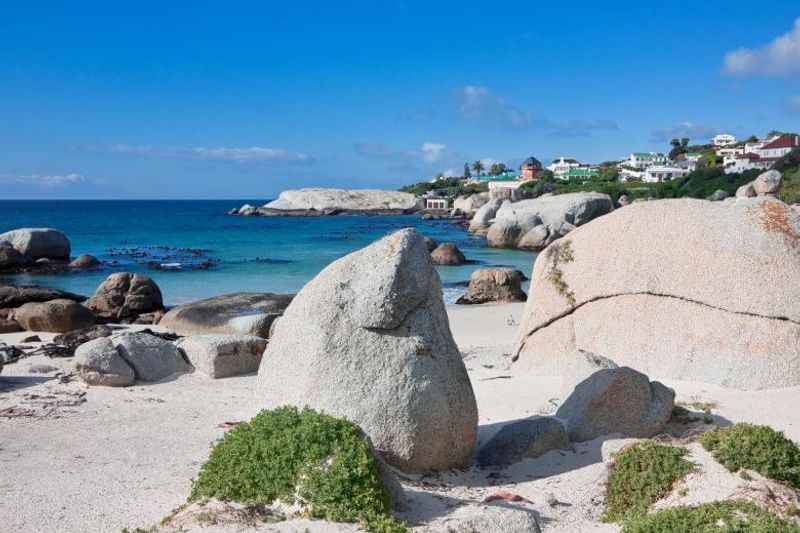 The picturesque Boulders Beach is named for the massive boulders scattered across it. The entire shoreline is broken up into peaceful coves that you can enjoy privately.
The Atlantic Ocean water in False bay is usually a lot warmer than the water on the west side of the peninsula, making it a wonderful place to swim.
Of course, the main attraction of Boulders Beach is the animals that live there. African Penguins can be found all over the beach.
The penguins are not afraid of humans, so simply go about their day as you watch them. This being said it's best not to get too close as conservationists don't want them disturbed too much.
Boulders Beach is a little over 18 miles from the city center. You can expect to spend one to two hours there.
3. Greenmarket Square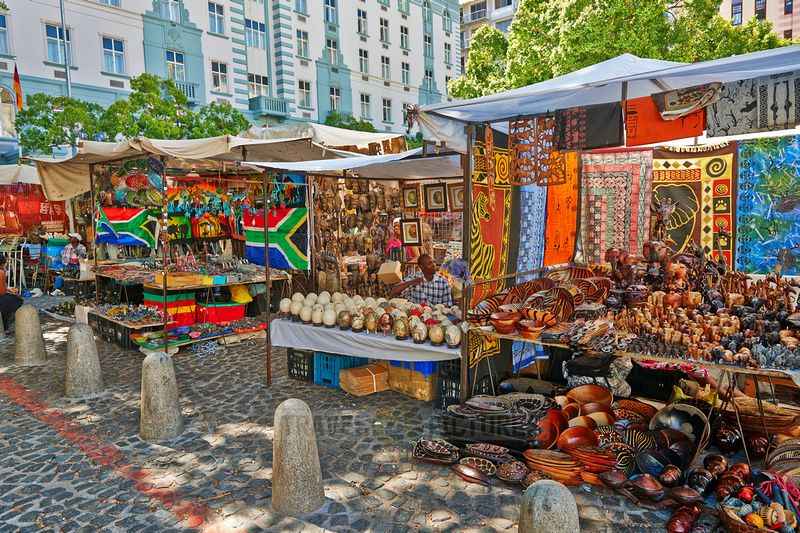 One of South Africa's oldest public squares, Greenmarket Square is a cobblestone plaza filled with local vendors. You can find hand-crafted gifts and painted fabrics as you wander around various busker and street performances.
The location was once a slave market, making it a major historical site in Cape Town as well. Be aware that what is considered polite sales tactics varies quite aggressively around the world. Don't be surprised if some of the vendors are much pushier with their products than you're used to.
Greenmarket Square is around a mile from the city center. Most visitors spend about an hour there, but if you're really fond of shopping, you could end up spending longer.
4. Camps Bay Beaches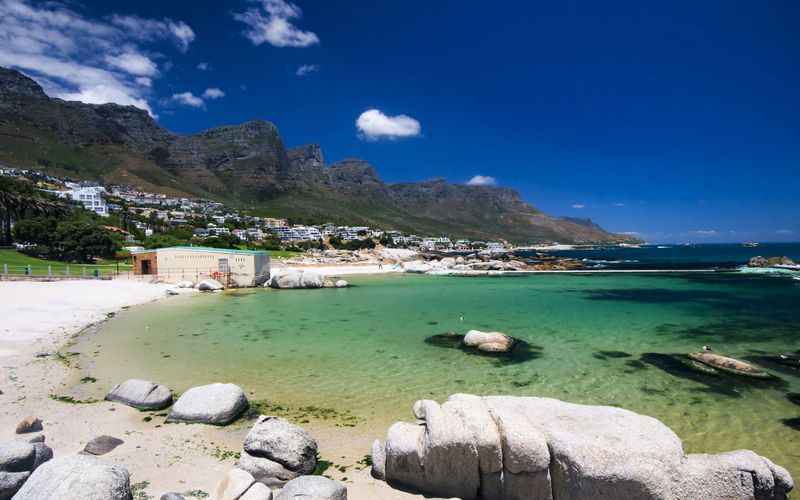 Along the western side of Table Mountain, you'll find Camps Bay. It's a long waterfront stretch filled with bustling bars and pleasant cafes. Here, the Atlantic Ocean water is often too cold for swimming, but the area isn't very windy and has a family-friendly vibe to it.
Lots of restaurants are available with space to sip a drink and unwind. The area has been deemed one of the best places to stay in Cape Town by the people behind https://thishotel.com. Almost everything in this area is within walking distance from each other as well, making it perfect for lovely meandering.
5. Bo-Kaap
Bo-Kaap, also known as the Malay Quarter, is the name of Cape Town's Muslim community. It's a neighborhood tucked into the foot of Signal Hill with residents that are largely descendants of Cape Malays.
These were slaves taken from Malaysia, Indonesia, and many African countries to Cape Town by Dutch settlers.
The area has become beloved by visitors for its brightly colored Cape Town houses. It makes for stellar photographs as well because of the multi-colored backdrop. You can easily spend the best part of an afternoon in Bo-Kaap.
On the other side of Signal Hill, you will find Sea Point Promenade. It is worth stopping in Sea Point while you're in the area!
6. Wine Tasting in Constantia Valley

The wine industry in South Africa is booming, and Constantia Valley plays a part in that. The area has oak-lined streets, beautiful mansions, and wineries galore.
The oldest vineyard in the area is called Groot Constantia; throughout history, it hosted Napoleon Bonapart, Jane Austin, and King Louis Philippe of France. What better place to visit in Cape Town for a spot of wine tasting?
A wine route can lead you through the valley. It's ideal to book or rent a car for this as the vineyards are quite big, so everything is fairly spaced out. Expect to spend half a day or even a full day here.
7. Victoria and Alfred Waterfront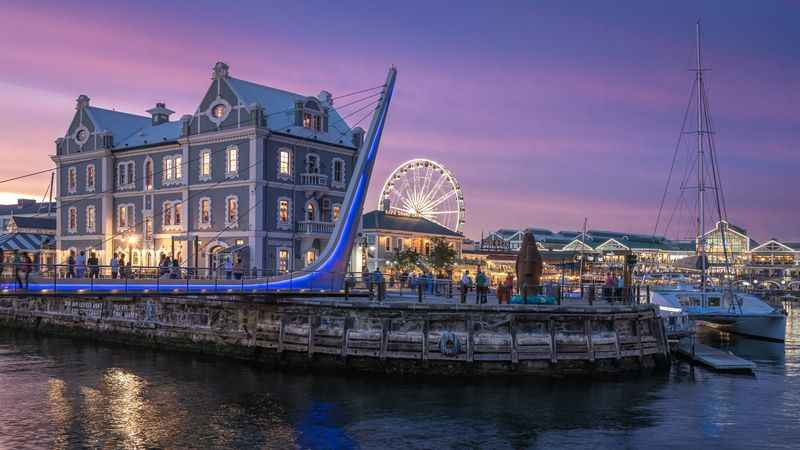 The Victoria and Alfred Waterfront is a gorgeous spot in Cape Town, with views of the Atlantic Ocean, Table Bay, and Table Mountain. Take a ride on the Cape Wheel to get a great view of the city center, the mountain, and the surrounding waters.
The Victoria and Alfred Waterfront is located in Table Bay harbor, near the Cape Town football stadium and other significant attractions, so you could spend anything from two hours to a whole day here!
While you're in the area, check out the Two Oceans Aquarium which displays over 300 species of fish from both the Atlantic and Indian oceans. This is one of the top tourist attractions for lovers of marine life.
8. Iziko South African Museum
You will want to learn a bit about the country's history and culture when you visit Cape Town, and what better place to start than this Cape Town museum in the city center?
The Iziko national museum is located in the Company's Garden in Cape Town and boasts a huge collection of natural specimens and historical tools. Close by is the Castle Military Museum, which tells the history of the Cape.
If you love Iziko, you might also want to make the very short walk over to Cape Town's District Six Museum. This museum commemorates the destruction of the ethnically and religiously diverse District Six of Cape Town during apartheid.
9. Kirstenbosch National Botanical Gardens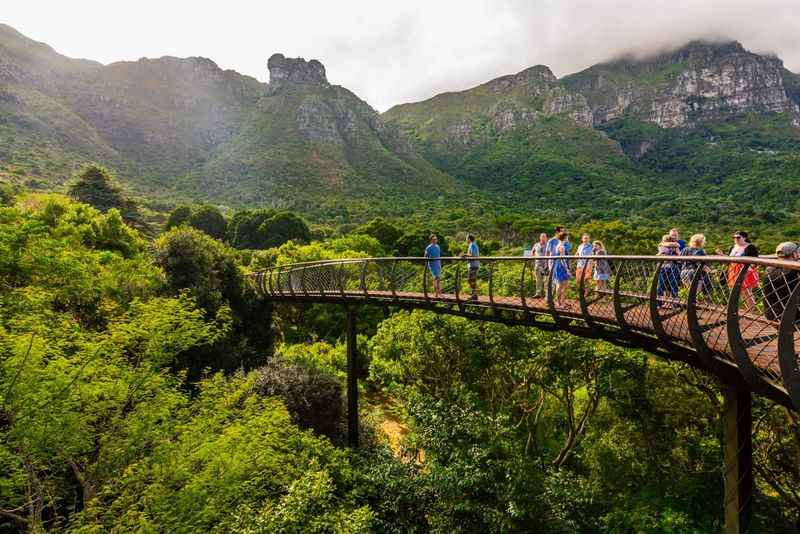 The Kirstenbosch National Botanical Gardens is a great place to spend part of an afternoon learning about South Africa's native plants.
At Kirstenbosch, you can also visit a sculpture garden that boasts a great collection of African stone sculptures and some bronze animals made by Dylan Lewis.
The gardens are a short drive from the city center of Cape Town, located at the eastern foot of Table Mountain.
10. Robben Island
Robben Island is not only one of the most famous places to visit in Cape Town but also a poignant and powerful reminder of South African history. On Robben Island, you can visit the former jail cell of none other than Nelson Mandela.
Take a short boat trip to the island to discover this former prison and military base. Robben Island is a UNESCO World Heritage Site. The historic site represents the triumph of democracy and freedom from oppression and racism in South Africa.
11. Cape Point and the Cape of Good Hope
Cape Point is located at the southeast corner of the Cape Peninsula. This spectacular rocky formation runs north to south for around 30 kilometers. Cape Town lies at the northern extremity of the peninsula.
People visit Cape Point to marvel at the views, explore the stunning beaches separated by dramatic rock formations and get up close to the wildlife. At Cape Point, you will encounter baboons, African penguins, and a range of stunning native birds.
Cape Point is not to be confused with the Cape of Good Hope, which is also located on the Cape Peninsula. It is worth visiting both of these spots in the Western Cape Province for the spectacular scenery they offer.
A common misconception is that the Cape of Good Hope is the southernmost point of mainland Africa, but this is not the case. In fact, the most southern point is Cape Agulhas, further east on the Cape Peninsula.
FAQs Relating to Places to Visit in Cape Town
Let's take a look at some frequently asked questions about amazing places to visit in Cape Town.
What is cape town famous for?
Cape town is famous for its gorgeous scenery, wildlife, fun attractions, and great food. Some of the most sought-after places to visit in Cape Town include Table Mountain, Cape Point, and Cape Town Lion's Head. You can also check out the distinctive Cape Dutch architecture on Long Street.
What is the best way up Cape Town Table Mountain?
Table Mountain in Cape Town can be visited via the cableway, or, for the more adventurous tourists, on foot! If you choose to hike up Table Mountain, remember your walking shoes and water. Kasteelspoort is the easiest route up Table Mountain and offers great views of the Camps Bay beaches.
What are the most central cape town tourist places?
Within the city of Cape Town, you can visit the Botanical Gardens, head over to the Victoria and Alfred Waterfront and, on a weekend, explore the Oranjezicht City Farm Market. For some contemporary African art, you can also visit the Zeits Museum of Contemporary Art Africa.
What are the most beautiful beaches in and around Cape Town?
The Cape Peninsula suffers no shortage of fantastic beaches, but some of the most notable is Muizenberg Beach, Camps Bay, and Clifton beaches. Clifton Beach is often referred to as the jewel of the Cape town coastline.
Summing Up: 11 Amazing Places to Visit in Cape Town
The above list should have given you an idea of some of the wonderful places to visit in Cape Town. Of course, there's far more to see in the city than you'll find on this list alone!
Before you visit Cape Town, do your research and book your excursions and tickets so you don't miss out on a great experience.
Of the 11 places to visit in Cape Town listed above, perhaps the most iconic are Table Mountain, Robben Island, and Cape Point.
Beyond that, you will discover a rich history, delicious food, and fascinating culture in Cape town.