Madrid to Segovia: A Day Trip Itinerary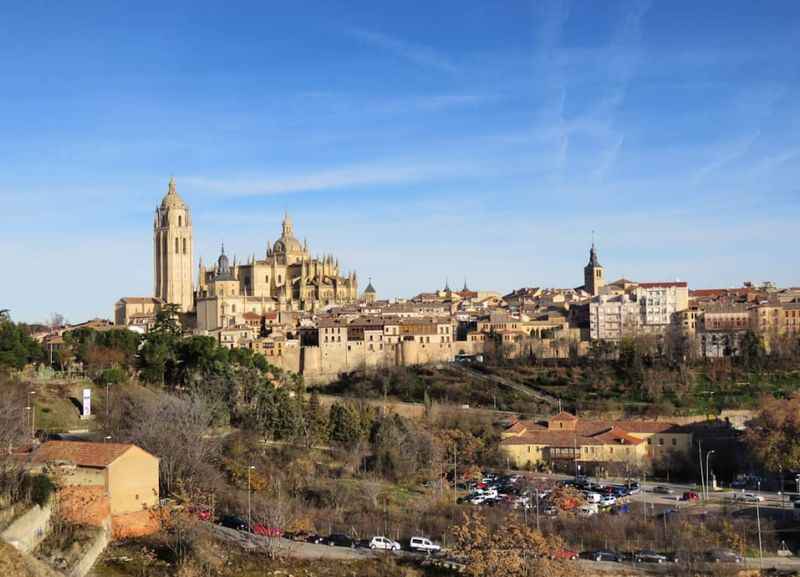 Did you know that you can travel from Madrid to Segovia at high speed and at a low price? Segovia is one of the most beautiful cities in Spain and well worth visiting if you have the opportunity to do so.
Segovia is a historic city just northwest of the Spanish capital, at the heart of the Castile and León Region.
Having seen photos of this UNESCO World Heritage Site online, and knowing of Segovia's famous Roman aqueduct, my expectations of its beauty were high.
Nevertheless, you could never appreciate the scale of its most famous landmarks, the detail on the building facades, and the verdant mass of green that surrounds Segovia until you see it.
This post provides a one-day itinerary for your trip from Madrid to Segovia.
Segovia: A Quick Background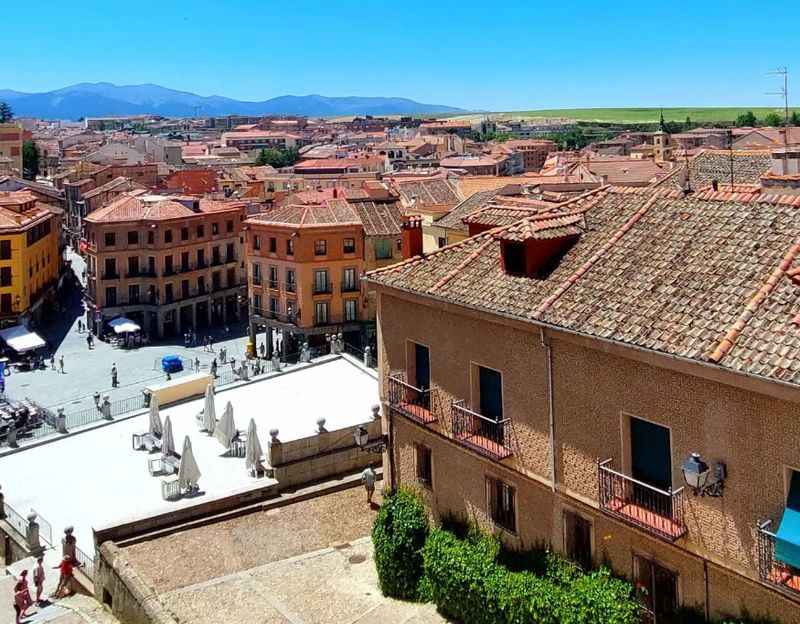 Segovia's rich architectural legacy derives from centuries of settlement by numerous ethnic and religious groups in Spain. These include Romans, Jews, Arabs, and Christians.
Travel the short distance from Madrid to Segovia and spend a day exploring its architectural heritage. Visit Romanesque churches, a Jewish quarter, a Gothic Cathedral, the stunning Plaza Mayor, and an aqueduct dating from the 1st Century.
In this comprehensive Segovia day trip itinerary, you will learn how to get to Segovia by bus, car, or train from Madrid.
Furthermore, we will highlight what to see and do in Segovia, and where best to discover the incredible gastronomy.
How to Get from Madrid to Segovia
There are a few ways to get from Madrid to Segovia and we are about to guide you through it.
Madrid to Segovia by car: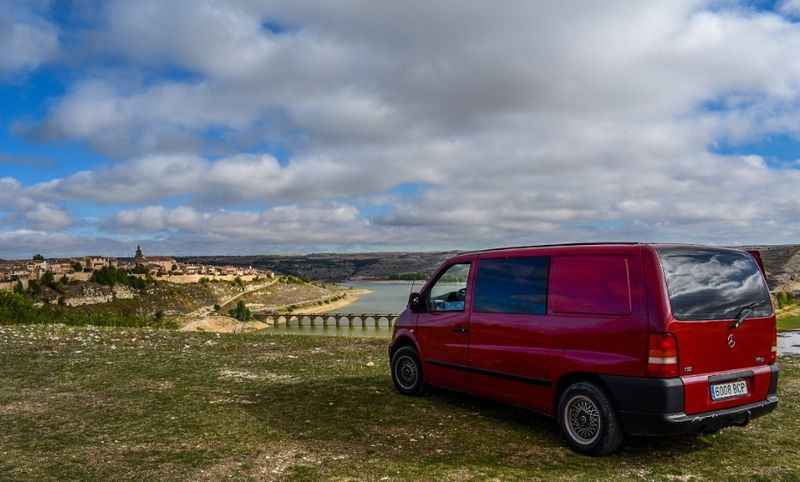 Duration: Approx. 1 hour Cost: 10 euros in fuel, 8 euros in toll fees, plus car hire Option: Most expensive, but most enjoyable
There are three main ways to reach Segovia from Madrid. Generally, most tourists like to hire a car. You can also take a taxi, although this will be expensive.
This is a personal preference as it enables people to journey at their own pace and pack as much as possible. It also allows me to continue my journey to another location spontaneously, if necessary.
Driving to Segovia from Madrid in January at 8 AM for example provides beautiful sunrise views as you leave Madrid's cityscape of snow-capped mountains and blue skies.
A key advantage of driving to Segovia from Madrid is that Segovia's mountains offer stunning views of the region. If you like sunrises, driving, and exploring at your own pace, we recommend this option.
Parking in Segovia
Parking in Segovia is easy and relatively cheap. Leaving a car outside of the city center limits you to 2 hours, so it is recommended to use any of the numerous and well-signposted underground car parks. The cost is approx. 2.50 euros per hour.
Madrid to Segovia by Train (Leaving Chamartin Train Station)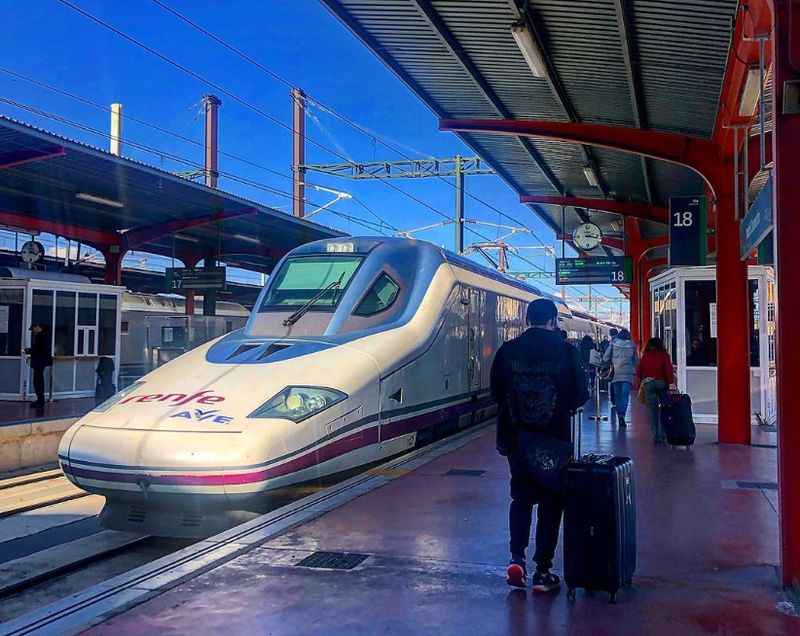 Duration: 30 minutes Cost: 24 euros for a round-trip ticket Option: Most convenient
Given the short distance between Madrid and Segovia, the most common option is to travel from Madrid by train. Though trains are not the cheapest way to travel, they are the most convenient public transport option.
The Madrid to Segovia train travels to Guiomar Station (Segovia train station) from Madrid's Chamartín AVE train station. This is not to be confused with Atocha Station, Madrid's largest train station, or Pinar de Chamartín. Chamartin station can be reached easily on Metro Line 1.
At what time can I get to Segovia by train?
The earliest Segovia train from Madrid is 06:30 on weekdays, and 08:00 on weekends, on non-holiday days.
The final train is 22:45 on weekdays and 21:30 on weekends.
Furthermore, the train journey time is 30 minutes, meaning trains are by far the fastest option.
How much are train tickets to Segovia train station from Madrid?
The high-speed direct train from Madrid to Segovia, the AVE, is run by RENFE. A return ticket is 12 euros.
All Metro and RENFE train tickets in Spain can be purchased on the day of travel. There is no cheaper incentive to book trains in advance.
However, bear in mind that queues can be lengthy at Spanish train stations. So, we would also purchase Madrid to Segovia train tickets in advance, if possible.
You can book your tickets from either the RENFE or Trainline websites. For high-speed train journeys, you may need to purchase your train ticket/s from the kiosks in person.
Madrid to Segovia by Bus (Leaving Moncloa Bus Station)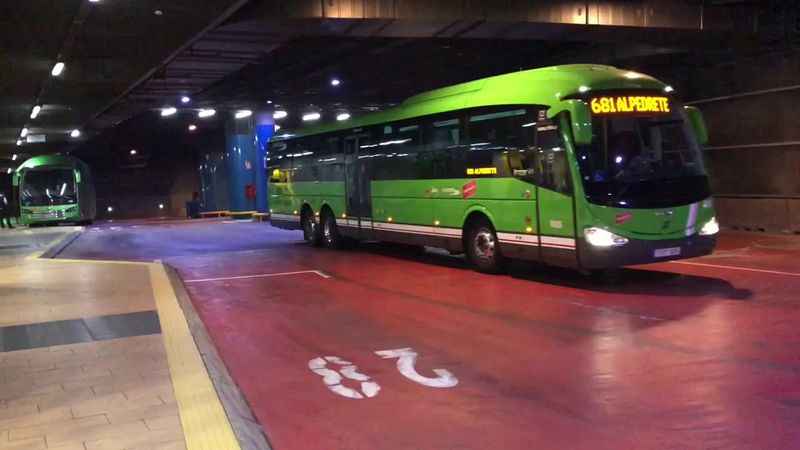 Duration of Madrid to Segovia: 90 minutes Cost: 12 euros Option: Cheapest way
The Madrid to Segovia direct bus is the cheapest option but it takes longer to arrive. Buses run from Moncloa station to Segovia bus station. La Sepulvedana is a renowned bus company in Spain that operates primarily in the region of Segovia. La Sepulvedana buses from Madrid to Segovia depart about 16 times per day.
Buses that can take you from Madrid to Segovia take around 90 minutes, depending on traffic and toll queues. ALSA bus tickets are ideal for tourists on a budget. However, many people would rather pay a little more in exchange for more time in the city, particularly for a day trip but it's up to you.
If you decide to take the direct bus from Madrid to Segovia, note that buses depart from 06:30, and return to Madrid before 22:00 on weekdays. Weekend buses can be less reliable, with only 2 or 3 trips per day running to Segovia bus station from Madrid.
Book bus tickets from Madrid to Segovia ahead of time to secure a seat on a bus at your preferred time. The advantage of the bus is that Segovia's Roman aqueduct is a short walk from Segovia Bus Station. It is the perfect place to take photos at sunrise. Make sure to check out bus routes in advance.
What to do During a Segovia Day Trip
Now that you know how to get to Segovia from Madrid, let's talk about what to do once you're there.
Take a Walking Tour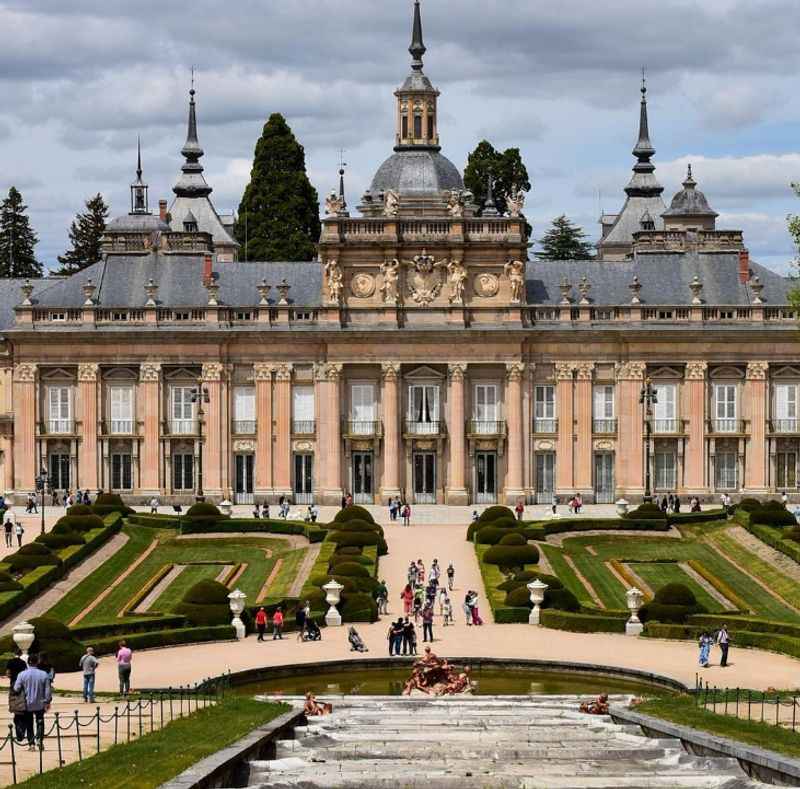 Chances are - you will be surprised by the size of Segovia and the variety of walking routes just as much as tourists are usually surprised by the size of the La Granja Palace. What's more, while the old town of Segovia is compact, it is surprisingly easy to navigate.
If you are interested in walking tours in other cities we wrote about check out this post on walking tours in San Diego.
Staff at Segovia's Tourism Office, a stone's throw from the aqueduct, informed us that there are 3 main walking routes.
All routes are ahead through the old town, past the impressive Alcázar Palace. I took Route 1, which is the longest, lasting around 3.5 hours.
Consider renting an audio guide for the walk, whichever route you choose. It provides rich context to your surroundings, describing, in particular, Segovia's multicultural history.
Visit the Aqueduct of Segovia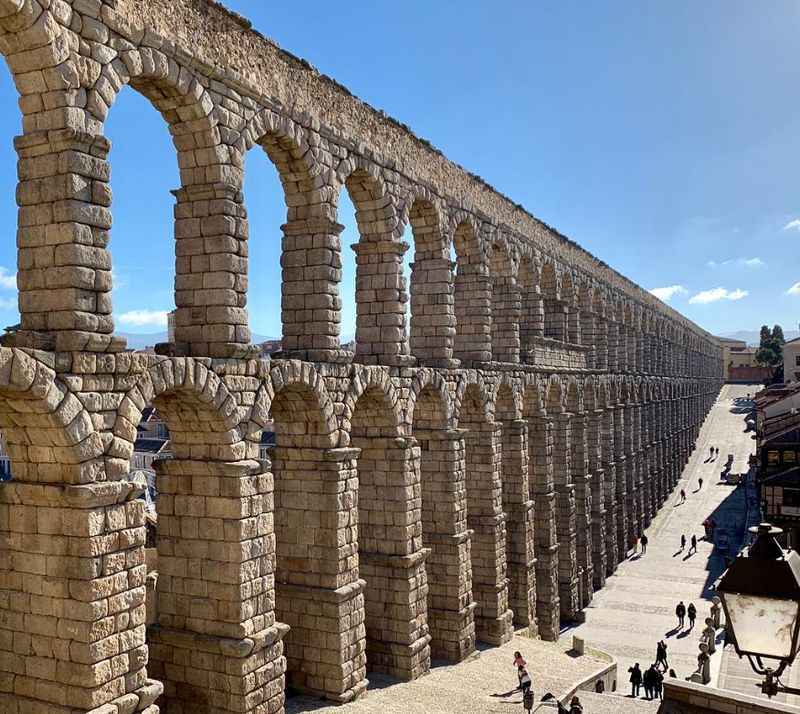 Quick Facts: Arches: 167 Height: 30 meters Age: 2000 years (approx)
All walking routes start at the aqueduct, the attraction that makes Segovia one of Castile and León's most popular destinations.
Built by the Romans, the 17km structure dates back to the late 1st Century. It was built at a 1-degree decline, transporting water to the heart of Segovia from the city's adjacent Rio Frío.
The aqueduct was active until the 19th Century, when Spain's King Ferdinand VII invested in modern plumbing and a piped water network, running underneath the city.
Astonishingly, the aqueduct is not held together by anything - the blocks of un-mortared granite stay in place due to perfect calculation of weight.
On one side lie a row of steps leading to the top of the aqueduct, which provides an exceptional view of the square and the structure in its entirety.
Have Breakfast in Segovia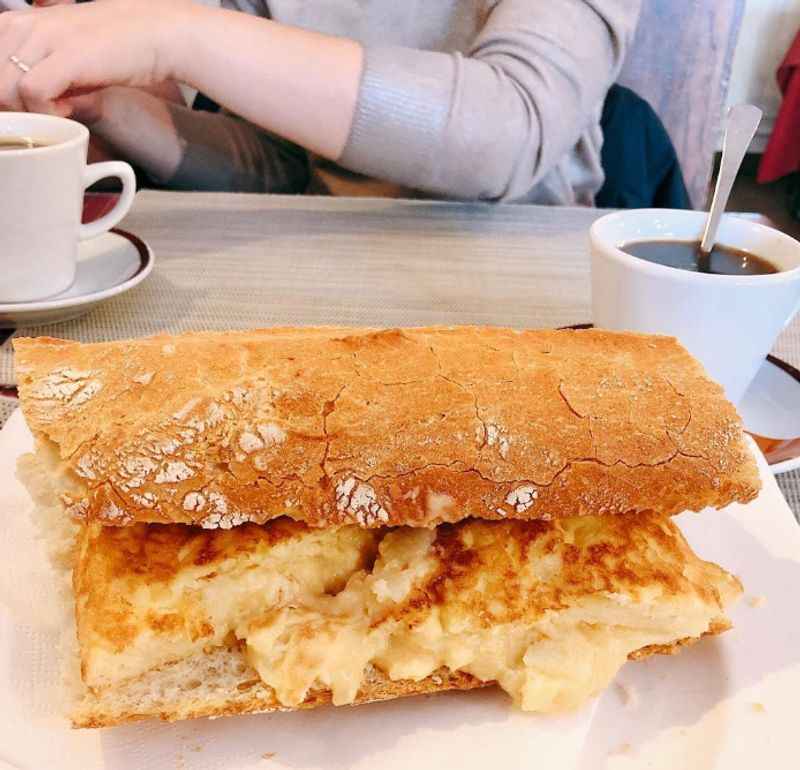 From the aqueduct, you will arrive at the bustling Calle Real de Segovia.
This street is lined with patisseries, bakeries, and Spanish tapas bars, many serving fresh churros and hot chocolate - ideal particularly when visiting Segovia in the winter.
See Plaza Mayor de Segovia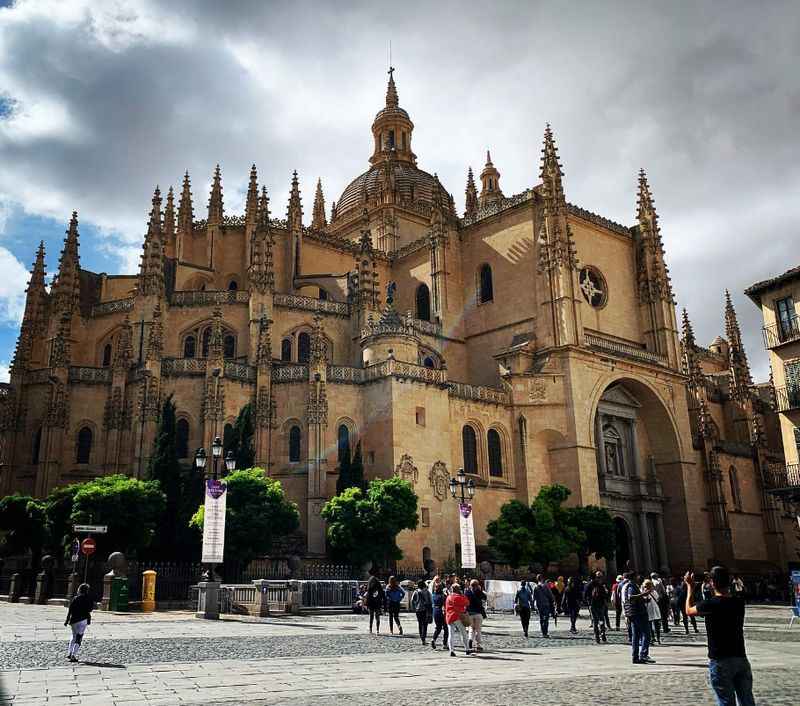 Once through Calle Real and the iconic Jewish District, visitors will arrive at Segovia's Plaza Mayor.
Interestingly, this main square hosts a daily market selling fresh fruit and vegetables, pastries, meats, clothes, and more. Experience the heart of the old town authentically with a stroll around the market.
Overlooking Plaza Mayor is the famous Catedral de Segovia, a Roman Catholic cathedral built in the 16th century.
The Segovia Cathedral boasts flying buttresses in the Gothic style and other features reminiscent of the Notre Dame de Paris.
Another great destination is El Escorial. El Escoral is a monumental complex located in the town of San Lorenzo de El Escorial, near Madrid, Spain so if you plan on exploring further keep this destination in mind.
Sample Food and Drink in Segovia
Segovia boasts a famous food and drinks scene. Cochinillo Asado (roast suckling pig) is a popular dish among locals and tourists.
One restaurant that is particularly popular with locals is located just off Plaza Mayor. Another, located near the aqueduct, is the Mesón De Cándido. This restaurant is situated in Plaza Azoguejo.
If the roast suckling pig does not tempt you, there are many authentic tapas bars dotted around the center of Segovia.
Try to visit several excellent bars in the square if you get a chance. Be sure to sample a glass of Vermouth, an aromatized, fortified wine flavored with various botanicals. The drink originated in Italy over 200 years ago but it has become a staple in this region of Spain.
This tapas bar in Segovia serves excellent croquettes, pork chops, stuffed peppers, and tortillas.
Check out the Alcázar de Segovia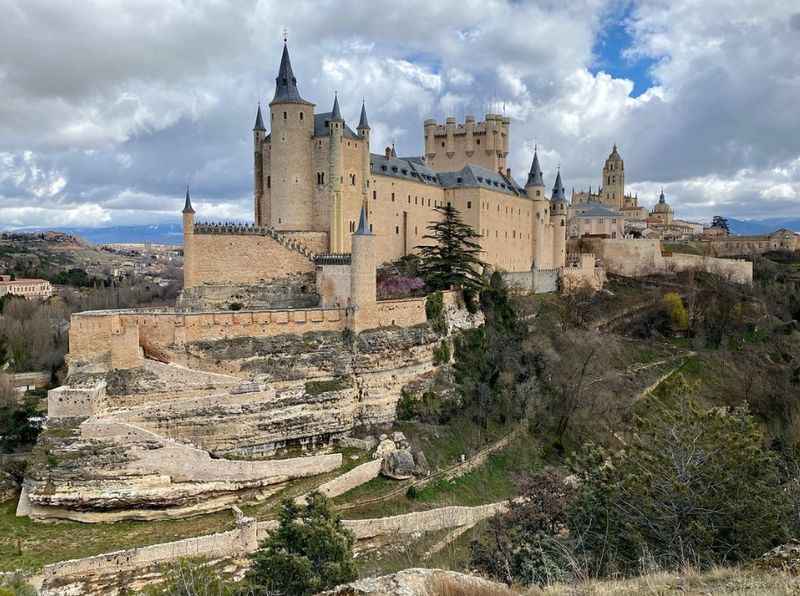 Originally a royal palace in the Middle Ages, this fortress overlooks the Guadarrama. mountains from one side and the city of Segovia from the other.
The building has undergone multiple renovations since its original Roman construction. Sadly, a fire swept the Alcázar in 1862, and it is now just a museum.
The audio guide costs 3 euros. However, you can pay an additional 5 euros to climb the 153 steps to the highest point of the fort.
Left of the Alcázar lies a tapas bar with gardens that boast an excellent view of the city walls and the surrounding mountains.
Even aside from the architecture and history, the Alcázar is worthwhile for the views alone on your visit from Madrid to Segovia.
Take in the historic Castilian city and surrounding countryside from this vantage point.
Visitors can do so at any time of year, but many people find early January to be perfect. Crowds are at a minimum and the air was clear to see for miles.
Spend approximately one hour inside the Alcázar to appreciate the stunning details. The interior comprises a pretty chapel, several noble rooms, an armory, an artillery museum, and an interior tower.
All can be visited on a guided or solo tour. Do not forget to look up at the Mudejar (old Iberian decorative style) ceilings.
Returning to the city's entrance, the Aqueduct of Segovia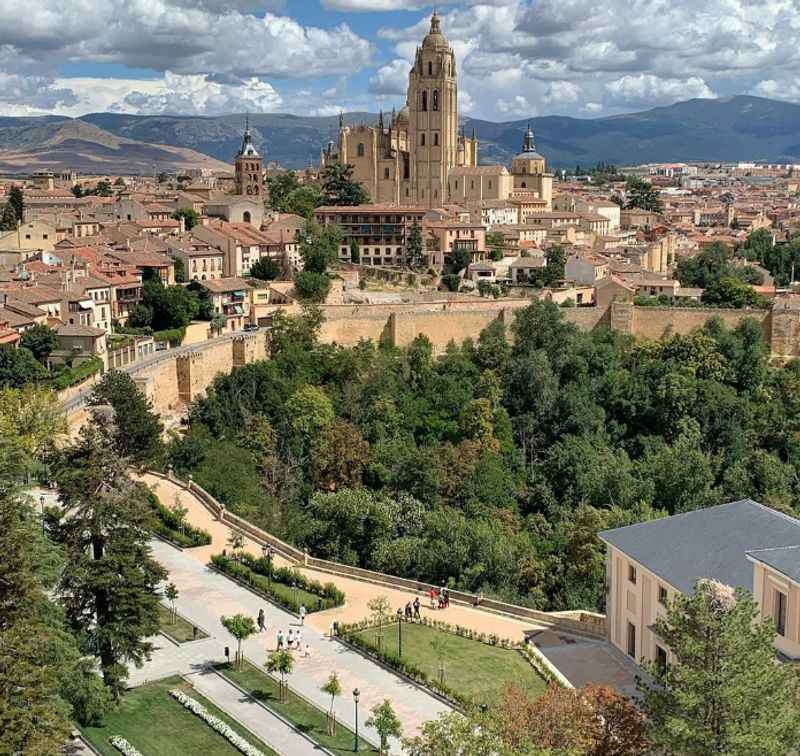 So, there are two main options when returning from the Alcázar to the city entrance.
In addition, you can walk through the city's adjacent streets, passing numerous tapas bars, boutiques, restaurants, and tourist shops. The guided tour goes this way and ends with a fabulous view of the aqueduct from high.
Most tourists choose to venture around the outside of the city walls instead. This enables them to visit the original mint, where the Romans produced currency.
Once past this point, by cutting inside at the earliest opportunity, visitors can rejoin the main trail, via the Museum of Fine Arts.
This brings you back to the top of the aqueduct, overlooking the impressive square. At sunset (in January), this is a great place to photograph the landmark in the light of the setting sun.
Our Suggested Itinerary: Segovia from Madrid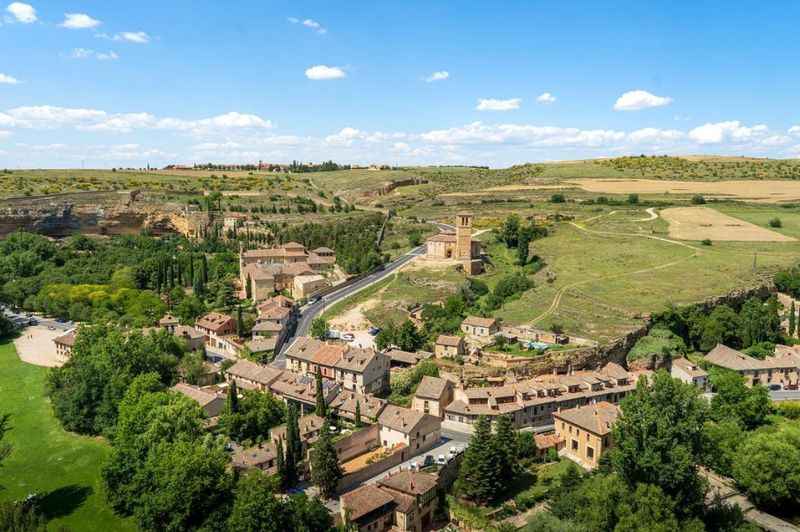 We have provided a concise itinerary below for a Segovia day trip from Madrid. Allow for 8 to 10 hours to enjoy this Madrid to Segovia round trip.
1. Travel from Madrid to Segovia by bus, train, or car (you will know which way of getting from Madrid to Segovia is the best for you)
2. Arrive in Segovia, and admire the spectacular aqueduct
3. Visit the Romulus and Remus statue next to the aqueduct
4. Go via the tourist office to collect your map of the old city, select your preferred walking route, and audioguide
5. Wander through Calle Real, stop for churros and hot chocolate, a national delicacy
6. Continue walking the main streets before arriving at Plaza Mayor for tapas or a heavier lunch at one of the traditional restaurants
7. Visit Segovia Cathedral
8. Tour the Segovia Alcázar, or simply pay for the views at the top of the fortress
9. Stop for coffee next door to appreciate the views from the gardens
10. Visit the Mint, admire the exterior of the city walls and local houses
11. Explore Casa del Sol - The Main Museum of Segovia, and discover almost 2,000 artifacts relating to the history of Segovia
12. Enter La Judería - the Jewish Quarter, view the Church and former synagogue
13. Meander through the Calle Real, visit a panadería - a bakery - to sample local sweets or a bar selling local craft beers
14. Return to the aqueduct for sunset views and dinner, try Cochinillo Asado if you eat pork
15. Depart Segovia to Madrid. Take a bus or taxi to the train station, or retrieve your car from an underground car park.
Summing Up: Travel from Madrid to Segovia
This day trip from Madrid to Segovia is the perfect addition to your Madrid holiday. The fast transport and short distance make a day trip from Madrid to Segovia a 'no-brainer' for tourists.
Segovia will strike you with its beauty as you approach the city walls and Roman aqueduct.
Furthermore, its rich multicultural history, military-esque layout, and impressive displays of Roman, Moorish, and Christian innovation are breathtaking. Moreover, Segovia boasts delectable gastronomy.
Segovia is dense, meaning it is literally packed with churches, museums, bars, restaurants, and other historic buildings.
A Madrid to Segovia day trip with my itinerary enables visitors to get a feel for Segovia and the surrounding region. Failing to make the trip would be nothing short of a travesty!
It would be wise to learn some Spanish before your trip.
If you want to start learning Spanish today, check out our most recommended Spanish course for travelers, the Spanish Speaker Academy. You can sign up for free via the link below.