4 Hiking Gift Ideas for Lovers of Hiking
Hiking is a brilliant activity. You get to go outdoors, appreciate the splendor of nature, and get fit at the same time.
However, if you are not a hiker yourself but have an avid rambler in your family, it can be tricky knowing what to get him or her as a gift. This post will cover four unique hiking gift ideas that you can get for the hiker in your life.
We've selected gifts that they will not only be thankful for but will also actually use. So, let's get started.
What Makes Hiking So Much Fun?
Hiking is a great way to get outdoors and enjoy nature. It's also a chance to get in shape, explore new places, and meet new people. Here are some of the benefits of hiking:
👍 It's an easy way to get in shape: Hiking through different landscapes can help you build your stabilizer muscles in a way that other anaerobic exercises cannot. In addition, no matter whether you are scrambling up rocks or taking a sedate stroll through a field, you will increase your stamina and overall health and wellbeing.
👍 You can explore new places: Part of the fun of hiking is finding new trails to explore. With a limitless amount of destinations to experience, no two locations will ever be the same.
👍 You can meet new people: Hiking can be a solo activity, or you can do it as part of a group. In many ways, this makes it such a great activity. It's a chance to meet new people who share similar hobbies to you.
👍 It is easy to get started: While there is lots of fancy hiking equipment, you only really need a backpack to carry food and water and a decent pair of shoes. You can usually find most of this stuff at very affordable prices by performing some research.
Four Top Hiking Gift Ideas For The Hiker In Your Life
If you are already a hiker along with your loved one, you will already know the best things to buy. However, you can use the following items as a starting point.
1. A New Backpack
A good backpack is one of the most important things for a successful hike and one of the best hiking gift ideas on the market.
It's not enough to pick up any old pack from your local store. You need something that can fit everything you want to bring while also being comfortable and durable enough to withstand the rough terrain your friend will encounter on their hike.
This makes it an excellent opportunity to buy one as a gift.
However, like the pros at https://travelfreak.com/best-hiking-backpacks/ state, all hikers understand the importance of using high-quality gear on their treks. This means that you will have to do some research to find the best bag for your friend. Some of the main things to look out for in a backpack include:
👍 How well laid-out it is: A bag with too many pockets is not practical. Conversely, one lacking in areas to stow away bits and pieces is also no good. It's better to look for a bag with the sweet spot, which is easy to pack and unpack and keeps belongings organized.
👍 Size and weight: This will depend on the type of hiking your friend performs. For example, if they enjoy camping, you will need to find a bag with enough size to carry supplies for several days, along with a space for a tent. On the other hand, daytrippers will only require a small bag for snacks and water.
👍 Water resistance: A bag that offers no resistance to water is pretty useless. While it doesn't need to be totally waterproof, it needs a certain resistance level to shrug off a surprise downfall.
👍 Comfort: Any bag needs to be comfortable and especially if you will wear it for hours at a time. Look for backpacks that have webbing between your back and the main pack to keep your back cool.
👍 Durability: Lastly, the bag should be robust. This includes the materials used for the lining as well as the zippers.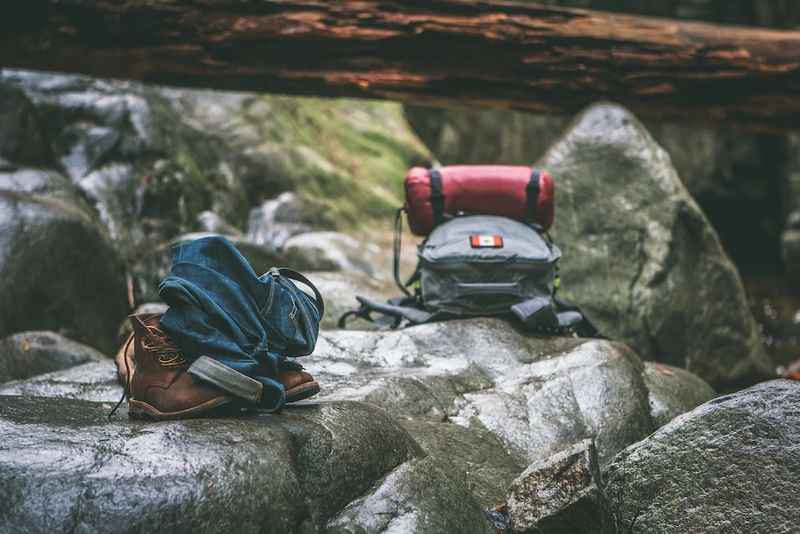 2. Trail Shoes
Hiking trail shoes are the most important piece of gear you need when hiking.
They provide the stability and protection that your feet need to be safe and comfortable.
They are designed to withstand harsh terrain, wet conditions, rough surfaces and provide ankle support, essential for hiking.
If you want to buy shoes, you should take them to the shop with you to get fitted correctly.
3. A Reusable Water Bottle
There are many benefits to using a reusable water bottle when hiking. The most obvious benefit is that it cuts down on waste.
A reusable water bottle is environmentally friendly and easy to carry, allowing hikers to stay hydrated and refreshed. You should opt for bottles that use lightweight metal or durable plastic.
4. A GPS Device To Track Their Trails
A GPS device is a powerful tool when hiking.
It can help you find your way if you get lost and even save your life in an emergency. The best hiking GPS devices are easy to use, accurate, and reliable.
They have a simple interface that is easy to understand and offers navigation modes for different terrains. It also provides your friends with the opportunity to track particularly enjoyable trails to repeat them in the future.
Summing up: Hiking Gift Ideas
This guide offers some gift ideas for people who love hiking.
Whether you're thinking of a gift for your wife, husband, or friend, this list has you covered.