Grand Canyon Skywalk Tickets Price & Availability | 2023 (with Photos)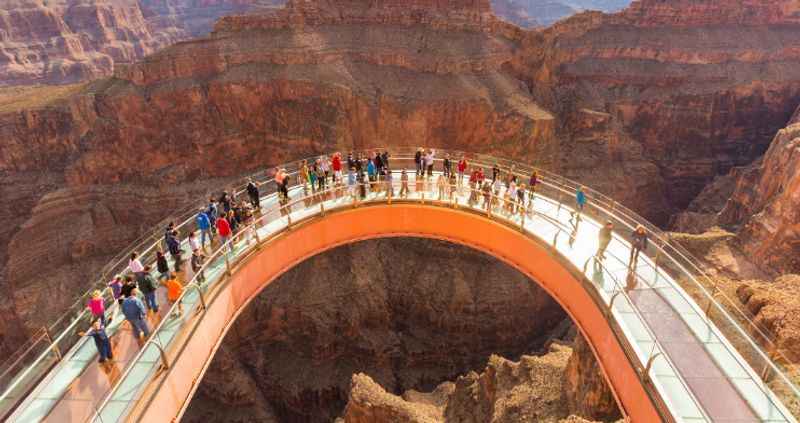 The Grand Canyon Skywalk is a unique glass bridge that extends out over the Grand Canyon, providing visitors with breathtaking views of one of the world's most incredible natural wonders.
If you're planning a trip to the Grand Canyon and want to experience this incredible attraction, here's everything you need to know about Grand Canyon Skywalk tickets, prices, and availability.
Now, let's see what is the best way to explore one of the Seven Natural Wonders of the World.
Most Recommended Thing to Do
Our Top Choice Restaurant
Our Top Choice Bar for Nightlife
Spring and autumn are the best seasons to visit.
Varies based on season, ranging from hot to cold.
Shuttle bus, private vehicle, hiking, biking, helicopter tours.
Average Cost ($, $$, $$$)
My Top Recommendation
One of my favorite ways to spend time in Grand Canyon National Park is by hiking along the rim, where breathtaking vistas extend as far as the eye can see.
Another unforgettable experience is taking a helicopter tour over the canyon, allowing you to truly grasp the magnitude and beauty of this natural wonder from a unique perspective.
What You'll Need to Bring
A good pair of walking shoes
Sunscreen
Hat
Water bottle
Camera
Snacks
Comfortable clothing
Cash or credit card
Map or guidebook
Medications (if needed)
What Not to Miss
South Rim viewpoints: Mather Point, Yavapai Point, and Hopi Point
Hiking the Bright Angel Trail
Admiring the panoramic views from Desert View Watchtower
Exploring the historic buildings at Grand Canyon Village
Taking a helicopter tour for an aerial perspective
Rafting down the Colorado River
Visiting the Tusayan Museum and Ruins
Catching the sunrise or sunset at Lipan Point or Yaki Point
Exploring the scenic viewpoints along Hermit Road
Spotting wildlife at Hermit's Rest and Cape Royal.
What to Avoid
Crowded viewpoints during peak hours.
Venturing too close to the edge without caution.
Leaving trash or litter behind.
Ignoring park regulations and signage.
Feeding or approaching wildlife.
Swimming or entering prohibited areas.
Attempting risky or dangerous hikes without proper gear or information.
Ignoring weather forecasts and warnings.
Leaving valuables unattended or visible in vehicles.
Overlooking the need for proper hydration and sunscreen.
Eagle Point and the Skywalk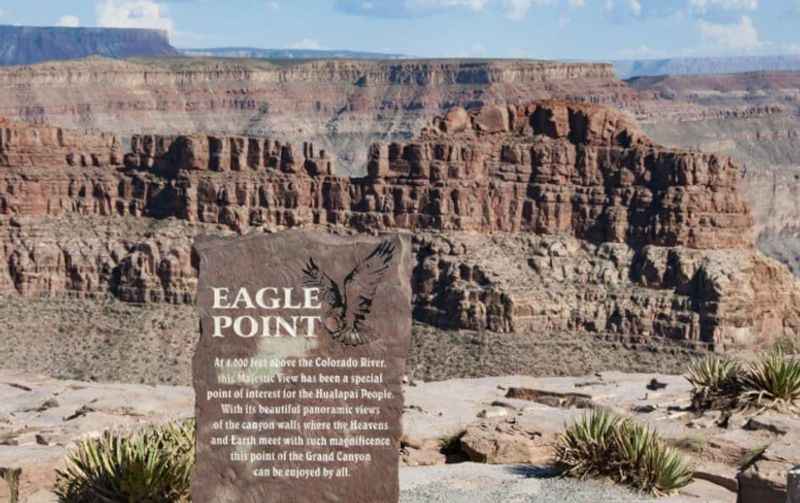 Eagle Point is one of the main attractions at the Grand Canyon West Rim. It is located on the Hualapai Indian Reservation in Arizona. Eagle Point is named after a natural rock formation that resembles an eagle with its wings spread out.
One of the main attractions at Eagle Point is the Skywalk, the glass bridge that extends out over the edge of the canyon, offering visitors a thrilling and unique perspective of the canyon. But that is not all the West Rim has to offer.
You can explore Eagle Point to discover breathtaking views of the Grand Canyon from an elevated lookout point, which is accessible by a short walkway. 
The lookout point features several observation decks that offer panoramic views of the canyon and its rugged landscape.
In addition to the scenic views, you will see a Native American village that showcases the culture and traditions of the Hualapai tribe. 
The village features authentic dwellings and structures, as well as interactive exhibits that allow visitors to learn about the tribe's history and way of life.
Overall, Eagle Point is a must-see attraction for visitors to the Grand Canyon West. 
With its breathtaking views, Native American village, and thrilling Skywalk, it offers a unique and unforgettable experience that visitors will remember for a lifetime.
Grand Canyon Skywalk - Tickets and Prices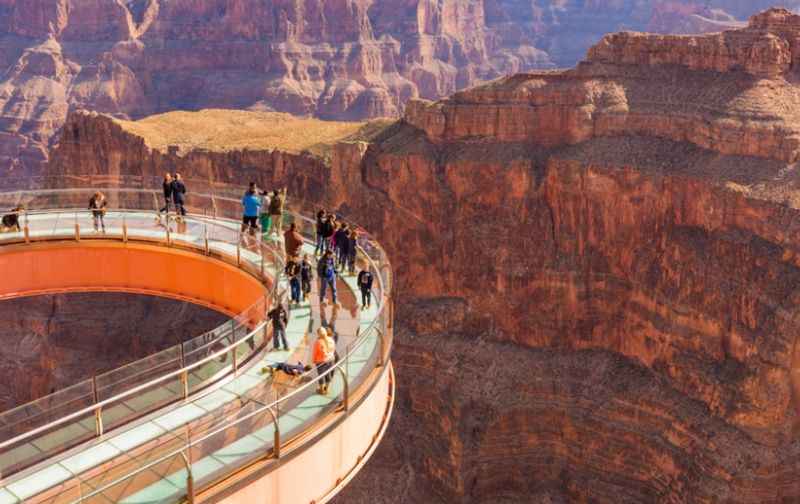 Your Grand Canyon experience culminates in a visit to the Skywalk. Tickets for the Grand Canyon Skywalk can be purchased online or in person at the Skywalk ticket office.
The cost of admission includes access to the Skywalk, as well as the other attractions at the Grand Canyon West Rim, such as Guano Point and Hualapai Ranch.
As of May 2023, the tickets and prices for the Skywalk are as follows:
General admission to the West Rim ranges from 49 - 55 USD
Add on the Skywalk for 26 - 29 USD
Add on a meal for 22 USD
Add on a zip-lining experience for 45 USD
Add on a helicopter flight and pontoon ride for 259 USD
There are also various adventure bundles that you can purchase, which can cost more but offer an array of fantastic experiences.
Please note that prices are subject to change, and there may be additional fees for parking, photography, or other services.
Grand Package and Grandest Package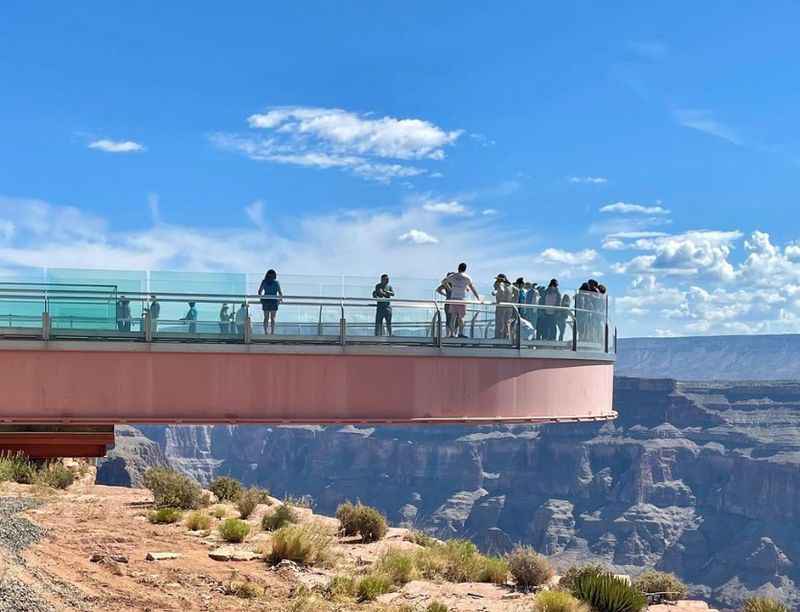 The Grand Package and the Grandest Package are two popular tour options offered by the Grand Canyon Skywalk.
The Grand Package includes a self-guided tour of the Skywalk, as well as a shuttle bus service to various scenic viewpoints on the West Rim of the Grand Canyon. 
Visitors will also have access to the Hualapai Ranch, which features cowboy shows, wagon rides, and other activities. Additionally, a meal voucher is included in the package, which can be used at one of several dining options on-site.
The Grandest Package includes all of the features of the previous package, as well as a guided tour of the Skywalk and a helicopter ride over the Grand Canyon and canyon floor stop. 
Visitors will also have the opportunity to take a boat tour along the Colorado River and visit Guano Point, a scenic overlook with panoramic views of the canyon.
The admission tickets for the Grand Package are around $70 per person, while the Grandest Package costs around $370 per person. 
It's important to note that prices may vary depending on the tour operator and the time of year.
Both packages offer an excellent opportunity to explore West Rim and experience the beauty and grandeur of the Grand Canyon National Park and the Skywalk, and they are a popular choice for visitors looking for an amazing tour.
Grand Canyon Skywalk Availability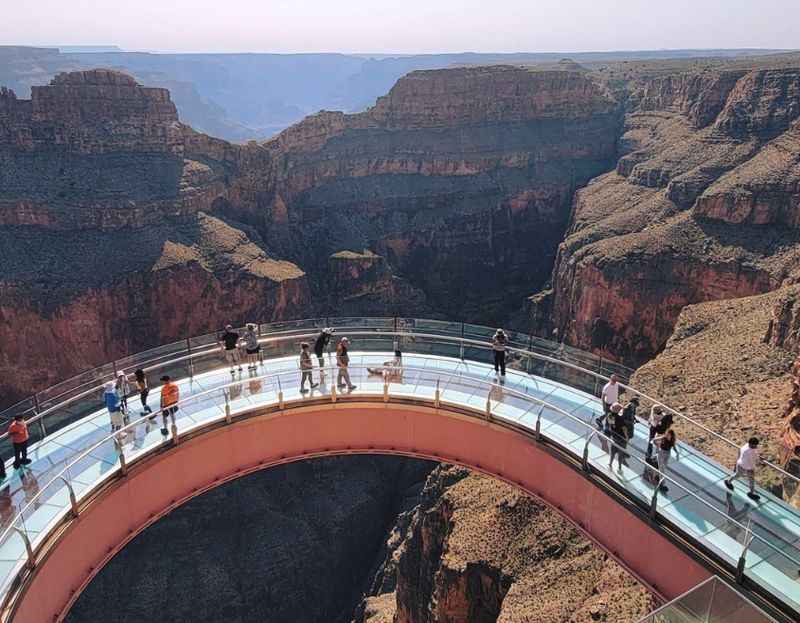 The Grand Canyon Skywalk is open daily, except for Christmas Day. However, hours of operation may vary depending on the season and other factors.
During peak season, it's recommended to book your tickets in advance to ensure availability, as the Skywalk can get crowded.
To check availability and purchase tickets, you can visit the Grand Canyon West website or call their customer service hotline. Note that tickets are non-refundable, so make sure you plan your visit carefully.
Grand Canyon Tour Options
There are various Grand Canyon West Rim tours that you can book as well as the Skywalk.
There are several tour operators that offer packages that include transportation, admission to the Skywalk, and other activities. Some of the most popular Grand Canyon Skywalk tours include:
Helicopter Tour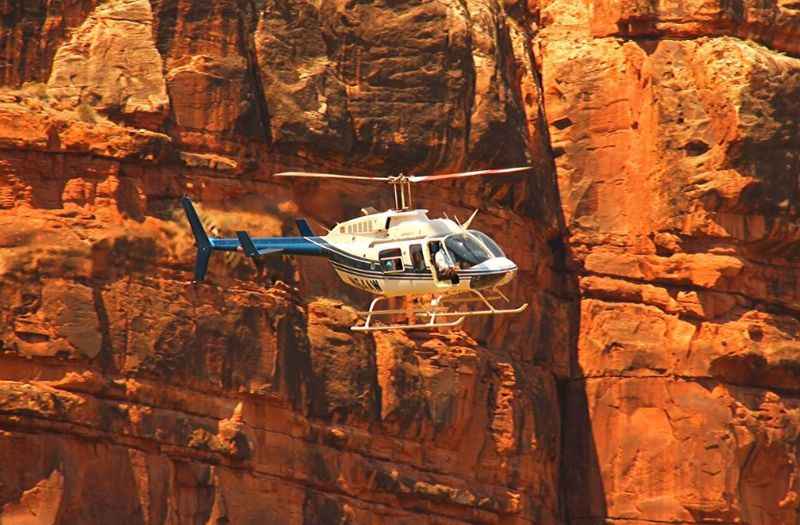 A helicopter tour is a thrilling way to see the Grand Canyon and the Skywalk from above. 
A canyon helicopter flight features views of the canyon, Colorado River, and rock formations. 
Early morning pickup directly from Las Vegas is a great way to start this seamless sightseeing experience of the South Rim and West Rim. Prepare for the most scenic flight of your life.
Bus Tour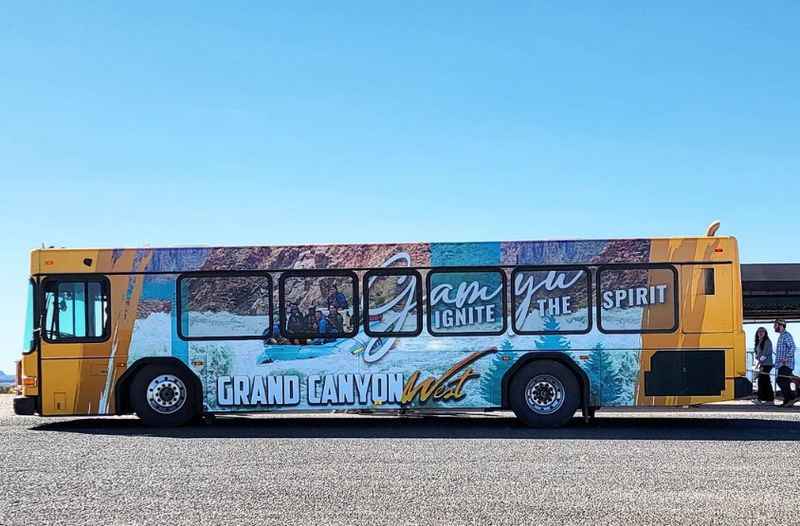 A full-day coach tour is a convenient way to get to the Grand Canyon from Las Vegas or other nearby cities. 
Enjoy your modern luxury bus tour with various stops at other attractions in the area, such as Hoover Dam or Route 66. There may even be a delicious lunch included in an all-inclusive tour from Vegas by bus.
ATV Tour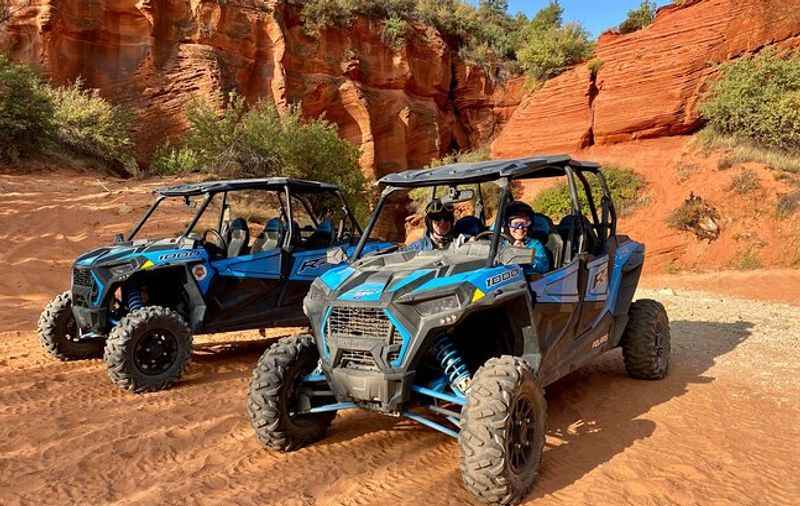 An ATV tour is a fun and adventurous way to explore the Grand Canyon West. 
You may have to pay additional entrance fees to visit the Skywalk on your ATV day trip, as well as other scenic areas in the surrounding desert.
Private Tours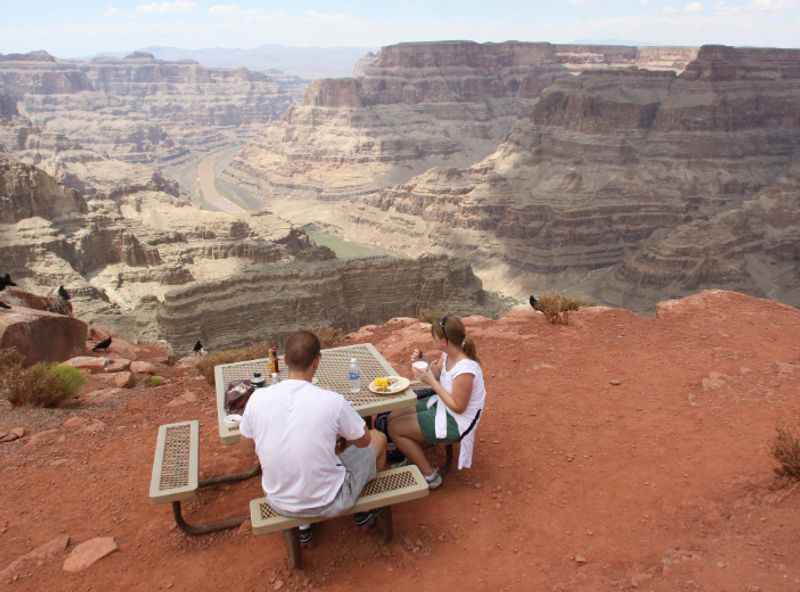 Grand Canyon makes a great place for private tours. They are a great option for those who want a more personalized experience. 
These tours can be customized to your preferences, and often include a private guide and transportation. This is the best hassle-free tour option from Vegas.
When booking a Grand Canyon Skywalk tour, it's important to research the tour operator and read reviews from other travelers. 
Make sure to choose a reputable company that has a good safety record and offers high-quality service and see if you will be using the historic Route 66 to explore one of the seven wonders.
Grand Canyon Night Tours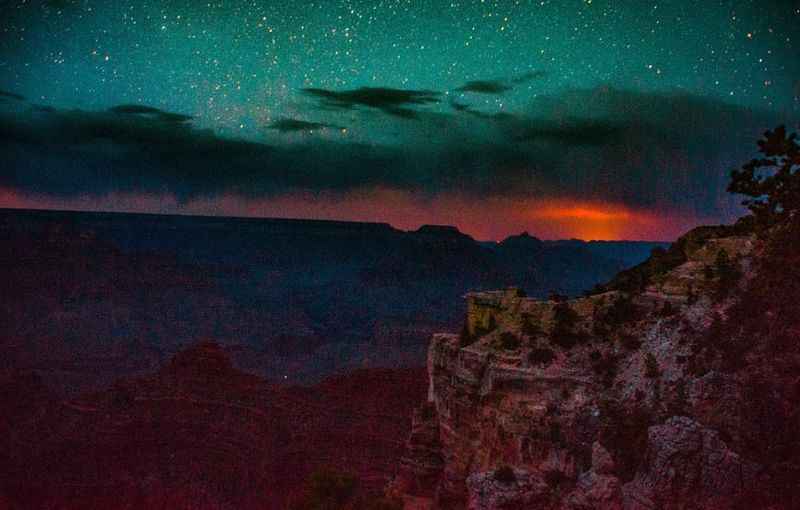 There are some evening events that take place at the Grand Canyon West Rim, which is where the Skywalk is located. These events include sunset viewing, stargazing, and dinner at the Hualapai Ranch.
Visitors can enjoy a Western-style meal while watching the sunset over the canyon, followed by a stargazing session with a local astronomer.
The cost of these evening events varies depending on the package and the tour operator. For example, the sunset dinner package at the Hualapai Ranch costs around $130 per person, while a stargazing tour can cost around $80 per person.
It's important to check with the tour operator for the availability and pricing of these evening events, as they may be subject to change. 
While the Grand Canyon Skywalk is not available for night tours, visitors can still enjoy the beauty of the Grand Canyon at sunset and under the stars. It looks like this one-night tour will be an amazing experience.
Combined Tours with Other Attractions Are the Best Way to Explore the Grand Canyon West Rim
Combined tours of the Grand Canyon from Las Vegas incorporate a range of other attractions, such as Hoover Dam and Bypass Bridge, Boulder City, and Lake Mead, and Arizona's Joshua Tree Forest.
Let's break down some of the best stops on your ultimate Grand Canyon getaway.
Hoover Dam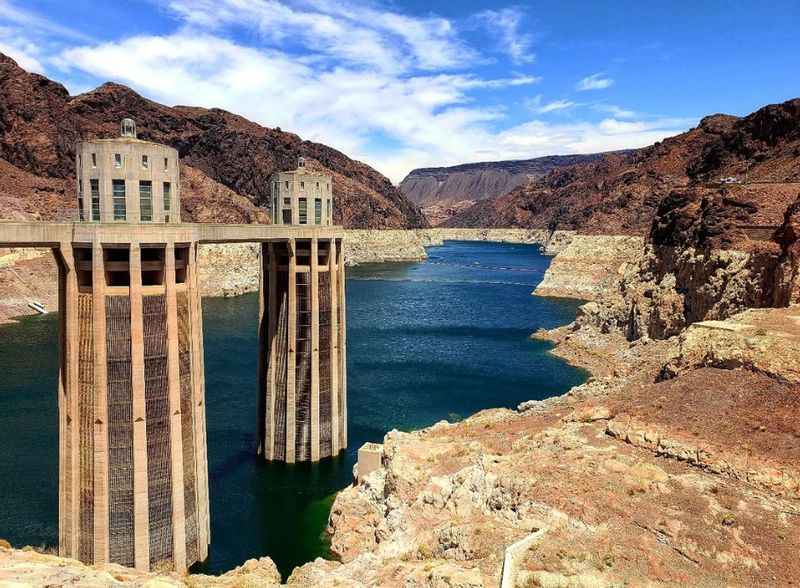 The Hoover Dam is a historic landmark located on the Colorado River, about 30 miles southeast of Las Vegas. 
Many Grand Canyon tours include a stop at the dam, where visitors can take a guided tour and learn about its history and engineering. Once you pass Hoover Dam you will see many more attractions.
Hualapai Ranch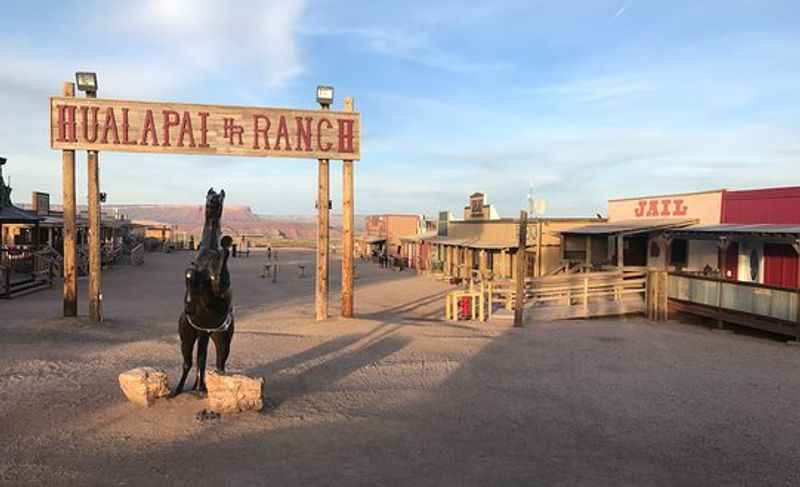 The Hualapai Ranch is a replica of an old west town, complete with cowboy shows, gunfights, and horseback rides. 
Visitors can also take a wagon ride or go fishing in the nearby lake. Some people even go on a full-day tour here.
Lake Mead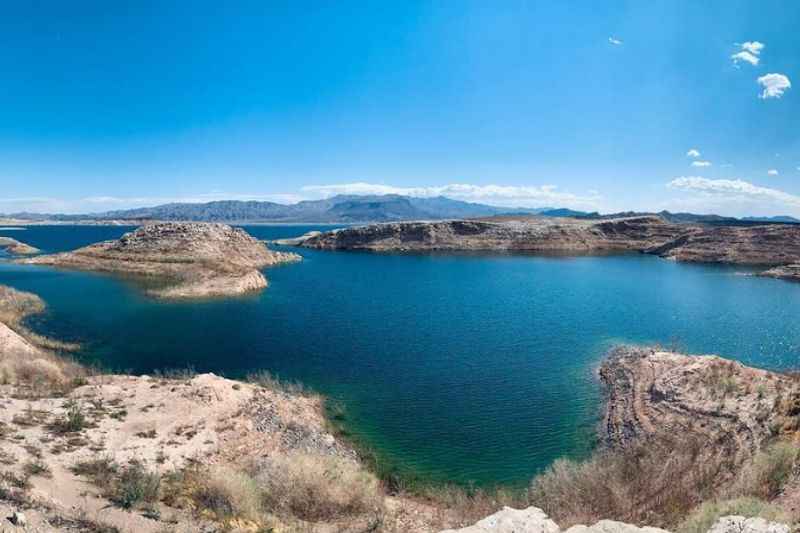 Lake Mead is America's first national recreation area. It is located just south of Vegas, and is worth the detour.
Guano Point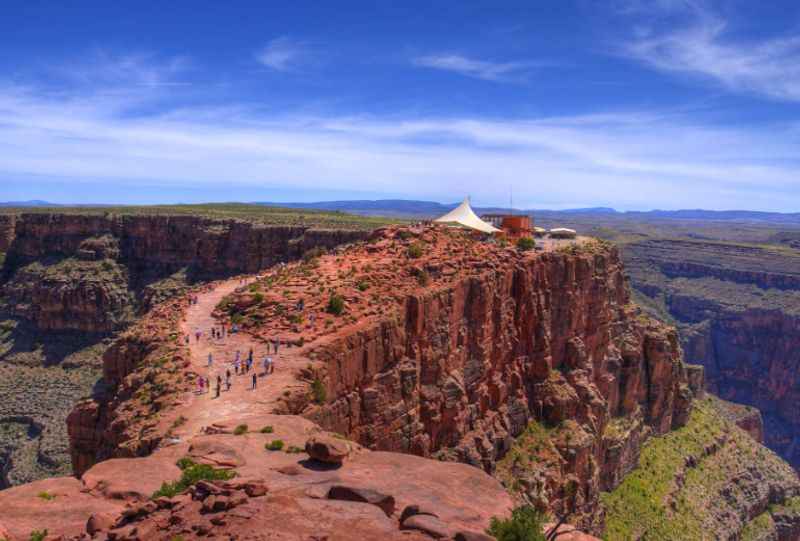 Guano Point is a scenic overlook located on the Grand Canyon's West Rim, offering panoramic views of the canyon and the Colorado River. 
Visitors can also take a short hike to an abandoned tramway that was once used to transport guano from a nearby cave.
Colorado River Rafting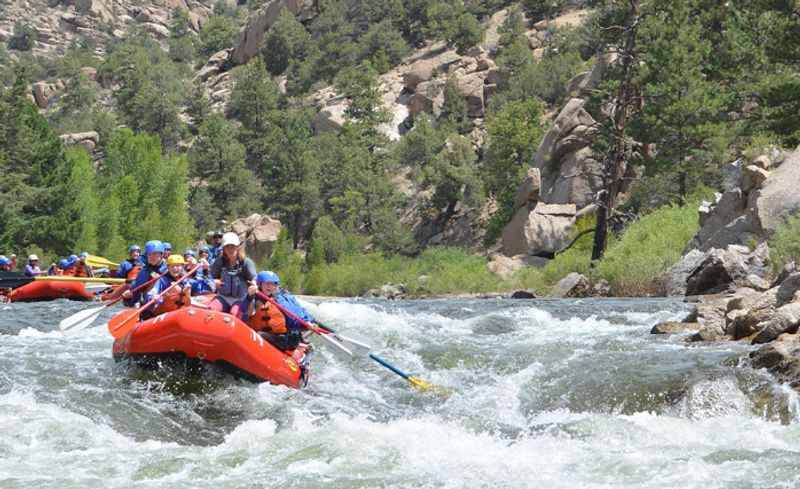 Rafting tours are a popular way to experience the Grand Canyon from a different perspective. Visitors can choose from a variety of tours, ranging from half-day trips to multi-day adventures.
Bright Angel Trail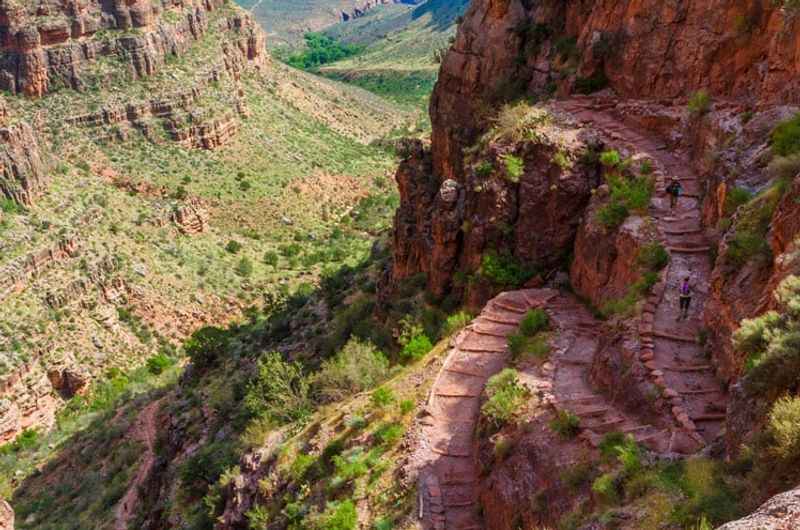 The Bright Angel Trail is a hiking trail that descends into the Grand Canyon from the South Rim. 
Visitors can take a guided hike or explore the trail on their own, enjoying the stunning views and diverse wildlife. As you can see you are in for an action-packed day trip. 
This is also a good place for a full-day tour for thrill seekers. You can spend half a day hiking and enjoying nature.
The Las Vegas Sign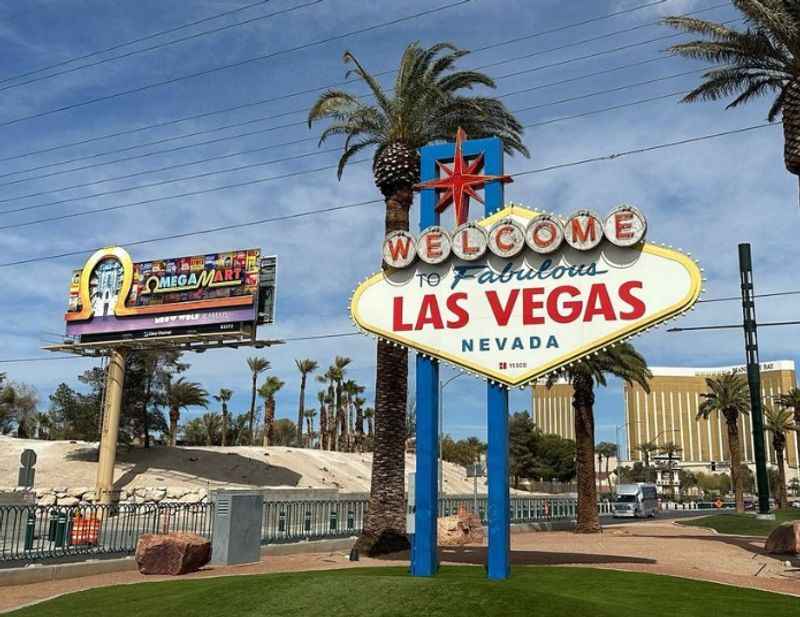 Either before or after your Canyon Tour, you will have to check out the famous Welcome to Fabulous Las Vegas sign in the city of Las Vegas.
Joshua Tree National Park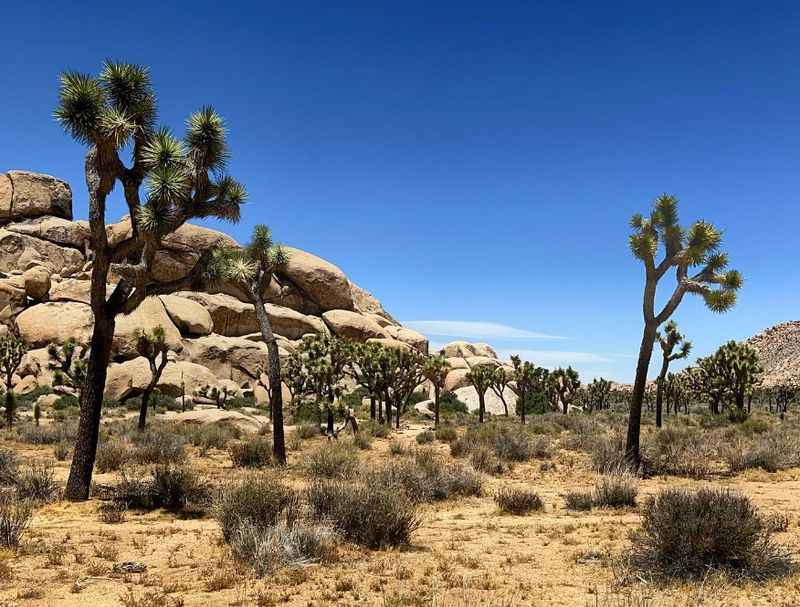 While Joshua Tree National Park is a little far from Vegas for a day trip, you can still explore some of Arizona's Joshua Tree Forest and incorporate a Joshua Tree tour into your canyon trip. 
If you do book a comprehensive tour of the two national parks, prepare for a long day.
Tips for exploring the Grand Canyon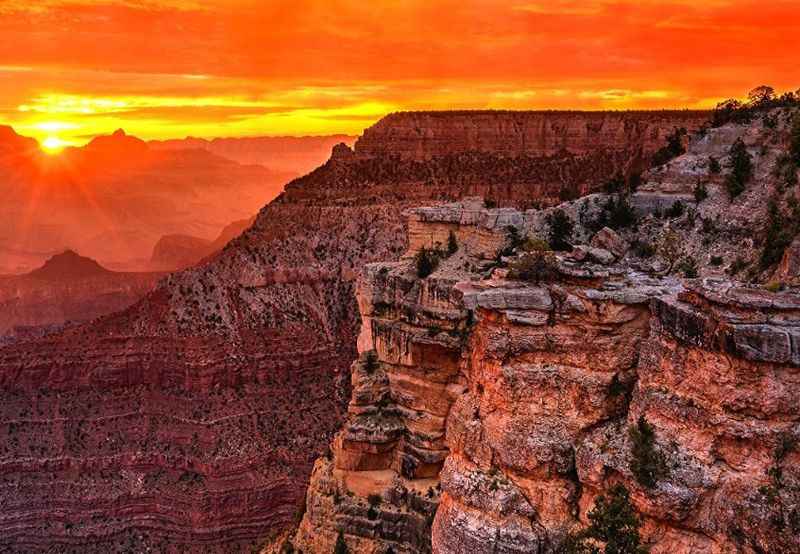 Plan ahead: The Grand Canyon Skywalk is located in a remote area, and there are limited facilities nearby. Make sure you bring plenty of water, snacks, and other essentials with you. Or avoid all the planning and book an organized tour.
Dress appropriately: The Grand Canyon can be hot during the day and chilly at night, so make sure you dress in layers and wear comfortable shoes.
Photography: Photography is not allowed on the Skywalk. You will need to pay for a professional photo on the Skywalk.
Grand Canyon Transportation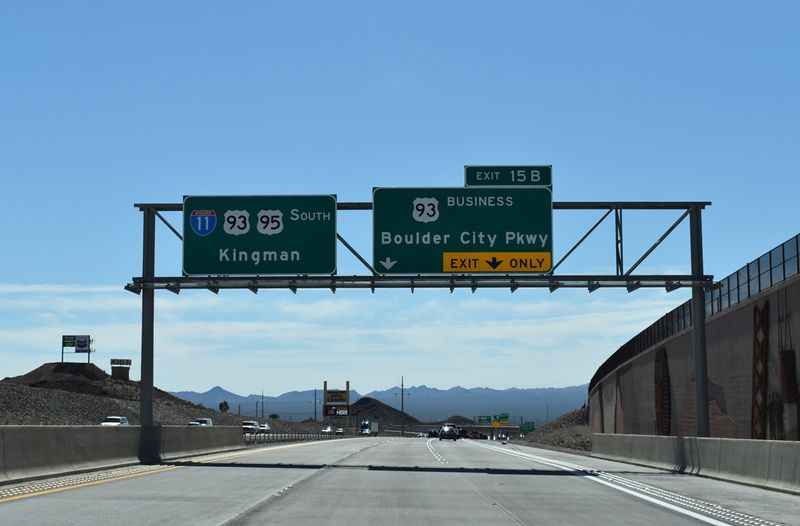 If you don't have your own transportation, there are shuttle buses available from Las Vegas and other nearby cities. Check the Grand Canyon West Rim website for more information.
If you are driving yourself to the Grand Canyon West Rim, you can put the Grand Canyon West Airport into your GPS. Your Grand Canyon road trip is pretty straightforward.
From Las Vegas, you will take the US-95 or US-93 South towards Kingman. Then, turn left and take Pierce Ferry Road. Come off Pierce Ferry Rd when you see Diamond Bar Road and continue on to Buck and Doe Rd. Turn Right onto Airport Service Road to Grand Canyon West Airport for shuttles to the rim and Skywalk
Overall, visiting the Grand Canyon Skywalk is an unforgettable experience that should be on every traveler's bucket list. With the information above, you'll be well-prepared to plan your visit and make the most of this incredible attraction.
FAQs Regarding the Grand Canyon Skywalk
Let's see some of the commonly asked questions about Grand Canyon Skywalk tickets and how to obtain them.
Are there discounted tickets for the Grand Canyon Skywalk?
Many tour operators and third-party websites offer discounted rates on advance bookings for the Grand Canyon Skywalk. You can also check with the official Grand Canyon Skywalk website or the Hualapai Tribe's website for any promotions or discounts that may be available.
Is the Skywalk Worth It?
Yes, the Grand Canyon Skywalk is definitely worth it. The Skywalk offers unparalleled views of the Grand Canyon from a unique vantage point, allowing visitors to see the vast expanse of the canyon from a completely different perspective. Walking out onto the transparent glass bridge is a once-in-a-lifetime opportunity to see one of the world's most stunning natural wonders up close.
What are the best Grand Canyon Skywalk tours from Las Vegas?
Grand Canyon West Rim bus tour with the Skywalk included is a great tour from Vegas. Moreover, the Grand Canyon West Rim and Hoover Dam tour with the Skywalk and Grand Canyon West Rim Luxury SUV Tour with the Skywalk are good options.
What are the Grand Canyon Skywalk hours of operation?
The Grand Canyon Skywalk's operating hours vary by season. In the summer (March 15 - October 31), it is open Monday to Friday: 7:00 am - 7:00 pm, and Saturday and Sunday: 7:00 am - 8:00 pm. In winter (November 1 - March 14), the Skywalk is open Monday to Friday: 8:00 am - 6:00 pm, and Saturday and Sunday: 8:00 am - 7:00 pm
Can you visit the Grand Canyon Skywalk without paying?
The Grand Canyon Skywalk is a private attraction owned and operated by the Hualapai Tribe, and visitors must pay an admission fee to access it. The admission fee includes access to the Skywalk, as well as other attractions and activities in the area.
What fun activities can I do at the Grand Canyon?
While visiting the Grand Canyon, there are a range of fun activities to experience. You can enjoy helicopter tours, some of which come with a pontoon ride, or go whitewater rafting at the nearby Peach Springs. Stay overnight in a western-style cabin and enjoy a hot breakfast before heading back to Vegas.
Summing Up: Grand Canyon Skywalk Tickets Price & Availability – All You Need to Know
Grand Canyon Skywalk tickets are well worth their moderate price, especially since you will get to see the natural wonder of the canyon from a spectacular vantage point.
If you book a combination canyon tour that includes stops along the way and a visit to the Skywalk, you are in for one of the most amazing journies of your life.
Booking admission tickets should be done in advance if you are looking to get a good price for your Grand Canon journey. Most tours of the Grand Canyon West Rim are from Las Vegas and will usually take you to Grand Canyon Village afterward.