Glossika is an online platform that teaches several different languages. Its language courses are designed for people who want to speak a foreign language and get over the intermediate plateau on which many learners find themselves stuck. Read on to find my Glossika Spanish review.
In what follows, I'll explain the main features of a Glossika language course. I'll also detail the plans and pricing for a Glossika subscription and leave you with my unbiased thoughts about the course.
By the end of this review, you'll know:
How effective the Glossika teaching approach is
What benefits you'll get by subscribing to Glossika
How accessible the speaking course is for learners

How's it going?

I'm James, a lover of travel and languages. 

So much so that I blog about them on this site. 

I hope you find this information useful! 😊
My Ratings for Glossika Spanish
Glossika Spanish

Effectiveness

Value for Money

4.0 out of 5.0 stars

5.0 out of 5.0 stars

Glossika Spanish is highly effective at building vocabulary. However, it lacks speaking practice.
Inexpensive course and much cheaper than several competitors.

Ease of Use

Languages

5.0 out of 5.0 stars

5.0 out of 5.0 stars

Modern dashboard and interface.
Multiple languages available.

✅ Pros

❌ Cons

👍 Effective for learning new vocabulary
👍 Much cheaper than many competitors
👍 Broad range of cultural topics
👎 No live lesson option


Summary


Glossika is an excellent option for language learners who want to improve their vocabulary and see fast progress. However, it is not the best option if your aim is to speak as much as possible. For this, a tutor is needed. Overall, it's an effective application but would it would be great to see a live class feature incorporated.

$1 for 1 week of Unlimited Classes
About Me and How I Did This Review
My name is James. I am a language lover, a fluent speaker and teacher of English, Spanish and French, and the founder of this language and travel blog.
This post is an unbiased review of the language learning service, Glossika.
In this Glossika review, I'll take you through my personal experience using Glossika and explain how effective I think it is for language learners like me.
All of the opinions expressed in the Glossika review are mine and are unbiased. I'll discuss my experience using Glossika Spanish with three key factors in mind.
These are as follows:
Effectiveness – I'll discuss the progress I'd expect language learners to make using Glossika, as well as the projected progress one would be able to make when learning a language over a prolonged period using Glossika.
Value for money – I'll compare the cost of Glossika with other language learning apps and courses on the market.
Ease of use – For online language learners, user experience plays a large part in whether we keep coming back to using an app. If we do, we tend to progress. A poor user experience usually leads to a lack of progress.
What is Glossika Spanish & How Does it Work?
Glossika is an online resource for language learning. It employs a spaced repetition system in which content you have previously learned will be shown to you again precisely when you might start to forget it.
With Glossika, learners will repeat the same sentences over and over again in their target language until the vocabulary is well and truly ingrained into their long-term memories.
Unlike other apps in the language learning world, Glossika does not employ a range of games and engaging visuals in its lessons. Learners simply hear a sentence spoken aloud by a native speaker of their target language and repeat it back.
Sometimes, you are also asked to type the sentence in the Latin alphabet. Each Glossika lesson contains no more than five sentences, all of which you repeat numerous times.
This is undoubtedly repetitive, but it is a system that is proven to be effective.
This learning app is particularly good for developing speaking and listening skills, as all sentences are read by a native speaker. You can access Glossika online or with the Glossika app for iPhone and Android.
Glossika offers a huge range of languages, and you can choose to study just one or to learn multiple languages. Here, you can see I have chosen to try out the Spanish and French courses.

My Initial Impression of Glossika Spanish
I am a serious language learner, meaning I am always looking for more efficient ways to learn. Glossika is undeniably an efficient platform for learning languages.
The layout of Glossika is immediately simple to understand and the activities are very straightforward. There are no bells and whistles with this app.
You choose your base and target language, complete a quick placement test and start learning straight away. Absolute beginners skip the level test and dive straight into saying sentences in their new language.
As well as being great speaking practice, Glossika is also a good resource for practical, everyday vocab. You can choose which topics you want to cover, and I selected all of them, so I could learn a wide variety of useful phrases.
You will notice very quickly, as I did, that this app lacks visual stimulation and any range of activities, unlike some other language apps.
If you do not enjoy repeating sentences over and over again, you might lose interest quickly in Glossika.
Who Is Glossika Spanish For?
Glossika is for language enthusiasts who want to build their conversation skills and work toward fluency.
This app is all speaking, so if you are interested in learning grammar rules, reading and writing, and in-depth listening comprehension, this is not the app for you.
There are no grammar explanations in the Glossika courses. You will learn simple phrases in isolation, and will not be taught any grammar patterns or non-Latin scripts.
As phrases are presented in isolation, none have a particularly complex sentence structure or cultural context to help learners deepen their knowledge.
However, if you want to improve your confidence when speaking, learn useful everyday phrases and improve your pronunciation, use Glossika.
Glossika uses algorithms and spaced repetition science to optimize your information retention. Learners who struggle to remember a new language can benefit from this learning method.
Moreover, if you are a busy person who cannot commit to formal classes or hours of language study every day, Glossika is ideal.
Just 15 minutes a day can take you to the next level in your target language.
Glossika's Main Features
64 Languages to Choose From
With Glossika, you can practice speaking any of the 64 popular languages on offer. With so many languages to choose from, Glossika outweighs many other language learning resources with its volume of content
You can start as an absolute beginner or do a quick placement test to determine your base level and build from there.
The Action Guide
When you sign up for Synergy, you get the Quick-Start Action Guide to start speaking basic Spanish. This is your roadmap for combining 138 words into thousands of useful phrases in Spanish.
It provides a formula for creating Spanish sentences from a few basic words. Moreover, you can do some simple grammar and vocab exercises, but with little focus on grammar rules.
Use this resource as a step-by-step guide for learning synergy language patterns. This will continue to be a handy reference tool as you progress.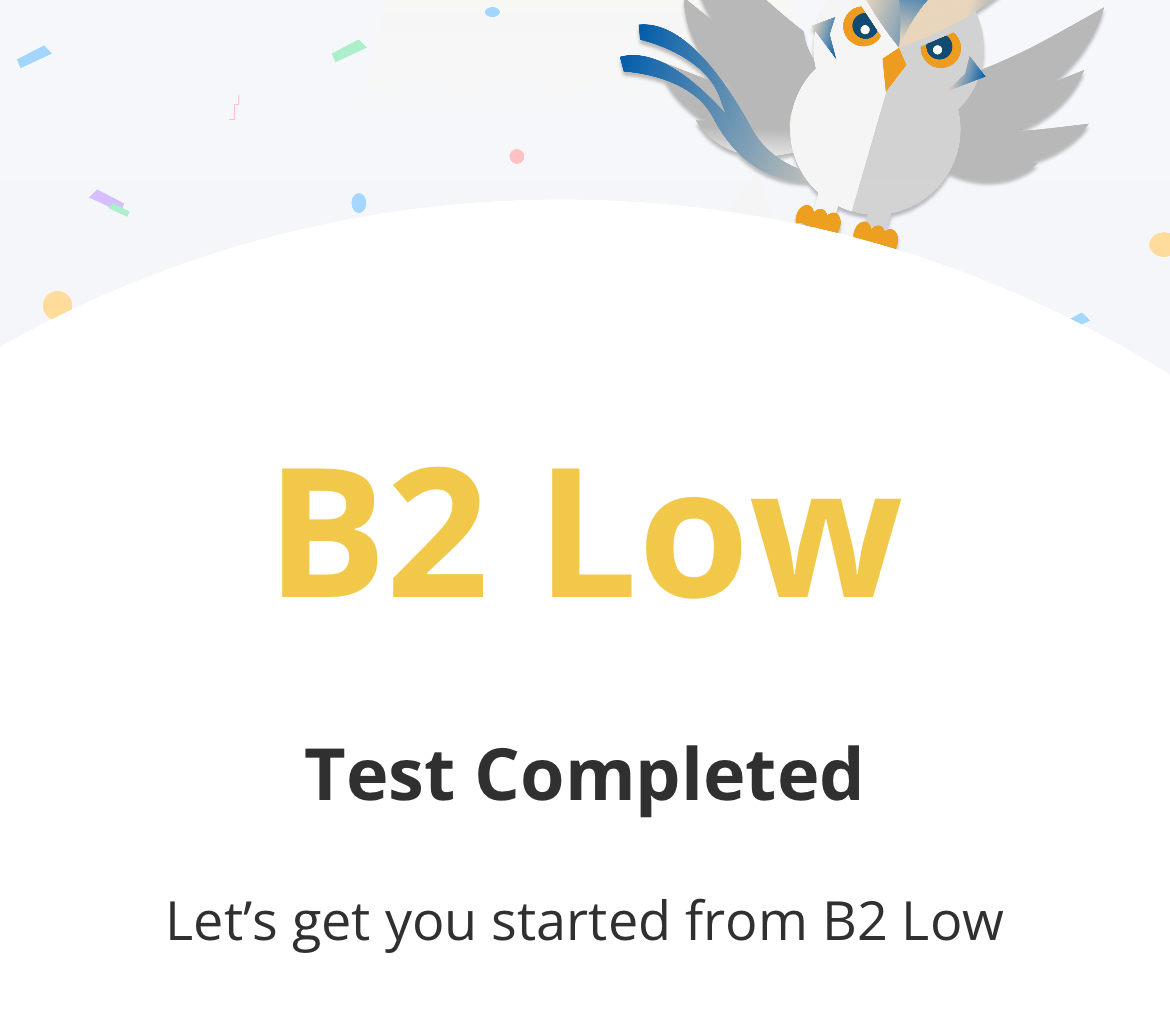 Learn New Items
When you have chosen your language, you will immediately start speaking sentences aloud. All sentences are read to you by a native speaker and then you are recorded speaking back to your device.
You will begin developing your speaking and listening skills from the moment you start to use Glossika.
All sentences are written in the international phonetic alphabet as well as in your target language. So, you can learn the phonetic pronunciation as well as the correct spelling of new words.
Moreover, you can see and hear the translation in your base language for each.
Choose between 'listening-only mode' and 'full practice mode'.
With full practice, you get some practice typing out the phrases, which will help your spelling and writing skills to a degree.
Typing out the sentences repeatedly, on top of saying them aloud over and over, will help to retain them in your long-term memory.
While full practice mode is a little more work and takes a bit longer, you are more likely to forget sentences you have practiced in listening-only mode than those you have learned with full practice mode.
Review Mode with Glossika Spanish
Glossika studies your learning patterns and notes which sentences you get wrong and when.
This means the review mode on Glossika prompts you to go over the sentences you are most in danger of forgetting that day.
In the review section of Glossika, you can choose to review your weakest memories, as identified by Glossika, or prioritize some sentences for review that you particularly want to go over. Both options are algorithm-optimized.
What's more, you can listen to yourself from your previous recordings to see how much your pronunciation and fluency have improved. Your audio files are saved in the memory section of your Glossika profile.
It is a good idea to compare your files to the audio clips of native speakers on Glossika, so you can self-assess your pronunciation and accent.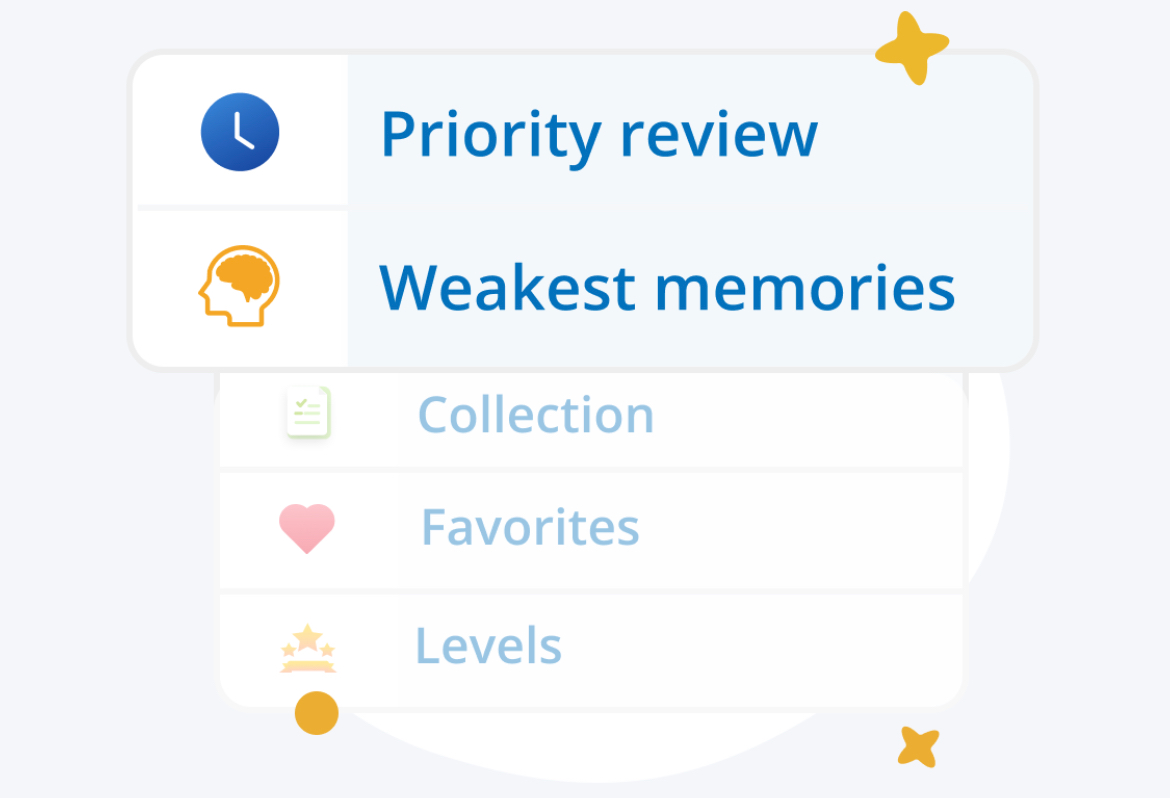 Saved and Learned Sentences
You can favorite new vocabulary that you find useful, or mark any sentence as learned that you do not need to practice.
This prevents exercises from becoming too repetitive and dull and also means you can collate a list of favorite sentences to review as often as you like.
If you think a phrase is particularly useful or challenging to say, you can press the 'heart' icon next to the sentence and save it to your favorites.
Plans and Pricing
If you've decided this is the app for you, you might be asking "how much does Glossika cost?" Well, Glossika does not offer a one-time lifelong subscription, but there are a few different payment options to choose from.
A basic Glossika subscription will allow you to access all course content in one language. This costs $16.99 per month, or, if you commit to paying annually, it works out to only $13.33 per month ($159.96 a year).
You can change your target language every 30 days. If you are happy to focus on just one of the Glossika languages at a time, this is an adequate plan for you.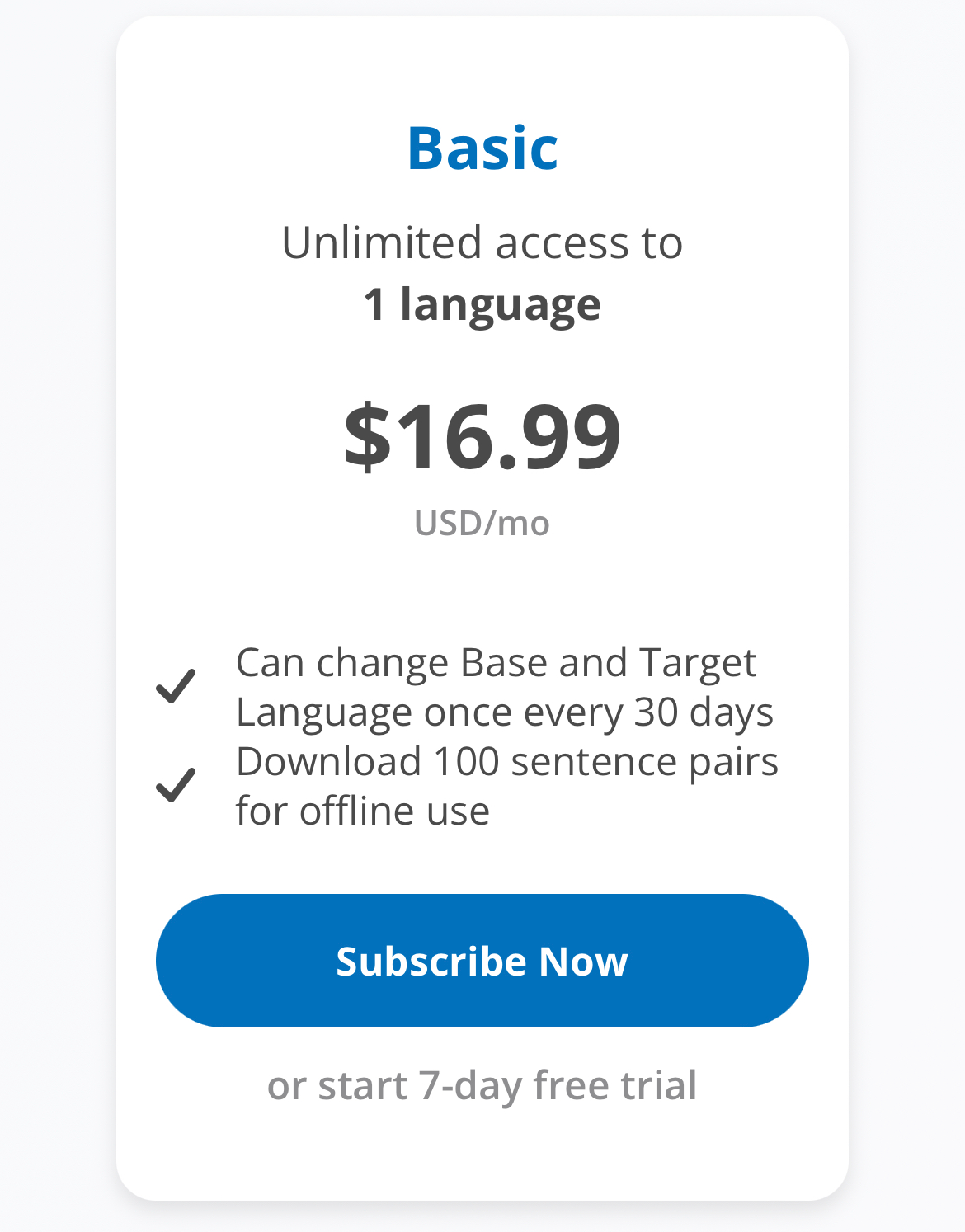 However, when you subscribe to Glossika Pro, you gain access to all the languages the platform has to offer at once, not just the one you want to learn first.
A Glossika Pro subscription costs $30.99 per month, or sign up for a yearly subscription at $25.00 per month (for a total of $300.00 annually).
If you choose this plan, you can request a refund within 60 days.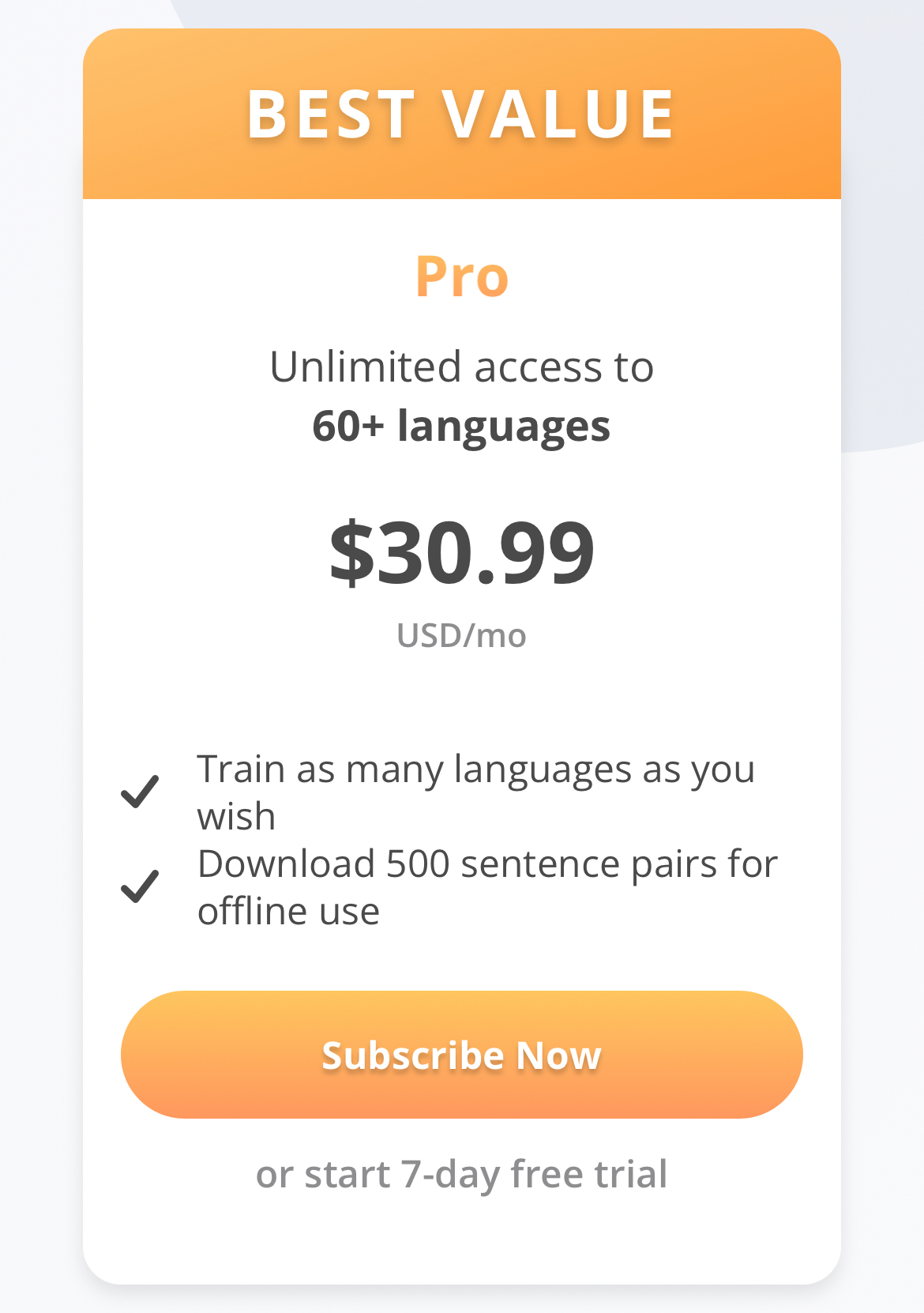 Glossika Free Languages
In an effort to encourage language preservation, Glossika offers 8 endangered languages completely free. You can access the following languages for free on Glossika:
Catalan (Catalonia)
Manx (UK)
Welsh (Wales)
Kurdish (Iraq)
Taiwanese Hokkien (Taiwan)
Hakka (Taiwan)
Wenzhounese (China)
Gaelic (Scotland)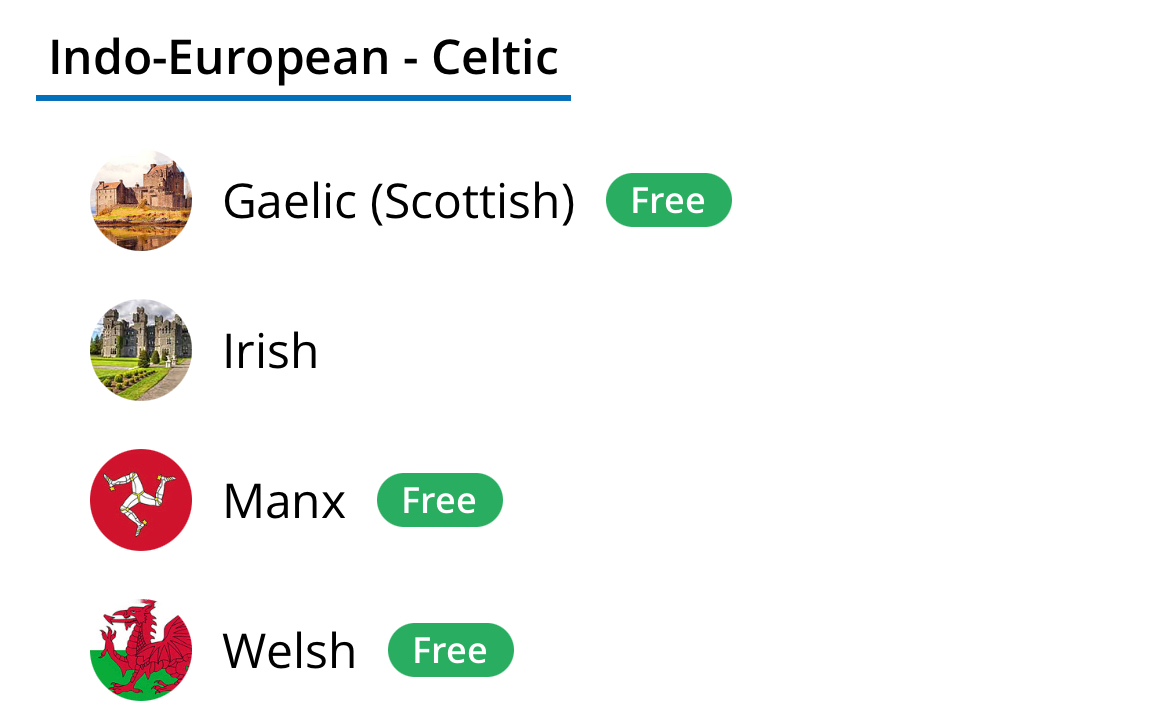 Student Discount
Students can use Glossika with a whopping 55% discount. You just need to verify your student email address to gain access to this great student discount.
Pay $13.95 monthly or $11.25 a month for the annual subscription (just $135 for the year) as a student and start learning a language today.
Glossika Spanish Free Trial
The Glossika language course offers a 7-day free trial to test the platform for yourself before making any commitments.
With the free trial, all content for Glossika's 64 languages is available. You do not have to enter your credit card information, so there is no risk involved.
You can start to learn multiple languages during the free trial and see if this is something you'd like to commit to.

My Thoughts On The Glossika Course Contents
The short phrases taught by Glossika are practical and full of useful everyday vocabulary. With the help of Glossika's repetitive learning process, they do become learned vocabulary.
The Glossika method of repetition does improve fluency and speaking skills and will get you to a point where you can be understood by native speakers and express yourself well quite quickly.
The sentences get increasingly more challenging and the course content is very similar across all the languages.
The listen-and-repeat exercises are very effective in moving phrases from your short-term memory to your long-term memory.
Glossika claims that by doing thousands of sentence reps, learners can reach various learning milestones:
25,000 Reps – Speak sentences comfortably
50,000 Reps -Start engaging in casual conversations at natural speeds
75,000 Reps – Start honing skills with more specialized topics
100,000 Reps – Mastery level where you can say just about anything
So, I would expect that a beginner who commits to 75 sentence reps per day for a year would be very comfortable speaking sentences and moving toward casual conversations at natural speeds.
On my first day using Glossika, I did 75 reps in around 15 minutes, so this is not a tall order. Obviously, the more time you commit to daily practice, the sooner you will see great results.
Areas for Improvement
While the vocabulary taught by Glossika is undoubtedly useful, there is a lack of explanation and grammatical focus with this learning platform.
This is especially important for beginners, who might not be able to work out the definition of each individual word in a sentence, or how to conjugate verbs to turn a sentence from the first to the third person, for instance.
The sentences lack context and sometimes the translations are so figurative there is no way for learners to determine what each word means out of the context of the phrase. Take the example below: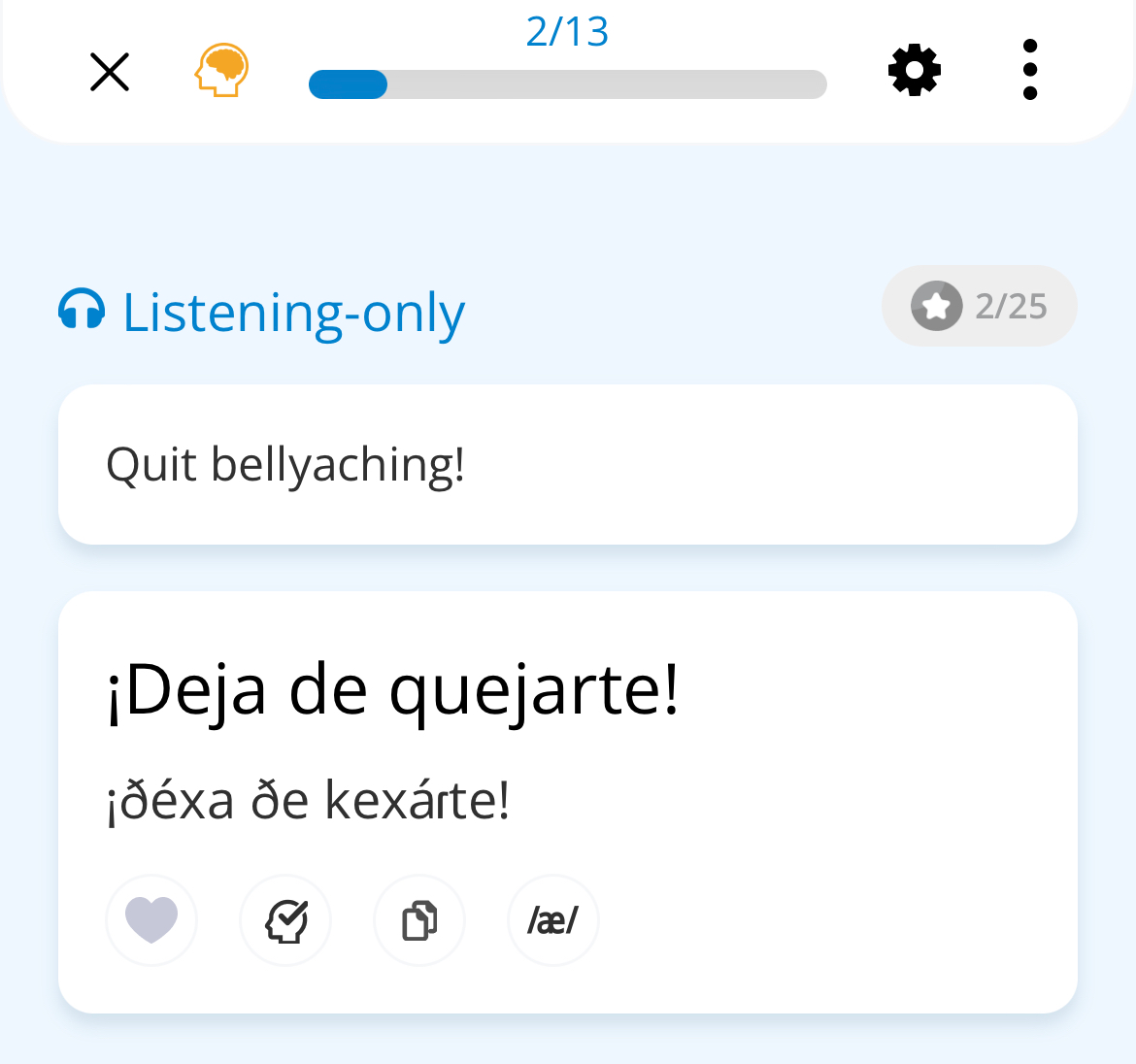 Deja de quejarte is translated as "quit bellyaching". A learner with limited exposure to Spanish will learn how to use this phrase in its entirety, but will not necessarily realize that dejar means "to leave" and quejarte means "to complain".
You could forgive absolute beginners in Spanish for assuming that the Spanish words for "belly" and "aching" appear in the sentence, but they do not.
So, Glossika is a great tool for learning ready-made phrases, but not for learning individual words, their conjugations, and isolated definitions.
Glossika Spanish Review: My Experience Using The App
I found the listen-and-repeat Glossika method to be a little repetitive but essentially effective. At times, the lack of explanation of grammar structures was frustrating, but there is no doubt that by focusing solely on speaking, my fluency improved rapidly.
When it comes to value for money, I found Glossika to be a little steep, considering the lack of reading and writing practice or explanations of grammar rules.
However, if your main focus is to achieve fluency in your foreign languages, you might find that it is a small price to pay.
The Glossika website and app are clearly laid out, simple and uncomplicated to use. This makes the courses accessible to all learners with access to the internet.
Would I recommend Glossika Spanish to a language learner?
Overall, yes, I would recommend Glossika as a useful tool for pronunciation, fluency, and vocabulary acquisition when learning a new language.
However, I would say that this app works best in conjunction with other resources that focus on the language skills of listening, reading, and writing.
Moreover, it is my opinion that advanced learners would find the repetitive nature of saying all the sentences over and over a bit dull.
Glossika effectively gets beginners and intermediate learners over language learning hurdles but is not the best resource for more advanced learners.
FAQs: Glossika Online Language Learning
What are the best language-learning apps?
Depending on which language skills you want to develop and in which language, there are apps that are better suited to you than others.
Most language courses online offer major world languages, such as Spanish and Arabic, but for some minority languages, Glossika might be one of the only language resources on the market.
Have a look at this guide for choosing the best language-learning resources for you.
How long does it take language learners to finish Glossika Spanish?
Your speed of progress will depend on your native language and the language you are learning. But in simple terms, if you learn 10 to 15 sentences a day with Glossika Spanish, and you keep up with reviews, you can expect to 'graduate' from Glossika in around 9 to 12 months.
From this point, you can move on to having conversations and reading books in your new language for further practice.
Will I learn to read and write in my target language with Glossika?
While Glossika is a great resource for developing speaking skills in your target language through spaced repetition, there is no focus on grammar structures and very limited exposure to the written language.
Glossika does not teach you how to read or write for languages that use any script other than Latin.
If you want to learn how to read and write in a foreign language, you might want to look at other learning resources, such as Rosetta Stone or Mondly.
Glossika Spanish Review Summary
Hopefully, this Glossika Spanish review has told you everything you need to know about the speaking app. Whether you want to learn a few languages or just one, Glossika is a great tool for learning different languages if your main goal is conversational fluency.
I recommend using Glossika in conjunction with other resources when learning a new language so you can optimize your language-learning journey with reading and writing practice as well.
Glossika employs spaced repetition to great effect with the use of audio files provided by native speakers. It is more expensive than some other resources, but it works and the app is easy to use.
Start talking like a native speaker with Glossika, or check out my other language app reviews here.
_______________________________________________________________________________
Author bio:
James is the founder of travel-lingual.com, and this Glossika Spanish Review. He is a tutor of English, Spanish, and Italian. Furthermore, he has visited 35 countries and has tried dozens of language courses to date.
He has worked as a language teacher in France, Spain, Argentina, and Costa Rica. His love of languages led him to create this blog, to share best practices in language learning and inspire others to learn!
4.5 out of 5.0 stars