12 Best Orlando Water Parks | 2023 (with Photos)
Orlando is the kingpin of theme parks and water parks alike.
If you want to abandon the queues of a theme park, and cool off from the hot Florida sun, what better way than to splash down water slides in one of many Orlando water parks?
From Disney's Blizzard Beach Water Park to Aquatica Orlando, there are many experiences to choose from - all that's left is to pick the Orlando water park that you want to explore.
Visiting Orlando, you are guaranteed to have an itinerary full of things to do. If you have done the theme parks, get wet at the water parks.
Most Recommended Thing to Do
Our Top Choice Restaurant
Our Top Choice Bar for Nightlife
Mild winters, avoid hurricane season for best Orlando visit.
Cars, buses, trains, taxis
Average Cost ($, $$, $$$)
My Top Recommendation
I highly recommend exploring the magical world of Walt Disney World, where you can immerse yourself in enchanting tales and unforgettable experiences that will bring out the child in you.
Additionally, don't miss the opportunity to venture into the breathtaking Everglades National Park, where you can embark on an unforgettable airboat ride and get up close and personal with fascinating wildlife.
What You'll Need to Bring
Swimming essentials
Camera
Lightweight and breathable clothing
What Not to Miss
Walt Disney World Resort
Universal Orlando Resort
Kennedy Space Center Visitor Complex
The Wizarding World of Harry Potter
Lake Eola Park
What to Avoid
Crowded tourist areas
Overpriced tourist traps
Rush hour traffic
1. Discovery Cove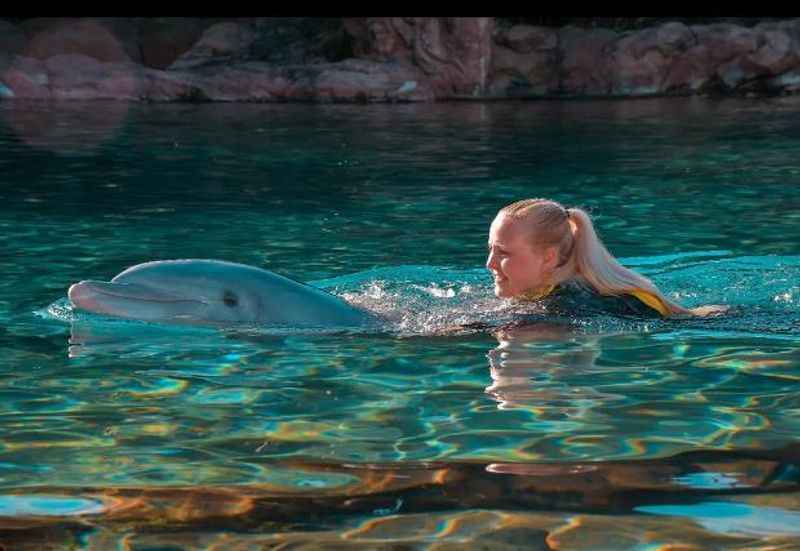 For an all-inclusive day of family fun, Discovery Cove is the place for you.
Spend a day exploring the eateries, relaxing by the pool, building sandcastles on the man made beach, or getting up close and personal with the marine life, like tropical fish.
Wave goodbye to your troubles on the Wind-Away River and cast your sights on the cascading waterfalls and golden sandy beaches.
Snorkel with tropical fish at Grand Reef or splash with friendly dolphins. Fly over to the Explorer's Aviary to babble with and hand-feed exotic birds.
For more aquatic activities, head to the stunning Freshwater Oasis for up close and personal encounters with otters and marmosets.
Immerse yourself in the rainforest canopy above and enjoy a day of tropical paradise
Tickets into Discovery Cove also give you access to Aquatica and Seaworld. Can't go on the day? Your entry is valid for two weeks around your visit to Discovery Cove.
2. Disney's Typhoon Lagoon Water Park
Start your day with a splash with this Walt Disney World water park. Disney's Typhoon Lagoon Water Park is an oasis of adventure and is one of the most famous water parks in Orlando.
Whether you want to meander down a lazy river, wander over the wave pool, or fly down thrilling water slides, Disney's Typhoon Lagoon has it all.
Kick off your day of aquatic fun with some thrills on the three exhilarating Humunga Kowabunga slides. Keep the adrenaline going with the 400-foot Crush 'n' Gusher.
If you want to slow it down, consider Castaway Creek, one of the relaxing lazy rivers encircling the entire water park.
Bob down the slow-moving river whilst taking in the sounds of the jungle and enjoying the sights of Disney's Typhoon Lagoon Water Park.
If you've got the kids with you, head to Ketchakiddee Creek, a children's interactive play area. Or, check out Miss Adventure Falls for a family raft ride.
You can also head to the Surf Pool to relax or to one of the beaches throughout this Disney water park. Take the babies to Bay Slides for a paddle.
Wave goodbye to the stresses of the day at the wave pools and admire the Miss Tilly shipwreck on Mount Mayday.
3. Disney World Blizzard Beach Water Park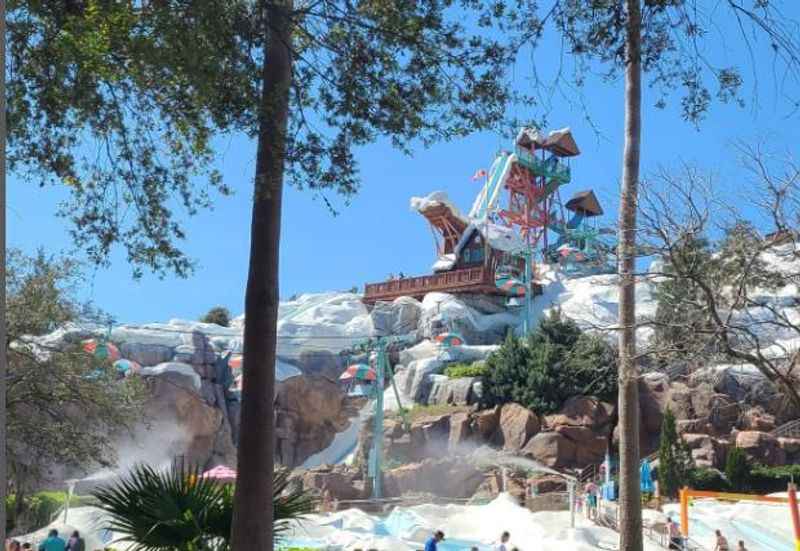 Dive right into another of the Disney parks at Disney's Blizzard Beach Water Park. Nestled in the iconic Walt Disney World Resort you can find the ice-themed Blizzard Beach and get blown away by the slides, rides, and attractions.
Let your troubles melt away at this melted Ski Resort and enjoy twelve attractions, eight restaurants, and a store for souvenirs.
Make a splash at Summit Plummet, the 120-foot water slide that'll send only the bravest Blizzard Beach guests flying down the slide at over 60 miles per hour.
Keep your pulse racing with the Mount Gushmore toboggan ride. At Disney's Blizzard Beach Water Park it is always summer and winter - enjoy the snowy surroundings without the cold.
Slide over to the snow-covered Slush Gusher and whizz over the waves or race at the Downhill Double Dipper.
If you need to calm things down, head to Cross Country Creek for the most relaxing lazy river in Disney's Blizzard Beach Water Park. Jump on and off with 7 stop-offs or meander peacefully, taking in the entire park.
4. Aquatica Orlando Water Park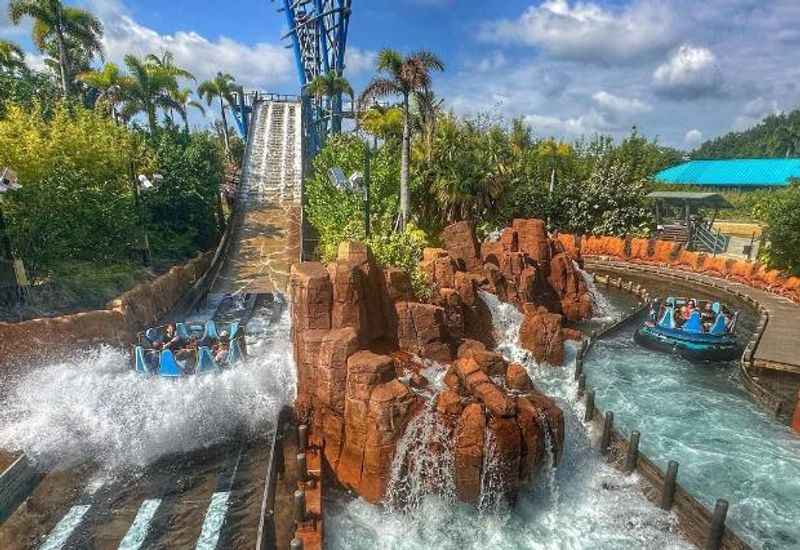 One of the most popular Orlando water parks is the awesome Aquatica Orlando water park. With 42 slides to swoop down, rivers to relax in, and lagoons to laze in, it is one of the biggest Florida water parks.
Feel like you're Down Under with this Southern Pacific-themed water park and soak up the many attractions, while getting soaked in the splash zones.
Laze on the Loggerhead Lane lazy river or plunge into Reef Plunge where you can admire vibrant colorful fish and sharks while sliding through a glass tube.
Or head to Stingray Falls and travel underwater surrounded by glass to see stingrays swishing through the water.
You can pick up the pace at Ihu's Breakaway Falls for the tallest tower slide in Orlando to get your blood pumping or take the family on a family raft ride at HooHoo Run.
Ride the wave of Walhalla Wave on a raft that fits four people or head to the splash zones to soak in all the fun.
Find what is named the best of Orlando's Water Parks only 20 minutes from both Walt Disney World Resort and Universal Orlando Resort. After visiting the water park you can enjoy various fun activities in Orlando.
5. Volcano Bay, Universal Orlando Resort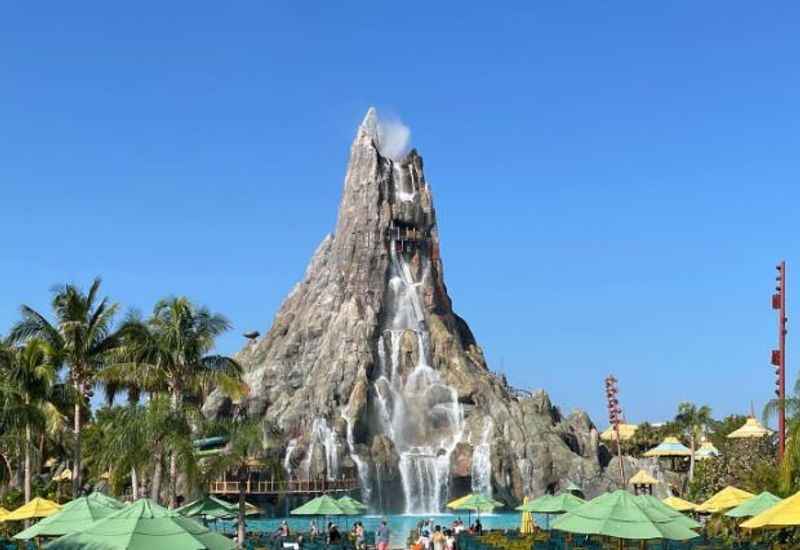 Make some waves at Universal's Volcano Bay water theme park. Volcano Bay has 21 attractions to choose from along with lots of places to eat, so you can make a day of it.
Centered around the magnificent Krakatau Volcano with cascading waterfalls, this water park has everything you need for a day of swimming, splashing, and getting soaked.
Whether you want to chill out on lazy rivers or get your blood pumping, say aloha to this Hawaii-themed water theme park - Volcano Bay awaits.
Take a time out with the Kopiko Wai Winding River – lay down in this lazy river to cool off and relax.
If you're a thrill-seeker, you can plunge into the Ko'okiri Body Plunge slide located at the top of the volcano. Shoot down the slide and prepare to land with a splash in the pool beneath.
For more thrills and spills, head to Rainforest Village for the Kala & Tui Serpentine Body Slides where you will plummet from a drop door and whizz down the slide at exhilarating speeds.
Take a break and have a splash at Waturi Beach or stop at one of the restaurants to refuel.
6. LEGOLAND Florida Water Park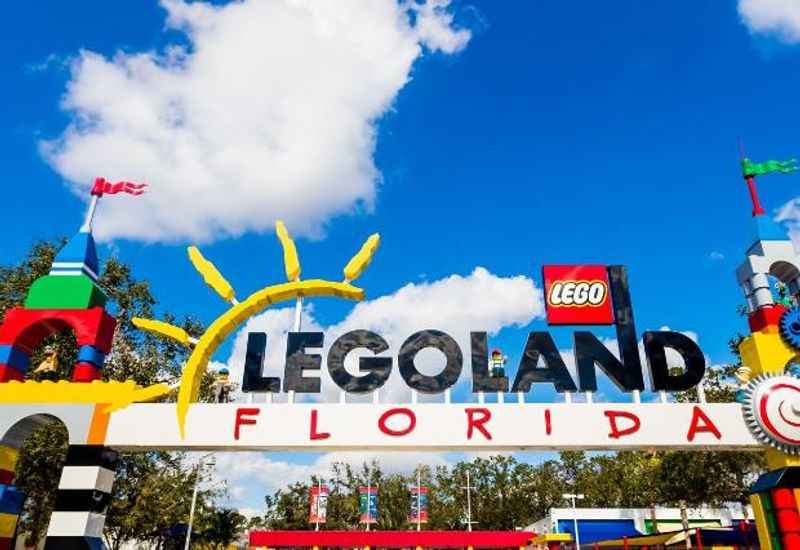 Indulge your inner child or bring the kids to the family-favorite LEGOLAND Florida Water Park. With over 50 attractions, there is something for everyone to get excited about.
Aimed at young kids between 2 and 12, this would be a perfect day out for the entire family. From slides to shows, there's everything you can think of to keep everybody entertained for hours.
Escape the sun and cool off in the LEGO Wave Pool – ride the mild waves or bob up and down on a tube in the lazy river.
Bring the babies to the Joker Soaker and let them play in the sprinklers. If you have little adrenaline-seekers, climb aboard the Twin Chasers raft slides.
Find treasures at Pirate's Cove with an immersive show filled with actors and LEGO characters.
You can find the LEGOLAND Water Park between Orlando and Tampa. The hotel and the LEGOLAND Florida Water Park are in Winter Haven.
7. Island H2O Live! Waterpark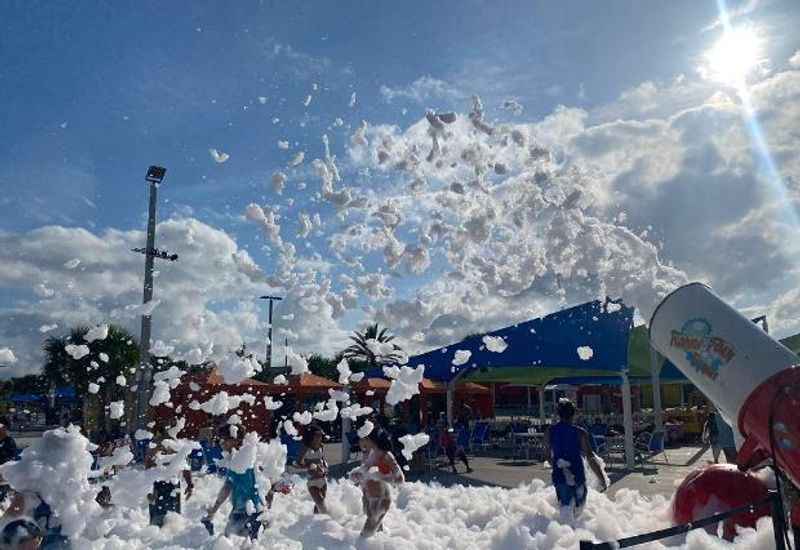 Step into the future today with Orlando's most immersive and technologically advanced water park. Play games and get involved in experiences that can earn you points for food or prizes.
Island H2O Live! Is a completely unique water park experience and is entirely different from the other Orlando water parks. Step into the world of social media and make a splash with a completely customized experience.
If you're not a social media buff, fear not. There are 20 different attractions for you to explore and enjoy.
Create your own soundtrack for this sensational outing with your state-of-the-art wristband and take control of the lighting and color themes while you travel around the park.
Inspired by social media, you can post pictures and videos directly to your social media accounts and are encouraged to do so.
If you want to get your head out of the cloud, you can check out the Hashtag Heights body slide or the Follow Me Falls 2-person tube ride.
To slow it down a bit, pop by the six-lane Reply Racers or chill at the Chat Creek lazy river.
Find this water park approximately 35 minutes southwest of downtown Orlando.
8. Treasure Cove Water Park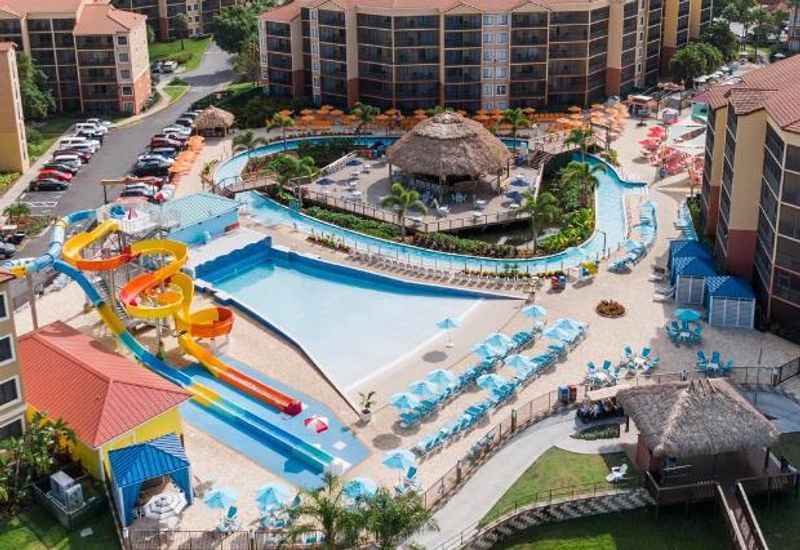 Ahoy all sea dogs looking for a pirate-themed water park, Treasure Cove is where X marks the spot and is one of the best Florida water parks.
Surrounded by hotels is another family-favorite water park in Orlando. Race around and sample all the slides or simply laze in the lounge chairs.
Stormy seas are ahead with the Buccaneer Bay wave pool, one of the most giant wave pools out of the Orlando water parks.
Dare to take on the Dolphin Drop slide or walk the plank at Pirate's Plunge – 30-foot drops. Catch your breath on the lazy river or head over to the Hawaiian-themed Tiki Tavern for a drink and a bite to eat.
9. Nona Adventure Park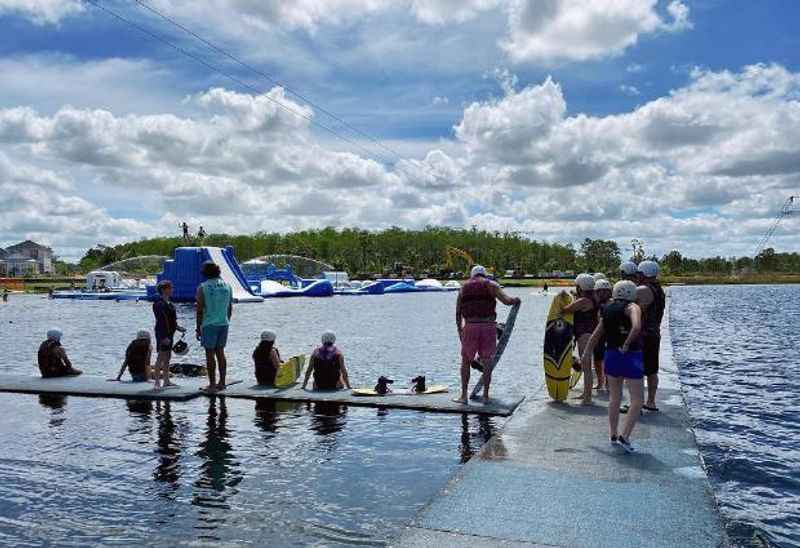 Want to experience your own Wipeout? This is far removed from a Universal Orlando Resort or Walt Disney World Resort so if you want something unique and exciting, Nona Adventure Park could be the one for you.
On Lake Nona, you can find an outdoor inflatable water course filled with obstacles like swings, slanted runs, slippery stairs, and balancing beams.
With over 1,000 exciting obstacles, test your balance and endurance while trying not to fall into the water.
With 50-foot climbing walls and a sky ropes course, race your friends and go head-to-head to see who can win at one of the most exceptional water parks in Orlando.
If you have a need for speed, you can wander over to the Nona Wake Zone and take one of two wakeboarding classes.
Find this thrilling and different water theme park approximately 30 minutes from Downtown Orlando and the Disney Water Parks.
10. Orlando Watersports Complex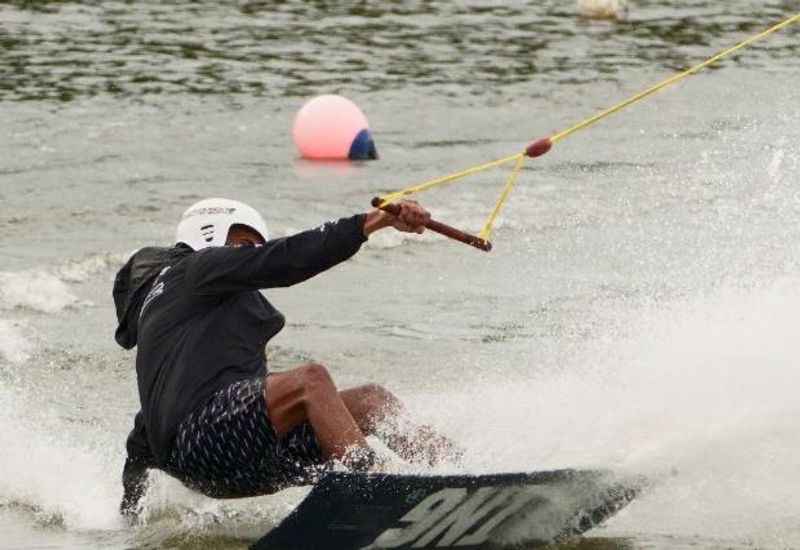 Wake yourself up with the Orlando Watersports complex and learn how to wakeboard. Get active at the aqua park with family-friendly water sports on your own boat experience.
There are lots of activities to choose from that make this experience different from going to one of the water parks in Orlando. Abandon giant wave pools and create your own waves wakeboarding, wakesurfing, and wave skating.
Learn how to water ski and kneeboard. Then get active at the aqua park inflatable obstacle course.
If you want a break from water slides, grab the whole family and get involved in some activities that involve everyone from adults to younger children.
11. Orlando Water Park Hotels and Resorts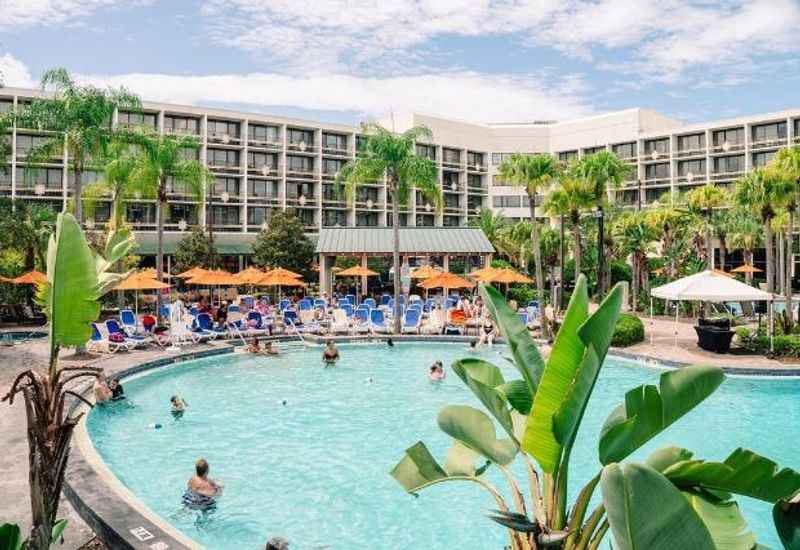 If you want to sleep and splash in the same place, there are also plenty of Orlando water parks in hotels.
The Grove Resort and water park is a bit more lowkey than the water parks in Orlando. You can find a Surf Simulator, multiple swimming pools, slides, and a lazy river for lazy days.
Holiday Inn Resort Orlando, just one mile from the Walt Disney World Resort, is under the Disney umbrella and has lots of slides, swimming pools, and sprinklers to splash in.
Depending on where you want to stay there are lots of options, so make sure you choose the right one for you and your family.
12. CoCo Key Hotel and Water Resort & Lazy River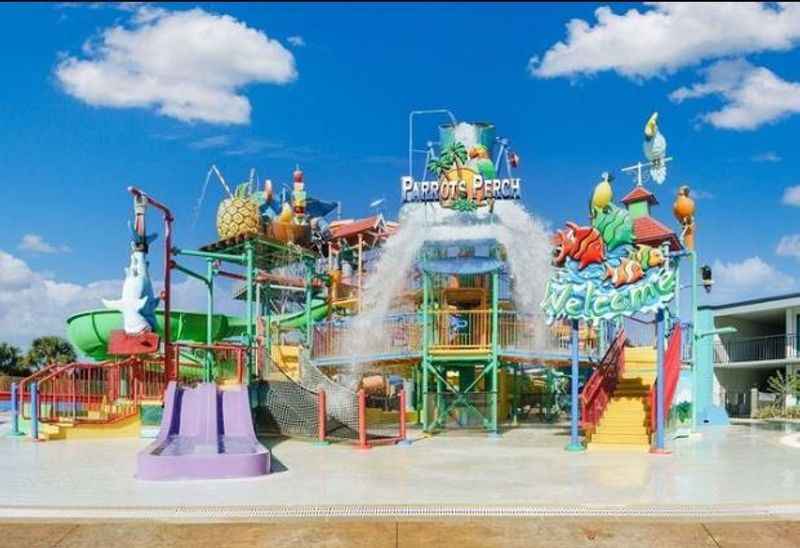 Head to the CoCo Key Hotel and Water Resort for a great day out with the whole family at a fraction of the price of other water parks in Orlando.
With a Caribbean theme, transport to the South Seas and enjoy a water theme park with 14 slides and a 300-foot lazy river. Need a place for the kids? You can drop into the Dip-In wading pool with your youngsters.
Have a water fight with the water cannons or get soaked in the splash pool by the giant water bucket. Pick up the pace with one of three main slides: Bumble over to the Barracuda Blast, slide over to the Sharks Slam, or plummet down Pelican Plunge.
Grab a bite to eat at the restaurants dotted around or head to the Key Quest Arcade to pick up some prizes.
FAQs About Orlando Water Parks
Let's look at some frequently asked questions relating to Orlando water parks.
What are the best Orlando water parks?
Disney's Typhoon Lagoon water park in Orlando is one of the best, as well as Disney's Blizzard Beach. If you love wild slides and an unusual theme, these are the ones for you. At Blizzard Beach, you can find yourself at a melted ski resort or get shipwrecked at Typhoon Lagoon.
Which is better for kids: Typhoon Lagoon or Volcano Bay?
Whether Typhoon Lagoon or Volcano Bay is better is down to personal preference. At Universal's Volcano Bay, there are plenty of things to do for the little ones. If you are looking to move away from the Universal Orlando Resort, Disney's Typhoon Lagoon is also a hotspot for kids and adults alike.
Is Volcano Bay better than Disney water parks?
Universal's Volcano Bay is certainly a very popular water park in Orlando. The Disney water parks, Blizzard Beach, and the Typhoon Lagoon Water Park are also exceedingly popular. If you're looking for volume, the Disney water parks have more slides, but all three parks have so much to do that they are equally matched in the ability to entertain you all day.
Is Typhoon Lagoon worth it?
Typhoon Lagoon is one of the most popular water parks in Orlando for a reason and with so much to do, whether you're an adult looking for an escape or a kid looking for adventure, the tropical Typhoon Lagoon is worth a trip. If winter is more your vibe, Blizzard Beach is a great Disney water park choice for you.
Summing up: 12 Best Orlando Water Parks
If you are heading to a water park in Orlando, you are in for a treat. From Aquatica Orlando to LEGOLAND Florida, complete with LEGOLAND Water Park, you will never be short of options if you want to get wet and wild.
Find relaxation along Miss Adventure Falls at Typhoon Lagoon or fall for the fast-paced Ihu's Breakaway Falls at Aquatica. Bring on the blizzard at Blizzard Beach or meet dolphins at Discovery Cove. You can also enjoy plenty of activities in Orlando besides theme parks.
If you feel like a fish out of water, assess your options, pick your place, and just keep swimming. Remember to book your tickets in advance.