How to Spend 2 weeks in Argentina: An Itinerary
This 2 weeks in Argentina itinerary has been put together based on my experience living in South America for a year.
Argentina is such a massive country. Therefore, I've put together a logistically achievable itinerary that will provide you with the experience of a lifetime in this beautiful country.
In this post, you'll find the ultimate Argentina itinerary with day tour recommendations for each city and Argentina travel advice, ensuring your trip is safe, organized, and inexpensive.
A Quick Intro to Argentina
Argentina is by far the second-largest country in South America. Comprising 2.8 million sq km (that's more than 11 times larger than the U.K), it is impossible to see the country in its entirety in 2 weeks.
That said, it is still possible to see the cultural, natural, and architectural differences between the far north, the center, and the south of this magnificent country.
This 2 weeks in Argentina itinerary hones in on each of these points, from Iguazu Falls in Misiones Province in the north, to the wine tasting region in the West, to Patagonia in the south.
If you are visiting Argentina for 3 or 4 weeks, or perhaps even longer, just extend your stay in the areas below.
A 2 weeks in Argentina itinerary:
Divide your time in the following ways in order to visit the places below.
🔵 Day 1 - 4 – Buenos Aires, Argentina's magnificent capital ⚪ Days 4 - 6 – Visiting the Argentinian side of Iguazú Falls 🔵 Days 6 – 8 - Hiking with gauchos and tasting Malbec in Mendoza ⚪ Days 8 - 12 - Head south to trek the glaciers in stunning Patagonia 🔵 Days 12 - 14 - Wind down and enjoy Buenos Aires before departing
Days 1-4: Buenos Aires

Buenos Aires is South America's most European city in terms of gastronomy and architecture. This is due to its Italian and Spanish heritage.
Many travelers arrive in Buenos Aires and leave soon after in order to squeeze in the other places that Argentina has to offer. I would advise against this.
Instead, allow yourself the full 'porteño' experience and spend 3 full days here.
Your Argentina trip starts in Buenos Aires, and it should not be seen simply as a hub. Buenos Aires boasts stunning architecture, the best red meat in the world, full-bodied wines, two of South America's largest football teams, and tango shows galore.
Take a Buenos Aires Walking Tour
One of the best ways to experience the city is by taking a walking tour.
There are several companies that offer guided tours of Buenos Aires, which is a great way to see the sights and learn about the city's history and culture.
If you're interested in learning more about the local cuisine, there are also food tours available which are usually led by local chefs who can show you where to find the best food in the city center.
Buenos Aires Flavors Food Tour With Dinner
The best part of Argentina is the cultural cuisine.
During the Argentina Buenos Aires flavors food tour you can expect to discover the city's vibrant markets and local stalls, taste malbec during a wine tasting, to then finish the day off with a three-course dinner, all during one whirlwind tour!
Buenos Aires CITY BUS TOUR
The capital city of Argentina is a massive place. If you're just passing through on your trip, it's impossible to see everything you'd like by walking alone.
The Buenos Aires hop-on hop-off city bus tour can assist you perfectly.
Here, you can explore the traditional and modern neighborhoods of Buenos Aires, as well as the city centre, and hop off in the main square to do some well-deserved souvenir shopping.
Buy your ticket now to skip the line on the day at no extra cost!
LA BOCA Guided Walking Tour In English
Each cultural attraction or district within Buenos Aires isn't exactly within walking distance of one another. It's important to do your research to see which area you'd like to dedicate an early morning, afternoon, or evening to do a walking tour.
The Buenos Aires La Boca guided walking tour is a fantastic choice.
The La Boca neighborhood is renowned for its colorful bohemian and artistic vibrancy and boasts a multicultural history you can learn all about from a local on this great day trip.
What to Do in Buenos Aires
This Argentinean metropolis is filled with a variety of activities and attractions that will keep you busy during your trip.
Explore the city's many museums and historical landmarks and sample the local cuisine. Also, enjoy a night out on the town with some tango dancing - an absolute MUST for your two weeks in Argentina! Buenos Aires has something to offer everyone.
Walk, Walk, and Walk Some More
Spend the first day walking the streets of Recoleta and Palermo, two of Buenos Aires' most impressive neighborhoods.
The Beaux-Arts architecture in Recoleta is unique in this part of the world and will remind you of Paris. Visit the Recoleta Cemetery.
Make sure you add a pit stop at the iconic Plaza de Mayo to your Buenos Aires Argentina itinerary! The Plaza de Mayo is a city square and the main foundational site of Buenos Aires.
Visit Impressive Architecture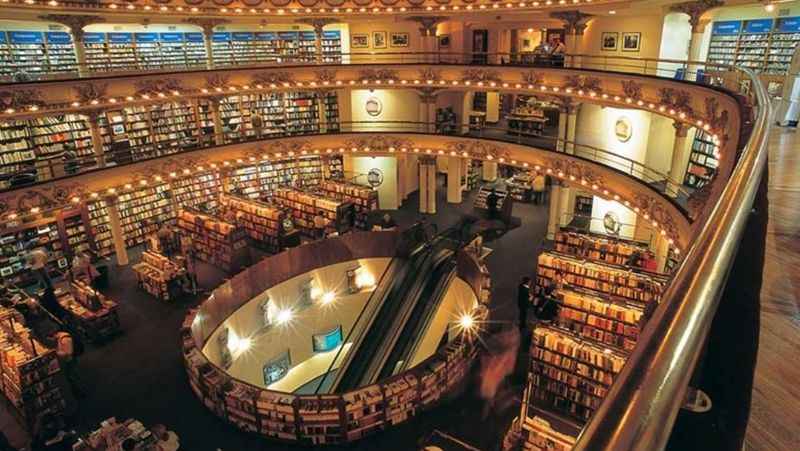 Near the Plaza de Mayo, via the famous 9 de julio road, you'll find the Teatro Colón (Argentina's largest theatre) and El Ateneo Grand Splendid (a former theatre-turned book shop with a café). These are also must-visit attractions in Recoleta.
If you are not comfortable walking the streets of Buenos Aires alone then I recommend a walking tour with a qualified guide.
Whilst the city is safer than many South American cities, it is not without crime. Unfortunately, tourists are often the victims.
Visit San Telmo & its Food Market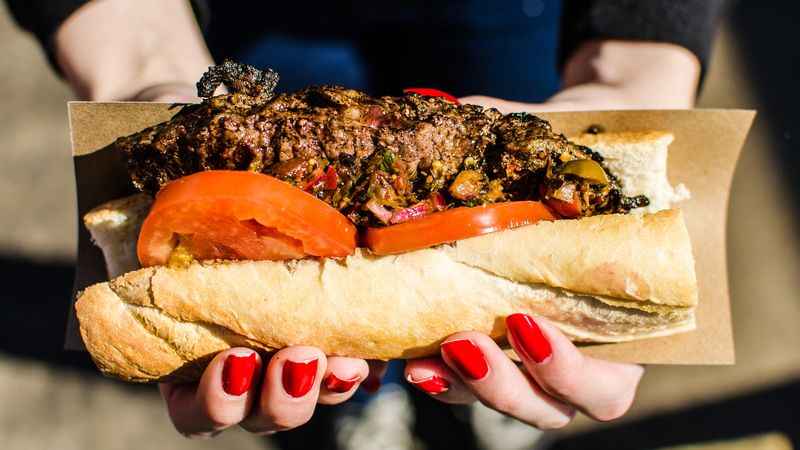 Visit the shabby chic San Telmo neighborhood, home to pop-up art galleries, late-night bars, and street murals to ensure you have a great trip.
The main food market, el Mercado de San Telmo, has been newly renovated and now caters to tourists in high numbers. The food on offer at this market is exceptional and worth tasting.
I recommend visiting San Telmo on a Sunday. On this day, the San Telmo market (not to be confused with the food market) brings thousands of tourists and locals alike.
Every Sunday between 10 AM and 4 PM, more than 270 street vendors come together to sell artisanal products and antiques.
If you can, plan your 2 weeks in Argentina so that you have a Sunday in Buenos Aires. It is worth it if only so that you are able to experience this market.
Take a Trip to San Antonio de Areco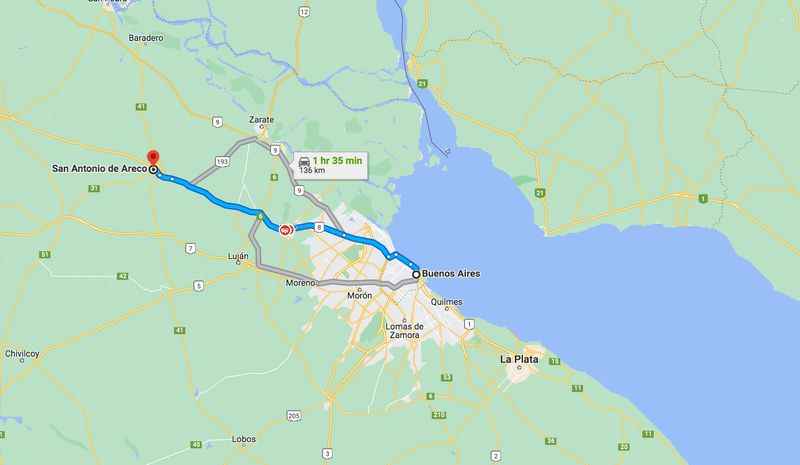 If you have more than a few days in Buenos Aires, I would definitely advise adding a day trip to San Antonio de Areco to your Argentina Itinerary.
San Antonio de Areco is a popular tourist destination, known for its colonial-style architecture and traditional gaucho culture. It is also home to the annual National Gaucho Festival, which takes place in November.
This town is definitely worth visiting because of its chatty locals, tourist attractions, and picturesque scenery.
Getting to San Antonio de Areco from Buenos Aires is easy by rental car or bus. There are several daily buses that depart from Retiro bus station, and the journey takes about 1.5 hours.
Alternatively, you can drive yourself - the trip will take about 1 hour depending on traffic.
Visit a Tango Show
Nobody should spend 3 nights in Buenos Aires without first visiting a tango show. There are, quite literally, hundreds of places where you can see the quality, authentic tango.
I would avoid La Boca at night at all costs. Instead, visit Cafe Tortoni, once frequented by the famous Argentine writer Jorge Luis Borges.
Here, in the evening, you can watch the tango and drink your body weight in red wine, one of Argentina's specialties. This is also a safe area, with taxis outside and ready for your departure.
Where to watch a Tango Show in Buenos Aires
Buenos Aires Señor Tango Show
The first choice has to be the Señor tango show held at the dazzling La Catedral del Tango and directed by the iconic Fernando Soler.
Here you can indulge in a traditional three-course dinner, all the while watching a dazzling performance of tango and admiring the spectacular architecture the hall has to offer.
Tango and cooking class with cocktails
During this tango class with cocktails and empanada making, you can enjoy a tango lesson in a relaxed, casual setting with a few cocktails, whilst also partaking in a cooking class to make your own empanadas.
Tango Night with the Locals
On this Tango night with the locals tour, you can watch the locals at a Molanga.
Molangas are local neighborhood clubs where Argentinians go tango dancing. Here, you can really feel as if you're the main character of an Al Pacino film and become the star of the stage yourself.
Where to Eat in Buenos Aires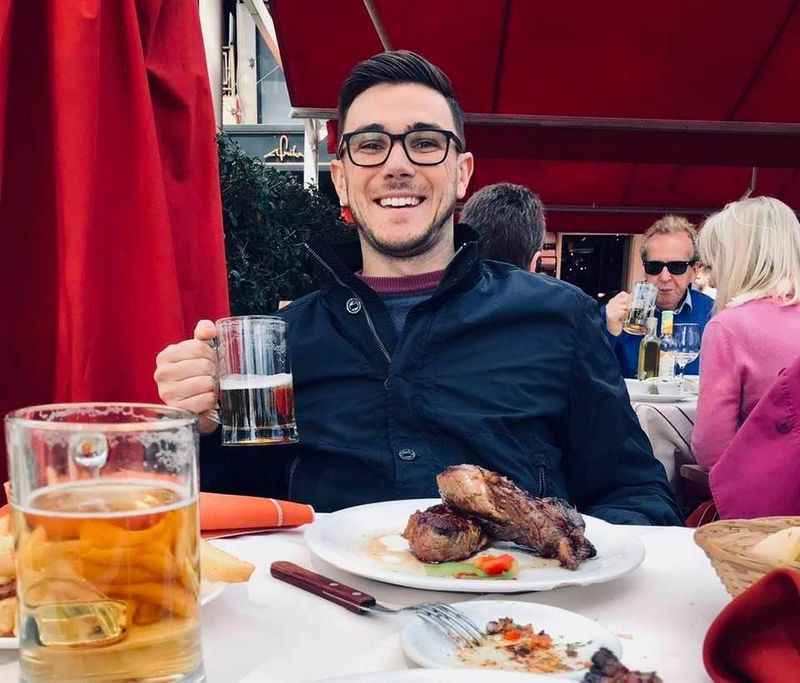 Argentina is best known for its steak and empanadas. Nowhere else for this is better than in Buenos Aires.
San Telmo is a great place to visit on your trip to get your taste buds tingling before your full 2 weeks in Argentina. I recommend a visit to Restaurante La Brigada in San Telmo.
This restaurant is expensive but a real dining experience. La Brigada boasts wines from more than 60 Argentinian bodegas (wineries) and waiters will cut your steak with a spoon to emphasize its tenderness.
How expensive is it to eat out in Argentina?
It is not expensive to eat out in Argentina. Most major cities, including Buenos Aires, are filled with restaurants that cater to all budgets.
Look out for any 'parrilla' which is usually a typical hole-in-the-wall restaurant serving a range of beef and pork cuts.
Buenos Aires Food Tours
To learn about the culture of Argentina, sign up for a food experience with Steaks by Luis or The Argentine Experience.
Both are group activities that teach guests about food in Argentina. I would also put time aside for a gourmet food tour around Recoleta, the neighborhood which houses the cemetery and famous book store, El Ateneo Grand Splendid.
Days 4-6: Visit Argentina Iguazu Falls National Park
The Iguazu Falls are, in a word, spectacular.
Iguazu Falls reside on the border of the Argentine province of Misiones and the Brazilian state of Paraná.
Combined, Iguazu Falls create the largest waterfall in the world. A visit to Iguazu Falls is compulsory during your 2 weeks in Argentina.
🔵 Elevation: 195 m ⚪ Height: 82 m 🔵 Number of drops: 275 ⚪ Width: 2,700 m
What to do in Iguazú Falls
Many Argentina itineraries will recommend heading to the south of Argentina first. I would avoid this, however, as it means a trip to Iguazú Falls will later require a connection to Buenos Aires.
Whilst the bus is an option, it is slow. As you only have 2 weeks in Argentina, fly from Buenos Aires to Puerto Iguazú. This is on the Argentinian side, not the Brazilian side, so you will not need a visa.
Upon arrival, head straight to the Argentine side of Iguazú Falls. Trekking around in the jungle and admiring the stunning scenery will take over a day, so do not rush.
Take a guided tour that includes a boat ride that takes you right into the waterfalls. You will most likely purchase a poncho beforehand, but this will prove redundant.
Believe me, you will get drenched. This boat trip will be a certain highlight of your 2 weeks in Argentina.
If you would like to visit Brazil then you will need to cross the border. From Brazil, you can repeat yesterday's activities but with new landscapes and see the falls from a different perspective.
If you choose to do this then you will need a visa. Make sure this is arranged beforehand to avoid disappointment on your trip.
Visit Hito Tres Fronteras
Instead of crossing the border to see the falls from the Brazilian side, visit Hito Tres Fronteras. This stunning viewpoint in this sleepy town provides views of Brazil and Paraguay, whilst you stand in Argentina.
Days 6-8: Mendoza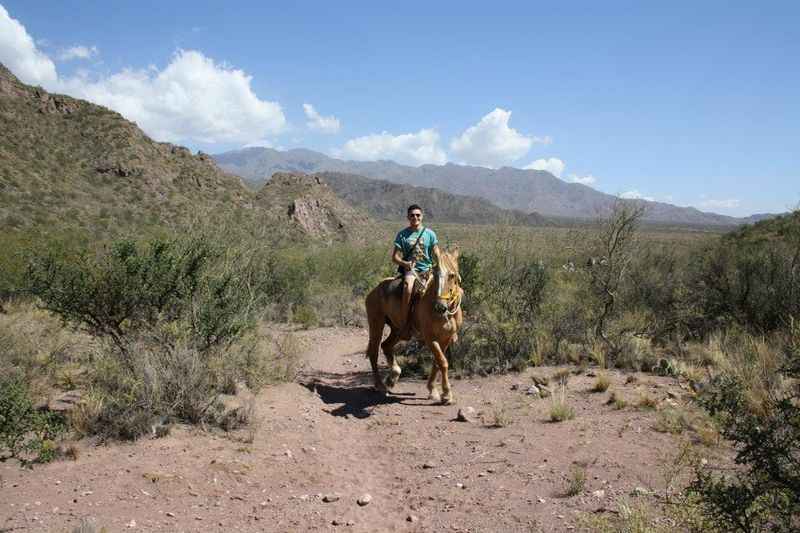 Mendoza is not included on many 2 weeks in Argentina itineraries given the plethora of other places to visit. Instead, you could quite easily consider Salta, Jujuy (in Northern Argentina), or Bariloche instead.
However, Mendoza was a personal favorite of mine due to my experience horseback riding with gauchos, sampling full-bodied red wine from local bodegas, and sharing Asado, or grilled beef, with the gauchos around a campfire at sunset.
In terms of timing, you can spend anywhere between 2 - 4 days in Mendoza, but just remember that it will impact your 2-week itinerary if you decide to stay longer than expected.
This is Argentina's wine country. So, wine lovers should definitely visit Mendoza if they have time during their two weeks in Argentina.
The Best Mendoza Wine Tours
Mendoza is one of the nine world capitals of wine
Mendoza is known for its high-quality red wines, particularly those made from the Malbec grape.
Therefore if you do just one trip to Mendoza, make sure you do a wine tour.
Winebike tasting tour
Fancy a bit of wine and exercise combination in one tour?
With this wine bike tasting tour, you can taste some of the best Argentinian wines, whilst riding through some of the most beautiful vineyards and taking in the surrounding mountains and beautiful landscapes Mendoza has to offer whilst doing so.
Full-day wine tour with 3-course lunch
Visit the vineyards and learn why Mendoza is the famous wine region of Argentina!
During this tour, you can learn all about how the wine is made, different wine pairings, and the influence of the terroir, climate, and grape whilst enjoying a three-course lunch!
Half-day wine tour
If you're not an avid wine-drinker and don't fancy dedicating a whole day to a wine excursion, then this half-day wine tour with tasting is perfect for you.
This includes a visit to two wineries in the exotic wine region of Mendoza, as well as a visit to an olive oil factory where you can learn about the olive oil process.
Other things to do in Mendoza
Mendoza is also popular amongst tourists who like whitewater rafting and mountain biking.
Horseback ride as part of a guided tour with gauchos. You will learn how to ride one-handed, gaucho style, and they will prepare an Asado for your tour group. Pack suncream and stay hydrated!
Also visit Atuel Canyon in Valle Grande, Mendoza Province, for a boat tour across the dam.
Whilst the scenery is absolutely sensational, many tours take tourists in small mini-buses and, for me, the distance between the city and Valle Grande is far too long. If I were to spend 2 weeks in Argentina again, I would skip this.
Other activities worth checking out in Mendoza include a visit to the thermal spas near Mendoza city, and a guided walking tour around - Discover Mendoza's charm - the inner city.
Mendoza has many pretty squares, wide boulevards, and leafy avenues. Although it is a city in almost every way, you will notice a difference when comparing it with Buenos Aires.
The pace of life is much slower, and it's interesting to watch the locals go about their daily lives.
Days 8 - 12: El Calafate and El Chaltén
Many people visit Argentina solely for Patagonia, known as Argentina's Lake District (alongside Bariloche). The region is one giant outdoor swimming pool.
From Mendoza, you will fly to El Calafate, potentially changing first in Buenos Aires. Here, you can settle in and acclimatize.
The weather in El Calafate differs greatly from the rest of Argentina, and you will leave a hot, sticky, humid Misiones and dry, intense heat in Mendoza for cold and ferocious winds.
Nonetheless, El Calafate provides an opportunity to walk on its most famous glacier, Perito Moreno.
This ice glacier and natural ice damn is a whopping 250 km² - 30km in length and 5km in width.
El Chaltén offers something entirely different, with a plethora of walking routes, natural parks, wildlife, and natural beauty.
El Chaltén is also home to the spectacular mountain 'Monte Fitz Roy' which lies on the border between Argentina and Chile.
Patagonia Tours: Visit Perito Moreno & El Chaltén
Perito Moreno and El Chaltén are two of the most popular tourist destinations in Argentina.
The Perito Moreno glacier is located in the Los Glaciares National Park, and El Chaltén is a mountain village located in the same national park.
These two destinations are popular for different reasons. The Perito Moreno glacier is known for its stunning scenery and spectacular landscapes, while El Chaltén is known for its hiking and climbing opportunities.
Perito Moreno Private Tour
Therefore, this Perito Moreno glacier private tour is a must for your two-week Argentina itinerary.
Here, you can explore the Perito Moreno glacier at your own pace on a private tour. This tour includes an optional boat tour, so you can see the glacier from all its different angles!
Trekking Tour with Cuisine
For those of you more active on your feet, this Perito Moreno glacier trekking tour and cruise allows you to explore a forest by foot and hike on the Perito Moreno glacier with crampons, then enjoy a boat tour around the glaciers national park.
Trekking Tour in El Chaltén
Take a day trip to El Chaltén with the Laguna de Los tres trekking tour. Here, you can join a Patagonia trekking tour to see Laguna de Los Tres, one of the most famous hikes in the region.
What to Do in El Calafate and El Chaltén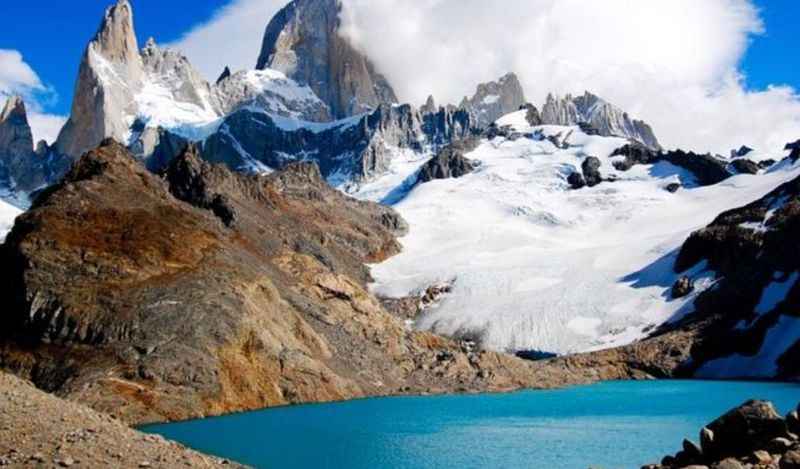 El Calafate is a small town in Argentine Patagonia, located on the shores of Lago Argentino.
It is the gateway to some of the most spectacular scenery in the world, including the magnificent glaciers of Los Glaciares National Park.
El Chaltén is a small village located in the heart of Los Glaciares National Park. It is the starting point for many of the park's most popular hikes, including Mount Fitz Roy and Cerro Torre.
Whether you're looking for adventure or just want to relax in beautiful surroundings, El Calafate and El Chaltén are a must for your two-week Argentina itinerary.
Los Cardones National Park
Although your time is limited with only two weeks in Argentina, I couldn't mention northern Argentinian national parks without mentioning Los Cardones National Park.
Los Cardones National Park is home to some of the country's most beautiful landscapes.
The park is filled with towering cacti, as well as mountains, valleys, canyons, and plenty of hiking opportunities.
Days 12-14: Return to Buenos Aires
A return to Buenos Aires on your 12th or 13th day of the Argentina trip will allow plenty of time for a smooth and stress-free departure.
Of course, the above 2 weeks in Argentina itinerary is a guide only and can be adjusted accordingly based on personal preferences, logistics, and any unforeseen circumstances.
Salta and Jujuy
Incorporating the north of Argentina into your 2 weeks in Argentina itinerary means more time and more money.
However, the north of Argentina is beautiful and boasts its own unique landscapes, wines, and gastronomy scene.
Salta and Jujuy are two provinces in Argentina that are full of natural beauty, historical sites, and cultural experiences. If you are spending more than 2 weeks in Argentina then you must find time to visit them.
In Salta, be sure to visit the stunning colonial city center, go on a wine tour in the Calchaqui Valley, and take a cable car ride up to Cerro San Bernardo for panoramic views.
Jujuy is home to the UNESCO World Heritage Site of Quebrada de Humahuaca, as well as the stunning landscapes of Tilcara and Purmamarca.
Tours in Salta & Jujuy
If you're looking for more tours to add to your two-week itinerary in Argentina, then these tours in Salta need to take top priority.
Salinas Grandes, Purmamarca & Los Colorados Hike
With the Salinas Grandes, Purmamarca & Los Colorados hike you can walk along the different trails this tour has to offer and take in the most stunning scenery Northern Argentina has to offer.
Yama & Termas de Reyes
If all the hiking from Salta and your previous trips in your Argentina itinerary have you exhausted, then this Yama and Termas de Reyes tour in Jujuy is the one for you.
During this trip, you can relax in the gorgeous thermal waters of Termas de Reyes on this tranquil day tour with a local travel specialist.
More Places to Add to Your Argentina Itinerary
Argentina is almost such a big place it's almost impossible to fit everything into two weeks.
Below, is a further list of cities and landmarks worthy of a visit for your Argentina itinerary.
Bariloche - Argentina's Lake District and Chocolate Region
This charming town is nestled on the shores of Nahuel Huapi Lake and surrounded by soaring mountains - it's no wonder it's often referred to as Argentina's Switzerland.
Bariloche is also famous for its chocolate. There are dozens of chocolate shops dotted around the town.
Other things to do in Bariloche include fishing, hiking, skiing, snowboarding, and horseback riding.
Ushuaia and Tierra del Fuego
Fly south to the world's southernmost city.
Here, you won't be stuck for a second for something to do! Ushuaia boasts a variety of attractions to visit such as:
The Tierra del Fuego National Park
⚪ The Beagle Channel 🔵 The Museo Maritimo de Ushuaia ⚪ Isla Martillo 🔵 Glacier Martial ⚪ The Estancia Haberton Sheep Farm-Check
Península Valdés
Península Valdés is a peninsula located in the province of Chubut in southern Argentina. Here you can:
Watch the whales at Puerto Madryn
⚪ Visit the penguin colony at Punta Tombo 🔵 Take a scenic drive down Ruta 3 ⚪ Go on a safari in search of wildlife 🔵 Hike to the top of Cerro Valdés for sweeping views
Córdoba - Further north of Buenos Aires
Córdoba is known for its colonial architecture and is home to the Manzana Jesuítica. Here you can enjoy things to do such as:
🔵 Visit the Cathedral of Córdoba ⚪ Take a walking tour of the historic center 🔵 Check out the Iglesia de los Capuchinos ⚪ See the Archbishop's Palace 🔵 Explore the Museo Provincial de Córdoba ⚪ View the Cuatro Fuentes 🔵 Spend time in Sarmiento Park ⚪ Check out the Teatro Libertador San Martín 🔵 Visit the Manzana Jesuítica de Córdoba
Esteros del Iberá
Nature lovers will find plenty to do in Esteros del Iberá. At this scenic place, you can:
🔵 Take a scenic boat ride through the wetlands ⚪ Spot wildlife like capybaras, howler monkeys, and anacondas 🔵 Visit the small town of Colonia Carlos Pellegrini ⚪ Hike or bike through Parque Nacional Iberá
Essential info for Argentina
Visas for Argentina
According to the Argentine government website, citizens of the United States, Canada, and the United Kingdom do not need a visa to enter Argentina for a tourism trip or business purposes.
They are allowed to stay in the country for up to 90 days on a trip for any legal purpose.
Citizens of these countries will need to present a valid passport upon arrival in Argentina, as well as proof of an onward or return ticket.
How to get to Argentina
From the U.S, U.K, and Canada, many people book flights to Buenos Aires Ezeiza International Airport (EZE).
There are plenty of options for flights into EZE from major US airports such as LAX, JFK, and MIA, to name a few.
For UK visitors, EZE is serviced by many major airlines, such as British Airways, Iberia, and LATAM.
Finally, when flying from Canada, EZE has flights from most major Canadian airports, such as YYZ, YVR, and YUL.
Keep in mind that these are only a few of the major airports servicing flights to Argentina. For a full list of options, be sure to check with your chosen airline(s).
Traveling around Argentina
The best way to travel around during your 2 weeks in Argentina is by bus, flight, or rental car. The rail infrastructure is not very developed, so traveling by train is not recommended, especially if you only have 2 weeks in Argentina.
Driving is a good option for traveling around Argentina; the roads are generally in good condition and there is a wide network of highways connecting all major cities.
Flights are also a good option for traveling between major cities. There are several domestic flights operating in Argentina.
The most popular and cheapest mode of transportation throughout the country is long-distance buses. They are generally modern, with charging ports for your mobile phones.
Ferry companies are not very common in Argentina, but there are a few companies that operate domestic routes between some of the major cities. These services are generally reliable and comfortable.
When is the Best time to visit Argentina?
The best time to visit Argentina is during the shoulder seasons, between March and May, or September and November.
These months offer the best weather conditions for exploring the country, with mild temperatures and fewer crowds than during the high season.
What to eat in Argentina
If you're looking for an amazing culinary experience, Argentina is the place to be. The country's cuisine is a delicious melting pot of European, Mediterranean, and indigenous influences.
Argentina is known for its beef, so you'll find plenty of steak houses (known as parrillas) serving up delicious (and often very reasonably priced) steak.
Another great way to save money on food in Argentina is to head to one of the many street markets.
From mouth-watering steak to empanadas and dulce de leche, there's something for everyone to enjoy.
Language in Argentina
The official language of Argentina is Spanish. The country has a rich linguistic heritage, with many Argentineans speaking Italian or German as well as Spanish.
Argentine Spanish has a distinctive accent and some unique vocabulary.
For example, one of the key grammatical differences between the Spanish of Argentina and other varieties of the language is in its use of vos as the second-person singular personal pronoun.
Money in Argentina
The Argentine peso is the official currency of Argentina, and it is currently experiencing high rates of inflation.
This means that prices for goods and services in the country are constantly changing, and it can be difficult to budget for your 2 weeks in Argentina trip.
To get the best value for your money, it is advisable to research prices before you travel.
Safety in South America
When traveling to any new country, it's important to be aware of the potential risks and how to stay safe. You should:
🔵 Avoid carrying large amounts of cash with you and only use ATMs in safe, well-lit areas. ⚪ Be cautious when accepting drinks from strangers and never leave your drink unattended. 🔵 Avoid walking alone at night or in deserted areas, especially if you are female!
Health in Argentina
There are a number of things that can go wrong when traveling, such as losing your luggage or getting sick. Travel insurance can help to cover the costs of these problems.
Summing up: How to Spend 2 weeks in Argentina
Overall, your two weeks in Argentina is sure to be a dream trip, full of endless opportunity, whether that be hiking day trips, or city strolling.
This wonderful country has all kinds of options available for whatever kind of traveler you may be!
Feel free to use this guide as inspiration for your journey to South America. Add to it or adjust it accordingly to your desired Argentina itinerary days.
By following this 2 weeks in Argentina itinerary and taking tours with a local travel specialist, you are bound to have a great trip.