12 Best Day Trips From Dubai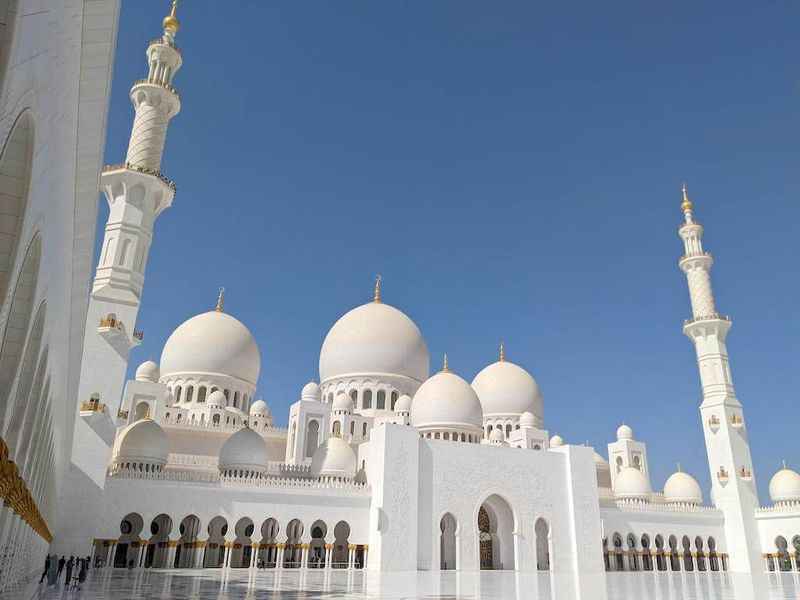 It's a dream come true to vacation in Dubai, where you will find some of the most spectacular modern creations on the planet. The emirate casts a bewitching spell on its guests with its skyscrapers, ground-breaking attractions, and sweeping views of the Persian Gulf.
Nevertheless, after a while, these metallic hues can get monotonous and you may want to explore something different.
Although Dubai is home to some of the most popular attractions in the UAE, the rest of the UAE and its surrounding regions also offer many unique experiences. In addition, these may seem low on hype and crowds, which you will crave after a while in Dubai.
Read on to find a list of the best day trips from Dubai, and be sure to check out these off-beat places if you want to experience something out of the ordinary!
1. Abu Dhabi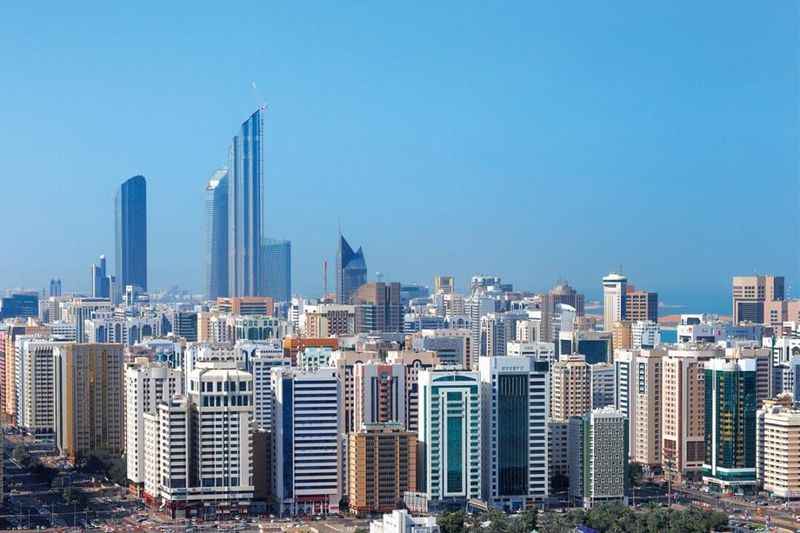 First up, it's the UAE's capital city. Now a major Middle East tourist destination, Abu Dhabi has been striving hard to level up against Dubai.
Located south of Dubai, and well connected by road, it is easy to take a day trip to the regional capital from central Dubai.
During this day trip, visitors can explore some of the emirate's most magnificent wonders, such as the Sheikh Zayed Grand Mosque (see our next point), Saadiyat Island, and Louvre Abu Dhabi to name a few.
Abu Dhabi is also a popular destination for anybody who would like to take part in a desert safari, go camel riding, or take any general desert excursion.
Alternatively, spend a day at Yas Island where a ticket to Ferrari World Abu Dhabi lets you explore the realm of high-speed thrills on the world's fastest roller coaster and much more.
Apart from Ferrari World, YAS Island is also home to the famous Warner Bros. World Abu Dhabi, and Yas Water World is perfect for groups of friends or families.
It is common for visitors to opt for Abu Dhabi/Dubai combo tours, staying a few nights in Abu Dhabi, and a few nights in Dubai when visiting the UAE.
Those who do not wish to spend an overnight or full-day trip in Abu Dhabi may very well plan a day trip to Abu Dhabi from Dubai.
2. Sheikh Zayed Grand Mosque, Abu Dhabi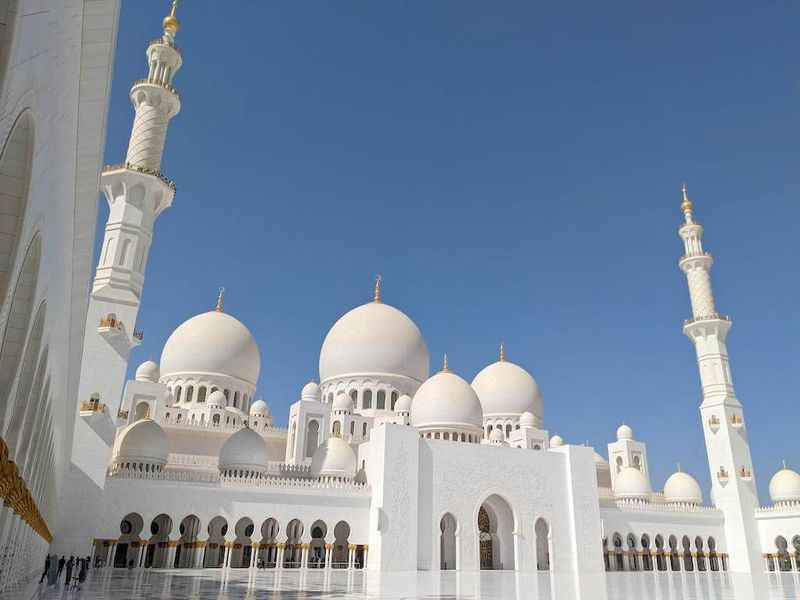 The Sheikh Zayed Grand Mosque in Abu Dhabi city is a must-visit destination for anyone looking to immerse themselves in the rich culture and the history of the United Arab Emirates. It is easy to spend an entire day here, without heading into the city of Abu Dhabi itself.
With its stunning marble façade, intricate tilework, and spacious courtyard, the mosque is a true architectural marvel. It is also the country's largest mosque.
Visitors can admire the mosque's 82 domes, four minarets, and over one million individual hand-laid mosaic tiles, each of which contributes to the mosque's awe-inspiring beauty.
In addition to its stunning beauty, the mosque also offers a peaceful and spiritual atmosphere, making it a perfect place to reflect and connect with one's own beliefs as well as the local culture.
Whether you're a religious pilgrim or simply seeking to experience the richness of Abu Dhabi's cultural heritage, the Sheikh Zayed Grand Mosque is an unforgettable destination that should not be missed.
Visitors can request a drop off at the mosque and collection later in the day with a private driver or in any of Dubai's taxis.
3. Jebel Jais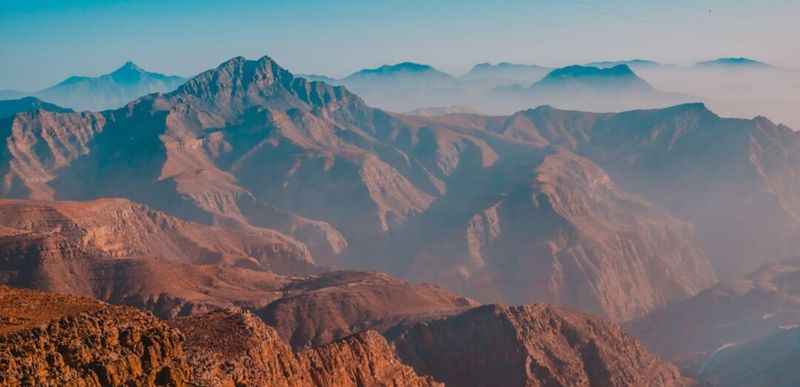 Jebel Jais is the highest mountain in the United Arab Emirates, located in the northern part of the country.
It is a popular tourist destination known for its scenic views and outdoor recreation opportunities, such as hiking, paragliding, and quad biking.
Ras Al Khaimah is a fantastic destination for outdoor enthusiasts. Already known as the adventure capital of the UAE, Ras Al Khaimah offers a wide range of outdoor activities set against scenic backdrops, the most notable of which is Jebel Jais, the highest peak in the UAE.
Only two hours by car from Dubai, the long drive is both refreshing and enthralling. As you approach the foot of Jebel Jais, the breathtaking views are framed by enormous, rugged cliffs of UAE's tallest mountain which are a sight to behold!
You can go on hiking trips once you arrive in Jebel Jais. Prepare for the longest zipline adventure of your life as you glide through the mountains' gorges and valleys.
You can also engage in the VIA FERRATA Mountain Climbing Expedition - the first of its kind in the UAE.
4. Khor Fakkan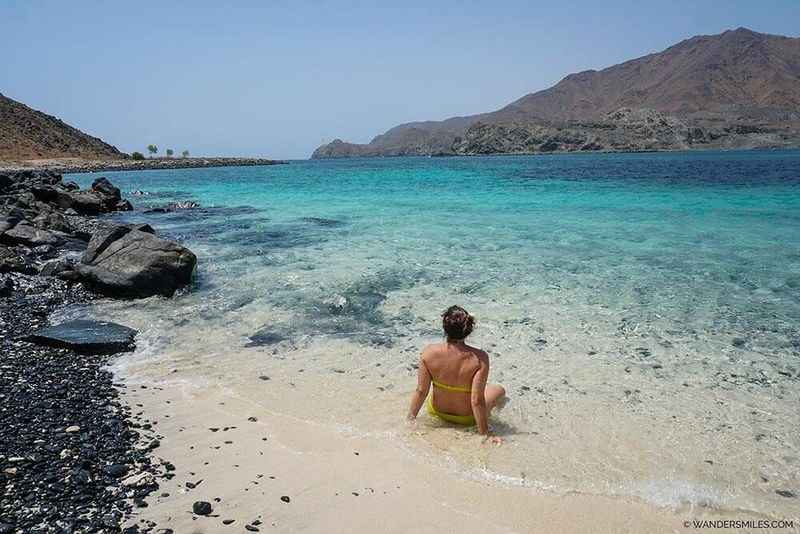 While Sharjah is positioned as the cultural capital of the UAE, a slice of this emirate on the east coast of the UAE - Khor Fakkan - offers coastal vibes and water adventures.
Within just 2 hours by road to the east coast, you will be met with the sparkling clear waters of the Gulf of Oman and a quaint township that is less touristy and has serene beaches that rival those of Dubai.
If you like to swim, dive in and enjoy exploring the underwater world with the best snorkeling and scuba diving experience.
The beaches are perfect for strolls, and the water is perfect for a quick swim. Khor Fakkan is a hidden gem of the UAE and is an absolute delight to visit as one of the day trips from Dubai.
5. Al Ain Oasis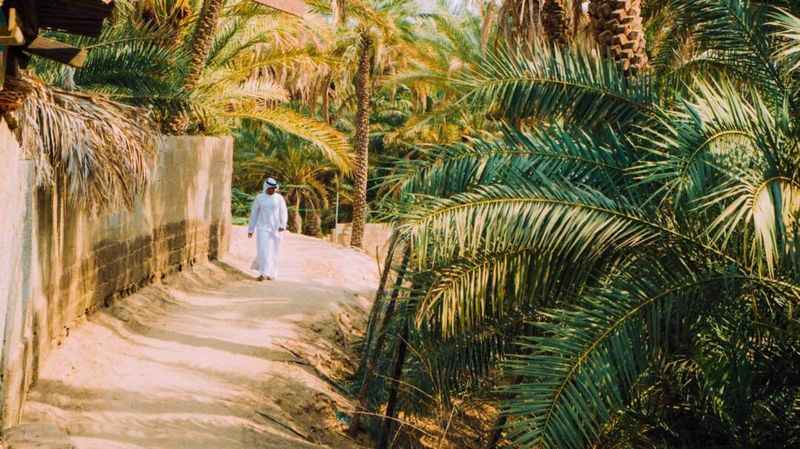 Speaking of hidden gems, Al Ain is another lovely, refreshing destination just a few hours outside of Dubai. It can be a good alternative for desert day trips, where you can camel ride as part of a private tour or in a larger group.
While it is located in Abu Dhabi, this destination sets itself apart from the emirate's modern and cultural vibes. There are many reasons to visit Al Ain, including its status as a UNESCO World Heritage Site and as the garden city of the UAE.
The area is surrounded by a variety of date palms that have been preserved and nourished using an ancient watering system, and the surroundings are dotted with historical sites.
Without a doubt, this is the place that nature lovers should visit while in Dubai to get away from the glitz and glamour of the futuristic city.
6. Sharjah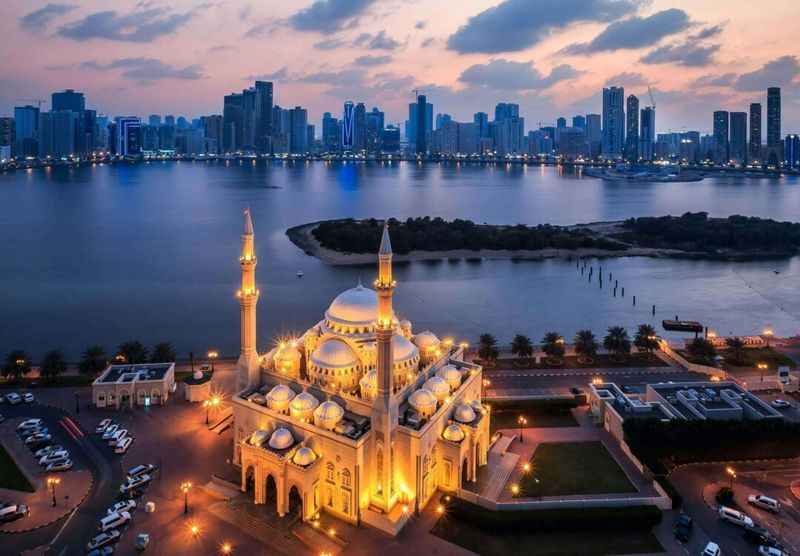 Sharjah, the cultural capital of the UAE, lies to the north of Dubai and presents an amalgam of natural and cultural scenes that are tranquil and slow-paced in comparison to the buzz of Dubai.
Explore the Bedouin culture and influences of Arabic empires in Sharjah with trips to places like the Sharjah Museum of Civilization, the Sharjah Art Museum, and the Blue Souk.
There is no doubt that the Persian Gulf and other waterfront areas are stunning spots for boat tours and cruise experiences. While not as grand as Dubai Dhow cruises, these options do offer a more relaxing, serene atmosphere and are worth exploring.
There's a slow and more mellow vibe in this emirate, and there aren't as many crowds as in Dubai.
The journey to Sharjah from Downtown Dubai by car doesn't take more than one hour. You can even reach Sharjah by ferry! The ease of access is the primary reason why it is a popular day trip destination from Dubai.
7. Hatta Mountains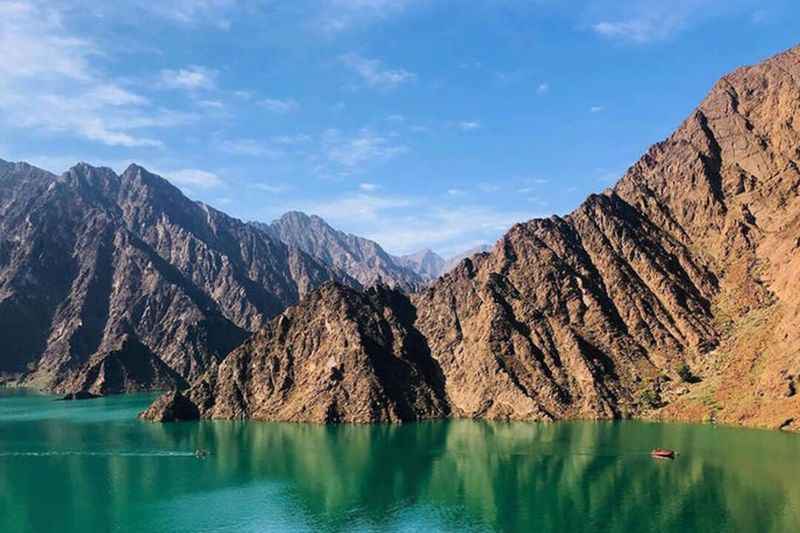 A trip to the Hatta Mountains is the ultimate off-the-beaten-path excursion that completely removes you from the hustle and bustle of modern-day Dubai and places you in the middle of pristine natural beauty.
This is one of the day trips from Dubai that is perfect for most visitors who want to set foot on raw soil and breathe the mountain breezes and don't want to get overwhelmed by Dubai's dynamism.
You will instantly feel rejuvenated by Hatta's colossal views of rugged mountains and clear water pools as part of the majestic Hajar Mountains.
There are many activities that you can enjoy at Hatta Dubai, including trekking, strolling on nature hiking trails, visiting Hatta Heritage Village, or taking part in some adrenaline-pumping activities like kayaking on Hatta Dam, mountain biking, and more at Hatta Wadi Hub.
Upon visiting this serene mountain destination in UAE, you might fall in love with it so much that the next time you visit, you will take out one day from your schedule and stay overnight there, perhaps as a camping or glamping experience.
8. Musandam, Oman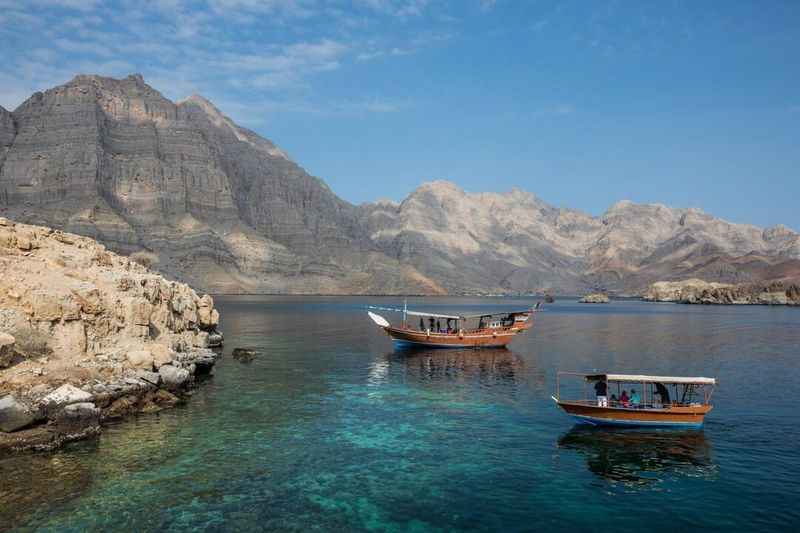 Musandam in Oman is also known as the Norway of Arabia.
As a neighboring country, reaching the borders of Oman takes no more than three hours and is one of the most popular foreign day trips from Dubai.
However, a portion of Oman remains separate from the rest of the country, perched on top of the UAE just above Ras Al Khaimah, and consists of one of the most blissful and refreshing attractions in the Middle East.
This is Musandam in Oman, where you can immerse yourself in breathtaking views of rugged valleys and turquoise waters.
Include a boat trip on your visit to fully appreciate the beauty of this destination.
9. Ras Al Khaimah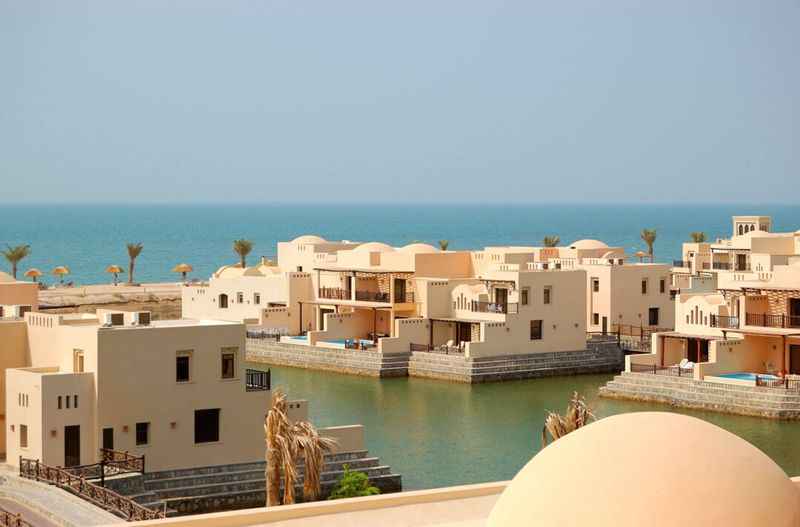 Ras Al Khaimah is one of the closest day trips from Dubai available after Sharjah and Abu Dhabi. It is a destination that offers something for everyone, making it a must-visit for any traveler to the United Arab Emirates.
From its breathtaking natural scenery, such as the Hajar Mountains and pristine beaches, to its rich cultural heritage, with its historic forts, traditional souks, and archaeological sites, Ras Al Khaimah is a place of unparalleled beauty and diversity.
Adventure seekers will find plenty to keep them busy, with activities ranging from desert safaris and dune bashing to water sports and mountain trekking.
Visitors can also experience the luxury of Ras Al Khaimah's world-class resorts and spas or indulge in the local cuisine and shopping opportunities.
Whether you're seeking adventure, relaxation, or a cultural experience, Ras Al Khaimah is a destination that truly has it all.
10. Fujairah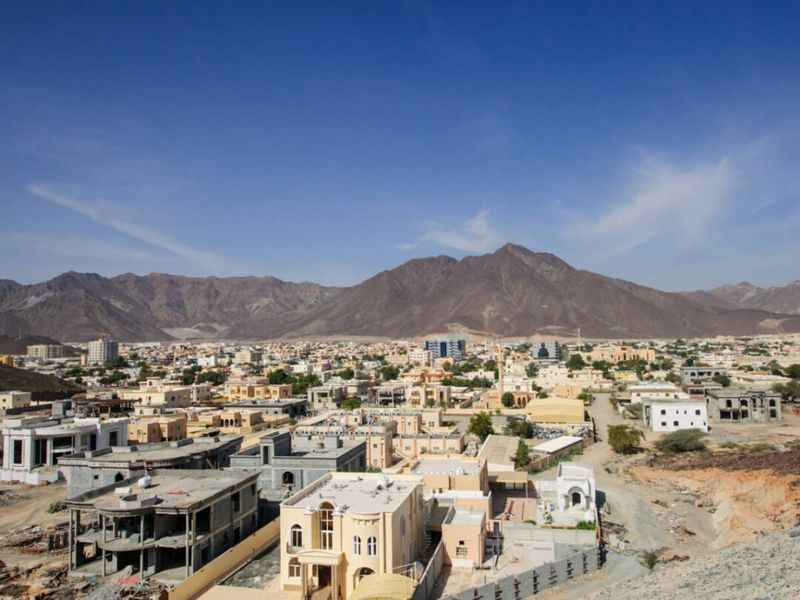 Fujairah is another emirate that makes the list of possible day trips from Dubai. It is a hidden gem in the United Arab Emirates that offers a unique blend of natural beauty and cultural richness in the Arabian desert. Among UAE's seven emirates, Fujairah is the only one that lies on the country's eastern coast along the Gulf of Oman.
With its stunning beaches, rugged coastline, and the Hajar Mountains as a backdrop, Fujairah is the perfect destination for outdoor enthusiasts and nature lovers.
Visitors can explore the many beaches and go snorkeling or scuba diving to discover the diverse marine life in the area. Those interested in history and culture will enjoy visiting the ancient forts, and traditional markets, where they can learn about the local heritage and customs.
The major attraction in Fujairah City is the Fujairah Fort, which is a historical fortification located in the city of Fujairah. It is one of the oldest forts in the UAE and is considered a symbol of the country's rich cultural heritage.
The fort, which dates back to the 16th century, has been renovated and restored over the years, and today it serves as a museum showcasing the history and culture of Fujairah and the surrounding region.
Visitors to the fort can admire its architectural style, learn about the local history and customs, and see examples of traditional weapons and tools. The Fujairah Fort is a must-visit for anyone interested in the history and culture of the UAE and provides a fascinating glimpse into the past.
Fujairah is also home to several modern hotels and resorts, providing a luxurious escape for travelers seeking comfort and relaxation.
11. Musandam Peninsula's Coast (Boat Trip)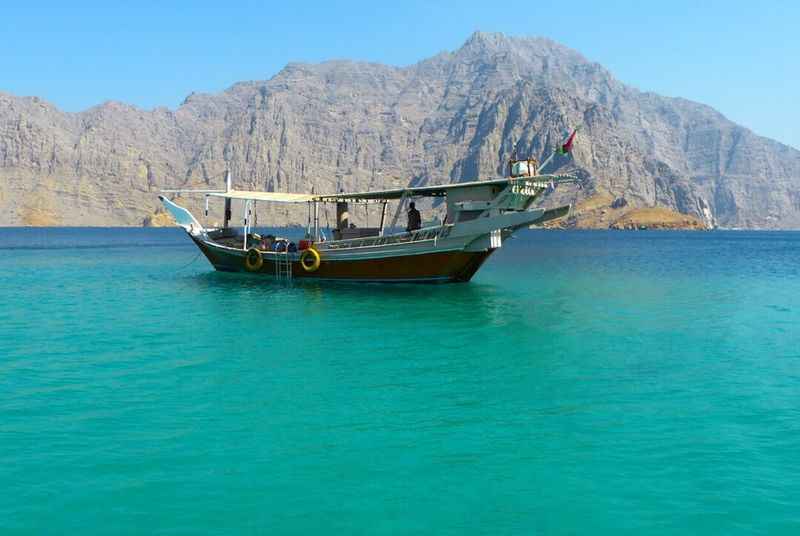 The Musandam Peninsula's Coast is a breathtakingly beautiful region located in the northern part of the Sultanate of Oman. Whilst it is not in the same country, it is still possible to visit the Musandam Peninsula as part of a day trip from Dubai.
It is known for its rugged and dramatic coastline, characterized by steep cliffs that rise up from the clear blue waters of the Arabian Sea. The Musandam Peninsula's Coast is a popular destination for those seeking adventure and outdoor activities, including kayaking, snorkeling, and fishing.
Visitors can also explore the many traditional fishing villages and witness the unique way of life of the local people, who have lived in the region for generations. The area is also home to a diverse range of wildlife, including dolphins, seals, and a variety of bird species, making it one of the popular sites for eco-tourism and wildlife watching.
The Musandam Peninsula's Coast is a truly unique and unspoiled part of the world and is a must-visit destination for anyone seeking to experience the natural beauty and cultural richness of the Arabian Peninsula.
12. Umm al Quwain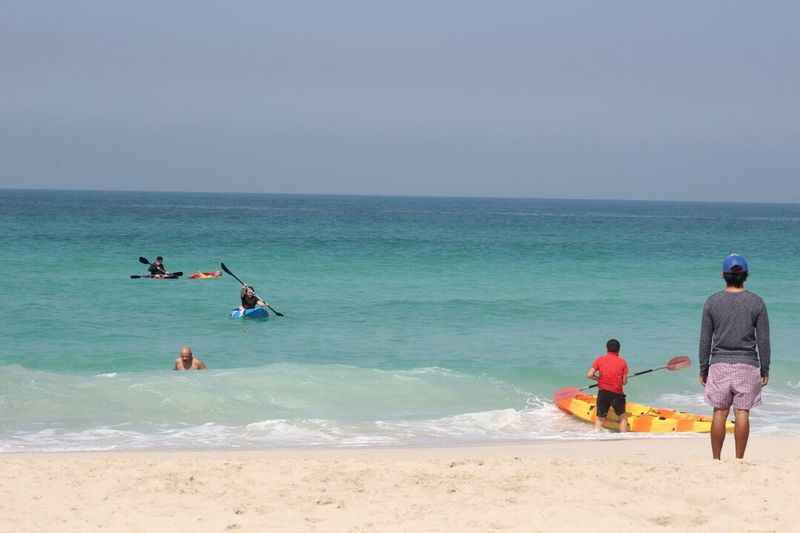 Situated on the Arabian Gulf, Umm al-Quwain is one of the seven emirates that make up the United Arab Emirates. It is located in the northern part of the country and is known for its scenic beauty, including sandy beaches, mangrove forests, and wildlife reserves.
Visitors to Umm al-Quwain can also experience traditional Arabian culture by visiting historic forts and traditional markets, as well as indulging in water sports, camel rides, and fishing activities.
Despite the activities available, Umm al-Quwain is also a great destination for those seeking a more relaxed and natural atmosphere, away from the hustle and bustle of the city.
With its unique mix of modern amenities and traditional charm, it offers a unique and enjoyable experience for tourists.
Summing up: The Best Day Trips From Dubai
So, there we have it: our list of the best day trips from Dubai, suitable at any time of the year.
Due to its popularity and strategic location on the global map, Dubai has an unrivaled advantage in terms of connectivity to other regions and countries.
The other emirates can be easily explored in a day from Dubai because the distance is easily covered in a couple of hours. A trip to Oman is also suitable for exciting day trips if you do not mind going the extra mile to obtain one more visa for the trip.
Nonetheless, this post highlights many natural wonders and charming places, some of which would be completely overlooked if you planned only to stay in Dubai throughout your time in the UAE.
Now that you know the list of day trips from Dubai available to you, be sure to try them out as a short trip on your next visit!